Strawberry Cupcakes with their delicate strawberry flavor, moist texture, and a heavenly frosting topping are a delectable delight that will leave everyone craving more.
Using a convenient cake mix makes this an easy and foolproof method to create irresistible strawberry cupcakes. With a few simple steps, you can enjoy the heavenly combination of strawberries and cake without the hassle.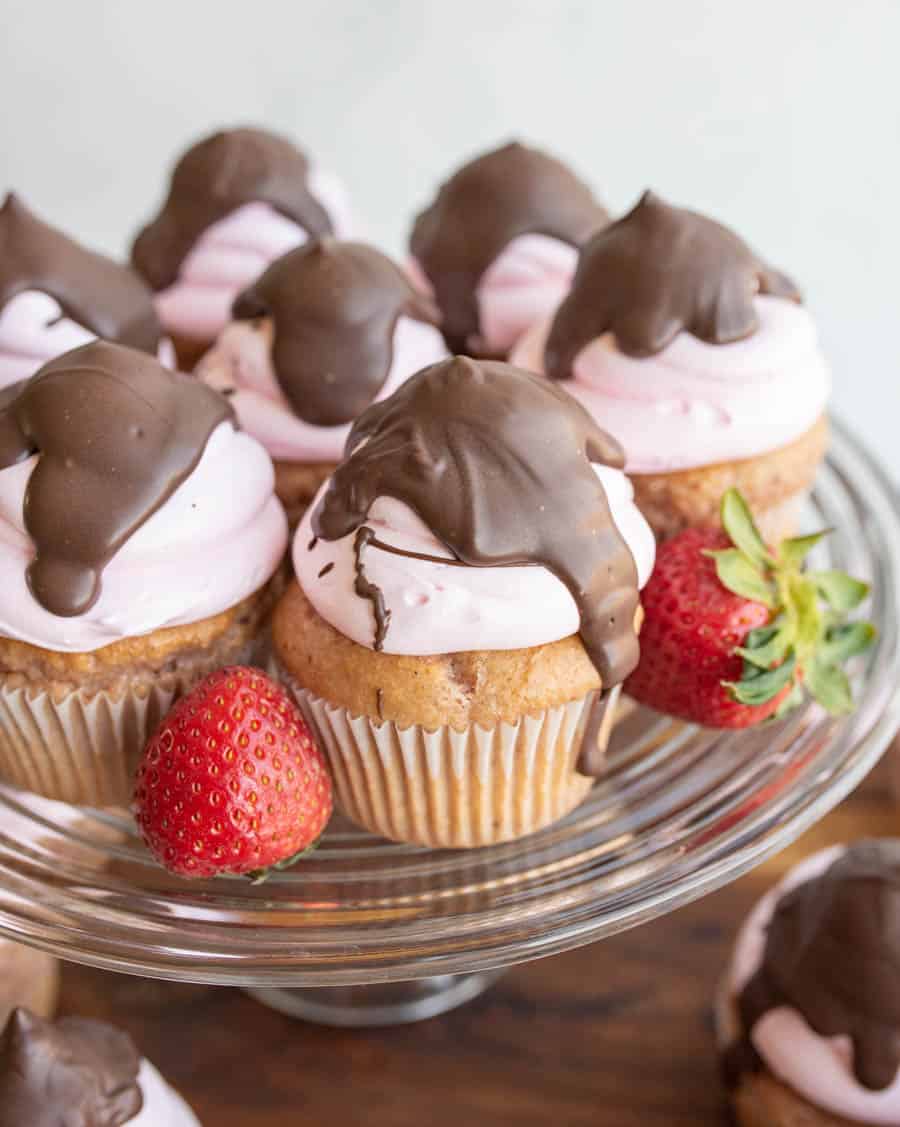 Strawberry Cupcakes
These delightful treats effortlessly combine the flavors of fresh strawberries with the joy of indulging in a fluffy cupcake. Whether you're a seasoned baker or a beginner in the kitchen, strawberry cupcakes are a perfect choice for any occasion.
One of the best things about strawberry cupcakes is their simplicity. By using a cake mix, you can streamline the baking process, saving time and effort while still achieving outstanding results. The cake mix provides a reliable base, ensuring a moist and tender texture for your cupcakes. The addition of freeze-dried strawberries infuses them with an irresistible flavor, reminiscent of summer days.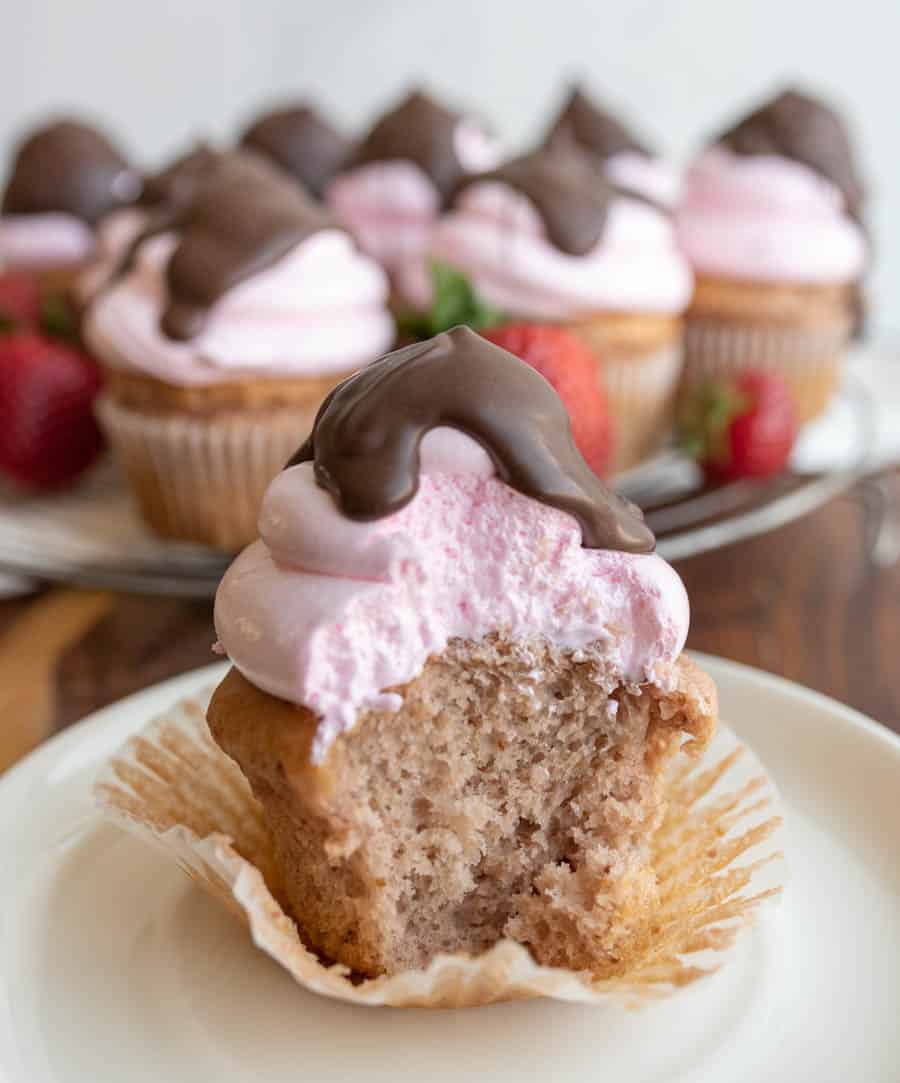 Ingredients
Box of white cake mix plus additional ingredients listed on the box, usually including eggs, oil, and water
Freeze-dried strawberries
Your choice of frosting I used White Cloud
Chocolate melting wafers for topping
Keep scrolling to find a full, printable recipe with a detailed ingredient list.
Recipe Instructions
Preheat the oven to the temperature specified on the cake mix box and line the cupcake pan with liners.
In a large mixing bowl, combine the cake mix, eggs, oil, and water according to the box instructions. Mix until smooth.
Grind the freeze-dried strawberries into a fine powder using a blender or food processor.
Add the strawberry powder to the cake batter and fold until fully incorporated.
Fill each cupcake liner about two-thirds full with the batter. Bake in the preheated oven for the recommended time. Once baked, cool the cupcakes on a wire rack.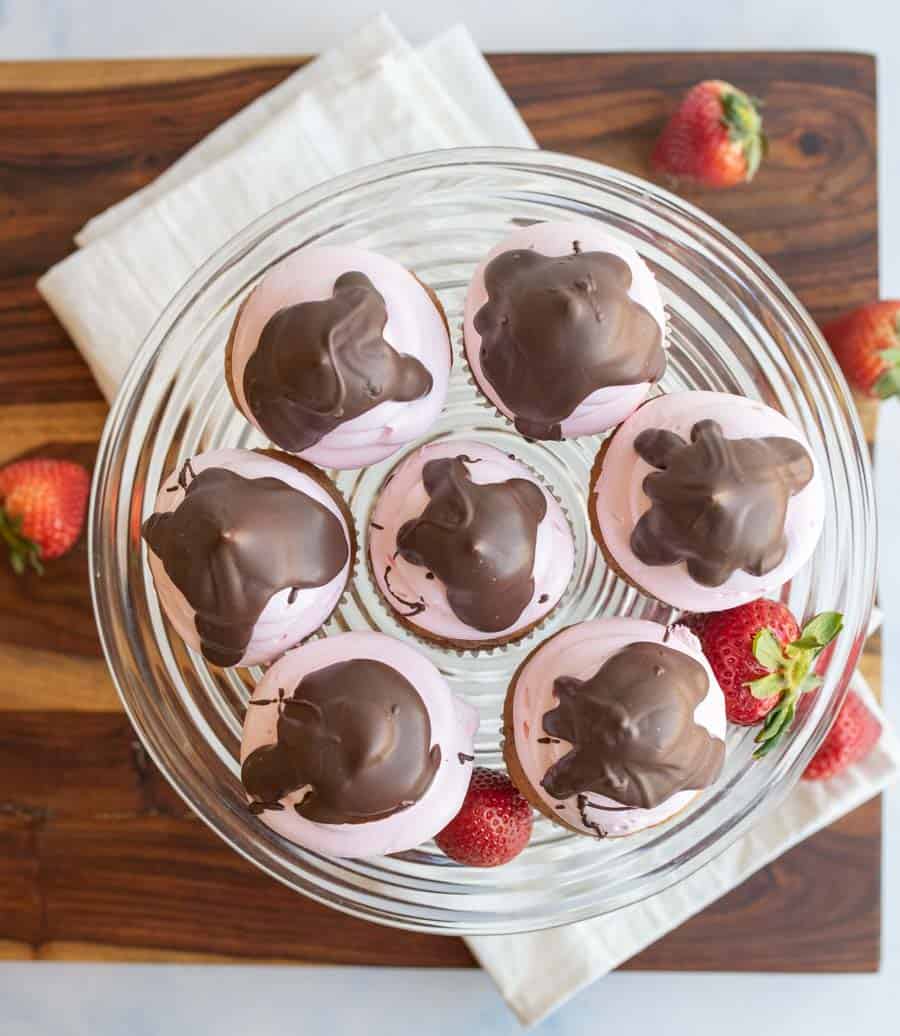 Frequently Asked Questions
Can I use fresh strawberries instead of freeze-dried ones?
While freeze-dried strawberries provide a concentrated flavor, you can use fresh strawberries. However, fresh strawberries contain more moisture, which may affect the texture of the cupcakes. Ensure to dice them into small pieces and gently fold them into the batter.
What frosting pairs well with strawberry cupcakes?
The classic choice is cream cheese frosting, as it adds a tangy element that beautifully complements the sweetness of the strawberries. However, other options like vanilla or strawberry buttercream frosting work wonderfully too. It all depends on your personal preference.
How should I store strawberry cupcakes?
If you plan to serve the cupcakes immediately, store them in an airtight container at room temperature. If you need to store them for more than a day, refrigerate them to maintain freshness. Just remember to bring them to room temperature before serving to enhance their flavor and texture.
Can I make these cupcakes ahead of time?
You can bake the cupcakes in advance and store them in an airtight container or freeze them. Thaw frozen cupcakes in the refrigerator overnight and allow them to come to room temperature before frosting and serving.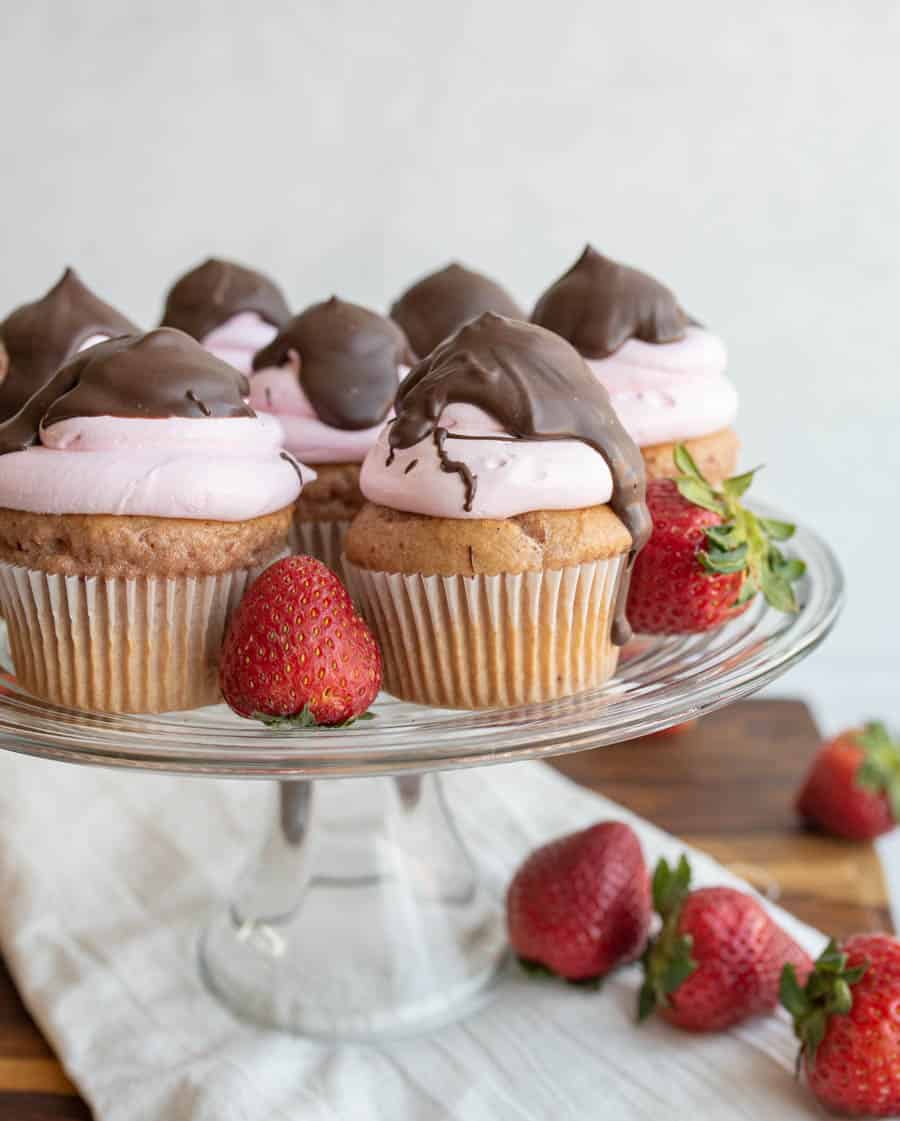 More Recipes
If you've tried this Strawberry Cupcakes recipe or any other recipe on Bless This Mess, then don't forget to rate the recipe and leave me a comment below! I would love to hear about your experience making it. And if you snapped some pictures of it, share it with me on Instagram so I can repost on my stories.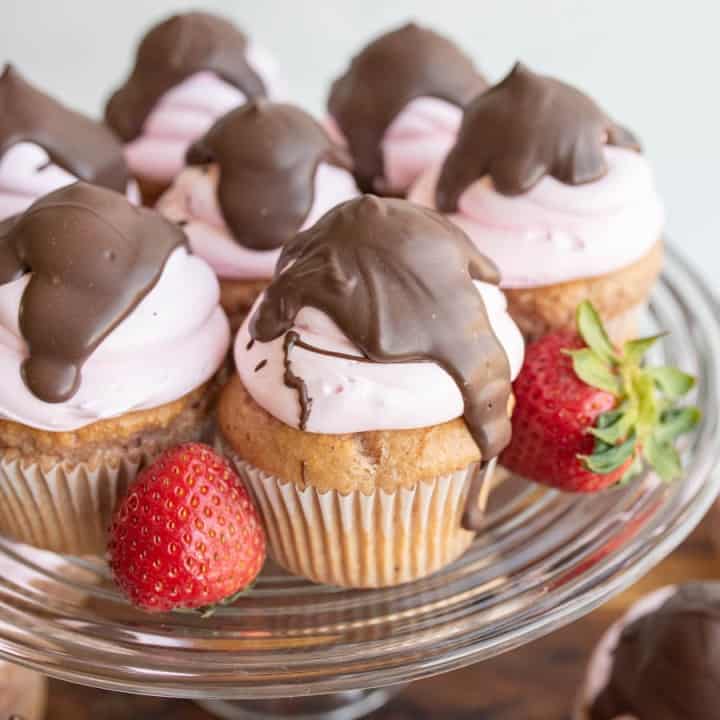 Print Recipe
Easy Strawberry Cupcakes
Strawberry Cupcakes with their delicate strawberry flavor, moist texture, and a heavenly frosting topping are a delectable delight that will leave everyone craving more.
Ingredients
1

box of white cake mix

plus additional ingredients listed on the box, usually including eggs, oil, and water

1

oz

freeze-dried strawberries

your choice of frosting

I used White Cloud

Chocolate melting wafers for topping
Instructions
Start by processing the freeze-dried strawberries. Place the strawberries in a food processor and pulse into a fine powder. Set the strawberry powder aside.

Collect all the ingredients required for the white cake mix, as specified on the box. Usually, this will include eggs, oil, and water, but make sure to check the package instructions. In a large mixing bowl, combine the white cake mix with the required additional ingredients. Follow the mixing instructions provided on the cake mix box.

Once the cake batter is well mixed, gradually add the strawberry powder to the batter. Use a whisk or an electric mixer on a low setting to combine the strawberry powder evenly throughout the batter. This will infuse the cake with a delicious, natural strawberry flavor.

Preheat your oven according to the temperature specified on the cake mix box. Pour the batter into your cupcake liners (it will make the same amount called for on the box). Place the pan in the preheated oven and bake according to the package directions.

Once the cupcakes are baked, remove them from the oven and set on a cooling rack. Allow it to cool completely before proceeding to the next step. This is crucial because frosting applied to a warm cake can melt and become runny.

After the cake has cooled, apply a generous amount of your chosen frosting. If you're frosting cupcakes, consider using a piping bag for more control and an attractive presentation.

Place the chocolate melting wafers in a microwave-safe bowl. Heat them in the microwave in 30-second intervals, stirring after each interval, until the chocolate is fully melted and smooth.

Use a spoon or a small piping bag to drizzle the melted chocolate over the frosting. You can create any pattern you like with the drizzle, but a back-and-forth motion usually creates an appealing look.

Allow the chocolate to set a bit before serving the cupcakes
Notes
I went with the White Cloud Frosting because it's light and fluffy without being too sweet so that you can taste the strawberry in the cake. We added the chocolate drizzle because it was a fun play on the idea of chocolate covered strawberries with is always a favorite.
Strawberry Buttercream, a classic
, or even a cream cheese frosting would be good on these cupcakes.
You can make this into a simple strawberry cake by baking it in a cake pan according to the packaged directions.
The nutrition information for this is going to vary a lot depending on your cake mix of choice and the frosting that you make.
Nutrition
Calories:
113
kcal
|
Carbohydrates:
25
g
|
Protein:
1
g
|
Fat:
1
g
|
Saturated Fat:
1
g
|
Polyunsaturated Fat:
0.1
g
|
Monounsaturated Fat:
0.2
g
|
Trans Fat:
0.1
g
|
Sodium:
199
mg
|
Potassium:
39
mg
|
Fiber:
0.5
g
|
Sugar:
13
g
|
Vitamin C:
19
mg
|
Calcium:
63
mg
|
Iron:
1
mg
Strawberry cupcakes are a delightful treat that brings joy to any occasion. They are perfect for both seasoned bakers and beginners looking to create something special. Serve them at celebrations, tea parties, or outdoor events, and watch as they become the star of the dessert table.