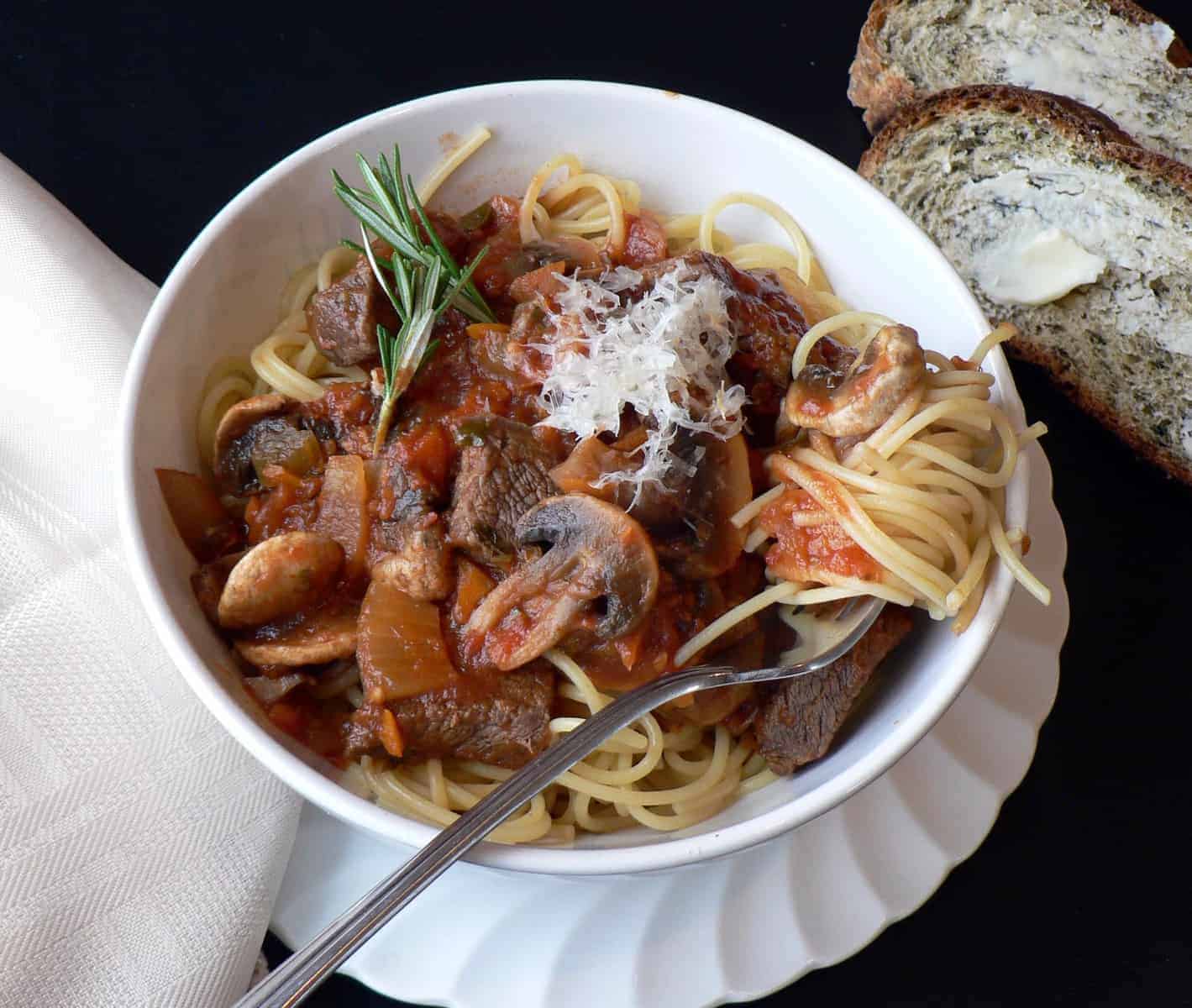 I have some great crafting in the making, but until its complete I have another tasty recipe to share. Happy Monday!
The weather has been so strange here in Utah. We were outside on Saturday working on the yard, took a lunch break, and came back to snow. There were multiple inches of snow on the ground when we left church yesterday and now it's 65 degrees and sunny. So weird. I made this comforting dish during the cold spell and it was perfect. It's thick, hearty, and delicious.
Mushroom and Steak Marinara
Adapted from One Lovely Life
Serves 8 to 10
2-3 pounds steak, cut into 1 inch pieces
1 large onion, chopped
4 carrots, finely chopped or grated
1 stalk celery, finely chopped
1 T. fresh rosemary, finely minced
1/4 cup fresh basil, finely chopped
1 can crushed tomatoes (28 ounce)
1 can whole tomatoes, undrained (28 ounce)
3 packages mushrooms (1 1/2 pounds), sliced
olive oil
Salt and pepper, to taste
2 pounds pasta
fresh grated Parmesan, for garnish
Heat a large pan over medium-high heat. Add a swirl of olive oil to the pan and wait until it is very hot and shimmering. Salt and pepper the steak while the oil is heating. Add half of the cubed meat to the hot pan and allow the meat to sear and brown on all sides. Remove the meat to a clean plate and repeat with more oil and the other half of the meat. Remove the second batch of meat from the pan.
Reduce the heat to medium and add another swirl of olive oil. Add the onion, carrots, celery, rosemary, and basil. Cook for 5-10 minutes until the veggies are soft, stirring as needed. Add the crushed tomatoes. Pour the whole tomatoes and juice into the pot, but while you are pouring, catch the tomatoes in your hand and smash them. Add the meat and any juice from the plate back to the pan. Reduce the heat to low or medium-low and allow the sauce to slowly simmer, covered, for 1-2 hours, stirring occasionally. Cook until the meat is tender. Add the mushrooms 15-20 minutes before you are ready to serve. Add salt and pepper to taste.
While the mushrooms are cooking, cook the pasta according to package directions. Serve the sauce over hot cooked noodles with grated Parmesan on top.
Notes:
I used elk steak; I don't really know what type of beef would work…I assume most any beefy roast or steak would work just as well.
I used a quart of home-canned tomatoes in place of the whole canned tomatoes. You may need to add a little broth or water to your sauce if it starts to thicken too much before it's had time to cook. If you don't want to squish the tomatoes by hand, drain the liquid into the pot and give them a quick rough chop on a cutting board.
The recipes makes a bunch! I would half the recipe or plan on freezing half for a quick second meal. Just freeze the sauce by itself, thaw, reheat, and serve over fresh cooked noodles. I love having a tasty meal waiting for me in the freezer.
This was perfect with toasted spinach bread.