There's something about a plate of pasta that never fails to bring comfort and satisfaction to our taste buds. Spaghetti Carbonara is creamy, filled with smoky bacon, and a generous sprinkling of parmesan cheese.
This recipe can be whipped up in a relatively short amount of time, making it an excellent choice for a weeknight dinner or when you're craving a satisfying meal without spending hours in the kitchen. With minimal effort, you can create a delicious and impressive dish that will please your taste buds.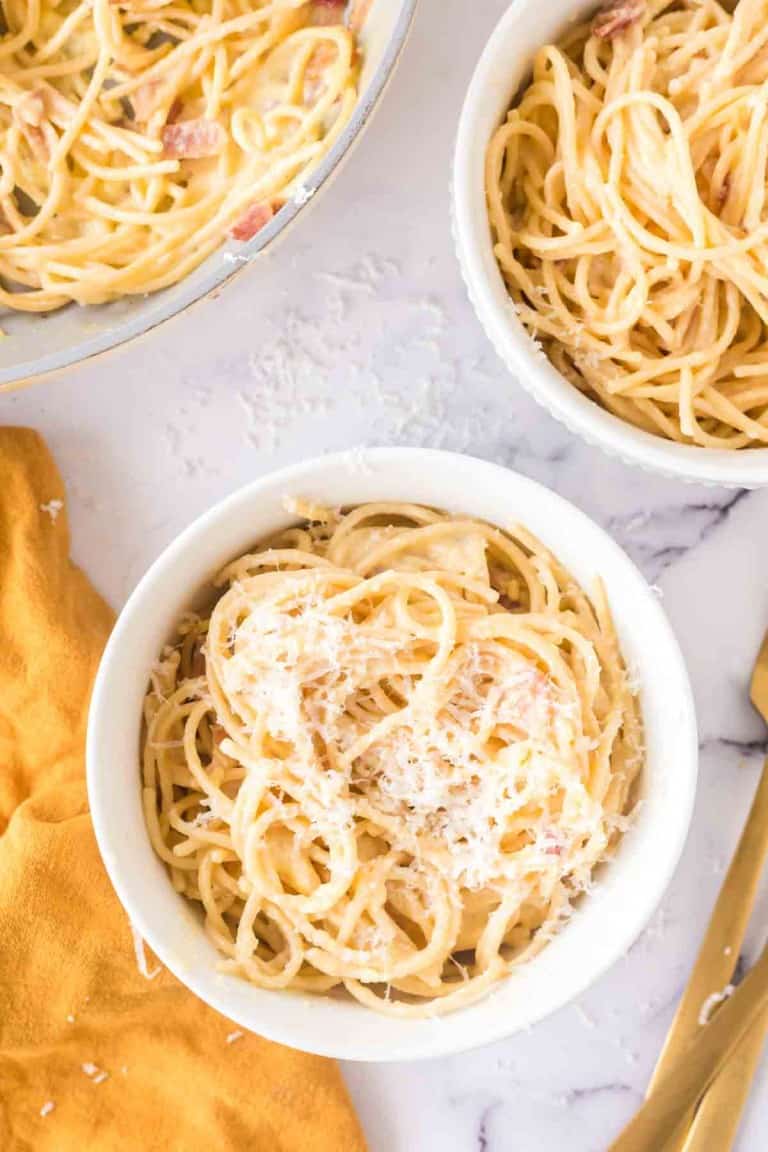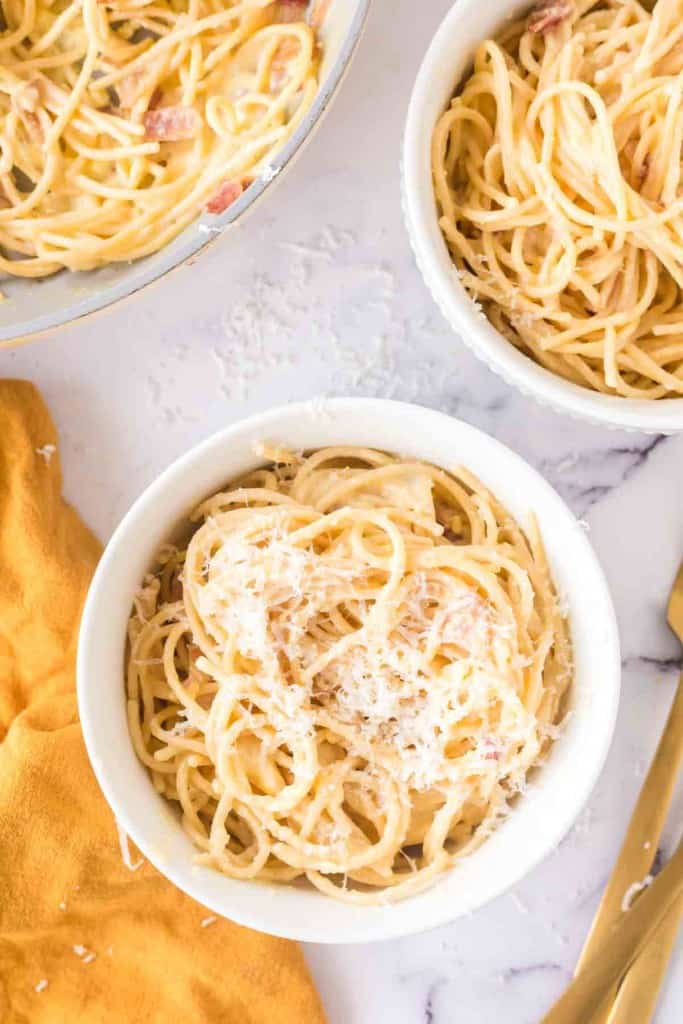 Spaghetti Carbonara
Spaghetti carbonara is a dish that tastes great but it is super easy to whip up. The rich flavors and creamy texture make it a great choice for when you need a hearty and flavorful meal.
Serving Suggestions
Garlic Bread: Serve some warm and crusty garlic bread on the side. The garlic-infused buttery goodness pairs well with the flavors of carbonara and can be used to soak up any leftover sauce.
Green Salad: Balance the richness of the carbonara with a refreshing green salad. The fresh and crunchy salad provides a contrast to the creamy pasta.
Roasted Vegetables: Roasted vegetables, such as asparagus, zucchini, or cherry tomatoes, can add a pop of color and a nutritious element to the meal.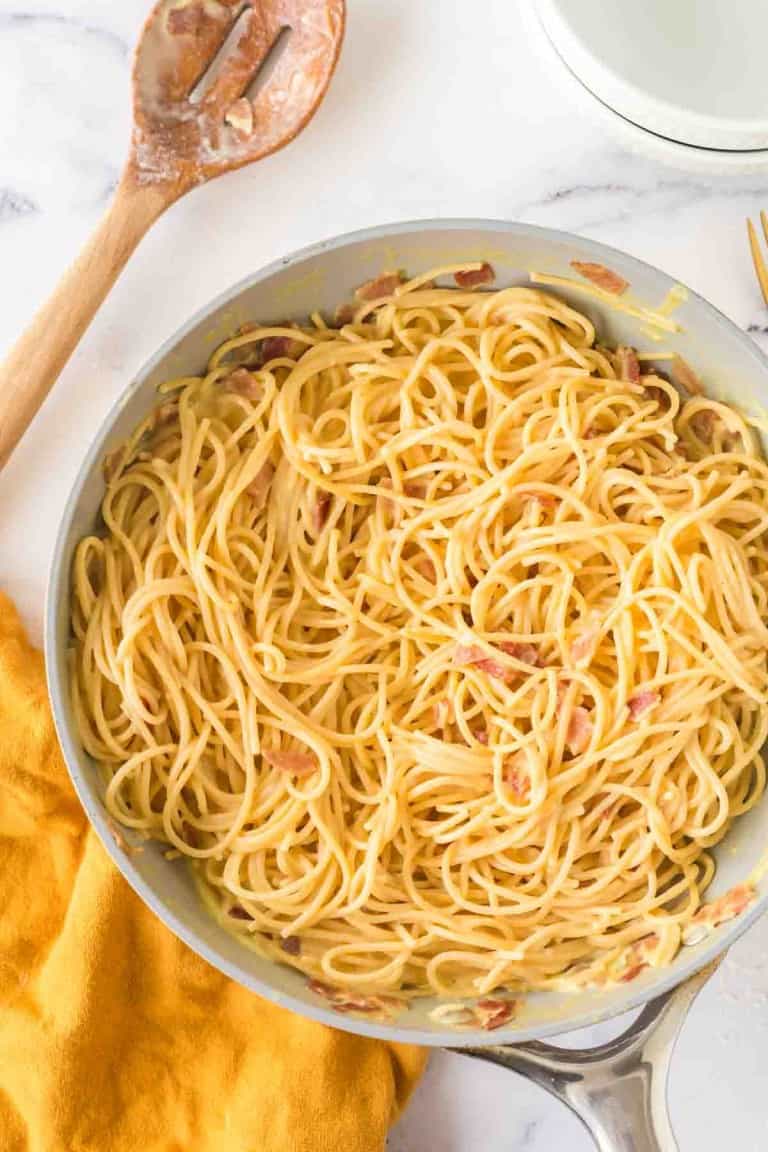 Ingredients
Bacon
Spaghetti
Eggs
Parmesan cheese
Garlic powder
Salt and pepper to taste
Keep scrolling to find a full, printable recipe with a detailed ingredient list.
Recipe Instructions
Cook the bacon in a large pan over medium heat until crispy.
In a large pot, cook the spaghetti according to package directions, reserving a cup of pasta water.
Whisk together eggs, egg yolks, parmesan cheese, and garlic powder.
Reduce heat, add the egg mixture and pasta water to the pan, whisk until smooth.
Increase heat, fold in cooked noodles until coated. Season with salt and pepper.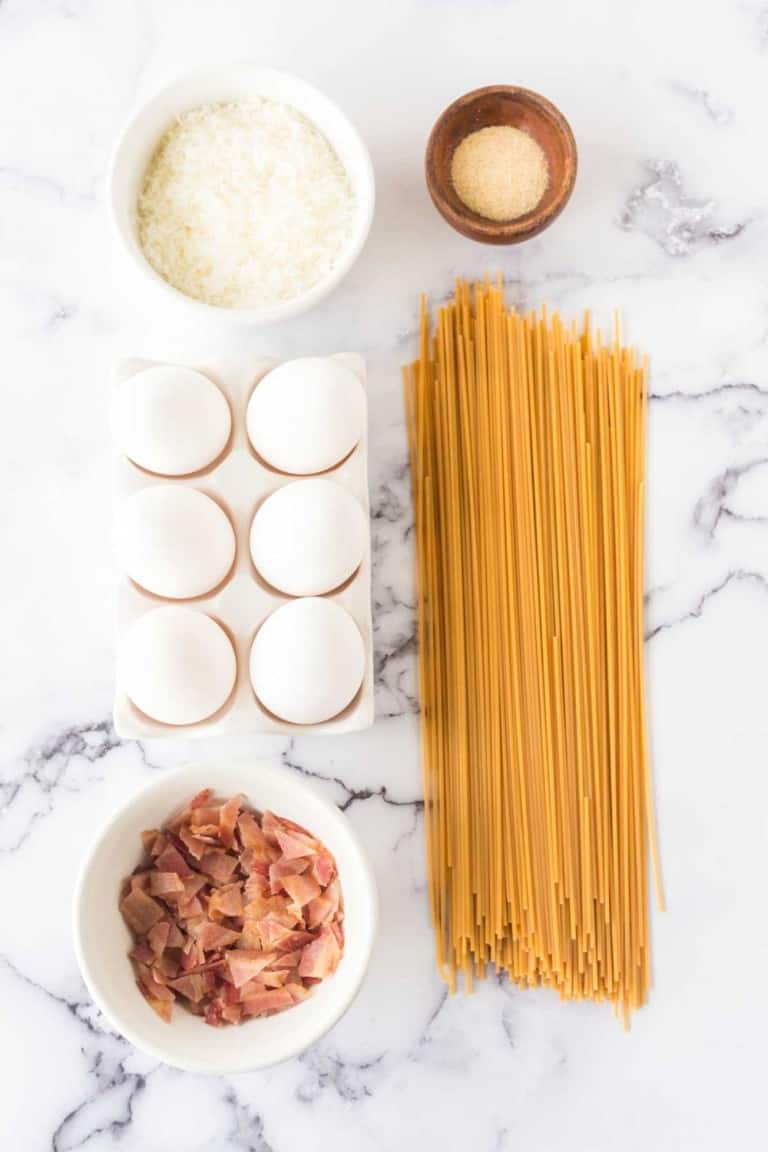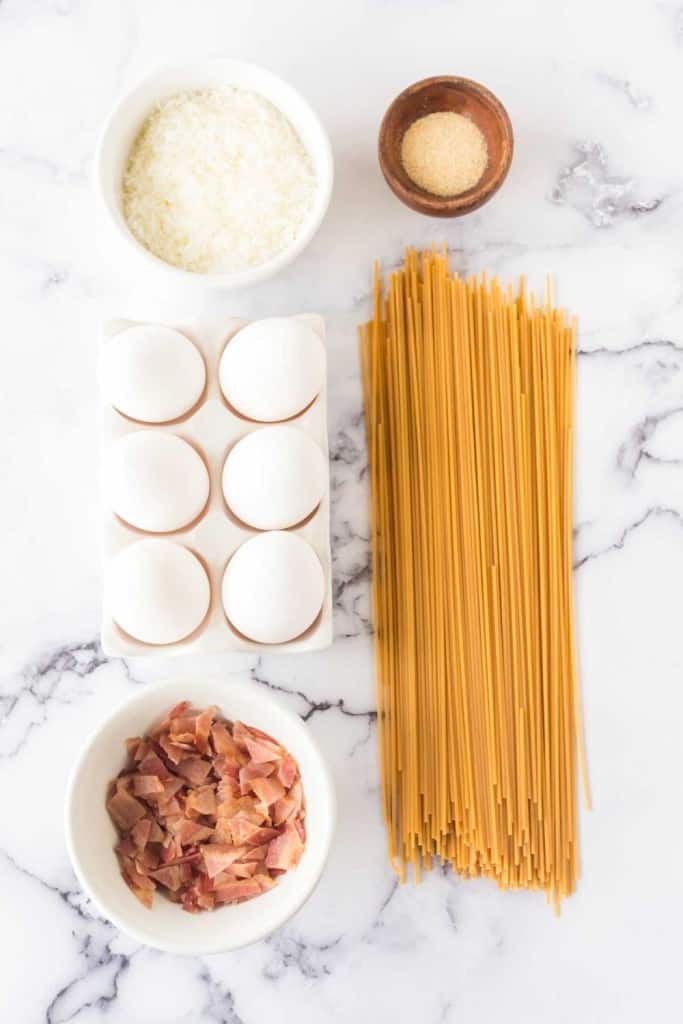 Frequently Asked Questions
Can I use different types of pasta for carbonara?
While spaghetti is the traditional choice for carbonara, you can certainly experiment with different types of pasta. Linguine, fettuccine, or even penne can be used as substitutes. The key is to choose a pasta shape that will hold the sauce well.
Can I add vegetables to spaghetti carbonara?
While traditional carbonara does not include vegetables, you can certainly add them if you'd like. Peas are a popular addition, as they add a touch of sweetness and vibrant color. Sautéed mushrooms or cherry tomatoes can also be tasty additions. Just ensure that any additional ingredients are cooked separately and added to the pasta before incorporating the sauce.
Can carbonara be made ahead of time?
Carbonara is best enjoyed immediately after preparation when the sauce is at its creamiest. It is not recommended to make carbonara ahead of time, as reheating can affect the texture and quality of the dish. It is best to prepare carbonara just before serving.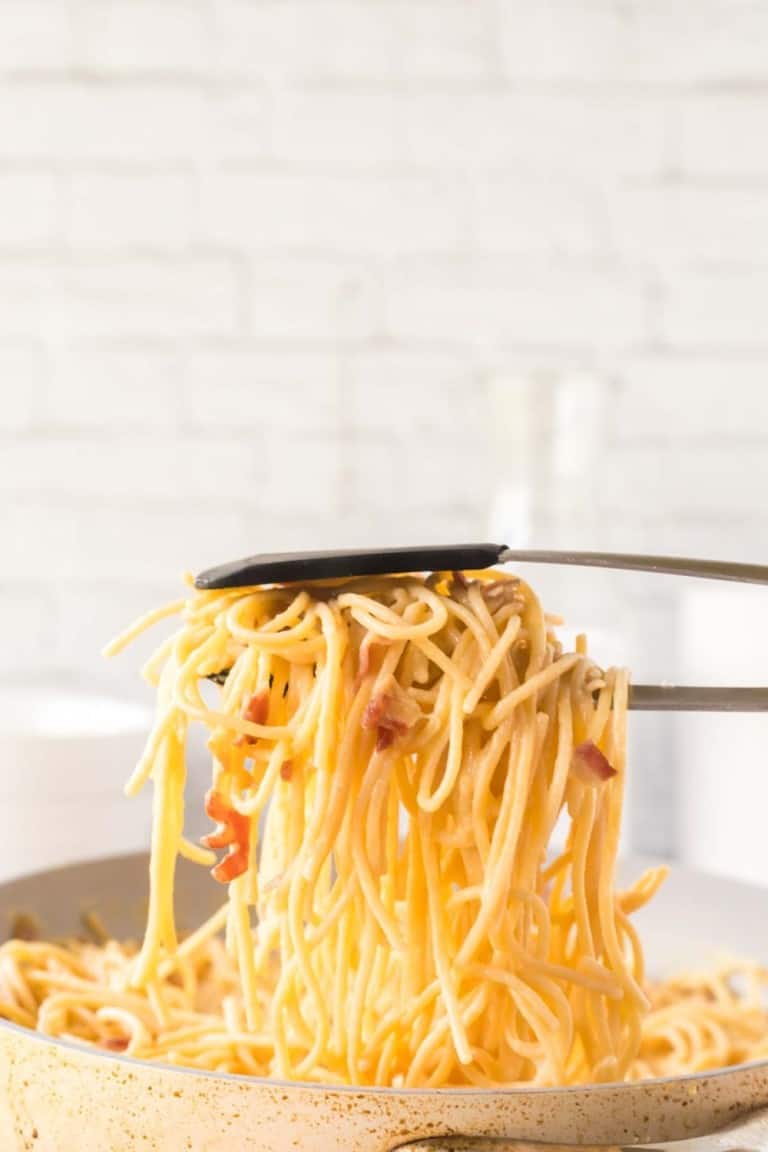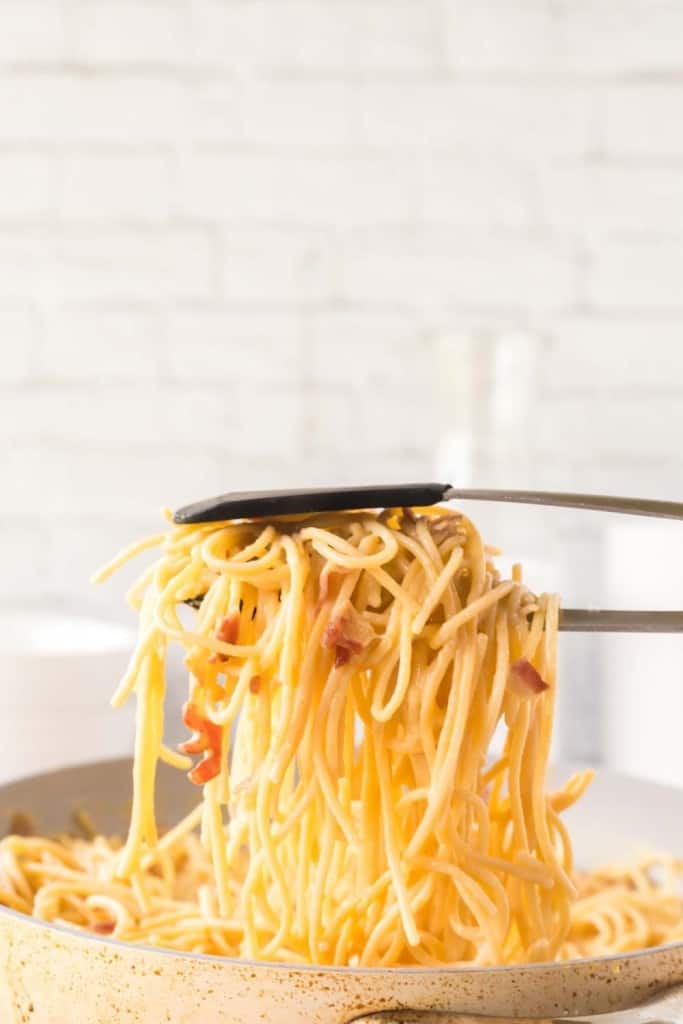 More Recipes
If you've tried this Spaghetti Carbonara recipe or any other recipe on Bless This Mess, then don't forget to rate the recipe and leave me a comment below! I would love to hear about your experience making it. And if you snapped some pictures of it, share it with me on Instagram so I can repost on my stories.
📖 Recipe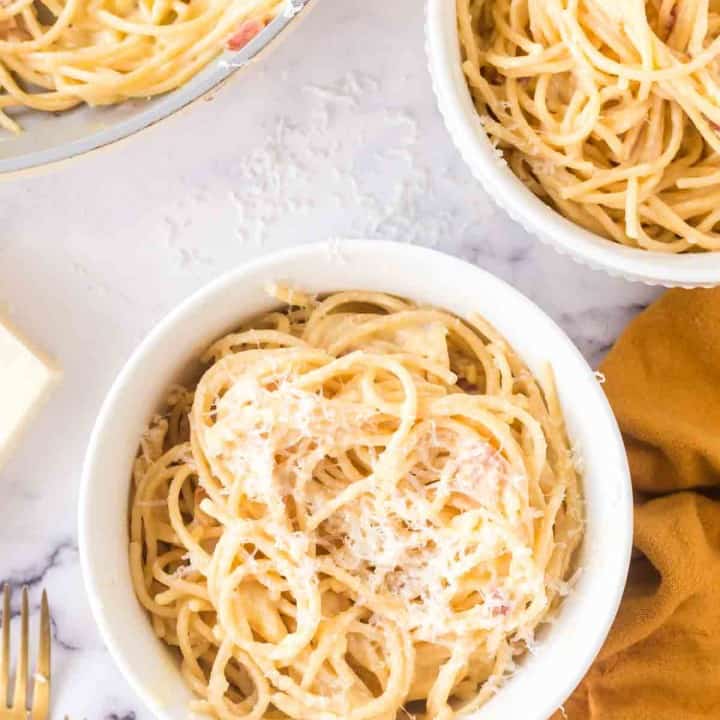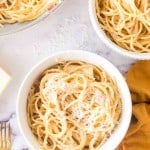 Print Recipe
Spaghetti Carbonara
Spaghetti Carbonara is an easy dish that has a creamy texture, smoky bacon, and a generous sprinkling of parmesan cheese. Simple, convenient and delicious.
Ingredients
1

cup

chopped bacon

4-6 ounces

8

ounces

uncooked spaghetti

2

large eggs

2

large egg yolks

1

cup

parmesan cheese

2

teaspoons

garlic powder

Salt and pepper to taste.
Instructions
In a large pan over medium heat, cook the bacon all the way through. Let the pan cool down while you cook the pasta. If there is a lot of bacon grease left in the pan, pour out most of it until there is just a thin layer of bacon grease in the bottom of the pan. The bacon grease and cooked bacon can rest in the pan.

In a large pot, cook the spaghetti according to package directions. Once the pasta is finished cooking, reserve about a cup of pasta water before draining the noodles.

While the pasta is cooking, whisk together the eggs, egg yolks, parmesan cheese, and garlic powder.

Heat the bacon pan over low heat and half of the reserved pasta water and then the whisked egg mixture to the pan. Whisk the mixture continuously over low heat until homogenous.

Increase the heat to medium while you fold in the noodles until they are evenly coated.

Salt and pepper your pasta to taste, serve, and enjoy!
Notes
You need to let the pan that you cooked the bacon in cool down while the pasta cooks because if you pour the egg mixture into a pan that is too hot you'll end up with curdled or scrambled eggs in your pasta and the texture just isn't that nice.
You can store your leftover pasta in the fridge for up to 3 days. Reheat your leftovers in the microwave for about 1-2 minutes, or until heated all the way through.
This pasta dish is great topped with a little bit of freshly squeezed lemon juice or some freshly grated parmesan.
You can use precooked bacon and add 2 tablespoons of salted butter to replace the bacon fat.
This dish is also great served with prosciutto instead of bacon.
You want to whisk the egg mixture together on a low heat and continuously in order to prevent the eggs from cooking.
Nutrition
Calories:
620
kcal
|
Carbohydrates:
45
g
|
Protein:
28
g
|
Fat:
35
g
|
Saturated Fat:
14
g
|
Polyunsaturated Fat:
5
g
|
Monounsaturated Fat:
14
g
|
Trans Fat:
0.1
g
|
Cholesterol:
235
mg
|
Sodium:
832
mg
|
Potassium:
325
mg
|
Fiber:
2
g
|
Sugar:
2
g
|
Vitamin A:
466
IU
|
Vitamin C:
0.02
mg
|
Calcium:
336
mg
|
Iron:
2
mg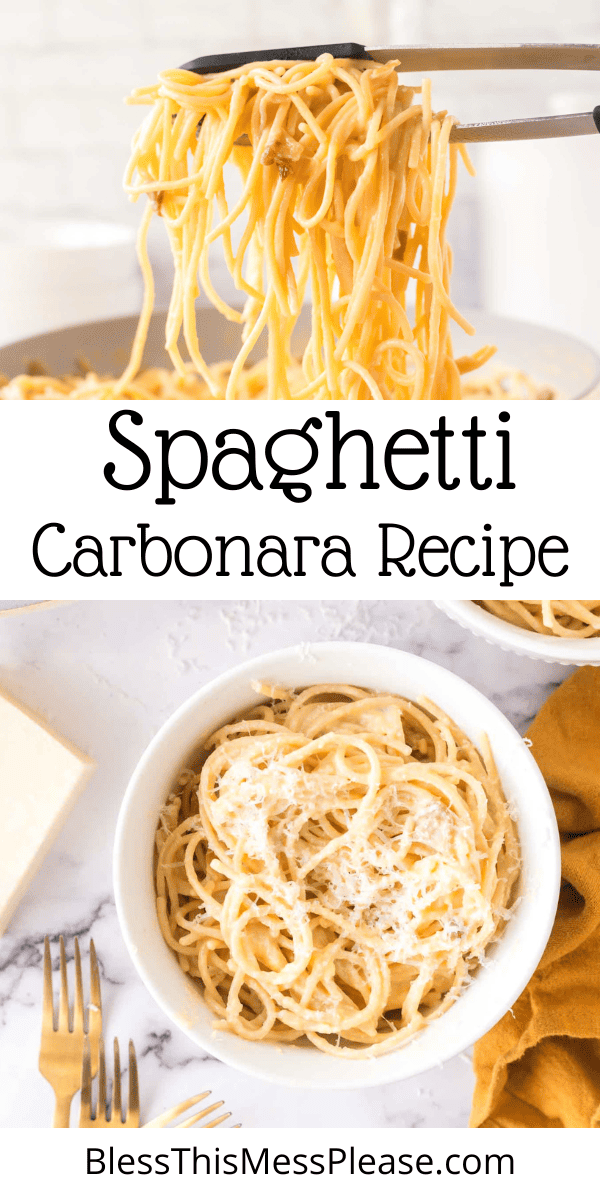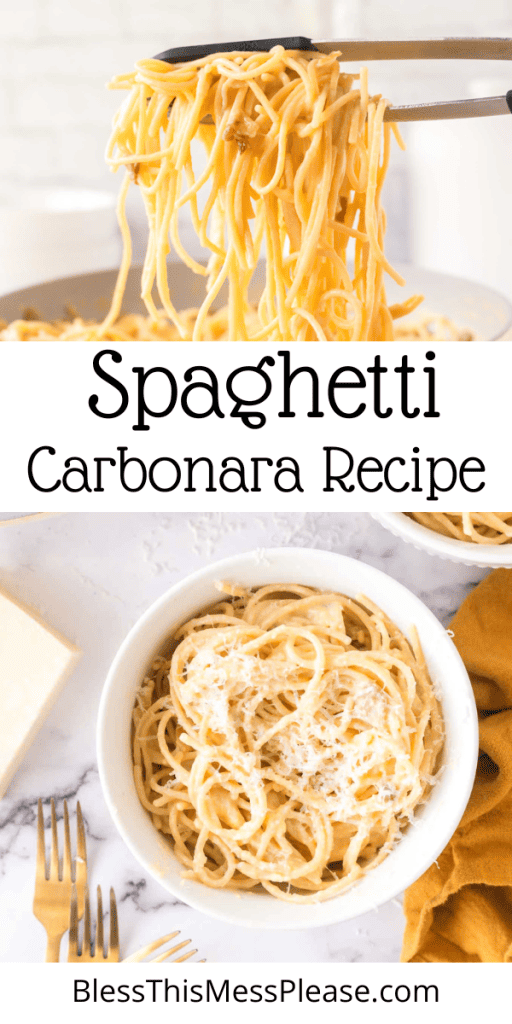 Spaghetti carbonara is a dish that truly brings comfort and satisfaction to the table. Its simple yet exquisite combination of ingredients transforms a humble bowl of pasta into a culinary masterpiece. So, the next time you find yourself craving a comforting meal, reach for the bacon, eggs, and parmesan, and let the magic of spaghetti carbonara unfold on your plate. Buon appetito!