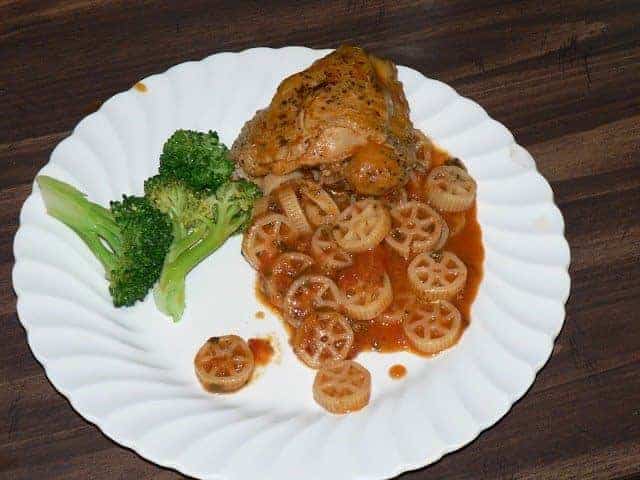 I've made a few things off of Pioneer Woman's website and haven't been remotely disappointed by anything I've tried… that woman knows how to cook.  Tonight I tried her Chicken with Tomatoes and Garlic.It was divine!  I've been wanting to use my dutch oven on the stove and then in the oven, which is why I went for this recipe…  There was something magical about having the chicken cook in the pasta sauce for an hour.  The chicken was amazingly moist and the sauce was really good… a beautiful chicken merriment.  Thomas made me promise not to forget this new recipe!
Pioneer Woman has lots of pictures and things for the recipe…  here is her post.
Chicken with Tomatoes and Garlic
Here is her recipe:
Ingredients
8 pieces Chicken Legs Or Thighs
Salt And Pepper, to taste
3 Tablespoons Olive Oil
1 Tablespoon Butter
1 can (28 Ounce) Diced Tomatoes
1 can (14 Ounces) Whole Tomatoes
2 Tablespoons (Heaping) Tomato Paste
Fresh Herbs: Basil, Parsley, Sage, Rosemary
8 cloves Garlic
16 ounces, weight Pasta (I Used Cavitappi)
Grated Parmesan Cheese, For Serving
½ cups White Wine (or Red Wine)
Preparation Instructions
Preheat oven to 400 degrees. Salt and pepper chicken legs.
Heat ovenproof skillet or dutch oven over medium-high heat. Add olive oil and butter. When oil/butter is hot, add chicken legs to the pan. Using tongs, brown on all sides, about 2 minutes. Remove chicken from pan.
Pour in wine, scraping the bottom of the pan to loosen any bits. Cook for 1 minute. Pour in tomatoes with their juice and add tomato paste. Add salt and pepper to taste, stirring to combine. Bring sauce to a boil, then turn off heat. Add plenty of fresh herbs, 8 cloves of peeled (but whole) garlic, and the chicken legs. Put lid on pot and cook in the oven for 1 hour.
Remove pot from oven and allow it to sit on the counter with the lid on while you boil the pasta.
Cook the pasta to al dente, Drain and add to a large serving bowl.
Remove lid and check sauce. If it's overly thin, remove the chicken from the pot and boil the sauce on the stovetop for 5 to 10 minutes. Check seasonings and adjust as needed.
To serve, pour sauce over cooked pasta, then arrange chicken pieces over the top. Sprinkle generously with fresh Parmesan and serve with crusty French bread.
Yum!
I essentially halved her recipe… I used 4 thighs instead of legs, I used a quart of home canned tomatoes that I chopped, I used dry herbs, and I skipped the wine.
I can only imagine what goodness will come when fresh herbs are in season again!