There's something undeniably comforting about a warm, juicy pulled pork sandwich. But what if I told you that achieving this mouthwatering delight is as easy as setting it and forgetting it? Welcome to the world of slow cooker pulled pork sandwiches, where deliciousness meets convenience.
The key to achieving tender and succulent pulled pork is selecting the right cut of meat. Opt for boneless pork shoulder or butt, as these cuts are marbled with fat, which adds richness and moisture to the meat. The slow cooking process helps break down the connective tissues, resulting in melt-in-your-mouth pulled pork.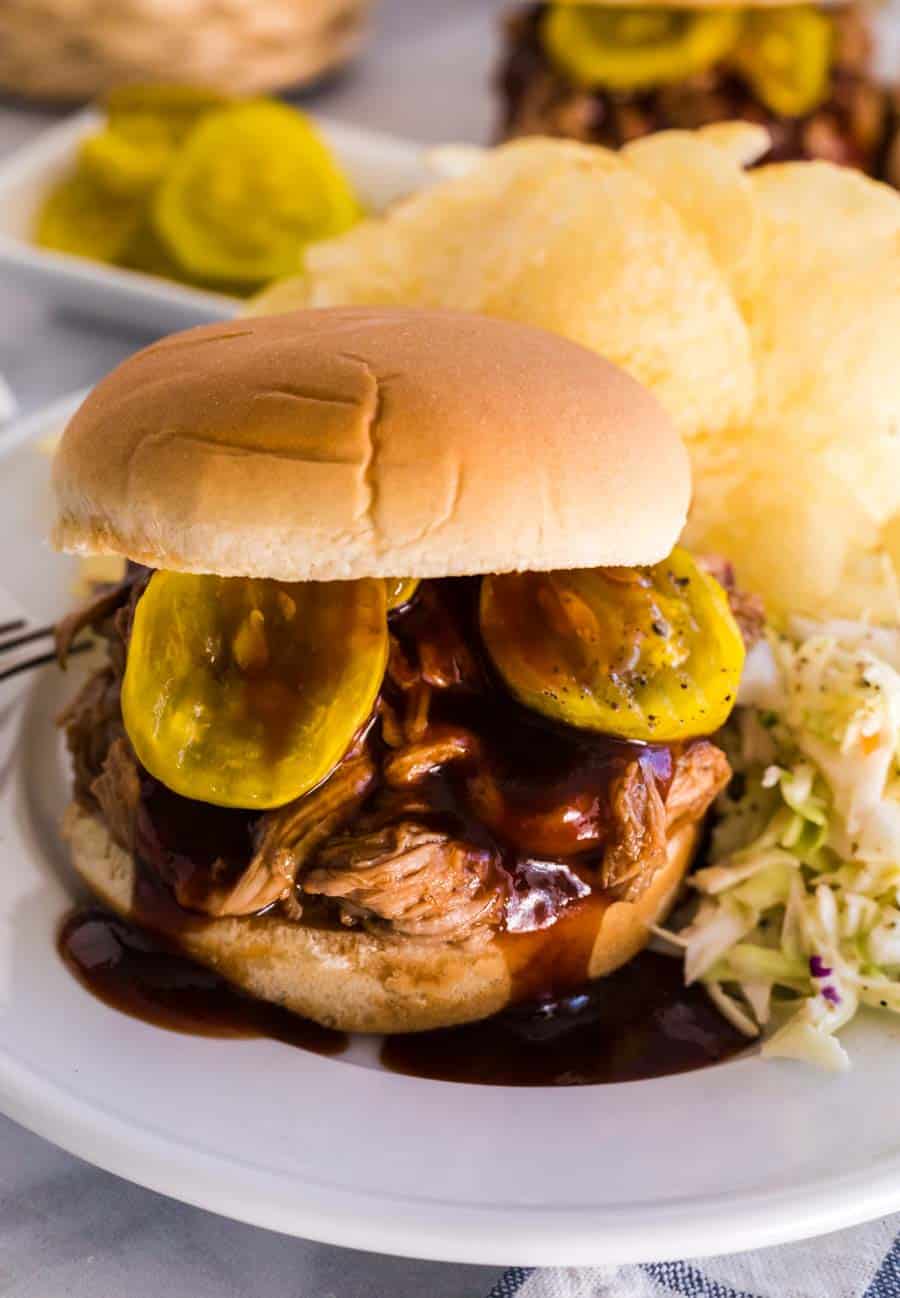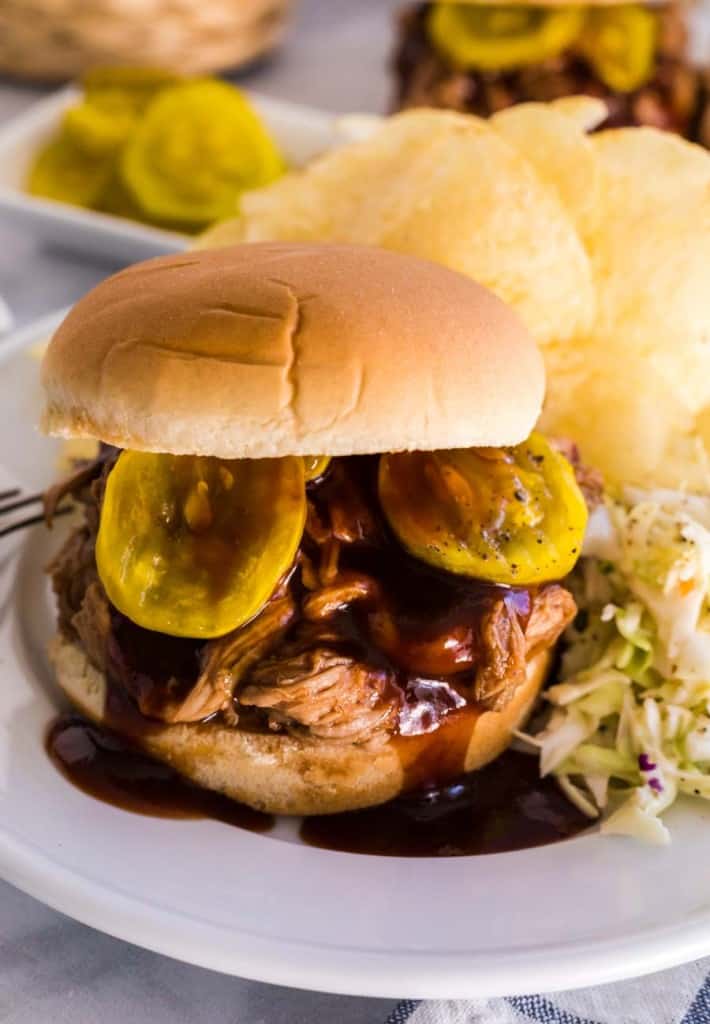 Slow Cooker Pulled Pork Sandwiches
While pulled pork is already a delight on its own, you can elevate your sandwich further by adding some complementary toppings and sides. Classic accompaniments include tangy coleslaw, pickles, sliced onions, or even a dollop of creamy mayonnaise. For a heartier meal, serve the pulled pork on a bed of mashed potatoes or alongside a fresh salad.
Slow cooker pulled pork sandwiches are known for producing generous portions. If you find yourself with leftovers, don't fret! Pulled pork can be incredibly versatile. Use the leftovers in tacos, quesadillas, or as a topping for nachos. You can also freeze the pulled pork in airtight containers for future meals.
Slow cooker pulled pork sandwiches are a crowd-pleaser, making them perfect for casual gatherings or game day parties. Consider setting up a "build-your-own sandwich" station with various toppings and condiments, allowing guests to customize their sandwiches to their liking. Add a side of sweet potato fries, cornbread, or baked beans to complete the feast.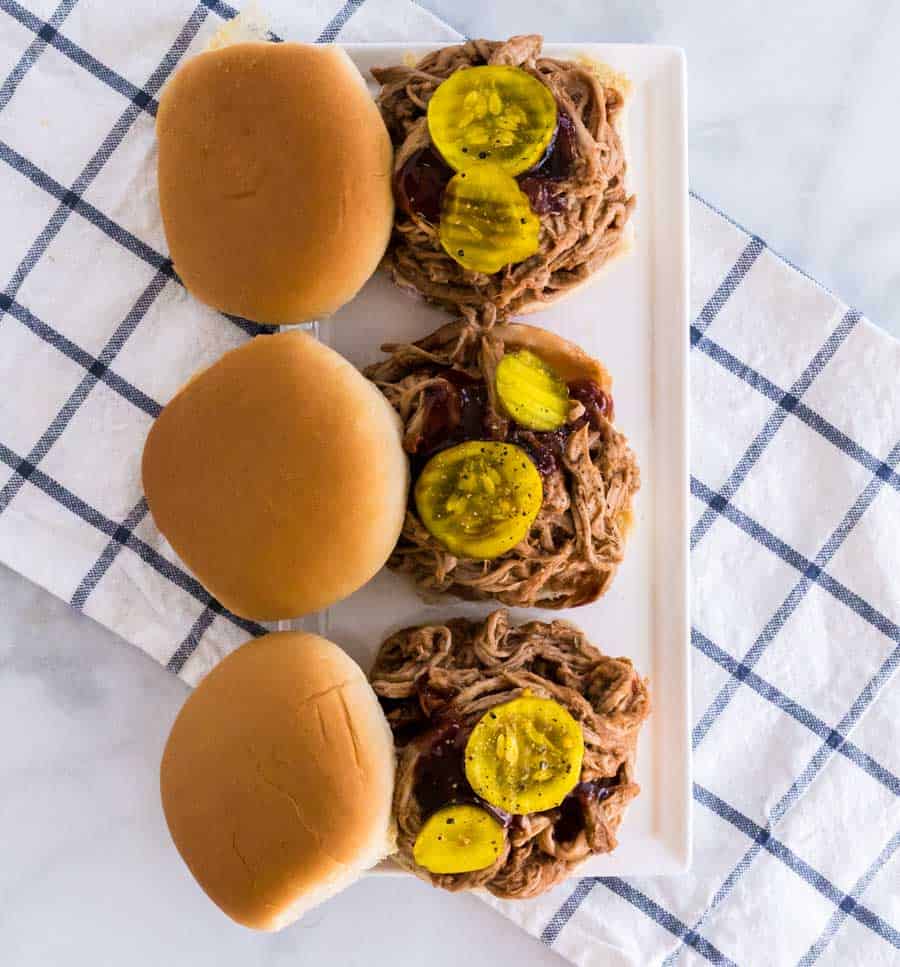 Ingredients
Pork tenderloin
Salt
Smoked paprika
Garlic powder
Onion powder
Chicken broth
BBQ sauce
Hamburger buns
Recipe Instructions
Rub a spice mixture of salt, smoked paprika, garlic powder, and onion powder all over the pork tenderloin and place it in the slow cooker.
Pour water or chicken stock into the slow cooker, without directly pouring it over the pork.
Cook on high for 4-5 hours until the pork is tender and easily shredded with a fork.
Remove the pork from the slow cooker, shred it with two forks, and return it to the slow cooker.
Mix the shredded pork with any remaining liquid in the slow cooker and add your desired amount of BBQ sauce, adjusting the seasoning to taste.
Toast or grill the buns, spread additional BBQ sauce on the inside, fill with the warm pulled pork, and optionally add cheese and pickles. Serve and enjoy!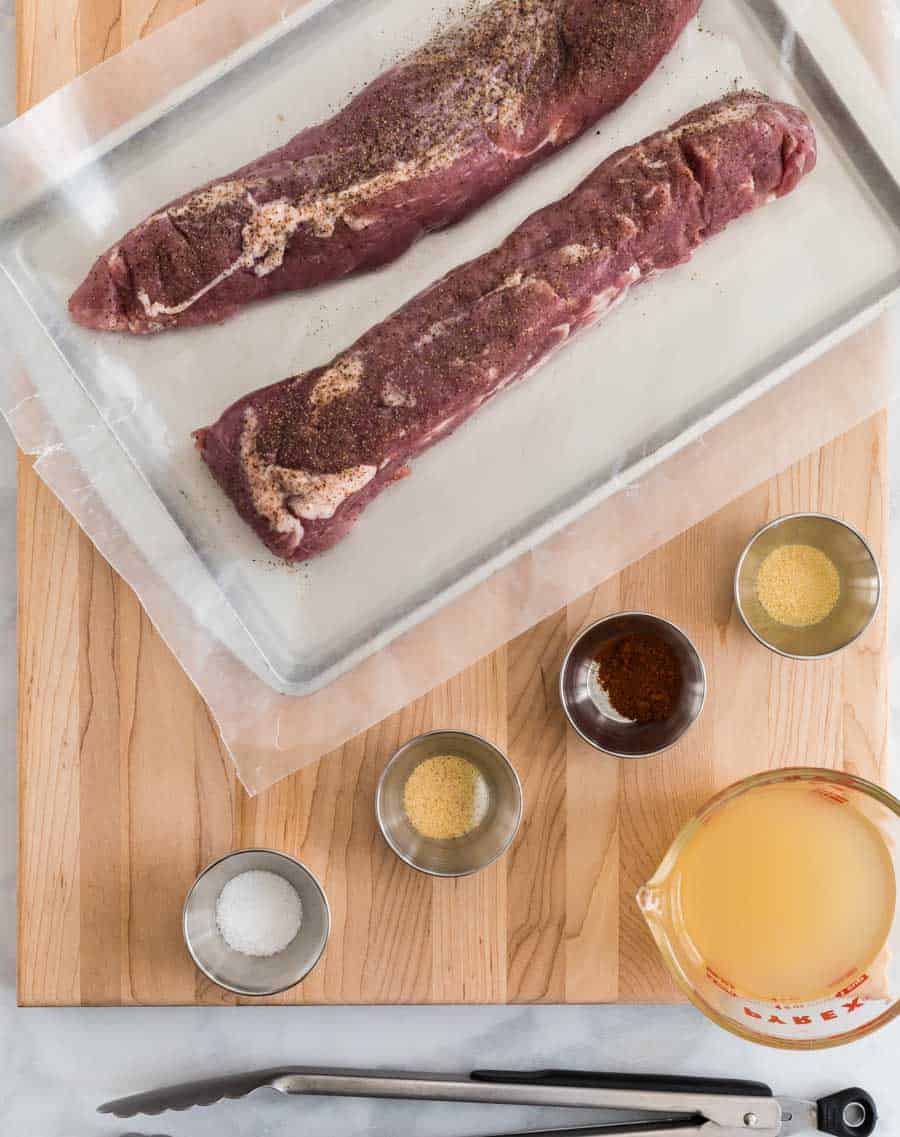 Frequently Asked Questions
What is the best cut of meat for slow cooker pulled pork sandwiches?
Boneless pork shoulder or butt are common cuts of meat for pulled pork but I chose to use pork tenderloin for this recipe because of it's quick cooking time and how easily it shreds.
Can I prepare the pulled pork ahead of time?
Yes, pulled pork can be prepared ahead of time and stored in the refrigerator for a few days. Reheat it gently on the stovetop or in the microwave before assembling your sandwiches. If it's a little dry while reheating, add a little chicken broth as needed.
What are some recommended toppings or side dishes for pulled pork sandwiches?
Classic toppings for pulled pork sandwiches include coleslaw, pickles, sliced onions, or even a dollop of creamy mayonnaise. For side dishes, consider serving sweet potato fries, cornbread, baked beans, or a fresh salad to complement the flavors.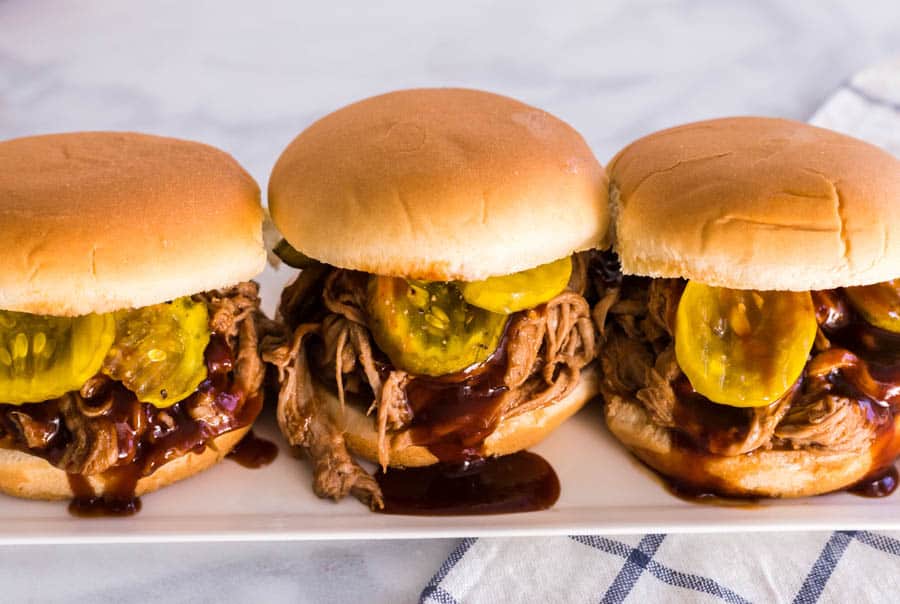 More Recipes
If you've tried this Slow Cooker Pulled Pork recipe or any other recipe on Bless This Mess, then don't forget to rate the recipe and leave me a comment below! I would love to hear about your experience making it. And if you snapped some pictures of it, share it with me on Instagram so I can repost on my stories.
📖 Recipe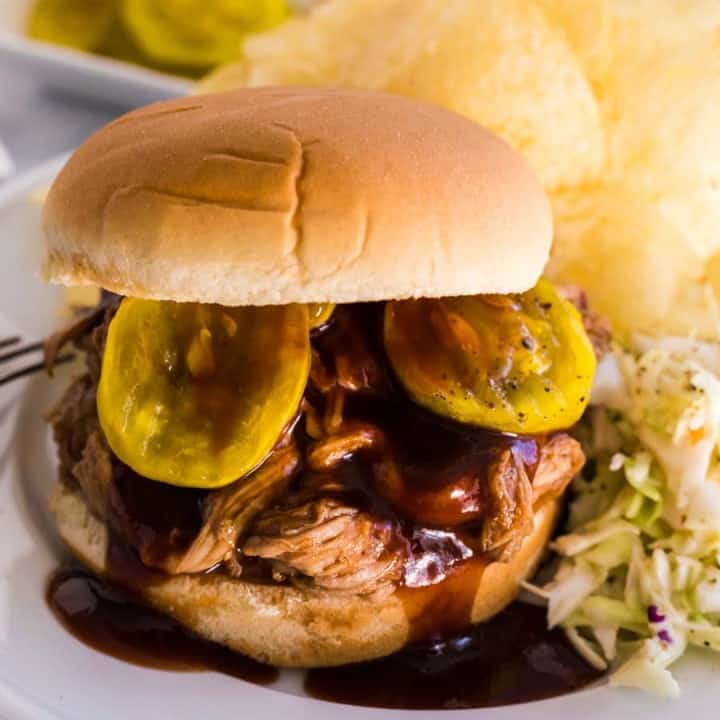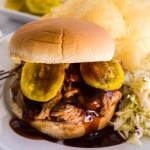 Print Recipe
Slow Cooker Pulled Pork Sandwiches
Slow Cooker Pulled Pork Sandwiches are easy, customizable, and tasty making it an ideal option for casual gatherings, game day parties, or a satisfying weeknight meal.
Ingredients
For the Pulled Pork:
1

pork tenderloin

1.5 to 2 pounds

1

teaspoon

salt

1

teaspoon

smoked paprika

½

teaspoon

garlic powder

½

teaspoon

onion powder

1

cup

chicken broth or water

1

cup

BBQ sauce

store-bought or homemade
For the Sandwiches:
1

package hamburger buns

Additional BBQ sauce

6

pepper jack or provolone cheese slices

1

recipe

easy fridge pickles
Instructions
Remove the pork tenderloin from the package, and place it on a cutting board.

In a small bowl, combine the salt, smoked paprika, garlic powder, and onion powder. Mix to combine.

Rub your spice mixture all over the tenderloin, and then place it in the bottom of your slow cooker.

Add the water or chicken stock to the bottom of the slow cooker (don't pour it directly over the pork, though, so that you don't wash off your spice rub).

Add the lid, and cook on high for 4 to 5 hours, or until the tenderloin is easy to shred with a fork.

Remove the pork from the slow cooker, and shred with 2 forks. Return it to the slow cooker, and mix it with any liquid that might have remained in the bottom of the slow cooker.

Add your BBQ sauce, and stir to combine. Adjust salt and BBQ sauce amounts to your liking.

To make the sandwiches: Toast or grill your buns if you'd like. Add additional barbecue sauce to the inside of both buns. Add warm pulled pork, and top with optional cheese and pickles. Serve right away.
Notes
To make easy fridge pickles, just add 1 cup water, ⅓ cup vinegar (I like white vinegar best, and rice and apple cider vinegar work great, too), 2 teaspoons salt, 1 large sliced garden cucumber (about 2 cups), and thinly sliced onion or green onion (about ½ cup) to a bowl or mason jar, and stir or shake to combine well. Let rest for at least 15 minutes or overnight in the fridge. The pickled onions are just as good on the sandwich as the pickled cucumbers.
This recipe is really easy to scale up. If you are feeding a crowd, you can put up to 3 or 4 tenderloins in your slow cooker at a time. Your cooking time will increase as the pounds of pork increase by 30 minutes per pound of so.
I like adding the BBQ sauce after the pork is cooked for a few reasons. It doesn't overcook the sauce or "burn" it. Plus, not everyone likes BBQ in my house, so I'll pull some of the meat out before adding the sauce for those who don't like it.
If you want your pork tenderloin to cook quicker, feel free to cut your tenderloin into 3 or 4 chubby pieces. When it's cut up, it could take as few as 3 hours to cook until tender.
Pork loin and pork tenderloin aren't the same cut of meat. A pork loin is MUCH larger than the small tenderloin. The tenderloin are often sold two to a package as they are so small.
SERVING SUGGESTIONS: Serve this with a side of corn on the cob, some hot baked french fries or tater tots, a bag of chips, or whatever else you like. This is also great with watermelon or fresh strawberries on the side.
MEAL PREP: Just prepare and shred the meat, and store it in the fridge for up to 3 days. When you are ready to serve, just heat it on the stove or in your slow cooker until it is heated through.
Nutrition
Calories:
473
kcal
|
Carbohydrates:
24
g
|
Protein:
64
g
|
Fat:
12
g
|
Saturated Fat:
4
g
|
Polyunsaturated Fat:
2
g
|
Monounsaturated Fat:
4
g
|
Trans Fat:
0.1
g
|
Cholesterol:
198
mg
|
Sodium:
1223
mg
|
Potassium:
1328
mg
|
Fiber:
1
g
|
Sugar:
17
g
|
Vitamin A:
286
IU
|
Vitamin C:
0.4
mg
|
Calcium:
55
mg
|
Iron:
4
mg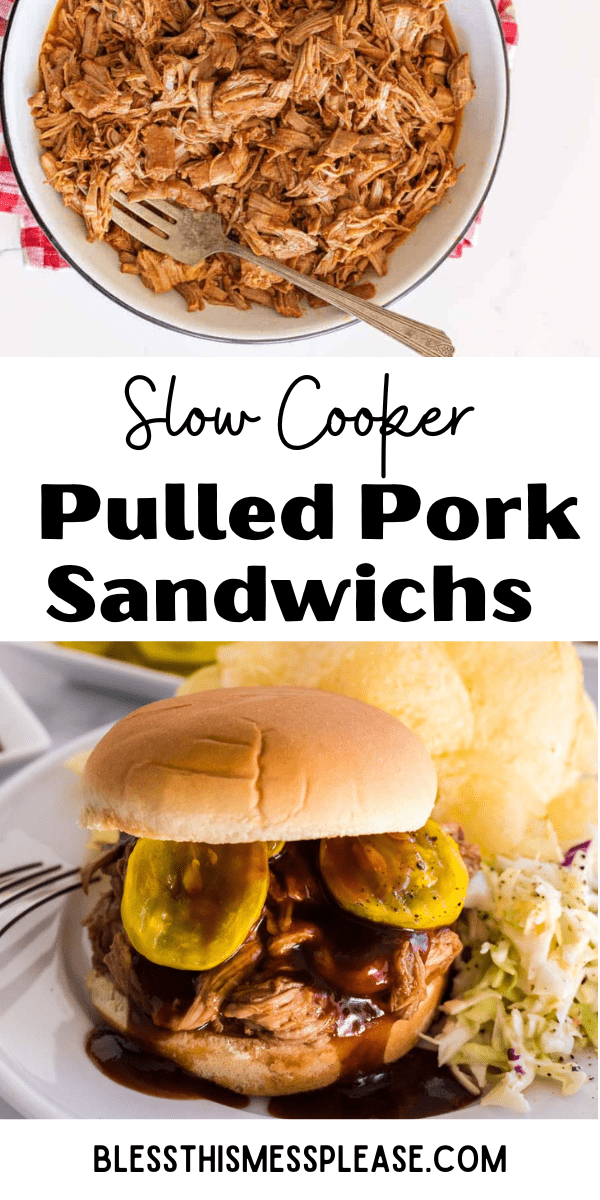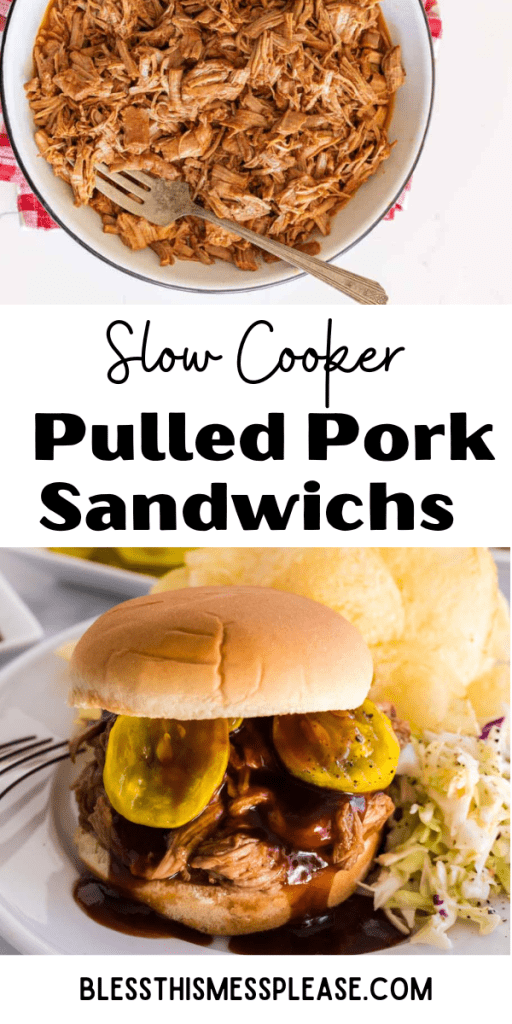 Crock pot pulled pork sandwiches offer a convenient and flavor-packed meal. With tender, juicy meat infused with spices and customizable toppings, these sandwiches are perfect for any occasion.