Bright, fruity, and tropical, you won't be able to taste the "green" in this easy Green Smoothie Recipe! It's a quick and healthy breakfast idea the whole family will love.
My Favorite Green Smoothie Recipe
Can we all agree that green smoothies deserve way more of a good reputation than we give them? *raises hand* I'm on a one-woman mission to convince everyone that YES, green smoothies can be delicious. And NO, it doesn't taste like you're drinking a blended salad. (Even if your kids might think it looks suspiciously spinach-colored.) This recipe includes three different types of frozen tropical fruit for a burst of bright flavor. Plus there's orange juice and vanilla Greek yogurt for an added bit of sweet (and protein thanks to the yogurt).
The key to a superb green smoothie is masking the kale or spinach with plenty of flavorful fruit so that you're getting the nourishing elements of lots of produce, but it doesn't taste like straight-up leaves. For an added element of protein and nutrients, I like adding some flaxseed, vanilla protein powder, and collagen powder (though it's not necessary)! Enjoy this healthy and bright smoothie for a snack, breakfast, or after-dinner "I'm still hungry" little ones.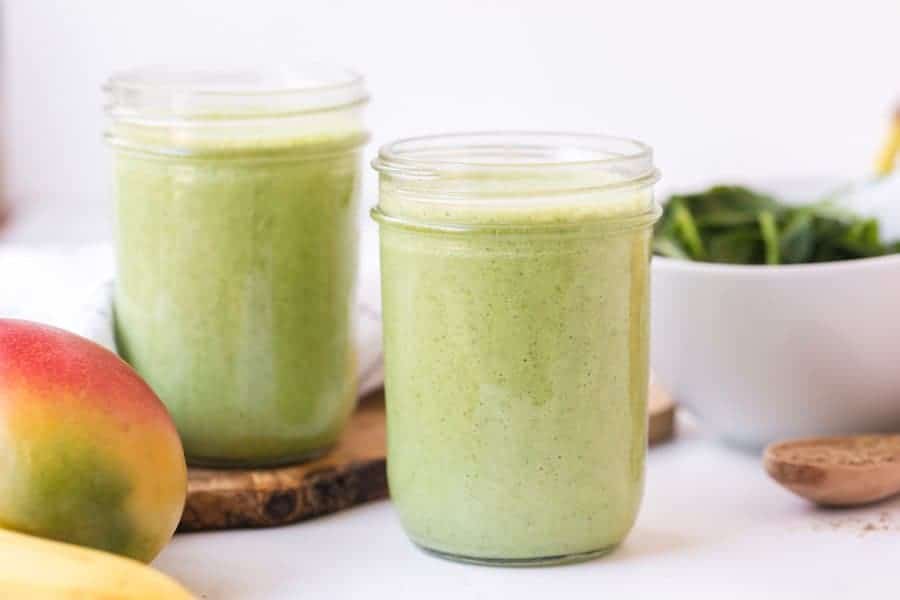 Are Green Smoothies Healthy?
Absolutely!
This smoothie not only has protein that comes from Greek yogurt, but you are able to consume daily fruits and vegetables that may be difficult to achieve later in the day. These fruits and vegetables are filled with vitamins and minerals that will help obtain a healthy diet.
I like to change up what types of greens I place in my smoothies. Look for green leafy vegetables such as spinach, kale, or swiss chard. I prefer to buy my greens in bulk and then freeze them so that they stay fresh longer and I can simply add them into the smoothie in the mornings.
Some optional add-ins that I always include with my smoothies are:
Ground flax seed: This is great for additional fiber and may help improve cholesterol.
Vanilla protein powder: This is a completely optional addition and can bring more of a protein taste into the smoothie. However, it is an additional nutrition supplement and helps keep you full longer. I use this brand of protein shake.
Collagen powder: this is great for helping improve your hair, skin, and nails.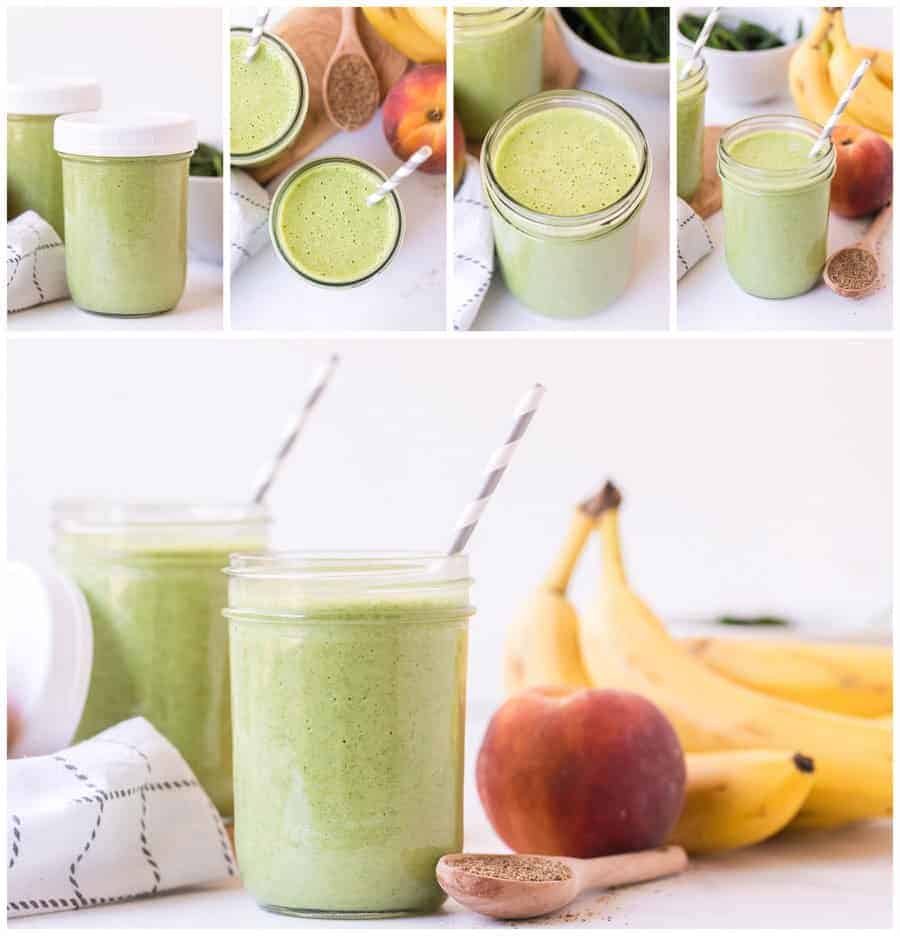 What's In this Healthy Smoothie?
Vanilla Greek yogurt: Greek yogurt will add protein to keep you full, and the vanilla flavor gives the smoothie some warm sweetness.
Banana: A banana helps to thicken the smoothie and kick up the sweetness, masking the greens!
Spinach or kale: Here's your green! Leafy greens are super good for you and you won't taste them in this smoothie.
Orange juice + water: These are your liquids to give the smoothie a drinkable and smooth consistency.
Frozen peaches, mango, + pineapple: Peaches, mango, and pineapple (frozen) will make the smoothie cold and give it the tropical, fruity, bright flavor you'll love!
Optional flaxseed, vanilla protein powder, + collagen: You can add these if you want more protein and nourishing nutrients!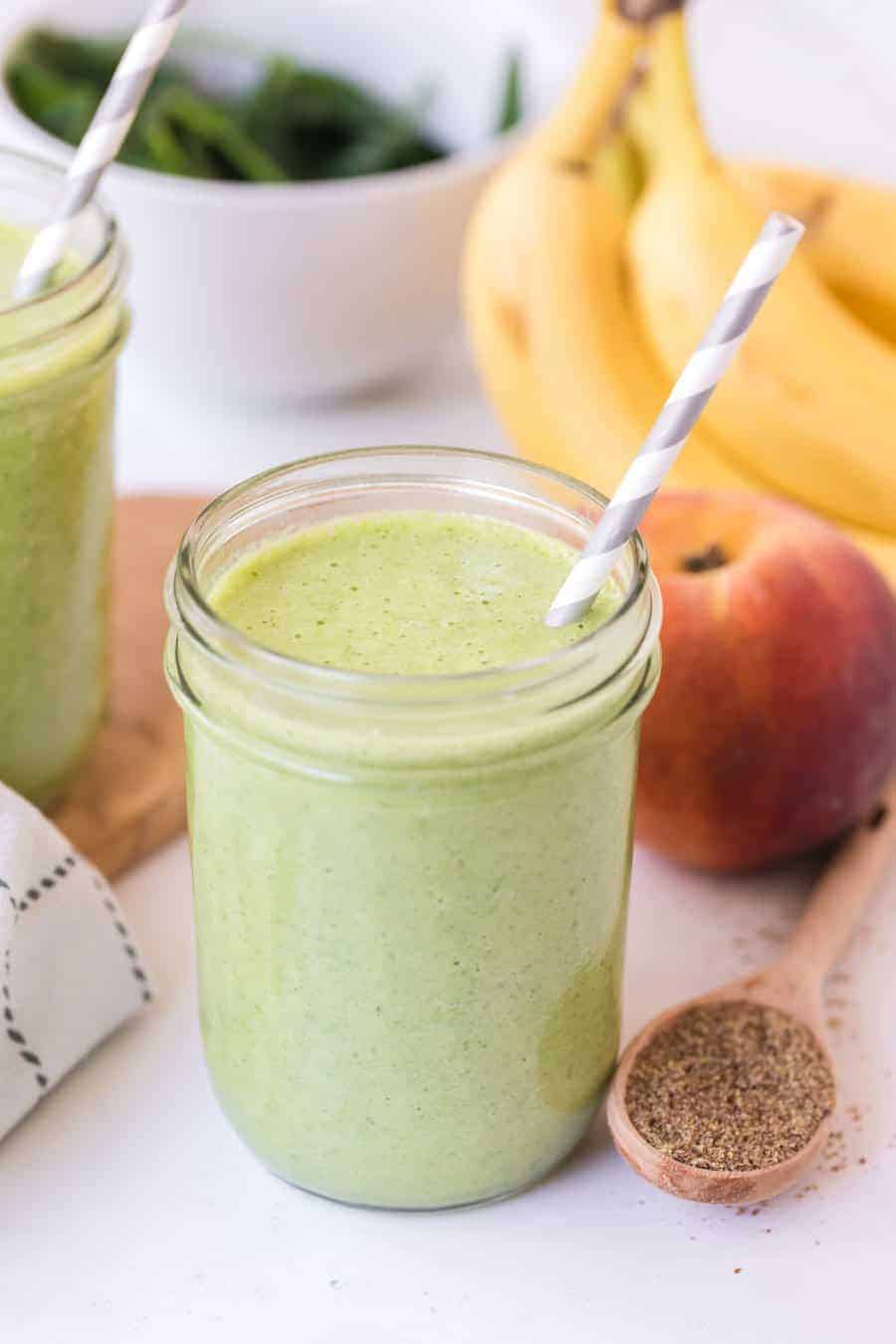 How to Make a Green Smoothie
Making green smoothies is SO simple!
Add all the ingredients to a blender in the order listed, and blend until smooth.
Add more orange juice or water/milk to thin to desired consistency.
Serve and enjoy immediately!
Add In Ideas:
You can add lots of fun things to your smoothies to make them even more healthy. Adding in collagen or vanilla protein powder will up the protein, leaving you full longer and energized. You can also use other fruits, goji/acai berry powder, honey, or peanut butter for extra vitamins, minerals, and protein.
How to Meal Prep Smoothies:
A GREAT thing to do is to bag up the fruit and veggies into individual, freezer-safe zipper-topped bags and store them in the freezer. Then you can throw them into a blender with the yogurt and liquids, and you're all set!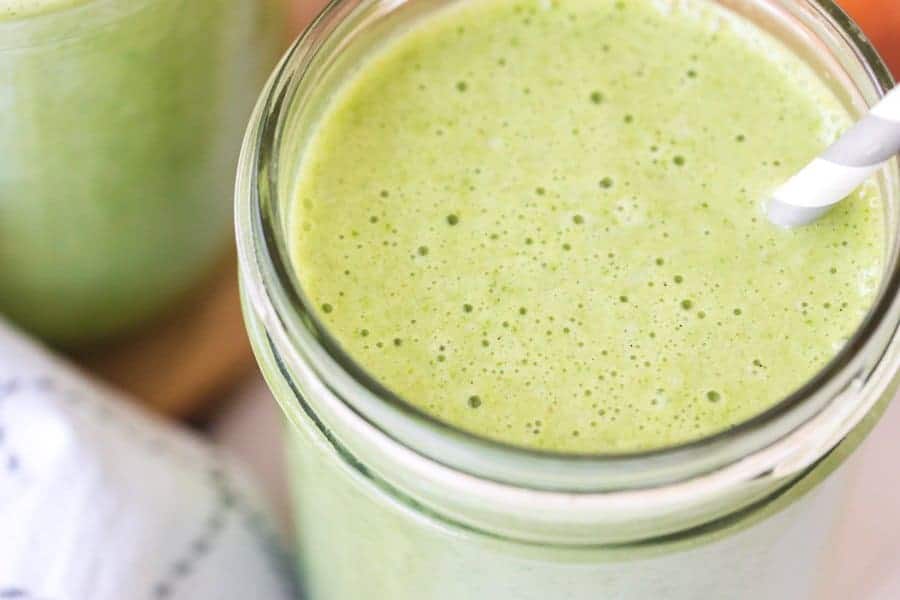 Tips for the Best Green Smoothies:
Why do I need to put the ingredients in a specific order?
Placing the ingredients in an order that will help the blender to gain momentum from the very beginning is key to helping your blender cooperate during the blending process.
The yogurt is very easy for the blender to handle, and it will quickly gain momentum for the frozen ingredients to easily blend.
You want to leave any loose powders such as ground flax seed or protein powder at the top because it could potentially get stuck in the bottom of the blender during the blending process.
How to store green smoothie or make it ahead of time:
This smoothie can be refrigerated for up to 2 days. I prefer to make my smoothies in a wide mouthed mason jar that comes with a lid. That way I can make this smoothie and take it on the go or store it easily in the refrigerator for later.
You should be able to refreeze this smoothie for up to 2 months. Make sure to whisk it well once it thaws or else it may have a grainy texture. Or better yet, blend it up in the blender again to smooth it out.
Print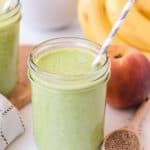 Simple Green Smoothie Recipe
---
Author:

Total Time:

5 minutes

Yield:

2

, 2-cup servings

1

x
Description
Bright, fruity, and tropical, you won't be able to taste the "green" in this easy Green Smoothie Recipe! It's a quick and healthy breakfast idea the whole family will love.
---
½ cup

vanilla Greek yogurt

1

medium banana, fresh or frozen

2 cups

spinach or kale, frozen

1

to

1 ½

cups orange juice

1 cup

cold water (or your preferred milk)

½ cup

frozen peaches

½ cup

frozen mango

½ cup

frozen pineapple

2 tablespoons

ground flax seed, optional

2 tablespoons

vanilla protein powder, optional

1

scoop collagen powder, optional
---
Instructions
Place all ingredients in the order listed into a blender. Blend until smooth.
Add in more orange juice or water as needed to reach your desired consistency. Enjoy!
Prep Time:

5 minutes

Cook Time:

0 minutes

Category:

Smoothie

Method:

Blender

Cuisine:

American
Keywords: green smoothie recipe, easy smoothie recipe, healthy smoothie recipe, best green smoothie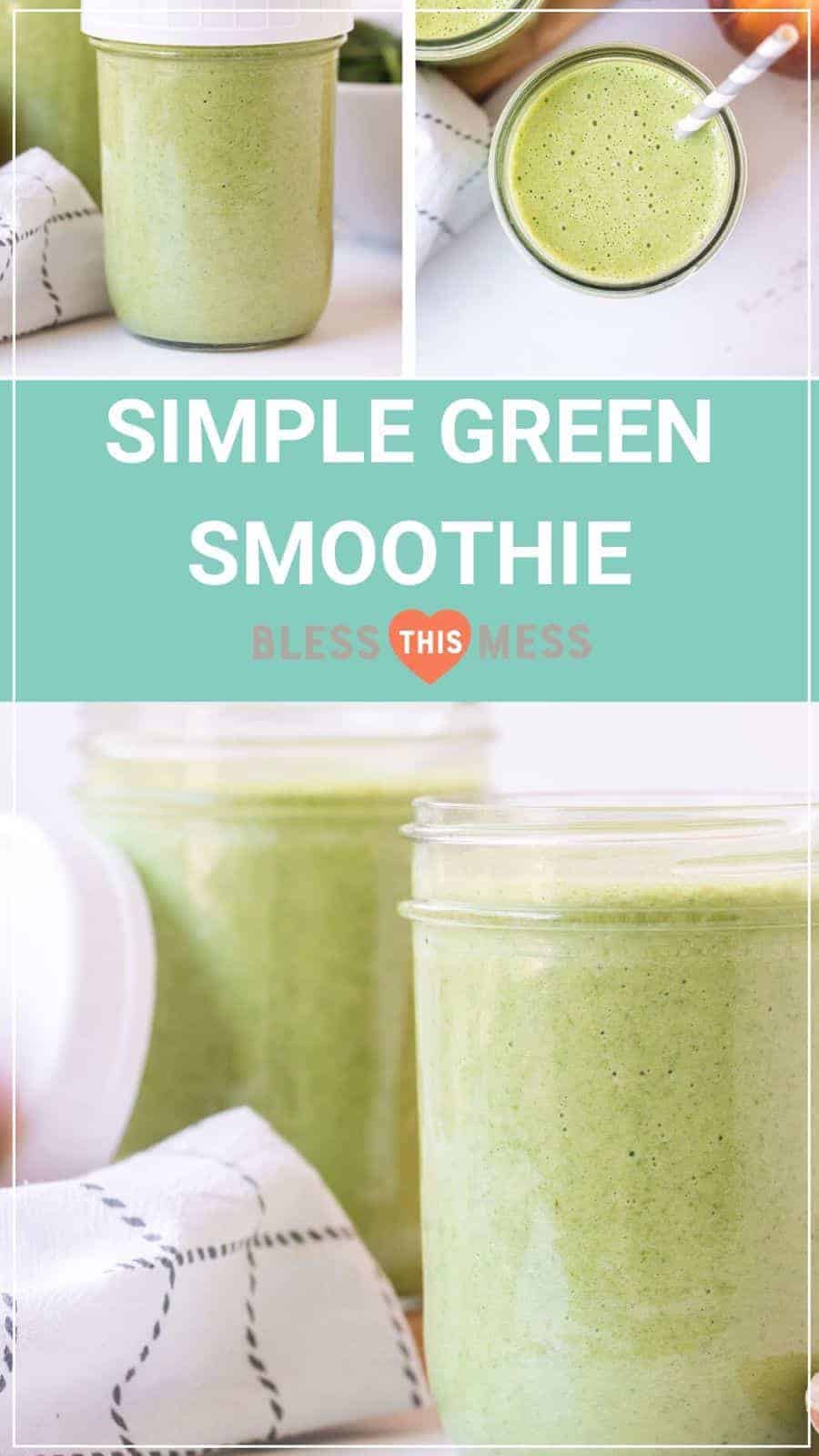 Try these amazing smoothie recipes:
I hope you love this sweet, tropical & healthy green smoothie recipe and it fills you up with tasty nutrients all day long!