Hey there, curious bakers! Have you ever heard of a marble cake? No, it's not a cake made of real marbles (ouch, that would be tough to eat!). It's a super tasty treat that's like magic in your mouth. Today, we're going to dive into the world of Marble Cake – what it is, how to make it, and why people go crazy for it.
Imagine you have two cake flavors that are so good, they want to be together in one cake. Well, that's where marble cake comes in! It's like having a chocolate cake and a vanilla cake doing a dance party in your oven. The best part? They don't mix completely – they create beautiful swirls that look like a work of art. Yum!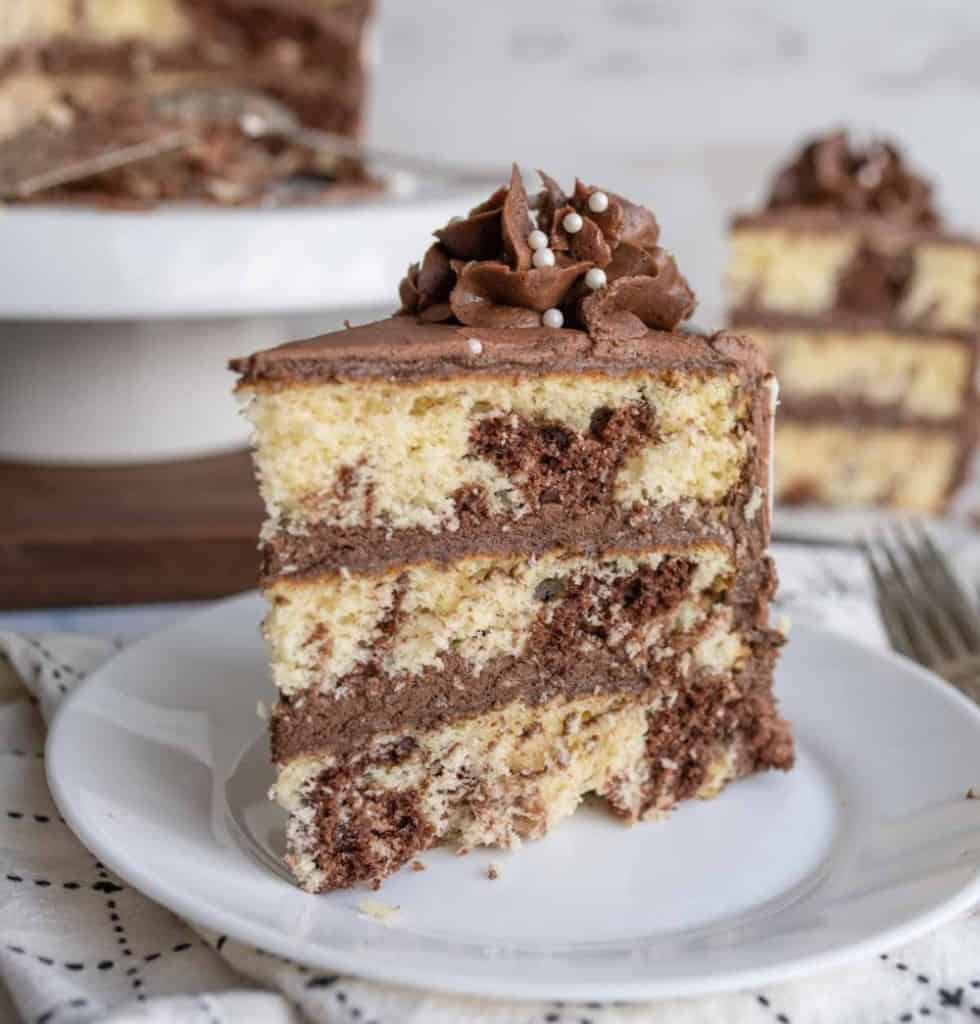 Marble Cake
What's not to love about marble cake? It's like having two delicious cakes in one! The swirly patterns make it look super cool and exciting, and when you take a bite, you might get a burst of chocolate or a hint of vanilla. It's like a flavor adventure right on your taste buds!
When you are baking a marbled cake, it is crucial to use room temperature butter and eggs for the cake batter to ensure even mixing. Another tip is that to ensure the cake has an even marbling effect, avoid over-swirling the two batters. These two tricks will help to create the best cake possible.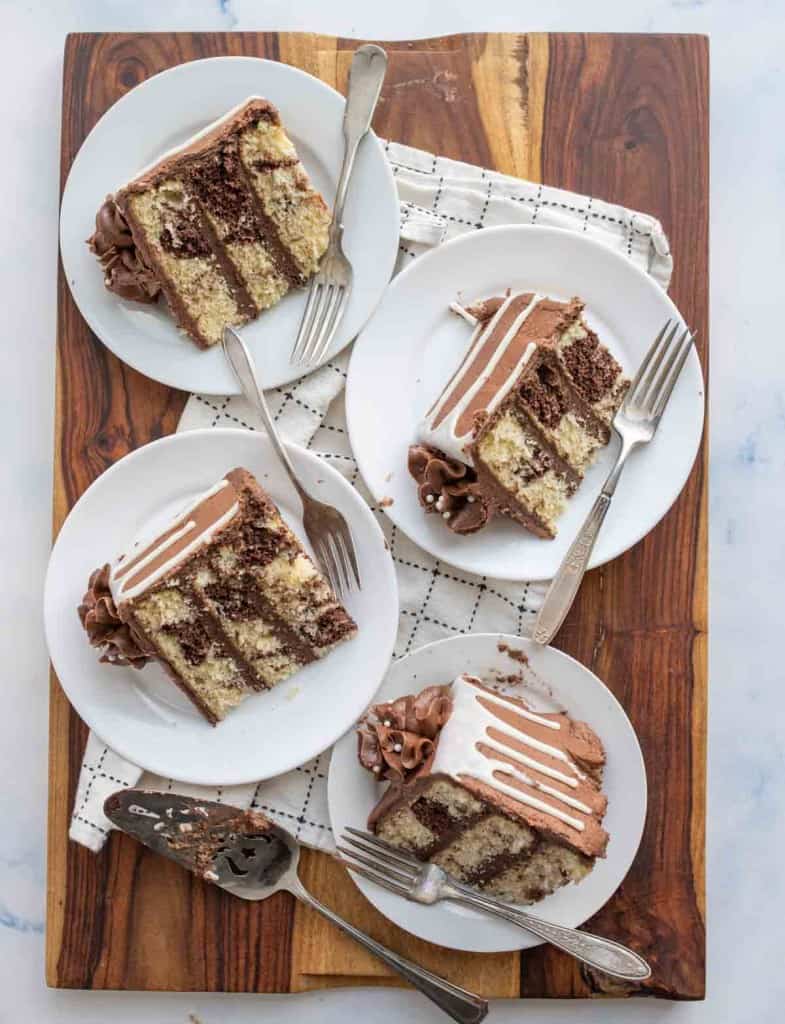 Ingredients
Butter
Sugar
Eggs
Flour
Baking powder
Milk
Vanilla extract
Cocoa powder
Chocolate Frosting:
Butter
Powdered sugar
Heavy cream
Vanilla
Cocoa powder
Chocolate melting wafers
Keep scrolling to find a full, printable recipe with a detailed ingredient list.
Recipe Instructions
Preheat your oven to 350°F and prepare cake pans.
Mix butter, sugar, and egg yolks until fluffy.
Combine flour, baking powder, milk, and vanilla.
Divide batter, mix cocoa in one part. Swirl batters, bake at 350°F for 30 minutes.
Cool cakes, frost with yummy chocolatey icing.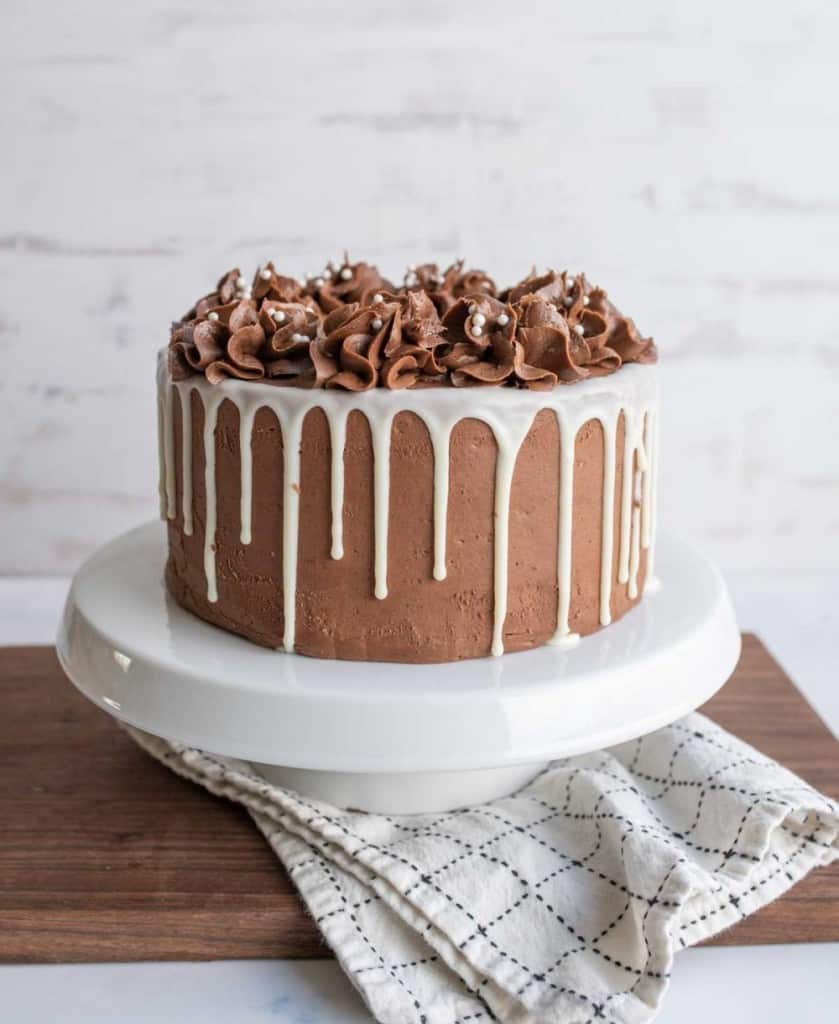 Frequently Asked Questions
What is a marbled cake?
A marbled cake is a special type of cake that combines two flavors, usually vanilla and chocolate, in a swirling pattern. The two flavors create a unique and eye-catching design when baked.
Can I use other flavors besides vanilla and chocolate?
Absolutely! While vanilla and chocolate are popular choices, you can get creative and use different flavors like strawberry, orange, or even matcha. Just remember to choose flavors that complement each other well.
Can I use a different size of cake pan?
Sure! If you use a different pan size, the baking time might change, so keep an eye on the cake as it bakes and use a toothpick to check if it's done.
How do I know when the cake is done baking?
Insert a toothpick into the center of the cake. If it comes out clean or with a few crumbs, the cake is done. If it's still wet, give it a little more baking time.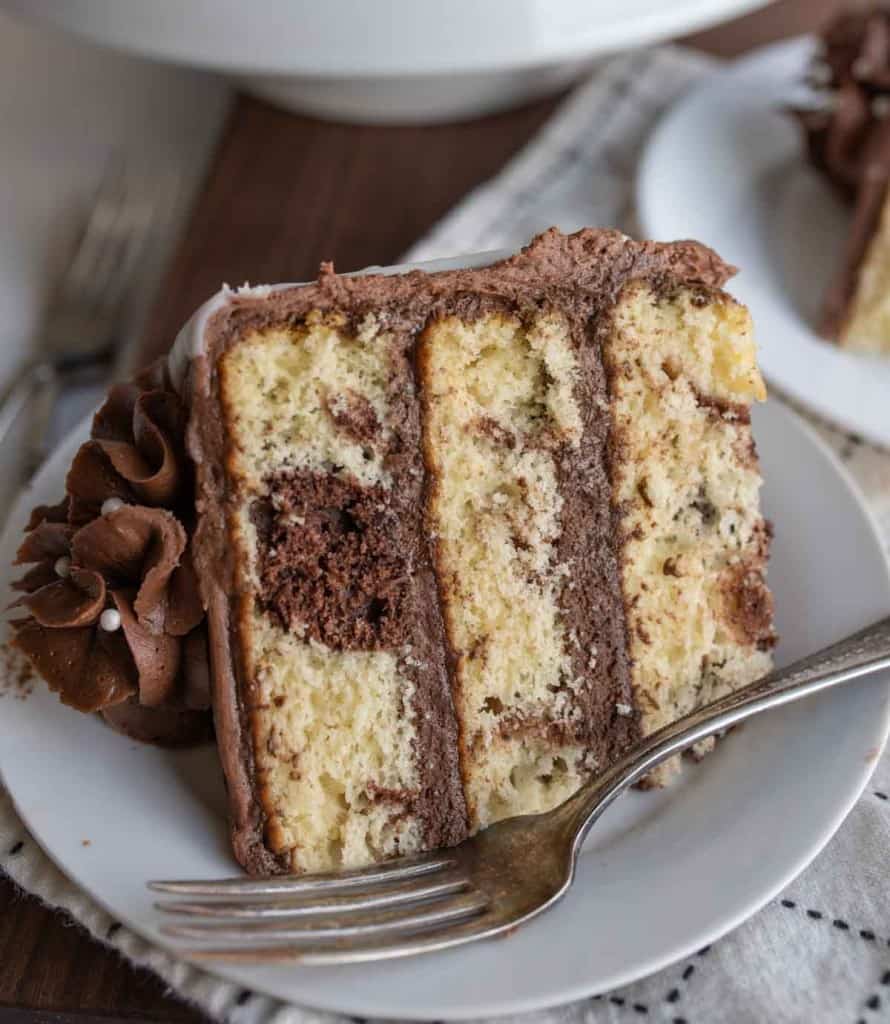 More Recipes
If you've tried this Marble Cake recipe or any other recipe on Bless This Mess, then don't forget to rate the recipe and leave me a comment below! I would love to hear about your experience making it. And if you snapped some pictures of it, share it with me on Instagram so I can repost on my stories.
📖 Recipe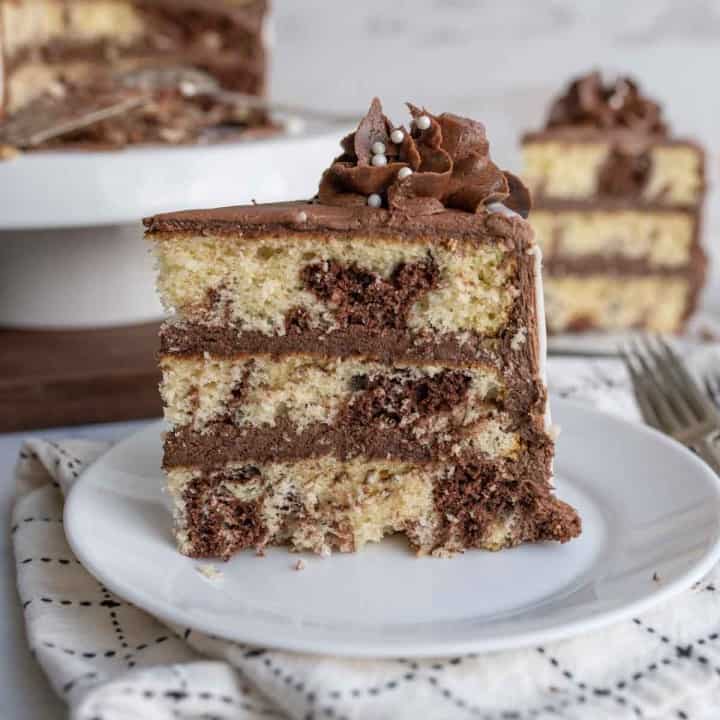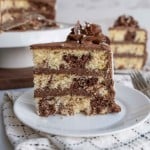 Print Recipe
Marble Cake Recipe
Imagine a cake where chocolate and vanilla batter team up in a swirl-tastic dance, creating a super cool and incredibly tasty marbled cake!
Ingredients
1

cup

unsalted butter

at room temperature

2

cups

granulated sugar

4

large eggs

separated

3

cups

all-purpose flour

1

tablespoon

baking powder

1

cup

milk

preferably whole or 2%

1

teaspoon

pure vanilla extract

⅛

teaspoon

salt

⅓

cup

unsweetened cocoa powder
Chocolate Frosting:
2

cups

unsalted butter

at room temperature

8

cups

powdered sugar

2 pounds

4-6

tablespoons

heavy cream

adjust based on desired consistency

2

teaspoons

pure vanilla extract

Pinch

of salt

⅓

cup

unsweetened cocoa powder

½

cup

chocolate melting wafers

or melted chocolate
Instructions
Preheat your oven to 350°F (175°C). Ensure the oven rack is in the middle position.

Lightly grease three 8-inch cake pans with baking spray or unsalted butter. Line the bottom of each cake pan with a parchment paper round.

In a large mixing bowl, cream together the butter and sugar using an electric mixer until the mixture is light and fluffy.

Beat in the egg yolks one at a time, ensuring each is well incorporated before adding the next.

In a separate medium-sized bowl, whisk together the flour and baking powder.

Slowly add the dry ingredients to the butter mixture, alternating with the milk and vanilla, beginning and ending with the dry ingredients. Mix until just combined.

In another clean bowl, using clean beaters, whip the egg whites and salt at high speed until stiff peaks form.

Gently fold the whipped egg whites into the cake batter until well combined.

Split the batter into two equal portions. Mix the cocoa powder into one half, stirring until well combined.

Spoon both vanilla and chocolate batters alternately into the prepared cake pans. Using a butter knife, gently swirl the two batters together to create a marbled effect. Be careful not to touch the bottom of the pan.

Place the cake pans in the oven and bake for approximately 30 minutes or until a toothpick inserted into the center of the cakes comes out clean.

Remove from the oven and allow the cakes to cool in the pans for 10 minutes. Then transfer them to a wire rack, remove from pan, remove the parchment paper round, and cool completely.

Prepare the Frosting: In a large mixing bowl, beat the butter until smooth and creamy. Gradually add the powdered sugar and mix until smooth. Add the heavy cream, vanilla, and salt, mixing well. Stir in the cocoa powder until fully combined. In a microwave-safe bowl, melt the chocolate wafers in 30-second intervals, stirring between each until smooth. With the mixer on low, slowly pour in the melted chocolate, then increase the speed and mix until smooth and well combined.

Frost the Cake: Once the cakes are completely cooled, apply the frosting between each layer and over the top and sides of the cake.
Notes
It's crucial to use room temperature butter and eggs for the cake batter to ensure even mixing.
To ensure that the cake has an even marbling effect, avoid over-swirling the two batters.
The frosting can be made thicker or thinner by adjusting the amount of heavy cream. Start with a smaller amount and add as needed.
Store any leftover cake in an airtight container at room temperature for up to 3 days or refrigerated for up to a week.
Nutrition
Calories:
1062
kcal
|
Carbohydrates:
146
g
|
Protein:
8
g
|
Fat:
53
g
|
Saturated Fat:
33
g
|
Polyunsaturated Fat:
2
g
|
Monounsaturated Fat:
14
g
|
Trans Fat:
2
g
|
Cholesterol:
185
mg
|
Sodium:
171
mg
|
Potassium:
200
mg
|
Fiber:
3
g
|
Sugar:
117
g
|
Vitamin A:
1604
IU
|
Vitamin C:
0.03
mg
|
Calcium:
123
mg
|
Iron:
3
mg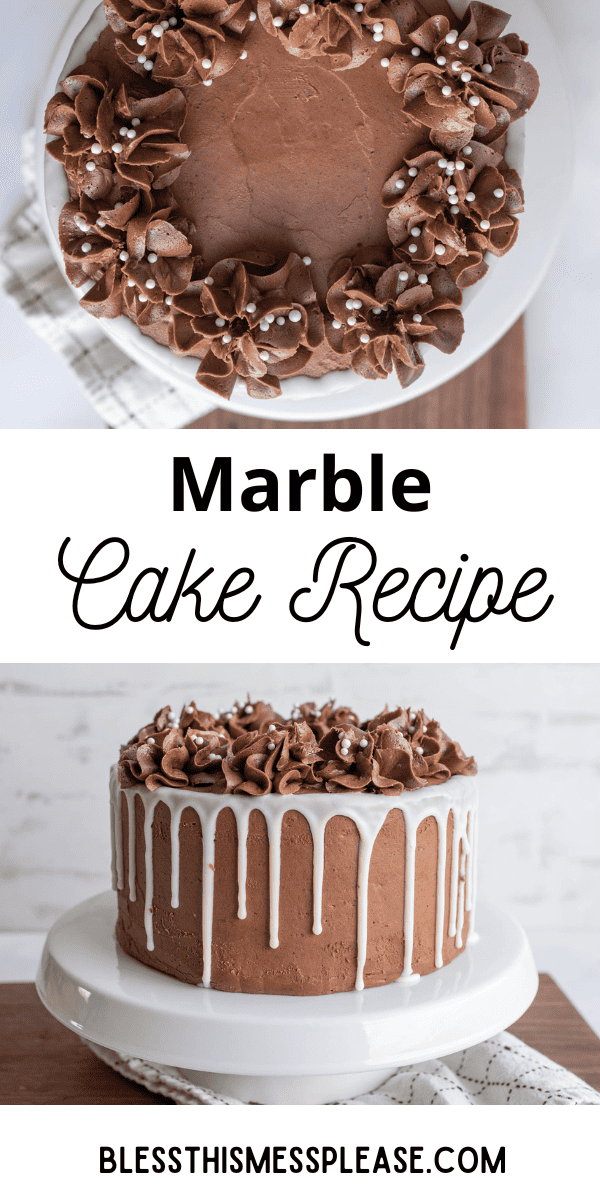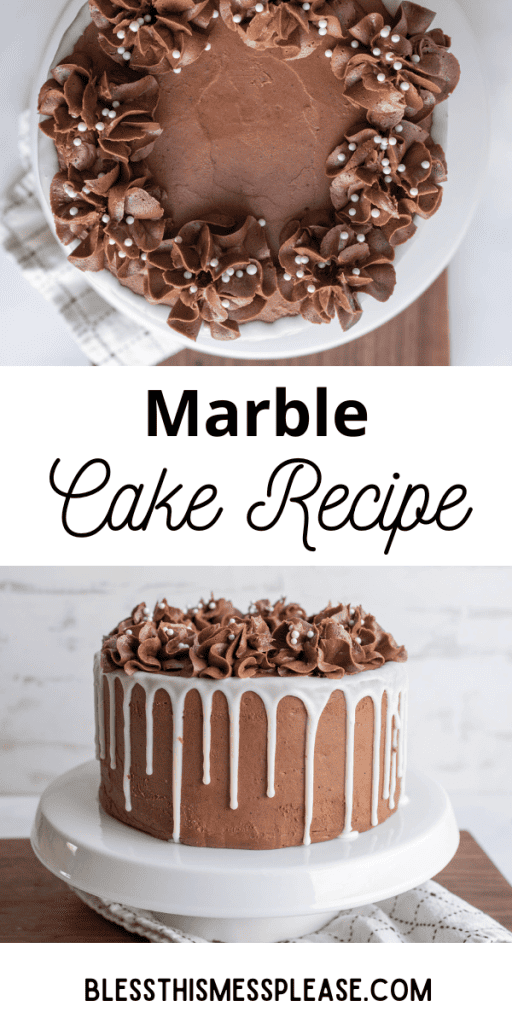 In a nutshell, marble cake is like a delicious party where chocolate and vanilla flavors come together in a groovy swirl, making every bite a tasty adventure!