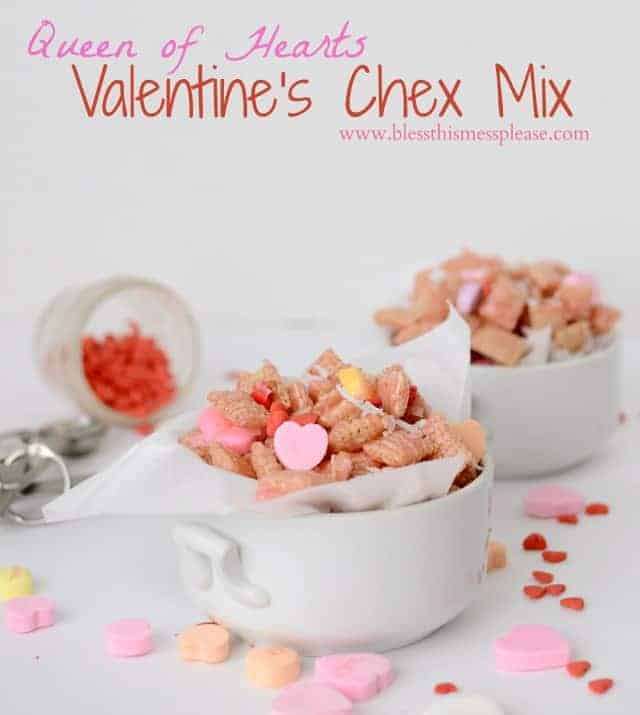 It's the twelfth of the month already and you know what that means? 12 bloggers, 12 recipes, 12 ingredients or less and a whole lot of fun. This month's theme is just perfect for Valentine's: hearts!
Here's a little sneak peak at what all of the other bloggers brought to the party and the links to all these recipes are at the bottom of the post. Feel free to check any or all of them out.
I decided to make a quick and easy Chex Mix that has lots of conversation hearts and heart sprinkles. This pink Chex Mix is sweet, sticky, and just right for snacking. This is the perfect thing for Valentine's Day. It would travel to a party well or would be really cute in some decorated bags. I love that it makes a bunch and is adorable without taking a lot of time and effort. Plus it's pink! Really, what's not to love?
Whatever the occasion this Chex Mix is going to be a hit. We all need more pink chex mix in our lives!
Enjoy and Happy Valentine's Day!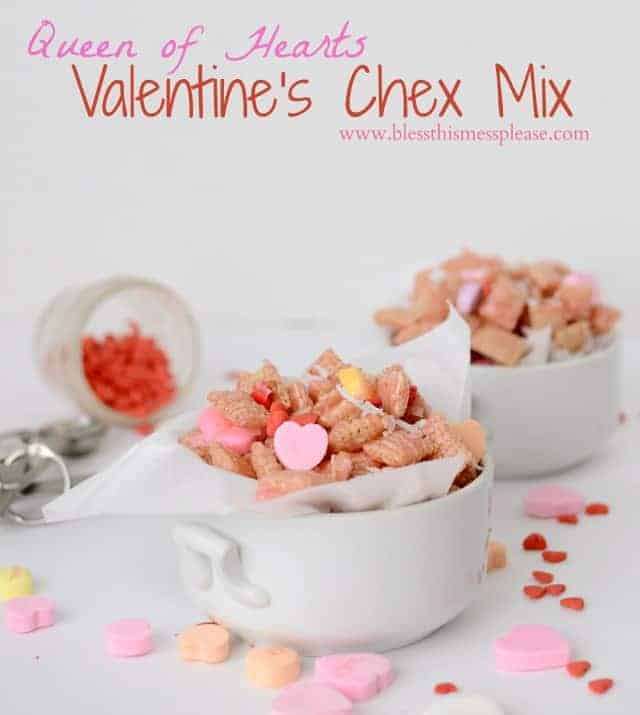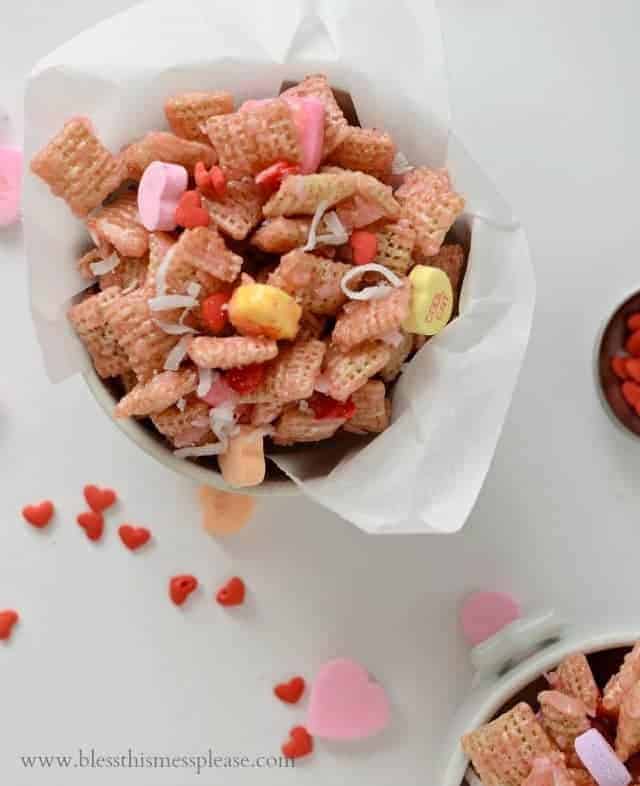 Print
Queen of Hearts Chex Mix
---
Yield:

Makes 10 cups
Ingredients
8 cups Chex Cereal (corn or rice or a combo of the two)
2 cups shredded coconut
2 cups small conversation hearts
2 cups large conversation hearts
1 cup granulated sugar
1 cup light corn syrup
3/4 cup salted butter
1/2 tsp. salt
1 tsp. vanilla
10 drops red food coloring
1/2 cup mini sugar heart sprinkles
---
Instructions
In a large bowl mix the Chex and conversation hearts together and set aside.
In a medium sauce pan over medium heat combine the sugar, corn syrup, and butter. Cook over medium heat until the mixture comes to a boil. Stirring often let the mixture boil for 3 minutes.
Remove from the heat and stir in the salt, vanilla, and food coloring. Pour the sugar mixture over the cereal mixture in the bowl and stir well until everything is evenly coated. Turn the mixture onto waxed paper and then sprinkle on the heart sprinkles before the coating cools. Let the Chex mix cool completely before enjoying.
Notes
The red food coloring is optional. It makes it pretty and pink but if that kind of thing isn't for you just skip it!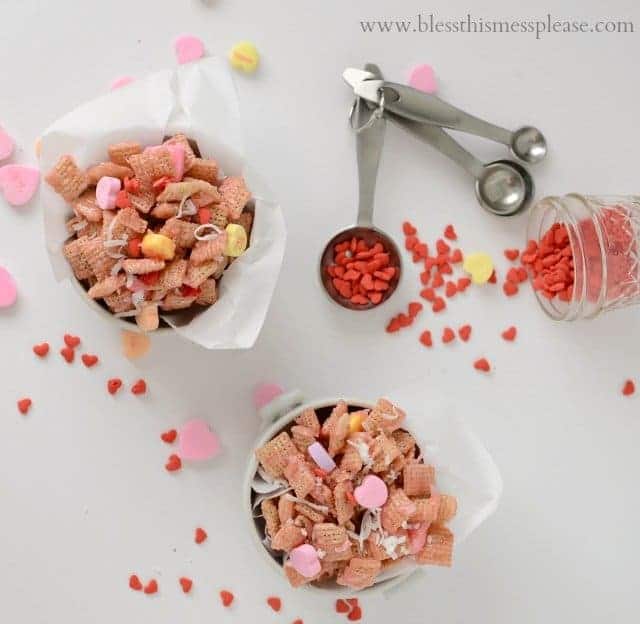 And here are all of the recipe links for this month. Enjoy!
Easy Chocolate Caramel Pretzel Hearts from Choosing Love
Sweetheart Popcorn from A Night Owl
Valentine's Jello Popcorn Balls from Mom Endeavors
Valentine's Chocolate Chip Cookies from Around My Family Table
Heart Shaped Pretzels from Betsy Life
Lemon Ricotta Pancakes with Strawberry Maple Syrup from Eat Your Heart Out
Heart Shaped Strawberry Shortcake from See Vanessa Craft
Mini Heart-Shaped Monkey Bread from Home Cooking Memories
Raspberry Cream Tart from A Little Claireification
Rice Crispy Hearts from The Rebel Chick
Nutella Filled Conversation Hearts from Million Moments