This Pesto Pasta Salad, bursting with pesto and Parmesan, steals the show as a side dish!
This Pesto Pasta Salad may be a side dish, but it will steal the show at any meal! Packed full of pesto in every bite and balanced by sharp parmesan cheese, this pasta salad is sure to be a star that will keep people coming back for more.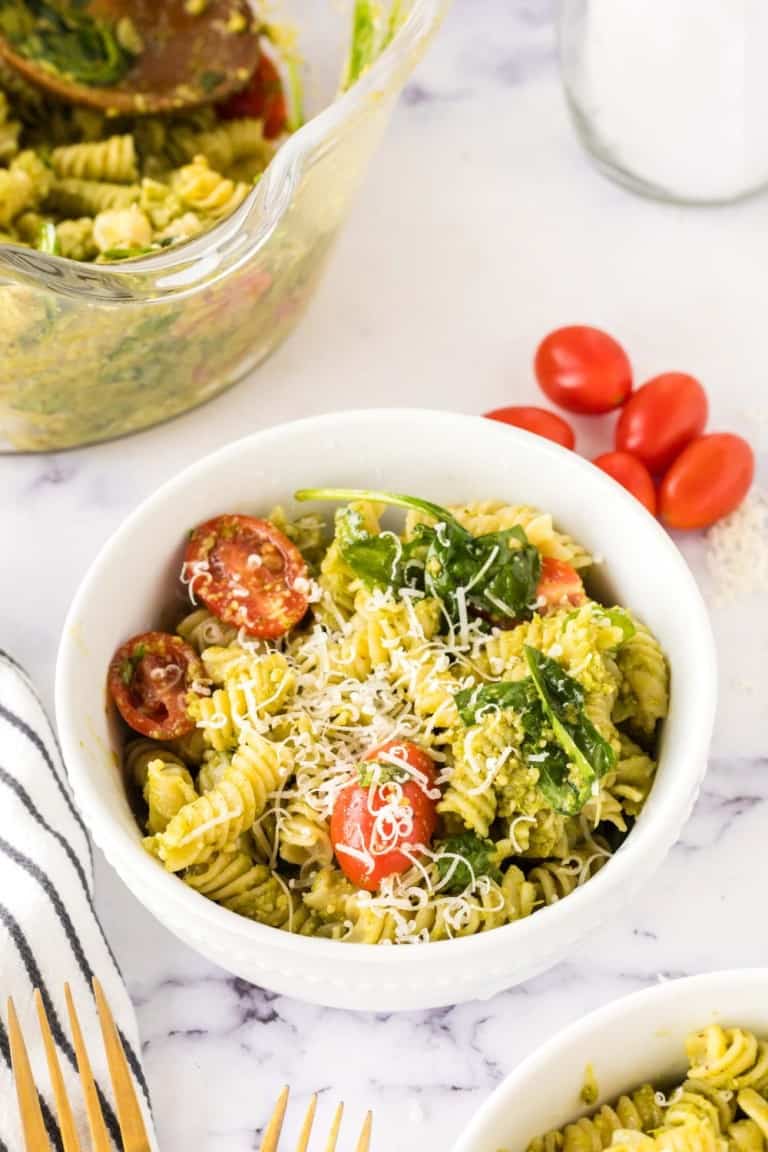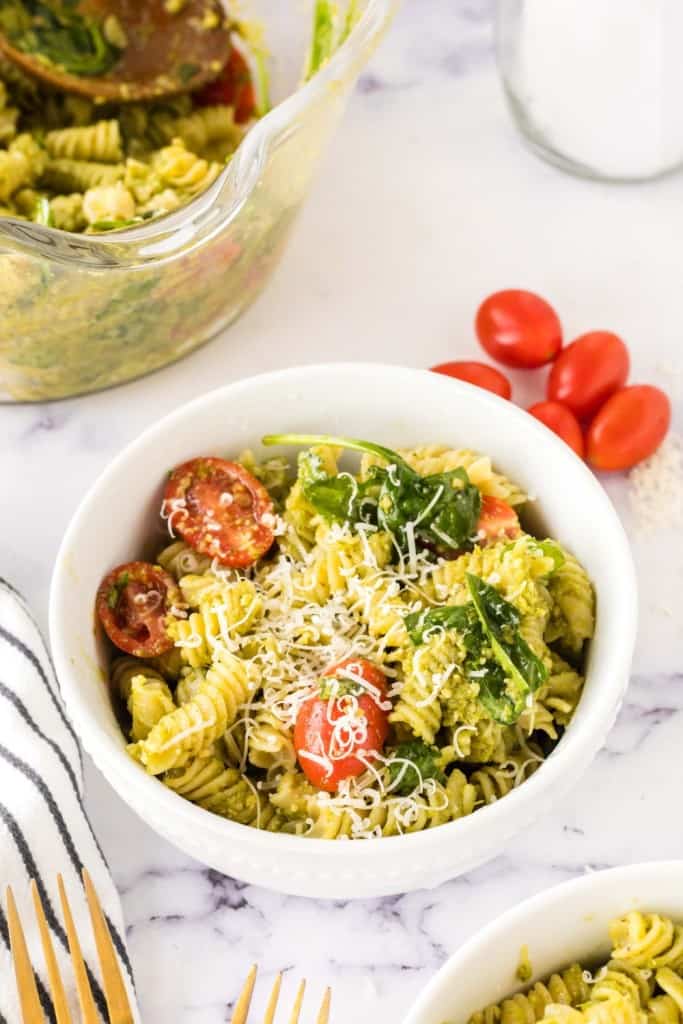 This culinary masterpiece effortlessly combines al dente pasta, vibrant cherry tomatoes, and the velvety richness of pesto sauce. Topped with a generous sprinkle of grated Parmesan cheese, every bite of this rich dish will keep you coming back for seconds until the bowl is empty.
This pesto pasta salad is the perfect side dish, offering a burst of vibrant colors to your table and a palate-pleasing combination of tangy, herbaceous, and nutty notes. The low cost ingredients used in this dish make it a great addition to any budget dinner or large family gathering.
Table Of Contents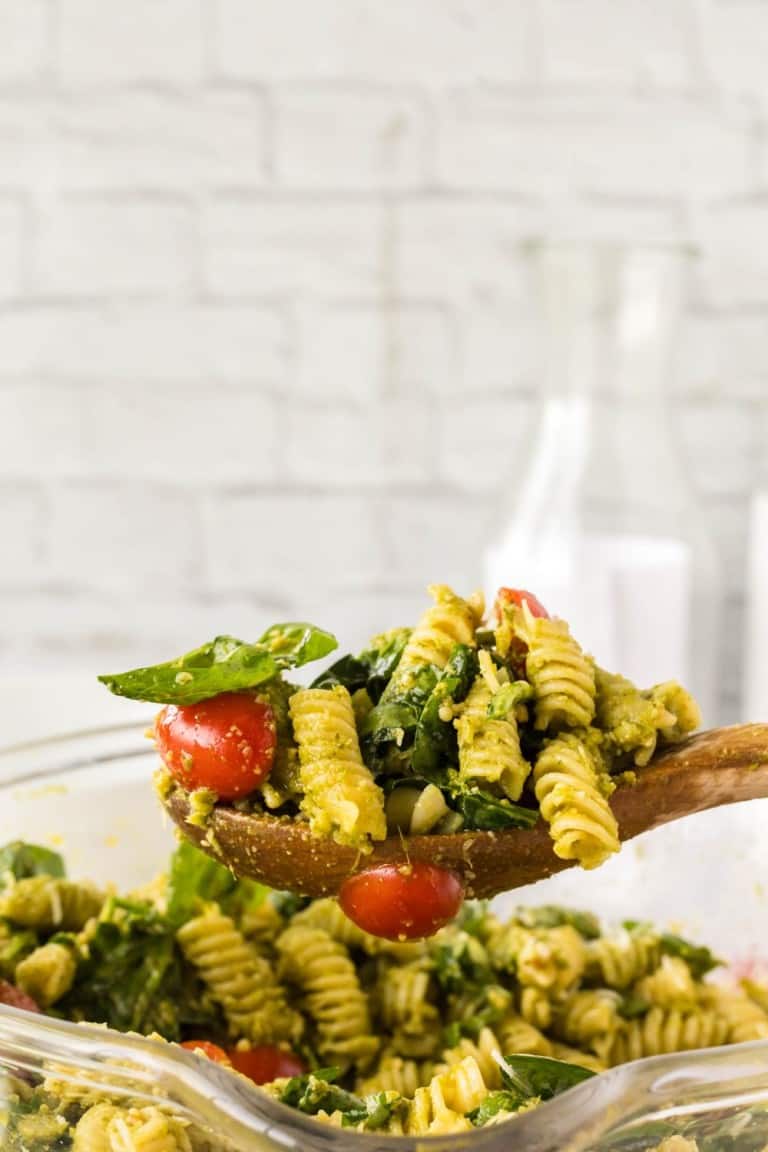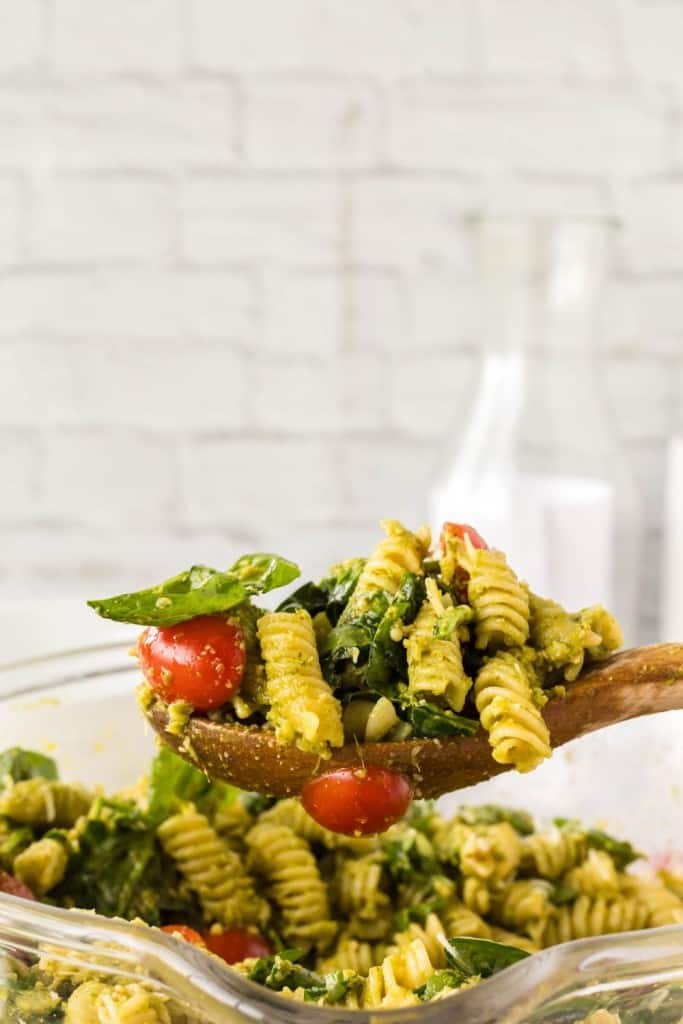 Reasons We Love This Recipe Because It:
Makes a great side to almost any dish
Comes together in minutes
Can be modified with an array of ingredients
Recipe Ingredients
Rotini Noodles—You can also use penne, bow tie, or macaroni noodles.
Pesto—Provides the base flavor of the pasta salad.
Cherry Tomatoes—Or grape tomatoes. Sliced.
Parmesan Cheese—Freshly grated.
Fresh Spinach—Adds some extra nutrients to the dish.
Popular Substitutions and Variations
Pasta: Substitute the rotini pasta with a different pasta shape of your choice, such as penne, bowtie, or farfalle. You can also use gluten-free pasta if needed.
Pesto: Replace the pesto with an alternative sauce like sun-dried tomato pesto, roasted red pepper sauce, or a creamy Alfredo sauce. You can also make a homemade alternative like a basil vinaigrette by blending fresh basil, olive oil, garlic, and a touch of vinegar.
Cherry Tomatoes: If you don't have cherry tomatoes or prefer a different flavor, try grape tomatoes, diced Roma tomatoes, or even roasted red bell peppers for a sweeter taste.
Parmesan Cheese:Substitute grated Parmesan cheese with grated Pecorino Romano, Asiago, or a vegan cheese alternative for a dairy-free version.
How to Make Pesto Pasta Salad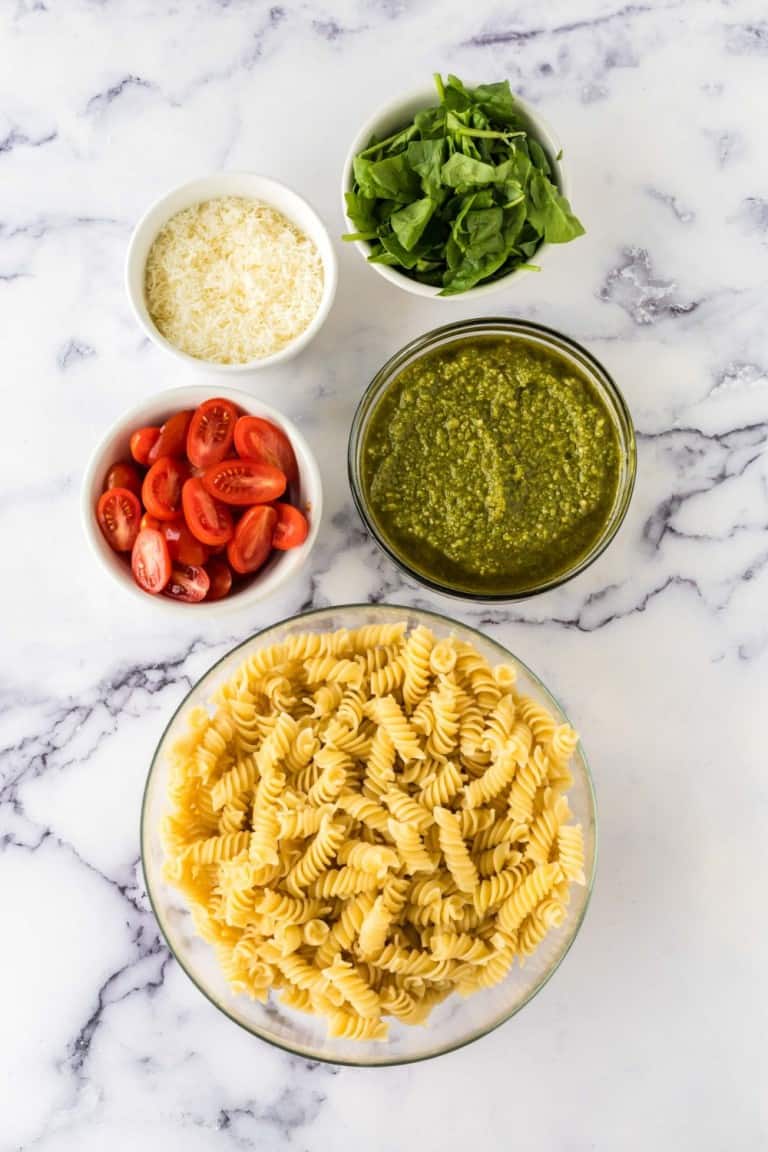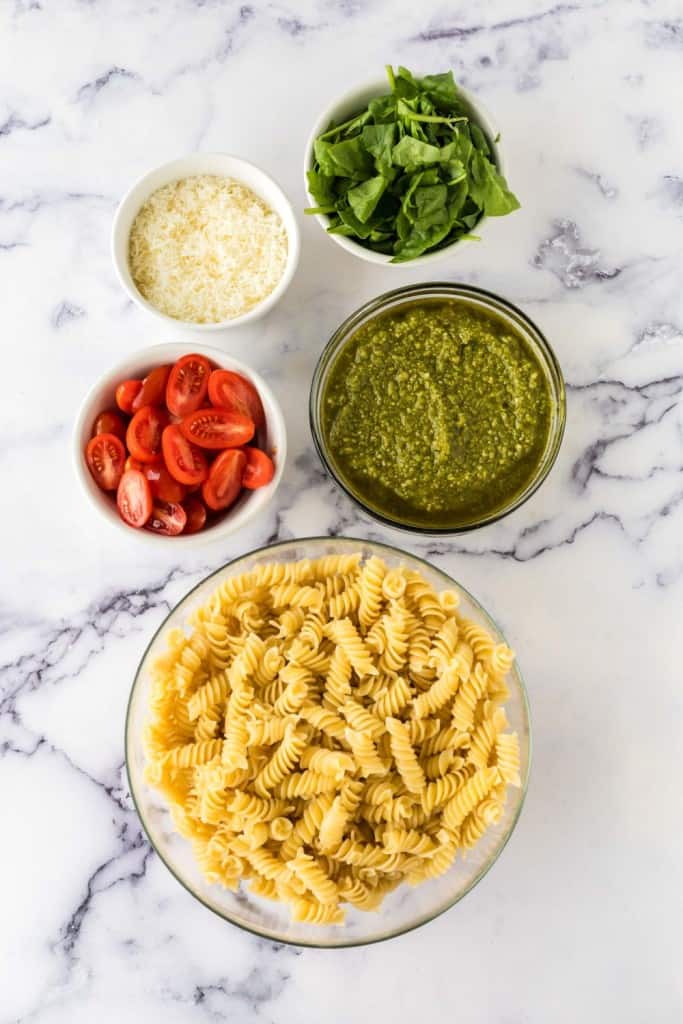 Slice the cherry tomatoes and then gather the rest of the ingredients.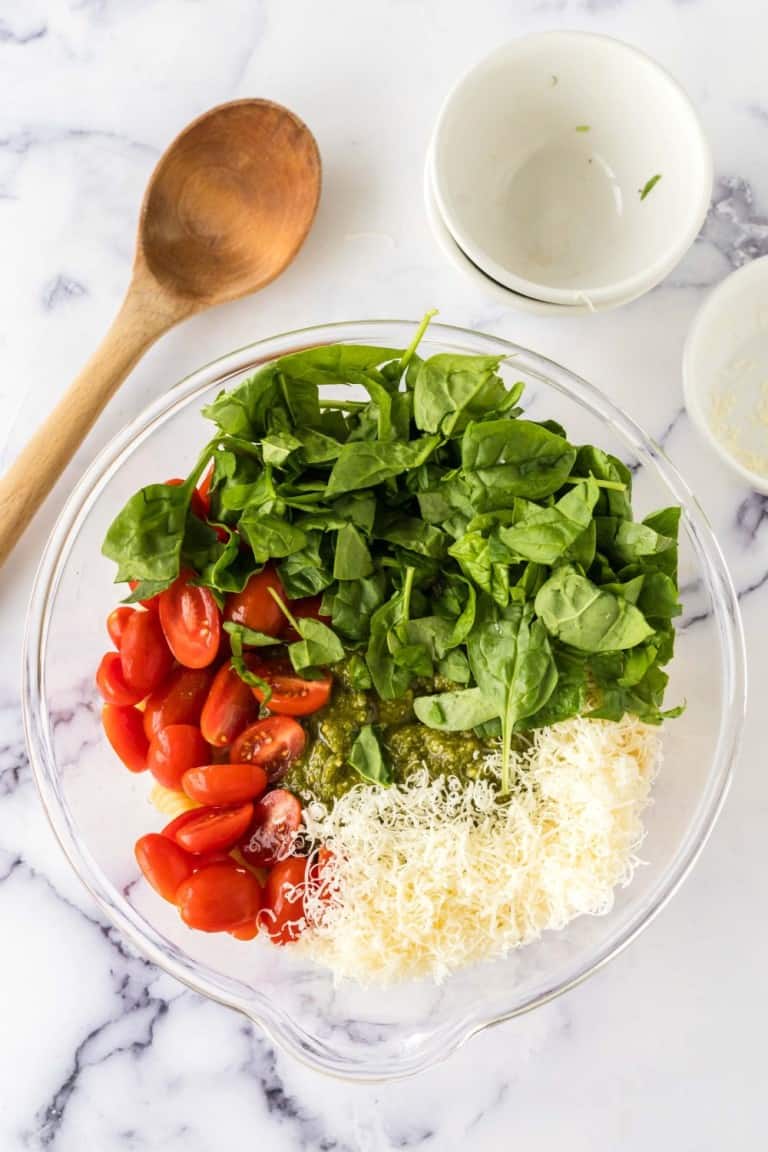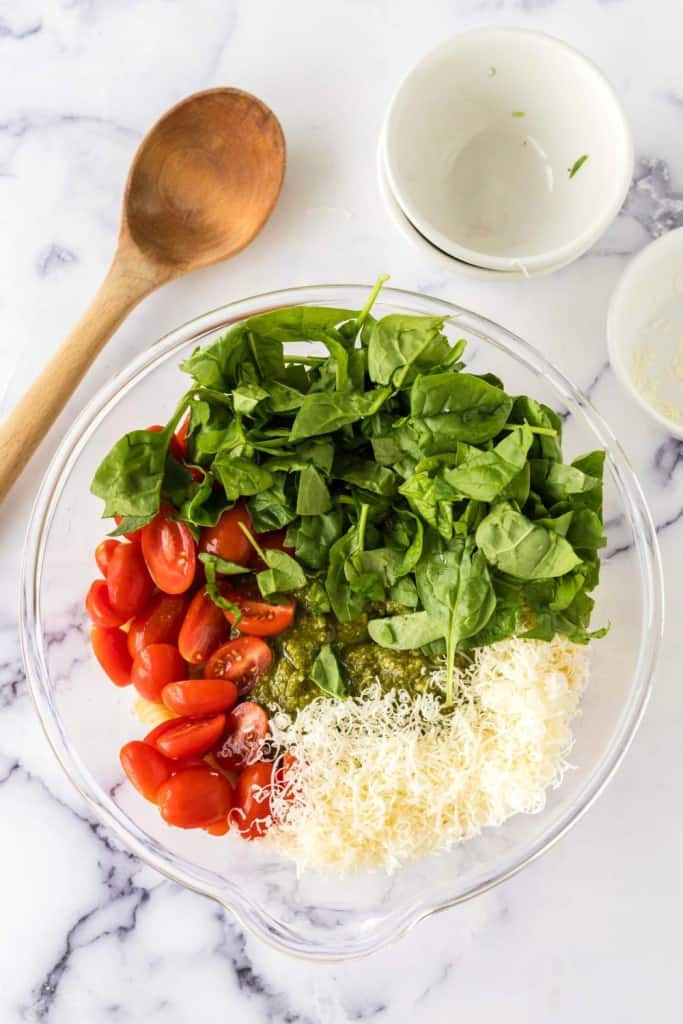 2. Combine all of the ingredients in a large bowl.Use a spatula or large spoon to fold everything together until the ingredients are thoroughly combined.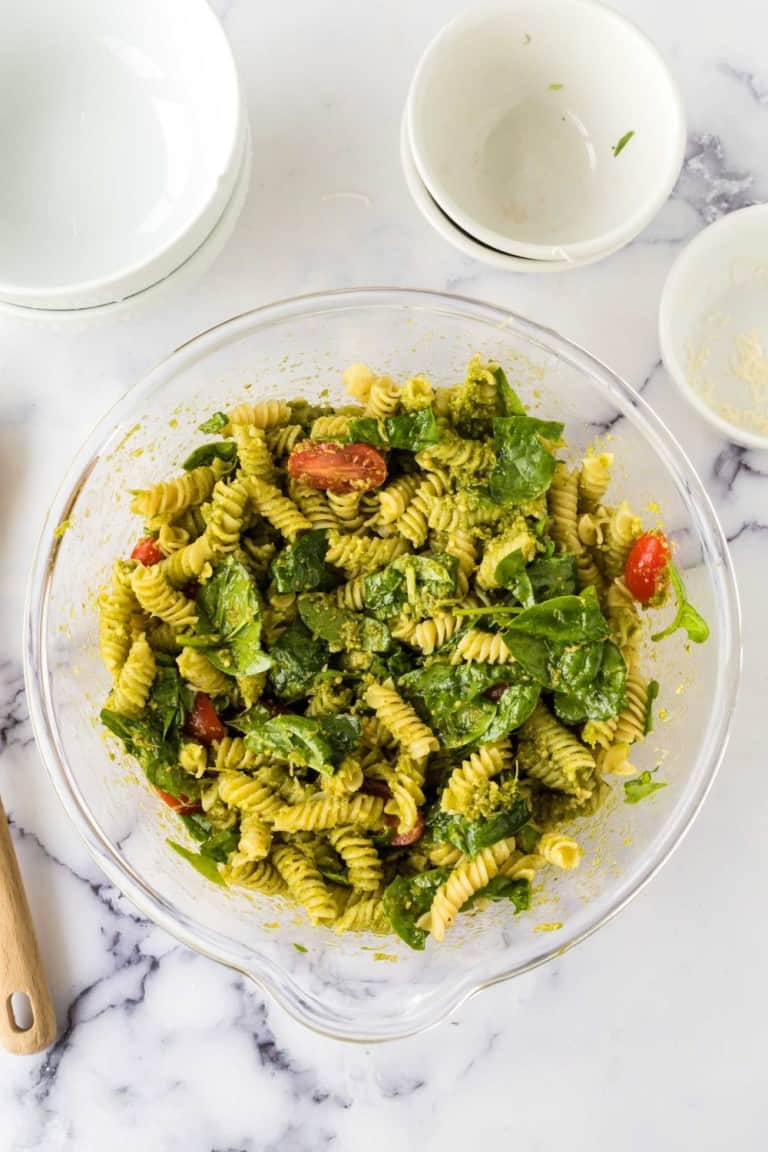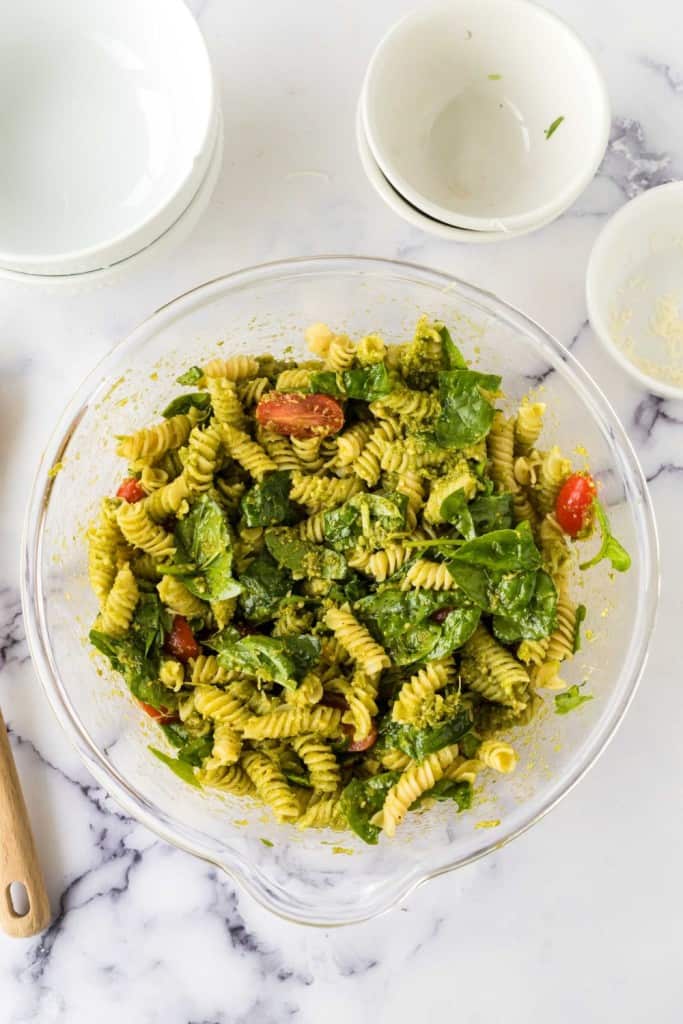 3. Cover the bowl in plastic wrap and store the pasta salad in the fridge until you are ready to eat it.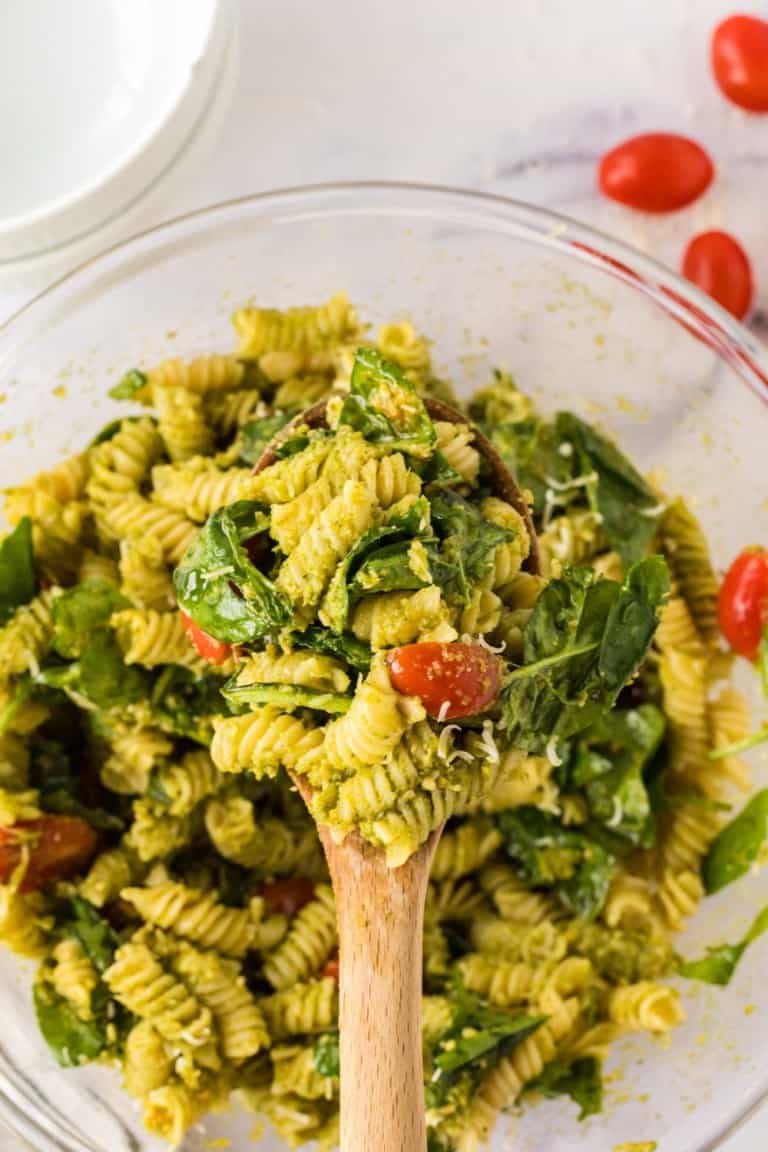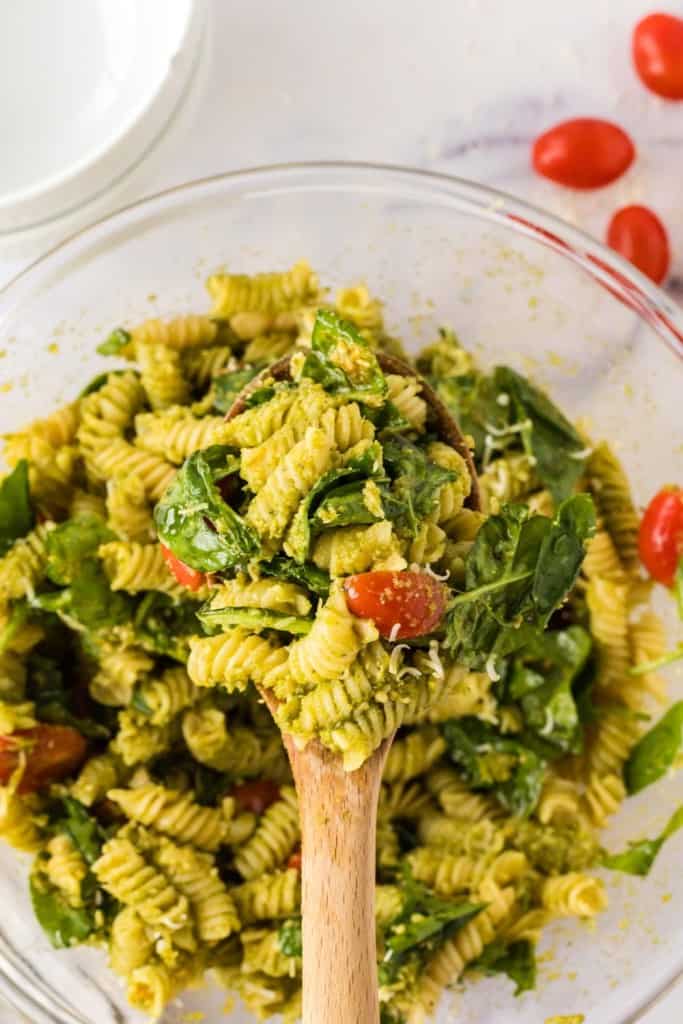 4. Top with some extra parmesan cheese, serve and enjoy!
Frequently Asked Questions
Should I use homemade or store bought pesto?
Either one works great! We love rotating between using homemade and store bought pesto. Giovanni Rana makes a great, affordable pesto and it can be found at most major grocery stores. Making your own pesto is a great way to add your own signature flavor to the dish. If you are using homemade pesto, we recommend letting the pesto chill in the fridge before adding it to the pasta salad.
Do I need to rinse my noodles?
If your noodles are going to sit for more than a minute or two after being drained, we recommend rinsing them. As the drained noodles cool, the starch will cause them to stick together. Rinsing your noodles helps remove some of this starch, thus preventing the pasta from sticking together. However, if you are transferring your cooked noodles straight to the pasta salad you are safe to forgo rinsing them. Once they are coated in pesto they will have a hard time sticking together.
Is it okay to make this pasta salad ahead of time?
Of course! This pasta salad can be whipped together in minutes and stored in the fridge if you need to make it ahead of time. This is a great way to get more flavor into your pasta salad as well. As the salad sits, the noodles will absorb more flavor from the pesto and the sliced cherry tomatoes will release more of their flavor, creating a richer tasting pasta salad.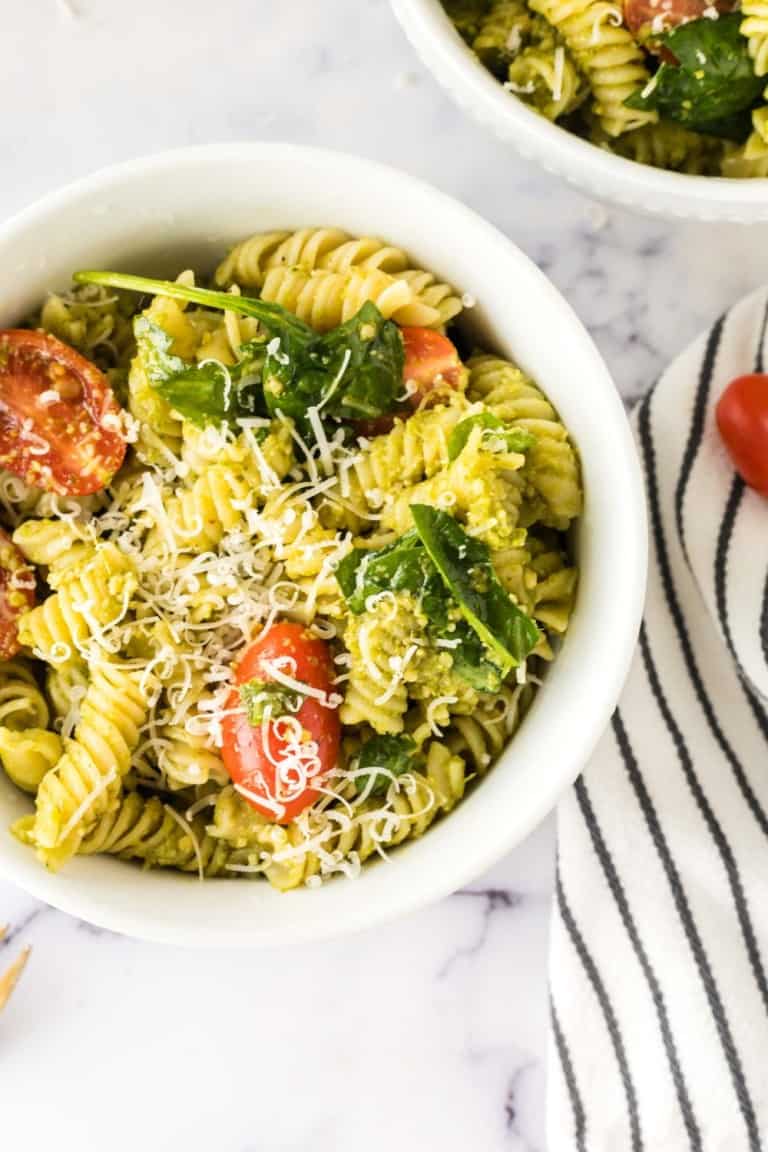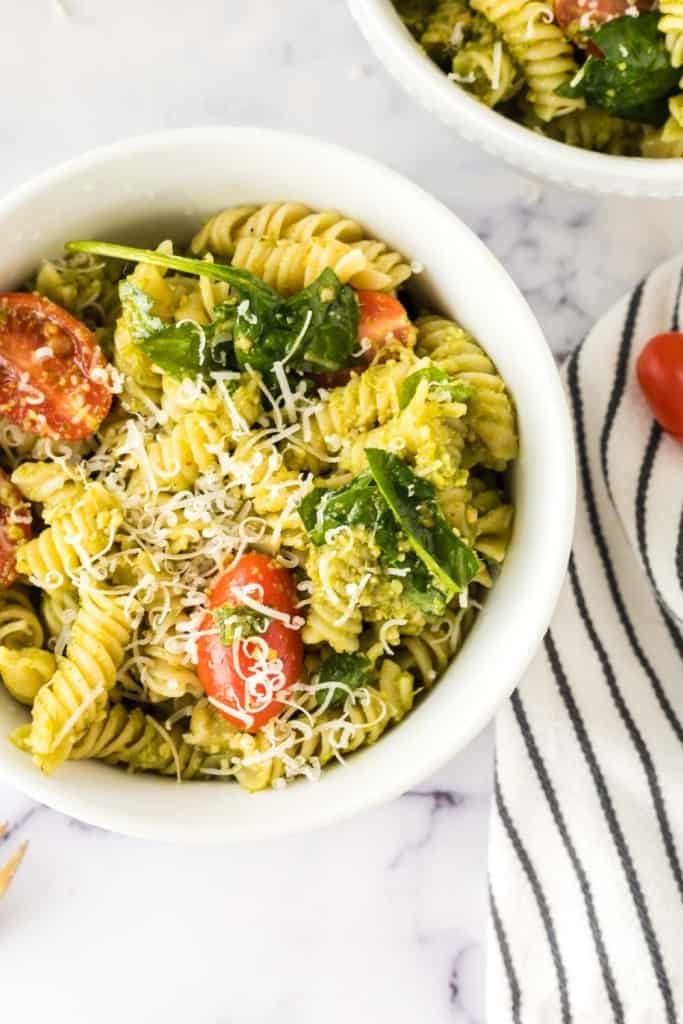 Expert Tips
I prefer to use freshly grated parmesan cheese, but you can also use bottled parmesan cheese if you would like. Freshly grated parmesan cheese has a slightly stronger bite to it, which adds a little more sharpness to your pasta salad.
Other veggies that can be added to this salad include diced white onion, diced celery, diced red bell pepper, cauliflower, and sweet potatoes.
Slicing the tomatoes helps release their flavor, allowing it to distribute throughout the pasta salad a little easier.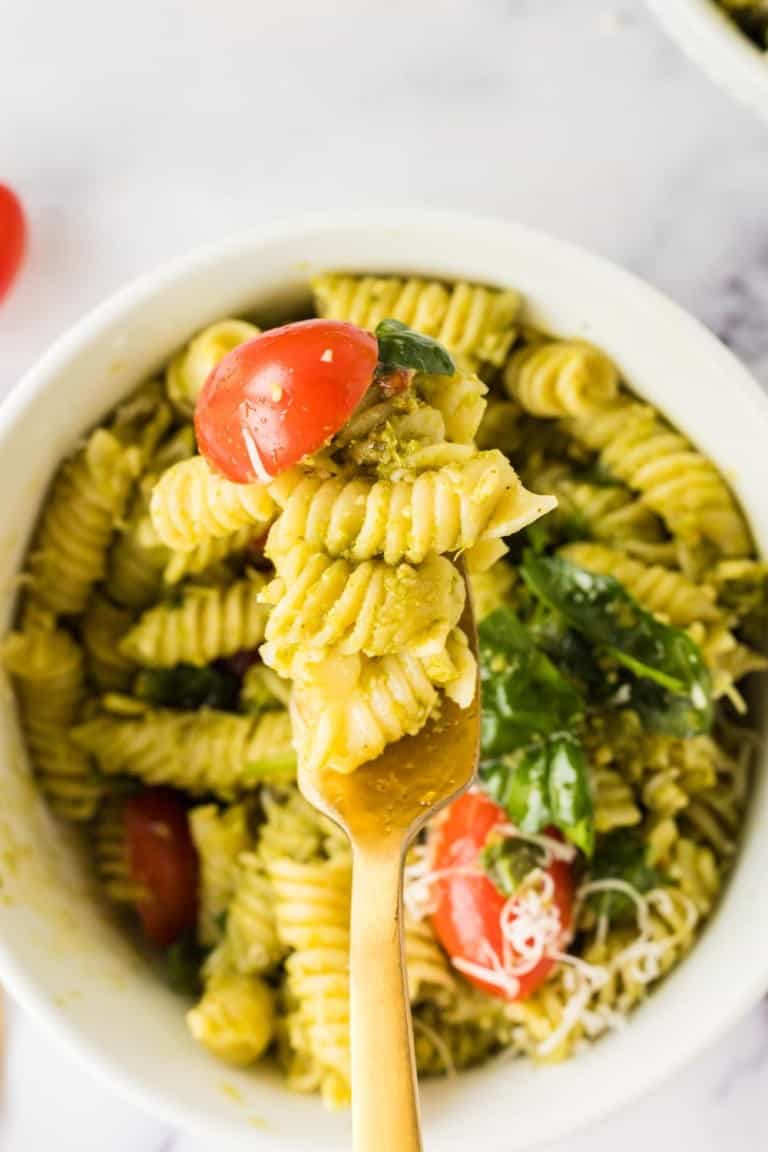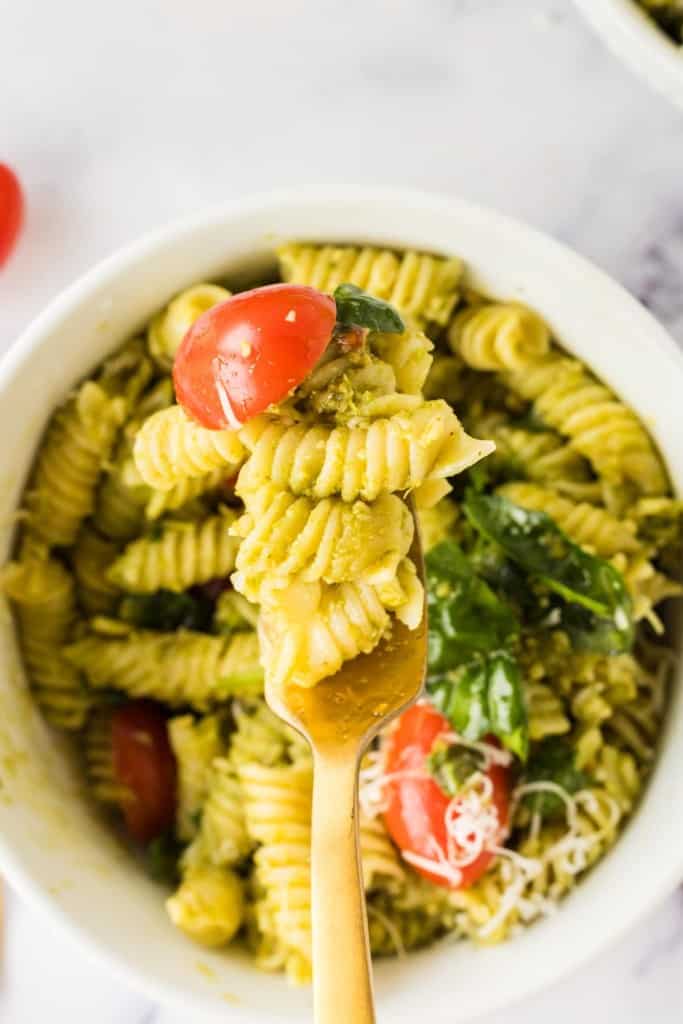 What Should I Serve With My Pasta Salad?
Whether you need to bring a side to a potluck or Sunday dinner, this quick and easy pasta salad makes a great side dish for any occasion. We love serving this pasta salad alongside some homemade garlic bread. The sharpness of the garlic pairs perfectly with the rich pesto. Another dish that goes great with this pasta salad is beef. Whether it's a roast, steak, etc. you will love how it pairs with the flavorful pesto.
How to Store Leftover Pasta Salad
If you have any leftover pesto pasta salad, it can be stored in the fridge for up to 5 days. Simply cover it with plastic wrap or transfer it to an airtight container. As the pasta salad sits, the flavors will blend together more. As a result, this pasta salad is often better a day or two after it has been prepared.
Did you try this recipe? Leave a ⭐️ rating below and share it on Instagram, Facebook, and Pinterest!
📖 Recipe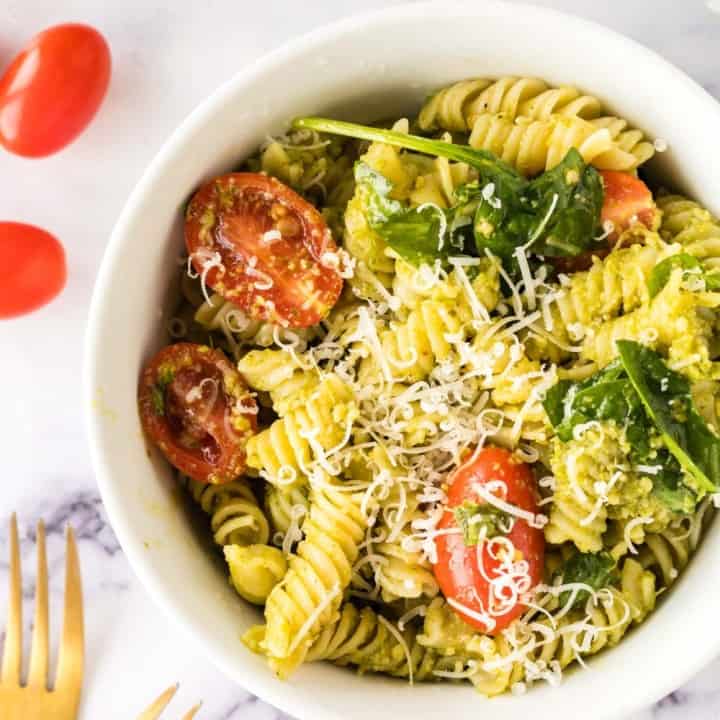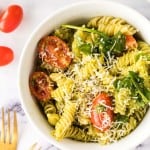 Print Recipe
Pesto Pasta Salad
This Pesto Pasta Salad, bursting with pesto and Parmesan, steals the show as a side dish!
Ingredients
1

pound

rotini pasta

cooked, drained, and rinsed

2

cups

pesto

1

cup

sliced cherry tomatoes

½

cup

grated parmesan cheese

1

cup

fresh spinach

or arugula
Instructions
In a large bowl, combine all of the ingredients. Use a large spatula or spoon to fold all of the ingredients together until they are evenly distributed. Ensure that the pasta is evenly coated in the pesto sauce.

Cover the bowl in plastic wrap and store it in the fridge until you are ready to serve it.

Serve and enjoy!
Notes
I like to let the pasta cool to room temperature before using, that takes about 20 minutes if you have the time.
I prefer to use freshly grated parmesan cheese, but you can also use bottled parmesan cheese.
Slicing the cherry tomatoes helps release a little bit of their juice, helping distribute their flavor a little bit better.
You can store this pasta salad in the fridge for up to 5 days. Keep it covered with plastic wrap or transfer it to an airtight container.
Other veggies you can add to this pasta salad include diced white onion or diced red bell peppers.
If you aren't making homemade pesto, Costco sells a great Kirkland Signature brand in the refrigerated section.
Nutrition
Calories:
641
kcal
|
Carbohydrates:
65
g
|
Protein:
17
g
|
Fat:
34
g
|
Saturated Fat:
7
g
|
Polyunsaturated Fat:
1
g
|
Monounsaturated Fat:
1
g
|
Cholesterol:
14
mg
|
Sodium:
928
mg
|
Potassium:
271
mg
|
Fiber:
4
g
|
Sugar:
5
g
|
Vitamin A:
2414
IU
|
Vitamin C:
5
mg
|
Calcium:
230
mg
|
Iron:
2
mg