Ever wonder how to get perfectly flaky grilled fish fillets on the grill? This recipe is the simplest and best way to grill just about any firm white fish!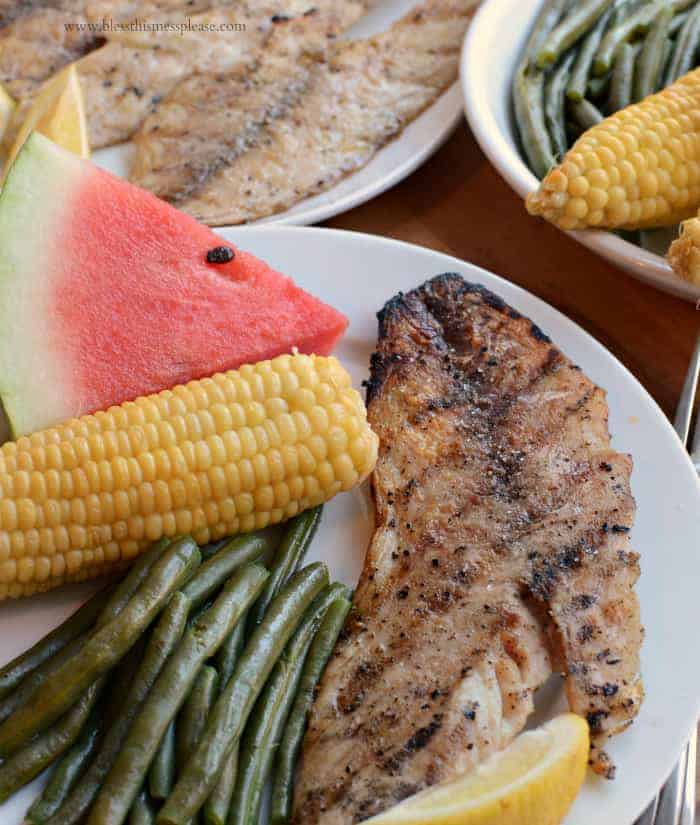 How to Grill Fish
What I love too, is that you can literally pair it with just about anything that you have on hand and want to use. I like recipes like this because then I can hit up the farmer's market or my garden, pick gorgeous fruits and vegetables and use them for the sides to this really simple but delicious main dish grilled fish recipe. It's simple, it's classic, and it's always a hit in this house.
A diet that includes fish has a myriad of health benefits. Eating fish can reduce the risk of heart disease. It is high in healthy omega 3 fatty acids which helps to reduce inflammation, protect your heart and help your hair grow. Fish is not only good for your heart but your brain as well. Studies have shown that eating seafood can lower the risk of Alzheimer's disease and reduces brain shrinkage as people age. Another health benefit of fish is that it is high in vitamin D This is an essential nutrient that can keep your bones strong. Eating fish is a great way to incorporate lean protein in your diet as well.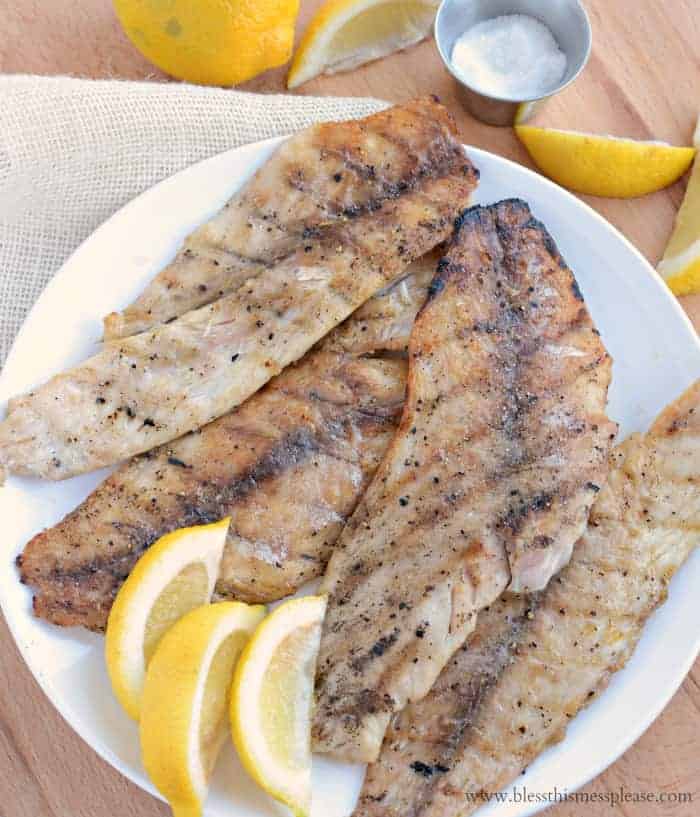 Just because you don't live near water doesn't mean you can't find delicious, fresh fish. Here are some tips when deciding what fish to buy.
Tips for Buying Fish
Fish that is sold as "fresh" can range from 1 day to two weeks out of the water. Fishing boats often stay at sea for a couple of weeks and put their catch on ice before they dock again. When you are looking for the highest quality of fish, search for FAS or Frozen at Sea or Individually Quick-Frozen (IQF). FAS means that once the fish was caught, it was filleted and flash froze on board the ship within minutes of being caught. When it is thawed it tastes the closest to fresh caught fish.
Individually Quick-Frozen (IQF) is another good option when shopping for fish because this method of flash freezing occurs within hours of the fish being caught. Each fillet is individually packaged and inspected for quality. Check for freezer burn or ice crystals in the packaging of IQF labeled fish because that could affect the flavor.
If the fish is packaged, you will want to look for clean and dry packaging. When buying fish I like to find wild caught fish and I prefer when they are individually sealed if frozen. That way I can take just the few I need out of the freezer while the rest stay frozen. I have great luck buying high quality fish at Costco.
If you are buying fresh fish there are a few things to look for. First of all, trust your nose! If there is a really strong fishy smell-that could by a sign that the fish is old and starting to deteriorate. Another aspect to look for is the skin of the fish. You want to the skin to be shiny with some slime on the surface. That is a mark of quality and freshness. Fresh fish should also have clear and bright eyes. If you encounter a fish with cloudy or red eyes-steer clear.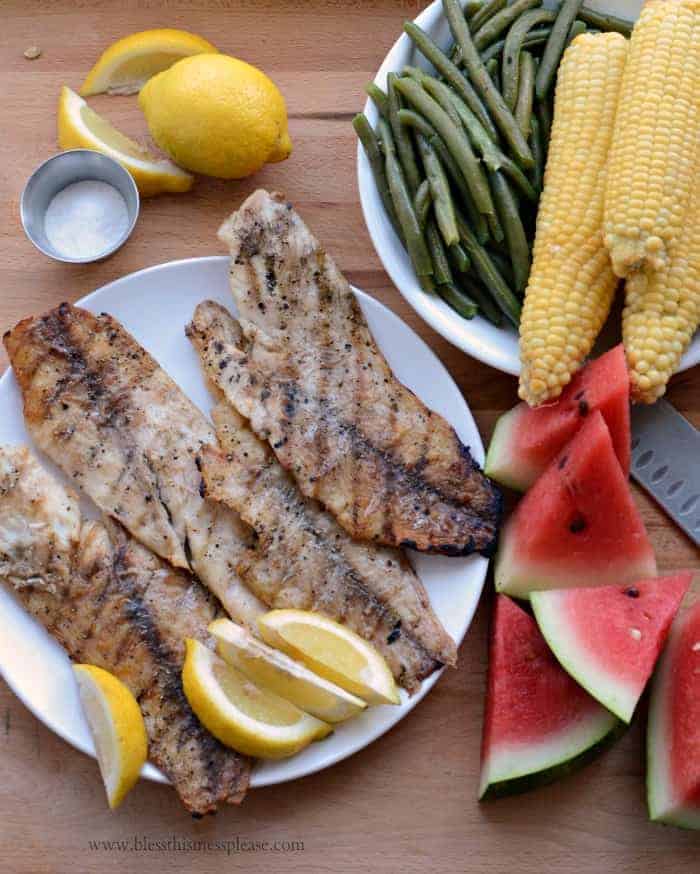 Frequently Asked Questions
How do you grill fish without drying it out?
You want to enjoy a flaky and delicious grilled filet so I suggest applying oil liberally on each side of the fish. You can use a pastry brush to evenly distribute the oil on the fish. This will help to seal in all of the natural flavors too. Also don't over cook it.
What can you season fish with?
For this grilled fish fillet I seasoned the fish with salt, pepper, oil and lemon juice. I also love to serve the filet with additional lemon slices and chopped parsley. YUM! A classic lemon pepper seasoning goes well with fish too.
How long do I cook fish on the grill?
Once your grill has heated for 5-10 minutes and is nice and hot, place the fish on the grill and close the lid. It will only take 7-10 minutes to grill. Check the fish right at 7 minutes and it will likely be done. If it is a thicker filet it will take a bit longer-but not much.
What fish is suitable for grilling?
You will want a firm fish when grilling. Something like halibut, tilapia, catfish, pollock or cod.
How do I get fish to not stick to the grill?
A couple key points will help your fish not stick to the grill. 1. Pat all sides of the fish dry with a paper towel. 2. Don't skimp on the oil. Apply an ample amount of oil on all sides to prevent the fish from sticking to the grill. I also like to use an oiled paper towel to wipe down the grill while it's hot, just before I put the fish on.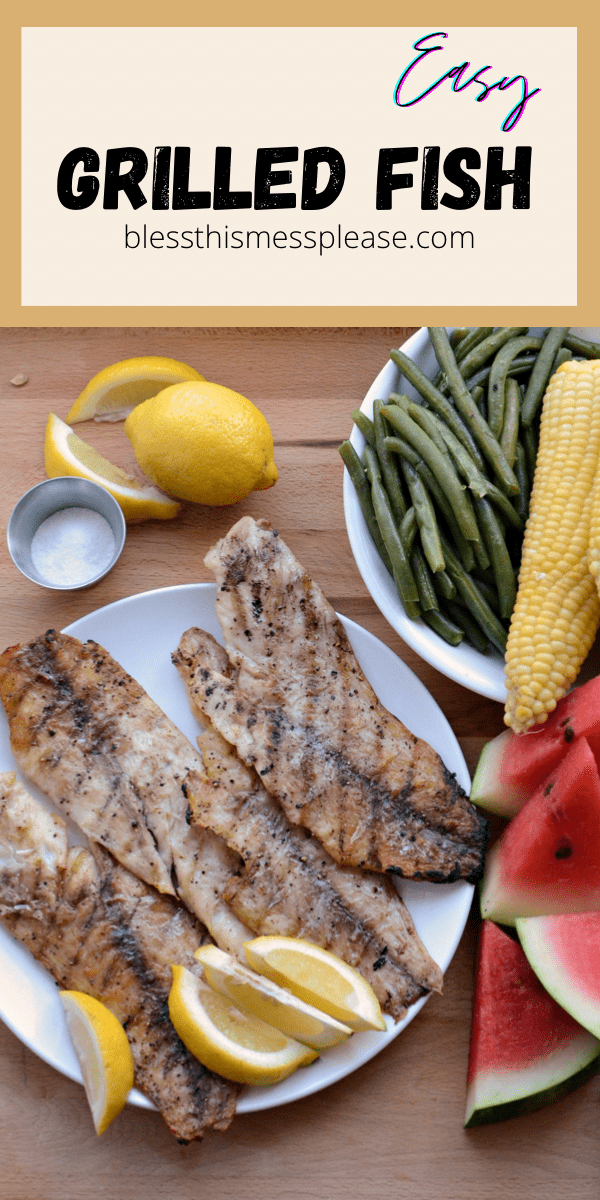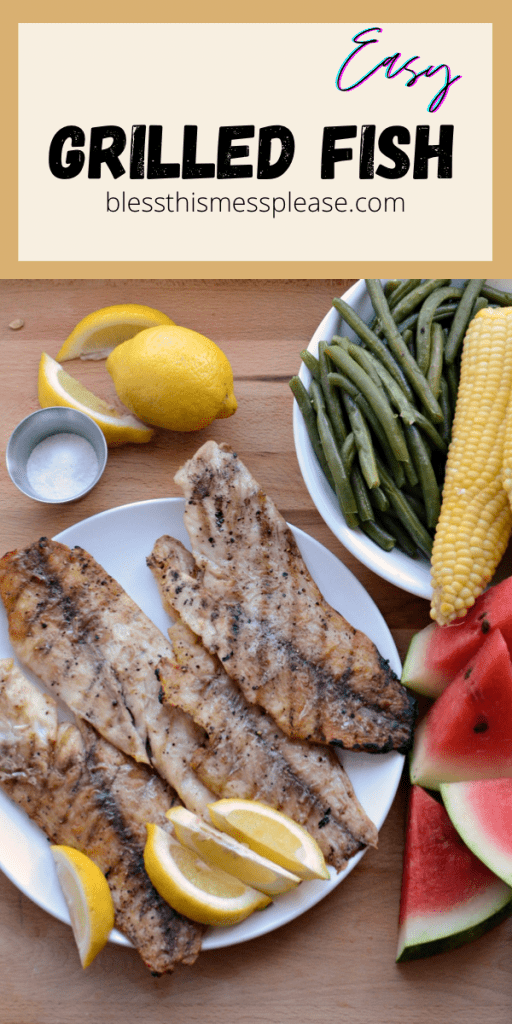 What to serve with fish:
If you've tried my grilled fish recipe or any other recipe on Bless this Mess, then don't forget to rate the recipe and leave me a comment below! I would love to hear about your experience making it. And if you snapped some pictures of it, share it with me on Instagram so I can repost on my stories AND add your photo to your comment so that other can see your creation.
Print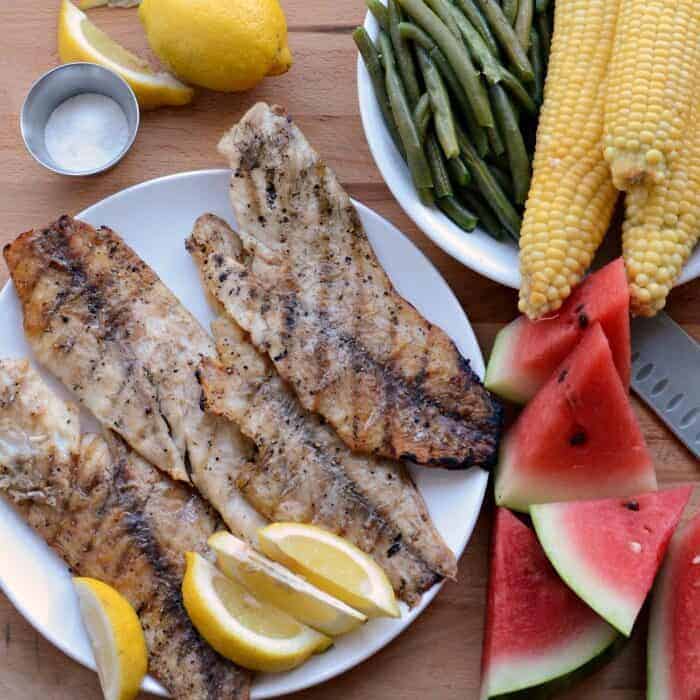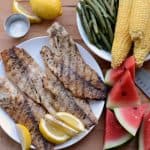 Perfect and Simple Grilled Fish Fillets
---
Author:

Total Time:

20 minutes

Yield:

Serves

4

-6

1

x
Description
Ever wonder how to get perfectly flaky grilled fish on the grill? This recipe is the simplest and best way to grill just about any firm white fish!
---
1

fish fillets from of firm white fish (such as Louisiana Drum, cod, pollock, tilapia, etc.)

1 ½ teaspoon

Kosher salt

1 teaspoon

freshly ground black pepper
Good quality olive oil, about ½ cup
Additional coarse sea salt

1

or

2

lemons cut into wedges

½ cup

chopped parsley, optional
---
Instructions
Rinse the fish and lay it onto paper towels. Use the paper towels to pat the fish dry and place the fillets on a wire rack (a baking or cooling rack placed inside of a baking sheet works great to catch any drips and spills).
Sprinkle half the salt and half the pepper over the fish. Carefully drizzle half of the olive oil over the seasoned fish. Using a pastry brush or your fingers, evenly distribute the oil all over that side of the fish. Flip the fish over on the rack and repeat with remaining salt, pepper, and oil. Let the fish rest and marinade while you fire up the grill.
Turn your grill on to high and allow it to heat for 5 to 10 minutes until the grill is very hot. Carry the fish out and open the lid to the grill, it should be very hot. Use a brush to scrap the grill grate clean and then lower the temperature to low. Place the fish on the grill, close the lid, and leave the fish to cook with the lid closed, without turning for 7 to 10 minutes (chances are really good your fish will be done right at 7 minutes unless it is very thick, check it 7 minutes!).
The fish should be white and flakey when you test it with the end of a paring knife. Using a metal spatula remove from the grill.
Sprinkle with additional sea salt and lemon juice before serving and then serve with additional lemon slices and chopped parsley to suit individual tastes (the first squeeze of lemon isn't optional, it makes it amazing, but additional lemon and parsley are up to you or your guests. I didn't feel like this tasty dish needed anything extra because it was excellent as it was).
Notes
You can use this cooking method for just about any firm white fish such as catfish, tilapia, pollock, and cod.
Prep Time:

10

Cook Time:

10

Category:

Seafood

Method:

Grill

Cuisine:

American
Keywords: fish fillets recipe, easy grilled fish recipe, easy fish recipe, white fish recipe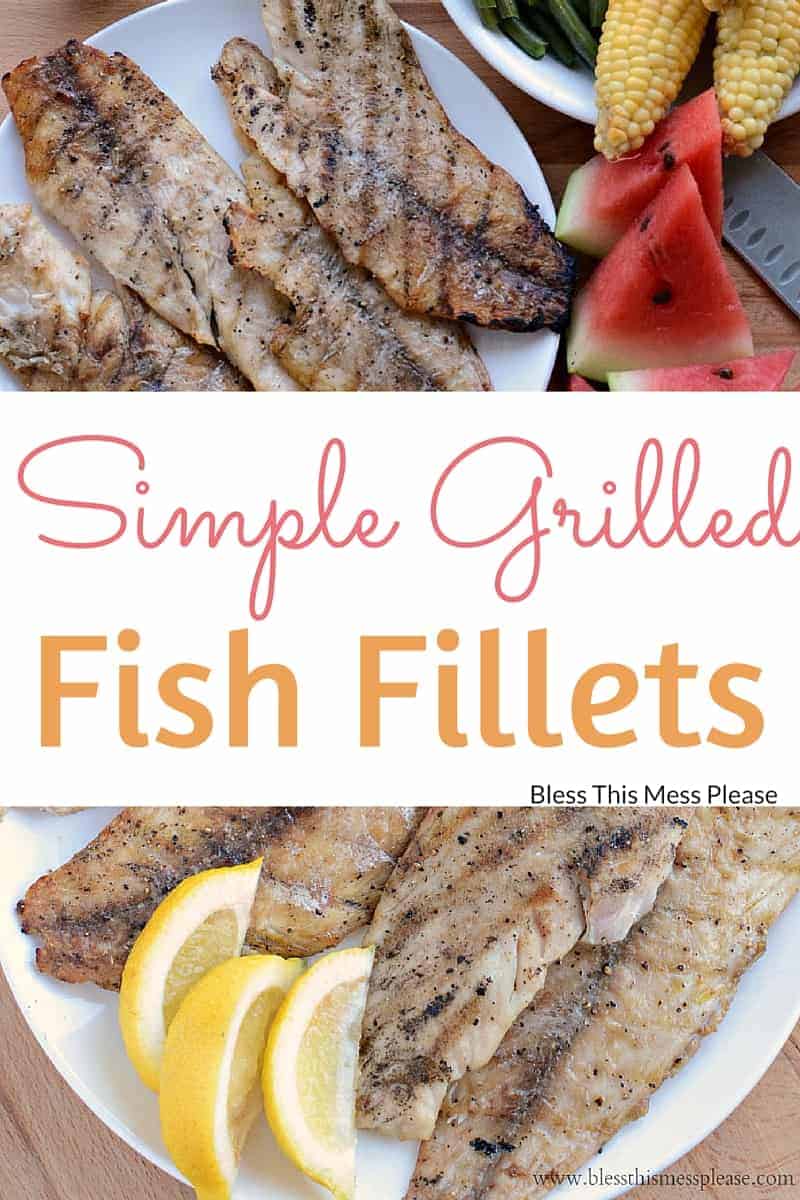 I can't wait to hear how this simple grilling method for fish turns out for you. Long live the simple and fool-proof yet crazy delicious recipes!