Homemade Pretzels – those delightful, twisted treats that combine the warmth of fresh bread with the excitement of a perfectly seasoned snack. Whether you're a seasoned baker or just getting started in the kitchen, making pretzels from scratch is an experience that promises fun, flavor, and fantastic results. So, grab your aprons and let's get twisting!
The process of making pretzels from scratch can be an enjoyable and engaging experience. From kneading the dough to shaping the twists, it's a hands-on activity that people of all ages can participate in. The satisfaction of seeing the pretzels rise in the oven and emerge perfectly golden adds to the excitement.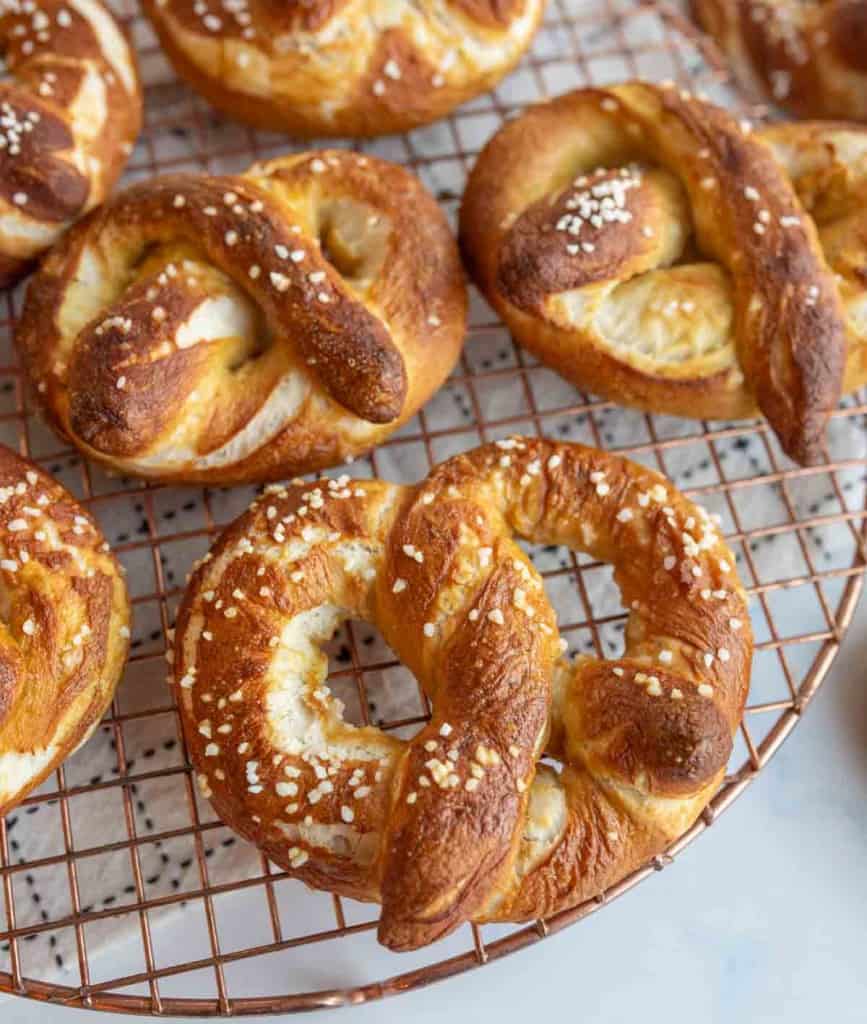 Homemade Pretzels
One of the best things about homemade pretzels is the variety of dipping sauces that accompany them. From classic mustard to creamy cheese dips, there's no shortage of options to explore. Get experimental with a zesty garlic butter dip, a tangy honey-mustard blend, or a spicy jalapeño cheese sauce. The possibilities are endless, and every dip adds a delightful twist to your pretzel experience!
There's no wrong time to serve homemade pretzels. Their versatility and crowd-pleasing nature make them a wonderful addition to any gathering, celebration, or casual snacking session. They are a favorite for both young and old alike.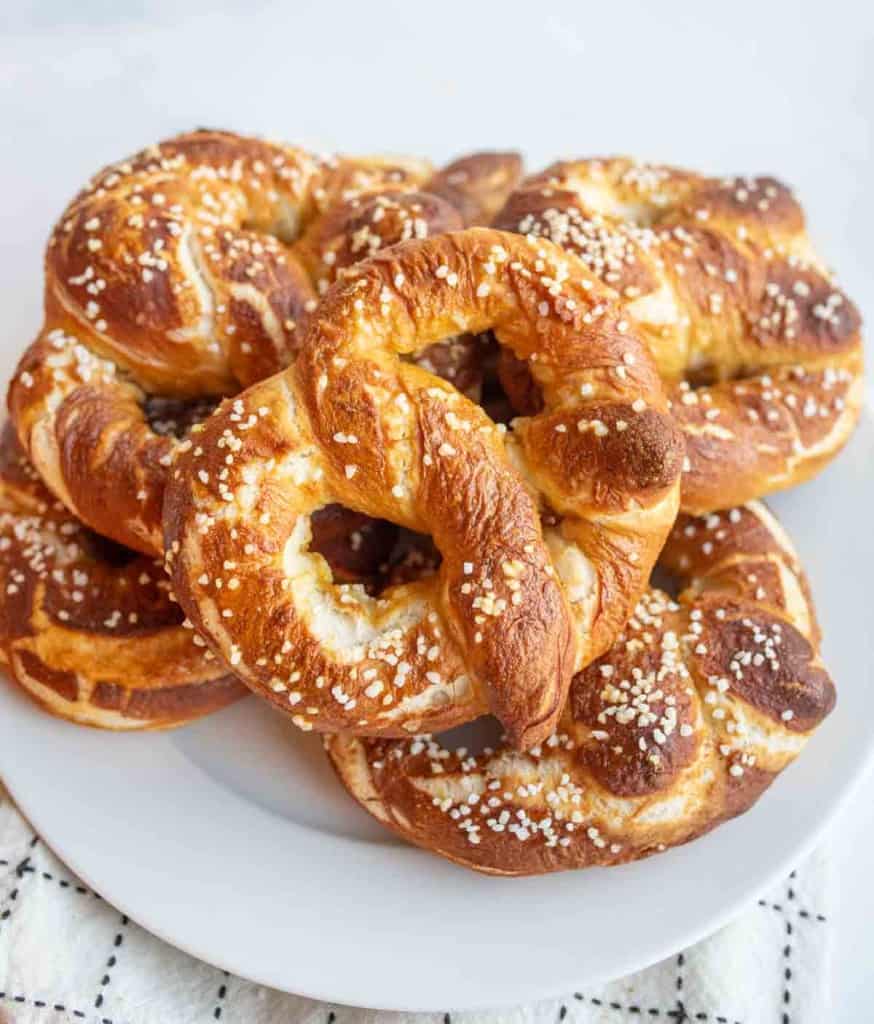 Ingredients
Active dry yeast
Brown sugar
Butter
Flour
Baking soda
Egg
Coarse salt for sprinkling
Keep scrolling to find a full, printable recipe with a detailed ingredient list.
Recipe Instructions
Mix yeast into warm water, let sit for 5 minutes until frothy.
Add salt, brown sugar, melted butter, and gradually mix in flour to form a non-sticky dough.
Knead the dough until smooth, then let it rise for 10 minutes.
Divide the dough and shape it into pretzels.
Boil pretzels in water with baking soda for 20 seconds.
Brush with beaten egg white, sprinkle salt, and bake at 400°F for 18 minutes or until golden brown.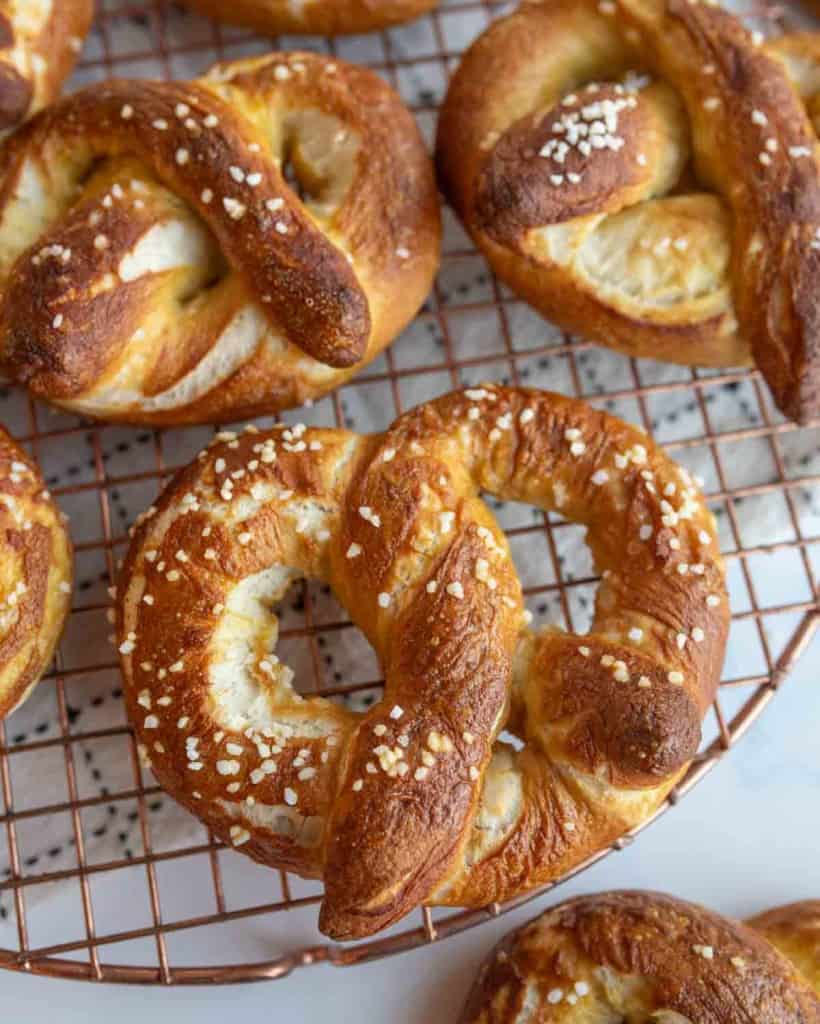 Frequently Asked Questions
Can I use instant yeast instead of active dry yeast?
Yes, you can use instant yeast as a substitute for active dry yeast. However, you may need to adjust the amount used and skip the initial step of letting the yeast sit in water to activate.
Can I make pretzels ahead of time and reheat them?
While pretzels are best when enjoyed fresh from the oven, you can make them ahead of time and reheat them later. To reheat, simply pop them in a preheated oven for a few minutes until warm and crisp.

How can I store leftover pretzels?
Store any leftover pretzels in an airtight container or resealable bag at room temperature for up to 2 days. For longer storage, keep them in the fridge for up to a week or freeze them for up to a month.
Can I make sweet pretzels instead of savory?
Absolutely! Instead of sprinkling the pretzels with coarse salt, you can brush them with melted butter and sprinkle them with cinnamon sugar for a delicious sweet version.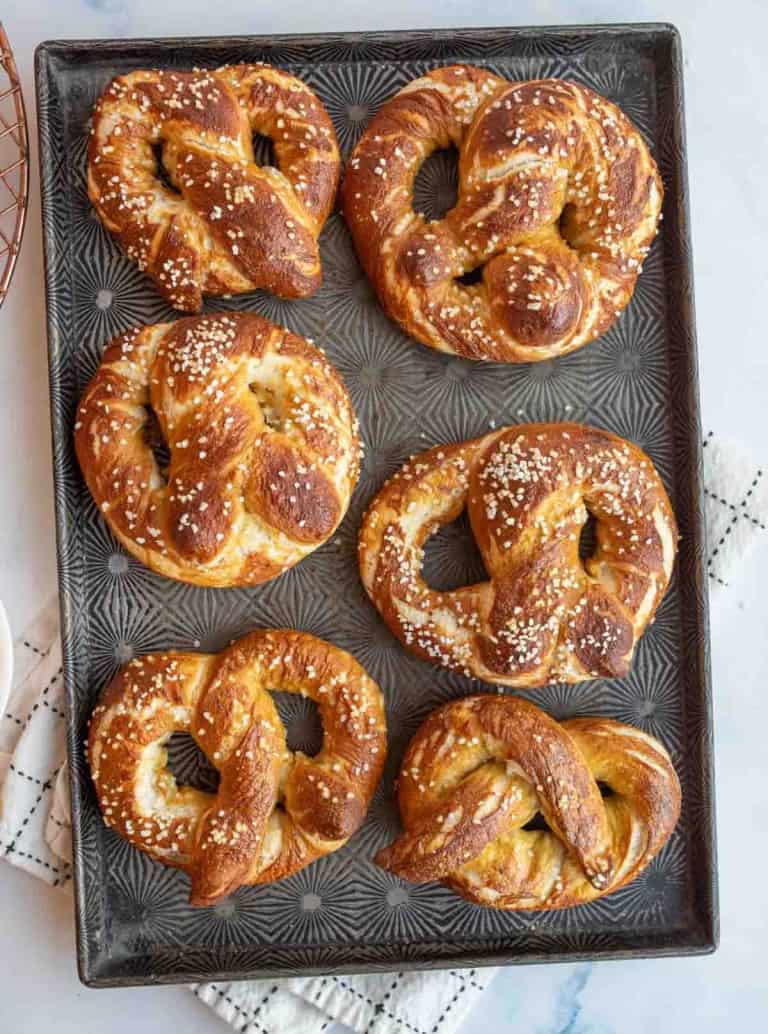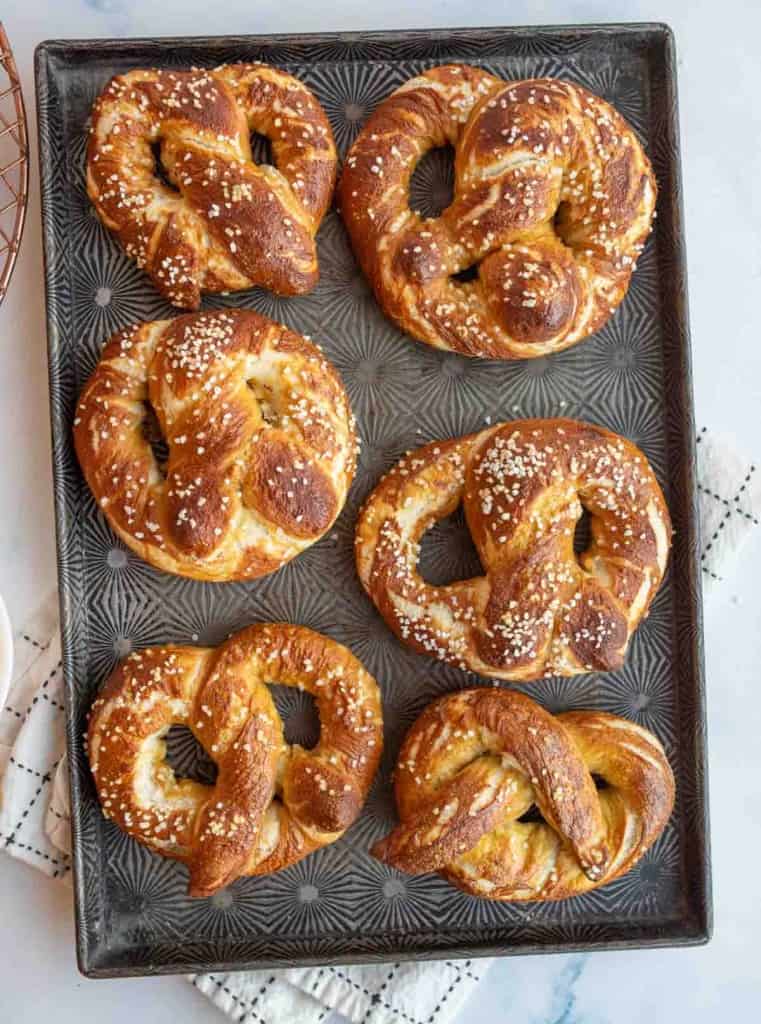 More Recipes
If you've tried this Homemade Pretzels recipe or any other recipe on Bless This Mess, then don't forget to rate the recipe and leave me a comment below! I would love to hear about your experience making it. And if you snapped some pictures of it, share it with me on Instagram so I can repost on my stories.
📖 Recipe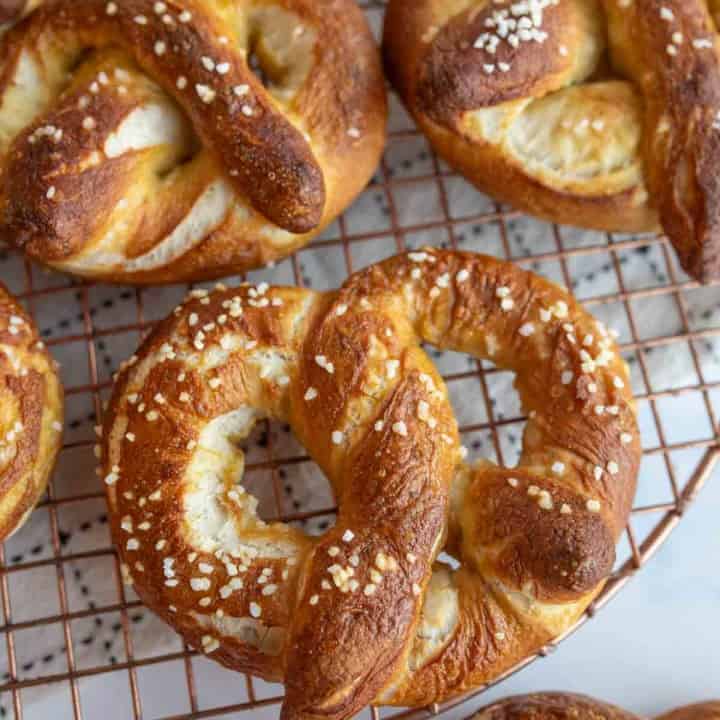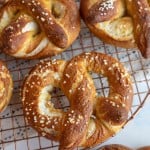 Print Recipe
Homemade Pretzels
Homemade pretzels are a delightful blend of soft, chewy, and salty goodness that brings joy to any gathering or snack time.
Ingredients
1 ½

cup

warm water

temperature around 110°F or 43°C

2 ¼

teaspoons

active dry yeast

1

teaspoon

salt

1

tablespoon

packed brown sugar

1

tablespoon

unsalted butter

melted

4

cups

all-purpose flour

½

cup

baking soda

1

large egg white

beaten

Coarse salt for sprinkling
Instructions
In a large mixing bowl, whisk the active dry yeast into the warm water. Ensure the water is not too hot as it can kill the yeast.

Allow the yeast mixture to sit undisturbed for about 5 minutes. This is to activate the yeast, it should become frothy, indicating it's ready for use.

Add the salt, brown sugar, and melted butter to the yeast mixture. Whisk these ingredients until well combined. The mixture should be uniform and the brown sugar mostly dissolved.

Gradually add 3 cups of the all-purpose flour to the mixture, incorporating roughly 1 cup at a time. Mix well after each addition to ensure the flour is thoroughly combined.

Continue adding the remaining 1 cup of flour until the dough becomes thick and is no longer sticky. You may not need the entire amount, or may need a little more, depending on the humidity and the exact properties of your flour.

Turn the dough out onto a lightly floured surface. Knead the dough for about 3 minutes, until it becomes smooth and elastic.

Form the dough into a ball and place it in a greased bowl. Cover it with a clean kitchen towel.

Let the dough rise in a warm place for about 10 minutes. It should be noticeably puffy after this time.

While the dough is rising, preheat your oven to 400°F (200°C) and line two large baking pans with parchment paper.

After the dough has rested, divide it into 8 equal sections.

Roll each section into a long rope, about 20 inches long. Then shape each rope into a pretzel shape.

In a large pot, combine 9 cups of water and the baking soda, and bring the mixture to a boil.

Carefully place each pretzel one at a time in the boiling water and boil for 20 seconds. Use a slotted spoon or spatula to remove the pretzel and place it on the prepared pans.

Brush each pretzel with the beaten egg white and sprinkle with coarse salt.

Bake the pretzels for approximately 18 minutes, or until they are golden brown.
Notes
This recipe is adapted from Sally's Baking Addiction. Sally provides fantastic, reliable baking recipes, and this one is no exception!
For different flavor profiles, consider sprinkling the pretzels with sesame seeds, poppy seeds, or even a cinnamon-sugar mix after the egg wash, instead of salt.
Pretzels are best enjoyed fresh, but can be stored in an airtight container at room temperature for up to 2 days. For longer storage, consider freezing them.
If you prefer your pretzels with a darker, glossier crust, you can use a whole egg for the wash instead of just the egg white.
Nutrition
Calories:
249
kcal
|
Carbohydrates:
50
g
|
Protein:
7
g
|
Fat:
2
g
|
Saturated Fat:
1
g
|
Polyunsaturated Fat:
0.3
g
|
Monounsaturated Fat:
0.5
g
|
Trans Fat:
0.1
g
|
Cholesterol:
4
mg
|
Sodium:
2345
mg
|
Potassium:
78
mg
|
Fiber:
2
g
|
Sugar:
2
g
|
Vitamin A:
44
IU
|
Vitamin C:
0.003
mg
|
Calcium:
11
mg
|
Iron:
3
mg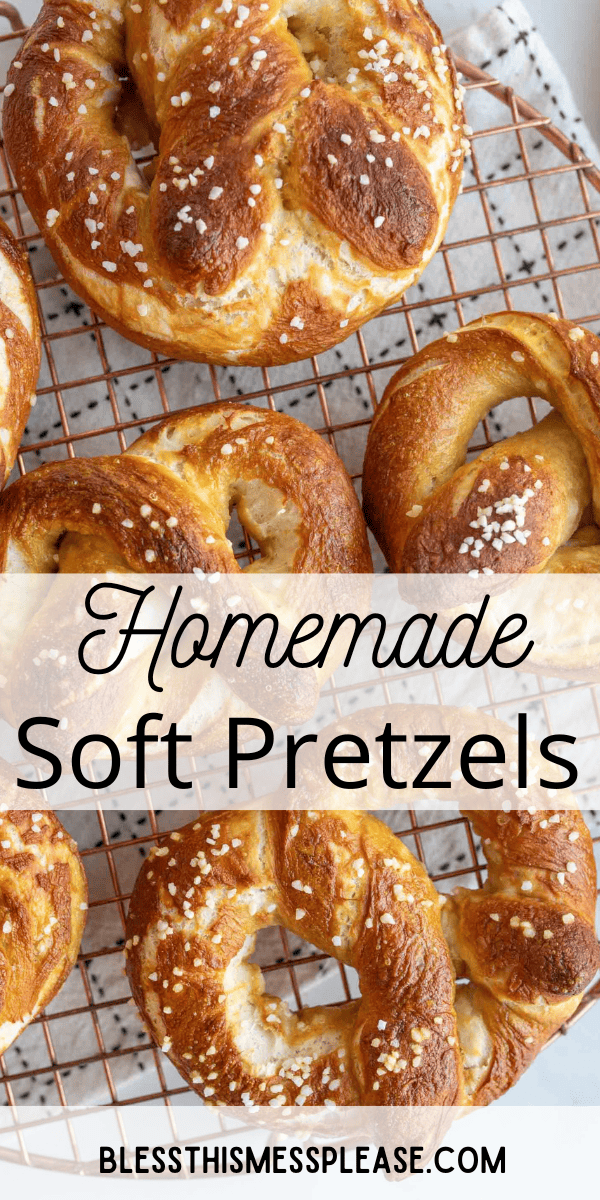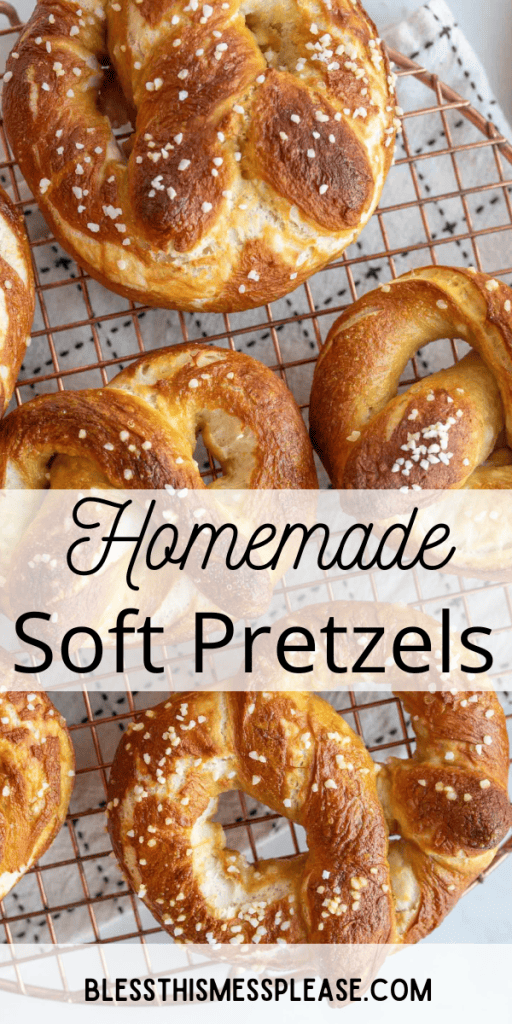 Homemade pretzels are delicious treats that bring people together with their flavor and nostalgic appeal. So, why not roll up your sleeves, get twisting, and savor the magic of these delightful creations!