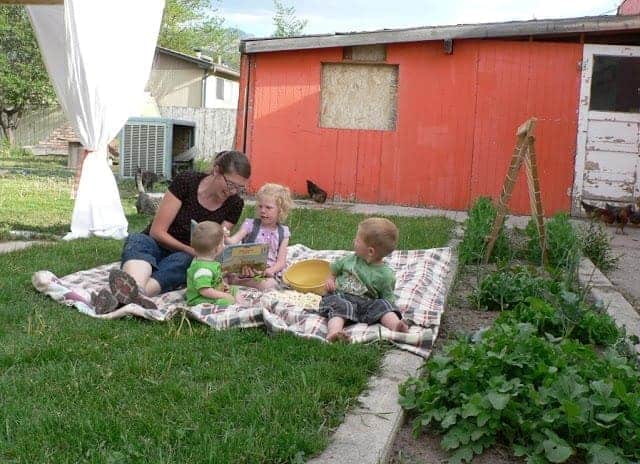 Hello Lovelies! 
Rachel over at
Family Ever After
is having a self portrait contest of sorts. I wasn't planning on participating; it didn't really feel like my kind of thing, but I just kept thinking about it and thinking about it. What kind of picture would sum me up? Would I be in my
faker kitchen
whipping up a batch of
something sweet
? Wielding a hammer and drill to tear something apart and rebuild it? Toting a basket full of laundry with a baby on the hip while reading a cookbook in paint-stained clothes? What about sewing and crafting and gardening? How do you fit it all in one picture?
The options were endless. In the end I gathered my favorite things outside where I am the happiest. This is who I am and how I want my kids to think of me. I want them to remember sitting on a quilt, warm buttered popcorn (and not that microwave kind either) smells filling the air, animals running around, and their momma reading the most recent library finds to them. I love how typical this picture turned out; it's real and I like that.
May and I recently had a conversation about why I don't look like So-and-so's Mom. I know that I'm not fancy, but this was the first time that she noticed. We had a great conversation about how everyone likes different things. I like to
cook
,
craft
, play with her,
garden
,
thrift
and blog. So-and-so's Mom probably enjoys shopping, learning new hair styles, and exercise. I tried to explain to her that I like to take care of myself but wearing jewelry isn't all that fun to me, so I don't choose to do it or spend my money on it (I'd rather buy chicken feed, used furniture, and fancy flours). She thought for a minute and asked if she can wear necklaces and have chickens when she's a mom. She's a well-rounded little lady if you ask me.
The beauty of this, to me, is in the little details.
Thanks for taking a look, because using the self-timer on the camera while trying to corral chickens and babies is no small task. Good thing both like popcorn. 🙂
Happy Weekend to you. If you're new here, drop me a line; I love meeting new people.
P.S.
A little bird just called to tell me that the cabinet gods have smiled upon me and I should have a real-woman sink this weekend! Months of washing dishes in a bucket are about to end and I honestly can't even wrap my mind around it. Be prepared for some kitchen pictures this weekend. Wahoo!