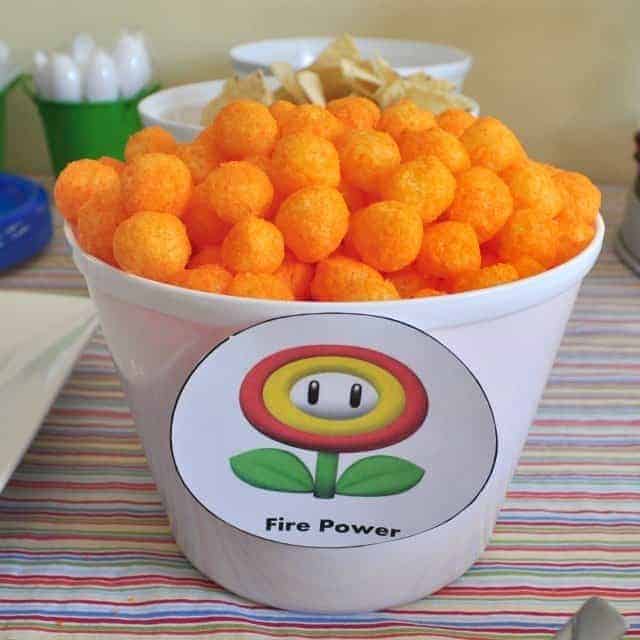 I love a good party! Themed birthday parties are so popular right now and so every time I see a friend posting pictures I get excited. My bestie Heather just threw a two-year-old birthday party for her little man and she went all out with Mario for the theme. I asked if I could share her party here and she was more than willing to let me. Thanks Heather!
She had tons of Mario birthday party ideas and the end result looked so fun. Too bad I moved hours away from her or I might have gotten to enjoy the party myself. Since I didn't make it and neither did you, let's live vicariously through pictures shall we?!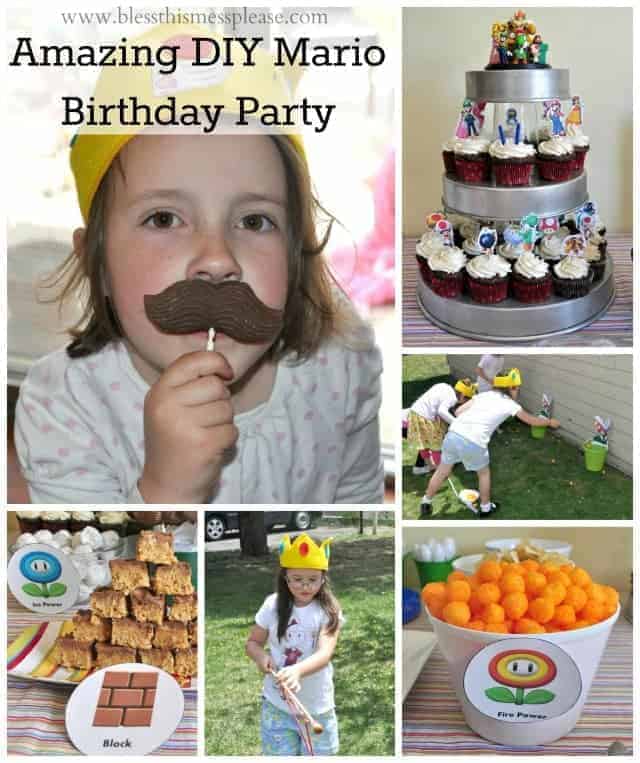 Heather had the Mario themed food for the party down to a science. She left no character overlooked and thought of the most clever eats.
Here's her Mario themed food list:
Fire Ball Cheetos
Mario Hat Strawberry Oreo Gnache Pie.
Castle and star suckers in a double warp pipe.
Item cookies
Frog Suckers
Bricks Peanut Butter Bars
Doughnut Ice Power
Chocolate Mustaches
White Cloud Lemon Meringue Pie -gluten free!
Yoshi Eggs Malt Balls
Cheep Cheep Crackers
And all that food set out: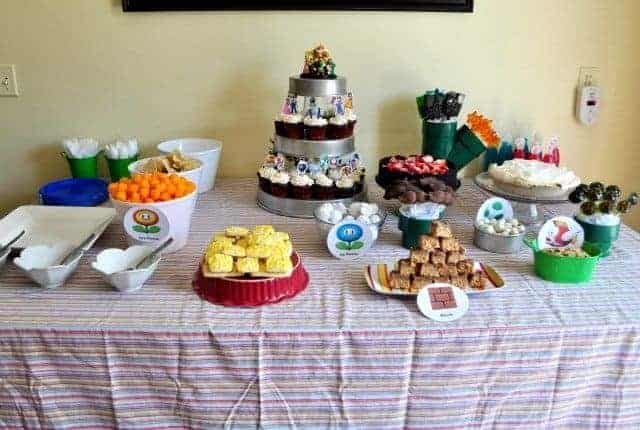 Isn't this perfect!? She just used cake pans in various sizes and clear cups to make a homemade cupcake stand. SO SMART. Plus it has that industrial look that worked perfectly with the them. I think this would work for lots of different boy birthday party themes. Store it away for your next one.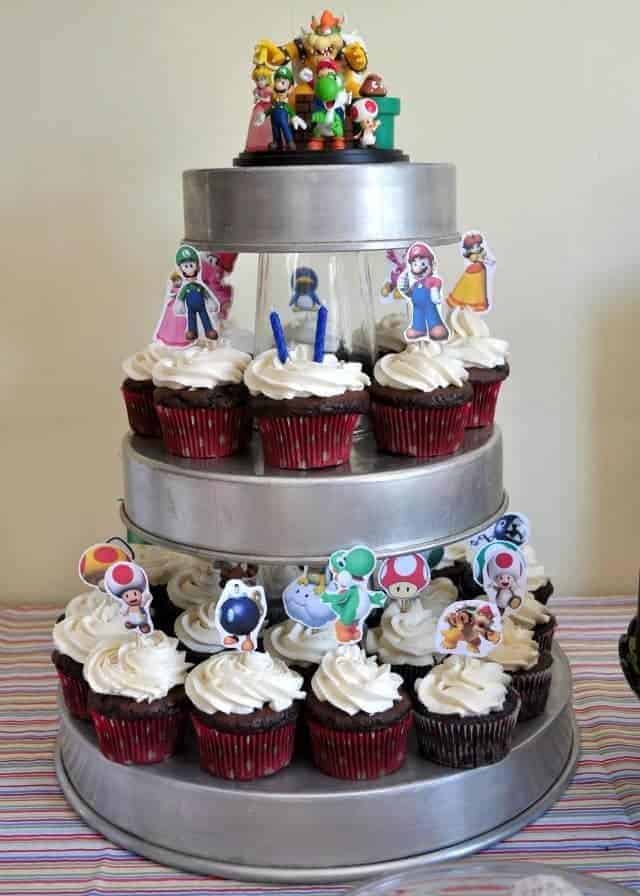 Yoshi Eggs Malt Balls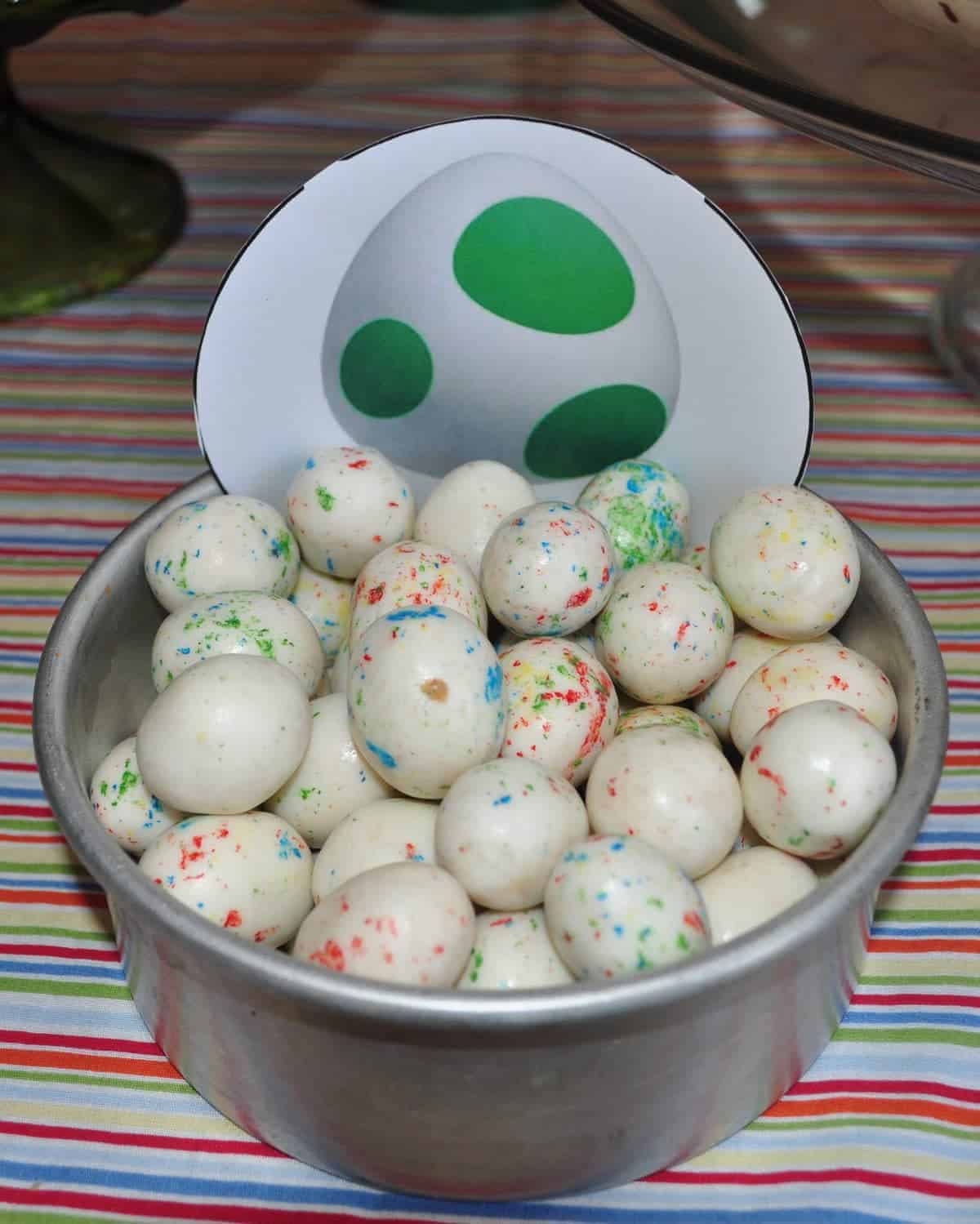 Bricks Peanut Butter Bars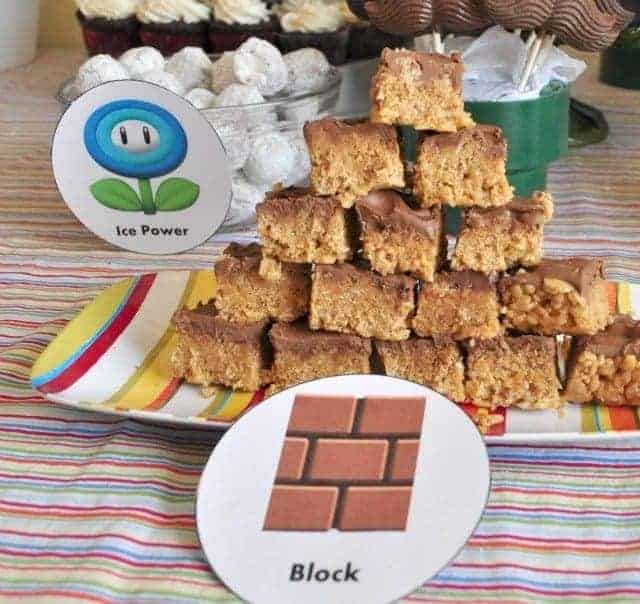 Castle and star suckers in a double warp pipe. I thought this was adorable. Why NOT use some pipe for a Mario party?! Plus handcrafted suckers… double points for Heather!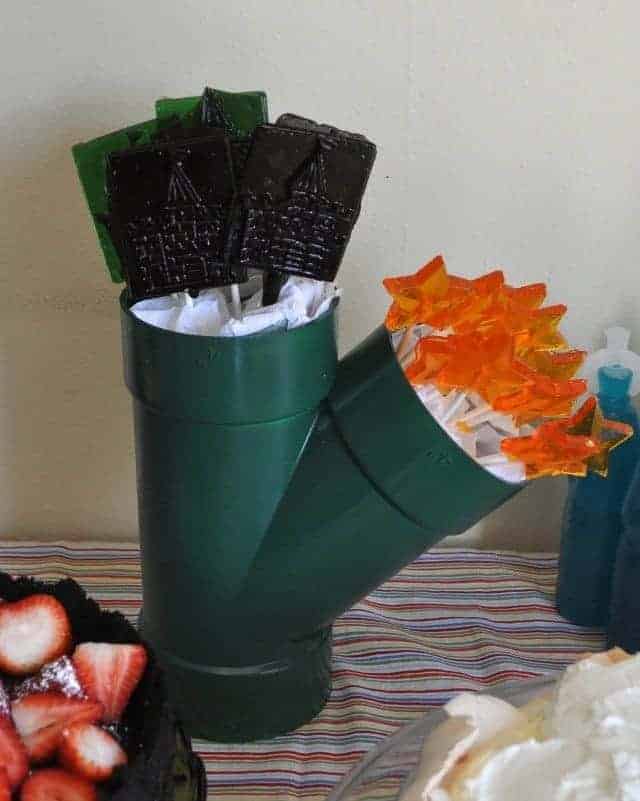 Fireball Cheetos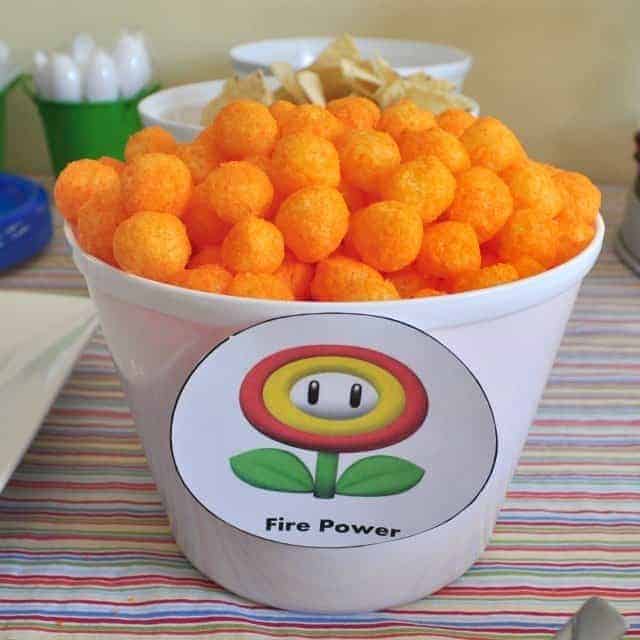 Item Cookies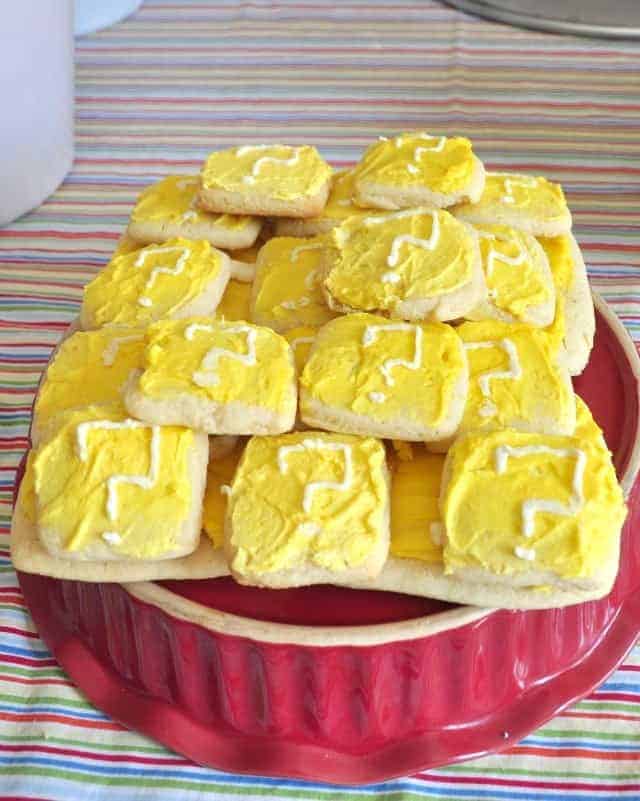 And now on to the Mario party games!
Everyone who came was given a crown or a hat to wear. Heather handcrafted all of the crowns and hats. She found the idea and instructions for the Mario or Luigi hats on Groovy Kids Stuff. And the crowns she invented via some pinterest inspiration. She said that she thought hot glue would have held up just as well as sewing, so if you are in a cheating mood, that might be a good option. Aren't the crowns cute?!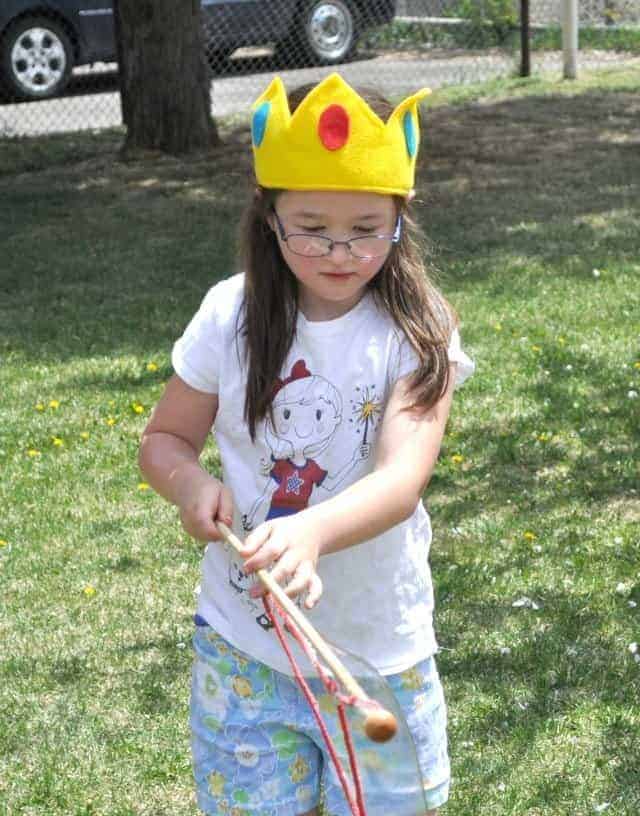 Giant bubbles were a huge party game hit. Here's what Heather said about making the homemade giant bubble sticks, "So I found the bubble stick on YouTube.  I did change the design a bit.  Instead of doing a bead at the end, I used a 3/8″ end cap bead and just sanded down the tip a bit so the string could fit in the end cap.  I also glued the end cap to make sure it stayed.  I used cotton clothes line rope for a tester and it was too bulky.  I ended up using a rope I found a Hobby Lobby that is used for Macrame.  I think it's polyester." She's a ninja like that and from all of the other picture I saw the giant bubble wands worked REALLY well.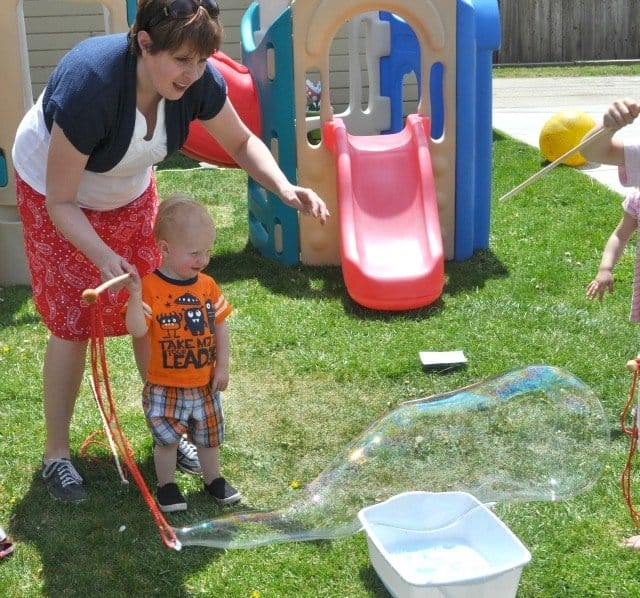 They also played an invigorating game of ring toss with paper plate rings.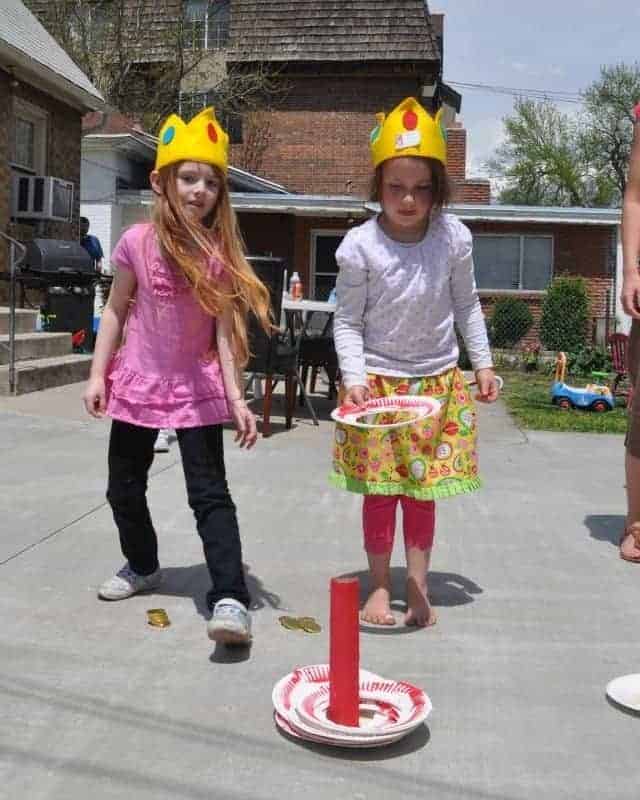 This game was my favorite: "Fireball the Piranha Plants". Why yes, they did use the cheese puff balls. Whoever got the most fireballs in the bucket won gold coins.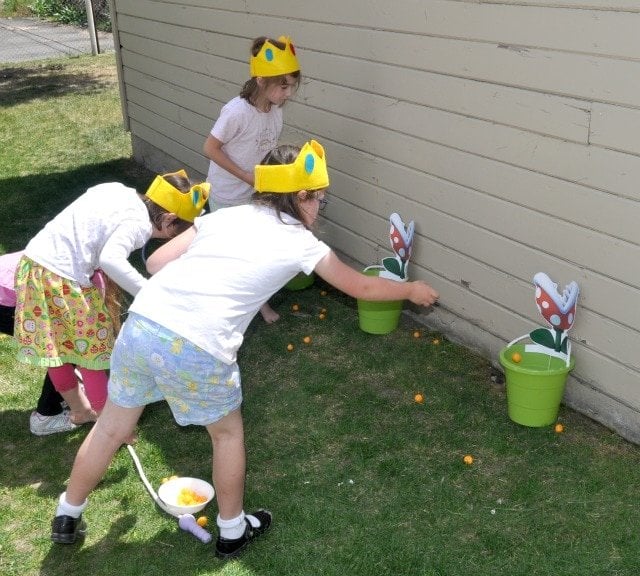 And no Mario birthday party would be complete without a chocolate Mario mustache to take home with you.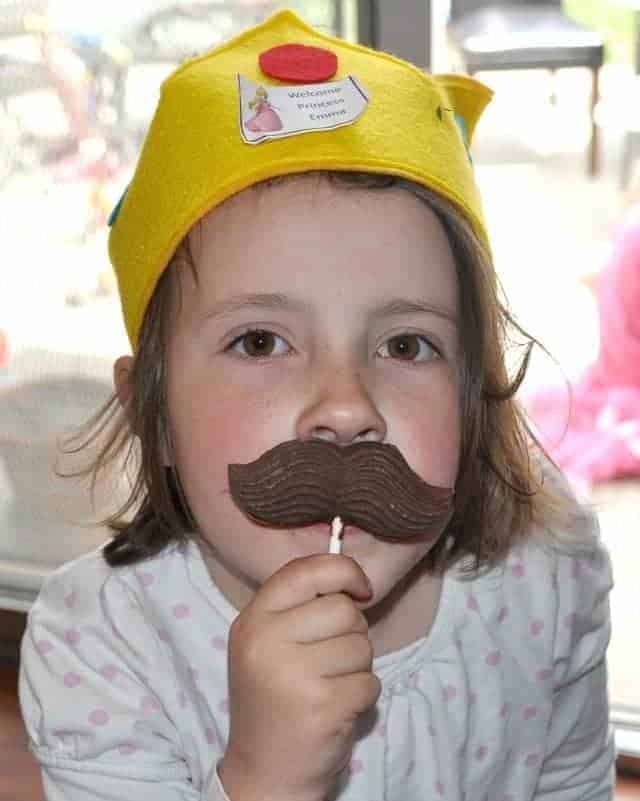 I'm still sad I couldn't make it to the party but I'm so glad Heather let me share her fun with you guys.
Keep Calm and Mario Party On!