In the world of condiments, there's one that stands out for its irresistible blend of flavors - Mango Chutney. This delightful concoction of ripe mangoes, spices, and a hint of tanginess has found its way into kitchens and hearts around the globe. Whether you're a culinary adventurer or just someone looking to elevate your meals, mango chutney is a must-try.
Mango chutney seamlessly combines the richness of ripe mangoes with a medley of spices. The sweetness of the mangoes is balanced by the zing of spices like ginger, cumin, and red chili flakes. The result is a flavor explosion that dances on your taste buds.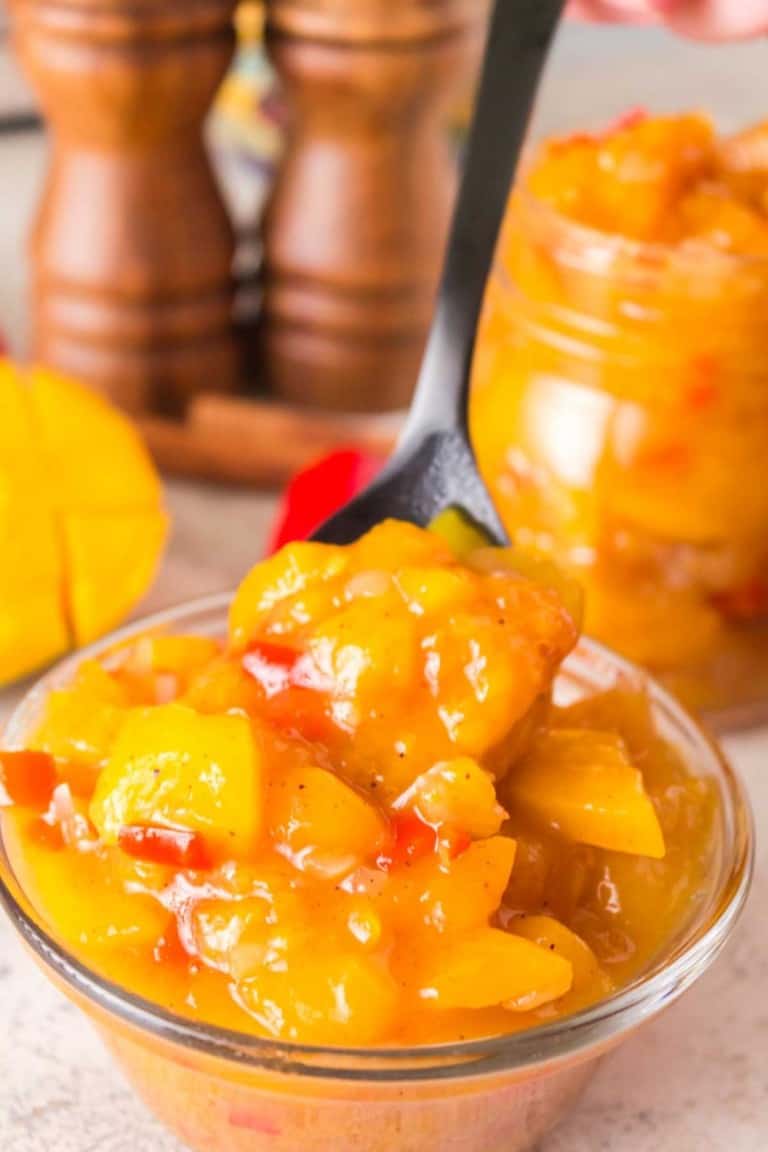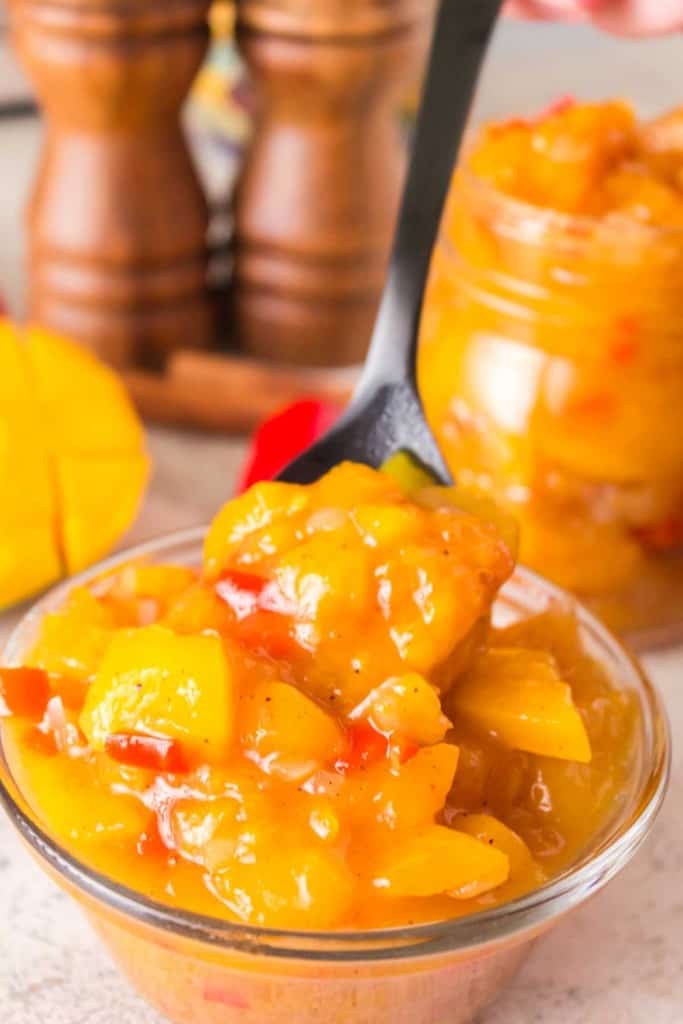 Mango Chutney
One of the most endearing qualities of mango chutney is its incredible versatility. It effortlessly transitions from a condiment to a cooking ingredient. Spread it on sandwiches, serve it alongside grilled meats, or use it as a dip for appetizers - the possibilities are endless.
Mango chutney is bold and beautiful. It's vibrant orange hue adds a pop of color to any plate. Its visual appeal not only makes your dishes look more appetizing but also stimulates the senses even before the first bite.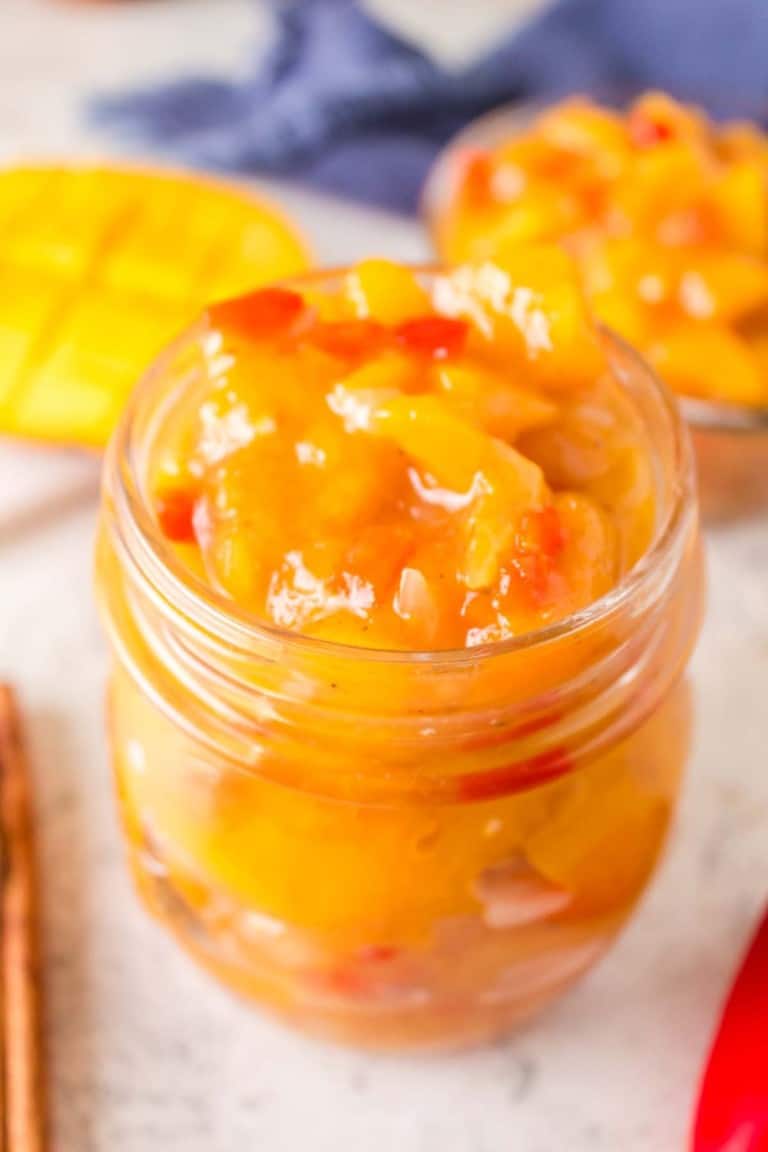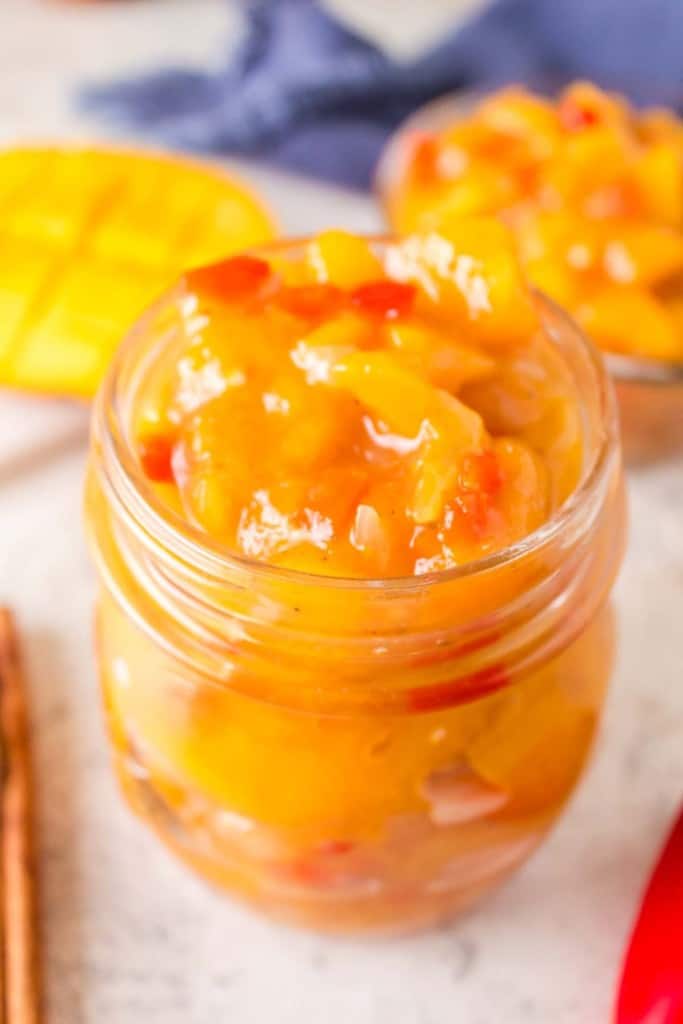 Ways to Enjoy Mango Chutney
Sandwich Sensation: Spread mango chutney on your favorite sandwiches to elevate them to a whole new level. It pairs wonderfully with both savory and creamy components, adding a burst of flavor to every bite.
Grilled Glory: Glaze grilled chicken, pork, or even tofu with mango chutney during the final stages of cooking. The heat caramelizes the sugars in the chutney, creating a delightful, slightly charred exterior.
Dip It Up: Use mango chutney as a dipping sauce for appetizers like samosas, spring rolls, or even tortilla chips. Its unique combination of flavors will have your guests coming back for more.
Cheese Companion: Serve mango chutney alongside a cheese platter to create a harmonious balance of sweet, tangy, and creamy flavors. It's a match made in culinary heaven.
Toast's Best Friend: Spread mango chutney on toasted bread for a quick and delightful snack. Top it with a sprinkle of fresh herbs for an extra layer of flavor.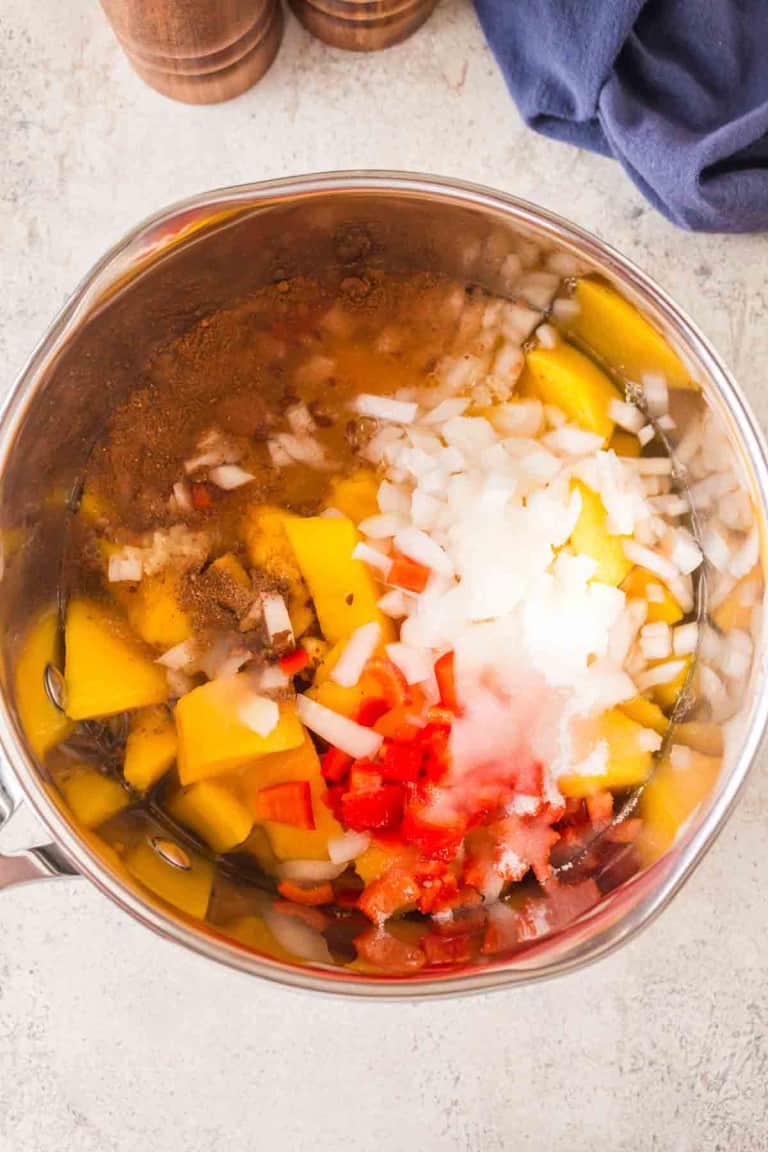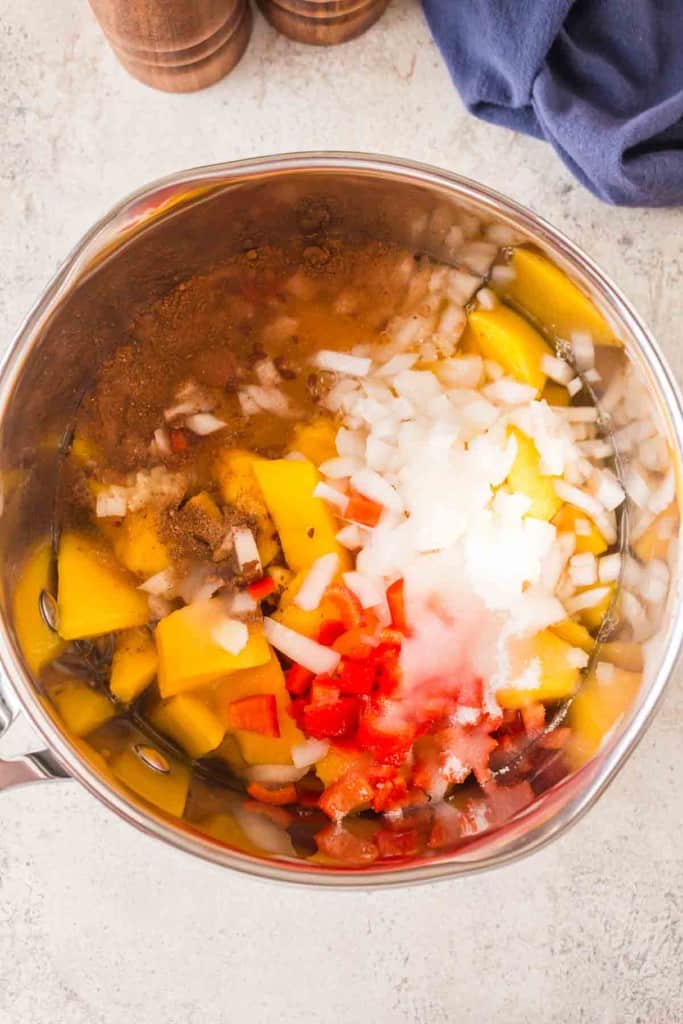 Ingredients
Mangos
Sweet onion
Ginger
Cinnamon
Nutmeg
Garlic
Red bell pepper
Sugar
White vinegar
Keep scrolling to find a full, printable recipe with a detailed ingredient list.
Recipe Instructions
In a medium saucepan, combine mangoes, onion, ginger, cinnamon, nutmeg, red bell pepper, sugar, vinegar, and water.
Mix well using a heatproof spoon to prevent sticking.
Bring to a boil (around 5 minutes), then simmer uncovered for 20-25 minutes until thickened and mangoes are soft.
Remove from heat and let it cool.
Transfer to a jar and refrigerate.
Serve and enjoy!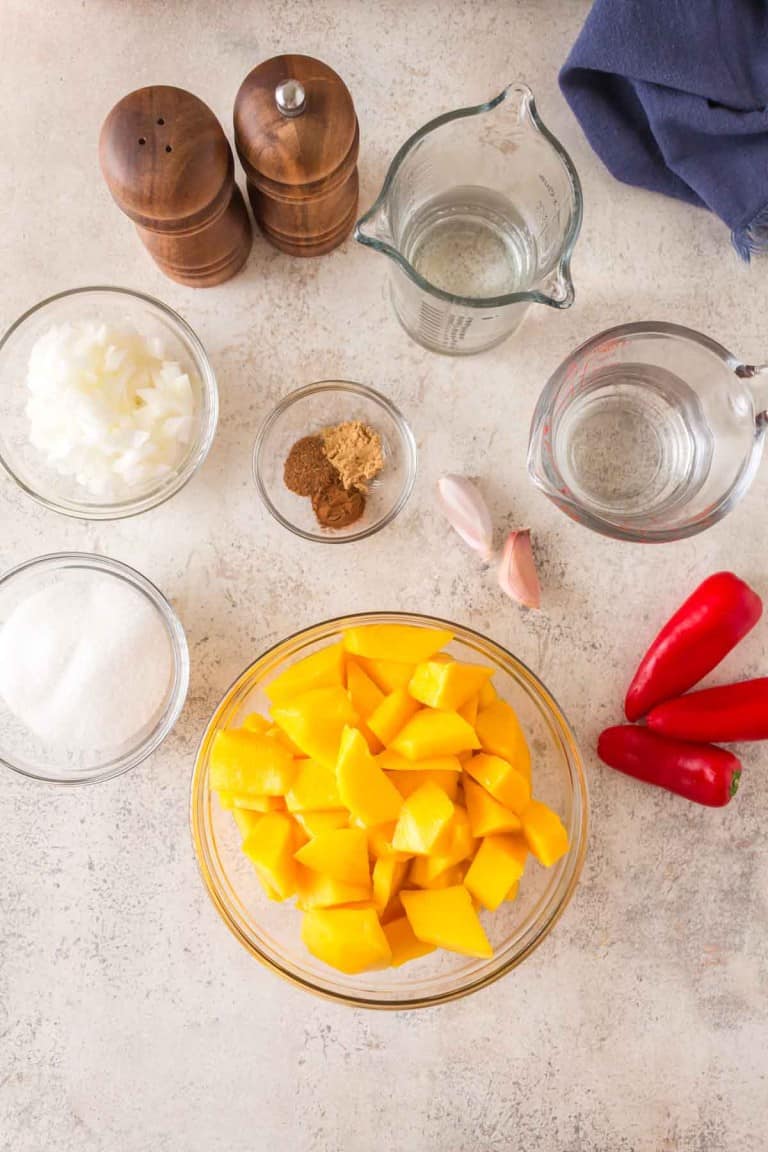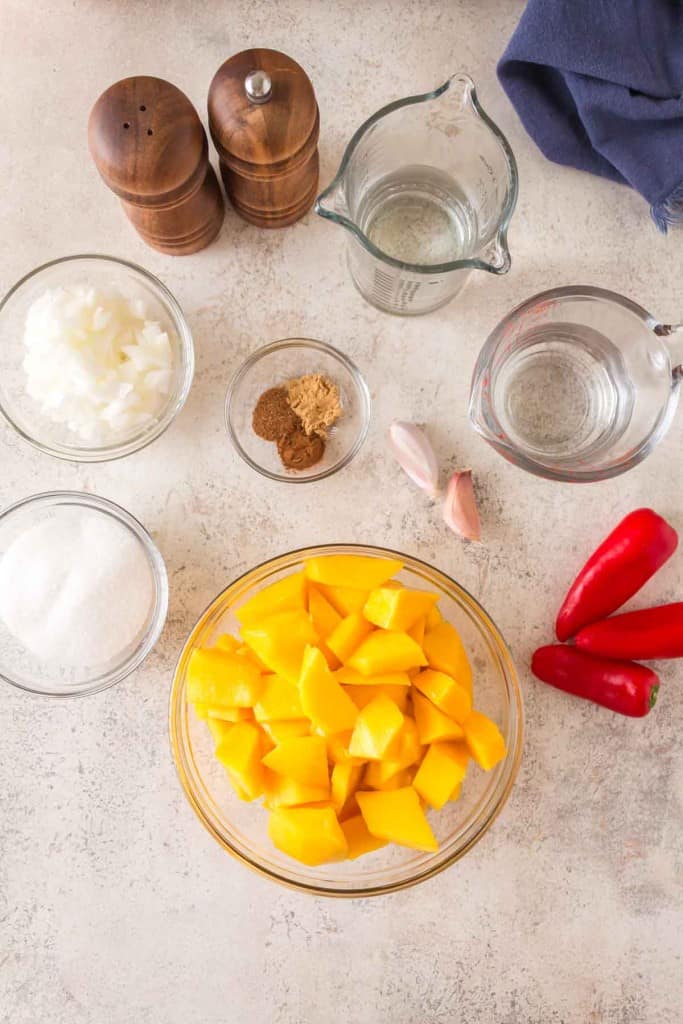 Frequently Asked Questions
What is mango chutney?
Mango chutney is a condiment made from ripe mangoes, spices, and other flavorful ingredients. It's known for its sweet and tangy taste and is used to enhance a variety of dishes.
How do I use mango chutney?
Mango chutney is incredibly versatile. You can spread it on sandwiches, serve it with grilled meats, use it as a dip for appetizers, add it to curries for extra flavor, or even pair it with cheese for a unique combination.
How long does homemade mango chutney last?
Homemade mango chutney can last for several weeks when stored properly in the refrigerator. Make sure to keep it in a sealed container or jar to maintain its freshness.

Can I freeze mango chutney?
Yes, you can freeze mango chutney to extend its shelf life. Divide it into portion-sized containers or freezer bags before freezing, so you can thaw only what you need.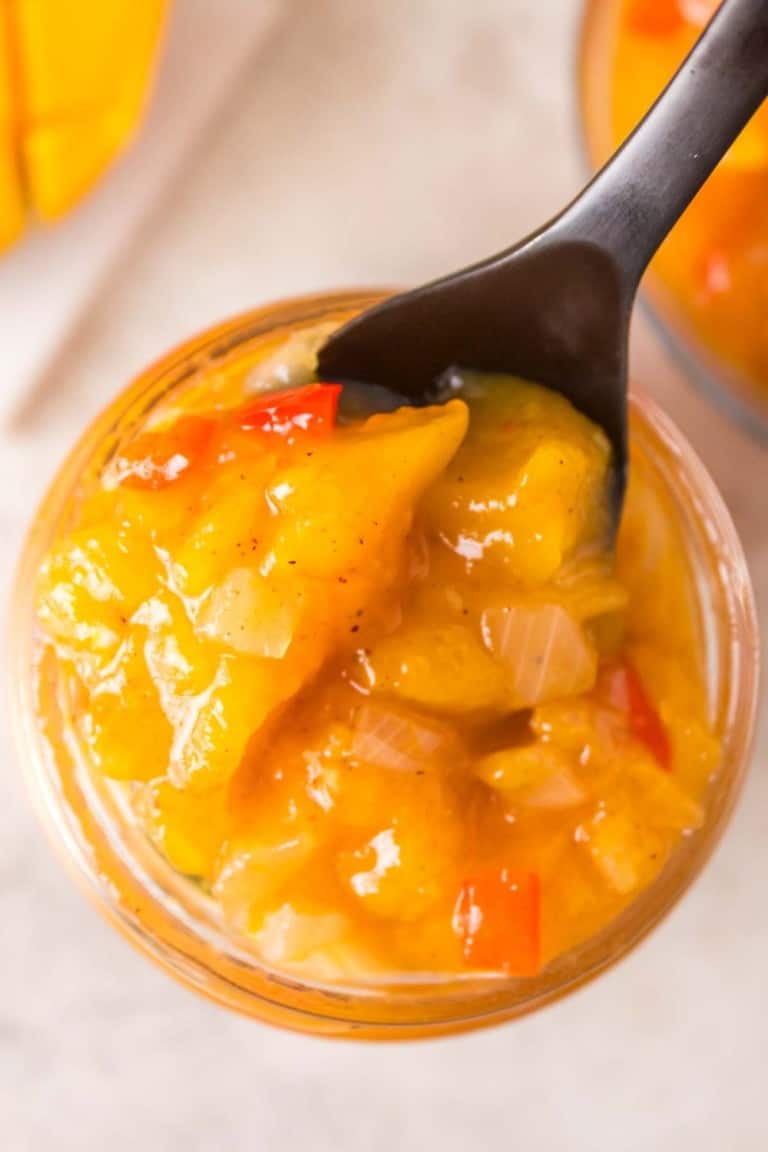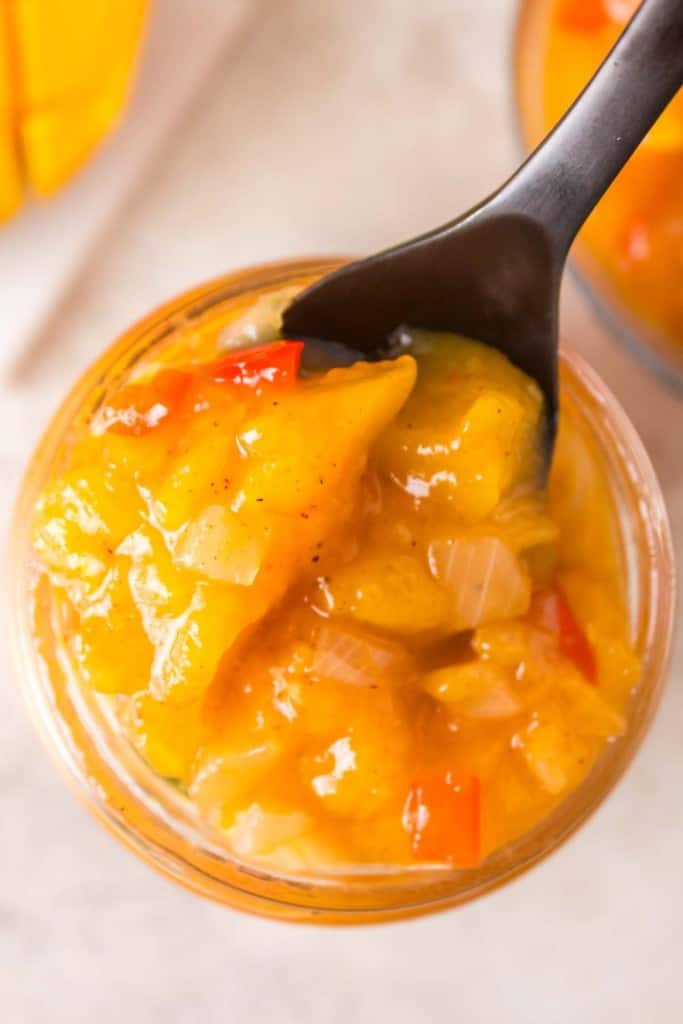 More Recipes
If you've tried this Mango Chutney recipe or any other recipe on Bless This Mess, then don't forget to rate the recipe and leave me a comment below! I would love to hear about your experience making it. And if you snapped some pictures of it, share it with me on Instagram so I can repost on my stories.
📖 Recipe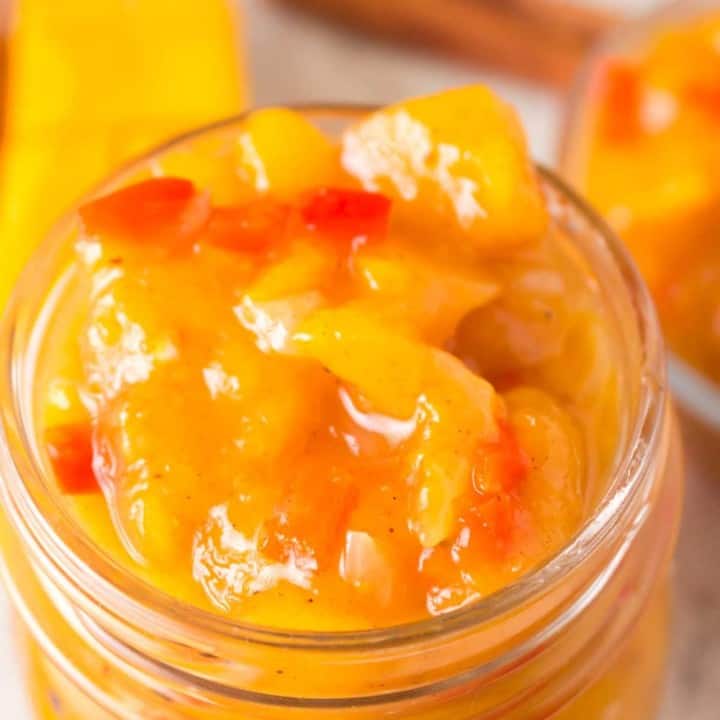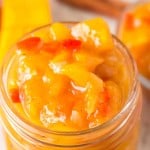 Print Recipe
Mango Chutney
Mango chutney is a sweet and tangy condiment made from ripe mangoes and spices, adding a burst of flavor to a variety of dishes.
Ingredients
3

mangos

large, ripe, pit and skins removed and chopped

½

cup

sweet onion

chopped

¼

teaspoon

ground ginger

¼

teaspoon

cinnamon

¼

teaspoon

nutmeg

1

garlic clove

minced

⅓

cup

red bell pepper chopped

I like to use small peppers as they are sweeter

½

cup

granulated sugar

½

cup

white vinegar

½

cup

water
Instructions
In a medium-sized saucepan, add the mangos, onion, ground ginger, cinnamon, nutmeg, red bell pepper, granulated sugar, vinegar, and water.

Use a heat proof spoon and mix all ingredients so they are well incorporated and nothing sticks to the bottom of the saucepan.

Bring the mixture to a boil (it took about 5 minutes), then reduce heat to a simmer and cook, uncovered, for an additional 20-25 minutes until it thickens and the mangoes are soft and tender.

Take the saucepan off the heat and let it cool completely.

Place in a jar and keep in the refrigerator until you are ready to serve.

Serve and Enjoy!
Notes
This mango Chutney is excellent served with yogurt for a fun snack, but we truly enjoyed it served with fish (grilled flounder) and a side salad.
Storage: up to two months in the fridge or freeze it (you can freeze it in a container or in an ice tray for a more individual portion)
Excellent served at room temperature. You don't need to heat it up.
Have fun with the recipe: Make it spicy: Add some red pepper flakes or chopped Jalapenos. However, be careful not to add too much as the vinegar already brings a nice touch of spice without overpowering the mango flavor.
Nutrition
Calories:
276
kcal
|
Carbohydrates:
68
g
|
Protein:
2
g
|
Fat:
1
g
|
Saturated Fat:
0.2
g
|
Polyunsaturated Fat:
0.2
g
|
Monounsaturated Fat:
0.3
g
|
Sodium:
8
mg
|
Potassium:
423
mg
|
Fiber:
4
g
|
Sugar:
64
g
|
Vitamin A:
2759
IU
|
Vitamin C:
98
mg
|
Calcium:
37
mg
|
Iron:
1
mg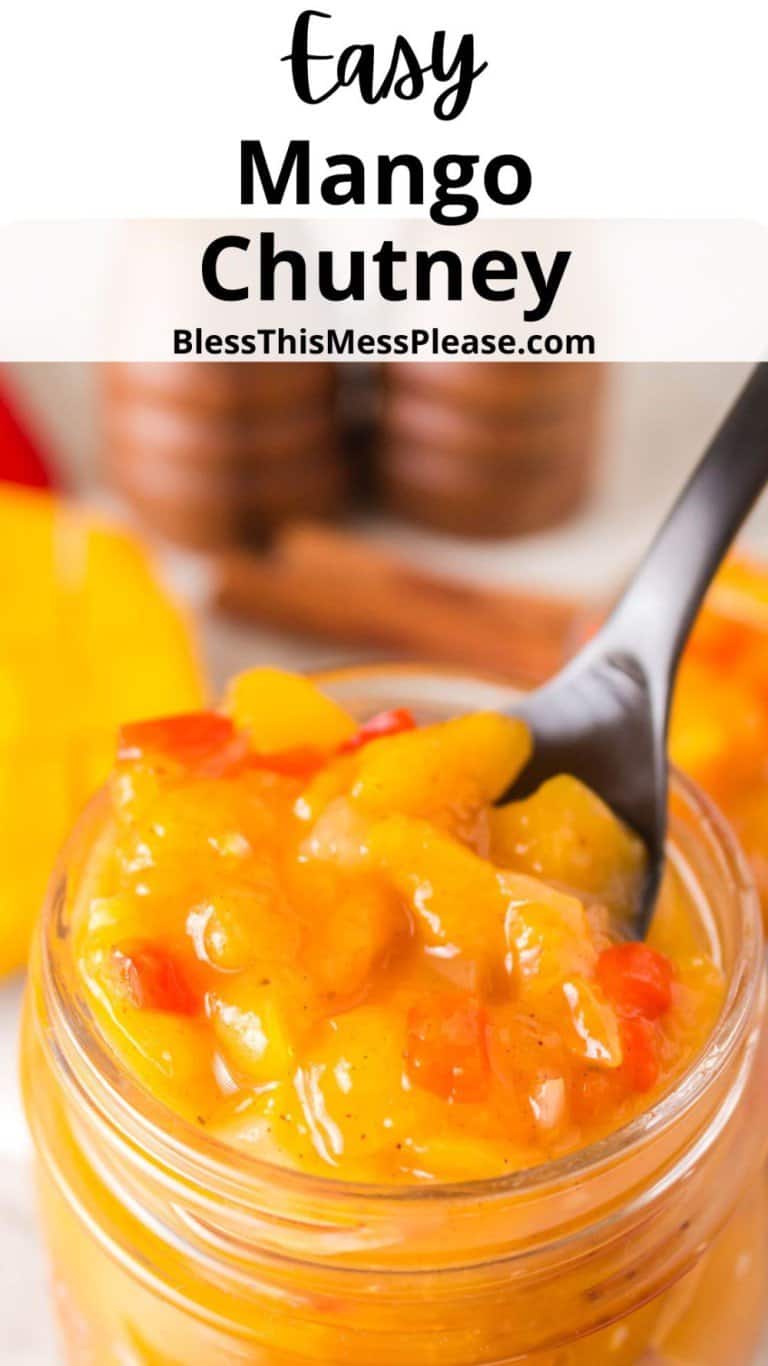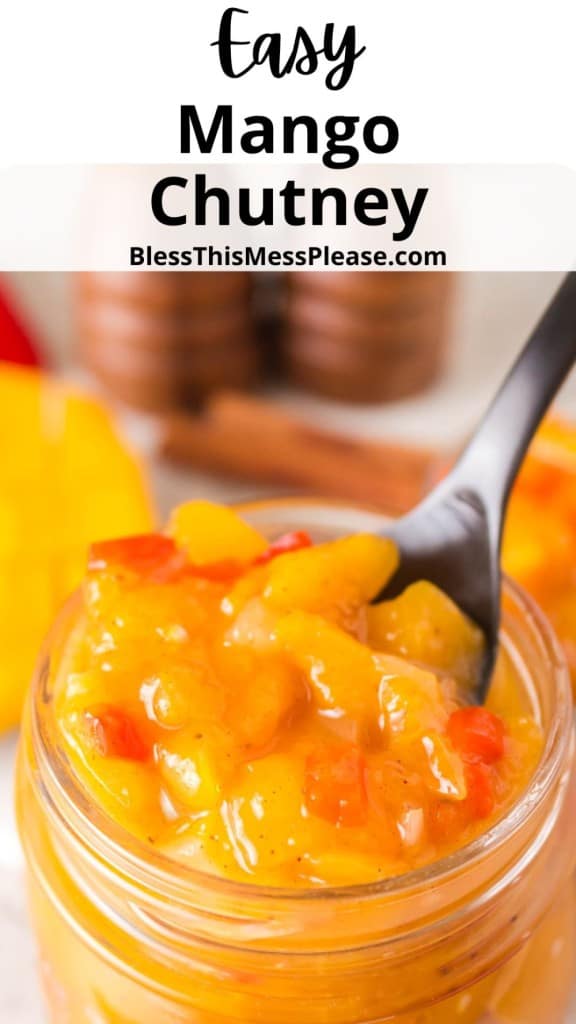 Mango chutney is a delightful blend of sweet and tangy flavors makes it a versatile and flavorful addition to any meal, elevating dishes with its vibrant taste and adding a touch of culinary magic.