I love a good batch salsa. Sure, you can buy salsa at the store, but it is so much tastier when you make it at home. Tomatillo Salsa is a fun change from traditional salsa made with tomatoes. Let's dive in and I'll teach you how to can tomatillo salsa.
This recipe is a hot water bath canning recipe meaning you don't need to pressure can it, just the boiling water canning method!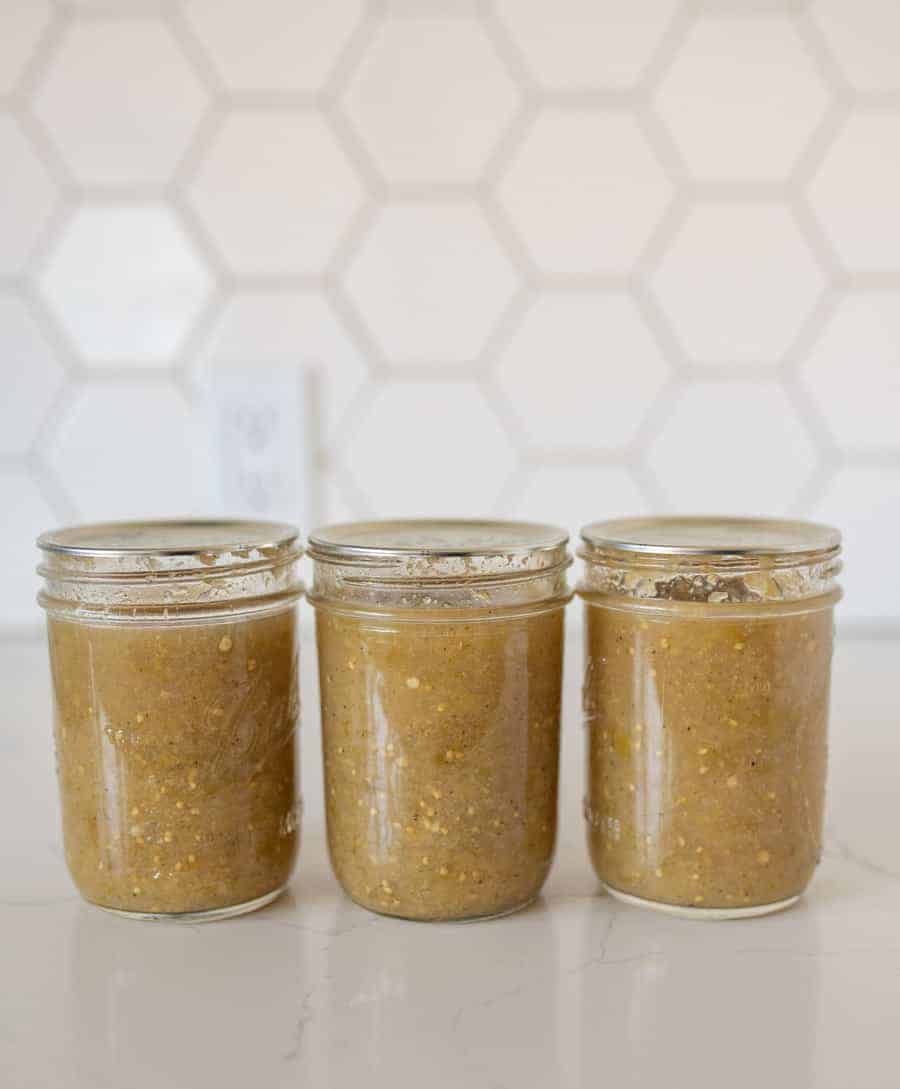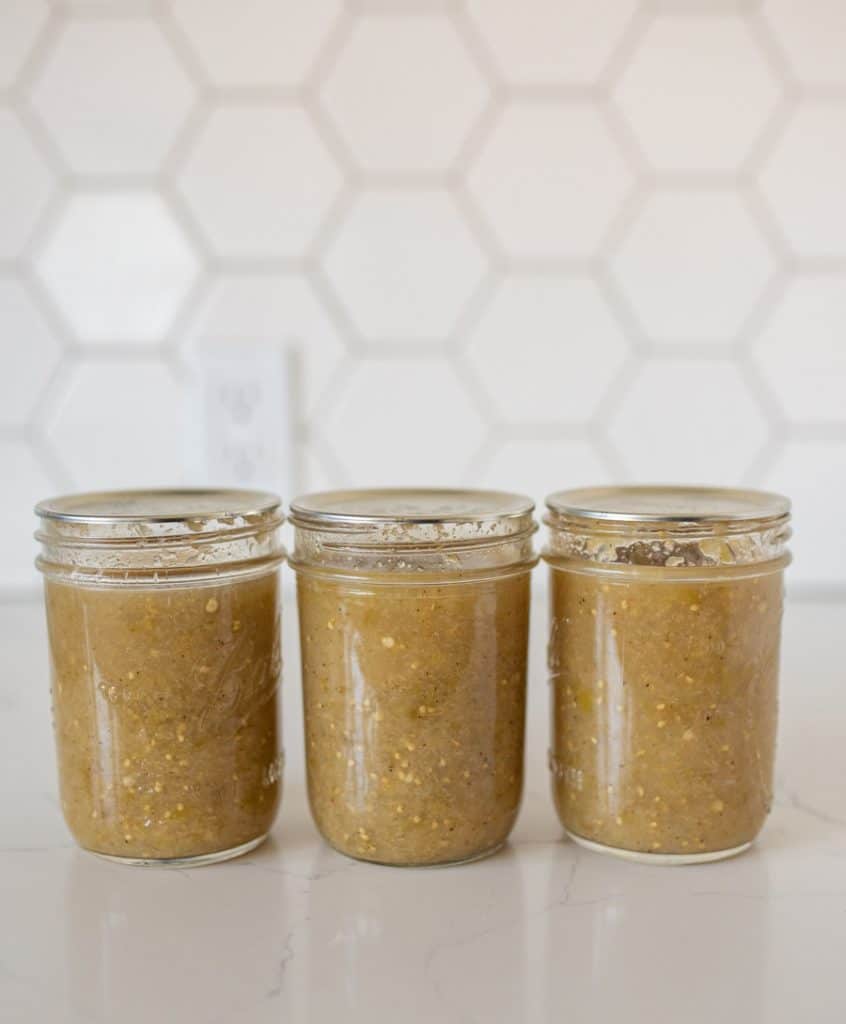 Tomatillos are a cute, little green vegetable with amazing flavor. They are native to Mexico but can be found in most grocery stores in the United States.
Tomatillo salsa is awesome to have around because it is a great addition to any Mexican inspired dish.
And if you've ever grown tomatillos, you'll know that they are GREAT producers! Be warned, if you have one plant one year and don't clean up what drops to the ground, you'll have many more plants the next year. Not only do tomatillos produce well, they also reseed themselves.
This is my favorite green tomatillo salsa recipe to can and it's my favorite way to preserve tomatillos for the winter.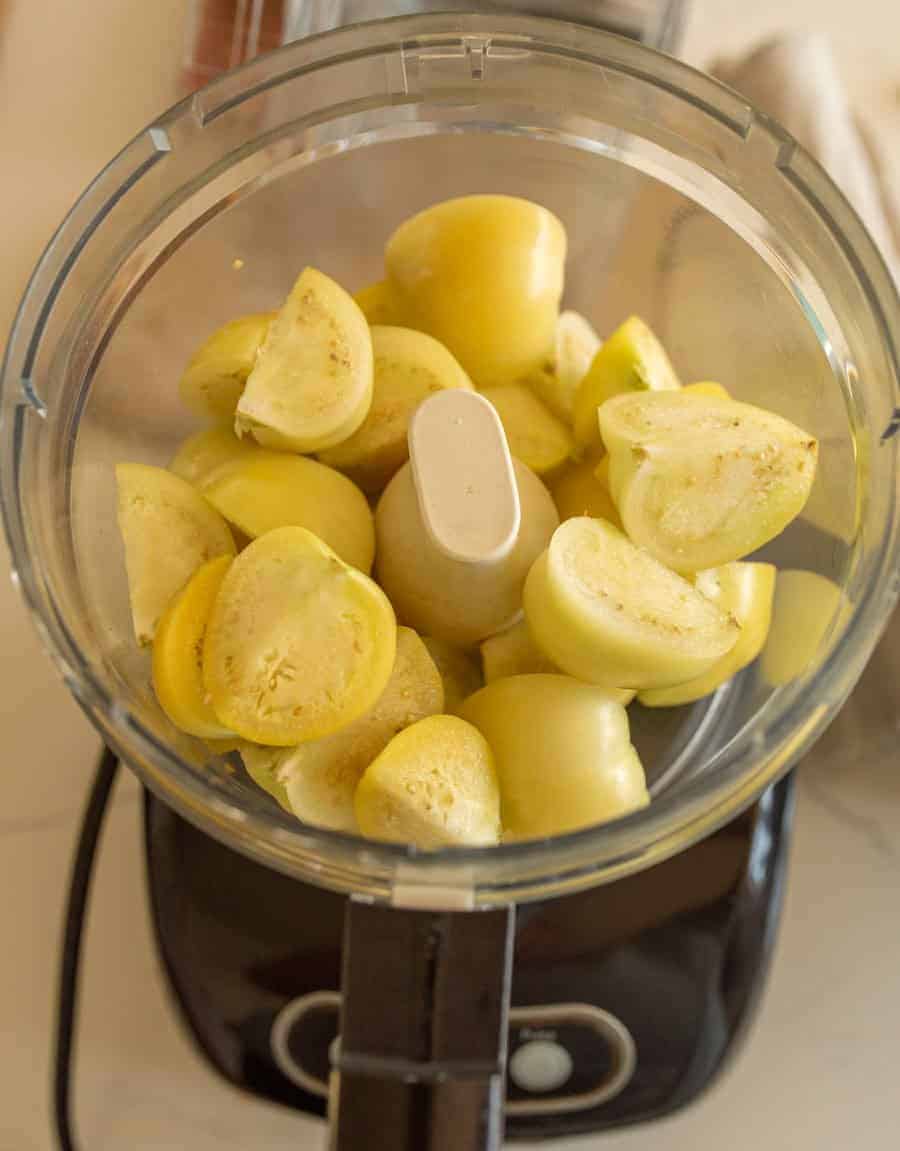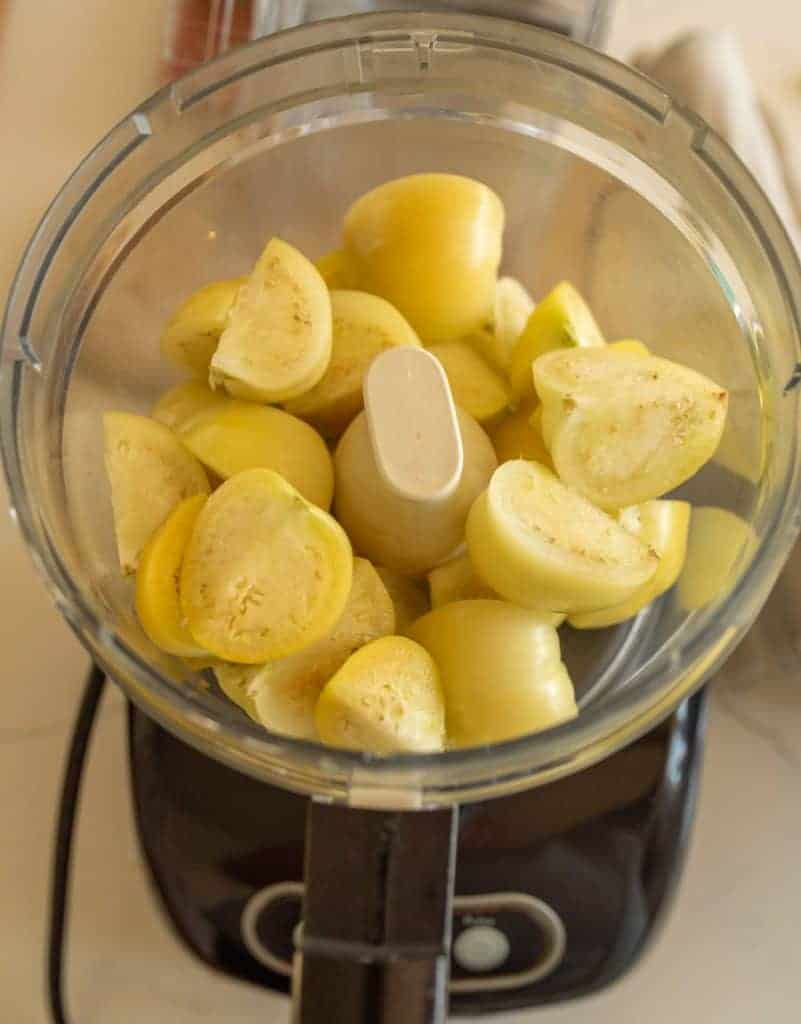 How To Can Tomatillo Salsa
Few things make me happier than preserving food. I love feeding my family nutritious meals without breaking the bank and canning is a perfect way to do that.
Canning salsa can be intimidating at first but it is pretty simple and so worth it. You will enjoy the benefits of learning to can salsa for years to come.
Is salsa verde and tomatillo salsa the same thing?
Yes! They are both green in color and made with tomatillos. They are usually more mild than red salsa, though this recipe can be a nice medium depending on how hot your peppers are! I find that my home grown chilis and jalapenos get really spicy, really quick, in my dry heat.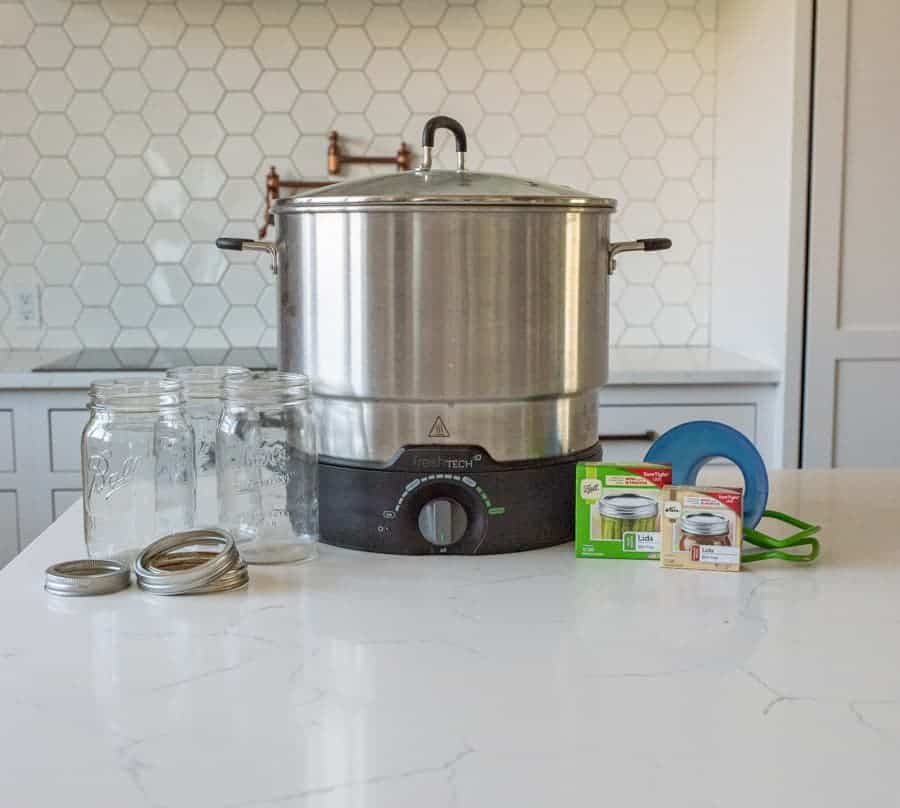 How long does homemade salsa last in Mason jar?
It's recommended to store canned salsa in a cool dark place. If stored properly the salsa should last up to 1 year. It can last longer than that, but using within a year is the recommended time frame.
What do you use tomatillo salsa for?
Oh, so many things! You can serve with fajitas, enchiladas, use as a marinade in a crockpot or simply chips and dip! This green salsa also happens to be a secret ingredient in my favorite chili recipe.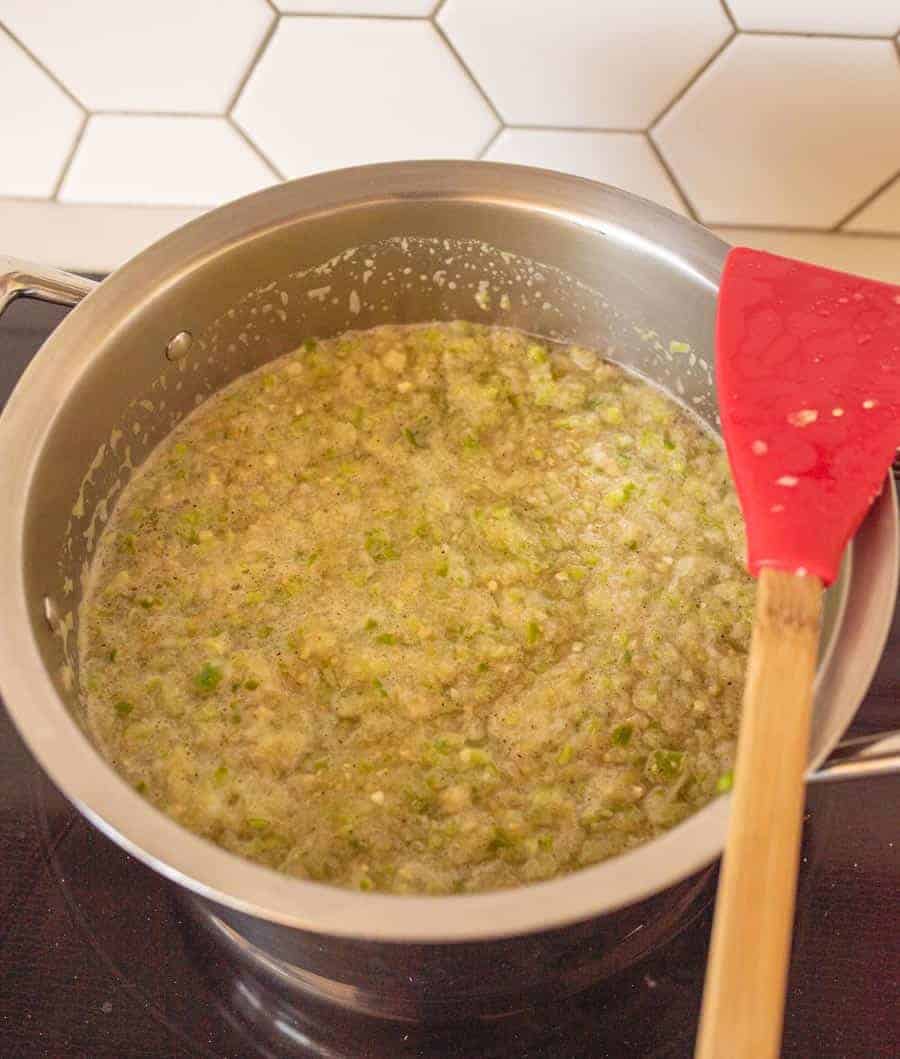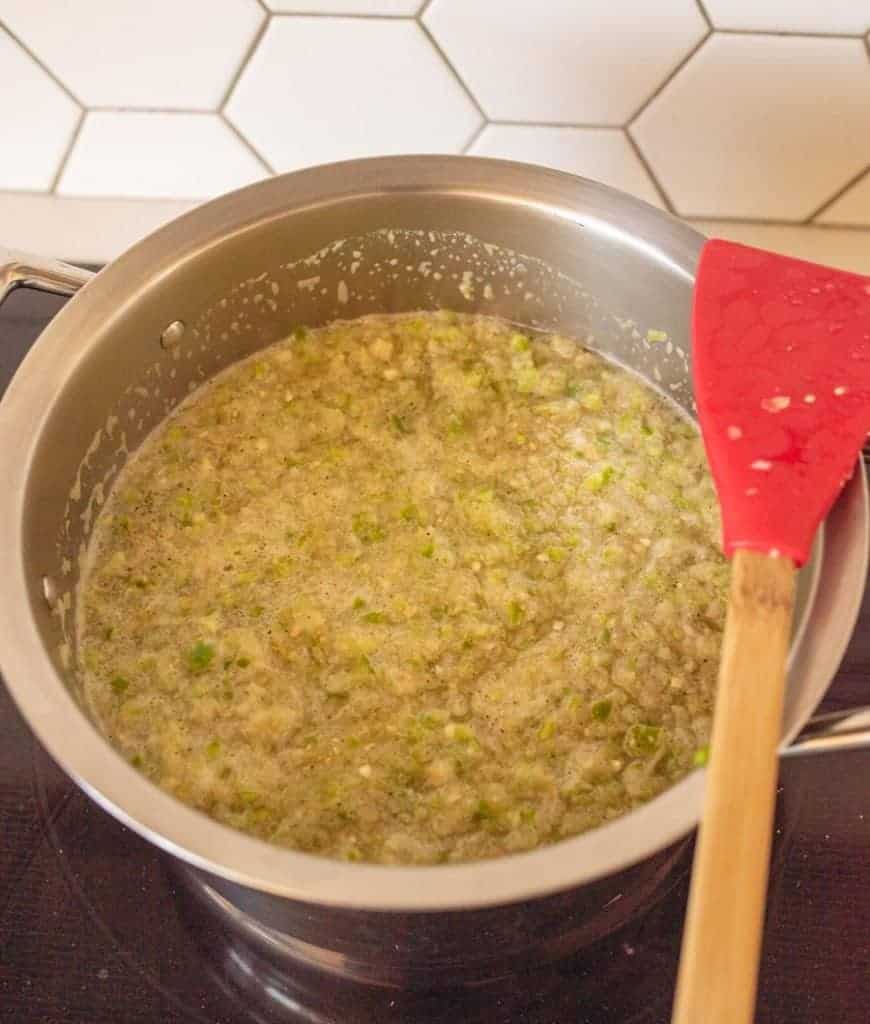 What You'll Need:
Hot water bath canner
Large saucepan
Oven, broiler or stovetop
Pint mason jars with lids (approximately 5)
Some type of hand protection when you are handling hot peppers. When you are finished handling them, wash hands thoroughly.
If you are new to canning, you can always ask around to see if anyone you know has a water bath canner they aren't using. I also have great luck finding things like that used at thrift stores.
When I moved into my house with a glass-top stove (you're not supposed to can on glass top ranges), I bought a Ball Fresh Tech Electric Canner. This is my third canning season using it and I really like it! That might be a good option for you if you are in the market.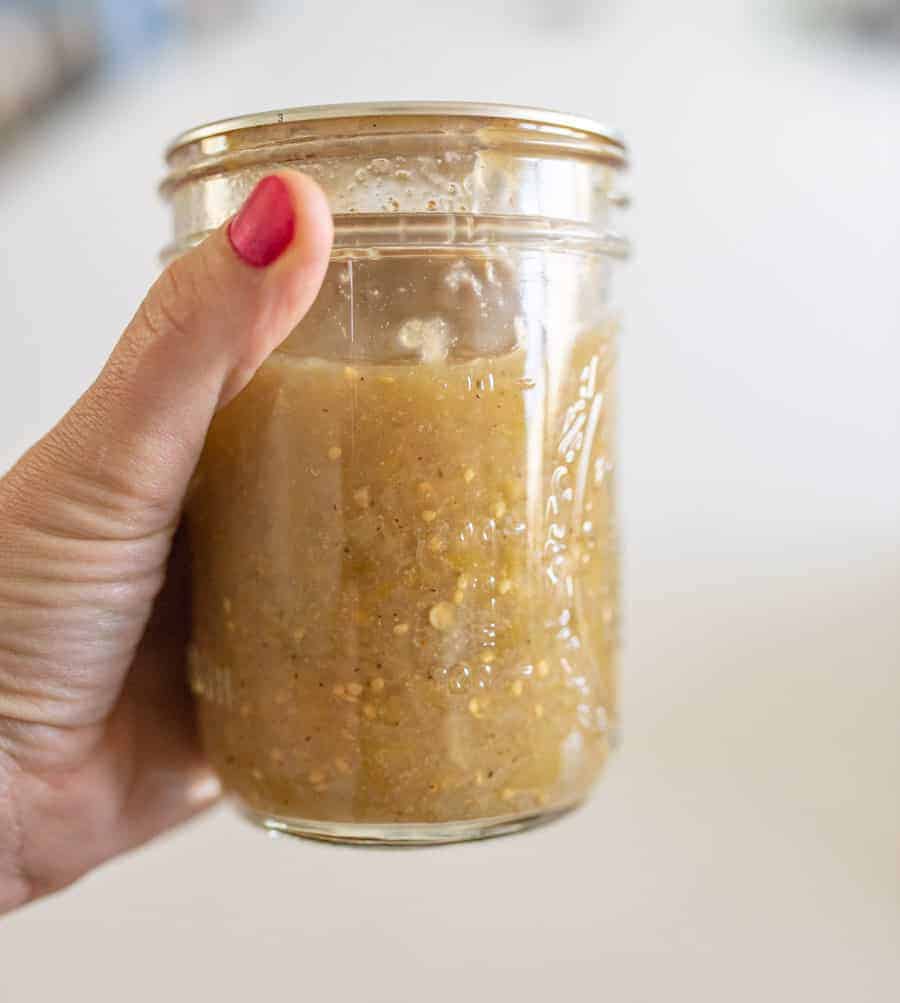 Please note:
This recipe is from the National Center for Home Preservation and is an approved recipe for canning. DO NOT adjust measurements in this recipe. To make it shelf staple the pH of the recipe needs to be correct and adjusting ingredients will change the pH. When it comes to canning, using approved recipes from approved sources is safest.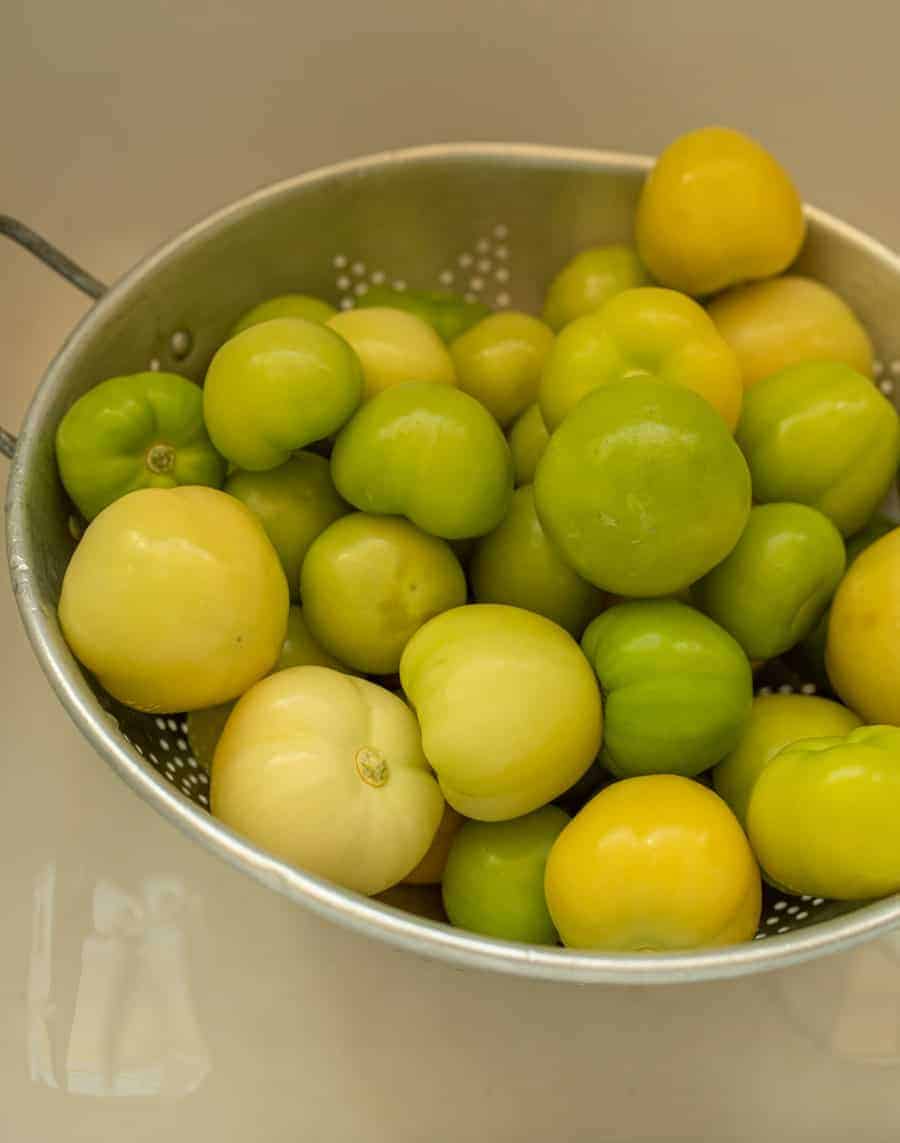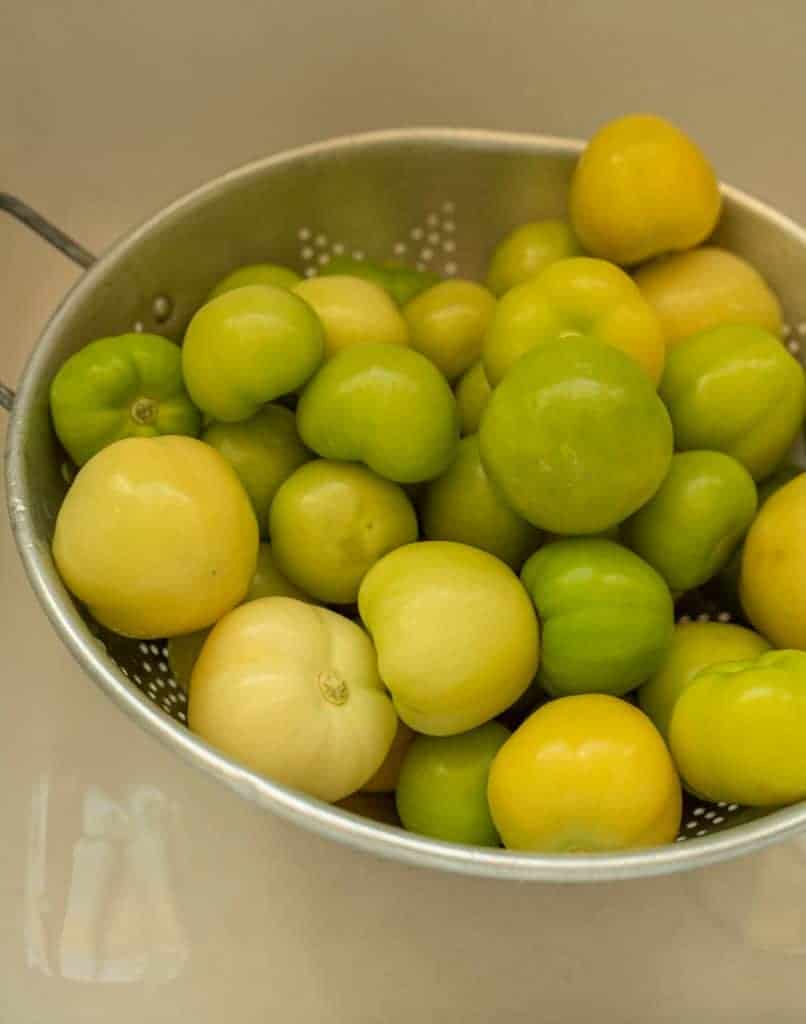 More preserving recipes:
Print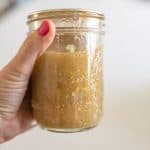 Tomatillo Salsa Recipe for Canning
---
Author:

Total Time:

1 hour

Yield:

5 pints

1

x

Diet:

Diabetic
Description
This is a simple green tomatillo salsa recipe for water bath canning that is made with tomatillos, peppers, onions, and is cooked on the stove and then made shelf stable by boiling jars filled with the salsa.
---
5 cups

chopped tomatillos

1

-

½

cups seeded, chopped long green chilies (such as Anaheim or banana peppers)

½ cup

seeded, finely chopped jalapeño peppers

4 cups

chopped onions

1 cup

bottled lemon juice

6

cloves garlic, finely chopped

2 tablespoon

ground cumin

1 tablespoon

salt

1 teaspoon

black pepper
---
Instructions
You will need to prep the tomatillo by taking off the husk and then washing. Don't worry about peeling or seeding them.
Prep the peppers. At this point, make sure you are wearing hand protection. Chop the chilies finely. If you are noticing that the skin of the chilies are tough you can heat them up in the oven until the skin starts to blister- usually about 6 minutes at 400 degrees. To make peeling the skin easier, place the chilies in a pot and cover with a damp cloth. Let them cool and the skins should slide right off.
There is no need to peel the jalapeño peppers. If you are looking to decrease the spiciness you can remove the seeds.
You can finely chop all of your ingredients or you can process them in a food processor.
In a large stock pot add the chopped tomatillos, chopped chilies, chopped jalapenos, chopped onions, lemon juice, garlic, cumin, salt, and pepper. Stir to combine.
Bring the mixture to a boil. Once boiling, reduce heat and simmer for 20 minutes. Keep stirring periodically.
Now you are ready to put the salsa in the pint jars.
Ladle the hot salsa mixture into clean and sanitized pint mason jars.
Make sure to leave about ½ inch space at the top of the jar. Remove all of the air bubbles (gently tap the jars on a thick towel set on your counter to help them come to the surface) and wipe the mouths of the jars with a clean, damp cloth.
Apply the two part lid and screw the ring or band on.
Place the jars in a water bath canner filled half way with hot tap water. Once all of the jars are in the canner, fill the canner up with more hot water until the water is 1 to 2 inches over the top of the jars.
Bring the canner to a boil. Once the water is fully boiling, boil for 15 minutes (see notes on altitude adjustments).
Once the 15 minutes has passed, turn the heat off your canner. When the water stops boiling, remove the hot jars from the water and place them on a cutting board or on a thick towel (taking care not to bump them together when setting them down) to cool.
Once cooled, remove the rings for storage, write what's in the jar and the date on the top of the lid, and store for up to a year on the shelf (they'll last longer than that but a year is ideal).
Notes
The boiling time of 15 minutes is for altitudes of less than 1000 feet above sea level. If you live at 1000-6000 feet above sea level boil for 20 minutes and if you live above 6000 feet boil for 25 minutes.
Use this green salsa as a dip with chips, as an enchilada sauce, in burritos, or as an ingredient in slow cooker salsa chicken or in chili.
This recipe is from the National Center for Home Preservation and is an approved recipe for canning. DO NOT adjust measurements in this recipe. To make it shelf staple the pH of the recipe needs to be correct and adjusting ingredients will change the pH. When it comes to canning, using approved recipes from approved sources is safest.
Prep Time:

20 min

Cook Time:

15 min total

Category:

side

Method:

canning

Cuisine:

American
Keywords: how to can green salsa, how to can tomatillos salsa, tomatillos salsa recipe for canning, how to preserve tomatillos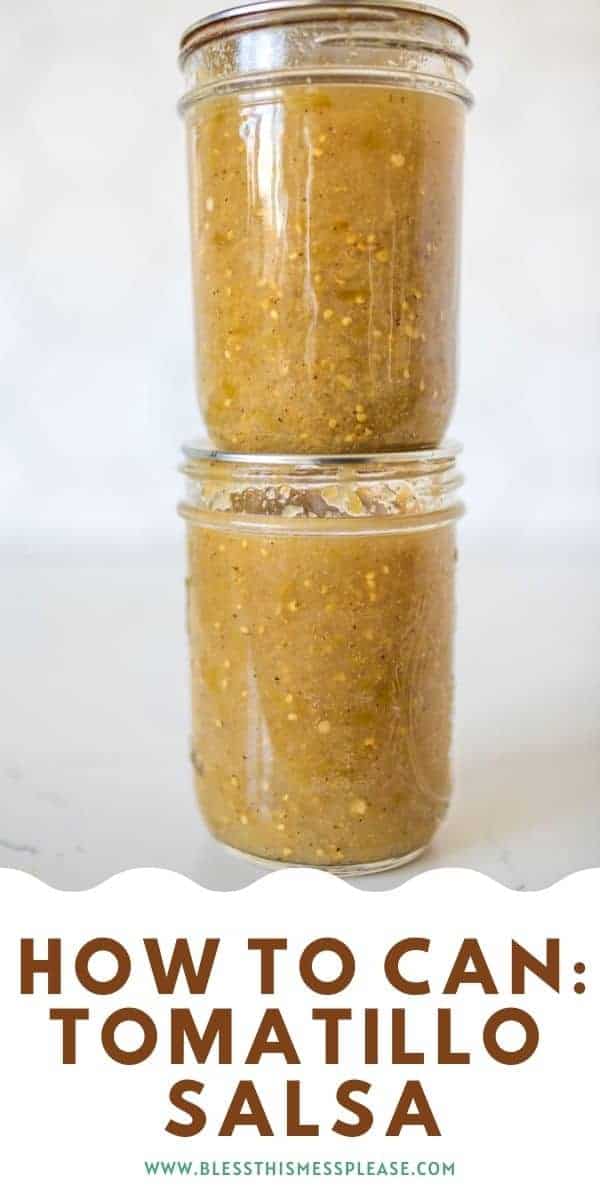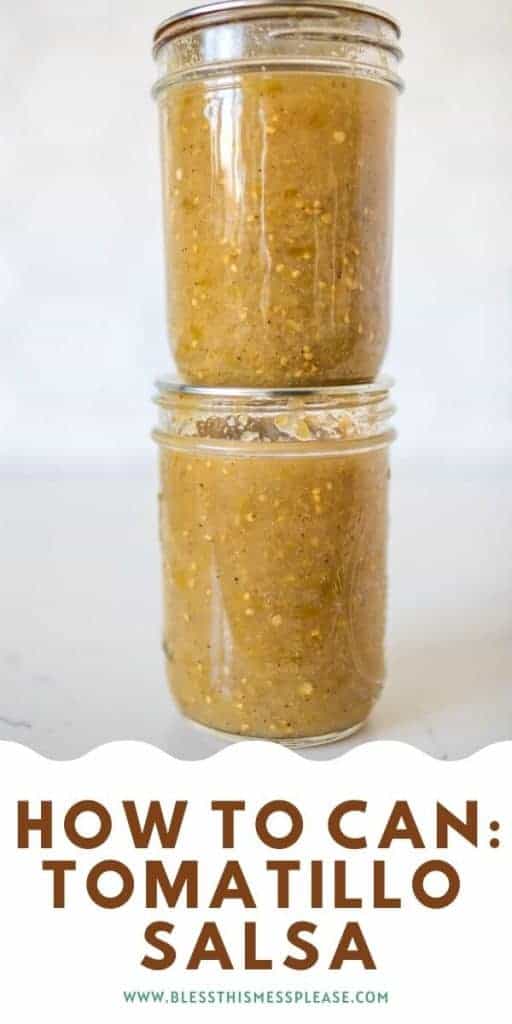 That's it! Really, there is nothing to it and you will have fresh tomatillo salsa stocked right in your house. I can't wait for you to try this recipe!