It's been way too long since I updated you on the house. This project - oh, this project. We are at a really fun stage of framing and it changes every day. I still laugh every time we tell people we are building it ourselves and then they ask who the contractor is. No friends, there's no contractor, just Thomas and I and hours and hours and hours of work. My brother moved here in May and has started working pretty often with Thomas on the house, and we've had a few friends help out here and there, so we aren't totally alone, but for all intents and purposes, this is a 100% self-build DIY house.
We sold The Shanty! It was a really bittersweet decision, but the timing feels good. Building a house takes money, so selling a property right now just made sense for us. It will forever be our first love, but I'm ok with seeing it go too. We used the money from the sale the pay off this property (which we acquired just over 2 years ago). So now our house loan is only for the house itself, which is nice. Without selling the Shanty, our mortgage would have been both the property and the house building materials together, so we are excited to use our loan for just the house, if that makes sense.
When I last updated you in July, we had just poured the footing for the basement. You won't believe how far we have come since then.
If you need to back up, here are all of the posts I have written about building our own farmhouse:
Since then, things have changed in all kinds of ways.
After we got the basement footings in, Thomas used foam blocks to make the basement walls. These blocks are super cool and stack up just like legos. They have all kinds of metal rebar inside, and then they are filled with concrete. The wall forms stay in place and are the insulation for the basement. We'll screw Sheetrock right to them for the interior walls. We had a pumper truck come to fill up the walls. It was a pretty exciting day, though it stressed me out big time. I didn't stay longer than to take a few pictures. People were yelling, the walls seemed like they were going to pop open, and it was too much for me. Thomas actually fell off a ladder, got his leg stuck on the way down, and the ladder came crashing down on top of him while they were pouring. We were so lucky he didn't break his leg, but it was so sore for a long time. It was an eventful day for sure.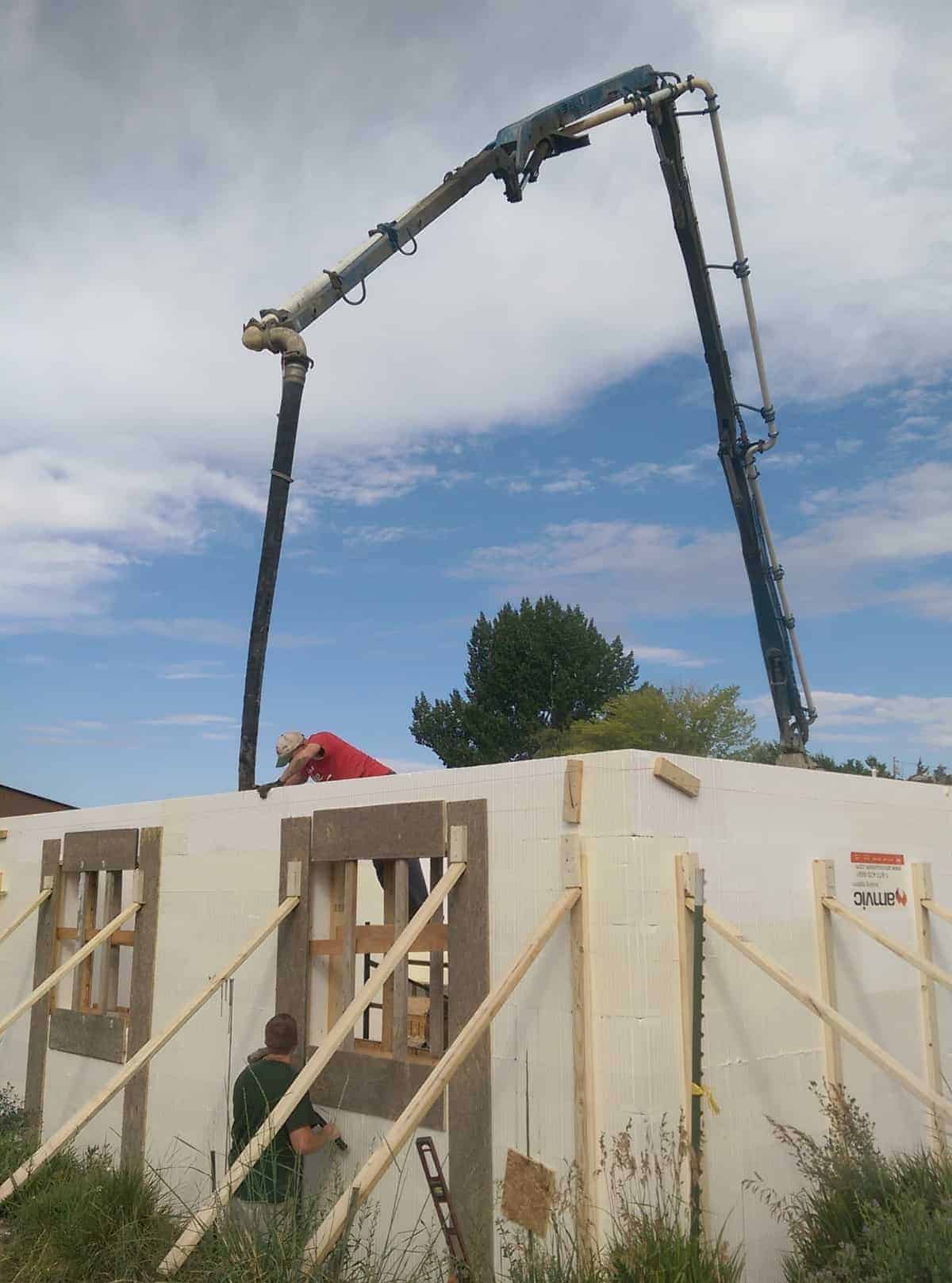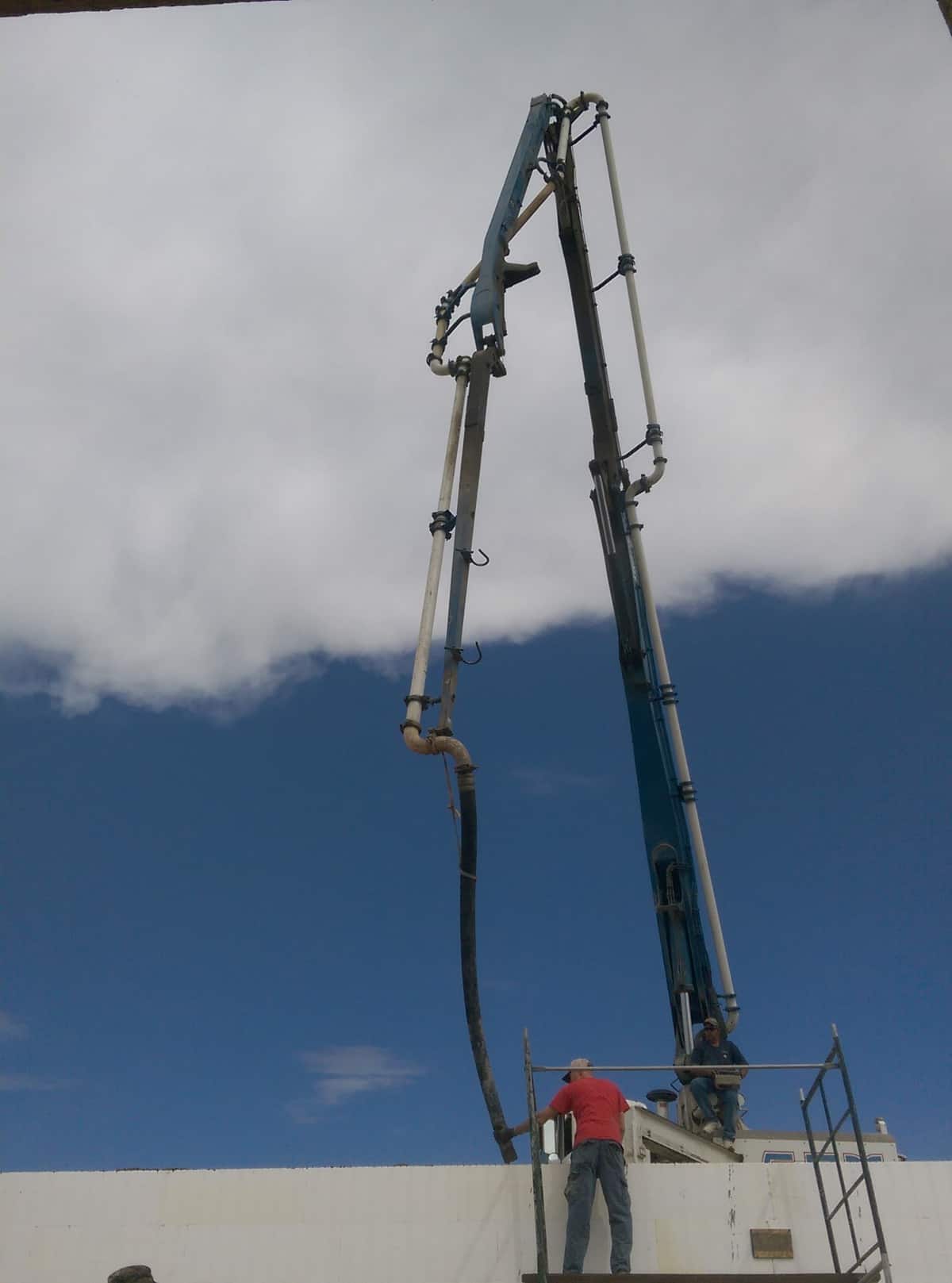 Next, we added floor trusses and flooring in the basement. We know that a basement with a crawl space underneath isn't normal, but that's the perk of doing all of this ourselves. We think this will be the best option for any water issues and for future plumbing/water needs. Laying the floor in the middle of August was so physically awful. The white insulated walls just made the sun beat down on you and kept all the heat in. It was in the upper 90s on one of the days I helped, and I'm pretty sure the heat index from the house was putting the temperature into the 100s. It was like working in a solar oven. I know when the winter comes we'll long for some warmth, but on that day, it was so miserably hot for doing such exhausting work.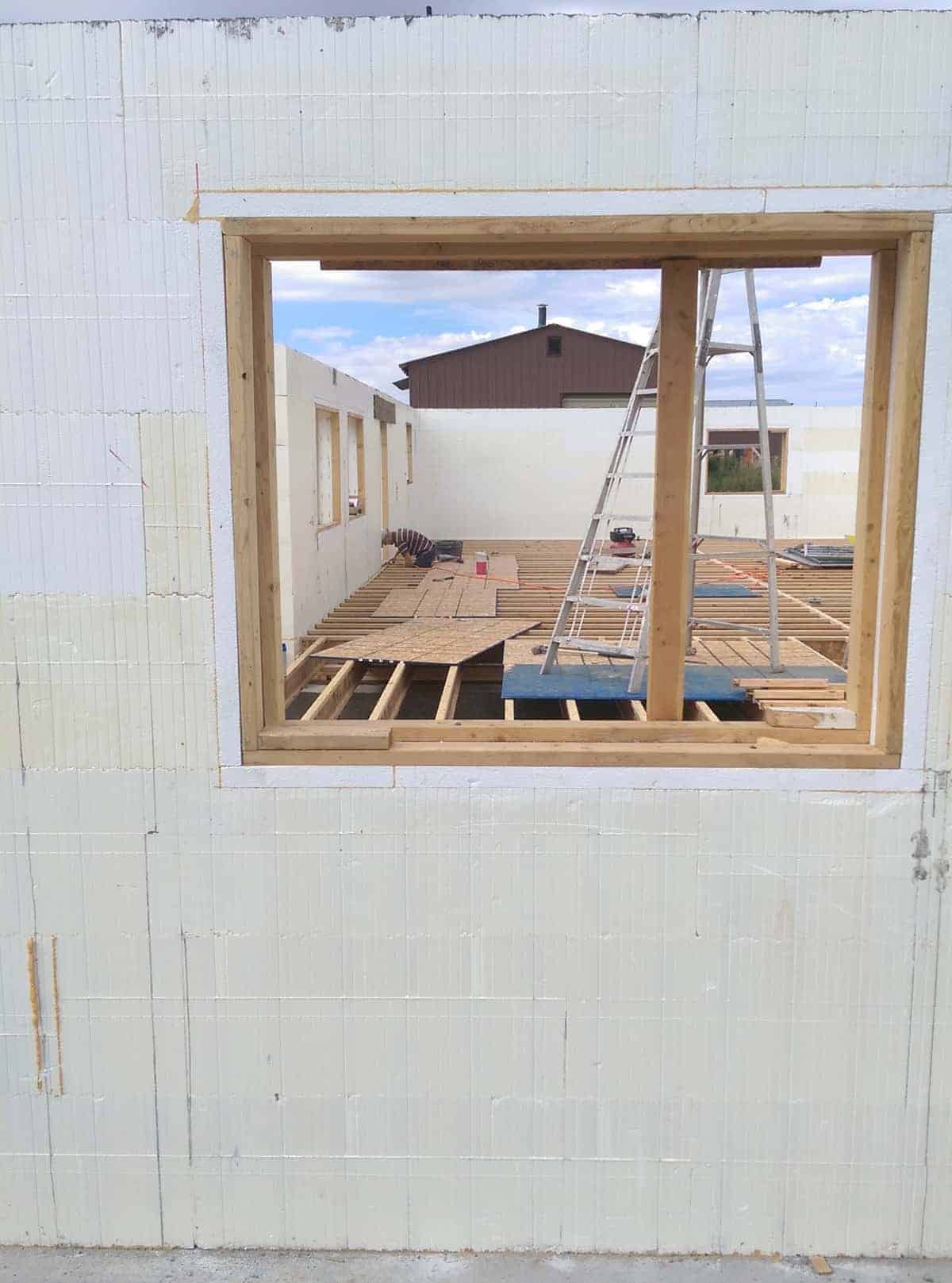 I was the official subfloor glue applier. It's a glamorous job and I did it well, if I do say so myself.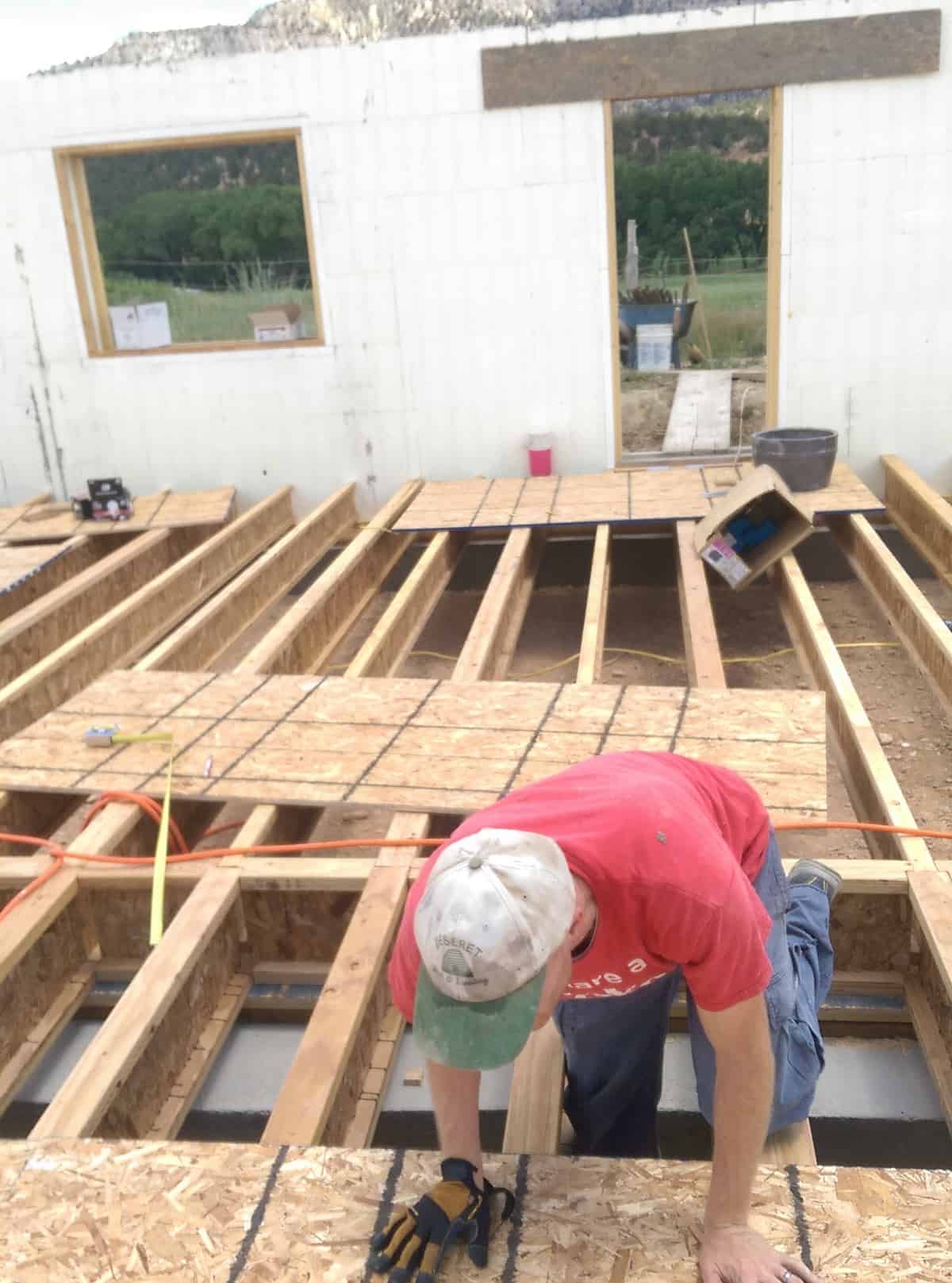 Framing a few basement walls was so exciting!!!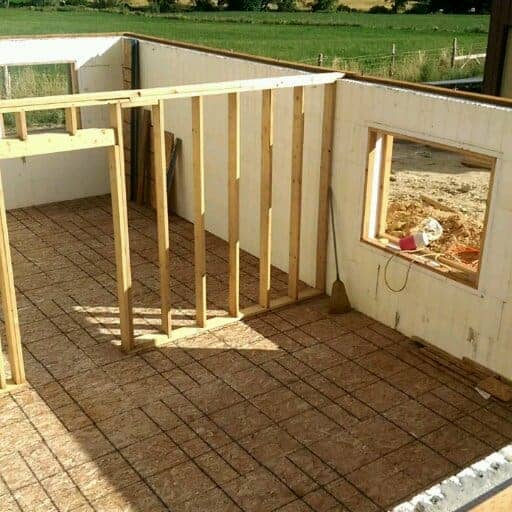 Floor trusses waiting to go on.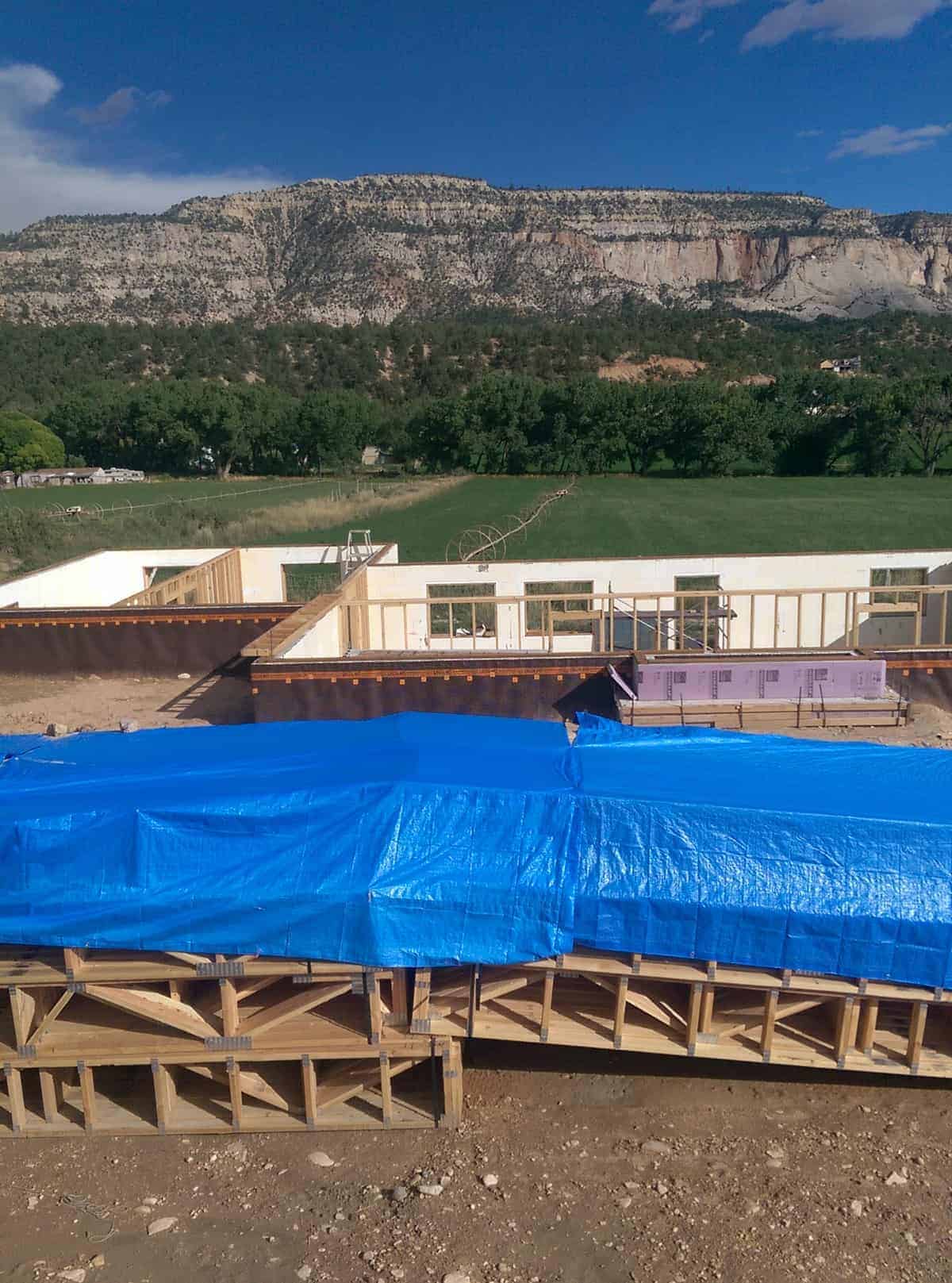 Sometime in the middle of this it flooded, and it flooded good. We had crazy flash flooding all over town one Sunday, and when we got to the house, this whole trench around the basement was full of water. The water was about 1 inch from going in through the back basement door. Thomas was still in his suit and tie, but he got in the water and tried to stop it from going in the house. He was there for over 4 hours that night trying to keep the water out, but he succeeded and came home exhausted. The water left about 6 inches of clay mud in our trench, which we didn't want, because our French drain is at the bottom. Thomas ended up spending a whole day shoveling out mud by hand (and the baby assisted him).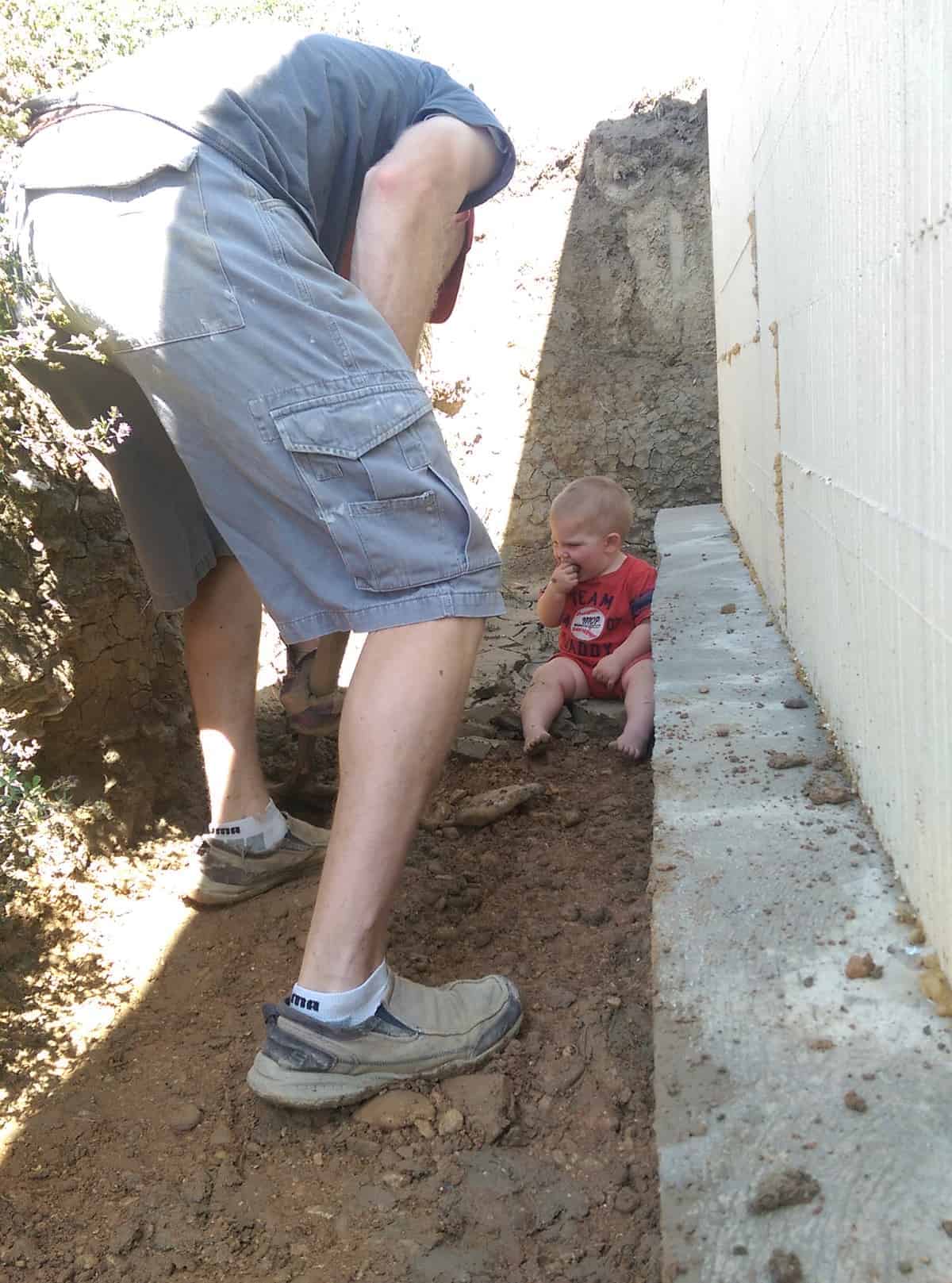 Up and up! The next layer of trusses and flooring! This is the main level.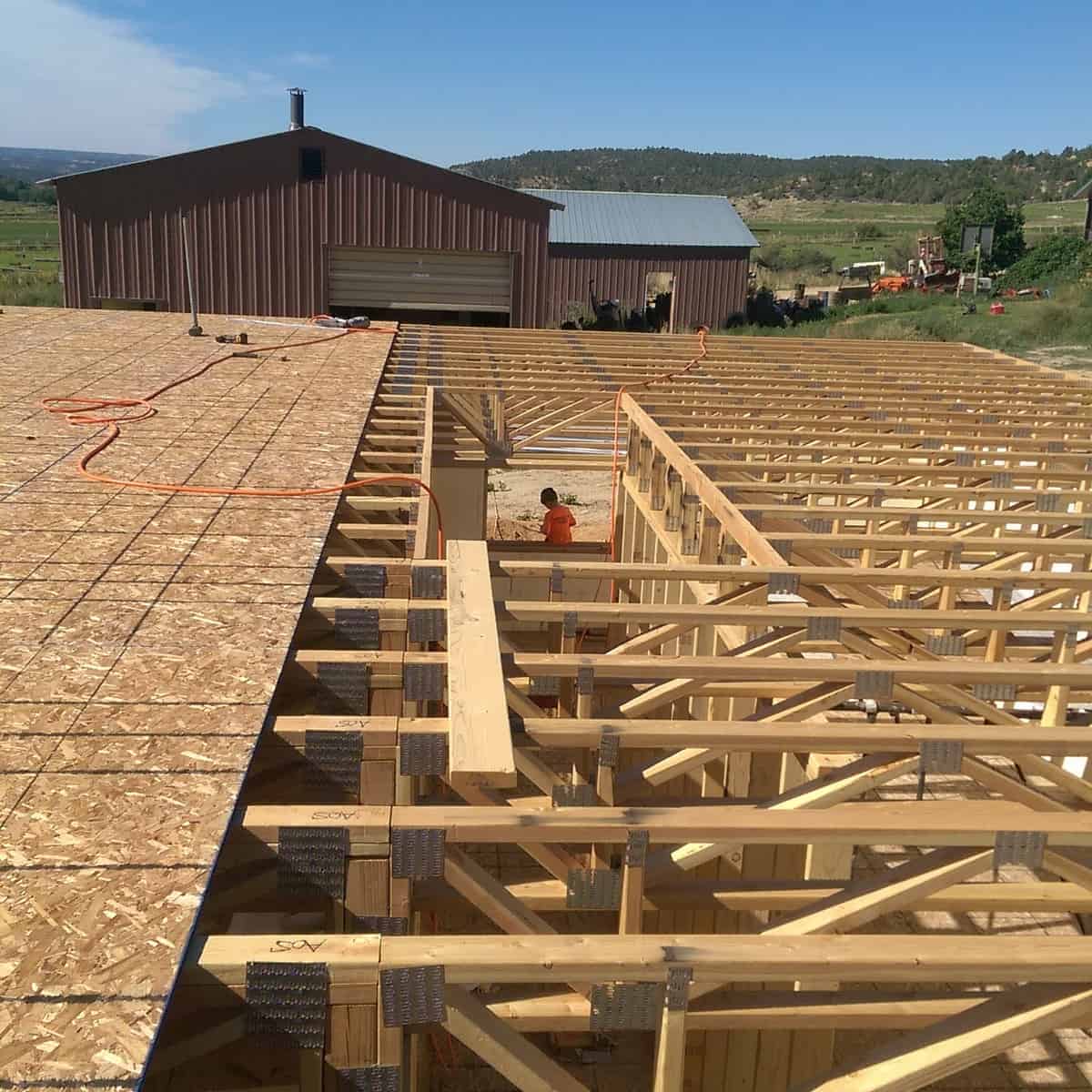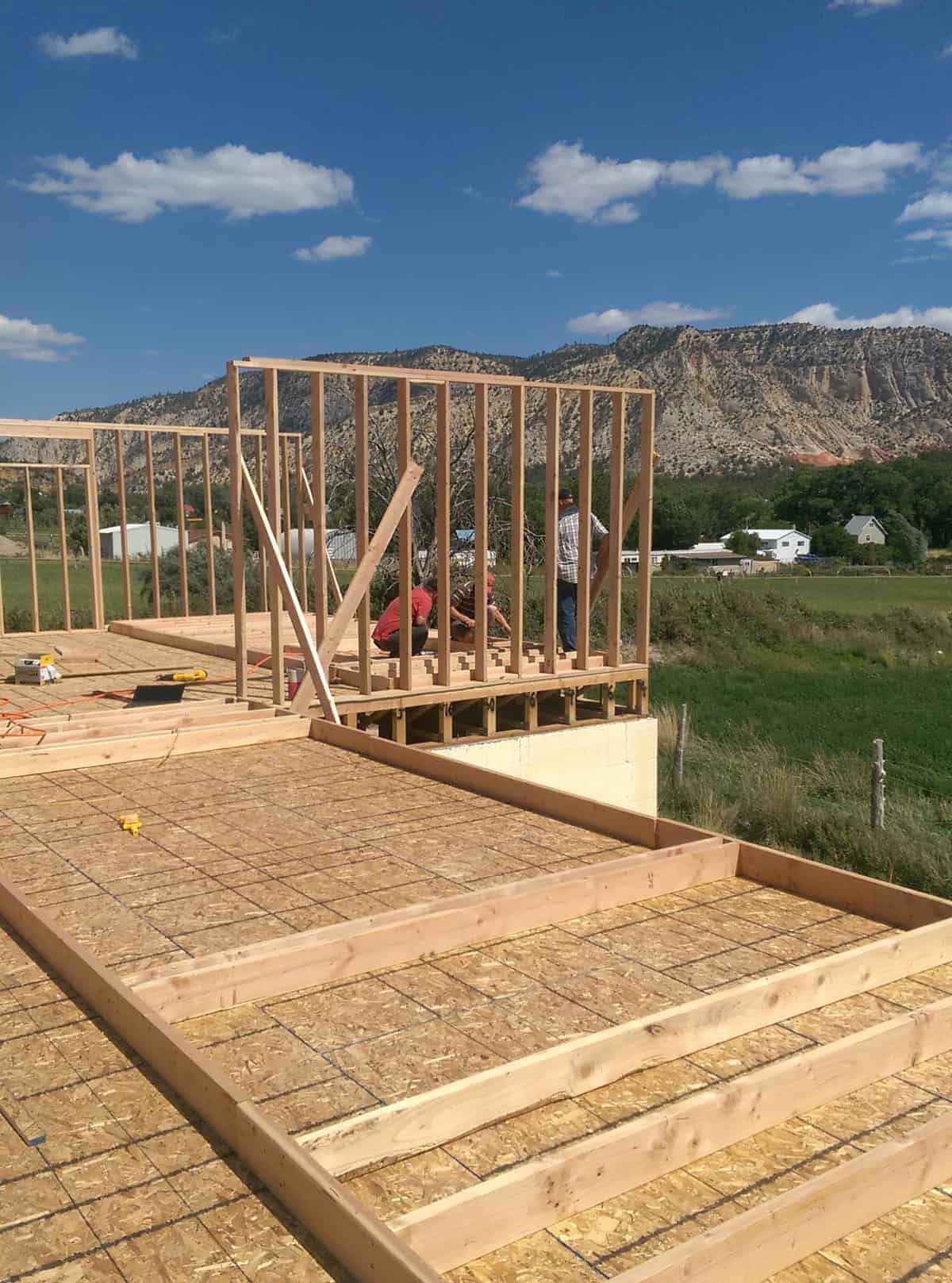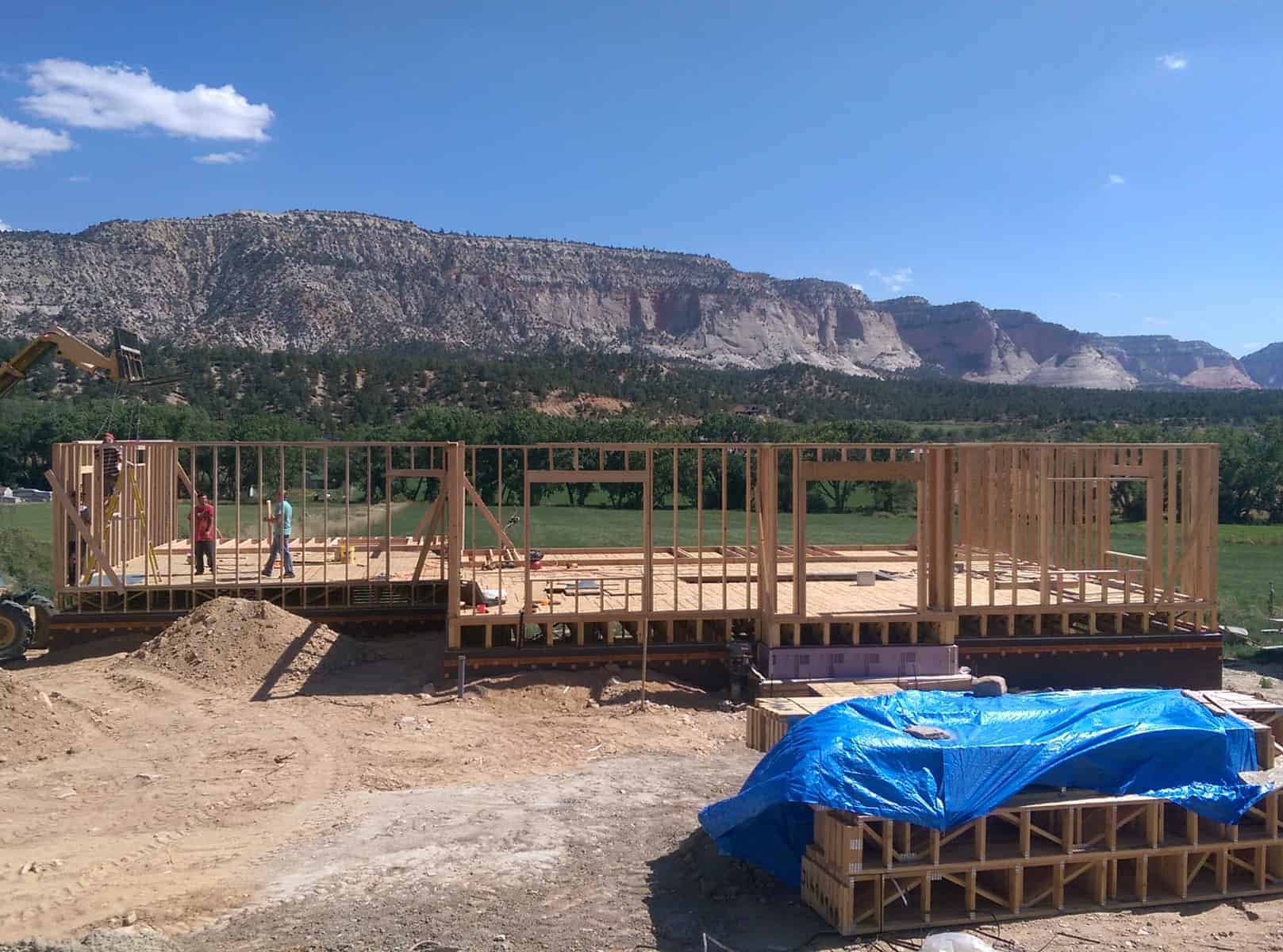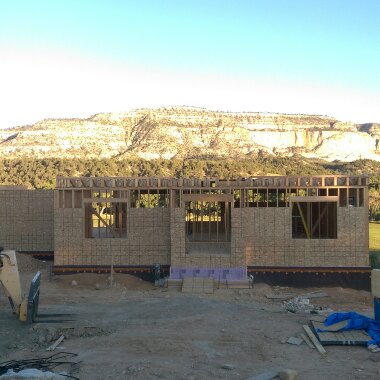 On to the third and final floor!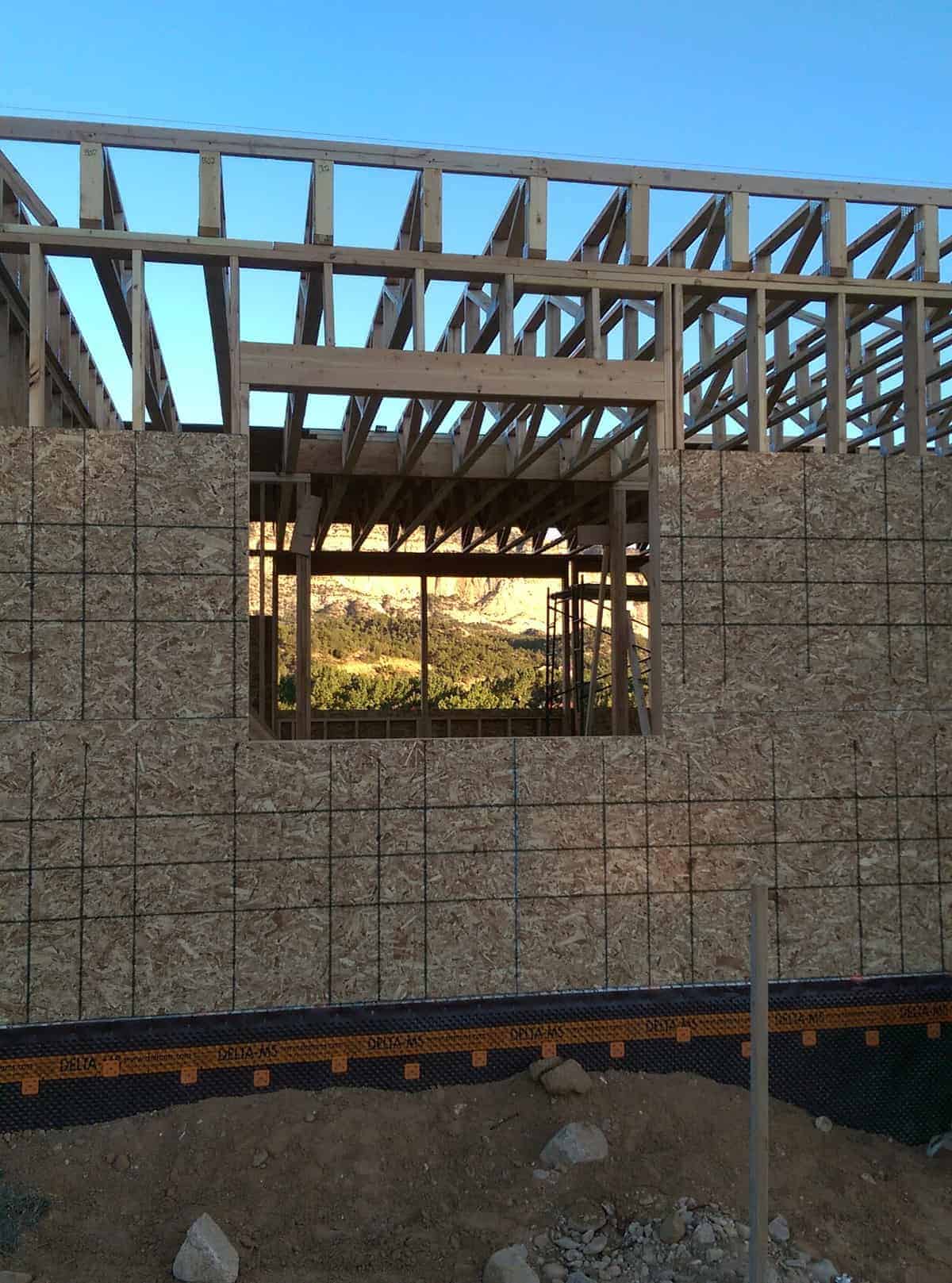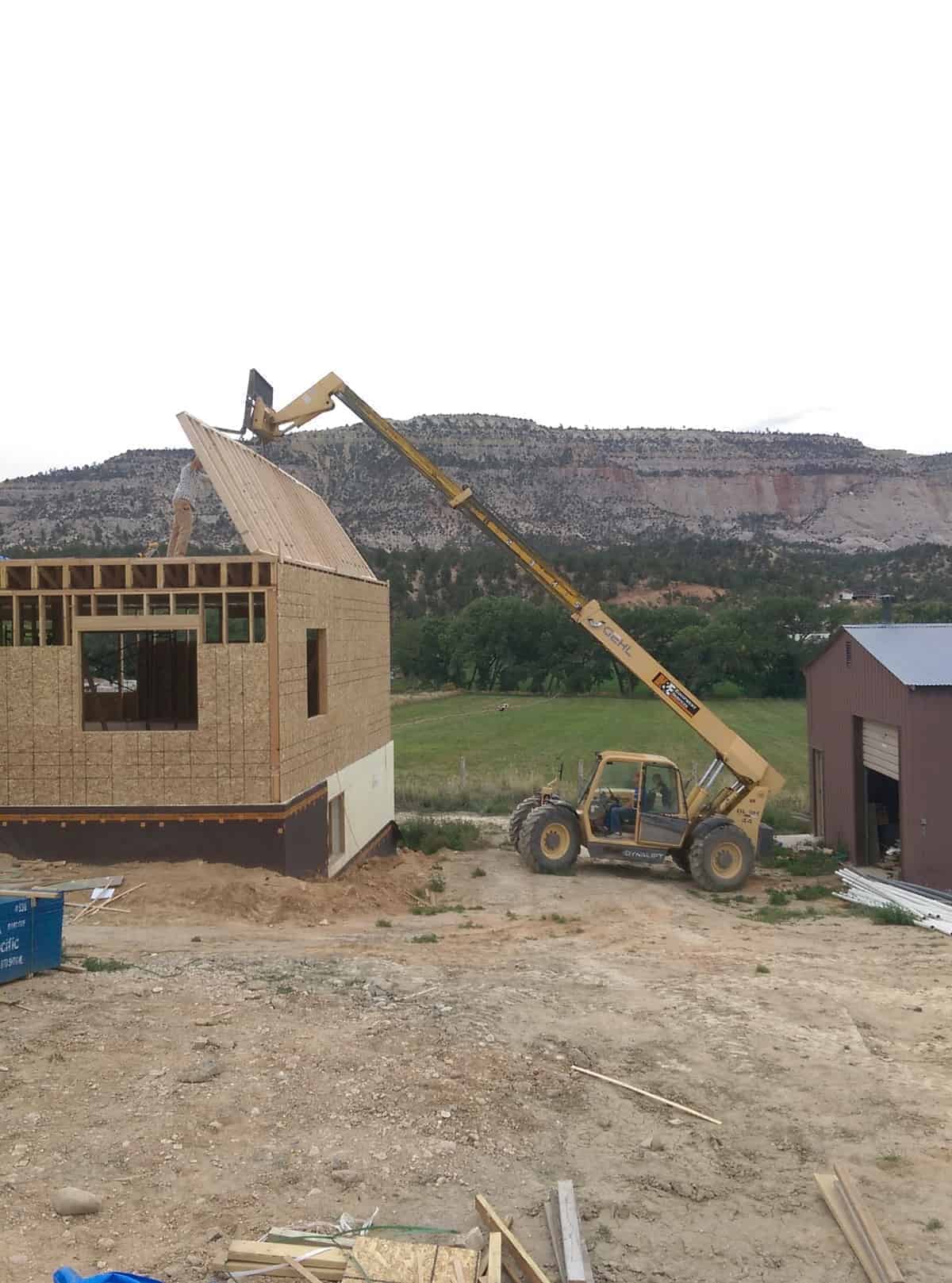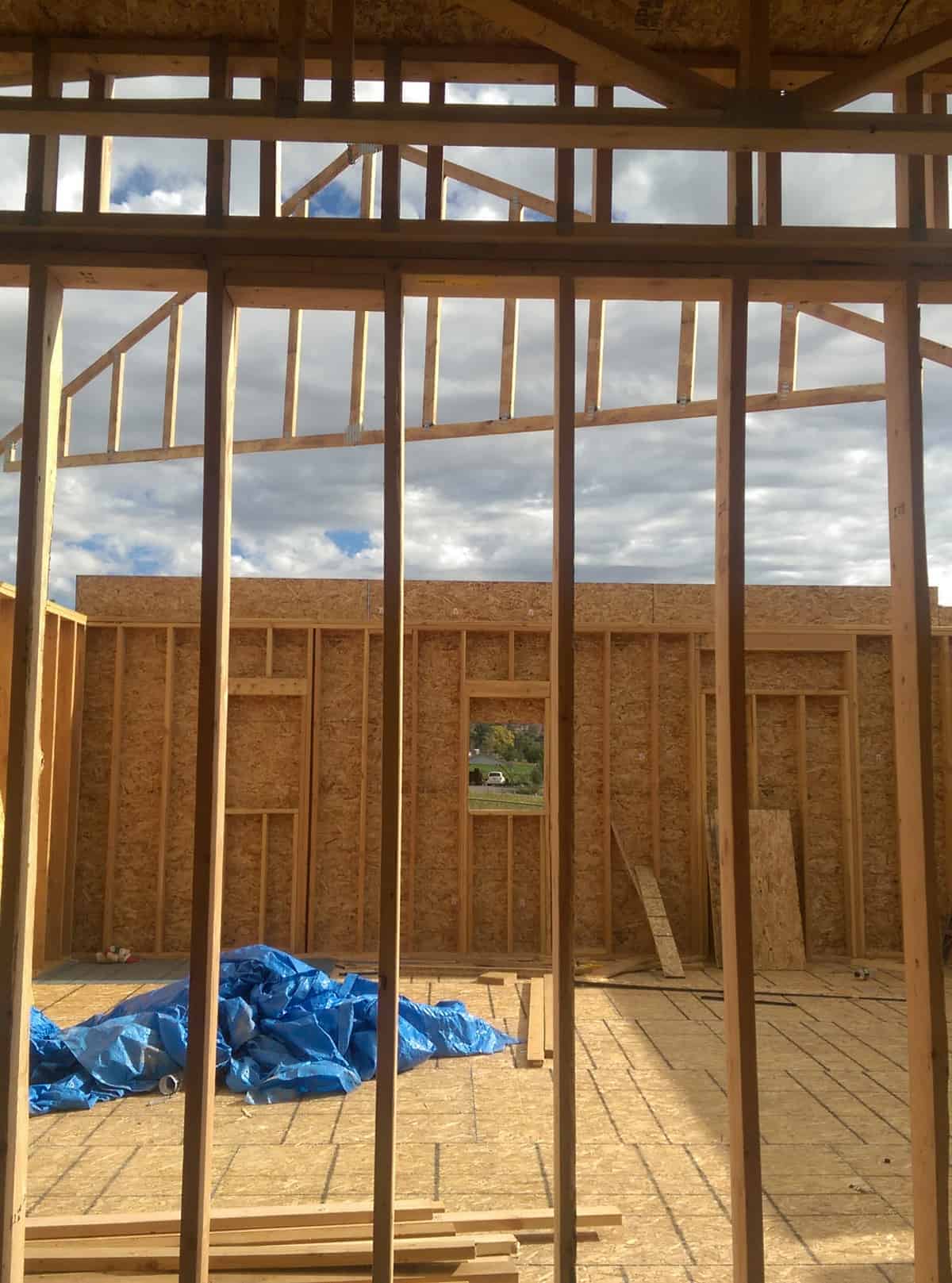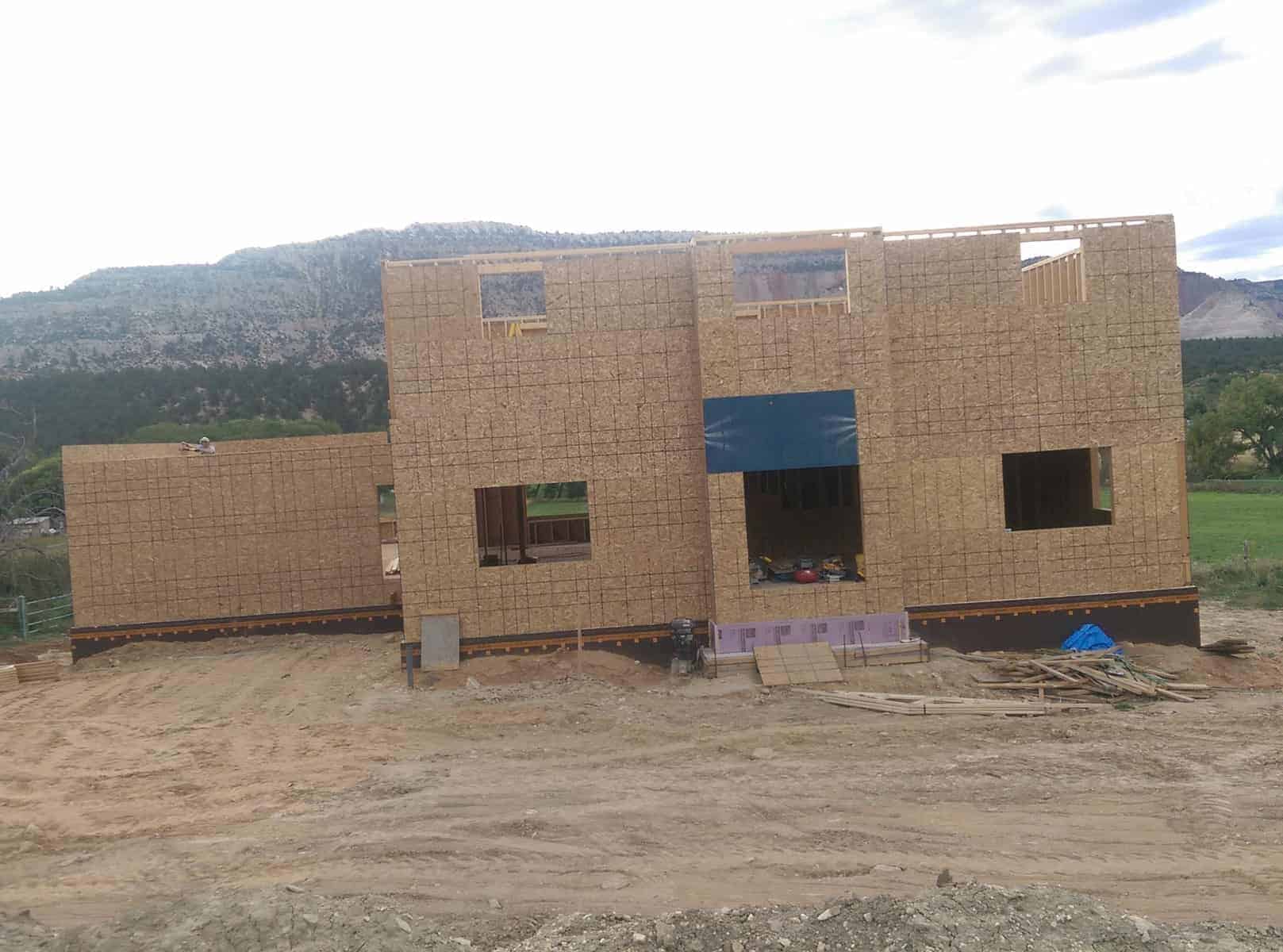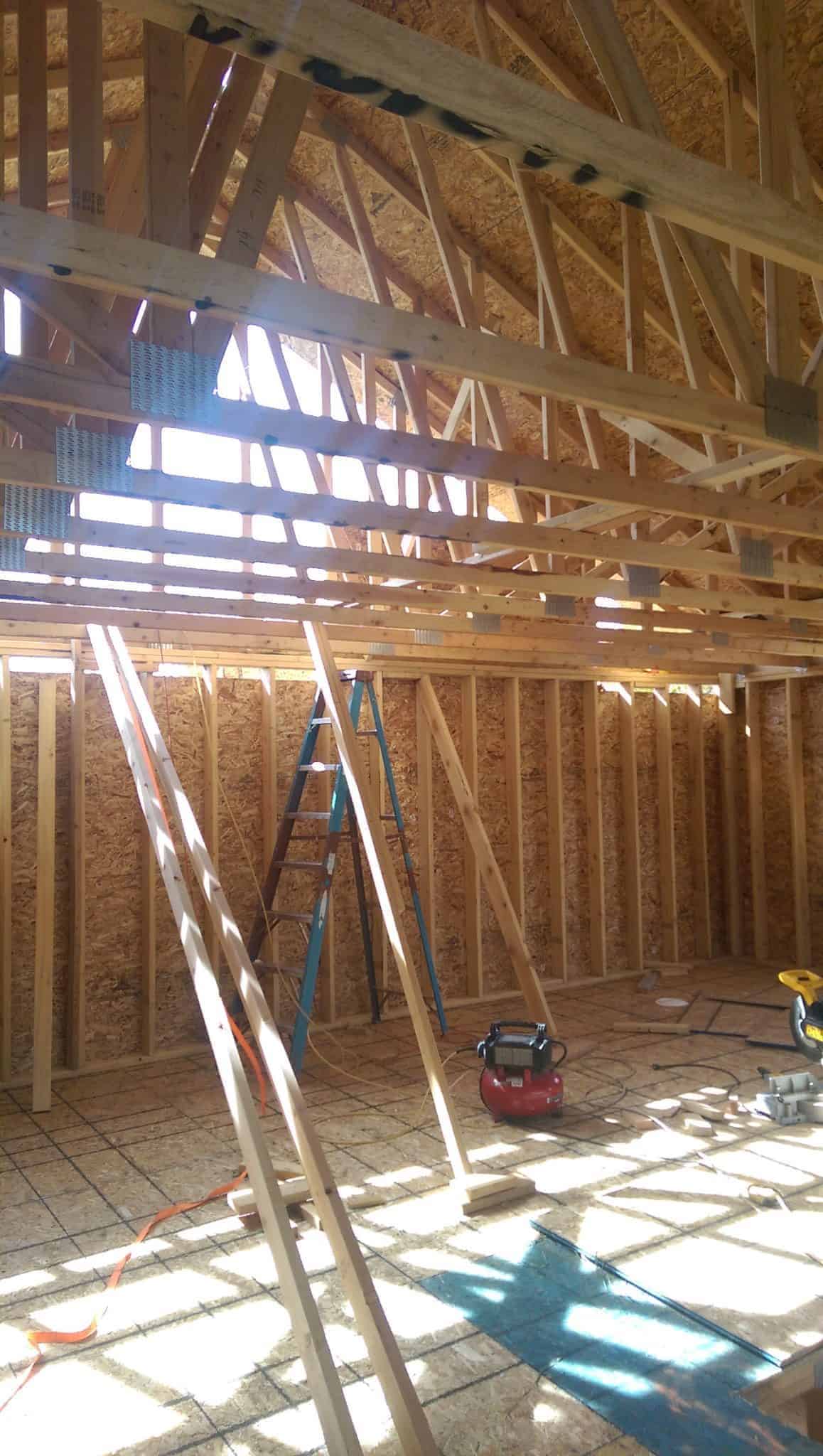 This is from last week! We have a lot of it framed with sheeting on the sides, and Thomas has all the roof trusses and things on the main part of the house. He finished putting the tin onto the main part of the house today! This is the back. Don't worry, he hasn't cut out all of the windows yet, so it looks a little weird.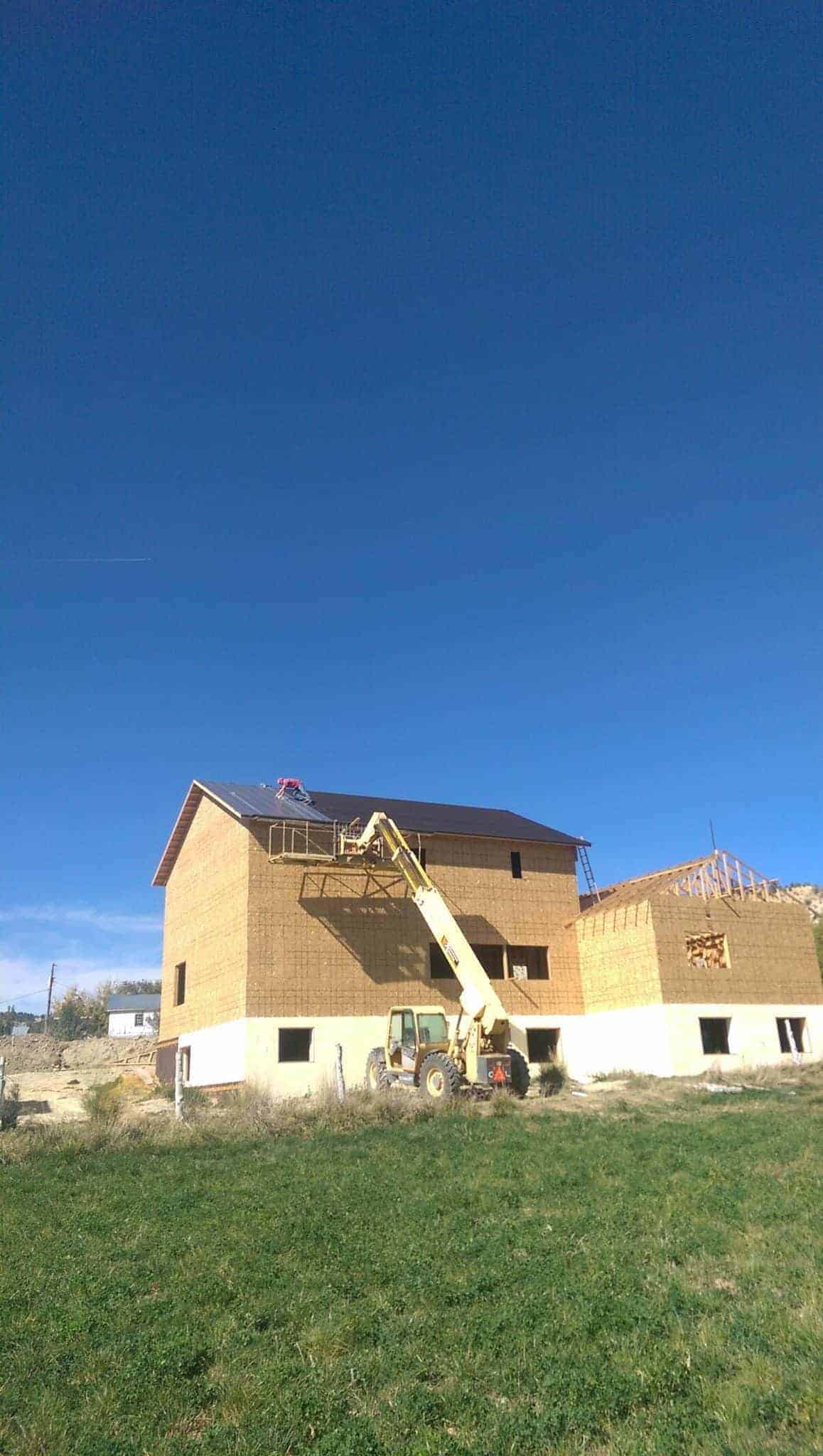 This is the front as of today (though he finished the tin while I was gone). They are pouring the garage floor tomorrow morning, which means we'll be able to frame the garage, put the rest of the roof on, and get that side part covered. Hopefully we can do it all in the next few weeks. Then we'll work on windows, doors, and insulation so that we can get it dried in - hopefully before Thanksgiving. The dirt pile that you can see is all going to be used as backfill and that will be my front yard.
We still have to build the porch that wraps around to the back, too... not sure when that happens. There's so much to do, but this part has been a lot of fun - we're seeing it spring out of the ground. We just hit the 9 month mark in our build and we finally have a little something to show for it! I hope you loved seeing the progress as much as we liked getting it done.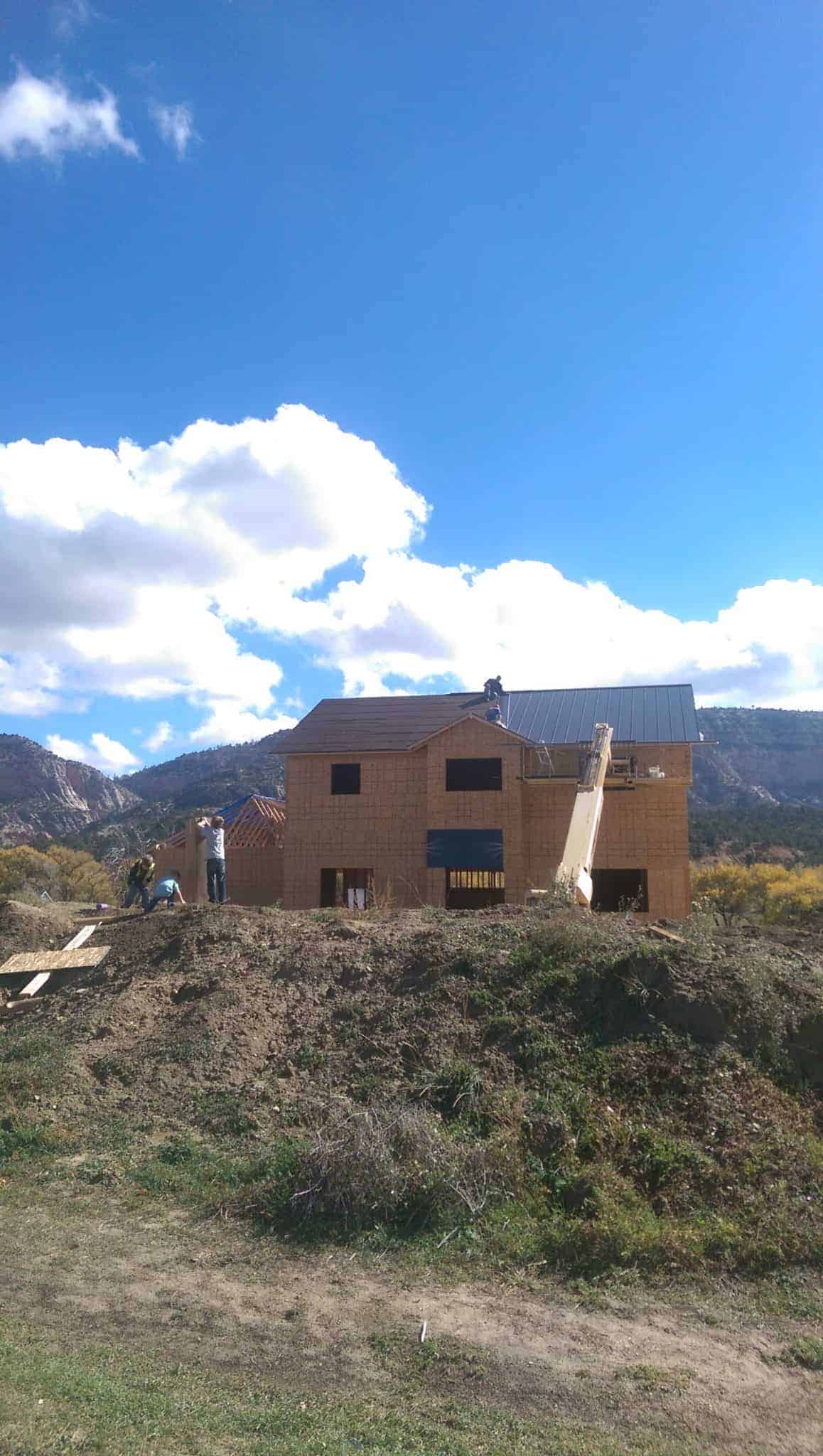 If this project doesn't kill us, we are going to have one lovely house in the end. Time will tell!