Raspberry cobbler made with black raspberries and a flaky pie crust is a favorite family dessert passed down by my grandmother.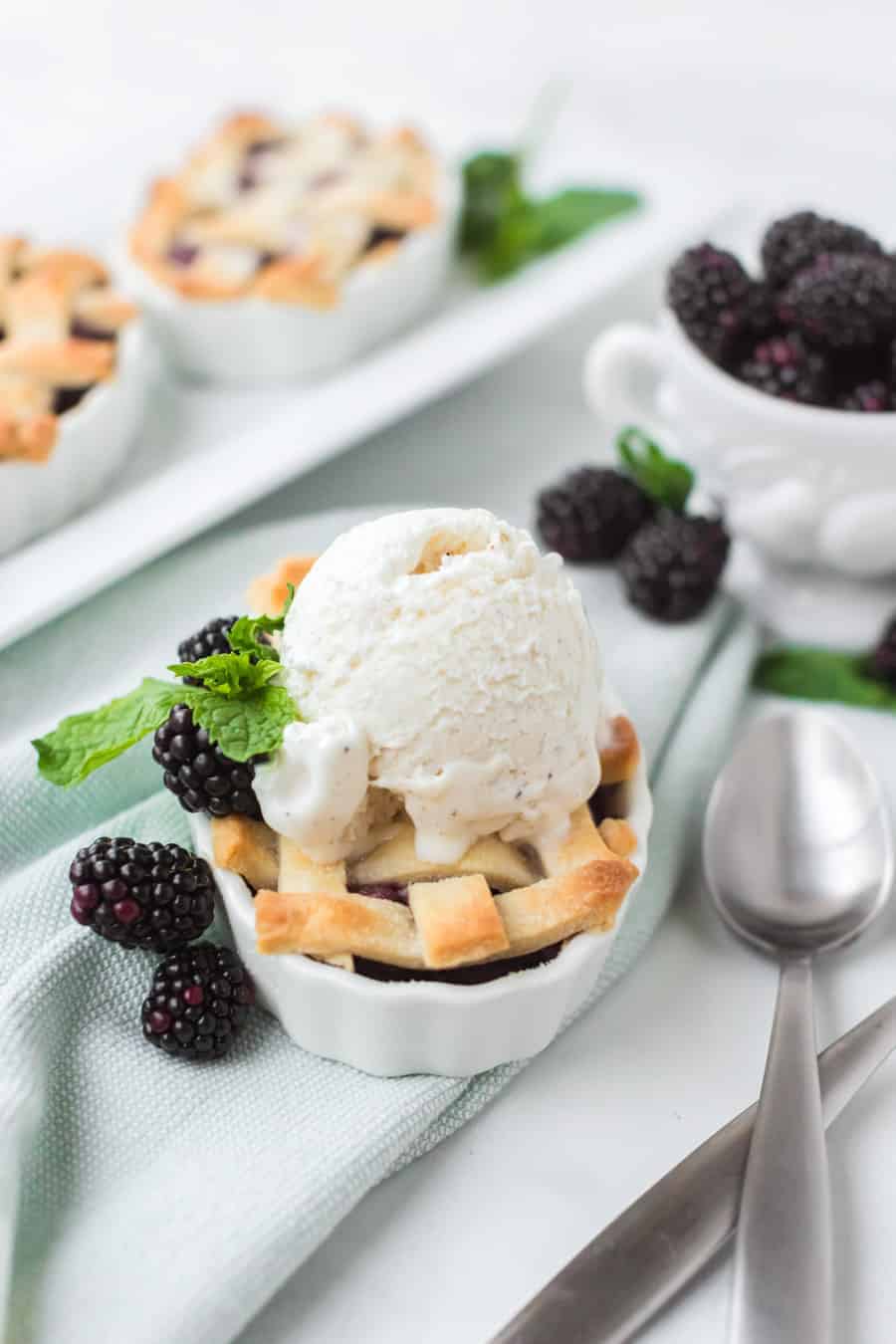 Raspberry Cobbler
I originally wrote this post to celebrate my grandpa's life, and that celebration will forever come in the form of food -- specifically his and my favorite raspberry cobbler recipe that my grandma perfected. I decided to share a piece of my heart with you by sharing part of the last letter I ever wrote to my grandpa, who we lost in 2013.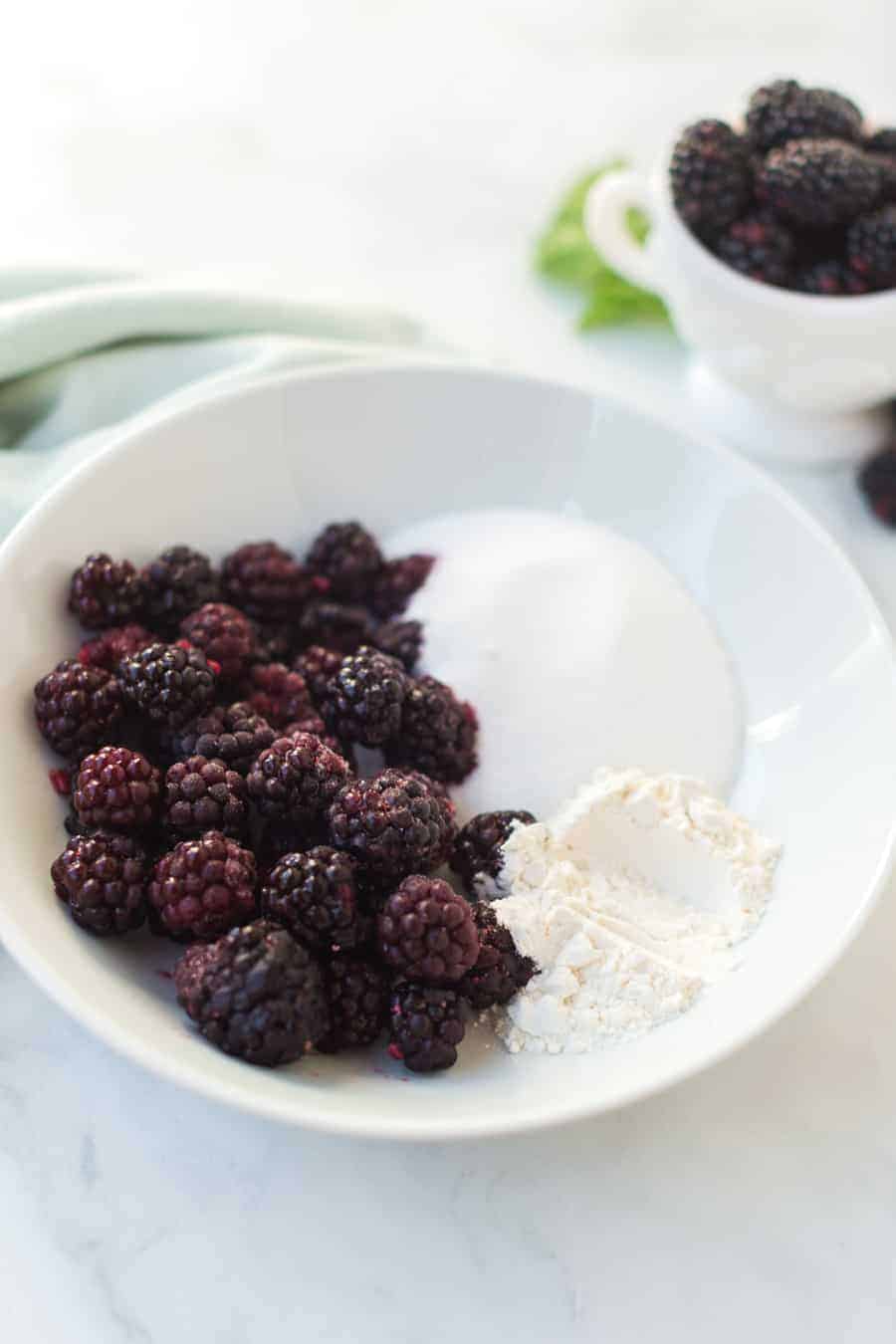 Grandma said that she sat on the bed and held his hand on a Sunday, the day before he died, and read it aloud to him. She told me he was sleeping, but she was sure he was still listening. The letter helps to explain this dish and its deep sentimental meaning for me.
Grandma makes this raspberry cobbler for every family function, dinner, and holiday. The actual cobbler part is a lot more like pie crust than it is a traditional cake or biscuit-like cobbler. This is how Grandma makes it, and it's so good.
So, here's my and grandpa's favorite dessert. I made it the week he passed and got all teared up when I bit into the flaky crust and warm berries. He would have approved of how the recipe turned out.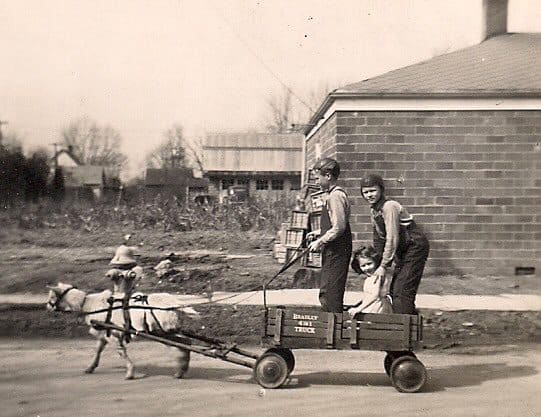 Dear Grandpa-
I just wanted to write and tell you some of my favorite things about you and my most precious memories of childhood.
Let me start by saying that I am heart-broken that I can't be with you right now. I'd love to be in the living room and smell the wood smoke from a warm fire, to eat some of Grandma's noodles and sheet cake, to hear your peacocks cawing in the trees, and to ask you about the day you met Grandma. I'd like to hold your strong weathered hand and tell you just how grateful I am for you. The miles between you and I won't allow for that though so a letter is in order. I hope that it counts for something.
Childhood was magic for me. I loved being part of a big family and I have you and grandma to thank for that. I loved playing on Sundays with the cousins, salted watermelon by the log cabin ("Don't eat the seeds... It'll make a watermelon grow in your stomach!"), collecting peacock feathers, canning with Mom in the barn, and picking whole truck beds full of corn to shuck in the pasture. I loved sledding down your hill, playing in the creek all summer long, picking your apples and making cider, and hearing you tell about your days as a SeaBee in Egypt building runways.
All that magic is still in my heart. I want a similar rural life for my kids and my family. I want the heritage and tradition of hard work and a life well lived surrounded by family. I can't wait to have turkeys and peacocks of my own, and I think of you every time I go out to feed my hens. I love that farm and everything you've built it to be.
One of my favorite memories is burnt cookies. Whenever we'd make chocolate chip cookies at our house and left a pan in the oven too long, the cookies got dark. We didn't like dark cookies, and so mom would just say, "Put them in a bag, and we'll take them to Grandpa. He likes a dark cookie." Whether that was true or not, I still think of you every time I bake a batch of cookies too long, which happens more than I like to admit.
I loved picking raspberries with you and Dad. The weather was always muggy with heavy dew on the shaded plants that got my socks wet as we walked. I think the best part of berry picking was having grandma's cobbler all winter long! I also loved setting lines for catfish and then going back in the morning to see what had happened over night. My favorite part was watching you and Dad catch bait fish under a bridge with a net.
I'll never forget the day that we buried my beloved Daisy Dog on the farm. You dug the hole for her, and that act alone let me know that you love me.
I could go on and on and on. I'm a lucky girl to have the childhood that I did, and you played such a major role in that.
Thank you so much. I love you.
Melissa
The cobblers are sitting on the cutting board he made me for my wedding.
Grandpa in the Navy. He lied about his age to get in... such a kid!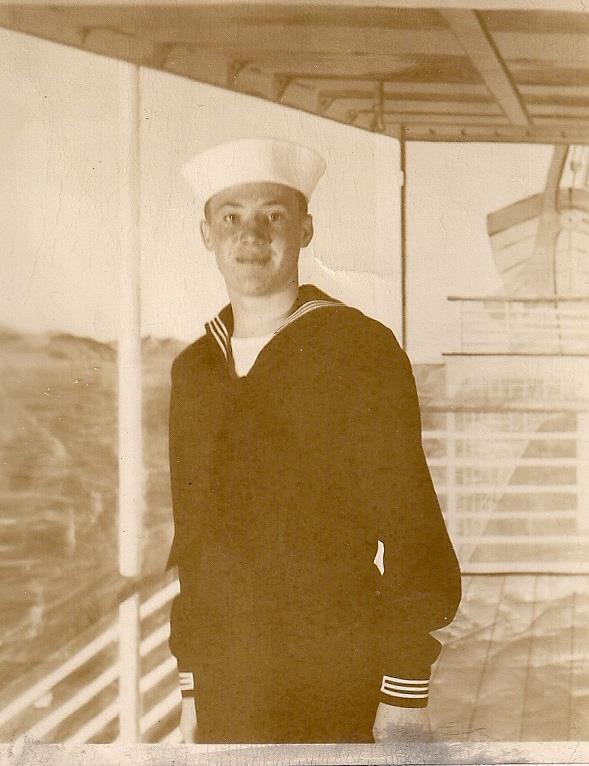 Grandma and Grandpa on their wedding day.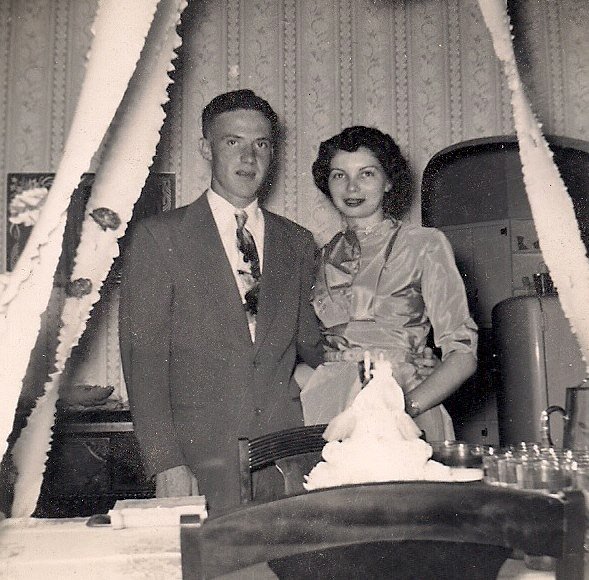 Grandma and Grandpa at my wedding.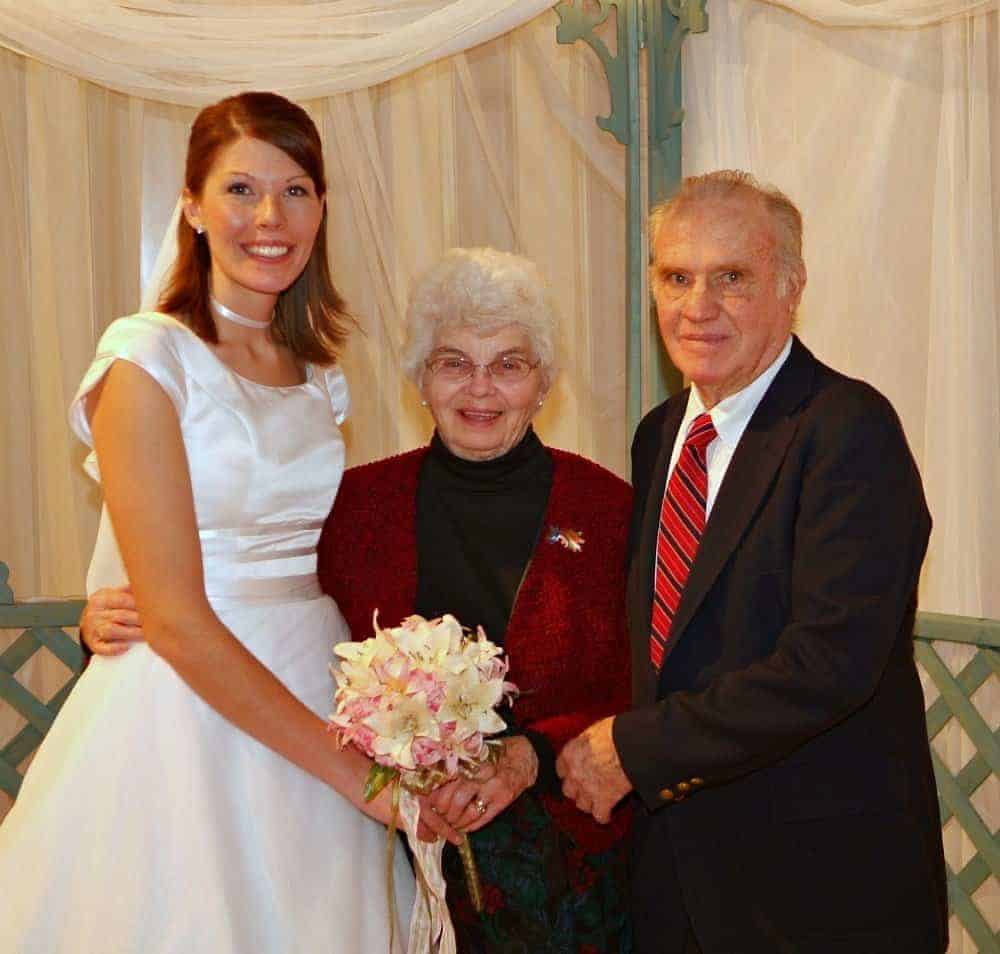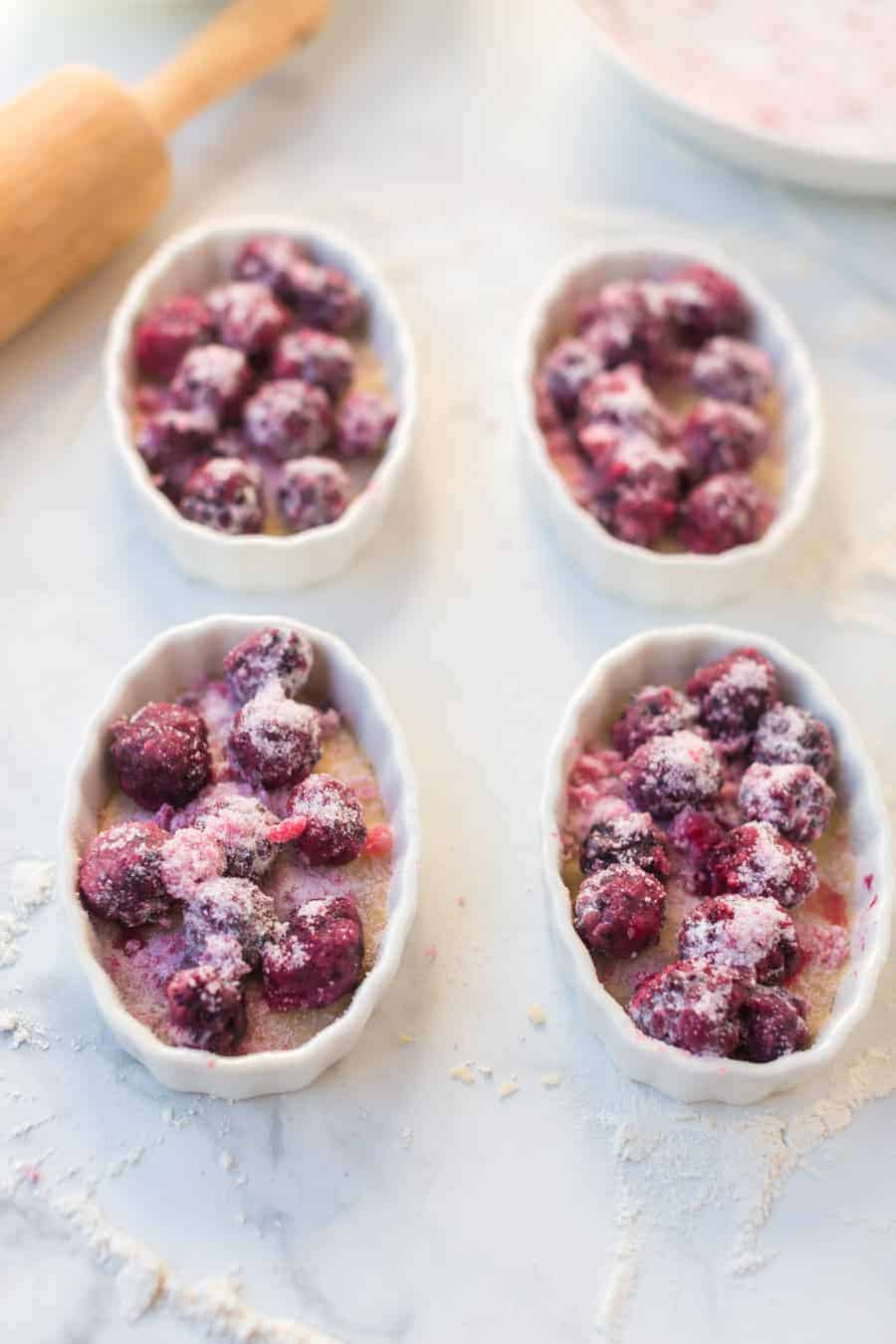 What if I don't have black raspberries?
Black raspberries grow wild in Southern Indiana, but I've never been able to find them frozen or fresh at the store elsewhere. Red raspberries and blackberries will both work great if you can't find them, either.
What makes a cobbler different from a pie?
The difference is in the crust. Pies are usually encased in crust, either just on the bottom or on both top and bottom. Cobblers are simply topped with some sort of baked pastry or dough.
Can I use raspberry pie filling instead?
Yes! Raspberry pie filling can be used in place of the frozen berries, sugar, and flour.
Do you refrigerate raspberry cobbler?
Cobbler can stay out at room temperature for up to 12 hours, but store it in the fridge for longer-term storage of up to 4 to 5 days. Just remove it when you're ready to have some, and let it warm to room temp for about 20 minutes.
Can you freeze cobbler?
Most cobblers (and pies and crisps) freeze well. Simply cover the cobbler, and freeze for up to 2 to 3 months. When you're ready to serve, let it thaw in the fridge or on the counter, and you may want to bake it for 15 minutes or so to warm it up.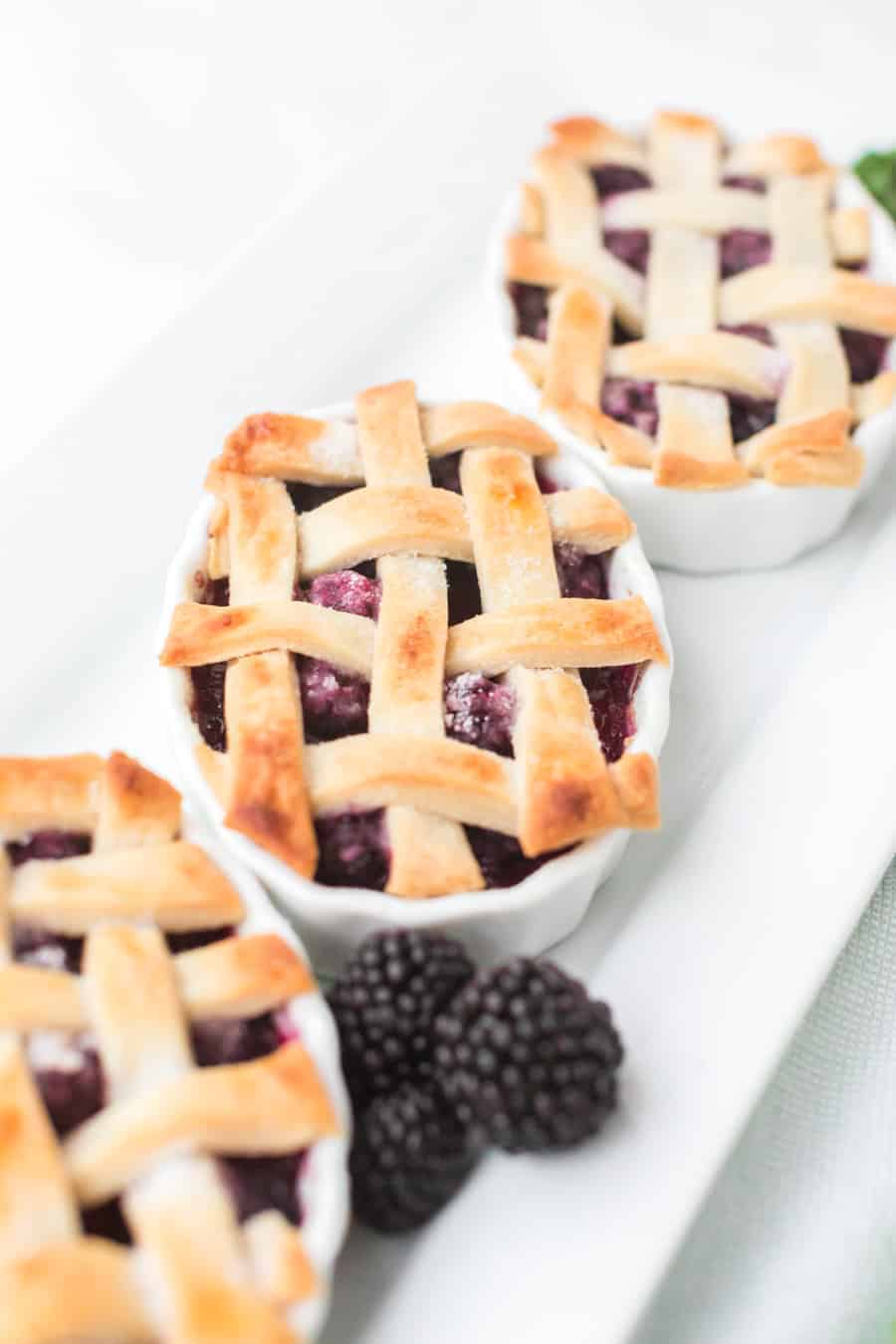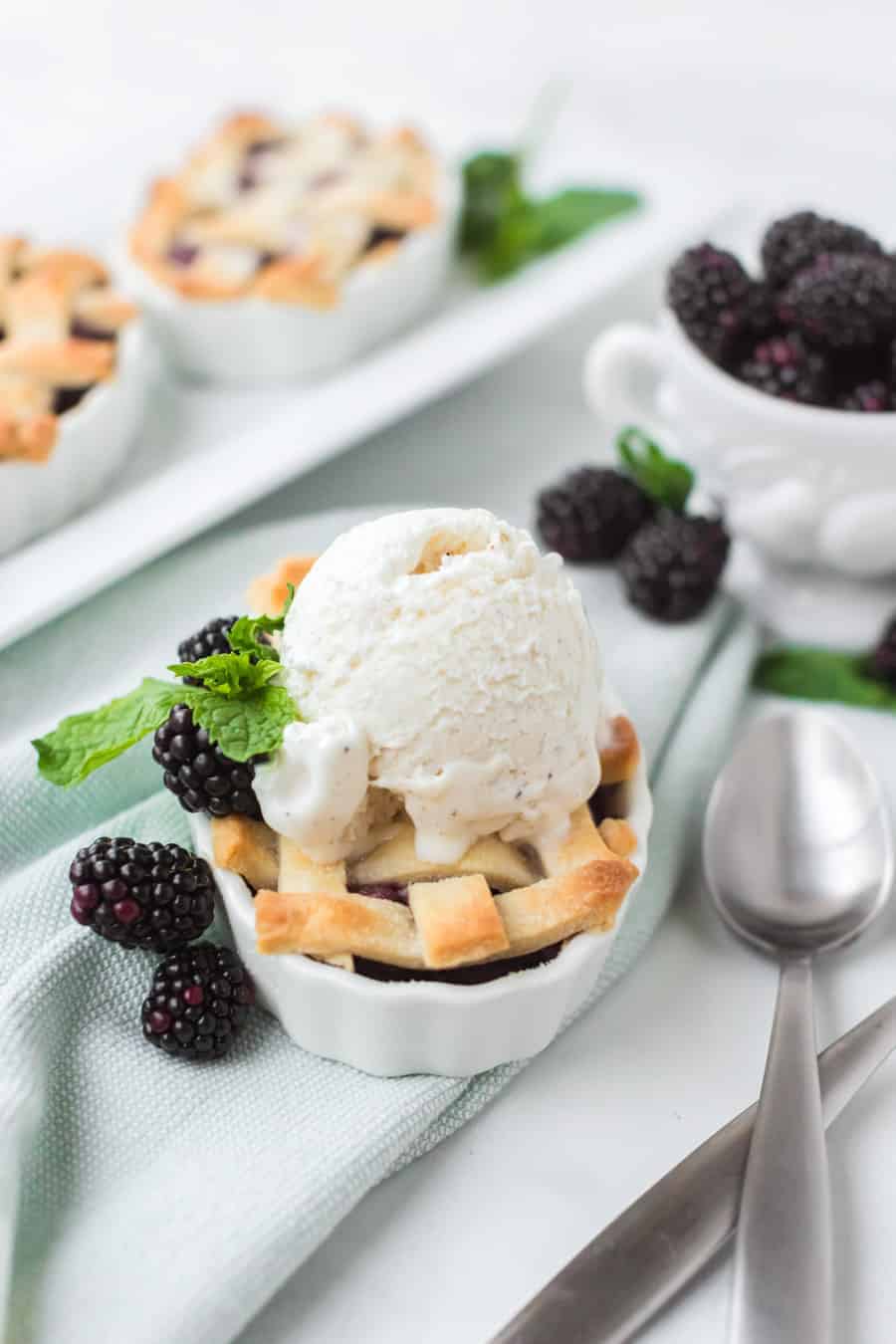 Print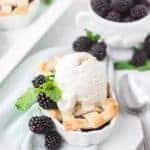 Grandma's Blackberry Cobbler
---
Author:

Total Time:

1 hour 10 minutes

Yield:

4

1

x
Description
Made with blackberries and a flaky pie crust, thisblackberry cobbler recipe is a favorite family dessert passed down by my grandmother.
---
For the crust:
2 cups

flour

1 teaspoon

salt

¾ cup

shortening, original or buttered-flavored
Around

½ cup

ice-cold water
For the fruit filling:
2 cups

fresh or frozen black raspberries, blackberries, or red raspberries

¼ cup

granulated sugar, plus more for sprinkling

2 tablespoons

flour
---
Instructions
In a medium bowl, mix the flour and salt together. Add the shortening, and cut together with a fork, until well combined and the mixture starts to clump together into pea-sized pieces .
Add the cold water one tablespoon at a time, until the dough comes together, mixing after each tablespoon of water. Don't over-mix or add too much water, and be sure to use very cold water (it makes the crust flaky). The dough will be fairly dry but will come together into a ball when you pat it together with your hands.
When the dough forms a ball, turn it out onto a floured surface, and roll until ¼-inch thick. Cut into the size of the bottom of 4 oven safe bowls. Place crust in the bottom of your dishes.
Combine the berries, sugar, and flour in a small bowl.
Place ¼ of the berry mixture in each bowl on top of the crust. With remaining crust (you should have only used about ½ of it), cut it into strips (or hearts) and place strips over the berries. Dip your finger in water, wet the crust, and then sprinkle with additional sugar.
Place bowls on a cookie sheet, and bake in a 375 degree F. oven for 30 to 40 minutes, until the top is golden and the berries are bubbly.
Serve hot with ice cream or freshly whipped cream.
Notes
If you don't have little cute bowls, you can make this in an 8×8-inch baking dish.
Black raspberries grow wild in Southern Indiana, but I've never been able to find them frozen or fresh at the store elsewhere. Red raspberries or blackberries work well, too.
Raspberry pie filling can be used in place of the frozen berries, sugar, and flour.
This is a whole lot like a pie crust, buy my grandma always called it cobbler. Just so you know it's not a very traditional cobbler.
Prep Time:

30 min

Cook Time:

40 min

Category:

Dessert

Method:

Oven

Cuisine:

American
Keywords: raspberry cobbler recipe, raspberry dessert recipe, black raspberry dessert recipe, black raspberry cobbler
Other family favorites you might like:
This post was originally published in 2013, and has been updated and rephotographed in August 2019.
I hope you love, enjoy, and treasure this recipe for raspberry cobbler as much as my family and I do -- it will always hold a special place in my heart and my tummy!