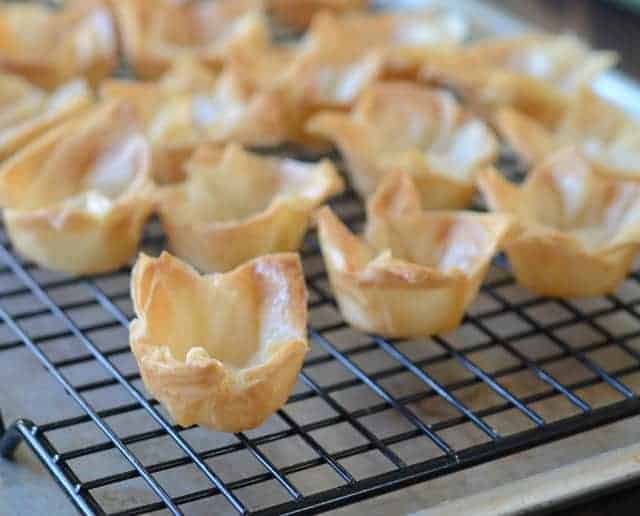 Thomas is teaching a training course in Provo this week and we are headed up to meet him and do some fun "big city" things like ice skating, a dollar movie, and some major thirfting. I am in terrible need of dressers, a bench for my kitchen table, and some other furniture. I sure hope the Thrift Store Gods will smile down on me. Major scores for me also mean major furniture painting posts for you, so it's a win win situation really. While I'm out and about you can be planning your Super Bowl party or fancy Valentine's dinner with these cute mini phyllo cups for some fun finger food.
I can think of a million reasons you may need some finger food/appetizer knowledge. Baby/bridal showers, birthday parties, Super Bowl parties, Christmas, New Years Eve and any of event in the middle. Mini phyllo cups are those adorable little pastry shells that you can buy in the freezer section and fill with anything from taco meat and toppings to desserty puddings and fruits. If you've never had them they are light and super flaky, very fun to eat, and have a fancier air about them than some other finger foods.
I was looking at them the other day at the store and the premade mini phyllo cups are so much more expensive than sheets of phyllo dough. Not only is the dough cheaper per box than the premade shells, but you can also make about four times as many shells out of the dough compared to how many come in the box of premades. So that makes it much, much cheaper. So I thought I'd share how you make homemade mini phylly cups to save you a buck and to give you some fun appetizer ideas.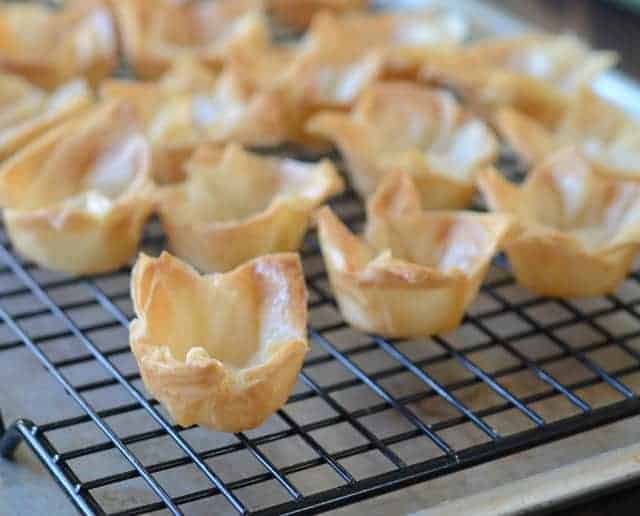 Homemade Mini Phyllo Cups
Makes 12 mini cups
Method from theKitchn
5 sheets phyllo dough (in the freezer section), thawed
4 tablespoons melted butter
Preheat the oven to 375 degrees. Spray a mini muffin tin with cooking spray. Get the phyllo dough ready by opening the thawed package and putting all of the sheets of dough on large clean cookie sheet. Cover the sheets of dough with a piece of waxed paper and then put a damp kitchen towel on top of the waxed paper. Phyllo dough is super thin and dries out really quickly. The wax paper covers it and then the wet towel weighs down on it (without getting the dough wet) so that air can't get in. You gotta do this step. Melt your butter, grab your pastry brush and a pizza cutter or knife. When you are ready put one piece of phyllo dough on a large cutting board, cover the rest, and then carefully but quickly brush it with butter. Place another sheet on top and repeat until you have 5 sheets of dough total. Brush the top sheet with butter too.
Cut the phyllo dough into 12 rectangles (the sheets are rectangles, so cut the long side into 4 pieces and the short side into 3 pieces). Pick up one rectangle and push the center into the bottom of the muffin tin holes. Press on the sides gently to make a cup. Repeat with the remaining dough pieces. Bake until they are golden, about 10 minutes, being careful not to let them burn. Cool completely before using.
These store in an airtight container for up to a week and wrapped well in the freezer for a month or two.
Notes:
If you know you are going to fill them with something sweet you can sprinkle a bit of sugar in between each layer after the butter is brushed on. So good!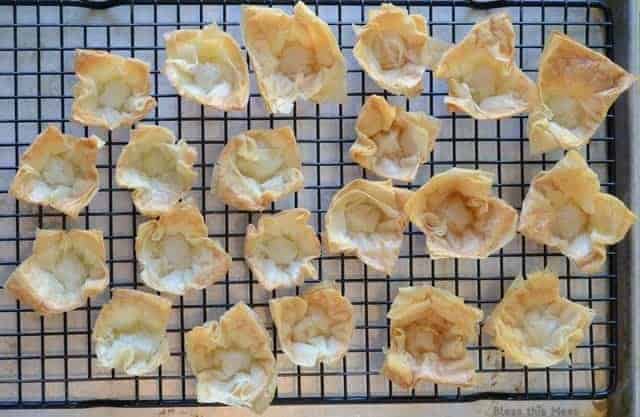 I've done mainly desserts with these. I like to do a simple no bake cheese cake filling (or cook-and-serve pudding) and then top with pie filling or fruit, but there are plenty of savory things that could go in as well.
If you need some ideas on what to fill them with here are some good places to start:
A whole slew of mini phyllo cup appetizers from Yummly
Mini Taco Cups from Taste of Home
Caramelized Onion, Apple, and Bacon Phyllo Cups with Gorgonzola from Cake, Batter, and Bowl
Stuffed Sausage Cups from Made in Melissa's Kitchen
Mini Pepperoni Pizza Cups from Chef Mom
Chocolate Mousse Tarts with Raspberries from Cooking for Keeps
Peanut Chicken Cups from JIF