Homemade fry bread is a flat dough bread made with simple ingredients and fried in oil for a crispy exterior that's doughy and soft in the middle.
Fry bread can be used in lots of different ways. Dress it up with beef, lettuce, and tomato for Navajo tacos or top it with honey butter and jam for a sweeter treat.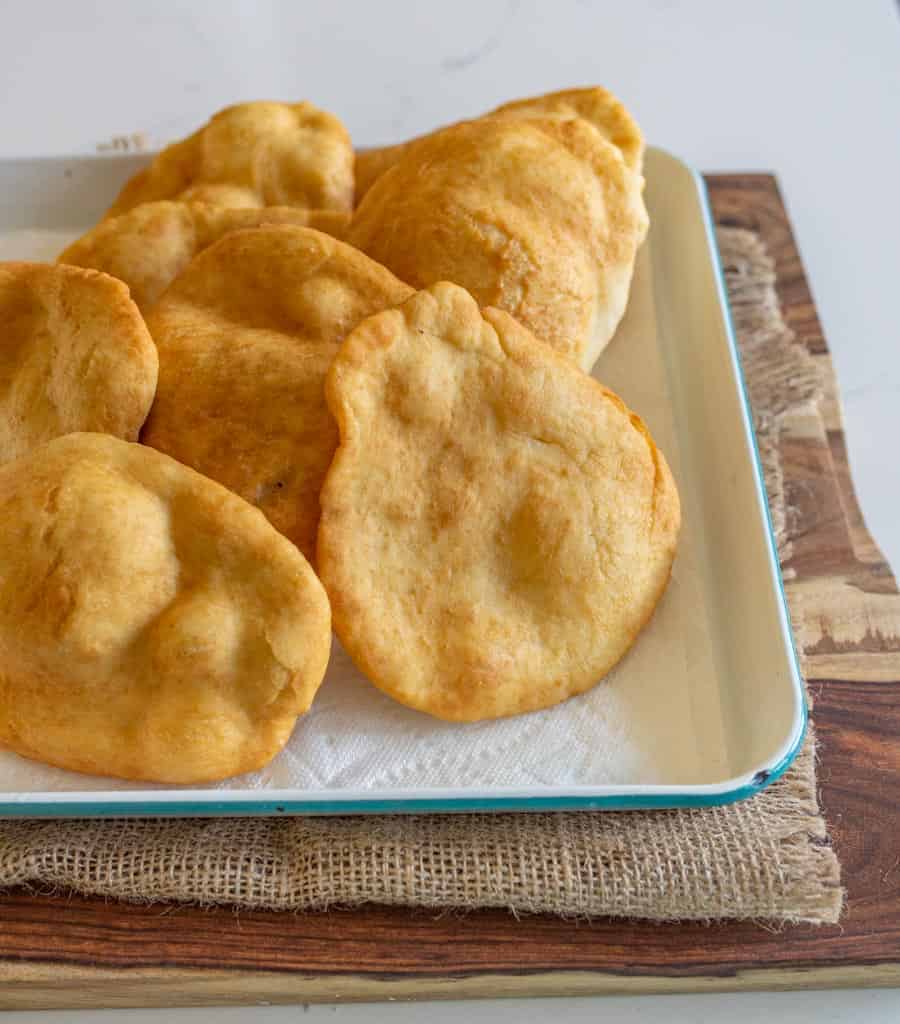 Easy Homemade Fry Bread
Have you ever had fry bread before? The name gives away exactly what it is, and it's a super easy and flexible comfort food we love! It's a simple and flat dough bread shaped into a circle and fried in oil, giving it a crispy, puffy outside and soft, chewy inside. Fry bread is an easy delicacy that can be enjoyed in so many ways. It's actually a traditional Native American food created by Navajo Indians in the 1800's.
You can use it to make Navajo tacos by topping with venison or beef and other taco toppings. Or turn it into a sweeter snack by serving it with honey butter, jam, powdered sugar, or honey. This recipe is totally doable for anyone, and feel free to double, triple, or even quadruple it for crowds. (I've had success 4X-ing the recipe -- just roll the dough out as some of it cooks to keep it moving along!) You'll love this simple yet fun take on bread.

What is Fry Bread?
Fry bread is a flat, fried bread made with straightforward ingredients and served in both sweet and savory ways. It was created by Native Americans in the 1800s and is still a widely loved food nationwide. It very popular out west and you'll often see roadside stands selling it and Navajo tacos while driving through the dessert.
Recipe Ingredients:
Fry bread is made with lots of simple ingredients:
Milk: Milk is the main liquid in the dough and gives the bread a nice richness.
Butter: Butter helps to create a soft, chewy texture in the middle of the bread.
All-purpose flour: Flour is what brings the dough together as bread dough.
Baking powder: Baking powder helps the bread puff up a bit as it fries.
Yeast: Yeast gives the bread some leavening power so it's not totally flat.
Salt: Salt balances out the flavors and gives a little savory flavor to the bread.
Vegetable oil: Oil is used to fry the bread.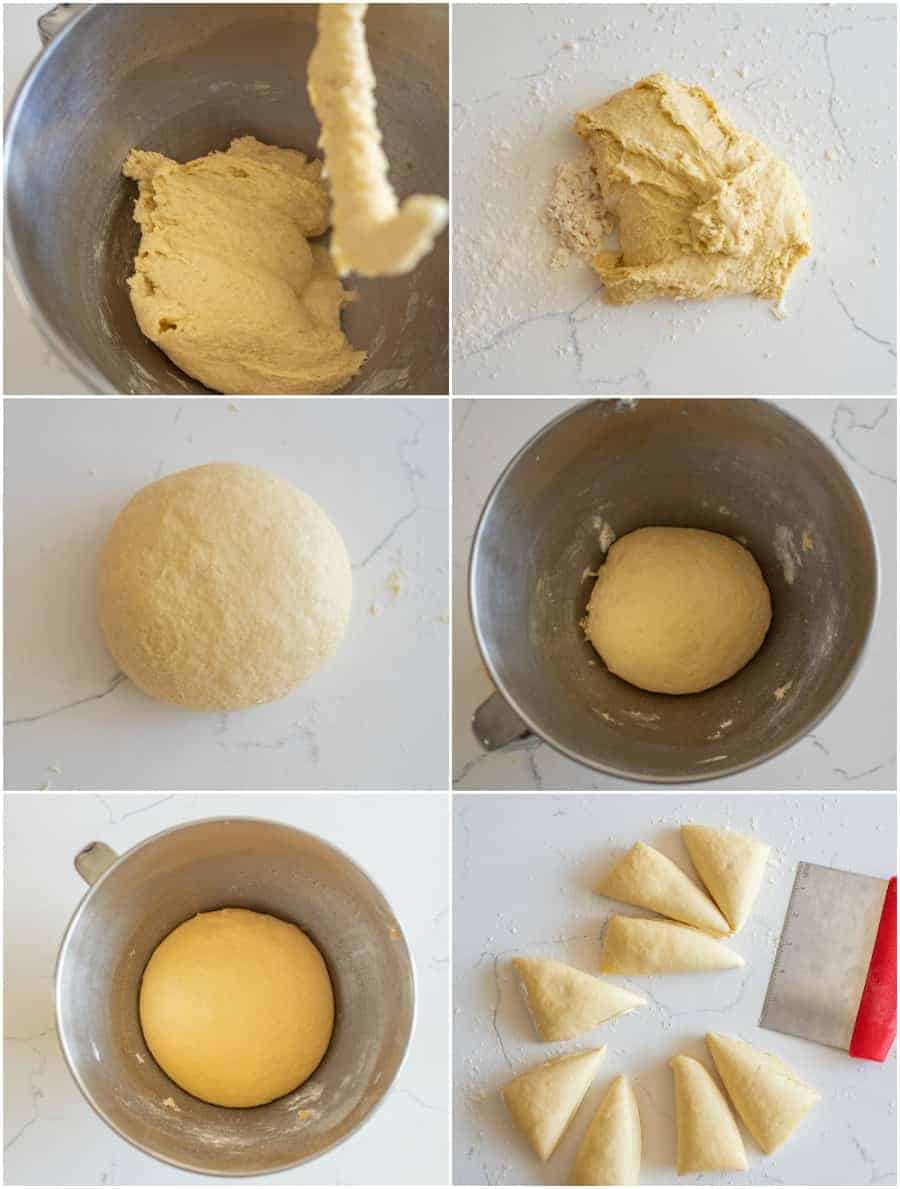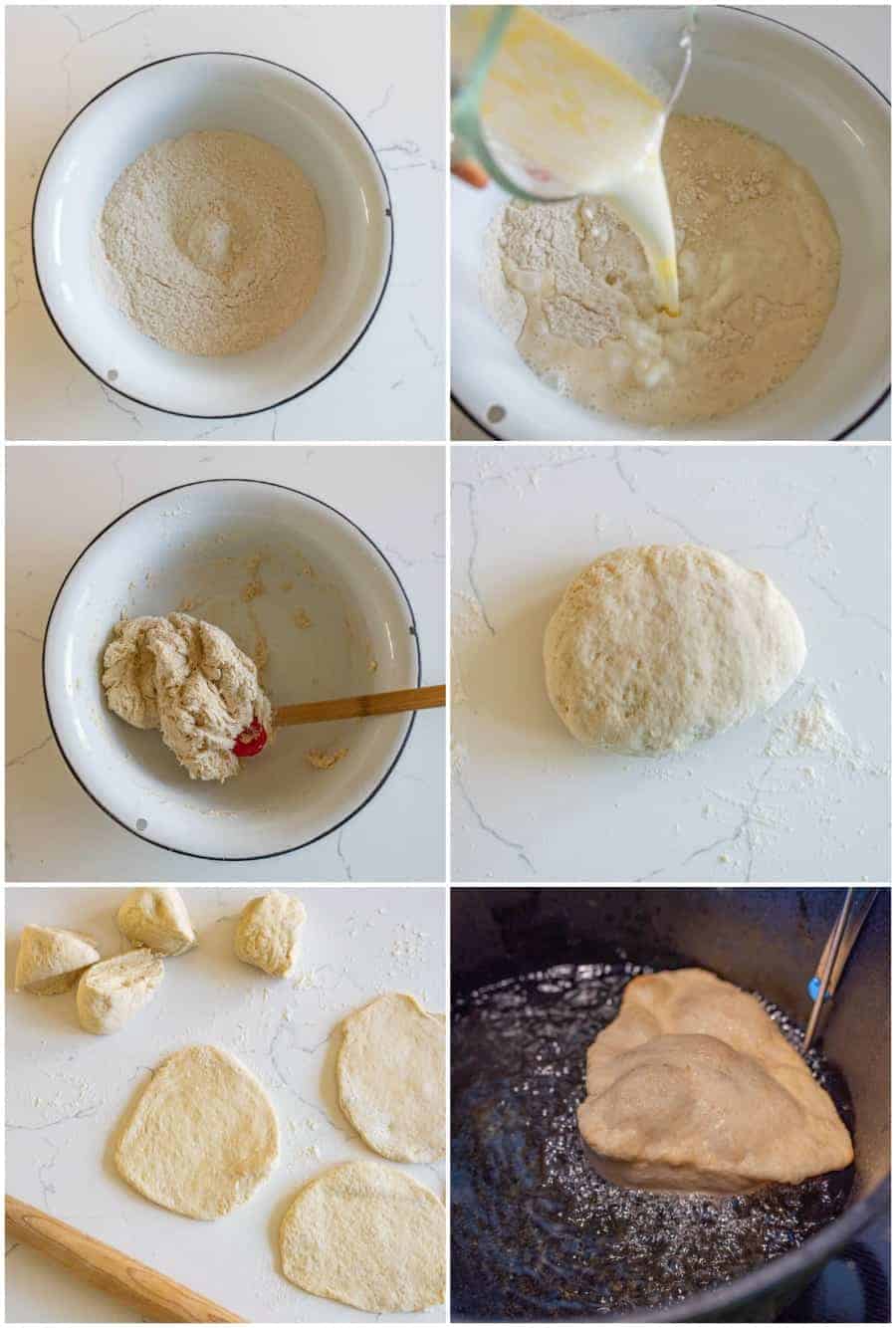 How to Make Fry Bread:
Fry bread is so, so easy to make and I love how quickly it comes together:
Melt the milk and butter together.
Add the rest of the ingredients and stir to combine.
Let the dough rest.
Divide up the dough and roll it out.
Fry in hot oil.
Let rest on a paper towel.
Eat hot!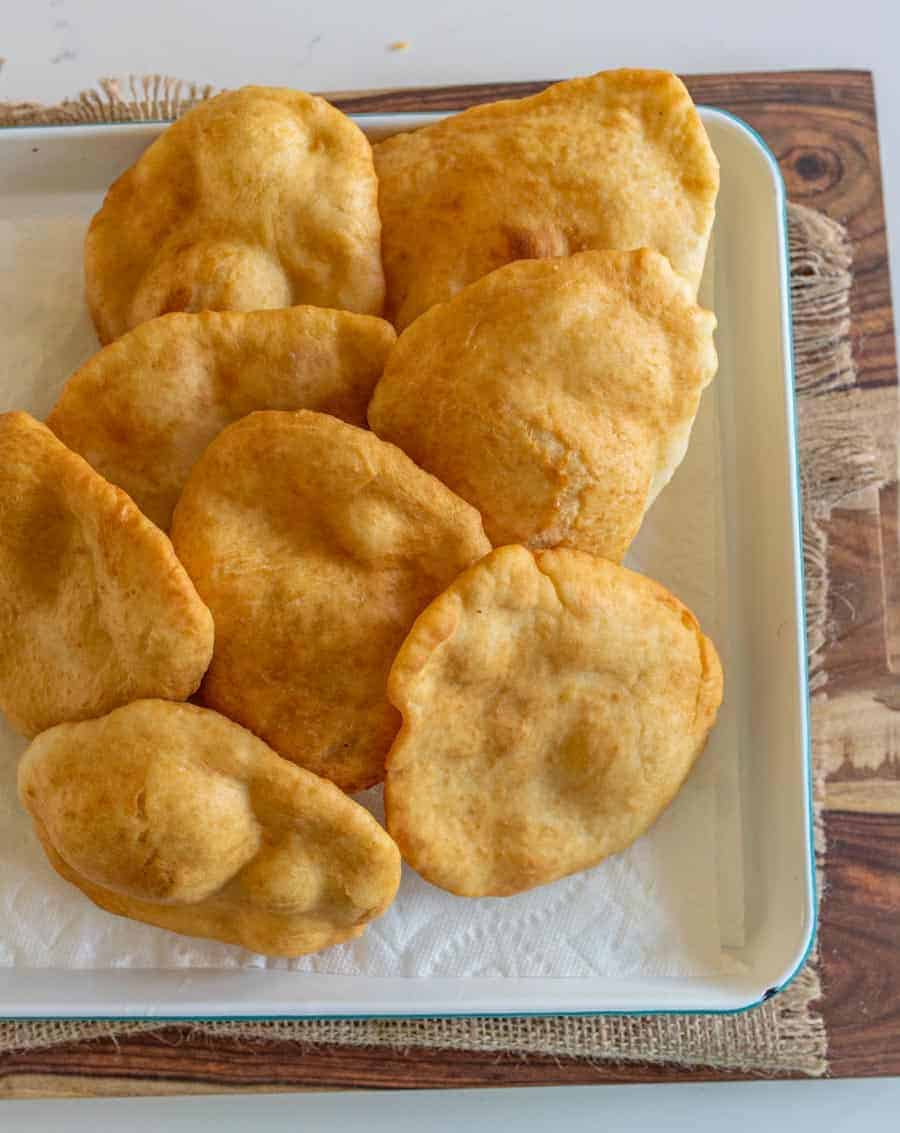 How to Serve Fry Bread:
You can top fry bread with honey, jam, honey butter, or powdered sugar. Savory uses could include topping with ground beef or served as Navajo tacos with beef or venison, lettuce, tomatoes, beans, black olives, shredded cheese, and sour cream. We normally make enough to serve them for dinner AND have enough left to eat for dessert too. They are so very good.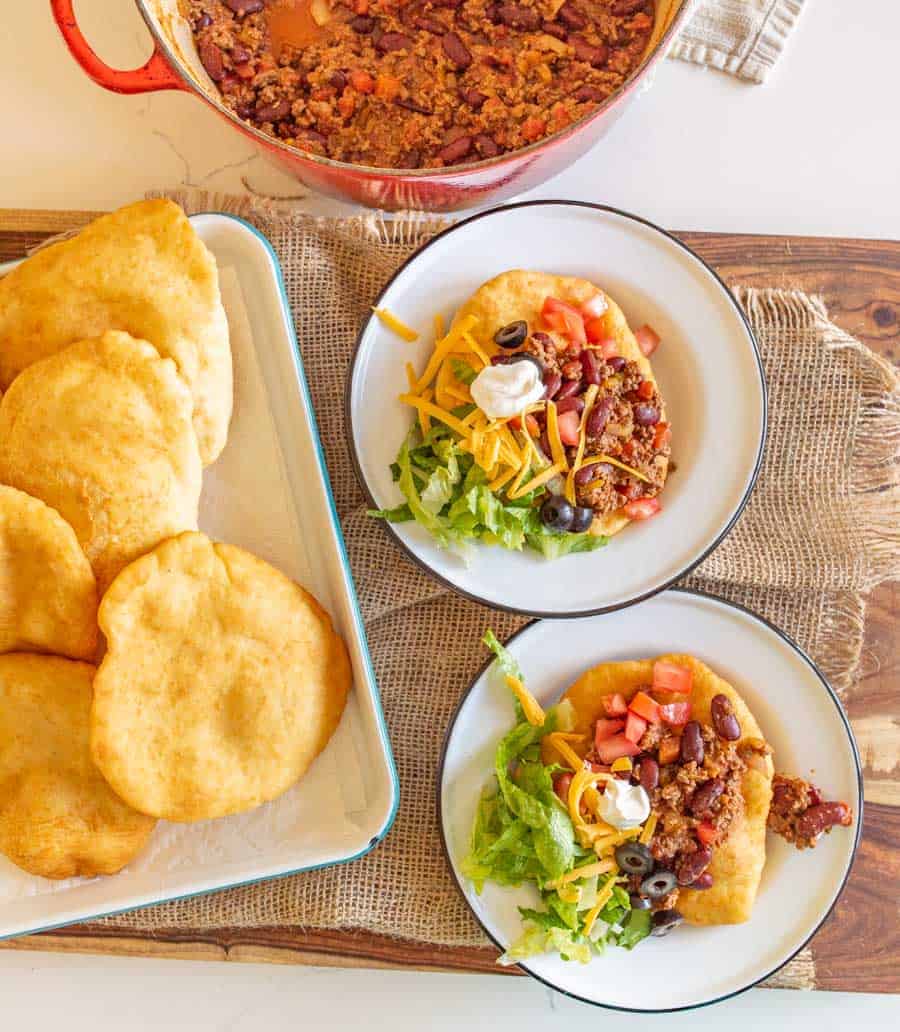 Other simple bread recipes you'll love:
Print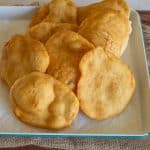 Homemade Fry Bread Recipe
---
Author:

Total Time:

35 min

Yield:

8

pieces

1

x
Description
Homemade fry bread is a flat dough bread made with simple ingredients and fried in oil for a crispy exterior that's doughy and soft in the middle.
---
1

cup

warm milk

1 tablespoon

butter

2 ¼

cups

all-purpose flour

2

teaspoons

baking powder

½

teaspoon

rapid rise or active dry yeast

½

teaspoon

salt

2 quarts

vegetable oil,

for frying
---
Instructions
Add the milk and the butter to a small microwave-safe bowl, and heat until just warm and the butter is melted. You'll want to milk to be no warmer than 110 degrees F. when you use it.
Add the flour, baking powder, yeast, and salt to a medium mixing bowl, and stir to combine.
Make a well in the center of the flour mixture, and pour the milk/butter into the center of the well.
Stir to combine well.
Dump the mixture out onto a lightly floured surface, and knead it a few times to work the dough into a smooth ball. If the dough is sticky, add a bit more flour.
Cover the dough ball with a clean dish towel, and let it rest for 10 minutes.
While the dough is resting, heat the oil over medium to medium-high heat in a heavy bottom Dutch oven or pan. Prepare a baking sheet with a layer or two of paper towels.
After the 10 minutes have passed, cut the dough into 8 even pieces
Use a rolling pin to roll the dough into ¼-inch thick circles, using additional flour as needed. Don't stack the uncooked dough on top of each other, as they tend to stick together.
When the oil has reached 350 to 375 degrees F. on a thermometer, start cooking the dough, a few at a time, depending on the size of your pan. Don't crowd the pan; they shouldn't touch while cooking.
Cook for roughly 90 seconds per side, or until each side is golden-brown. Flip the dough over after 90 seconds or when the oil side is golden, and cook the other side until it is also golden-brown.
Use a slotted spoon to remove from the oil, and place on your paper towel-lined cooking sheet.
Repeat with remaining dough until it's all cooked.
Serve with Navajo taco toppings or with honey butter on top.
Notes
This recipe is really easy to scale up as needed. I've made it successfully even quadrupling the batch. I just roll and fry at the same time and keep the cooked pieces of fry bread in a 200 degree F. oven to keep them hot before serving.
Prep Time:

20 min

Cook Time:

15 min total

Category:

side

Method:

fry

Cuisine:

American
Keywords: Indian fry bread, fry bread, fry bread recipe, how to make fry bread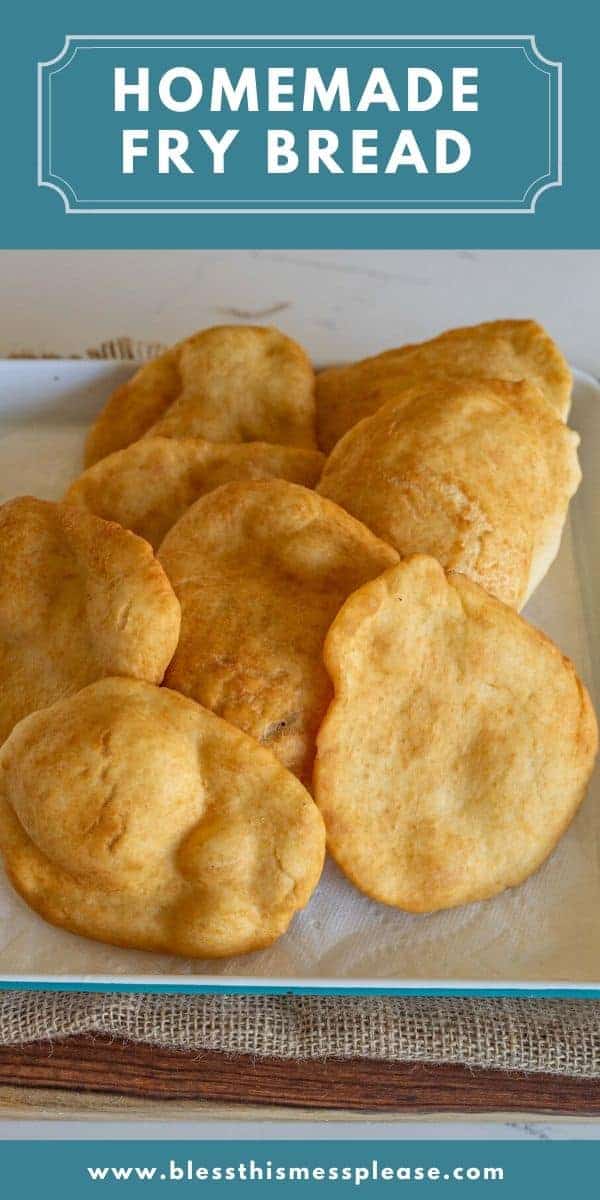 Fry bread is such a simple and fun recipe to make using household baking ingredients and fried in oil for a crispy outside and soft, airy inside!