This easy cornbread with cheese and green onions is a flavorful twist on classic cornbread. Serve it with a big bowl of hearty chili and dig in!
Looking for an old-fashioned cornbread? You have to try my Golden Sweet Cornbread recipe! Hundreds of people have tried and loved it.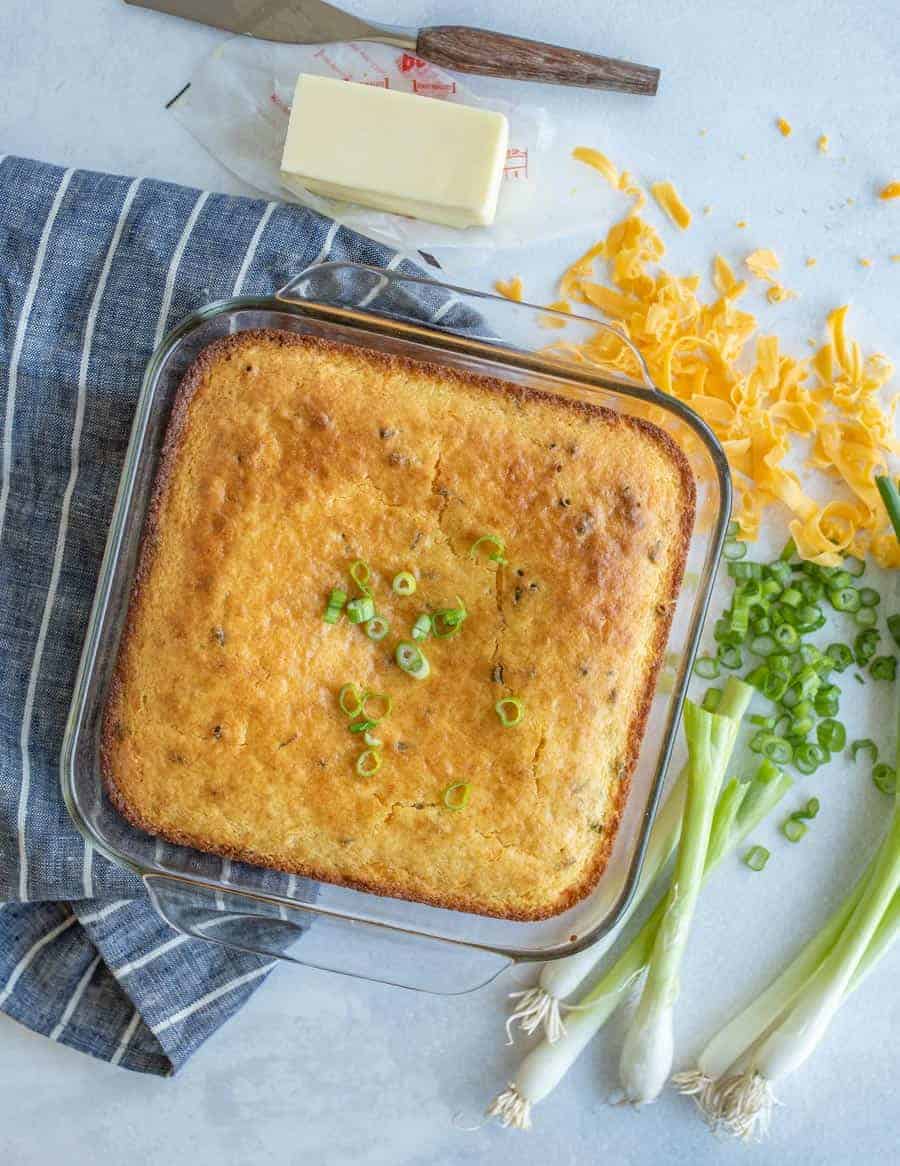 Homemade Cornbread with Cheese & Green Onions
Name a better side dish than cornbread... I'll wait. It's so good for all the occasions all year long, and it's truly a food I can't get enough of. This cheesy, green onion rendition adds a whole new level of flavor and decadence, too. It's savory and gets a nice side crust from the baked cheese, with just a touch of that classic cornbread sweetness. With a dab of butter on top, on the side of a big bowl of chili or plate of barbecue ribs, you'll be convinced you've gone to heaven after taking a bite of this.
An Easy Cornbread Recipe You Can Make in Any Baking Dish
The best part? It comes together so easily. You can bake it in practically any baking dish you've got -- I used a 9-inch square baking dish, but you could also use a 9-inch round cake pan or a cast iron skillet. Double up the recipe for a crowd, and use a 9x13-inch baking pan (and make sure you cook it a little longer, for about 35 to 40 minutes). And to whip up the batter, all you have to do is combine the dry ingredients, make a well in the center, add the wet ingredients, mix until just incorporated, fold in the onions and cheese, and voila! You're ready to get to baking.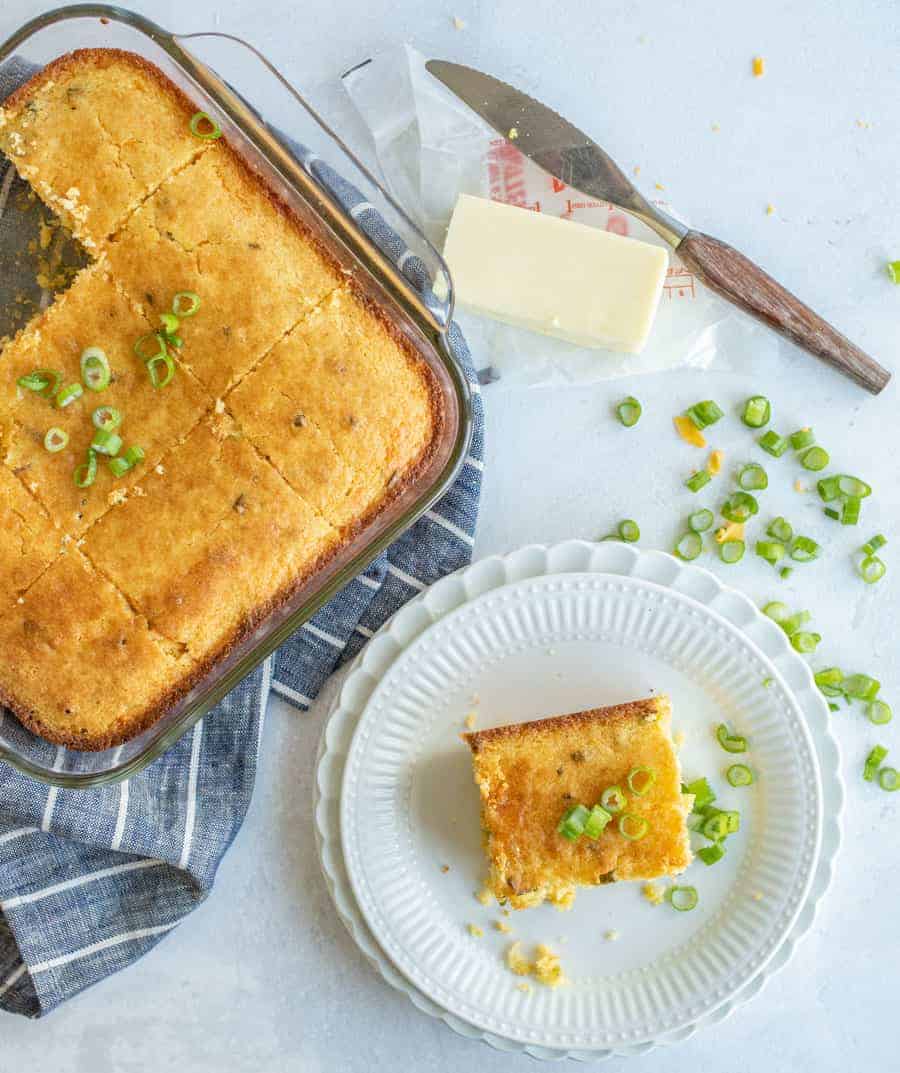 Common Cornbread Baking Questions:
How do you keep cornbread from falling apart?
Cornbread is a bit crumbly by nature, but it shouldn't be so dry that it completely falls apart when you cut a slice of it. This recipe, with the oil or butter, cheese, milk, and egg, will keep it just moist enough that it stays together, but still has a bit of that signature crusty, crumbly texture.
What does cornbread go with?
Oh, my... The options are endless! Of course, the classic cornbread pairing is with chili. But it also goes splendidly with grilled meats, spicy foods, or egg dishes for breakfast.
What can I substitute for vegetable oil in cornbread?
You can use either a mild oil or melted butter as the fat in cornbread.
Why did my cornbread fall?
Any baked good will fall in the middle if it's not baked long enough or if you add too much leavening. Make sure you let it bake the full 20 to 25 minutes, and peek through the oven window to see that it's golden-brown on top before taking it out to test with a toothpick.
Can you freeze cornbread?
Yes, you can! To freeze cornbread, wrap it securely in plastic wrap or aluminum foil and place it in a sealable bag. Store it in the freezer for up to 2 to 3 months. You can also keep it in the fridge for up to a week.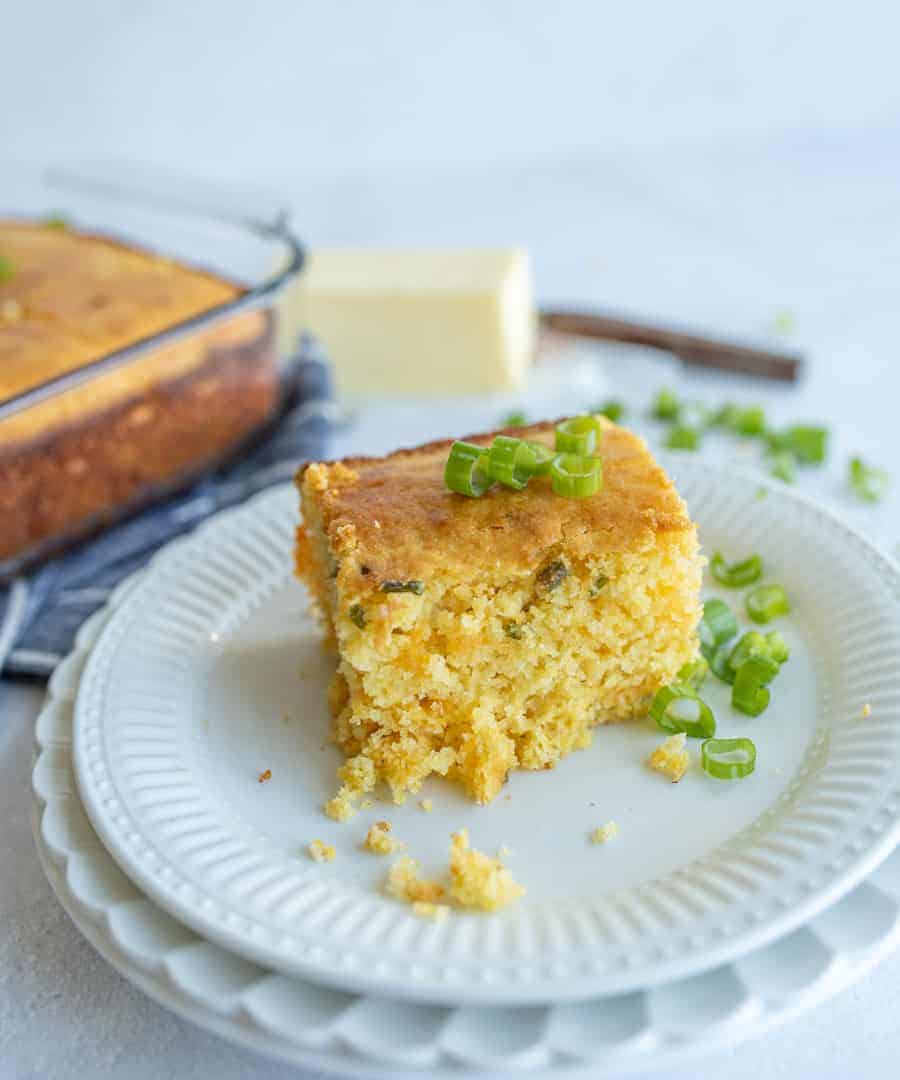 Print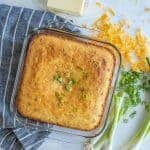 Homemade Cornbread with Cheese and Green Onions
---
Author:

Total Time:

35 minutes

Yield:

Serves

1

2

1

x
Description
This easy Homemade Cornbread with Cheese and Green Onions is a flavorful twist on classic cornbread. Serve it with a big bowl of hearty chili and dig in!
---
1 cup

all-purpose flour

1 cup

yellow cornmeal

½ cup

granulated sugar

1 teaspoon

salt

3 ½ teaspoon

s baking powder

⅓ cup

neutral oil or melted butter

1

large egg

1 cup

milk

1 cup

shredded sharp cheddar cheese

½ cup

chopped green onions (about 5)
---
Instructions
Grease a 9-inch square baking dish well, and set aside. Preheat the oven to 400 degrees F.
In a medium mixing bowl, add the flour, cornmeal, sugar, salt, and baking powder. Whisk to combine well.
Make a well in the center of your dry ingredients, and add your oil or butter, milk, and egg. Stir just until the mixture comes together and there are only a few lumps remaining.
Fold in the cheese and green onions.
Pour the batter into the prepared pan and bake for 20 to 25 minutes, until the top is a deep golden-brown and a toothpick inserted into the center comes out clean.
Serve hot.
Notes
You can make it it in a 9-inch round cake pan, square baking dish, or 9-inch cast iron skillet. Bonus! You can also double the recipe and toss it in a 9×13-inch baking pan. You'll just need to adjust the baking time; a doubled recipe takes 35 to 40 minutes to bake.
Use yellow cornmeal in this recipe. White works fine, but it just doesn't look the same. Golden yellow cornbread is a must. Also, don't try to sub any of the cornmeals used for making tamales – they are a different grind, and the texture doesn't come out the same.
Prep Time:

10 min

Cook Time:

25 min

Category:

side

Method:

bake

Cuisine:

American
Keywords: cornbread, cornbread recipe, best cornbread recipe, easy cornbread recipe, southern cornbread recipe

More Homemade Cornbread Recipes:
Easy dinner ideas to serve your cornbread with: