Brown Sugar and Garlic Grilled Pork Tenderloin is robust and smoky with a nice sweet-to-savory ratio. Fire up the grill because this is your new go-to summertime barbecue meat.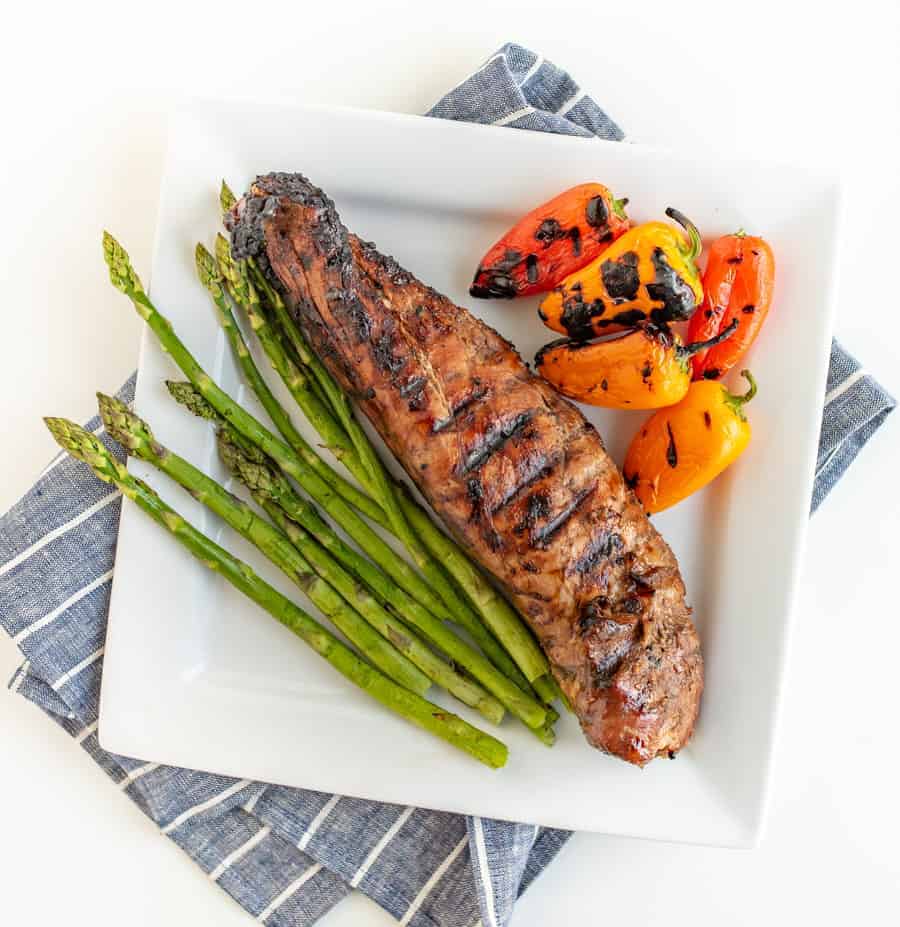 Brown Sugar and Garlic Grilled Pork Tenderloin
Give me all the grilling meals, please and thank you! Grilling is glorious in just so many ways. My favorite thing about it? It requires almost *no* cleanup. Hallelujah! Thank you, summer. Plus, grilling adds this whole new dimension to food, meats specifically... No matter if you use a gas or charcoal grill, or even light up a bonfire while camping or picnicking, the smoky, high-heat nature of grilling meat outside gives such a great texture and flavor to food.
It's also a quick and easy way to meal prep! You can throw a bunch of proteins and veggies on at once to have meals ready for the whole week. Just a little pro-tip for you when you heat up the old grill for this recipe. This specific recipe for pork tenderloin creates the heartiest, juiciest meat with a nice, crisp exterior. It's full of rich flavor from the soy sauce, brown sugar, and garlic and is a great contender for a fresh and easy summertime meal... Or many fresh and easy summertime meals. Pair with easy grilling vegetables (like asparagus and baby bell peppers) and all your favorite people!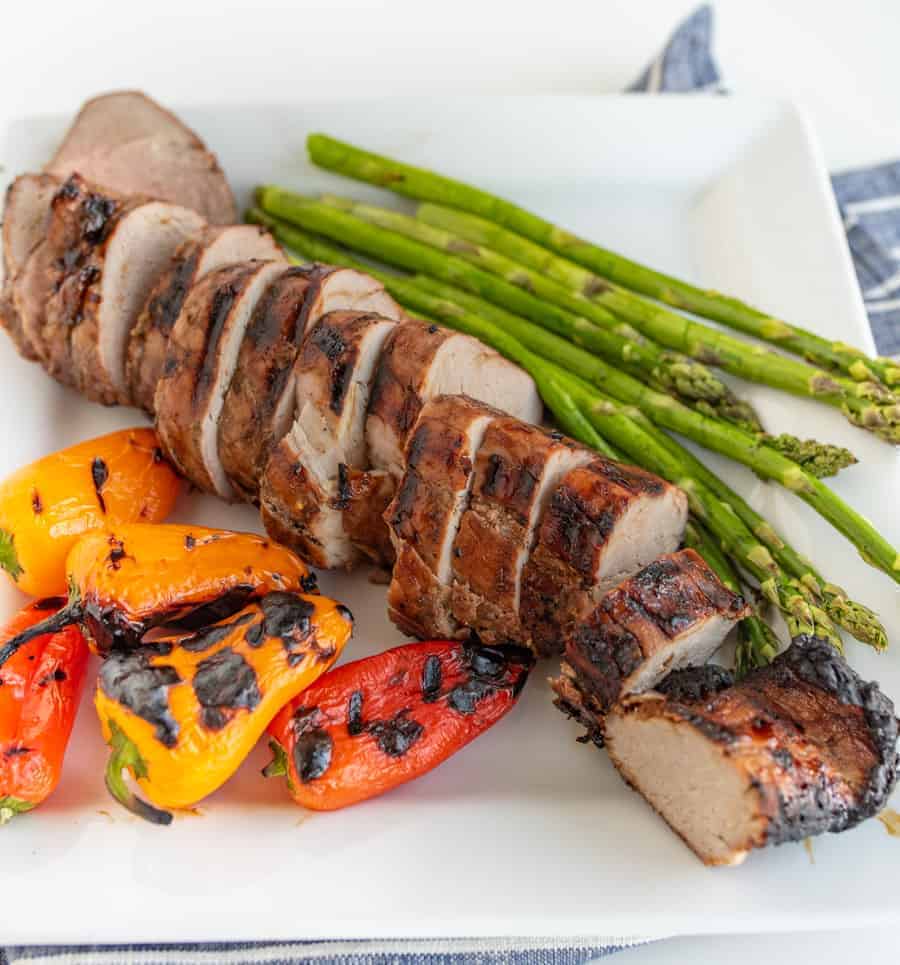 What is the difference between pork loin and pork tenderloin?
Pork loin and pork tenderloin come from different parts of the animal. It's really important for this recipe that you get tenderloin because loin is cooked very differently, as it's typically two-plus times as large as tenderloin. Pork loin is big and wide enough that you could cut almost steak-size pieces of it, while tenderloin is more like smaller, 2-inch-or-so medallions of meat when you slice it.
What temperature do you cook pork tenderloin to?
You can tell pork tenderloin is done when your instant read thermometer reads 140 degrees F. Over medium to medium-high heat on the grill, it should take about 25 minutes to cook.
How do you keep pork tenderloin from drying out?
Tenderloin is a very lean meat, and it can easily dry out if overcooked. Keep an eye on the internal temp as you cook it, especially if it's a smaller piece of meat. The liquid marinade will also help to lock in some of that moisture, too!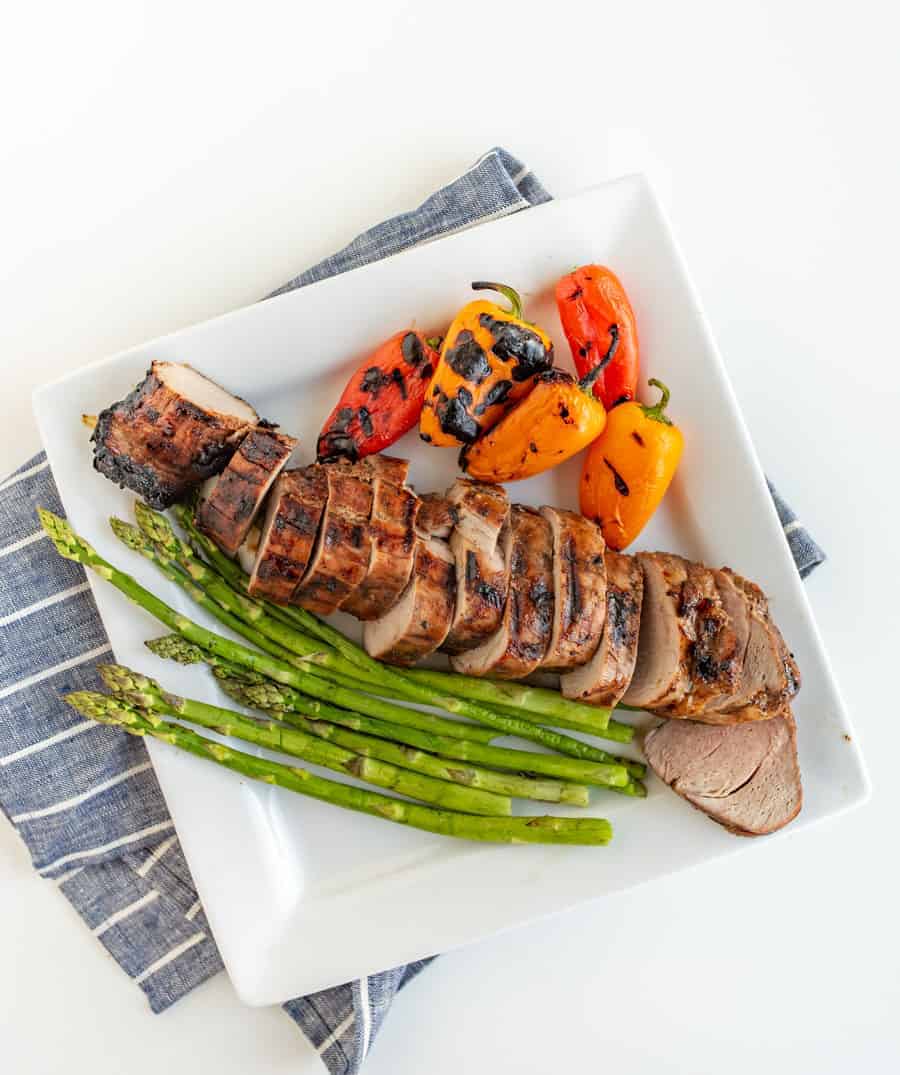 Print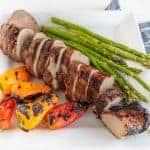 Brown Sugar and Garlic Grilled Pork Tenderloin
---
Author:

Total Time:

2 hours

Yield:

1.5

lbs

1

x
Description
Brown Sugar and Garlic Grilled Pork Tenderloin is robust and smoky with a nice sweet-to-savory ratio. Fire up the grill because this is your new go-to summertime barbecue meat.
---
¼ cup

brown sugar

¼ cup

soy sauce

1 tablespoon

white vinegar

1 tablespoon

garlic

1 tablespoon

Dijon mustard

1

1-1.5 pound pork tenderloin
---
Instructions
In a small bowl, mix together the brown sugar, soy sauce, vinegar, garlic, and mustard.
Place the pork tenderloin in a large sealable bag, and pour the prepared sauce over the top. Remove as much air from the bag, and zip shut.
Refrigerate for at least 1 hour and up to 6 hours.
Thirty minutes before you plan to cook the meat, remove the baggie from the fridge, and let the meat rest at room temperature.
Preheat your grill over high heat. Clean and oil the grates.
Reduce the heat to medium to medium-high, and place your pork tenderloin in the center. The loin has three sides -- grill each side 5 minutes at a time, continuing to turn to a new side after each 5 minutes.
Cook until the pork until it reaches 140 degrees F. on an instant read thermometer, about 25 minutes on the grill.
Let the pork rest for 5 minutes before slicing, and serve right away.
Notes
A pork loin and a pork tenderloin are two different cuts of meat. A loin will be much larger, around 4 pounds. A tenderloin will be around 1.5 pounds, give or take a half pound. Don't mix up the two for this recipe.
Honor the fact that a pork tenderloin has three sides, and turn it so that it's on one of said sides each time you rotate it. This'll give the best texture and cook it evenly.
Prep Time:

95 minutes

Cook Time:

25 minutes

Category:

meat

Method:

grilling

Cuisine:

main dish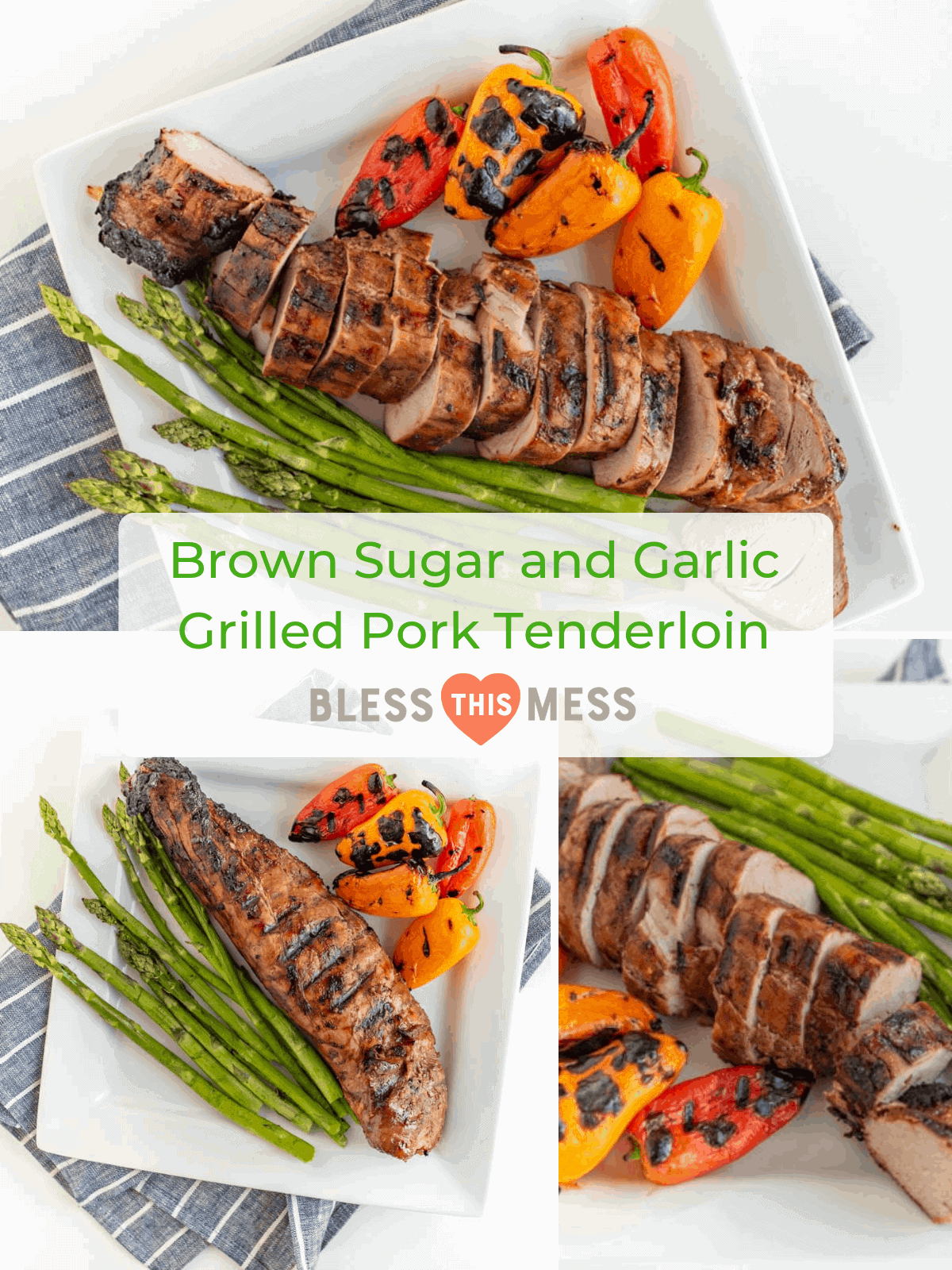 More Grilling Recipes:
Now you know how to grill a pork tenderloin, and it isn't even difficult. Just throw on your favorite veggies and you'll have a whole meal cooked without turning on the oven.