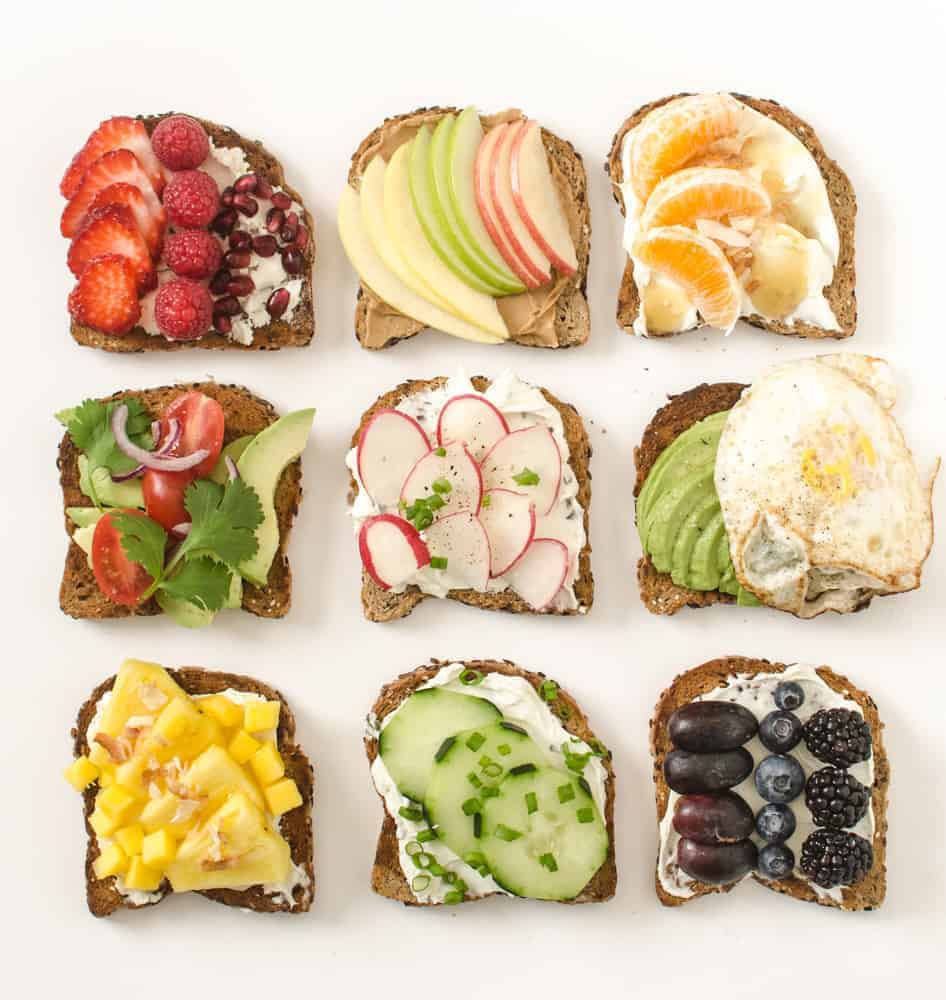 9 sweet and savory healthy toast ideas that are simple, colorful, and filling enough to make into a meal! Which one will you try first?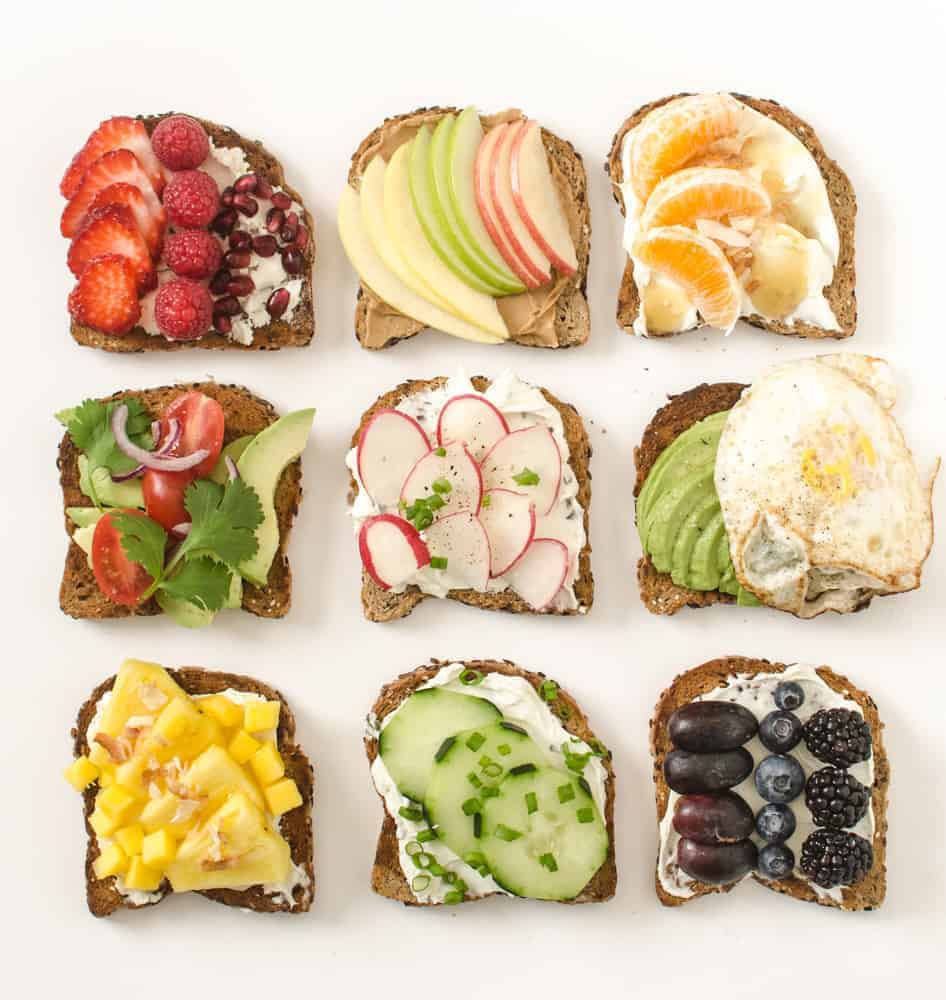 In an effort to help you eat the rainbow this year, I thought I'd share with you some super simple but extra delicious toast recipes! I know toast doesn't need much explaining, but I wanted to highlight the variety that you can achieve if you just set out to do it. Sure, you can have peanut butter and honey or sugar and cinnamon on your toast every morning, but look at all these beautiful, healthy, tasty toasts you are missing out on.
Fancy healthy toast like this is a lot of fun for the kids to make and top themselves. On the weekend I'll make a "toast bar" of sorts where the kids can pick from different breads, spreads, and toppings. We also like healthy toast for brunch before church and I think these are pretty enough that you could serve them at a baby shower! I definitely make meals out of toast; just think of them as beautiful open-faced sandwiches.
Healthy Toast Tips and Tricks:
Bread
You have so many choices! I normally end up with a whole grain bread because that's something that I like, but the bread choice is really up to you. If I'm making a whole wheat sandwich bread, I use this recipe. Annalise from Completely Delicious has a great Honey Oat Bread recipe that I like too. If I'm picking something up at the store, I tend to look for something with a short ingredient list. For this post, I got Dave's Killer Bread Thin Sliced Good Seed bread. I super like the thin sliced line from Dave's Killer Bread because the whole loaf is smaller than their traditional loaf on top of the slices being thin. The smaller slices are nice because my kids are little. We seem to waste less if we start out with the smaller slice of bread. I like them because they are only about 70 calories for serving.
Choose what you like, but a whole grain hearty toast is going to hold more toppings than an extra fluffy piece of white bread.
Spreads
I typically have one or all of these in the fridge for toast: mascarpone cheese, honey goat cheese, herb and chive cream cheese, and peanut butter. Mascarpone tastes a lot like cream cheese, but we find it to be less "sour" in taste and it generally spreads a little bit easier. It's delicious, inexpensive, and pretty easy to find. Don't let the fancy name hold you up, it's just a simple smooth and creamy cheese that is made from cream and citric acid.
Honey goat cheese is one of my favorite treats. It has a more crumbly texture than cream cheese or marscapone, but it's rich, sweet, and not strong at all. You can get plain goat cheese and add your own honey, but it's so easy to get it already mixed together.
Herb and chive cream cheese spread is one of my favorites. It's full of flavor and a delicious savory element for toasts. You can buy this already mixed together and ready to go or you can make your own herb and chive spread using this recipe.
Peanut butter isn't a cheese but it's always a favorite on toast in this house. I normally get the organic peanut butter from Costco.
Toppings
You can use almost any fresh fruit or vegetable that you like. I have listed some of my favorite combos below, but they are just to get you thinking! You can also add crunchy elements like toasted coconut, chopped nuts, or even hemp seed hearts/chia seeds/ground flax. If you are making a sweet fruit toast, you might want at add a drizzle of honey, depending on what spread you choose and the ripeness of your fruit. If you are making a savory toast, be sure to add salt and pepper to taste, again depending on the type of spread you use.
Toasting options
You can always pop your bread into a traditional toaster, but I thought I would share with you my favorite way to make toast. We love to make oven toast and it is delicious! My husband's grandma used to make him oven toast for a snack when he spent the night at her house, and he has converted me to making toast this way.
Preheat your oven to 425 degrees and place a baking sheet in the oven. While you are waiting for the oven to heat, butter one side of your bread with softened butter. When the oven and the baking sheet are heated to temperature, quickly remove the baking sheet from the oven. Quickly place the bread, butter side down, onto the baking sheet and return the sheet to the oven. Bake until the bottom side of the bread is toasted 5-10 minutes (the top won't toast, so peek under the corner of your toasts to check the bottom regularly). This toast is delicious because it gets crispy on one side without drying out like it does in the toaster. This is also a great method for making a lot of toast at once (said the mom of 5!).
Now you are set up for amazing toast success. I bet you didn't know it could be so much fun.
Here are some of my favorite colorful healthy toast ideas to help inspire you!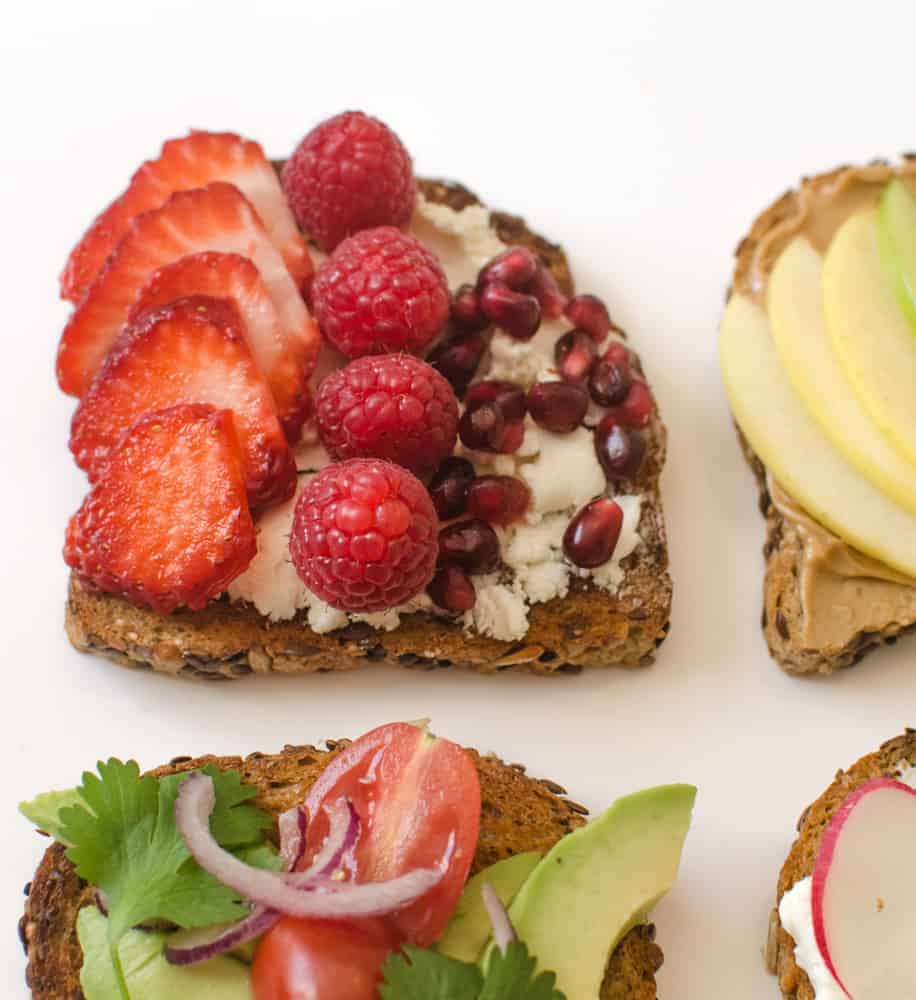 Very Berry Red Toast
Whole grain toast + honey goat cheese + sliced strawberries + fresh raspberries + pomegranate seeds (arils)
Note: Mascarpone cheese would work great for this too. You can use any fresh berries you have on hand. If your berries aren't sweet, try adding a drizzle of honey.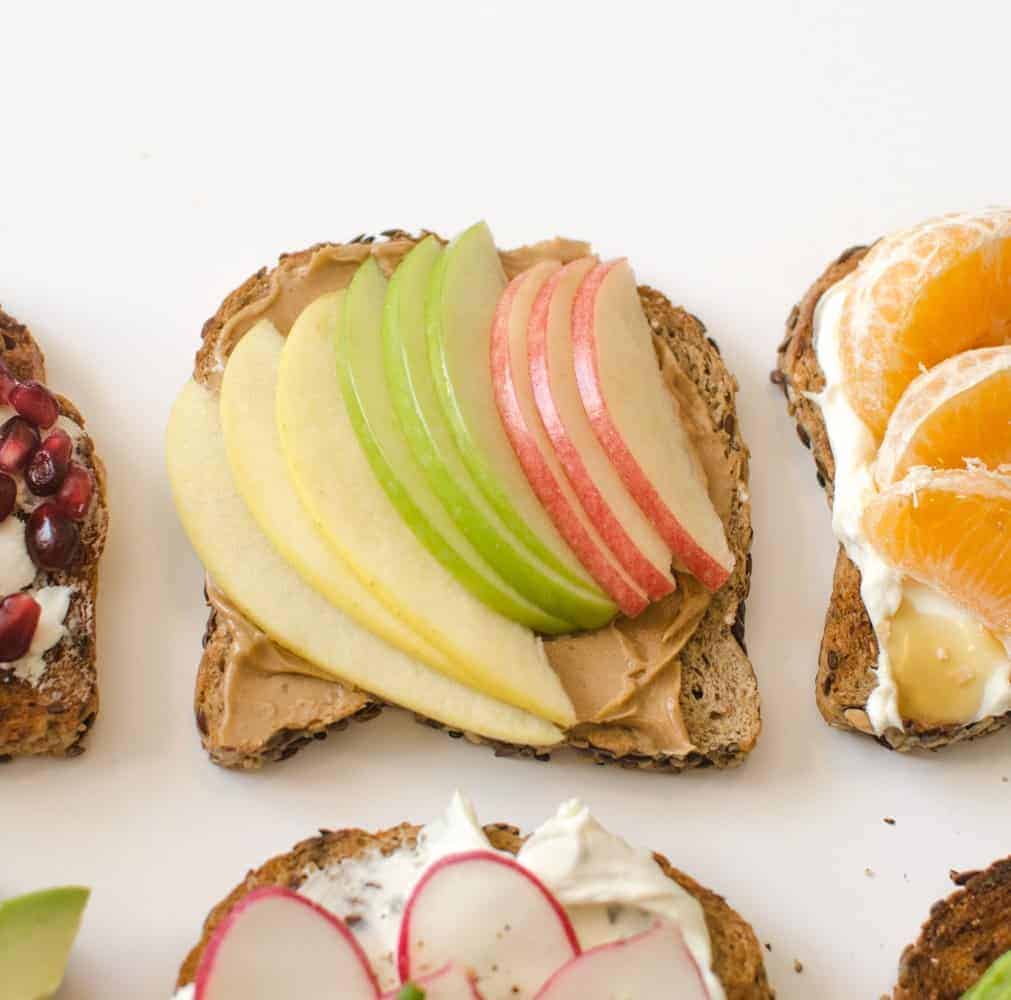 Peanut Butter Classic Toast
Whole grain toast + peanut butter + thinly sliced apples
Note: Any nut butter would be great, and if you want it extra sweet, stir some honey into your peanut butter before spreading it on the toast.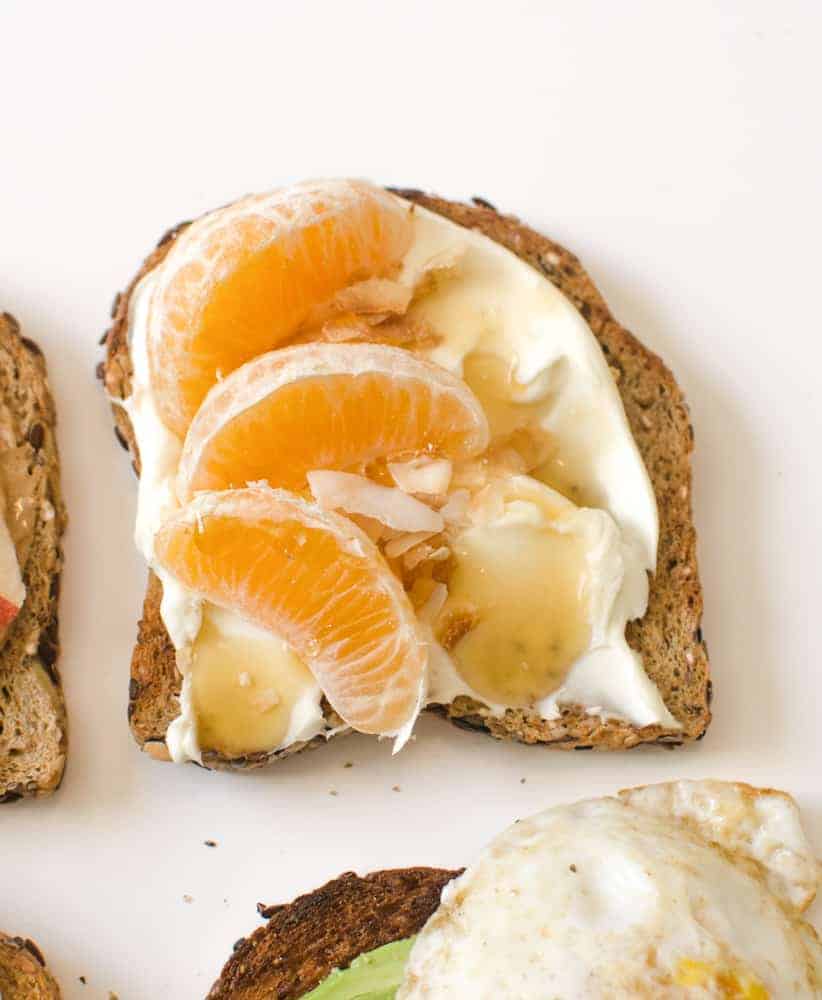 Sunshine Toast
Whole grain toast + mascarpone cheese + mandarin oranges + toasted coconut + honey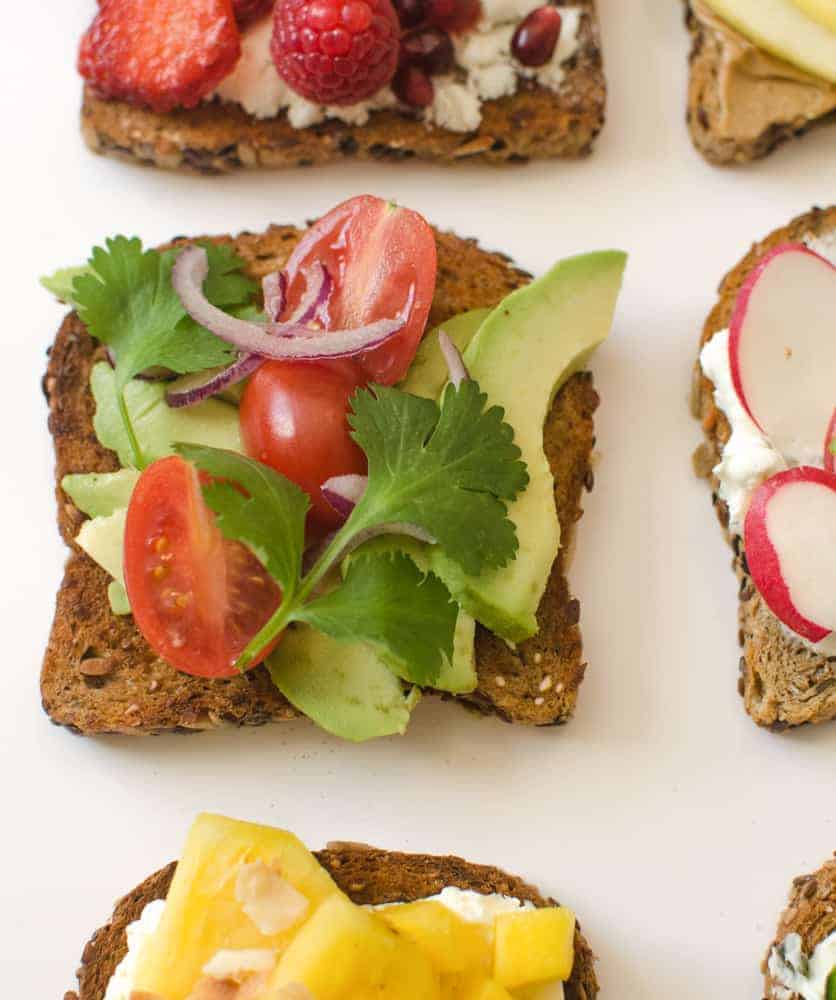 Tex-Mex Avocado Toast
Whole grain toast + 1/2 an avocado, sliced + cherry tomato halves + thinly sliced red onion + fresh cilantro + salt + pepper
Note: if you happen to have some lime salt on hand, I highly recommend using it here.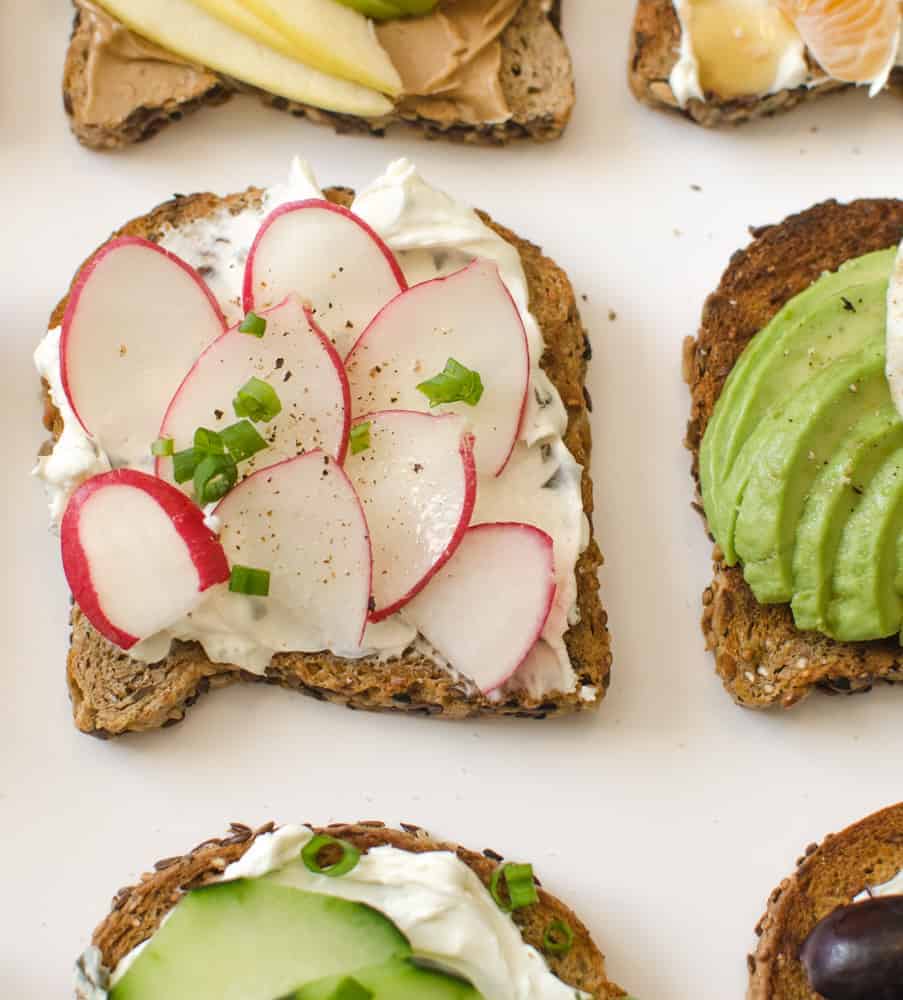 Garden Radish Toast
Whole grain toast + herb and chive cream cheese spread + thinly sliced radish + chives + salt + pepper
Note: don't knock this until you try it. This one of my all-time favorite toasts, and I'll eat a slice or two for lunch often! It's bright, crunchy, and wonderful. I love this toast and I think that you should too!
Classic Avocado Toast with an Egg
Whole grain toast + 1/2 an avocado (sliced or mashed) + 1 fried egg, soft in the center + salt + pepper
Notes: this toast is forever a classic and a favorite. Make one for breakfast and you'll stay full all morning. It's delicious! Don't go light on the salt and pepper either.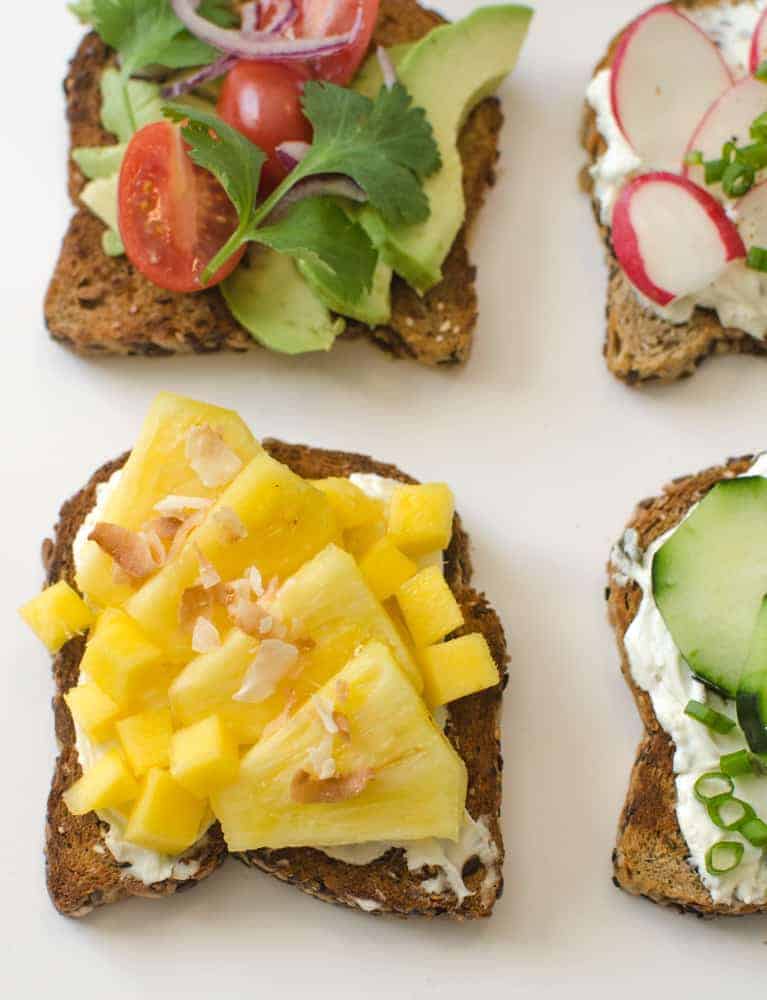 Tropical Toast
Whole grain toast + mascarpone cheese + diced fresh mango + fresh pineapple + toasted coconut
Notes: This toast is also delicious with goat cheese.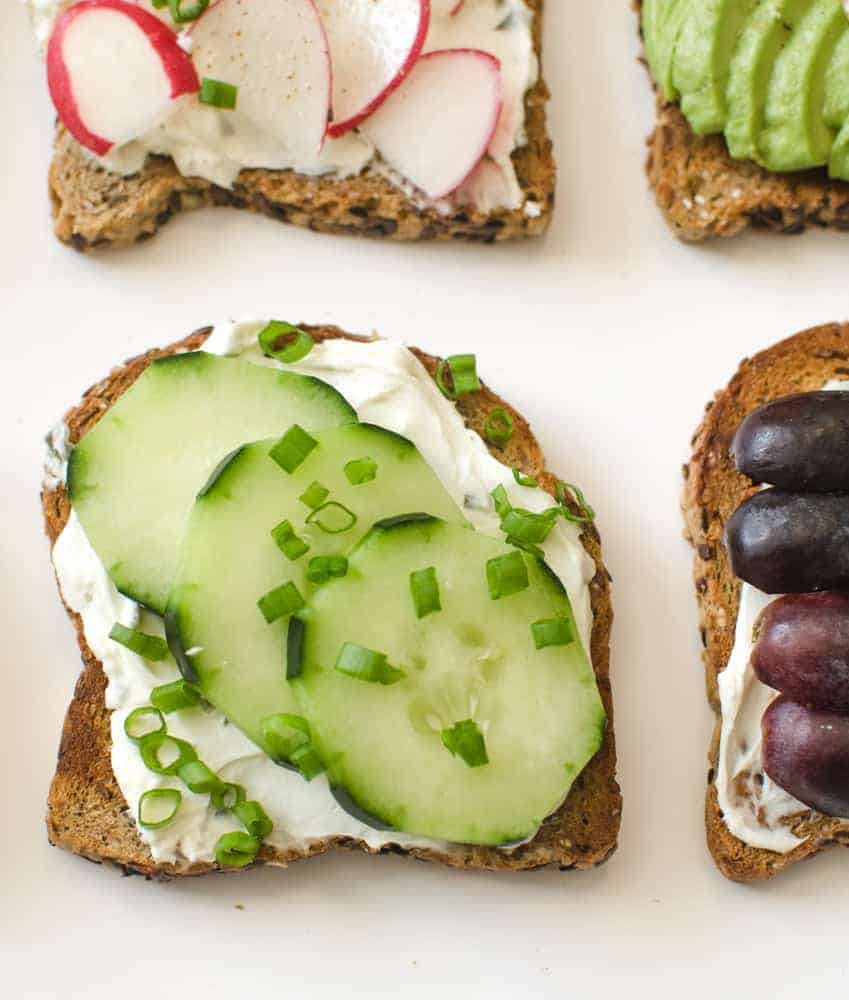 Cucumber and Herb Toast
Whole grain toast + herb and chive cream cheese + sliced cucumbers + green onion/chives + salt + pepper
Notes: This is the most perfect lunch in the summer when the garden is full of cucumbers.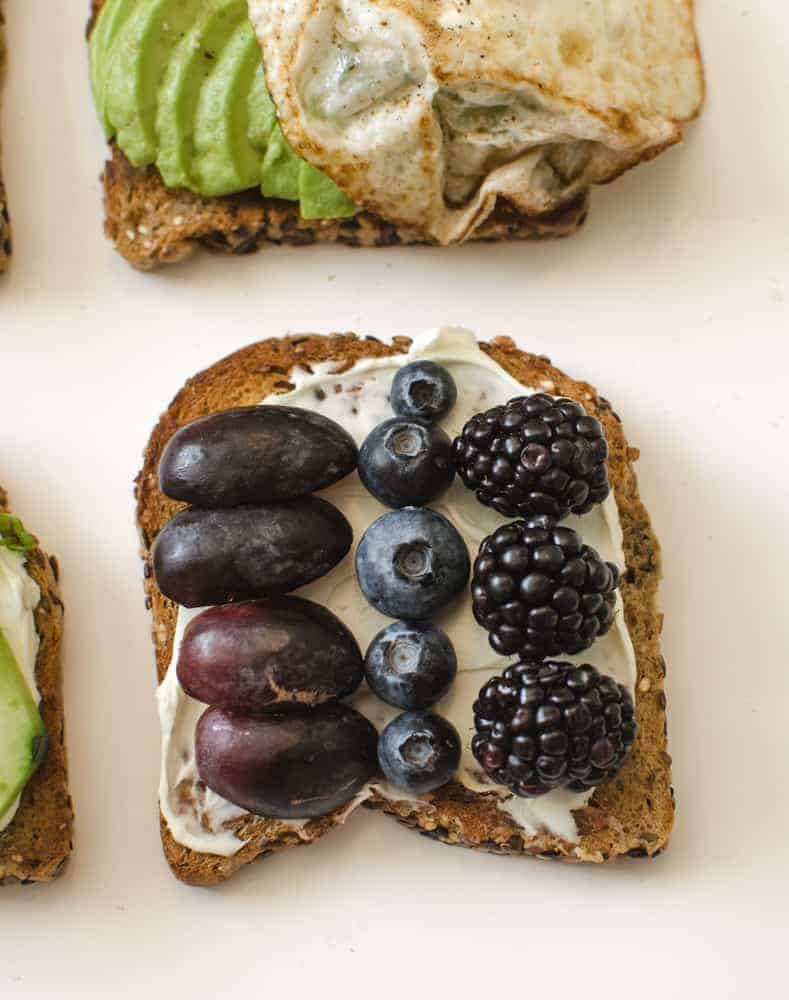 Purple Toast
Whole grain toast + mascarpone cheese + sliced grapes + blueberries + blackberries
Note: This toast is also delicious with goat cheese. Berries are an easy choice, but don't forget that things like grapes and orange segments can be used too.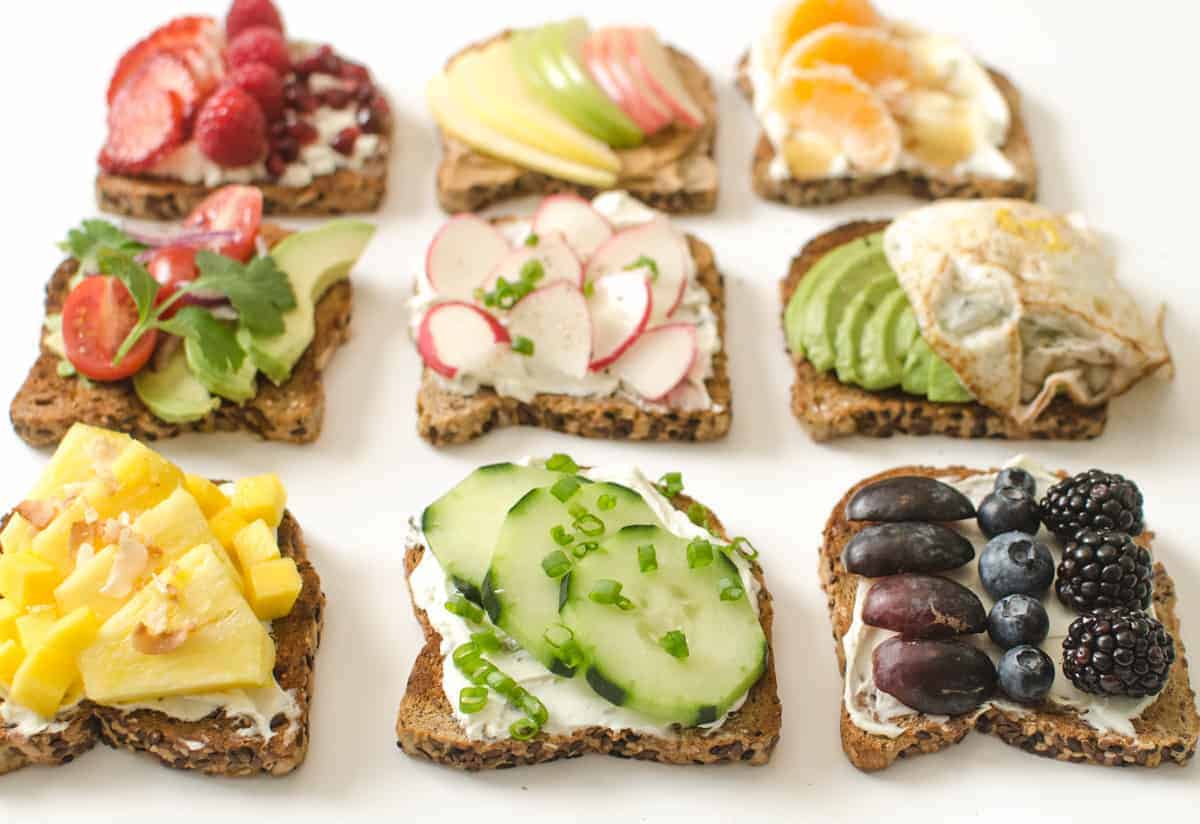 Sweet and savory toasts that are simple, healthy, colorful, and filling enough to make a meal out of! I hope that you enjoy this post. Don't forget to share this post with your favorite friends who love eating the rainbow.
Enjoy these healthy toast ideas, from my kitchen to yours!