Looking for a simple tortilla recipe that's easy to make, extra nutritious, and great at meeting dietary needs of you or someone you are cooking for? Look no more, sweet potato and cassava flour tortillas are here to save the day.
You won't need a tortilla press to make these simple tortillas. They only have 3 ingredients and are gluten free, dairy free, and fit into all kinds of food protocols because they are grain free too. New to cassava flour? I'll tell you all about it in this post.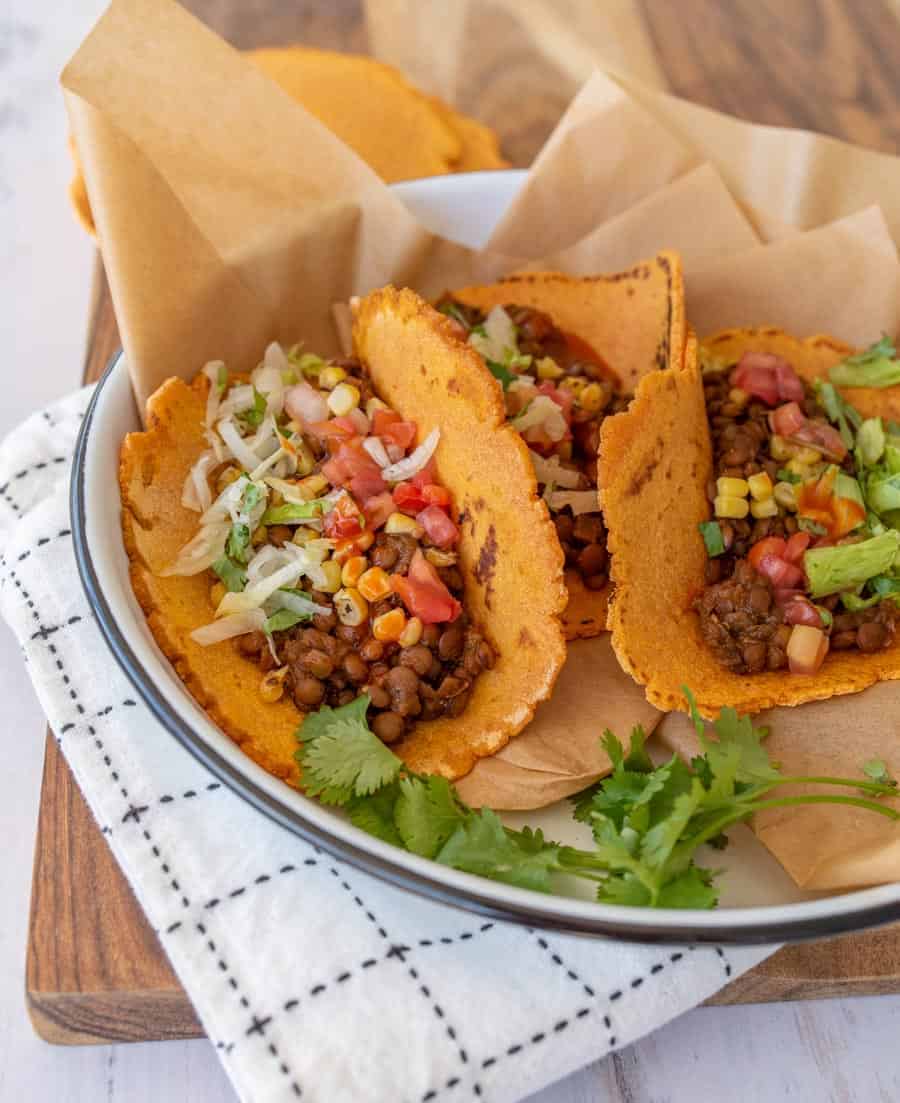 Sweet Potato Cassava Tortillas
Looking for a beautiful and unique tortilla to serve to friends or family who might have some food restrictions in their life? Look no more, because this easy to make cassava flour tortilla is just what you've been looking for. Cassava flour tortillas are gluten free, nut free, grain free, and very low in fat. No food issues, no problem, this is a fun tortilla to make to feed anyone! I made these while a few of my siblings were over and they loved them and were super impressed with the texture and flavor.
The cassava and sweet potato dough is extreme easy to work with, they cook up in just a few minutes, and they are packed with color and flavor thanks to using sweet potatoes. The hint of sweet with the tortilla make it an excellent companion to savory bold taco fillings.
This post and recipe are sponsored by one of my very favorite companies, Bob's Red Mill, and I'm highlighting their cassava flour today. You can find cassava flour on their website or in well stocked grocery stores near other specialty flours. I use Bob's Red Mill products every day in my kitchen, so it's a real treat to work with them.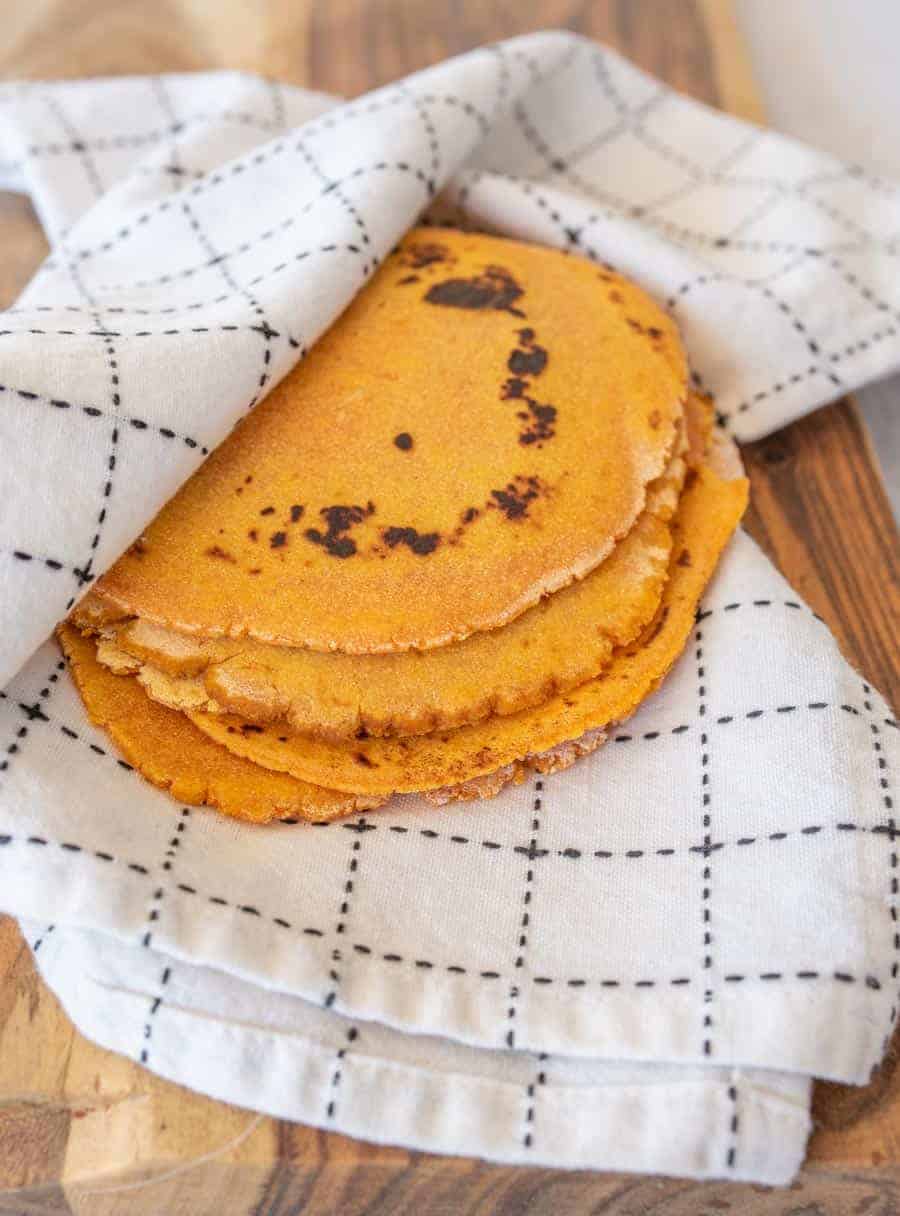 What is Cassava flour?
Cassava flour comes from the starchy root of the cassava plant. Cassava flour is similar to tapioca starch, and the root has been a longtime staple crop in South America, Asia, the Caribbean, and Africa.
Cassava flour is light in flavor and texture which makes it perfect for gluten free baked goods like bread, brownies, tortillas, and flatbread.
Cassava flour is nut and grain free which makes it great for accommodating food allergies and specialty diets too.
I have found it very easy to work with and I'm excited to use it more in my kitchen.
You can buy Bob's Red Mill Cassava Flour here.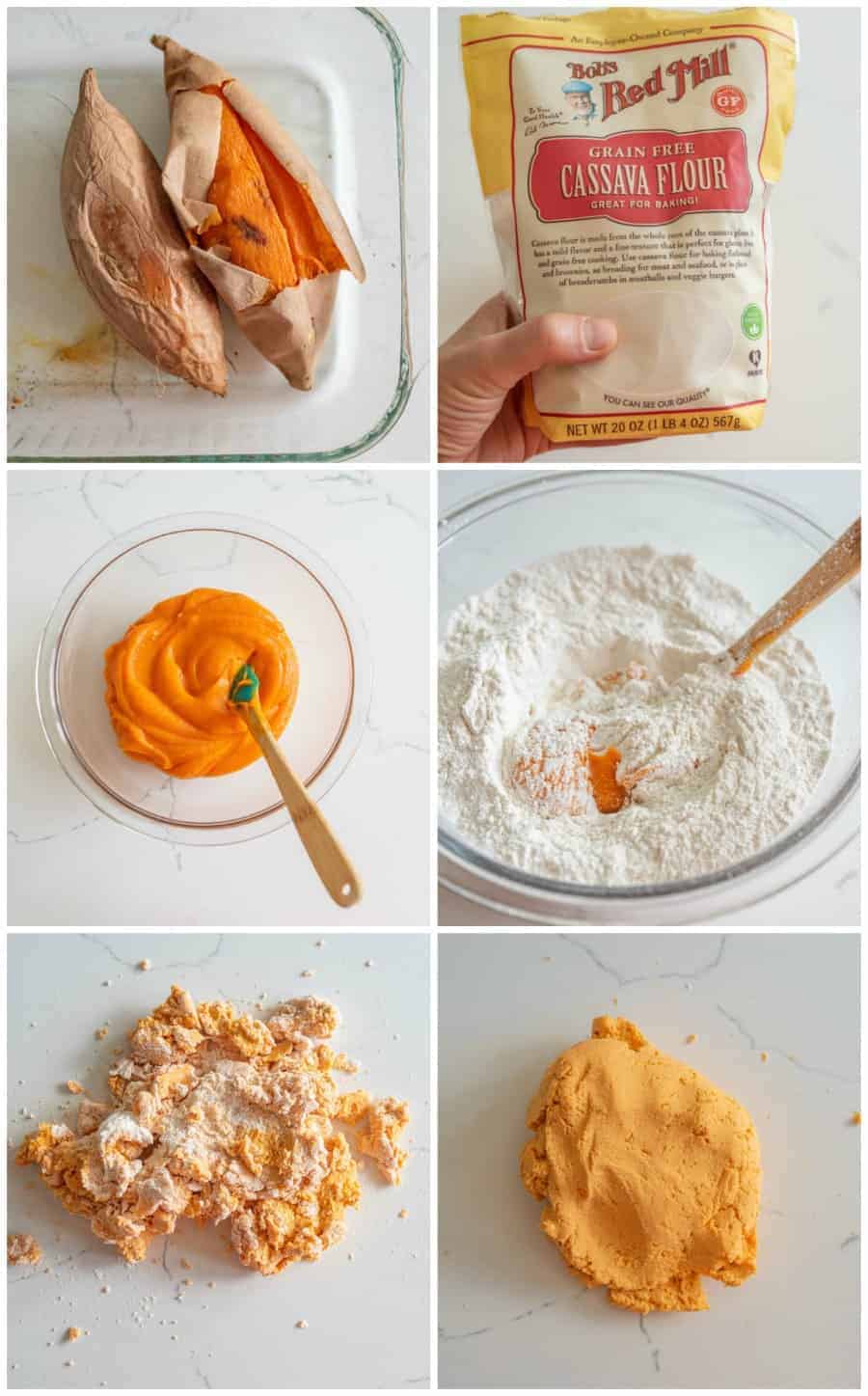 Steps for making cassava flour tortillas:
Roast 2 large sweet potatoes in the oven. I prefer to roast them because you get a sweet potato that has dried out just a bit in the oven and the texture is perfect for this recipe. Microwaving, boiling, or pressure cooking the potatoes leave more moisture in the end product, so if you choose to use one of these cooking methods, you'll probably need to increase the amount of cassava flour used.
Peel and blend the sweet potatoes until very smooth (I used my blender to process the potatoes).
Measure out the sweet potatoes and the cassava flour and mix to combine.
Place the mixture on a counter top and knead to combine. The texture will be really similar to homemade play-dough. It is very soft and tender but not at all sticky.
Divide the dough into 8 pieces.
Roll the dough out in between two pieces of parchment paper.
Cook in a hot skillet over medium to medium-high heat until cooked through and a little charred on each side.
Repeat with remaining pieces.
Serve as you like.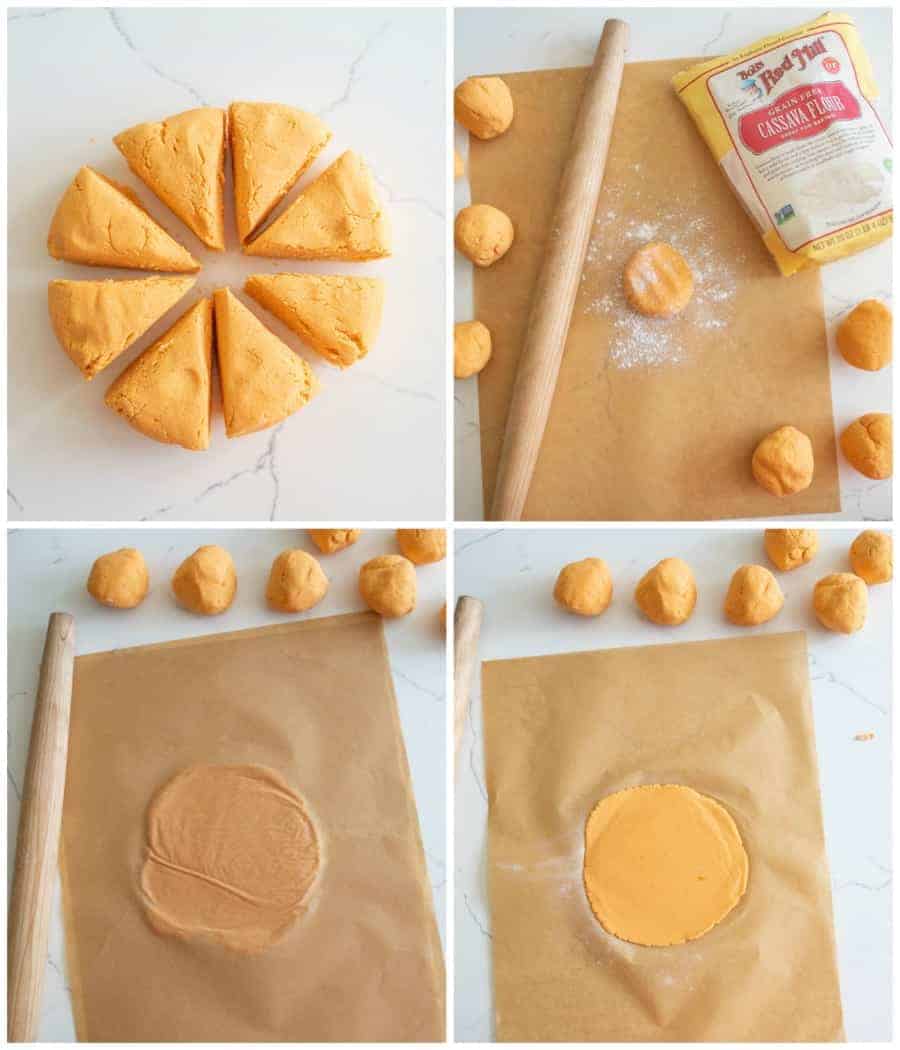 What can I serve with sweet potato tortillas?
The texture is flexible and so nice! Serve it like a traditional tortilla or like flatbread.
I made this Quick and Easy Lentil Taco filling recipe to go with them and it was perfect for the sweet tortillas.
Serve like flatbread to go with sweet potato curry. That's another great plant-based meal.
Other taco fillings this would be great with:
And I even made a few of these into simple quesadillas and they were great there too!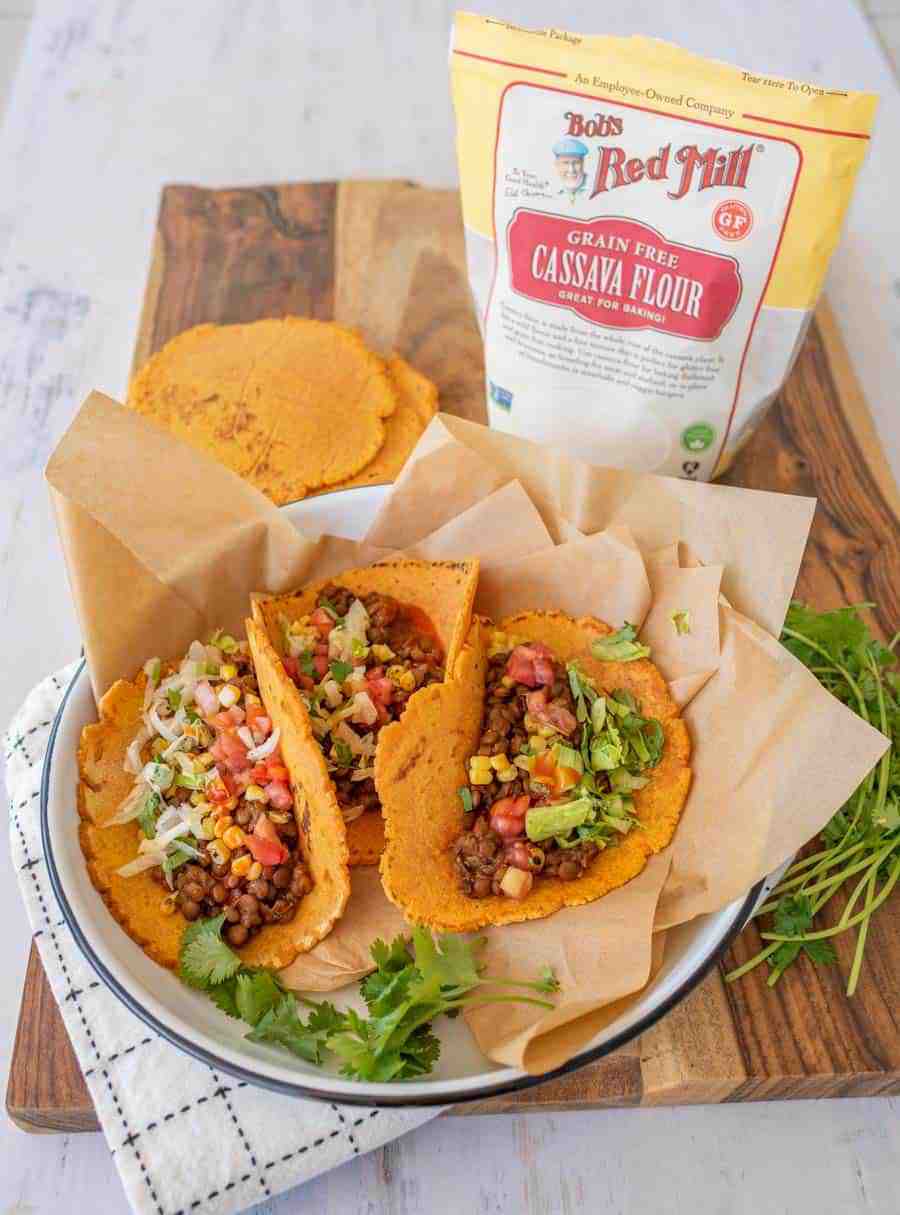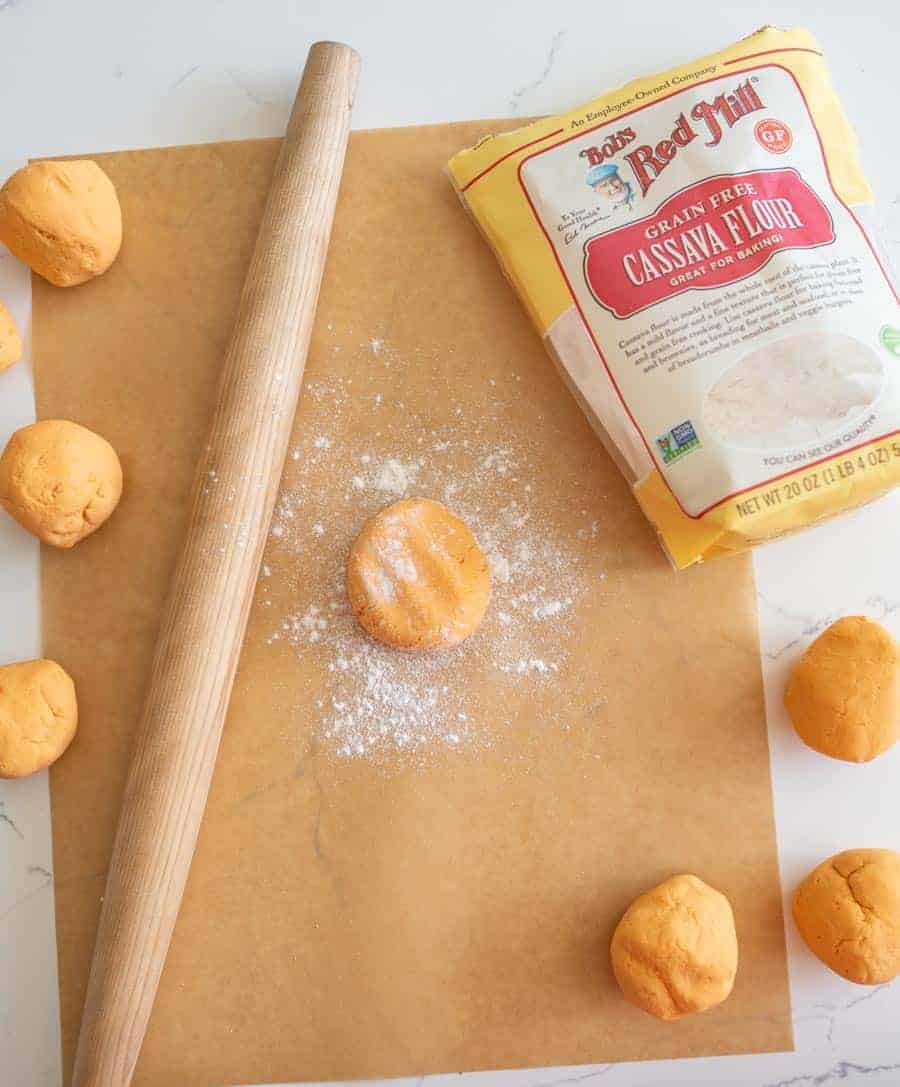 Tips for making gluten free tortillas:
Make sure the dough is soft and tender but not sticky. You can adjust the cassava flour as needed to achieve this texture.
Use two pieces of parchment paper to gently roll out the tortillas. If you are getting a lot of crinkles in the top paper (as you roll out the dough), peel it off the tortilla and put it back on top again, this will help the tortilla to not stick or tear.
The tortillas should be about ¼ inch thick. If they are too thick they don't cook through well and have a gummy texture and if they are too thin they tear when you take them off the paper. It might take rolling out 1 or 2 first to get a hang of it. I found that rolling gently and not aggressively made for the most even and consistent tortillas.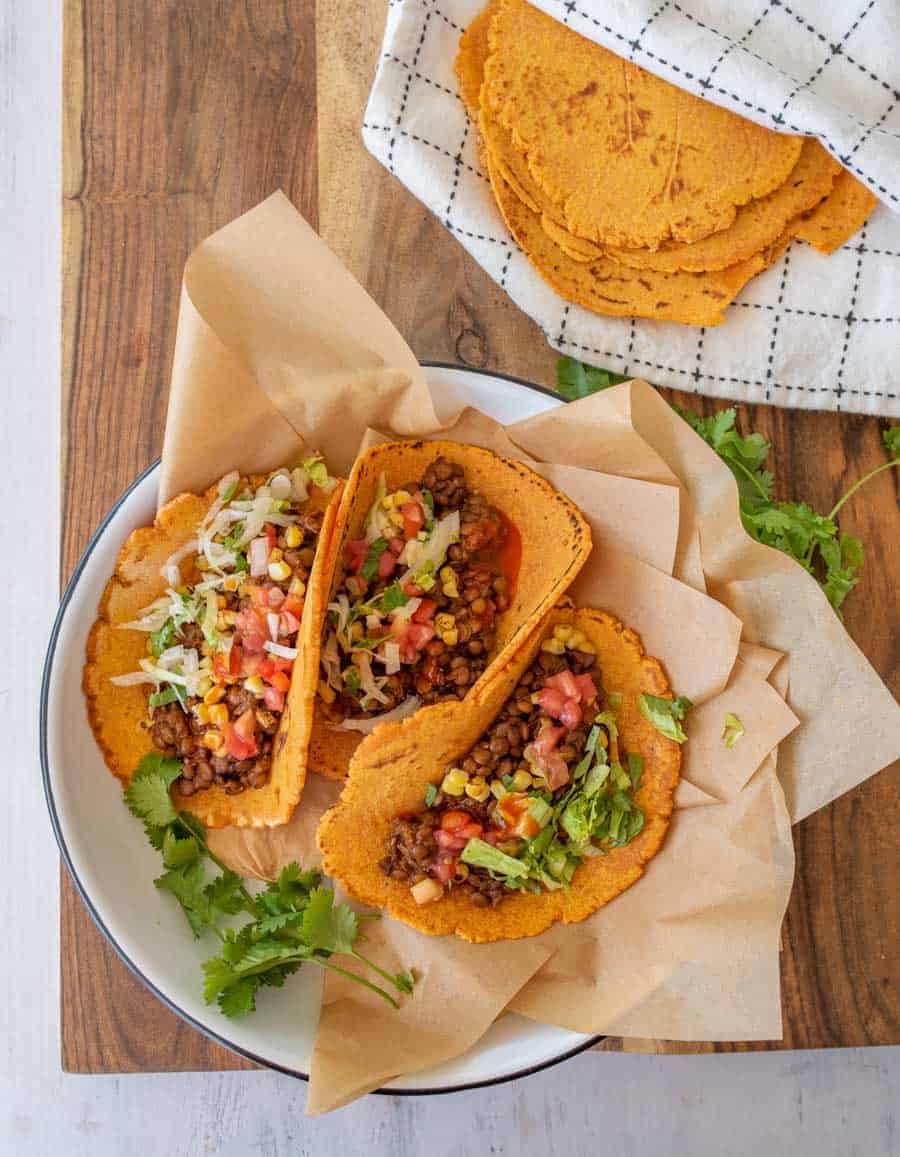 The texture of these homemade tortillas is what I love the most about them. The dough is easy to work with (not too sticky, not too tough to roll out by hand, not too brittle). And the texture of the cooked tortillas is perfect; they are tender, flexible without cracking or breaking, but not gummy or too thick. I know you'll be as pleased with them as I am!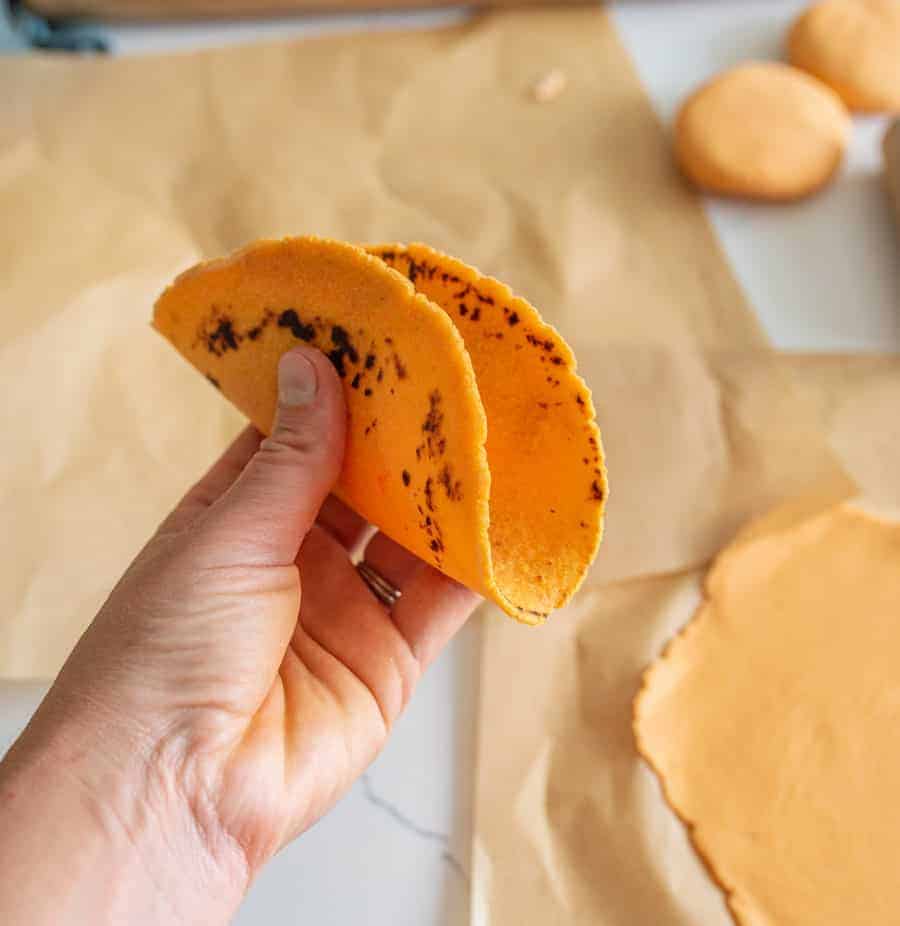 More recipes to fill your tortillas with:
Print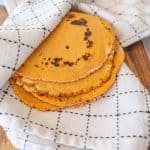 Sweet Potato Cassava Tortillas
---
Author:

Total Time:

32 minutes

Yield:

8

tortillas

1

x
Description
Easy to make gluten free tortilla recipe made from sweet potatoes, cassava flour, and salt. These cassava flour tortillas are gluten free, nut free, grain free, and made without a tortilla press!
---
---
Instructions
Preheat the oven to 400 degrees F.
Scrub the sweet potatoes clean with water and a scrubbing brush. Poke them a few times each with a fork to allow steam to release.
Place the sweet potatoes in a baking dish and place them in the oven.
Bake for around 45 minutes or until very tender.
Remove the potatoes from the oven and allow to cool slightly so they are easy to handle.
Remove the skins from the potatoes and place the peeled sweet potatoes in a blender or food processor. Process until very smooth.
Measure out 1 ½ cups of very smooth pureed sweet potato and place it in a mixing bowl.
Add cassava flour and salt to the bowl and stir to combine well.
Dump the sweet potato mixture onto a clean working surface and knead to combine. The texture of the dough should be like homemade play-dough, very soft and tender but not sticky. Add small amount of cassava flour as needed, kneading it in between each addition, until a smooth but not sticky texture is achieved.
Divide the dough into 8 equal parts.
Roll each piece of dough into a smooth ball.
Place 1 ball of dough on top of a piece of parchment paper. Place a second piece of parchment paper over the dough. Use a rolling pin to gently roll the dough out into a circle. The circle should be about 6-7 inches across and the dough should be about ¼ inch thick.
Preheat a cast iron or nonstick skillet over medium to medium-high heat.
Remove the top layer of parchment paper and then gently remove the tortilla from the bottom piece of parchment. Place it in the hot skillet and let it cook until lightly charred, about 1 minute, flip and repeat.
Remove the tortilla from the pan and place it inside of a clean dish towel to keep warm.
Repeat with remaining dough, stacking the cooked tortillas on top of each other in a towel to keep warm before serving.
Serve warm tortillas with your favorite taco toppings (might I suggestion this lentil taco filling? It's what is pictured in this post and really good!).
Notes
The potatoes can be roasted and blended ahead of time to shorten the prep needed on tortilla making day.
Store extra tortillas in an air-tight container and refresh in a warm pan as needed.
You can make a double batch of these tortillas and keep some in the freezer for quick meals. Just store in a freezer safe container, thaw in the fridge, and then refresh in a warm pan. They freeze very well.
Prep Time:

30 min

Cook Time:

2 min

Category:

side dish

Method:

stove top

Cuisine:

American
Keywords: gluten free tortilla recipe, cassava flour recipe, cassava tortilla, cassava flour tortilla recipe, sweet potato tortillas, sweet potato tortilla recipe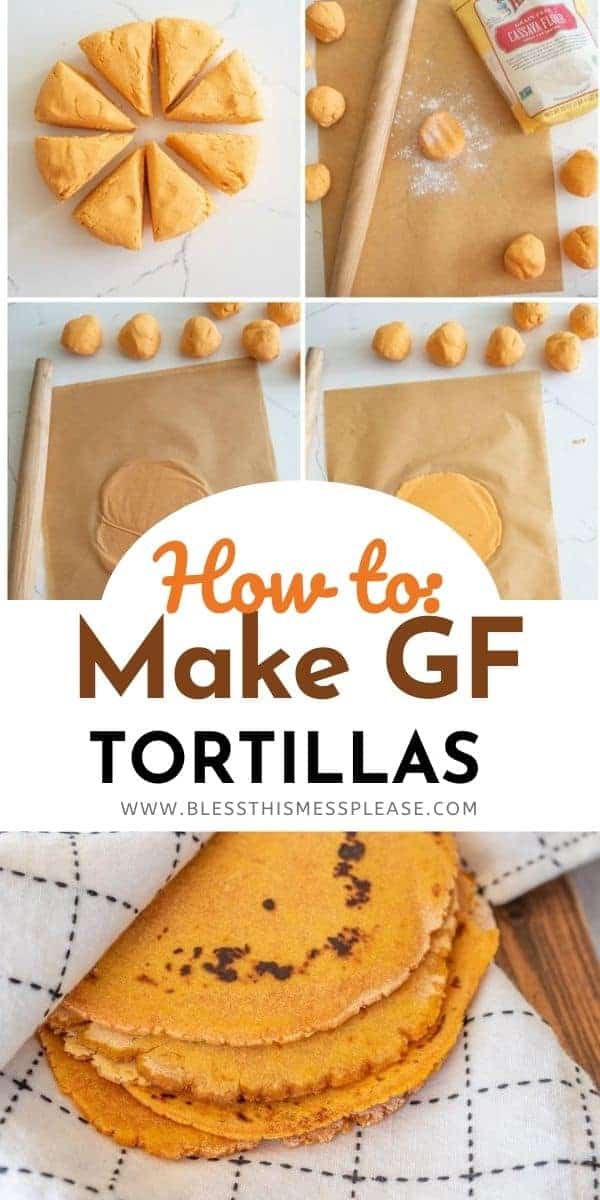 This post is sponsored by one of my favorite clients, Bob's Red Mill. All opinions are my own.
Cassava flour and sweet potato tortillas are easy to make and great for anyone who wants to cook gluten free, grain free, or nut free. The hint of sweet in the tacos is perfect for savory taco fillings.