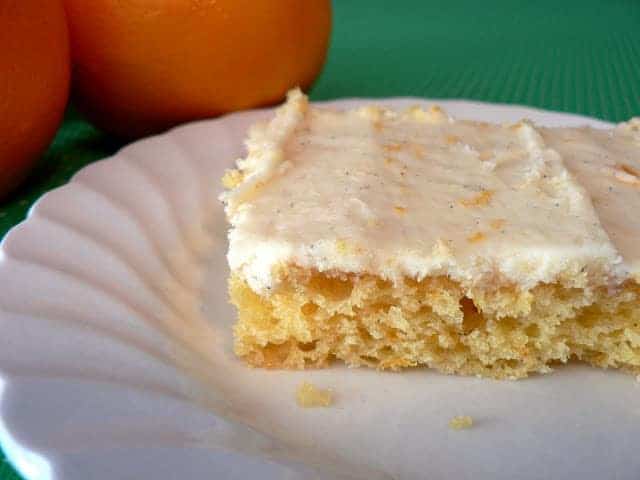 This easy cake recipes start with a boxed cake mix! I know, I know… even I bust out the cake mix now and again. This is a great way to make a box mix fancy. No one will even know you didn't start from nothing. Fresh Orange Cake with Orange Vanilla Bean Icing is so good and so easy.
I used fresh oranges in this recipe because I bought a whole case. Yes, a huge 72-count case is sitting on my fireplace. It was only $8, they are delicious because they are in season, and who doesn't need a huge box of oranges? We've had the box for 2 weeks and it is over half gone.
This cake tastes just like an orange Dreamsicle. Mmmm Orange Dreamsicle Cake. It travels well, feeds a crowd, and can be made a day in advance. What's not to love? Make this for your next gathering and be prepared to share the recipe; people will ask!
Fresh Orange Cake with Orange Vanilla Bean Icing
Printable Recipe
4 oranges, zested and juiced (1 1/4 cups juice)
1 box yellow cake mix
3 eggs
1/2 cup butter, melted and cooled
additional butter for pan
Orange Vanilla Bean Icing
3/4 cup butter, at room temperature
1 orange, zested and juiced
2 tsp. vanilla bean paste (Not sure what that is? I've explained it here), or pure vanilla extract
3-4 cups powdered sugar
Orange slice candy, optional
For the cake:
Butter a sheet pan with sides (jelly roll pan) and set aside. Preheat oven to 350 degrees. Pour the cake mix into a large mixing bowl. Strain the orange juice to remove big chunks. Add the orange juice, orange zest, eggs, and melted butter to the bowl. Mix together with a whisk until light and creamy, about 2 minutes. Pour into buttered pan and use a spatula to spread it out. The consistency is a little different than a normal cake mix, so you need to be sure to spread the batter to the edges; it won't go there on it's own. Bake for 17-20 minutes or until the top is lightly golden and the cake springs back when touched.
While the cake is baking, make the icing.
For the Orange Vanilla Bean Icing
In a medium bowl whisk together the butter, orange juice (unstrained, the pulp is pretty), orange zest, and vanilla bean paste. Add 1 cup of powdered sugar and whisk it all together until you get a smooth wet paste. This is the time to get all of the lumps out. Add the powdered sugar, one cup at a time, whisking after each cup, until you get a soft icing consistency, around 3 1/2 cups of powdered sugar. The icing should be thin but not run off of a spoon dipped into it. Ice the sheet cake in the pan after it has cooled completely. Garnish with orange candy slices if you'd like.