You are in for a treat with this classic beignet recipe. Beignets are like an easy version of donuts. They are pillowy, deep fried, dusted with powdered sugar, and to die for!
If you have never made beignets at home, you are missing out. The dough is fast to make and rises in the fridge. Once you fry them, they puff up like a balloon and they are hallow on the inside. Since they are light and airy, you can indulge in more than one. YUM!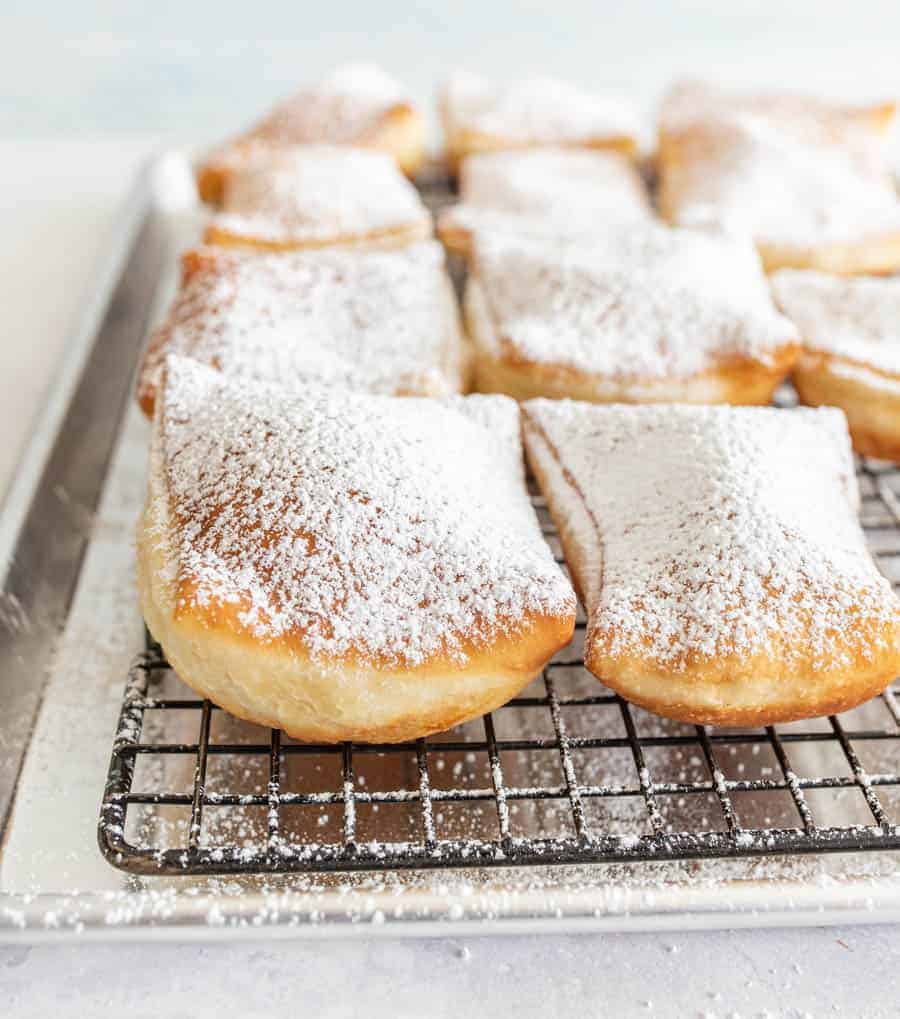 Beignets
Beignets originate from France and can be translated in English to mean fritter. They are extremely popular in New Orleans. When you make these delicious treats at home it's just like being transported to the French Quarter.
Classic beignets are best served warm. You can refrigerate the dough for up to 2 days and bring the dough back to room temperature when you are ready to fry them up. If I'm baking for a crowd I like to double this recipe because they disappear fast!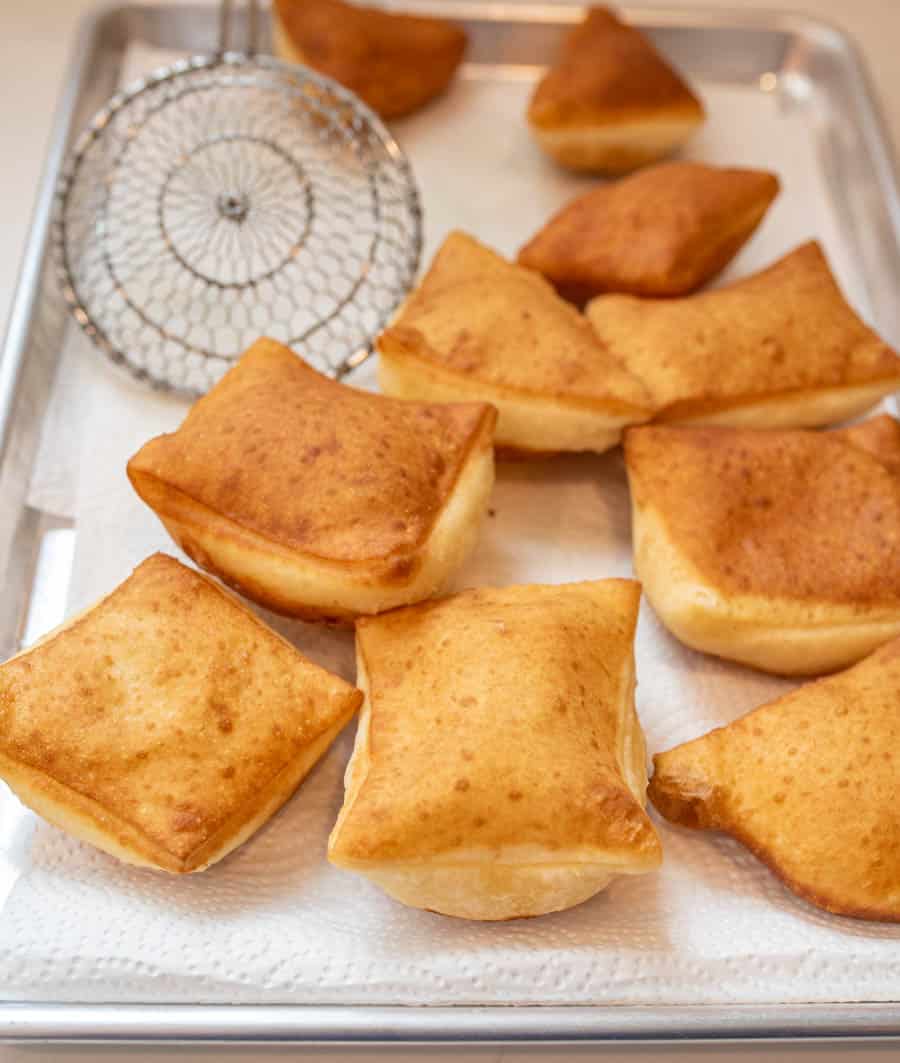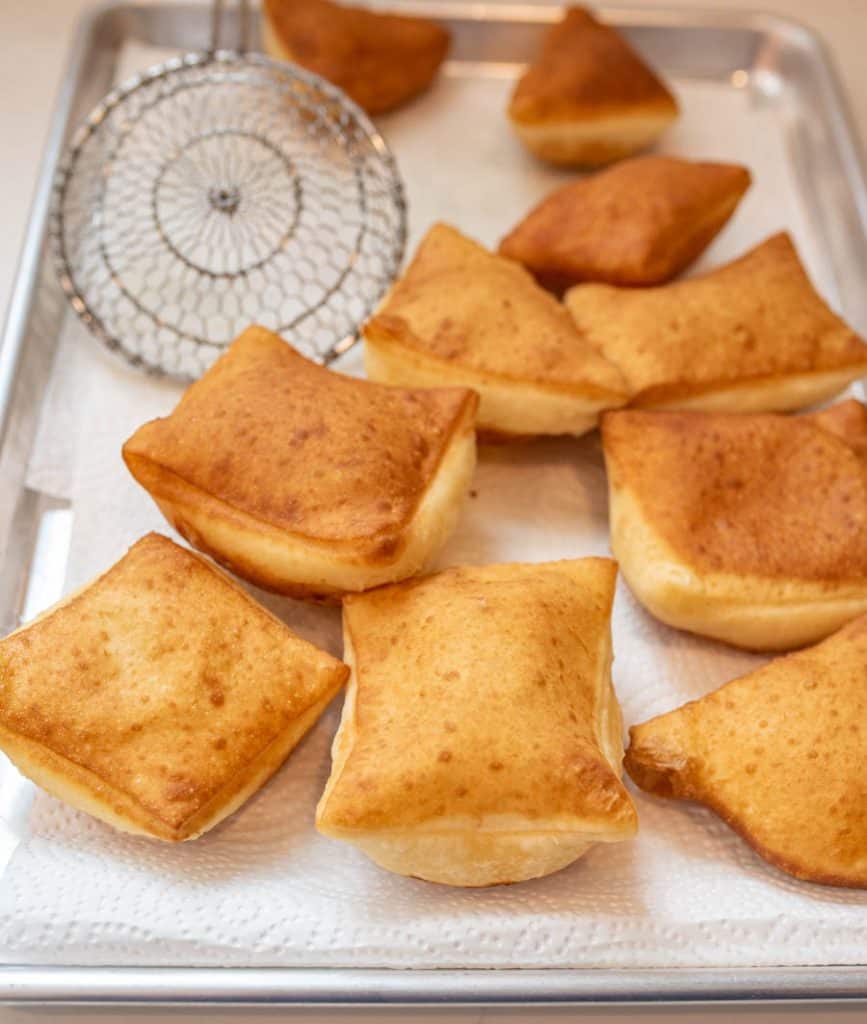 What's the Difference Between a Beignet and a Doughnut?
They are both similar actually. Both donuts and beignets are made from yeast and deep fried producing a delicious treat. They differ in shape and by a few ingredients. Beignets are a lot lighter than a donut as they are hollow in the middle.
What do you eat with beignets?
You can pair beignets with your favorite hot drink, add some fruit on the side, or just eat it as dessert. Dipped in chocolate sauce would also be delicious. You really just can't go wrong.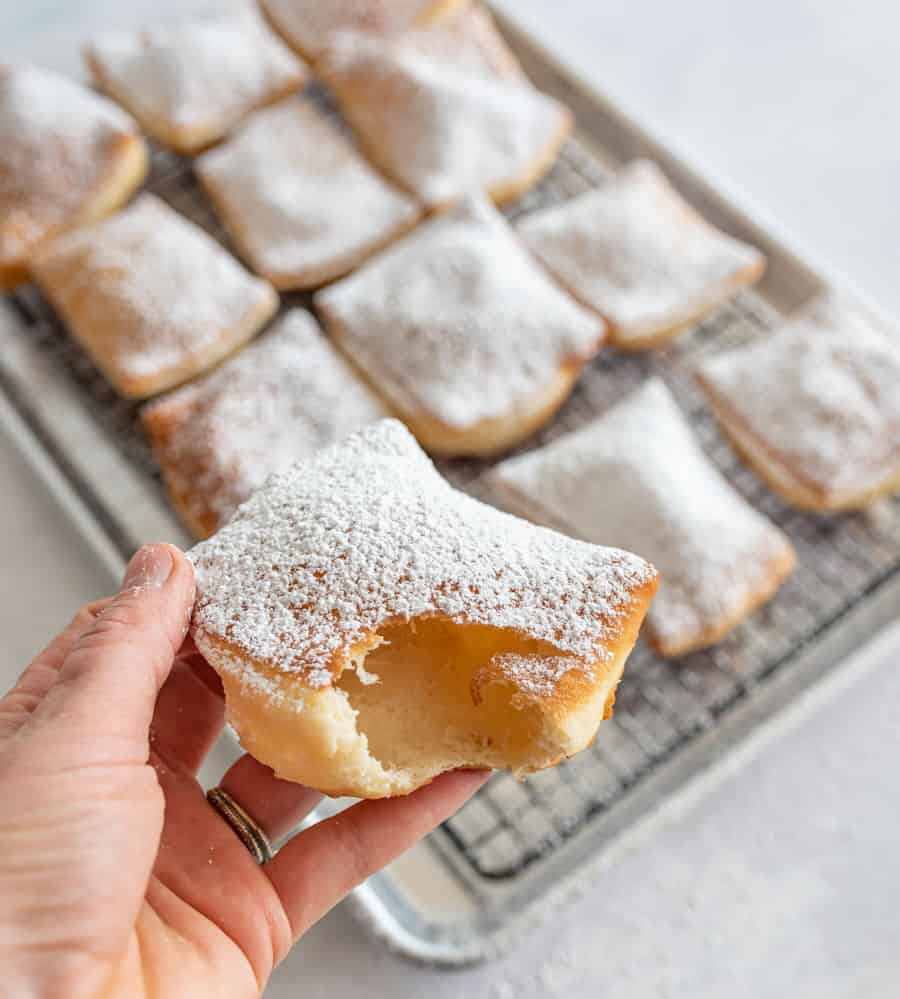 How do you pronounce beignets?
Beignet is a French word. The proper pronunciation is ben-yay.
What do beignets taste like?
Beignets taste like a light, airy fried bread dough, they don't actually have a ton of flavor on their own. The powered sugar adds just the right amount of sweetness that you need.
Do I need a deep fryer to make this beignet recipe?
You can make beignets in a deep frying pan like dutch oven or even a deep pot. No one likes hot oil splashing on them, so the deeper the better. You'll need 2-3 inches of oil in the bottom of your pan.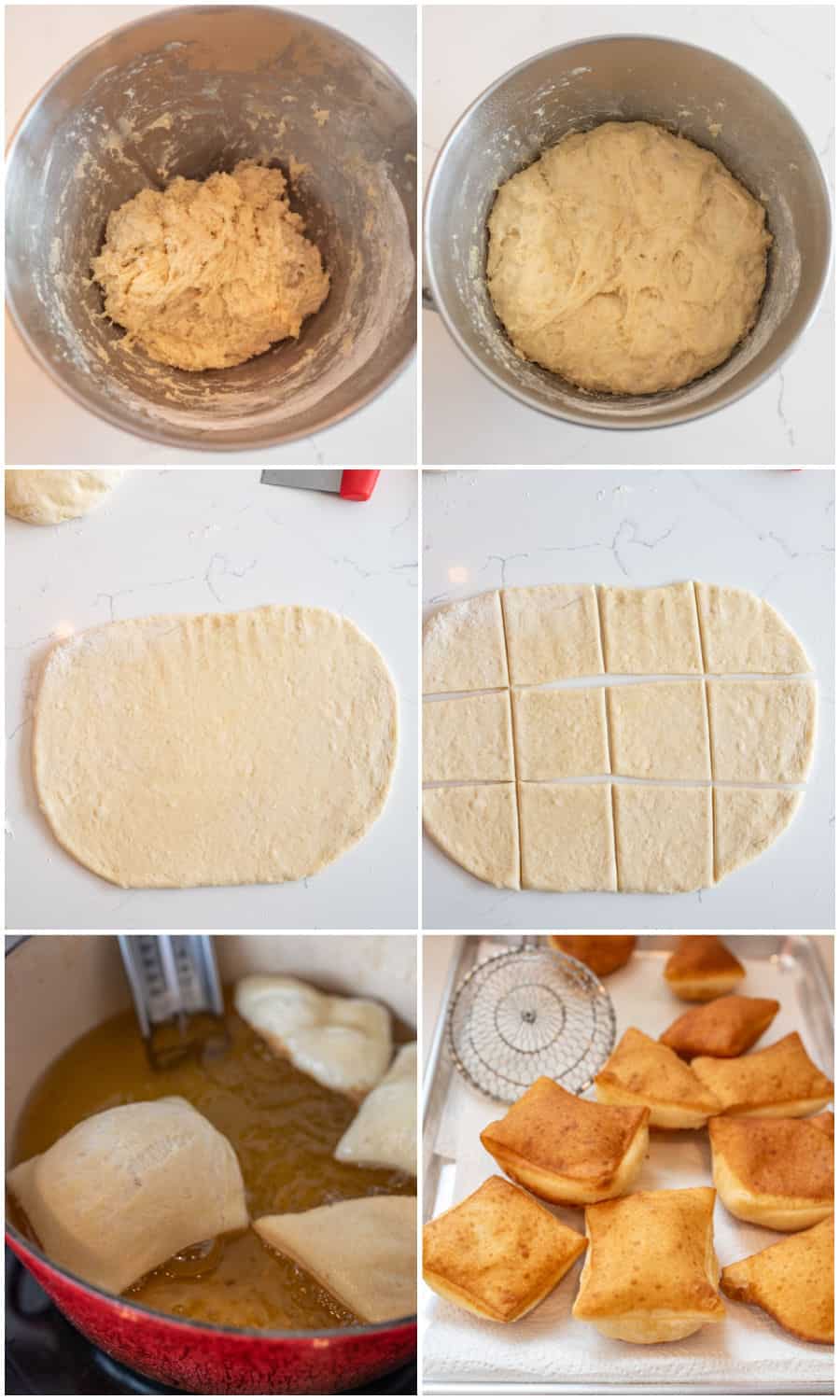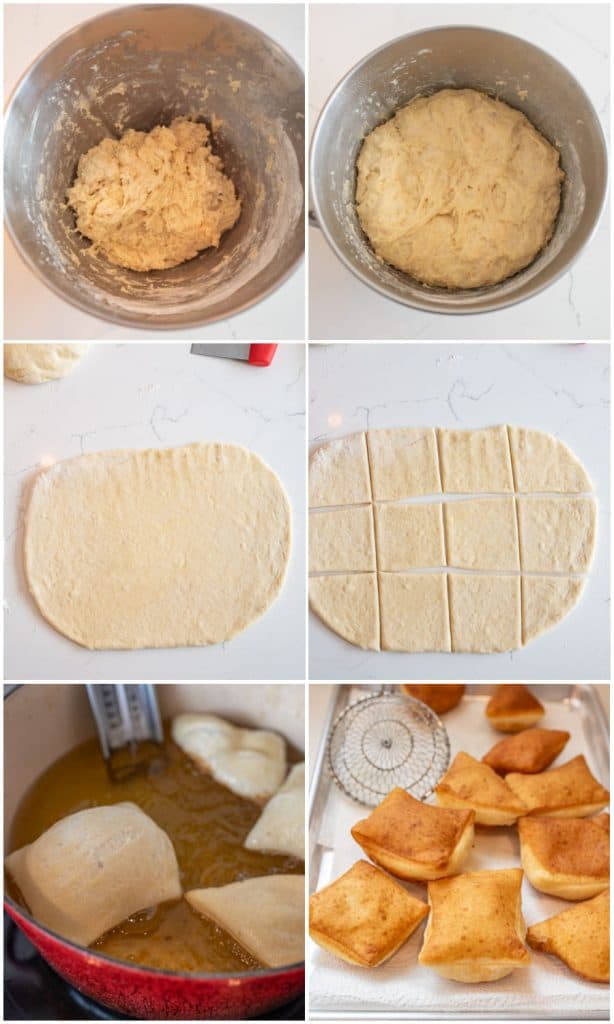 You'll love how easy these are to make. I think they are much easier to make than donuts and faster too. We have started a tradition where we make these on the kids birthdays and call them Birthday Beignets. It's been such a fun thing that we all look forward to.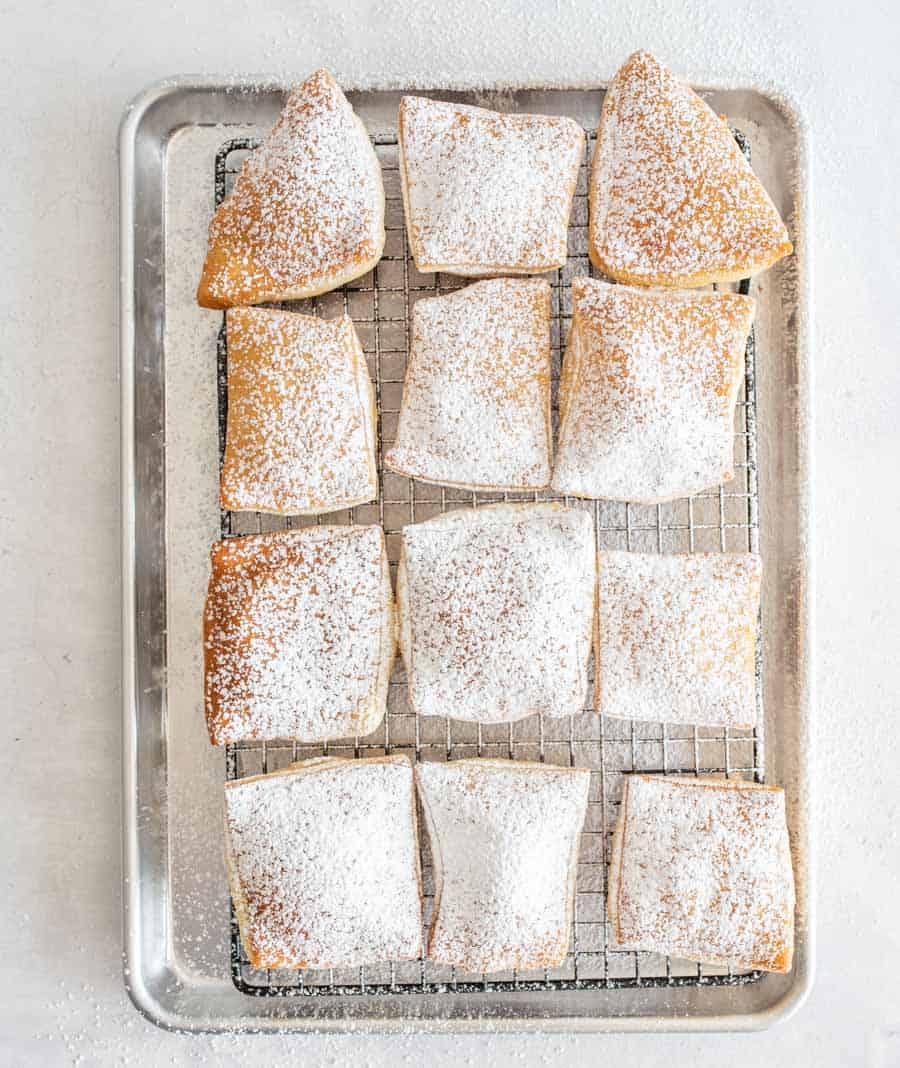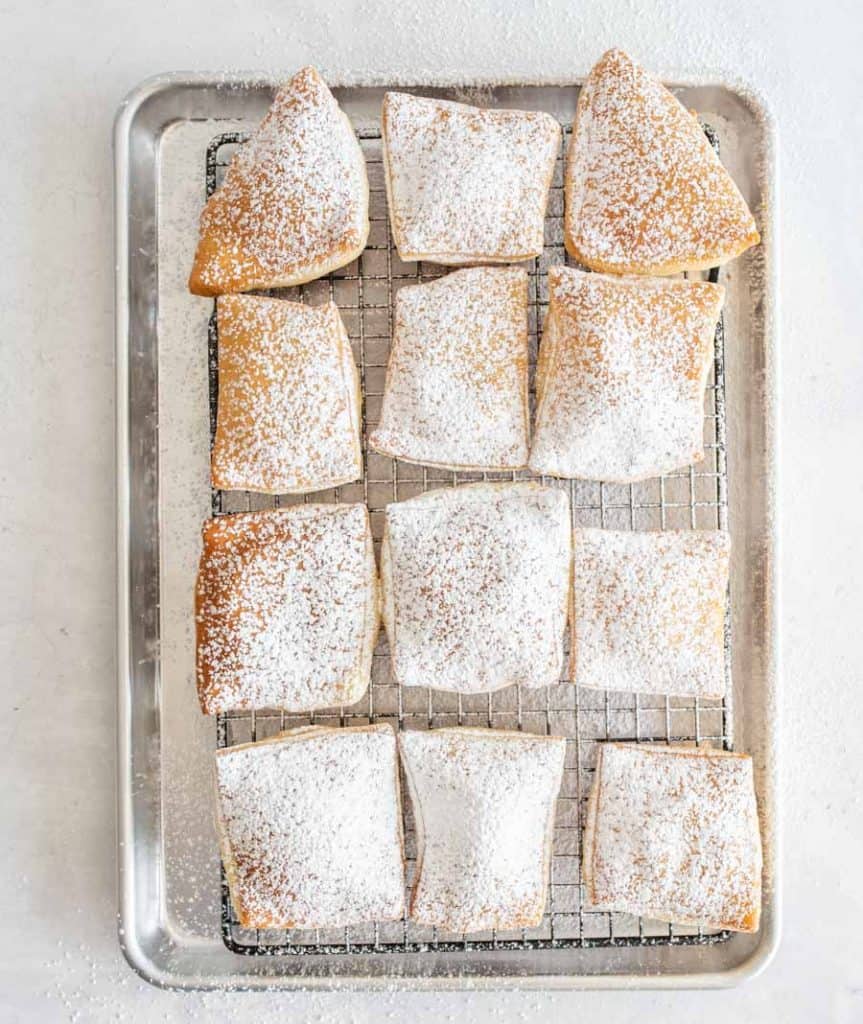 More recipes:
Print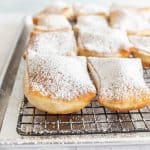 Easy Authentic Beignets
---
Author:

Total Time:

1 hour 40 min

Yield:

24

beignets

1

x
Description
You are in for a treat with this classic New Orleans beignet recipe. Beignets are pillowy, deep fried dough, dusted with powdered sugar, and to die for!
---
1 cup

warm water (110℉)

1 tablespoon

instant or rapid-rise yeast

3 tablespoons

granulated sugar

2

large eggs

2 tablespoons

vegetable oil

3 cups

all-purpose flour

¾ teaspoon

salt

Confectioners' sugar (at least 1 cup)

Additional

2 quarts

of vegetable oil for frying
---
Instructions
In a large bowl, combine the water, yeast, and sugar. Let sit until foamy, about 5 minutes.

Whisk in the eggs and 2 tablespoons of oil into yeast mixture.

Add the flour, salt and stir together until well combined. The dough will be a bit sticky, that's ok.

Cover the bowl tightly with plastic wrap (sometimes lightly wetting the edge of the bowl helps the plastic wrap to stick on tightly). Refrigerate dough for about an hour, until it has nearly doubled in size.

Prepare for frying the beignets by setting a wire rack into a rimmed baking sheet. Line a second baking sheet with a double layer of paper towels.

Pour the 2 quarts of oil into a heavy bottomed Dutch oven or large skillet, it should fill the bottom of the pot 2-3 inches. Heat over medium to medium-high heat.

Transfer dough onto a floured counter and cut in half. With one half of the dough, pat into a rectangular shape with floured hands, flipping to coat with flour. Roll dough out into ¼-inch-thick rectangle (about 12 by 9 inch).

Using a pizza cutter, cut dough into twelve 3-inch squares.

Repeat this process with the second piece of dough.

When the oil is 350℉ (using a thermometer is the easiest way to gauge this), add a few beignets at a time (don't over crowd the pan). Fry until golden brown, about 3 minutes total, flipping halfway through frying.

Transfer beignets to the pan with the paper towels. Repeat with remaining dough.

When they are cool enough to touch but still hot place them on the rack set inside the pan. Dust heavily with confectioners' sugar and serve warm.
Notes
Don't let a little frying scare you! It's so fun to know how to make things like this even if the cooking method might be new to you. A heavy bottomed pan, a thermometer, and a spider strainer (to get the food out of the hot oil) will make all the difference.
Don't be stingy on the powdered sugar and consider serving them with a shaker of powdered sugar on the side so folks can add more as they like while eating. That's how they are served in New Orleans.
Prep Time:

30 min

Cook Time:

10 min

Category:

dessert

Method:

fry

Cuisine:

American
Keywords: how to make beignets, beignets, beignets recipe, beignet recipe, New Orleans beignet recipe, Cafe Du Monde beignets, Cafe Du Monde beginets recipe
Here's not so great picture of beignets from Cafe Du Monte in New Orleans when we visited (and loved it) in 2017. If you've been or if you haven't, you will LOVE this beignet recipe.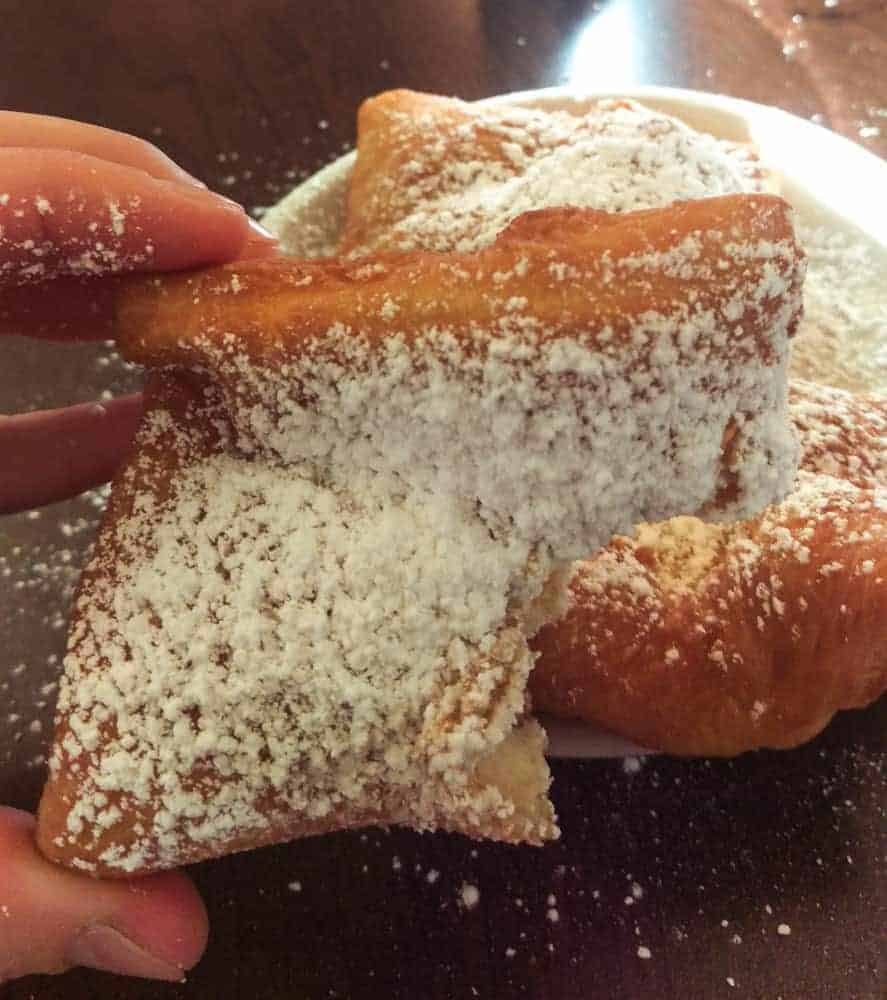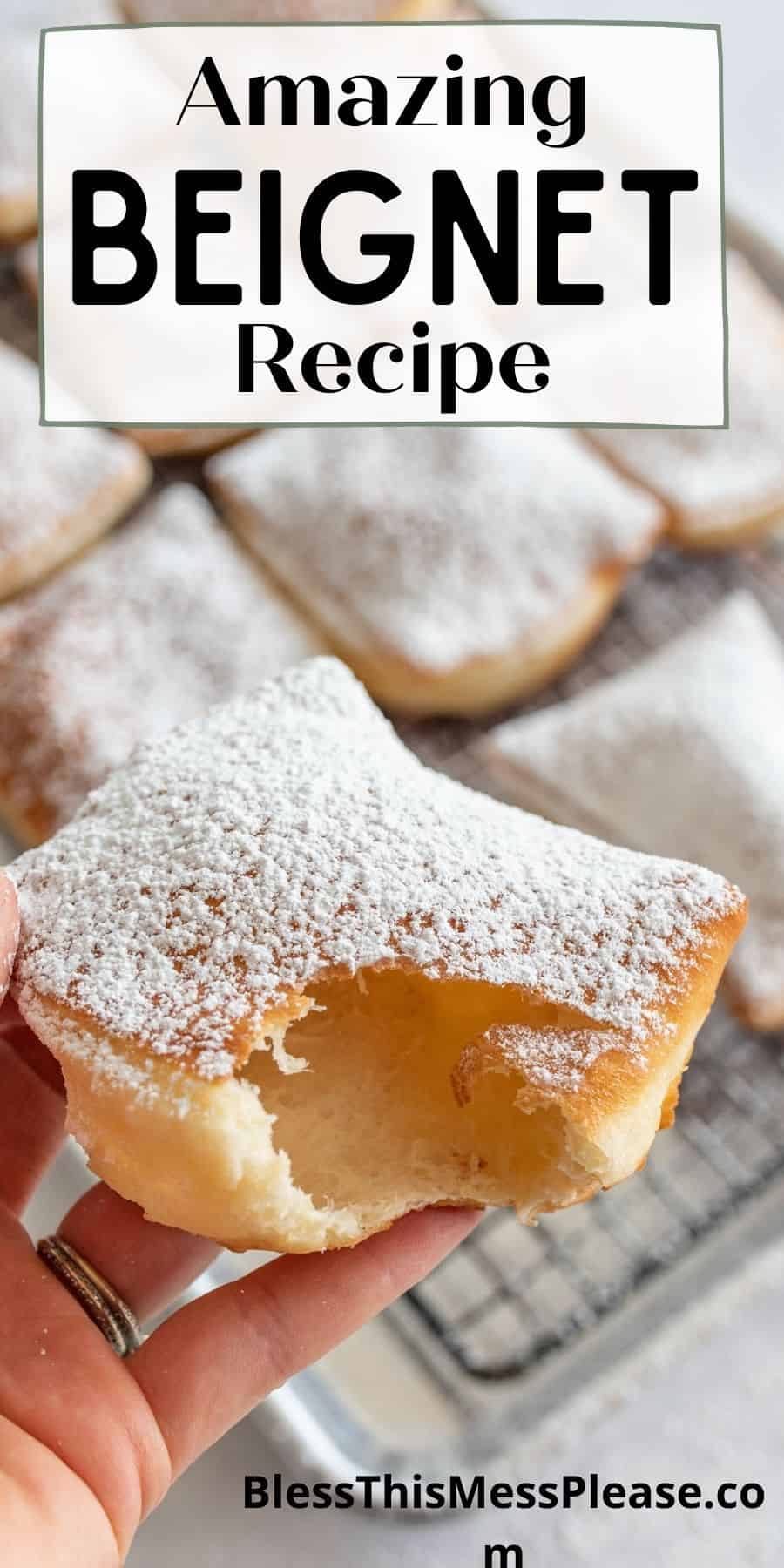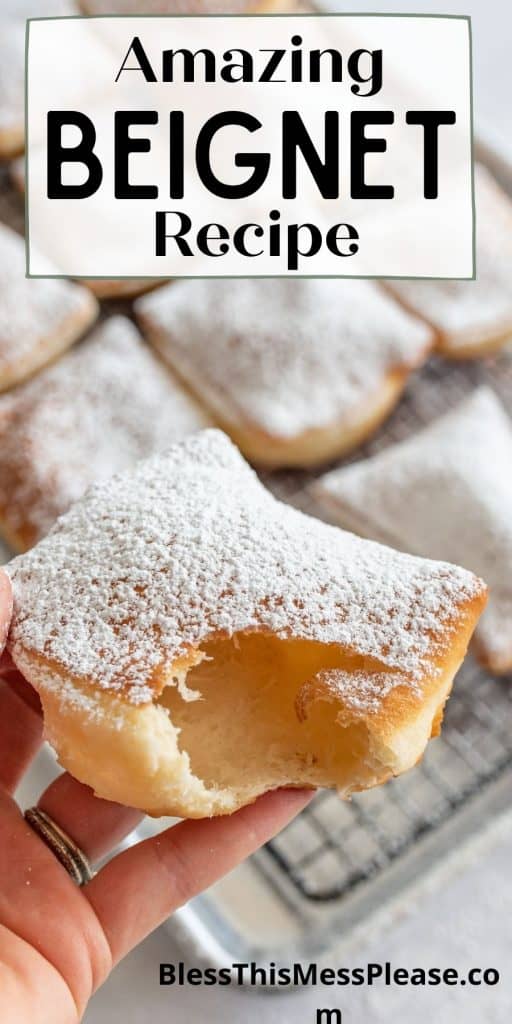 This beignet recipe is so fun to make at home. Don't let frying deep frying or working with yeast dough scare you. Your whole family will love this soft, pillow-like, comfort food.