Divinity Candy is a smooth, pure white candy that tastes delicious and it doesn't take much time to make.
This sweet candy is really popular in the south and is a holiday time classic. It is a fun little treat because it isn't super well know but people rave about it.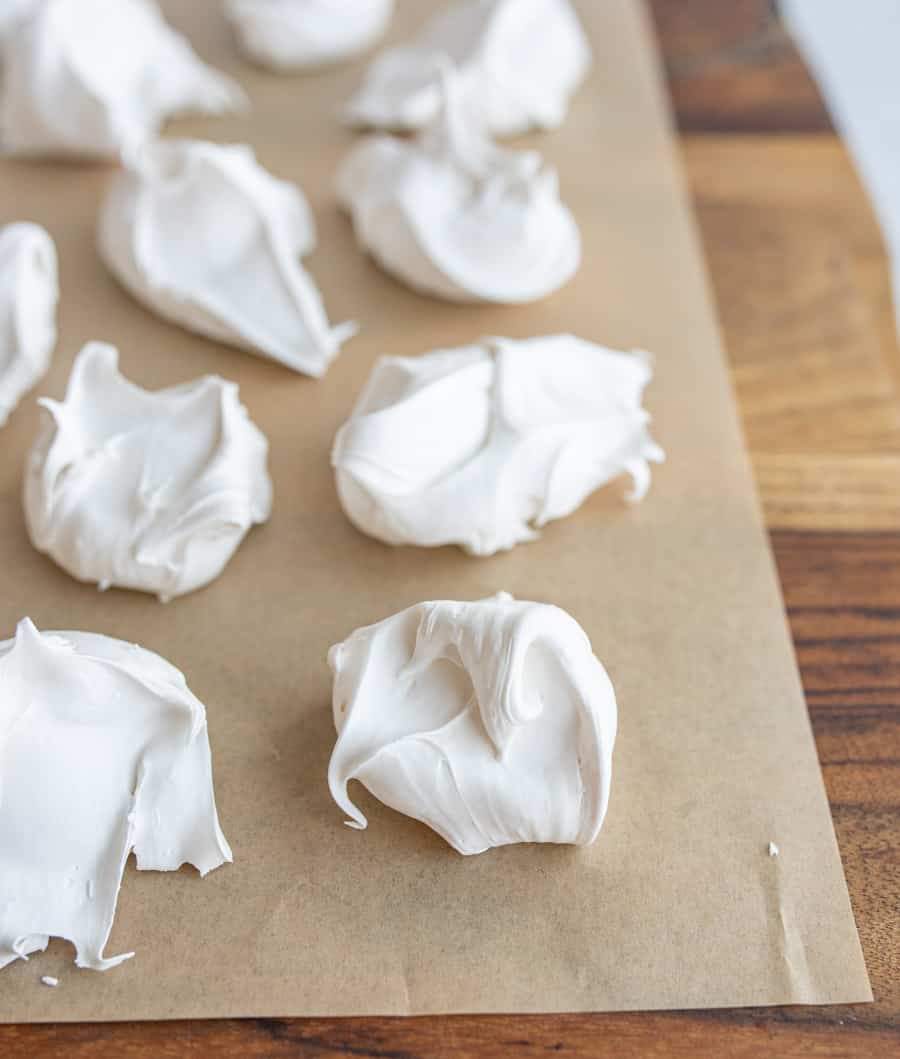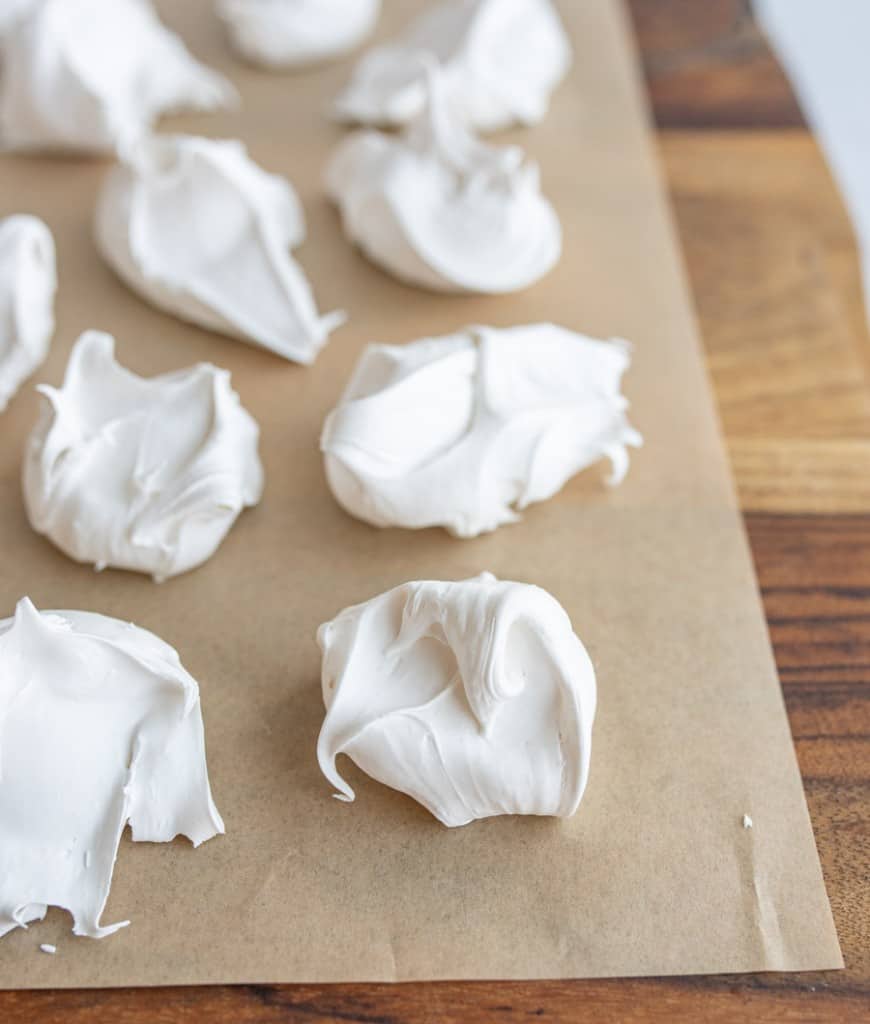 Divinity Candy
I read somewhere that when someone first tasted this nougat like candy they exclaimed that is was "Divine." Hence, the name Divinity. It is most popular in the South and if you ask anyone from there they will tell you that it is a recipe their grandmothers made frequently.
Divinity is light, airy and super sweet. It reminds me of a cross between fudge, nougat and a marshmallow. It is made from sugar, corn syrup, water and egg whites. You can get creative with Divinity by adding in fruit and nuts or just keep it simple with vanilla. Either way, these little mounds are perfect for when you need a sweet treat. They go great on treat plates at Christmas too.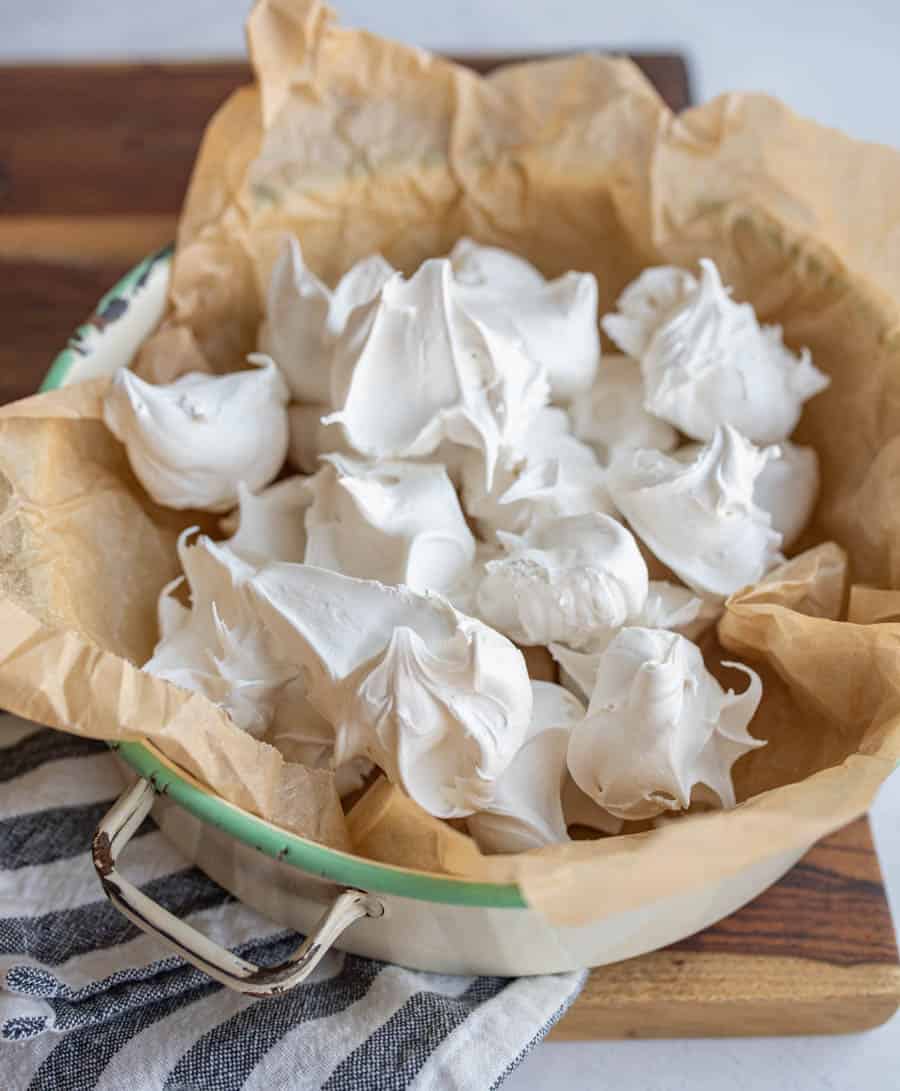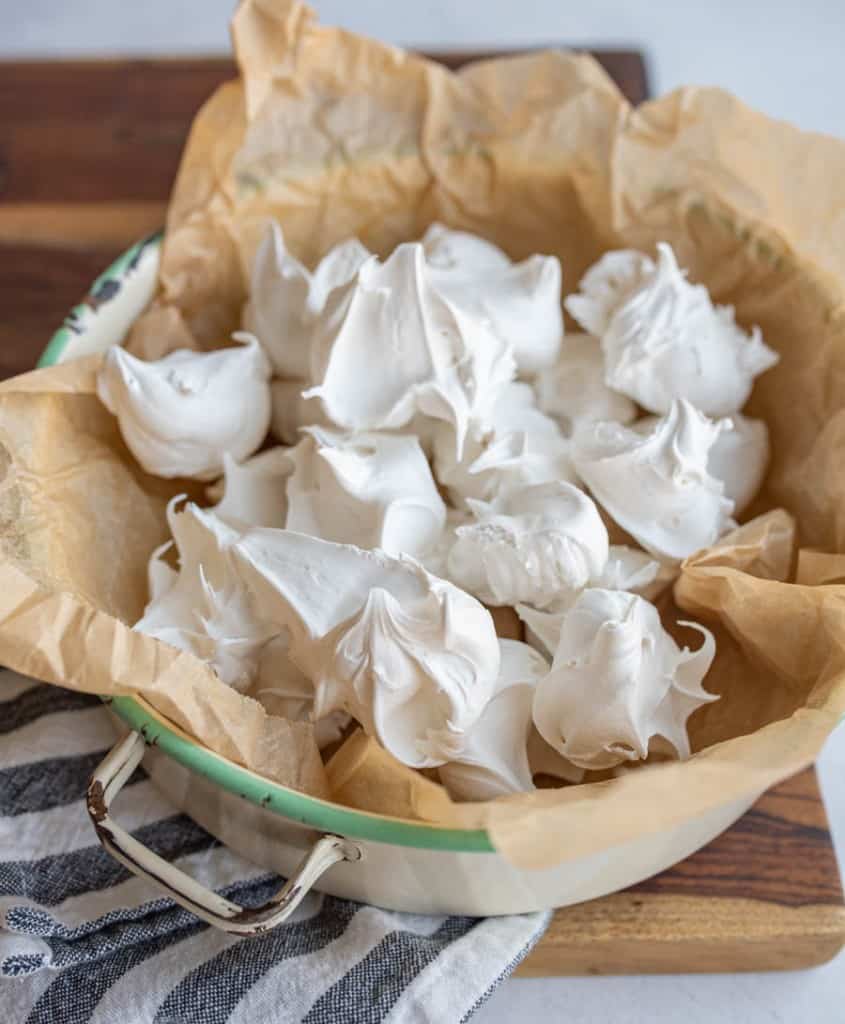 Frequently Asked Questions:
Is divinity the same as meringue?
They are similar in the fact that they are both made by using sugar and egg whites. The textures are different however. When making Divinity, the sugar syrup is cooked to 250 degrees so that it is more firm and has more structure than meringues do.
How long will divinity candy keep?
Divinity will be best when eaten within two weeks. After that it will harden too much and won't be as delectable. Store at room temperature in an airtight container or you can freeze up to two months.
How do I get divinity off the spoon?
Divinity will be a little bit sticky to work with. I like to use the 2 spoon technique. One spoon to scoop and the other to get the candy off.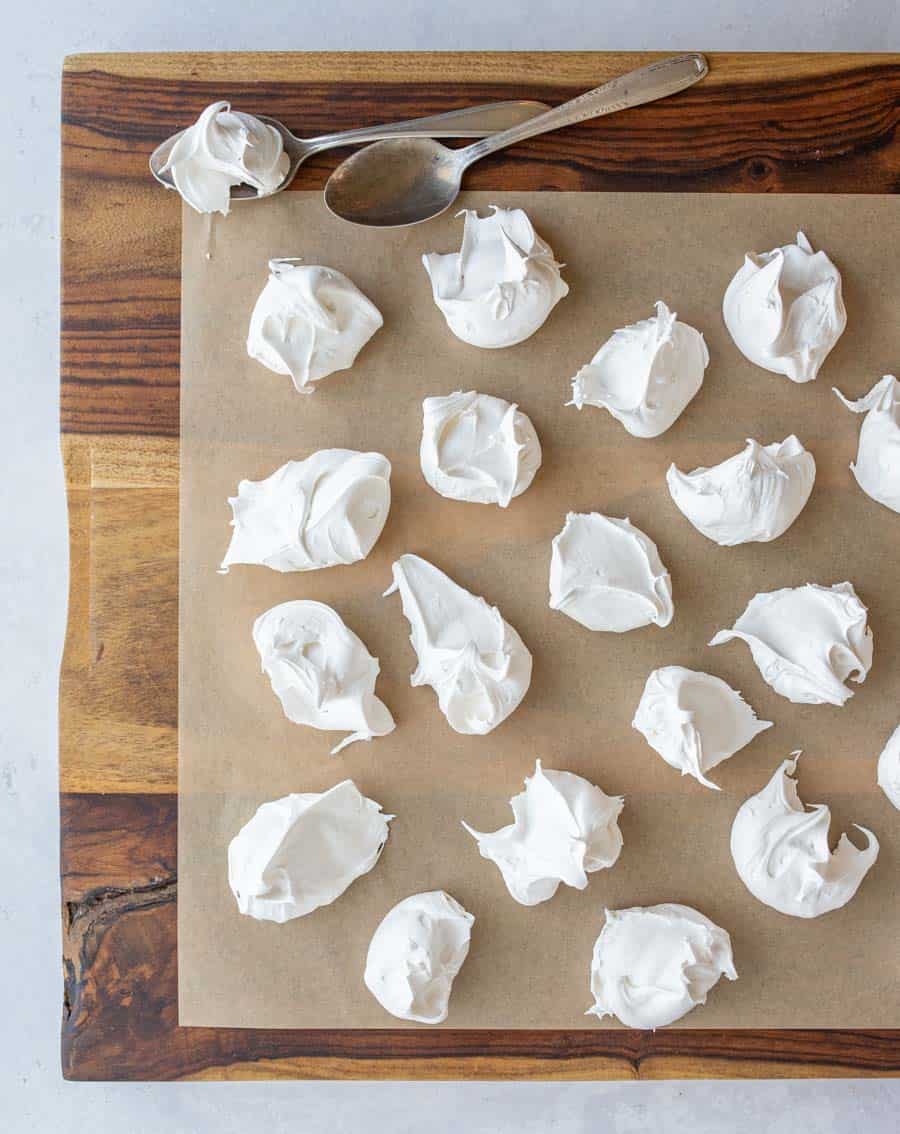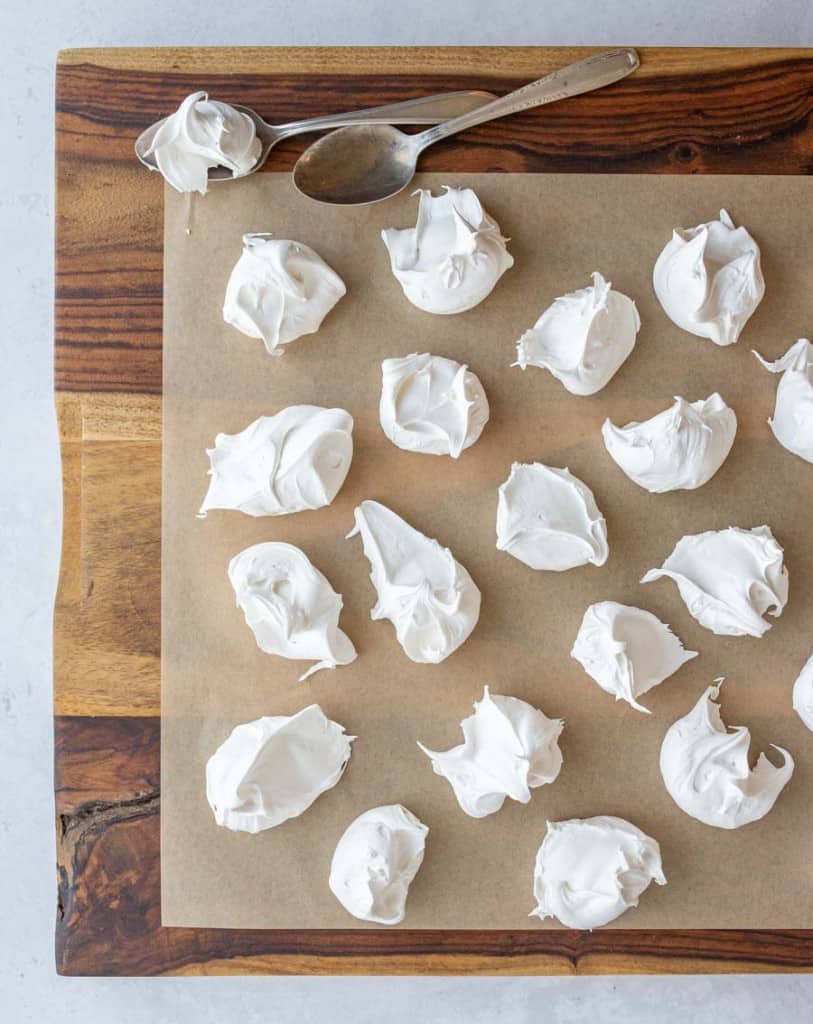 How to tell when Divinity is done:
This is the most difficult part of making these airy, little mounds. When mixing the divinity candy, watch for it to lose it's sheen and glossy appearance. When it isn't sticky anymore then it is ready to drop mounds onto the pan to set up. If you find that when you lift the beaters the candy continues to fall into the bowl in a ribbon-like fashion, then you need to keep mixing a bit longer.
You can also do a test mound by dropping a spoonful on wax paper. If the mound holds its shape then it is ready. If the divinity spreads into a puddle than it will need to be beaten more.
Does the weather affect making divinity candy?
Yes! If you can, try to make divinity on a cool day that has low humidity. Sugar attracts water so humidity will indeed affect how your divinity turns out. You can run into issues on high humidity days.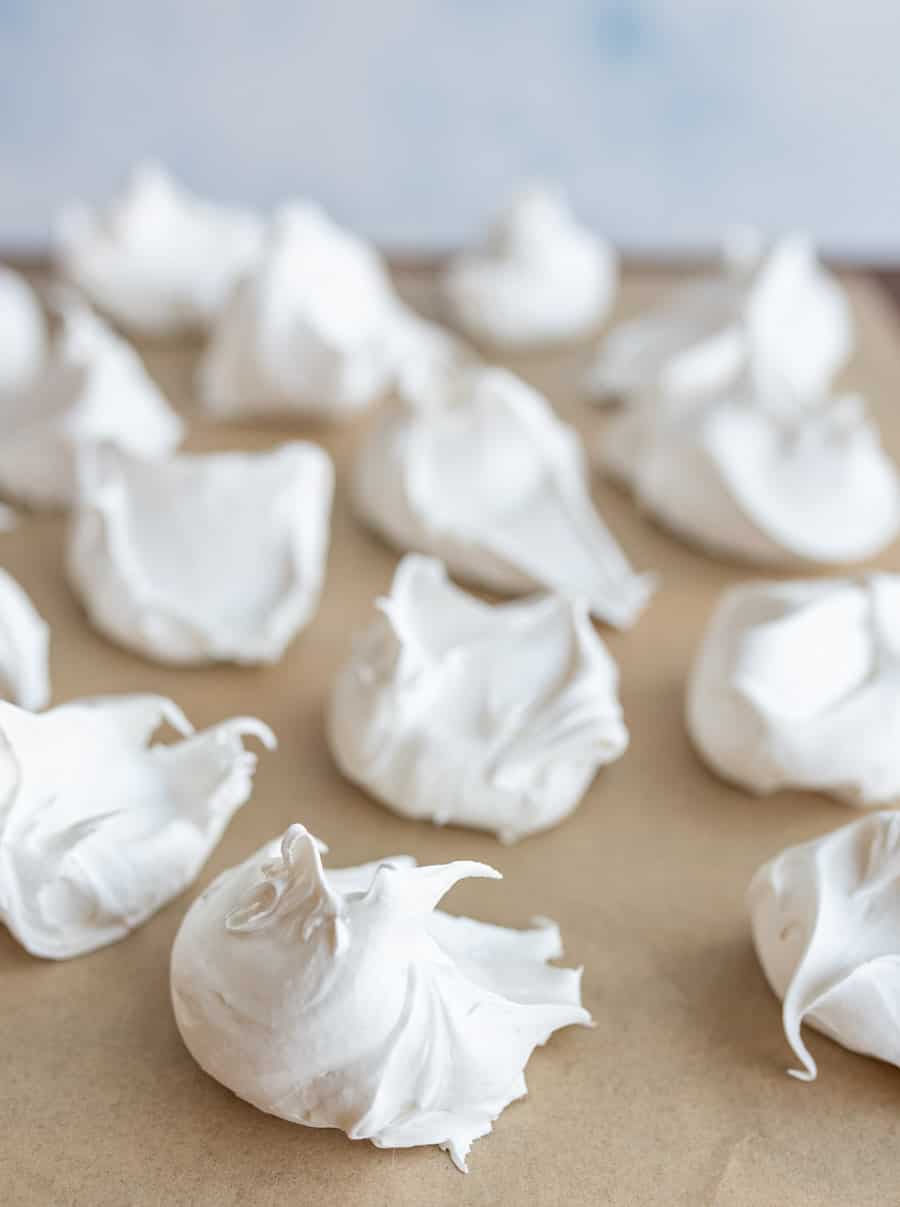 More candy recipes:
Peanut Brittle (coming soon)
Buckeyes (coming soon)
If you've tried this homemade divinity recipe or any other recipe on Bless this Mess, then don't forget to rate the recipe and leave me a comment below! I would love to hear about your experience making it. And if you snapped some pictures of it, share it with me on Instagram so I can repost on my stories AND add your photo to your comment so that other can see your creation.
Print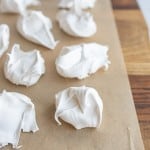 Divinity Candy
---
Author:

Total Time:

20 minutes

Diet:

Gluten Free
Description
Easy homemade Divinity Candy is a smooth, pure white candy that tastes sweet and delicious and it is made with simple ingredients. A holiday favorite that goes great on a cookie plate for friends and family!
---
2

room temperature egg whites
Pinch of salt

3 cups

granulated sugar

½ cup

water

½ cup

light corn syrup

1 teaspoon

vanilla
---
Instructions
Before beginning, prepare a place to spoon out the divinity, by placing a large sheet of parchment or wax paper on the counter and place 2-4 regular spoons on it.
Beat egg whites and salt in a stand mixer on high speed until stiff peaks form.
In 3 quart saucepan combine sugar, water, and corn syrup
Cook over medium high heat until it "spins a thread".
This can be determined by using a candy thermometer and cooking until it reaches 220-230, or when you pull a spoon out of the syrup and let the liquid drip off the sugar forms what looks like thread hanging off the spoon. You are looking for threads that are 2-3 inches long.
Once this stage is reached immediately turn your mixer with the egg whites to high and slowly add sugar syrup in a very slow steady stream. Move quickly at this stage you don't want your sugar to have a chance to continue cooking.
Add vanilla and continue whipping on high until the mixture holds a peak. You are looking for it to lose a little bit of shine and if you pull a spoon out a little mountain forms on the spoon. This is generally 5 minutes of mixing (over mixing can cause the end candy to be crumbly)
Quickly take it off the mixer and using regular spoons scoop out little balls of mixture and place on prepared parchment paper. They should have a nice bent over peak (as seen in the pictures).
Let set at room temperature until fully set.
Notes
The egg whites can have no amount of yolk in them, if you break the yolk and even get a streak of yellow in the egg whites, the fat of the yolk will prefect them from whipping to stiff peaks.
You also need to work with very clean bowls/whisks/etc. when whipping your egg whites because any grease left on the bowls or beaters will prevent the eggs whites from whipping properly.
It's a little tricky to know when the divinity is done, it takes a little practice to get a feel for it in my opinion. That being said, if you under cook it, you'll have divinity that is a little soft and sticky and if you over cook it you'll have divinity that is a little dry or chalky. They still taste great even if the texture isn't pillowy smooth. We've never thrown a "bad batch" away 🙂
This recipe if from my sister-in-law Beth and she got it from her Granny. It's an old family favorite that probably looks a lot like your family's recipe.
Prep Time:

10 min

Cook Time:

10 min

Category:

dessert

Method:

stove top

Cuisine:

American
Keywords: how to make divinity, divinity recipe, divinity candy, divinity candy recipe, white divinity recipe, divinity without nuts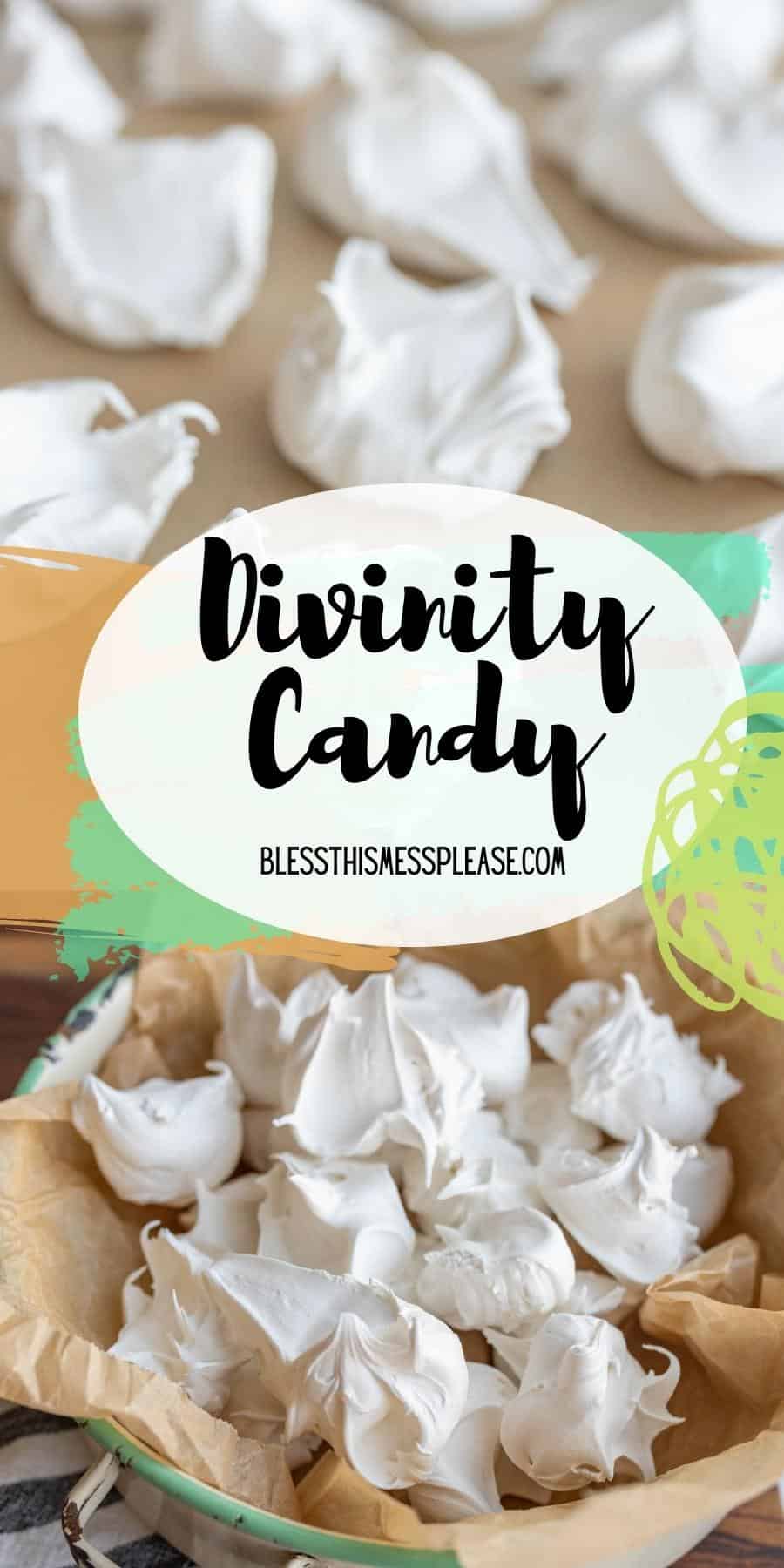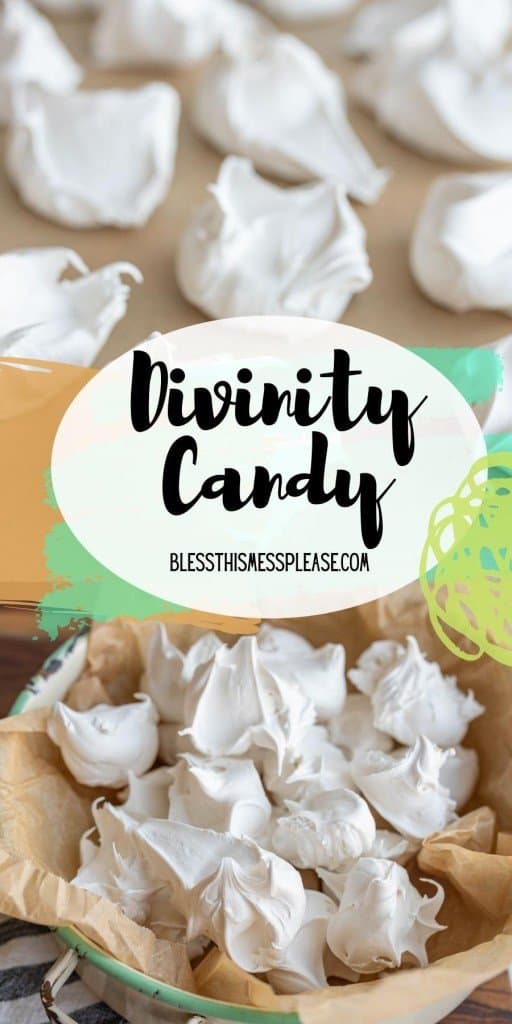 Old-fashioned Divinity Candy will steal the show with it's sweet taste and cloud like appearance. It is delicious and always a favorite treat.