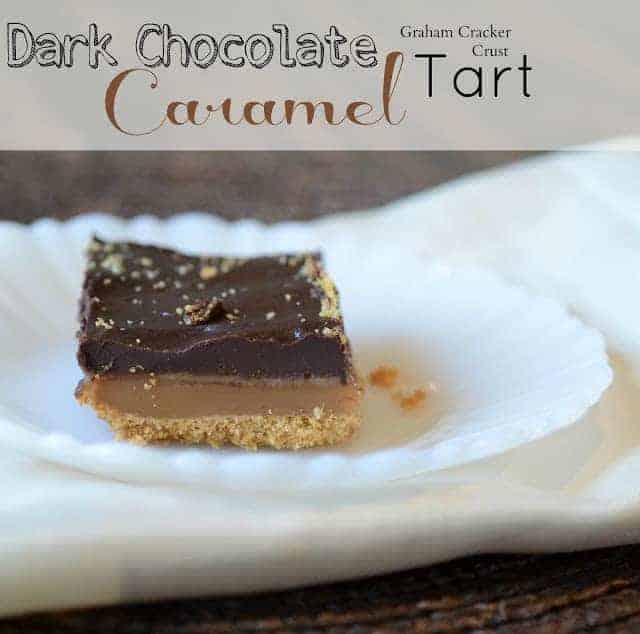 Once in a while Amazon will have $5 magazine subscriptions  and when they do I normally snatch something up. I love magazines because they have lots of concise information that is fun and easy to read in short spurts. Can you tell I'm a mom or what? Anyhow, I'm getting Family Fun, Better Homes & Gardens, and Country Living right now (yup, each was only $5 for the year!) which is a perfect mix for me. Country Living didn't have tons of recipes this past month, but the few they did were amazing and I'm working my way through each.
You can thank those $5 magazines subscriptions for this little beauty because it's a keeper. Now, I don't think I'd call this a tart, but the more I thought about it the more I couldn't think of anything else to call it, so tart it is, even if it isn't much of a tart in my book. The magazine had you add some toasted pecans to the caramel and they called it Turtle-Candy Tart. That sounds pretty good too, huh?
Dark Chocolate Salted Caramel Tart
Adapted from Country Living Magazine September 2012 issue
14 graham crackers, crushed
1/3 cup granulated sugar
1 cup butter, melted (2 sticks), divided
1 cup light brown sugar
1 cup sweetened condensed milk
3/4 tsp. vanilla
2 1/2 cups heavy whipping cream, divided
8 ounces bittersweet chocolate, chopped
sea salt
Preheat the oven to 375 degrees. In a small bowl combine the crushed graham crackers, granulated sugar, half of the melted butter (one stick or half cup), and 1/2 teaspoon of sea salt. Stir together until well combined. Press the mixture into the bottom of a 9×13 baking pan. Bake the crust for 10 minutes. When the crust is done baking let it cool on a wire rack for 20 minutes.
While the crust is cooling make the caramel. In a medium pot add the rest of the butter (one stick or half cup) to the pan. Add the brown sugar, sweetened condensed milk and 1/2 teaspoon sea salt and then stir to combine. Over medium heat allow the caramel to come to a boil. Let the caramel gently boil, while stirring constantly, until the mixture reaches 240 degrees on a candy thermometer, about 10 minutes. Stir in the vanilla. Pour the caramel over the cooled crust and then spread it out evenly. Let it cool for 30 minutes.
While the caramel is cooling make the ganache. In a small sauce pan bring 1 cup of heavy whipping cream to a boil over medium-high heat. Remove the pan from the heat and then add all of the chopped chocolate. Let the chocolate sit in the hot cream for about 30 seconds and then stir until melted. Pour the ganache over the caramel and spread smooth with a spatula. Sprinkle the hot chocolate with a little more sea salt, about 1/4 teaspoon. Refrigerate the tart until set, about one hour.
Beat the rest of the whipping cream to make whipped cream to serve on top. When you are ready to serve remove the tart from the fridge and let it sit at room temperature for about 20 minutes before serving. Serve with a dollop of whipped cream.
Notes:
The original recipes has you make the tart in a tart pan (shocker!) which would be beautiful. It calls for an 11 inch tart pan with a removable bottom. The original recipe also used chocolate graham crackers and added 1 1/2 cups of toasted pecan halves to the caramel when the vanilla is added. All of these things would be tasty.
I served this with vanilla ice cream instead of whipped cream which was good but the cold ice cream made the caramel get really chewy and stiff again, so whipped cream would be a better option I think.