Salty, sweet, and oh-so-satisfying, Easy Trail Mix is the perfect snack companion for any adventure. But who says you need to spend hours in the kitchen or buy expensive pre-packaged mixes? With a few simple ingredients and a little creativity, you can whip up your very own easy trail mix that will leave you craving more.
As the name suggests, trail mix is a classic companion for hiking, camping, or any outdoor activity. It provides a quick boost of energy, thanks to the combination of protein-packed nuts and the carbohydrates from pretzels and candies. It's lightweight, portable, and doesn't require refrigeration, making it an ideal snack to take on your adventures.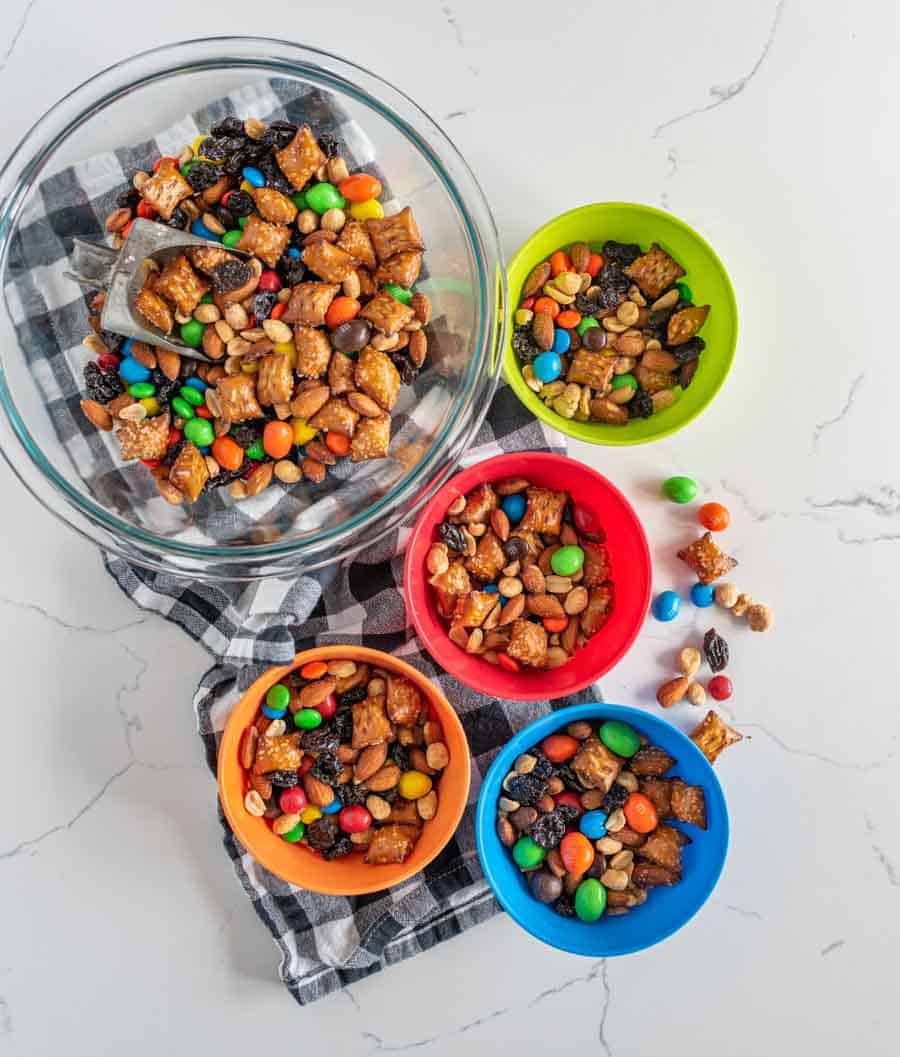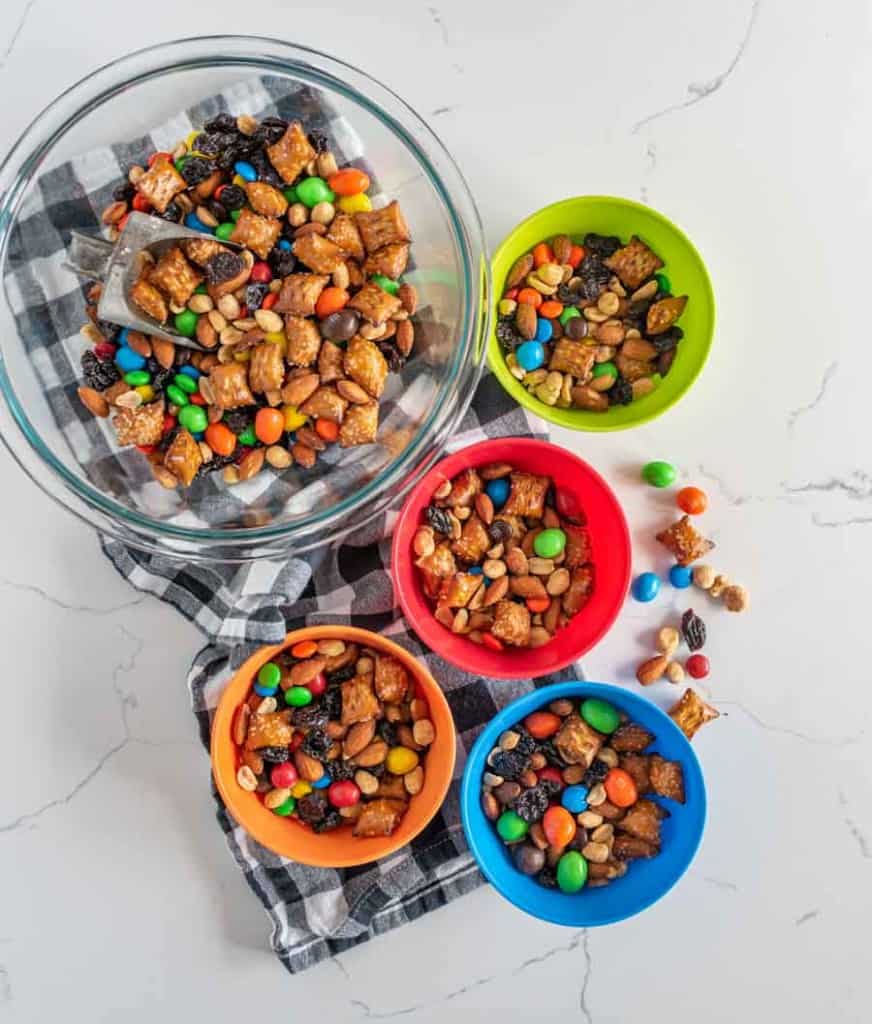 Easy Trail Mix
Trail mix isn't only for the trail. It also makes a delicious snack for the office. When that mid-afternoon slump hits and you need a pick-me-up, this trail mix is a fantastic choice. It offers a mix of textures and flavors that satisfy your cravings and keep you going until the end of the workday. Keep a jar of trail mix on your desk for a convenient and healthier alternative to vending machine snacks.
Homemade trail mix is also a great snack to bring on road trips. Long hours on the road can make you feel hungry and tired. This trail mix is an excellent road trip companion. It's easy to pack in individual servings or a big container, ensuring you have a satisfying snack within arm's reach.
Kids and teenagers will appreciate the fun and deliciousness of this trail mix packed in their school lunches. It provides a combination of carbohydrates, protein, and a touch of sweetness to keep them fueled and satisfied. Pack it in small resealable bags or containers for a convenient grab-and-go option.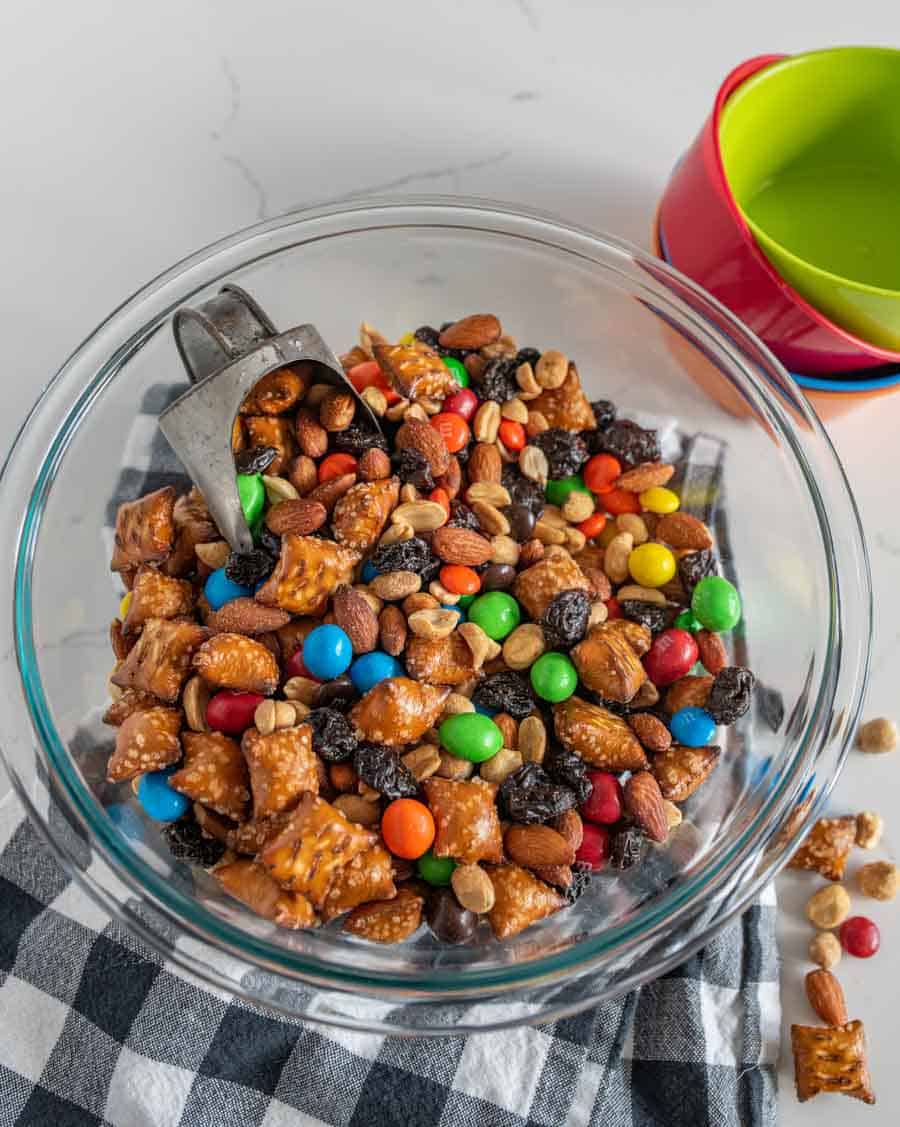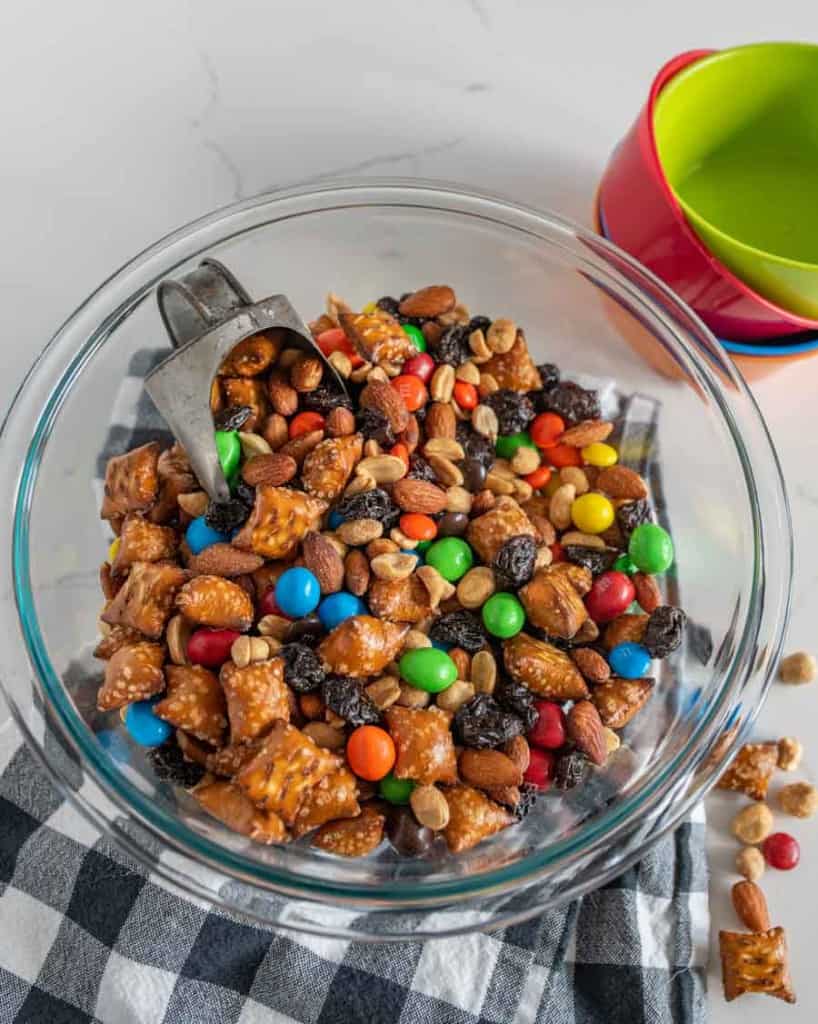 Ingredients
Peanut butter-filled pretzels
Roasted lightly salted almonds
Salted peanuts
Dried tart cherries
M&M candies
Peanut M&M candies
Keep scrolling to find a full, printable recipe with a detailed ingredient list.
Recipe Instructions
Gather all your ingredients—the pretzels, almonds, peanuts, dried cherries, and both kinds of M&M candies. It's like assembling a superhero team of flavors!
Grab a big, roomy bowl. This is where the party starts, so make sure it's ready to handle all the deliciousness.
Throw all the ingredients into the bowl. Let them mingle and dance together. It's like a flavor fiesta in there!
Dive right in and gently mix everything together. Let your fingers work their magic as you blend the pretzels, nuts, fruit, and candy into one fantastic medley.
Portion into individual bags or a large glass jar. Choose whichever suits your style and pantry vibes.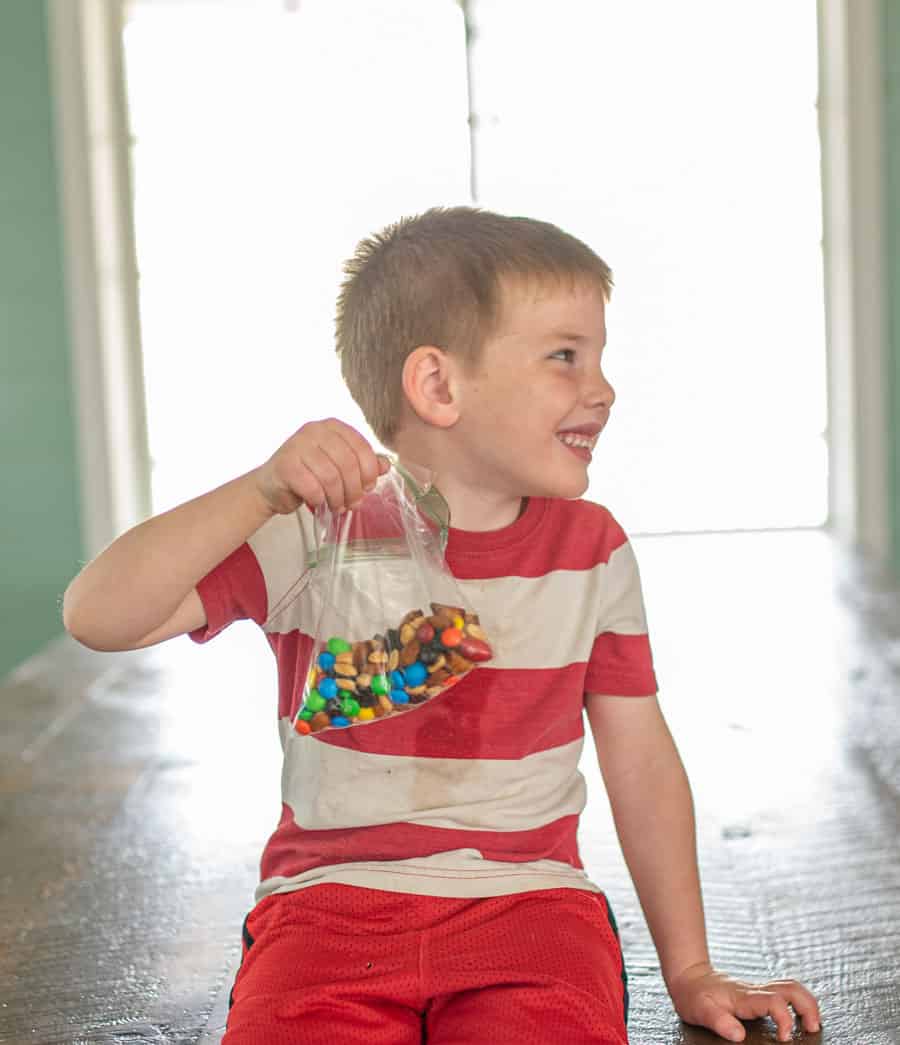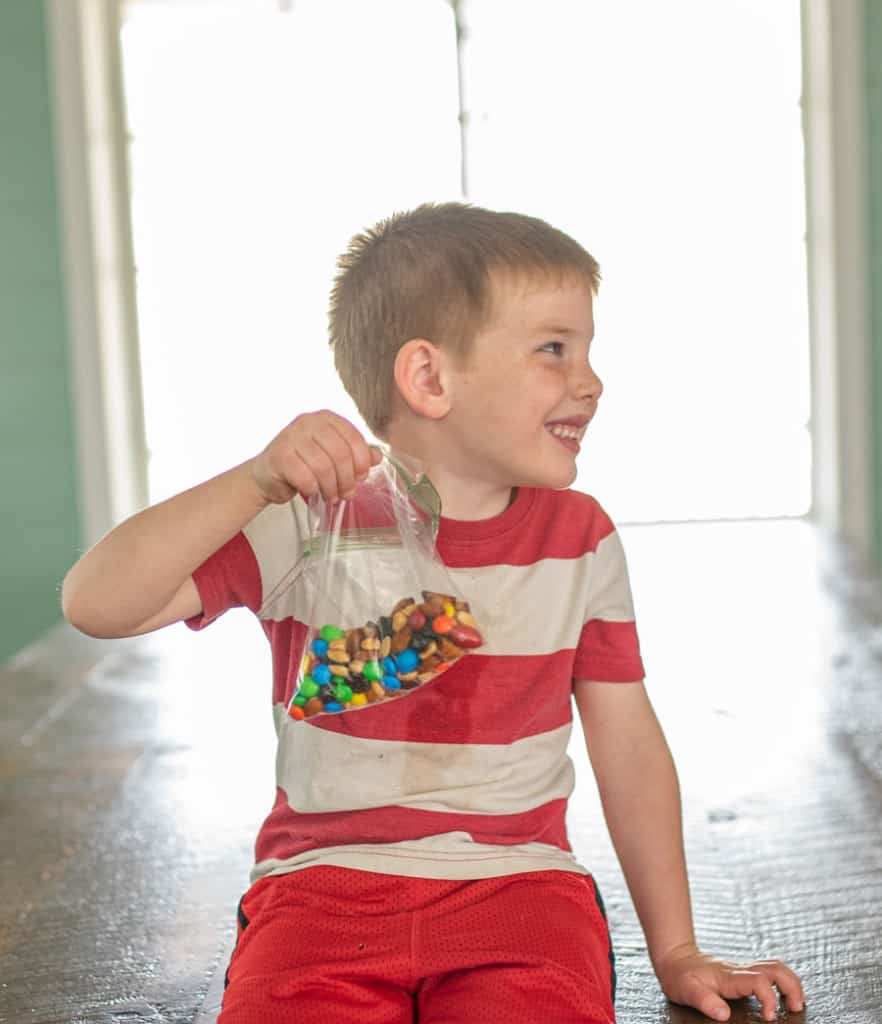 Frequently Asked Questions
Can I customize the ingredients in homemade trail mix?
That's the beauty of making your own trail mix. You can mix and match ingredients to suit your taste preferences and dietary needs. Add or swap nuts, seeds, dried fruits, or even some chocolate chips if you're feeling indulgent. Get creative and make it your own!
How long does homemade trail mix last?
When stored properly in an airtight container, homemade trail mix can last for several weeks. The dried fruits and nuts may start to lose their freshness over time, so it's best to consume it within a month.
Can trail mix be frozen?
While trail mix can technically be frozen, it's not necessary and may affect the texture and flavor of some ingredients. Nuts and seeds may become less crunchy, and dried fruits might become chewier after thawing. If you do choose to freeze your trail mix, place it in an airtight container or freezer bag and consume it within a couple of months for the best quality.
Can I make trail mix without nuts?
ertainly! If you have allergies or simply prefer not to include nuts, there are plenty of alternatives to create a delicious nut-free trail mix. You can use a variety of seeds like pumpkin seeds, sunflower seeds, or chia seeds for crunch and nutrition.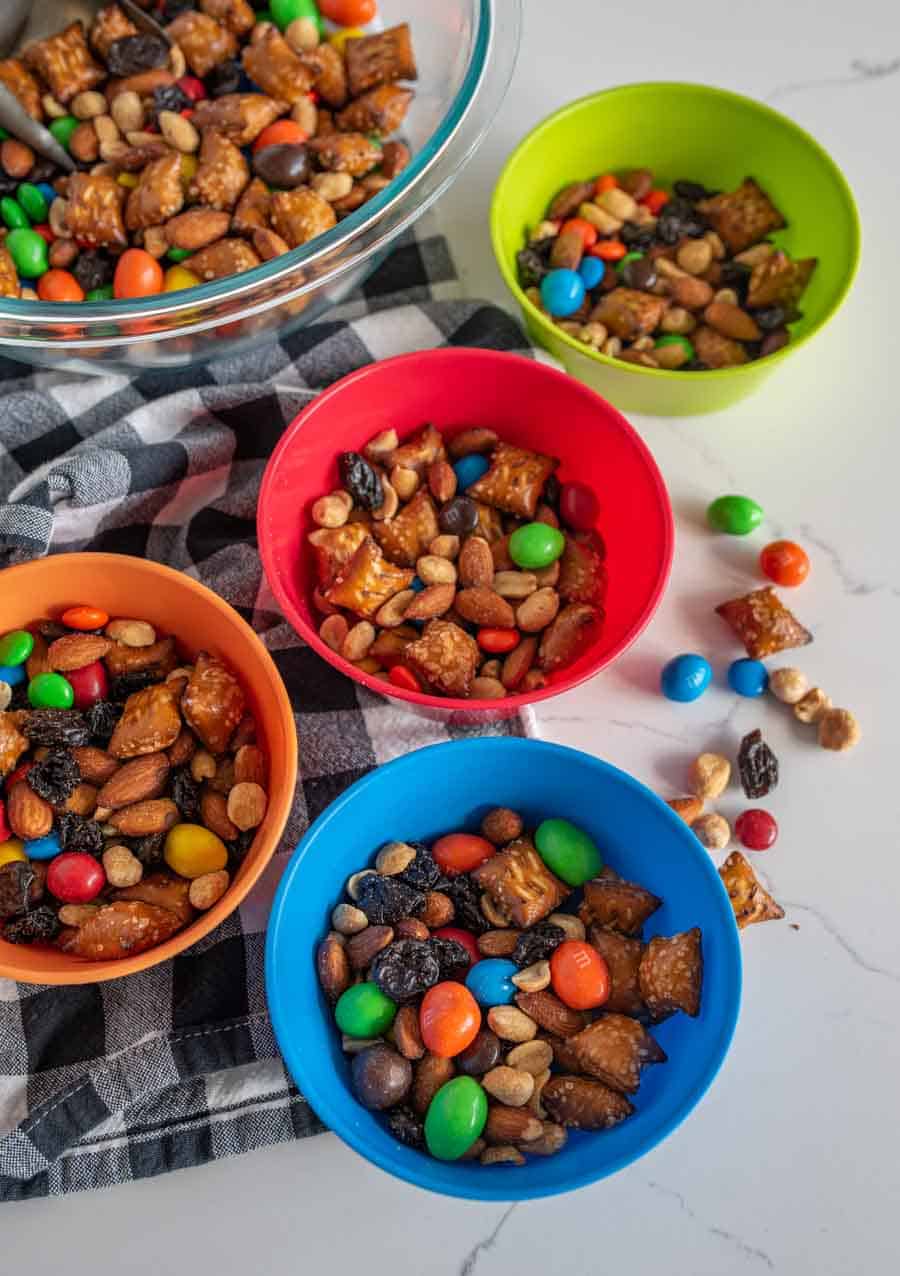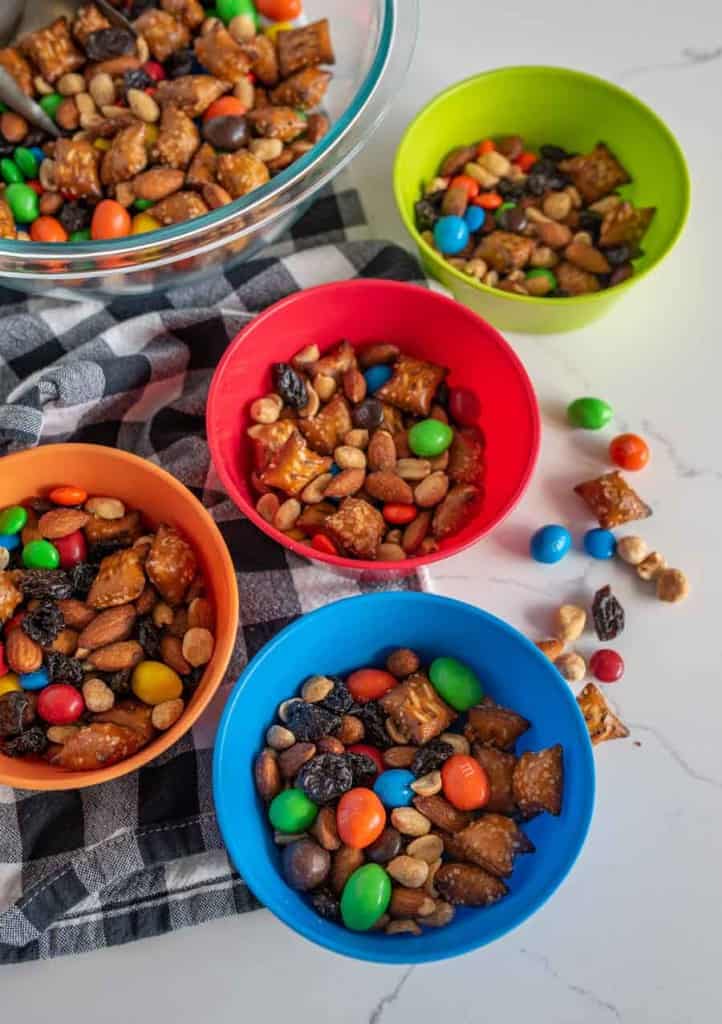 More Recipes
If you've tried this Easy Trail Mix recipe or any other recipe on Bless This Mess, then don't forget to rate the recipe and leave me a comment below! I would love to hear about your experience making it. And if you snapped some pictures of it, share it with me on Instagram so I can repost on my stories.
📖 Recipe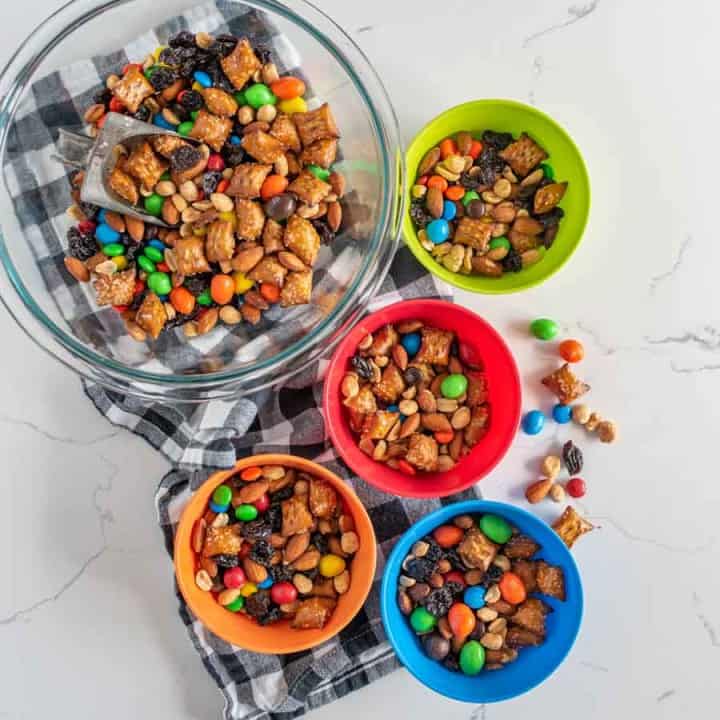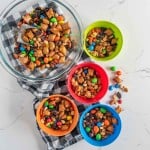 Print Recipe
Easy Trail Mix
Salty, sweet, and oh-so-satisfying, Easy Trail Mix is the perfect snack companion for any adventure. With a few simple ingredients and a little creativity, you can whip up your very own easy trail mix that will leave you craving more.
Ingredients
2

cups

peanut butter-filled pretzels

1

cup

roasted

lightly salted almonds

1

cup

roasted

salted peanuts

½

cup

dried tart cherries

1

cup

M&M candies

1

cup

peanut M&M candies
Instructions
Throw all the ingredients together in a bowl, and gently use hands to combine. Store in either a ziplock bag or large glass jar!

Sometimes, I pre-portion this out into smaller containers, too, so that they are more grab-and-go style (and to help discourage kids from picking out all the candy at one time, HA!).
Notes
This actually makes a great travel snack! Just omit the chocolate candies so that they don't melt in the car.
Nutrition
Calories:
440
kcal
|
Carbohydrates:
57
g
|
Protein:
18
g
|
Fat:
15
g
|
Saturated Fat:
8
g
|
Polyunsaturated Fat:
1
g
|
Monounsaturated Fat:
1
g
|
Trans Fat:
0.1
g
|
Cholesterol:
45
mg
|
Sodium:
314
mg
|
Potassium:
266
mg
|
Fiber:
3
g
|
Sugar:
37
g
|
Vitamin A:
385
IU
|
Vitamin C:
1
mg
|
Calcium:
75
mg
|
Iron:
2
mg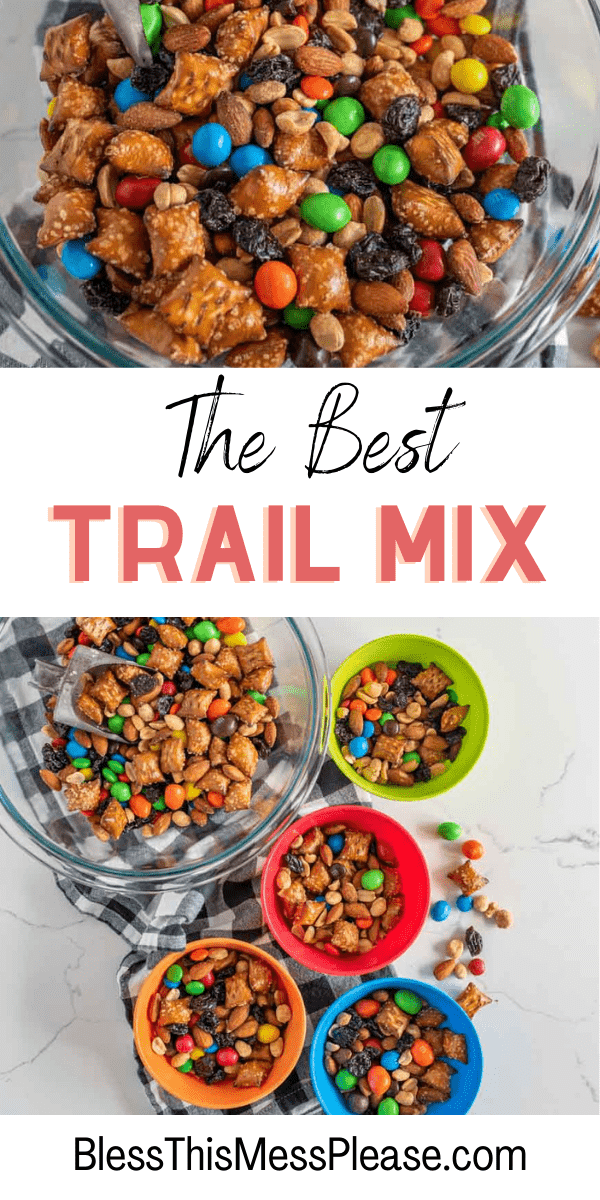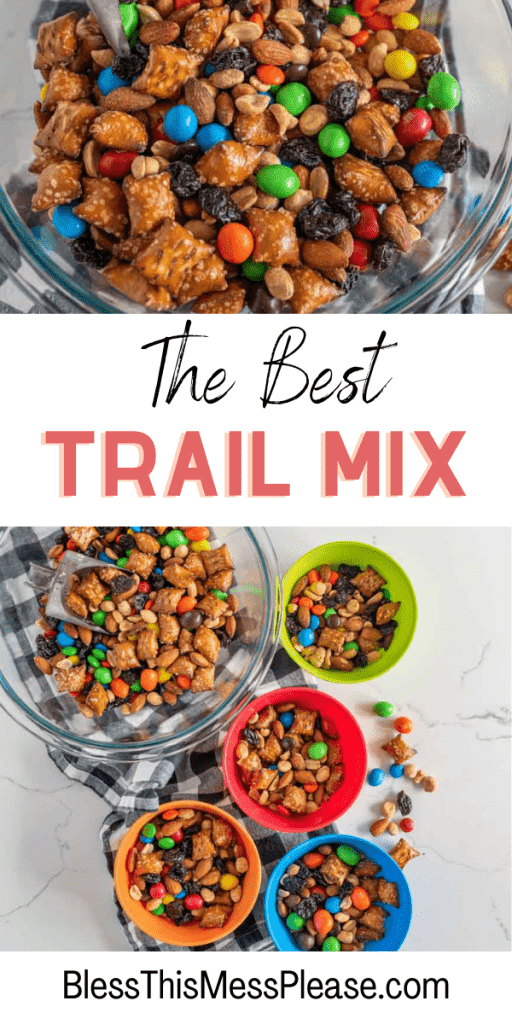 Whether you're embarking on outdoor adventures, need an energizing office snack, or want to spice up your movie nights this easy trail mix is a versatile and convenient option. It provides a balanced mix of flavors, textures, and nutrients, making it a go-to snack for any occasion.