Introducing the Crustless Quiche – a dish that ditches the dough but not the flavor. If you're all about savoring scrumptious bites without the fuss of pastry, this article is your guide to understanding, making, and relishing the charm of crustless quiche!
Quiche is a savory pie that originated in France, consisting of a pastry crust filled with a mixture of eggs, milk or cream, and various ingredients such as vegetables, meats, cheese, and herbs.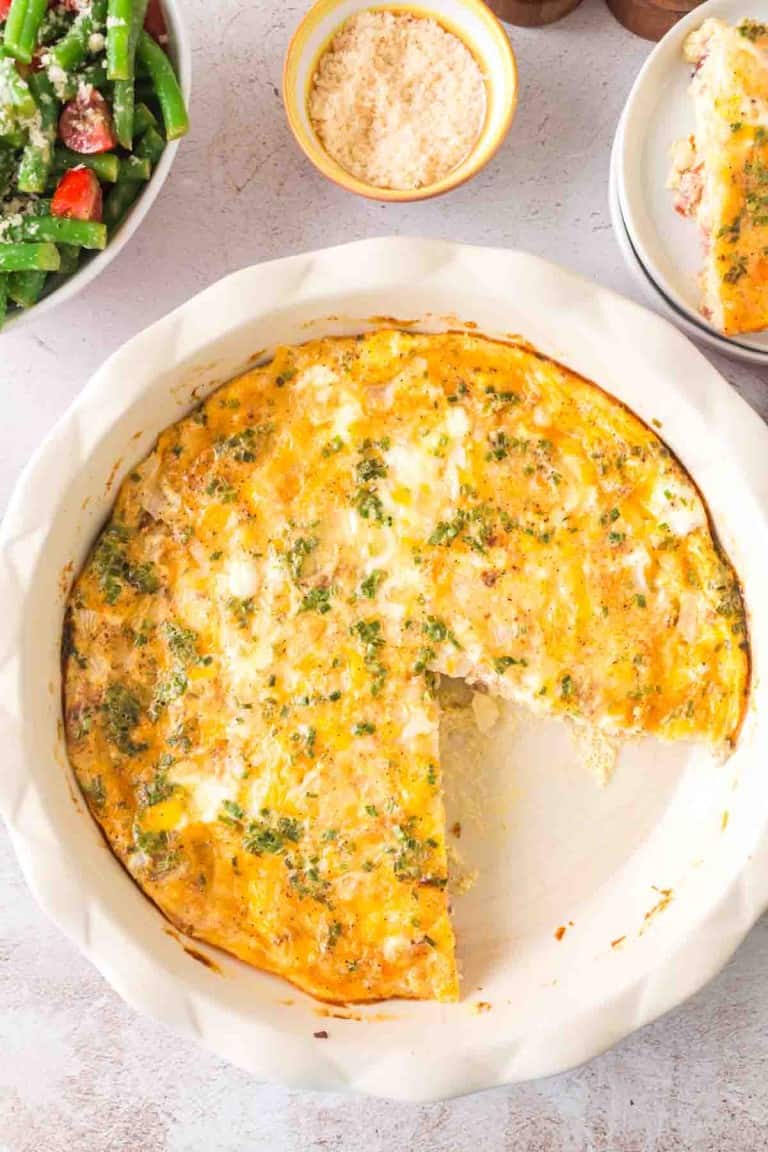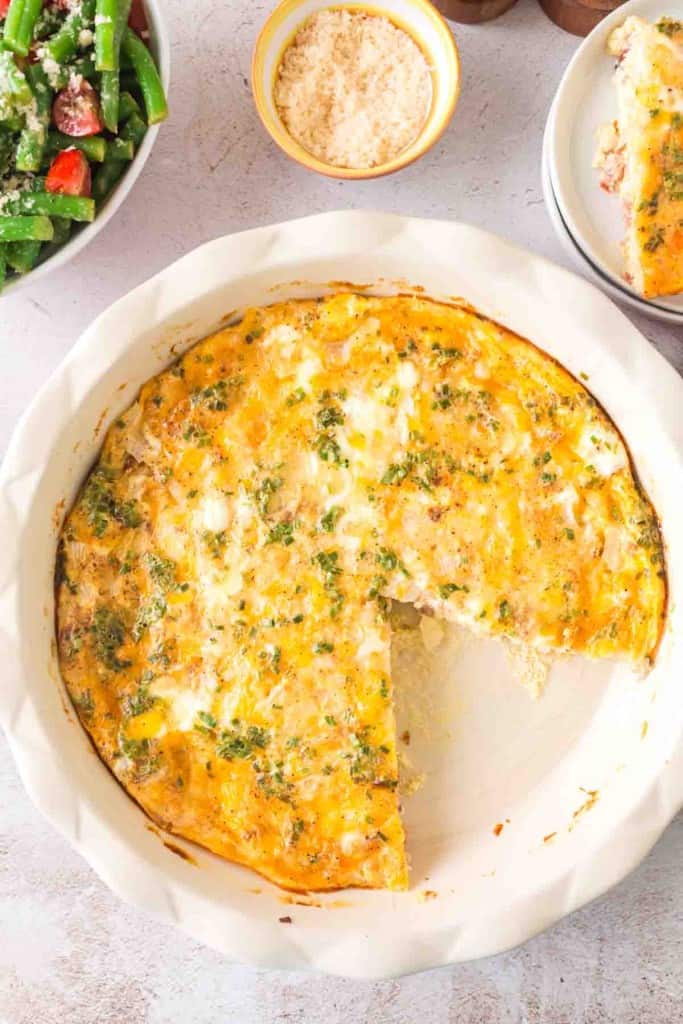 Crustless Quiche
Crustless quiche boasts a quicker preparation time, as there's no need to fuss over making or rolling out pastry dough. This convenience makes it an ideal option for busy individuals seeking a delicious homemade meal without the time-consuming effort of crafting a traditional crust.
With the absence of a crust, the spotlight shifts to the quiche's flavorful fillings. This allows for a more creative exploration of ingredients, from a variety of vegetables to various cheeses, meats, and herbs. The result is a dynamic and visually appealing dish that's bursting with colors and textures.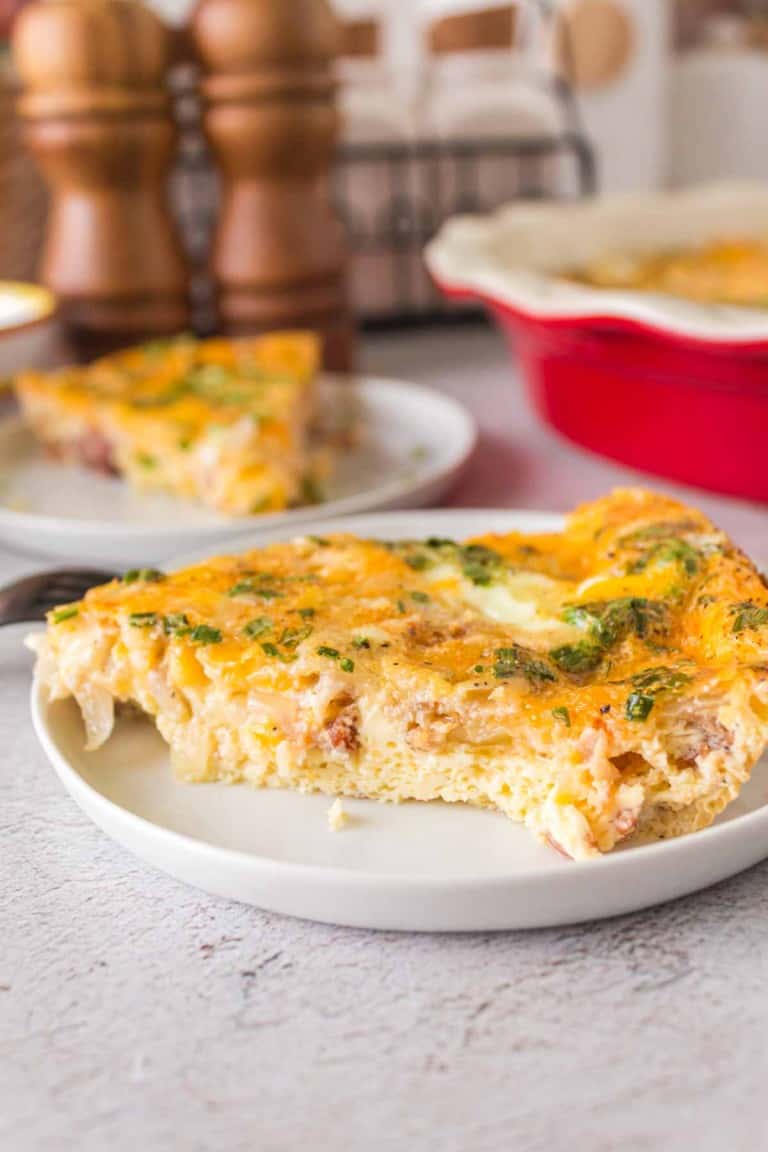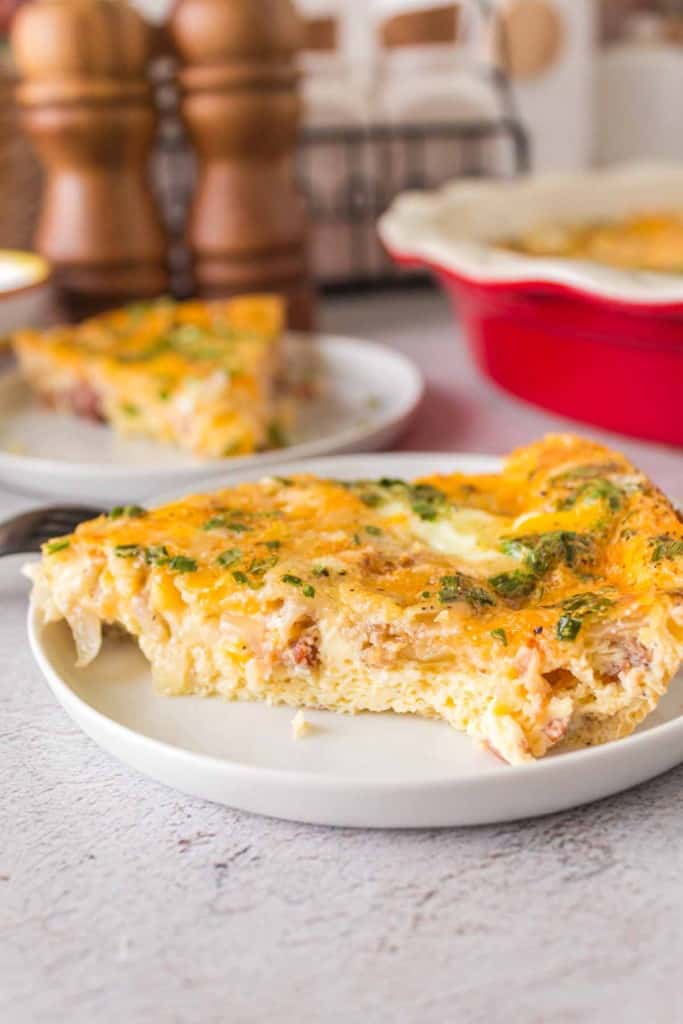 Ingredients
Butter
Onion
Bacon
Colby Jack Cheese
Mozzarella
Eggs
Onion powder
Garlic powder
Milk
Keep scrolling to find a full, printable recipe with a detailed ingredient list.
Recipe Instructions
Prep and Layer: Preheat oven to 350°F and butter a 9-inch pie dish. Spread cooked onion and bacon mix in dish, then layer with cheese.
Mix Egg Mixture: Whisk 5 eggs with onion powder, garlic powder, salt, pepper, paprika, chives, and milk.
Pour and Bake: Gently pour egg mix over cheese. Bake at 350°F for 35-40 mins; edges separate, center sets. Check at 30 mins due to oven variations.
Cool Briefly: Allow to cool for 2-3 minutes.
Serve: Enjoy your delicious crustless quiche!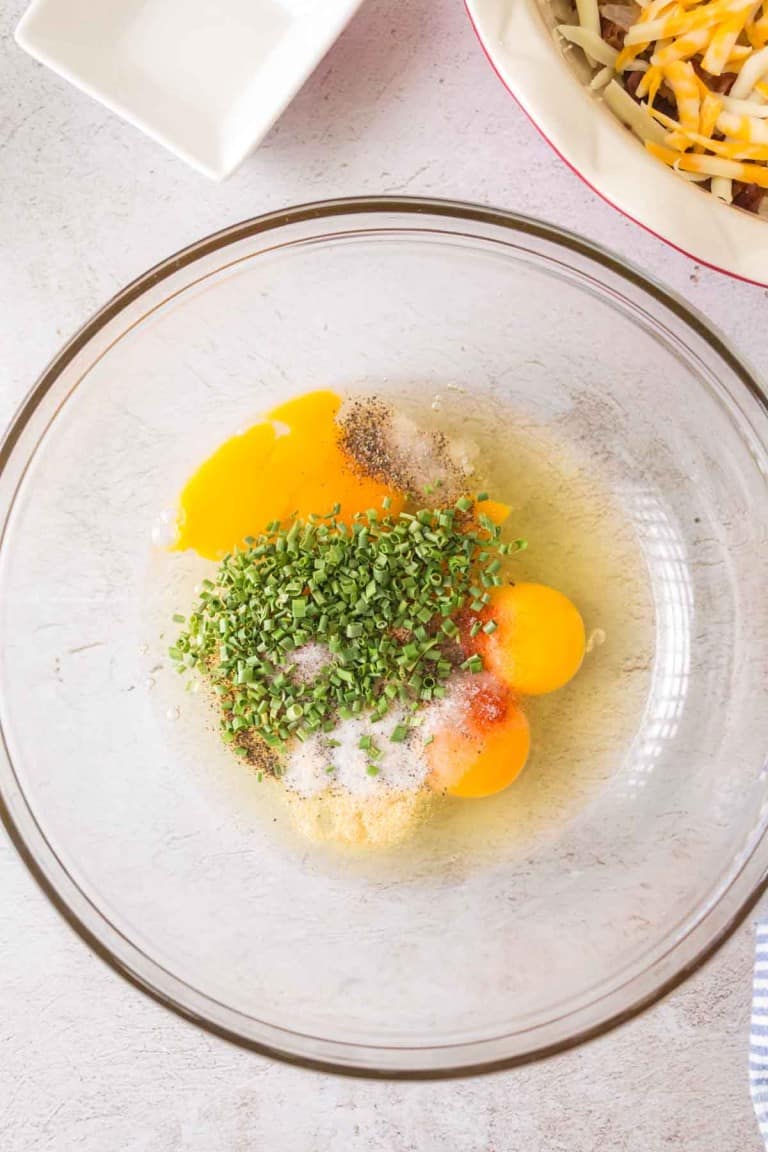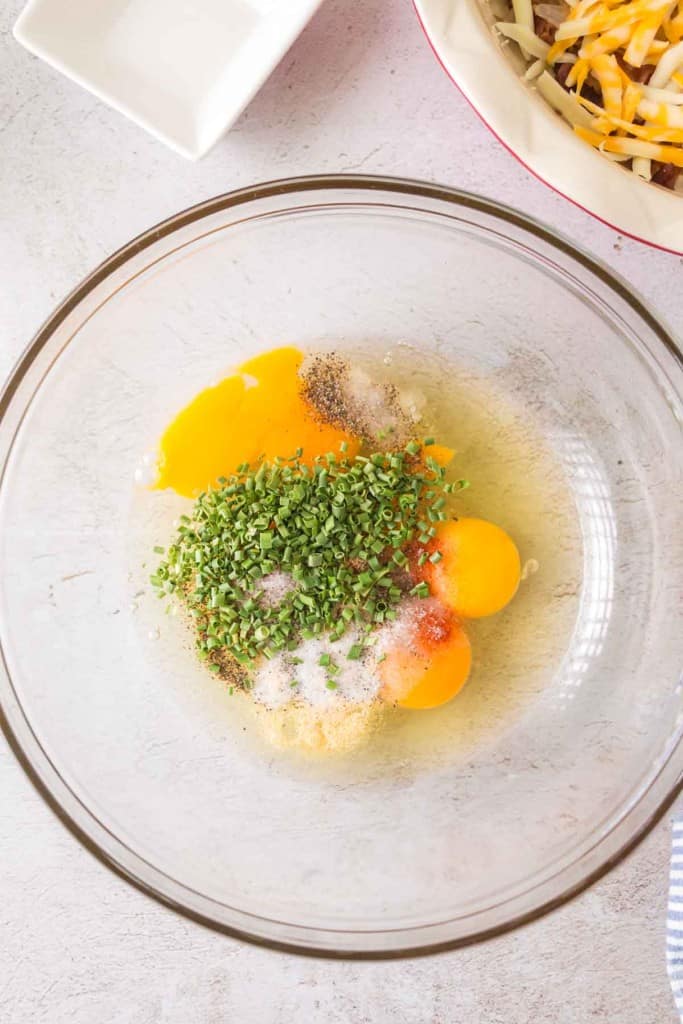 Frequently Asked Questions
What is a crustless quiche?
A crustless quiche is a variation of the classic quiche that omits the pastry crust. It consists of a flavorful filling, often including ingredients like vegetables, meats, cheese, and herbs, held together by a custard-like mixture of eggs and dairy.
Why make a crustless quiche?
A crustless quiche offers a healthier and gluten-free alternative to the traditional version. It's also quicker to prepare since there's no need to make or handle a pastry crust. This style highlights the flavors of the fillings and simplifies the cooking process.
What can I use as fillings?
You can get creative with fillings! Common choices include sautéed vegetables (spinach, mushrooms, peppers), cooked meats (bacon, ham, chicken), various cheeses (cheddar, Swiss, feta), and even seafood. The choices are endless, allowing you to tailor the quiche to your taste.
Can I make quiche ahead of time?
Yes, crustless quiche can be prepared ahead of time. You can assemble the filling and custard mixture in the pie dish, cover it, and refrigerate it overnight. When ready to bake, simply place it in the preheated oven.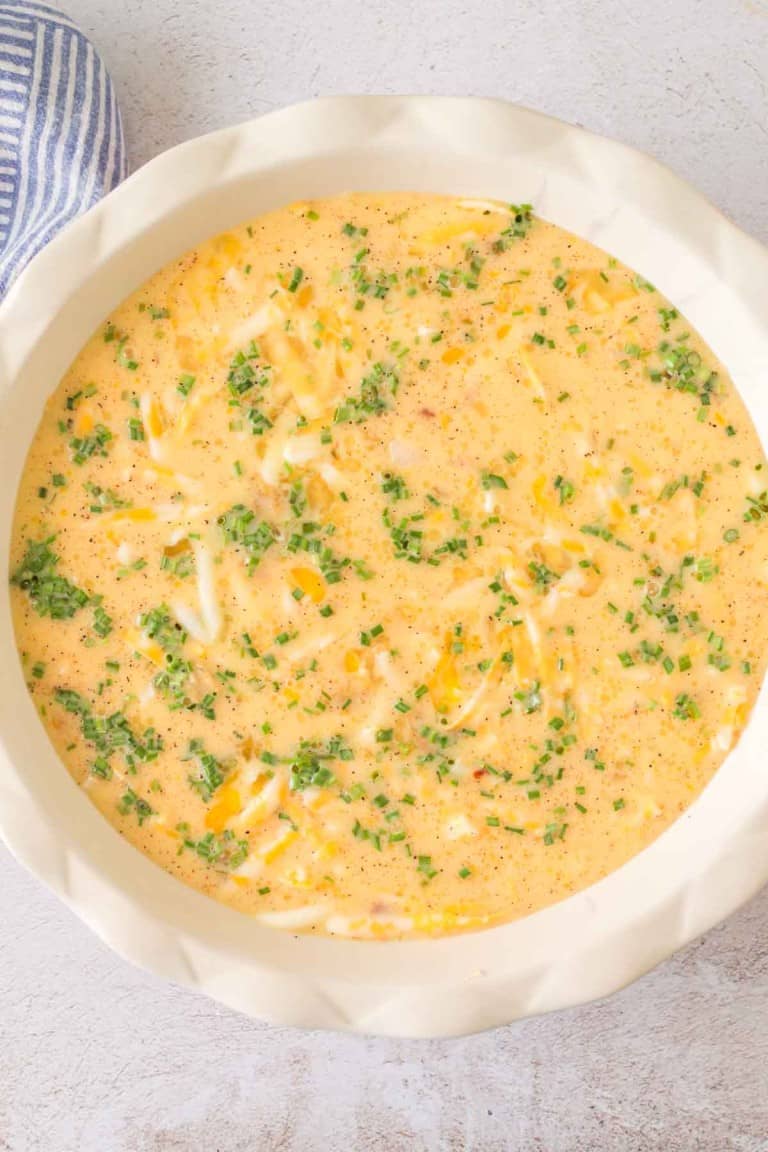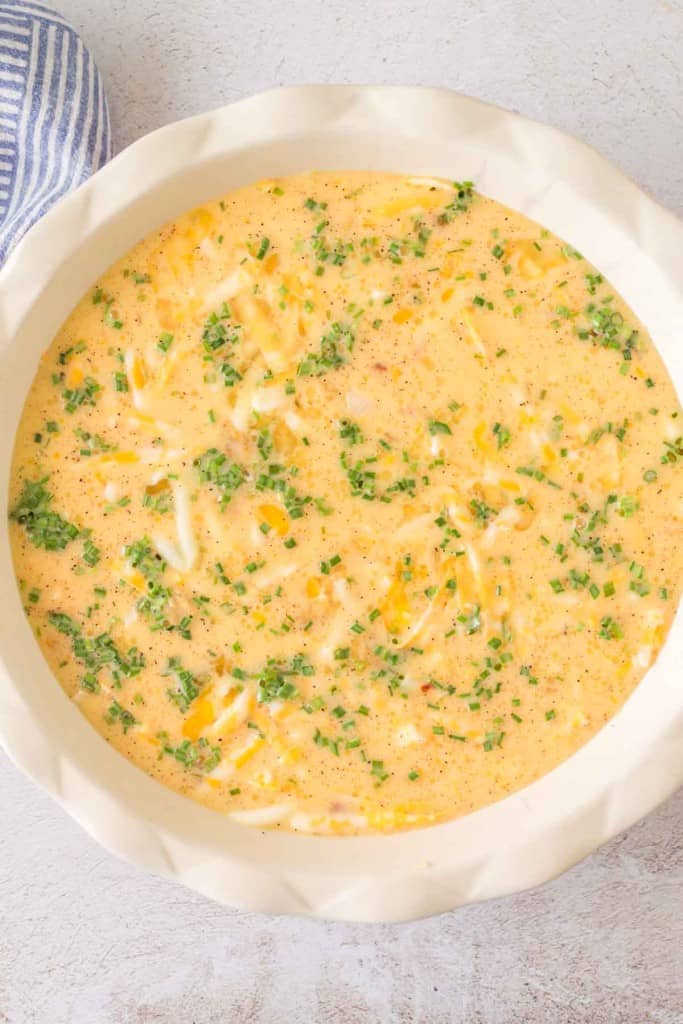 More Recipes
If you've tried this Easy Crustless Quiche recipe or any other recipe on Bless This Mess, then don't forget to rate the recipe and leave me a comment below! I would love to hear about your experience making it. And if you snapped some pictures of it, share it with me on Instagram so I can repost on my stories.
📖 Recipe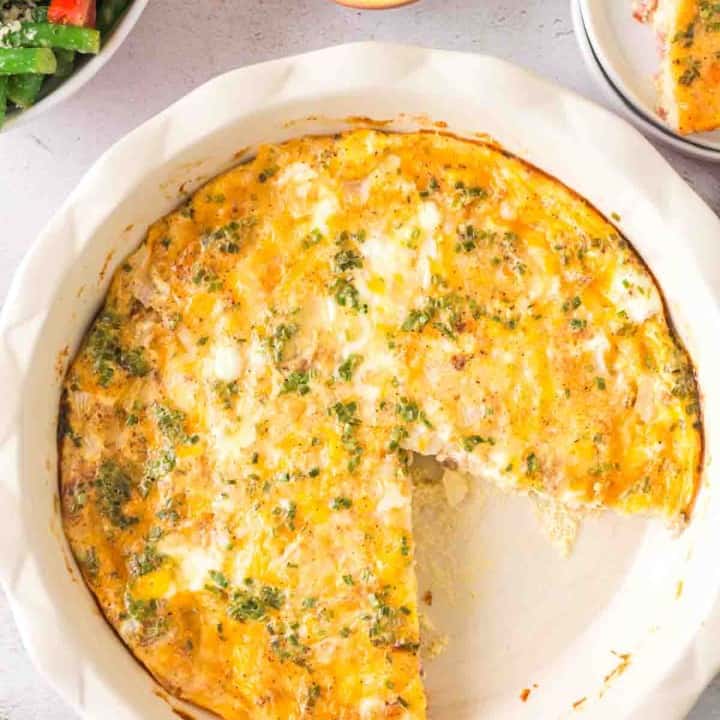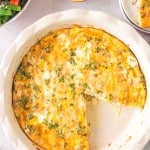 Print Recipe
Easy Crustless Quiche
If you're all about enjoying deliciousness without the hassle of crust-making you will love this Crustless Quiche. Big on taste and light on effort.
Ingredients
2

tablespoons

butter

melted

1

cup

chopped onion

white or yellow onion

½

cup

bacon

cooked and chopped

1

cup

shredded Colby Jack

½

cup

shredded mozzarella

5

eggs

½

teaspoon

onion powder

½

teaspoon

garlic powder

½

teaspoon

salt

¼

teaspoon

ground black pepper

⅛

teaspoon

paprika

1

tablespoon

dry chives

1

cup

milk
Instructions
Preheat oven to 350 degrees F.

Butter a 9-inch pie dish. Set aside.

In a small saucepan, over medium heat, add the butter, onion, and bacon. Cook and stir until the onions are translucent.

Pour the onion bacon mixture into the prepared pie dish. Spread evenly.

Sprinkle the cheese in an even layer over the onion/bacon. Set aside.

In a large mixing bowl, crack all 5 eggs, and add the onion powder, garlic powder, salt, ground black pepper, paprika, dry chives, and milk. Whisk until all ingredients are combined.

Gently pour the egg mixture over the cheese. No need to mix.

Bake in the preheated oven for 35 to 40 minutes. The edge will separate from the pie dish and the center will be set.

If you like your eggs drier, bake for 40 minutes. Because all ovens bake differently I would suggest checking at 30 minutes and adjusting accordingly

Cool for 2-3 minutes.

Serve and Enjoy!
Notes
You can add or substitute the onion and bacon mixture. I have found out that 1 ½ cups of "add-ins" is the best balance-to-egg ratio. Examples of other add-ins: ham, mushrooms, spinach, and peppers.
Side dish: I served this quiche with a green beans salad, but any vegetable salad, raw vegetables with dips, or if served as a breakfast or brunch I would serve some hash browns, and roasted potatoes.
Storage: Store in the fridge for up to 3 days.
Re-warm: In an air fryer at 330 degrees F for 3 to 4 minutes.
Have fun with the recipe:
Make it spicy: Add some cayenne pepper to the egg mixture.
Make it kid-friendly: Add more Colby Jack or Cheddar. Substitute the onions with ham.
Make it Deluxe: Add spinach and mushrooms. Sprinkle fresh herbs and grated Parmigiano cheese when serving.
Nutrition
Calories:
383
kcal
|
Carbohydrates:
7
g
|
Protein:
19
g
|
Fat:
31
g
|
Saturated Fat:
15
g
|
Polyunsaturated Fat:
3
g
|
Monounsaturated Fat:
10
g
|
Trans Fat:
0.2
g
|
Cholesterol:
231
mg
|
Sodium:
738
mg
|
Potassium:
279
mg
|
Fiber:
1
g
|
Sugar:
4
g
|
Vitamin A:
829
IU
|
Vitamin C:
2
mg
|
Calcium:
334
mg
|
Iron:
1
mg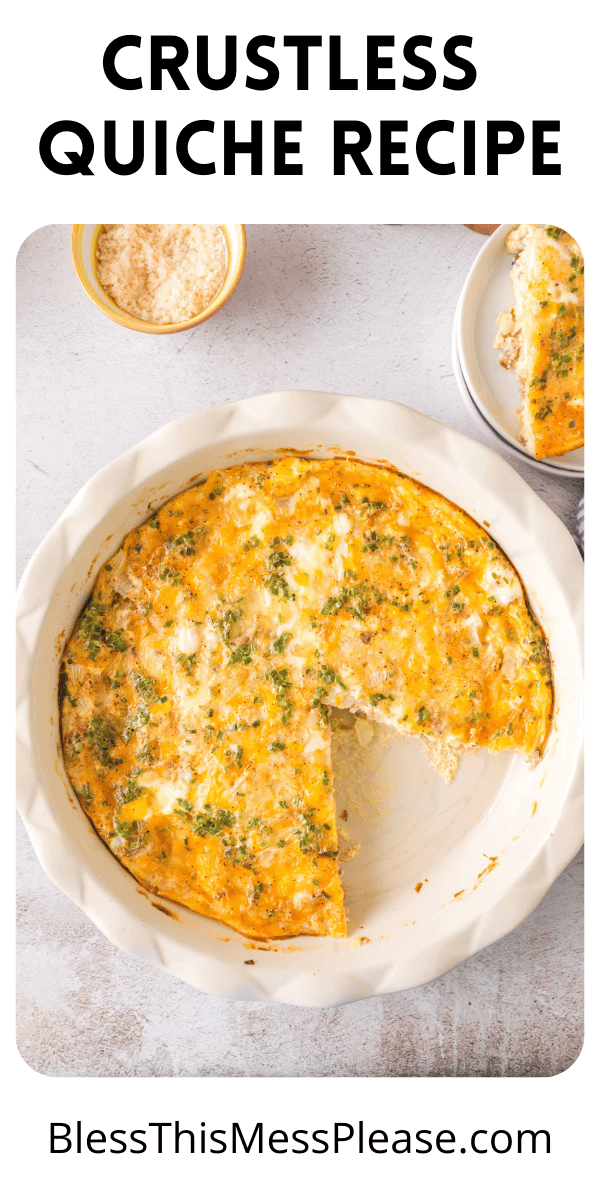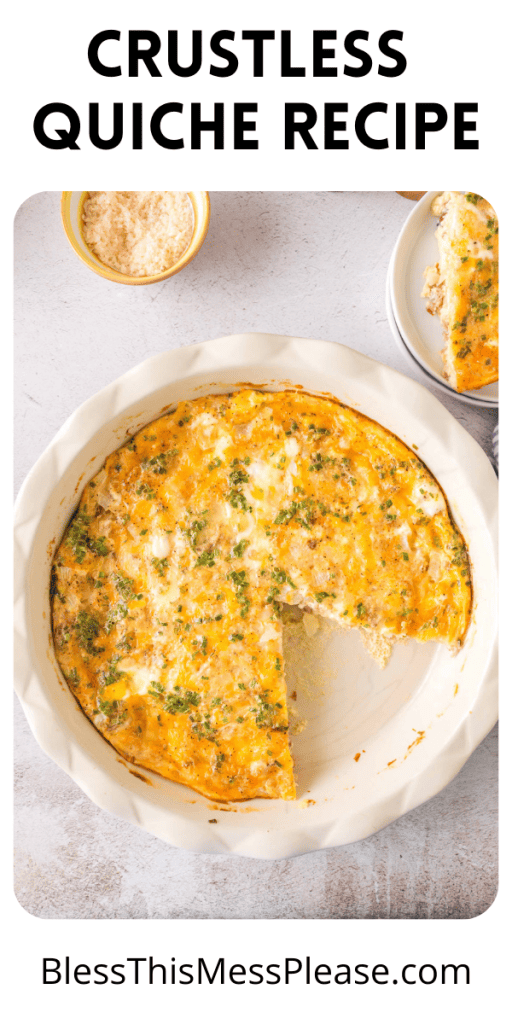 The crustless quiche revolutionizes traditional cooking with its simplicity and vibrant flavors. From health-conscious eaters to busy cooks, its appeal is undeniable. By discarding the crust, we've unlocked a world of creativity and convenience, allowing us to relish the essence of each ingredient.