Straightforward yet flavorful, crustless spinach quiche is an easy and healthy breakfast that you can customize or keep simple!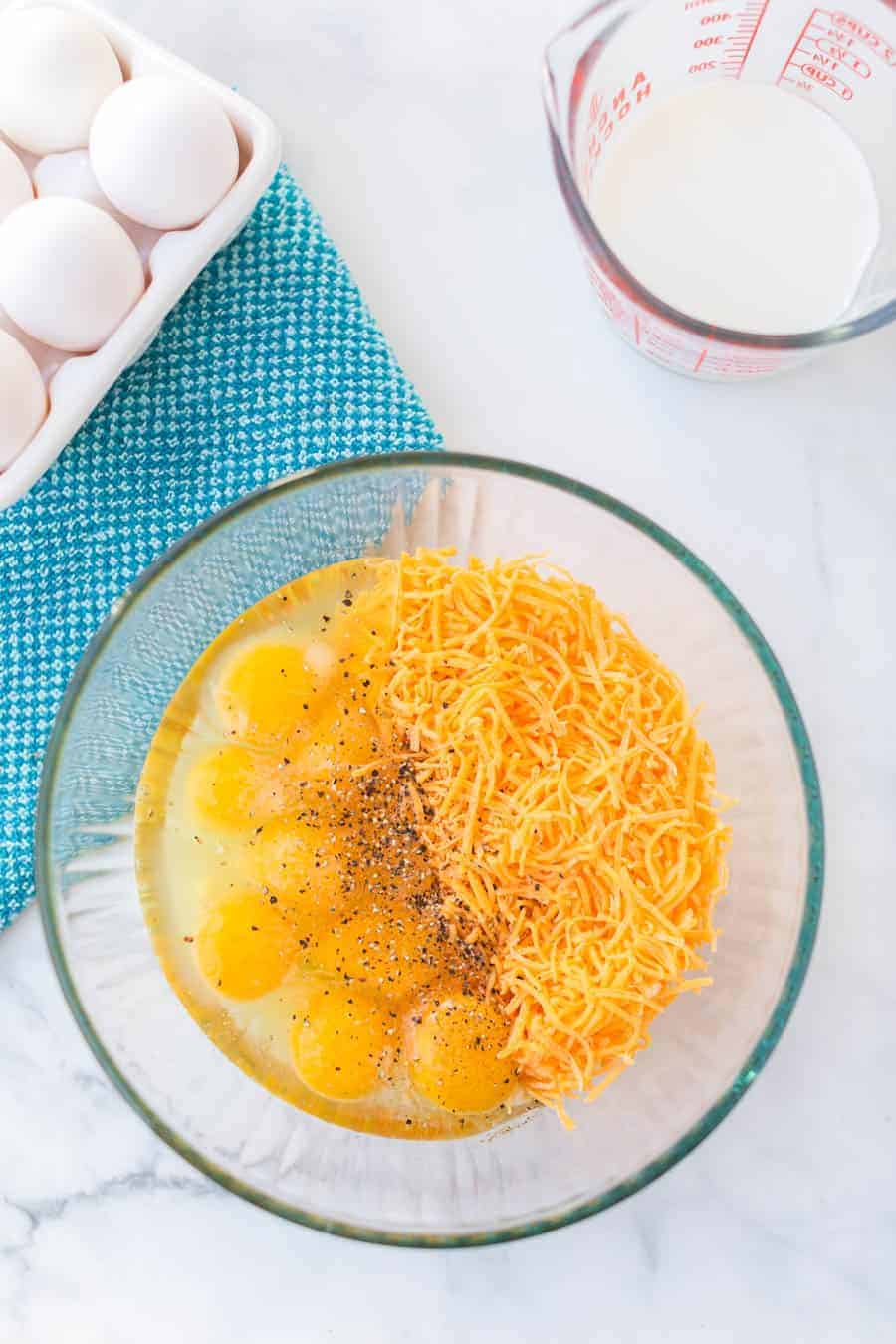 Crustless Spinach Quiche
Give me all the easy breakfasts, please and thank you. Especially as school is starting back up and mornings get a little crazier than they are in the summer, a simple breakfast can go a LONG way. Can I get an amen? Enter: this delicious and simple crustless spinach quiche.
Packed with spinach, cheese, onion, garlic, and eggs, it's got all kinds of nutrients and yummy flavors to fill you up right at the start of the day. (Or if you're more of a breakfast-for-dinner crew, this is a perfect option to end the day, too!) I love that it's low-maintenance, but there's also plenty of room to improvise.
Some mushrooms and bell pepper would be divine in this (throw them in when you cook the onion), as well as a few chopped up jalapenos for the more fiery fans. You can use pretty much any cheese you have and love, and you can top it with salsa, hot sauce, or sour cream. Cooked chopped bacon, crumbled sausage, or ham would also be delicious in this dish!
Plus, if you don't finish the whole thing, leftovers heat up quickly in the microwave or oven! Serve it up with biscuits and fresh fruit for a filling meal that everyone will wolf down.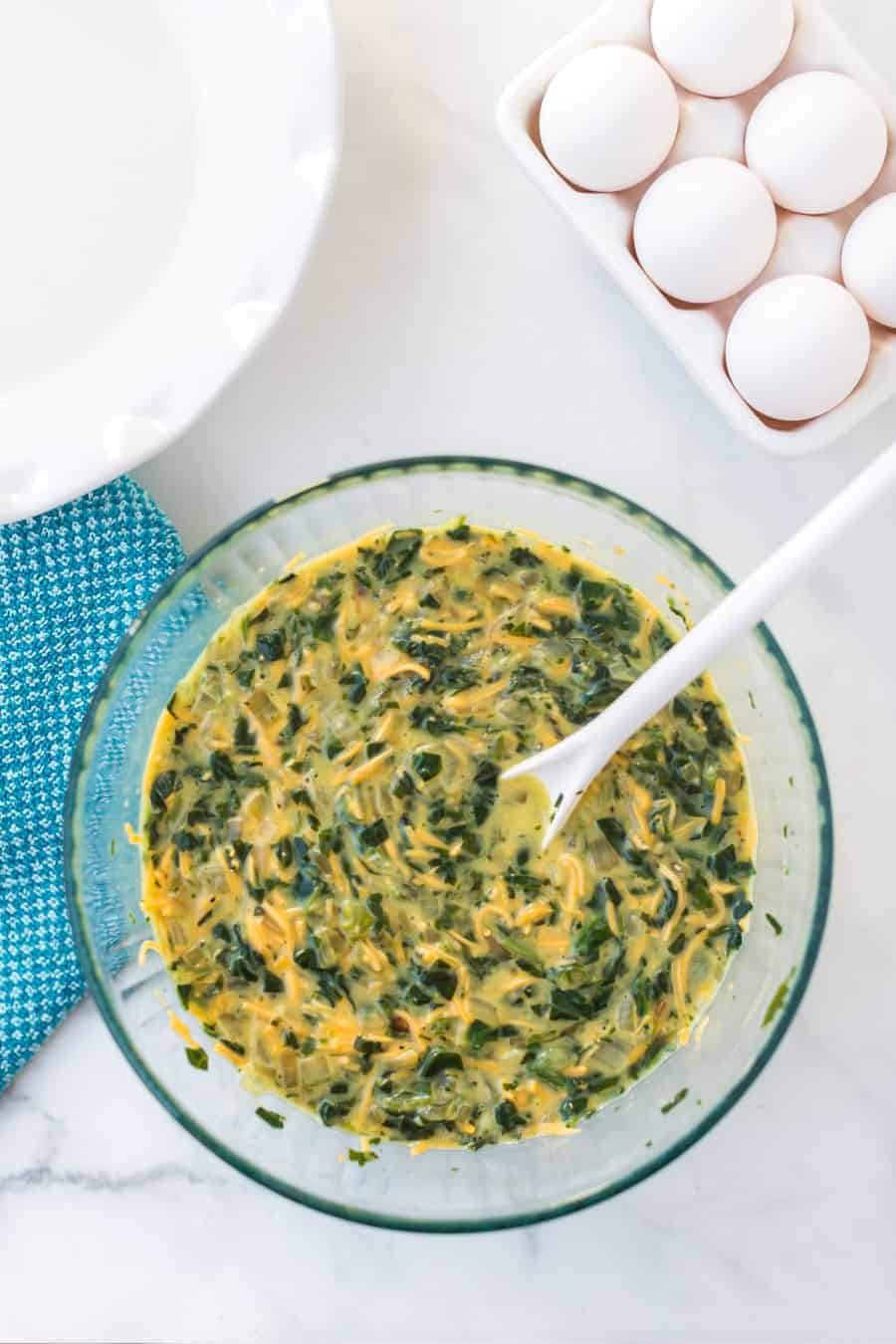 Is a frittata the same as a crustless quiche?
The main difference between a frittata and crustless quiche is that frittatas have no or very little milk or cream, while quiche do have milk or cream. Plus, frittatas are first cooked on the stove, while quiche is normally completely baked in the oven once you add the eggs to the pan.
How long does crustless quiche last in the fridge?
Quiche lasts for up to 3 to 4 days if stored covered in the fridge. In the freezer, it'll keep for up to 3 to 4 months.
How do you reheat crustless quiche?
If you want to just reheat a slice of crustless quiche, a simple 45-second zap in the microwave should do the trick (but make sure you cover it with a paper towel). To reheat a larger portion, set your oven to 350 degrees F., cover the quiche with foil, and bake for about 20 minutes, or until heated through.
Can I prep a quiche the night before?
Yes! This is a great dish to bring to a brunch gathering or to have ready for a busy morning. Just cook it the night before, let it cool completely, cover it tightly, and refrigerate overnight. Reheat it in the morning or whenever you're ready to serve.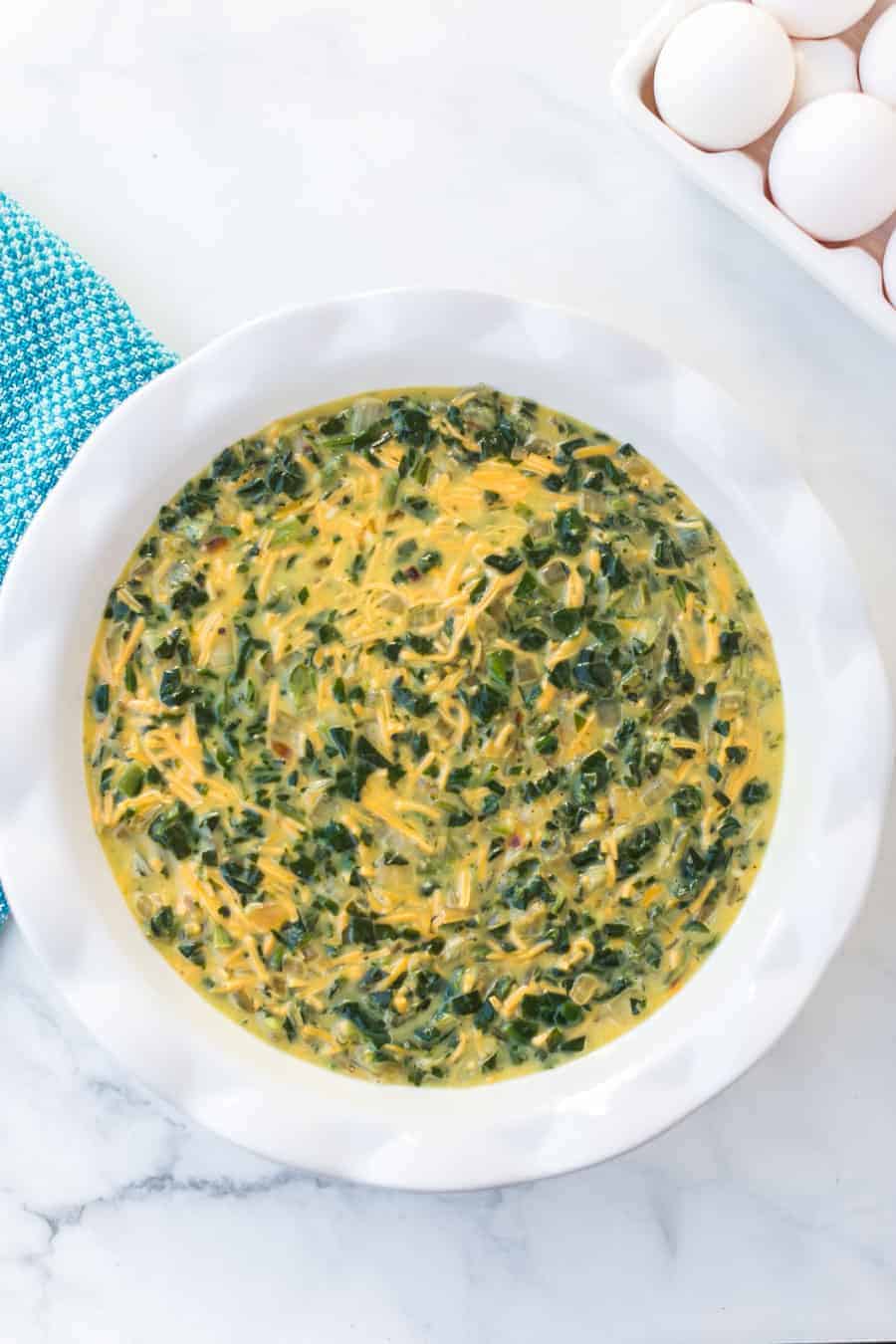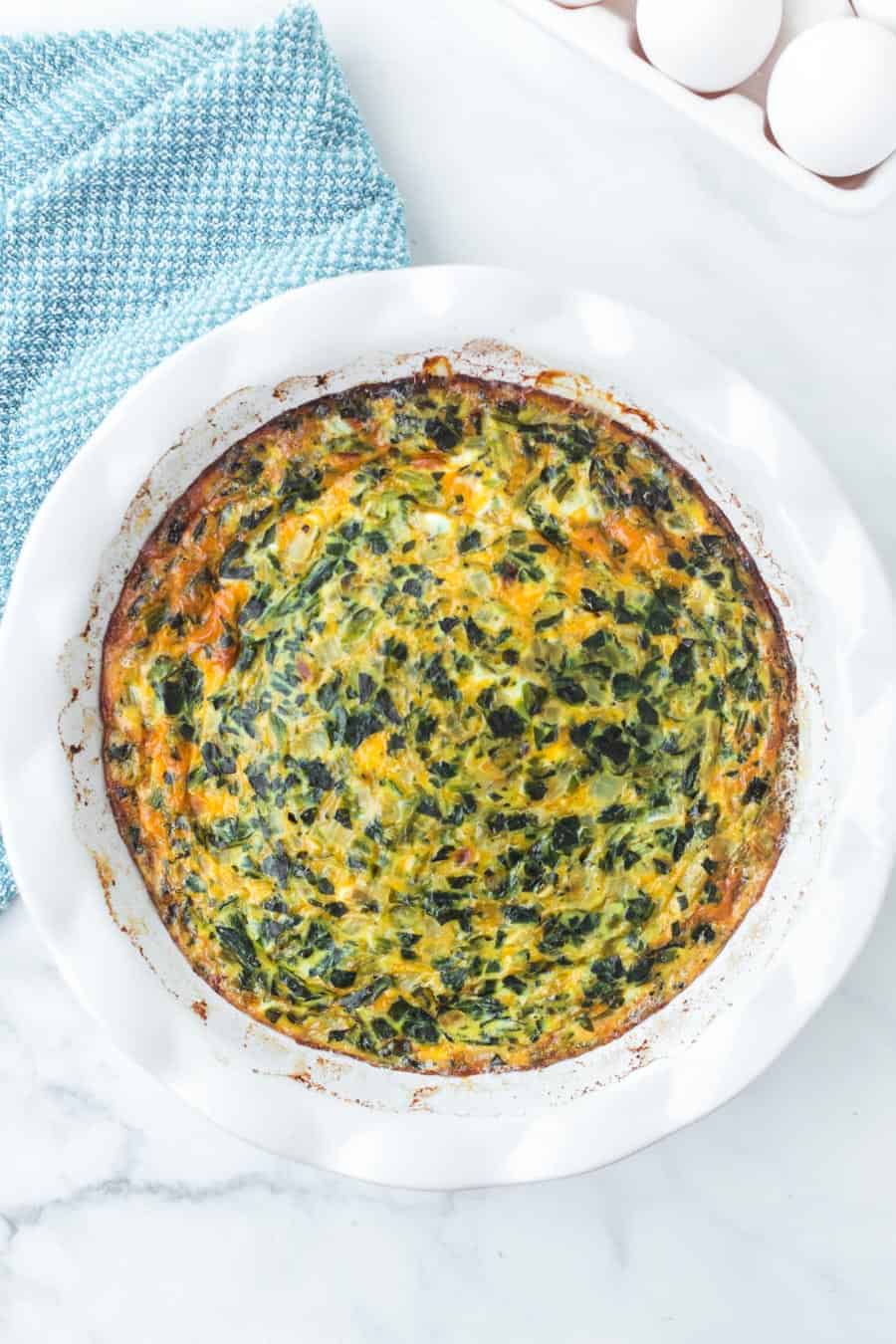 Print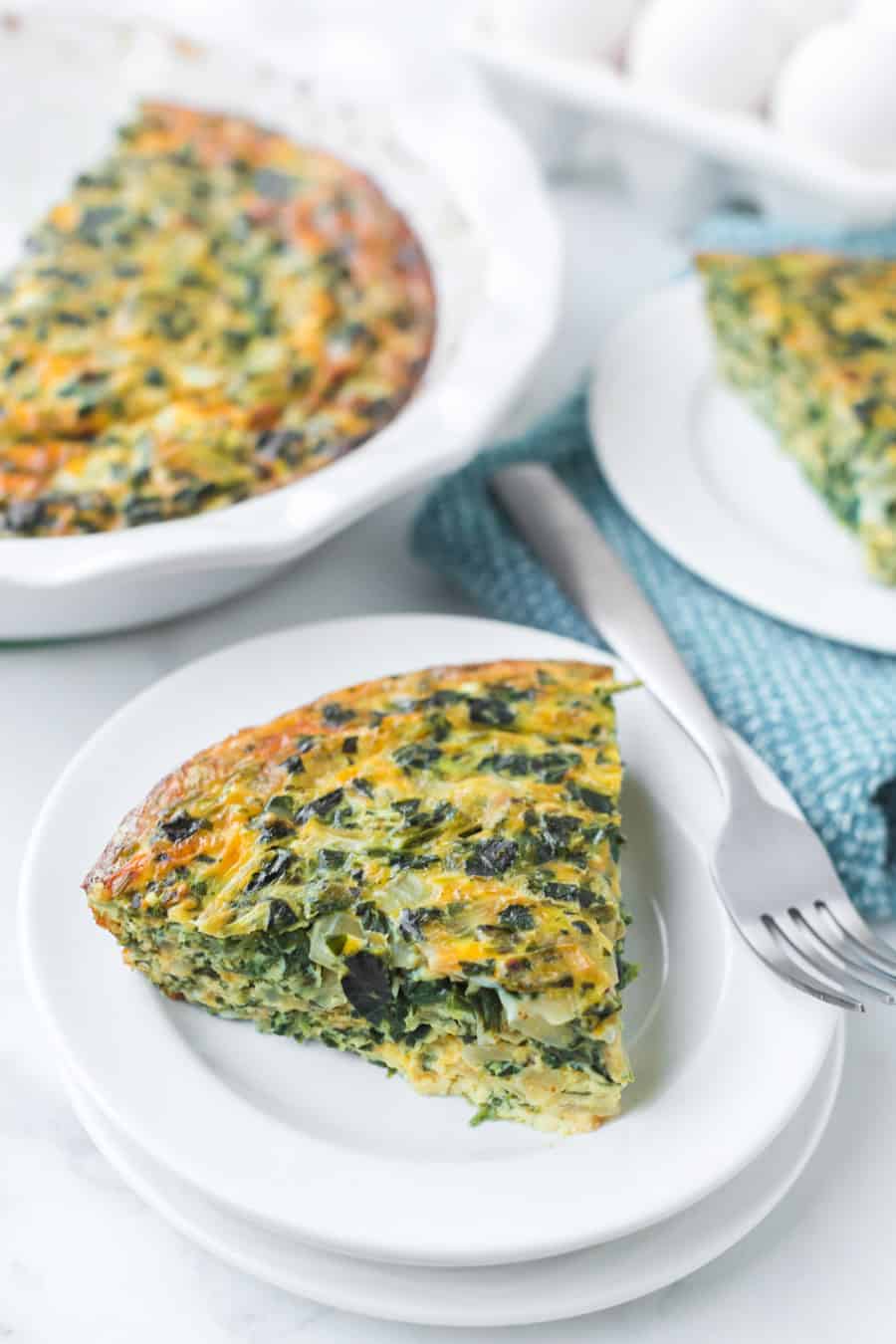 Crustless Spinach Quiche
---
Author:

Total Time:

40 minutes

Yield:

Serves 6
Description
Straightforward yet flavorful, crustless spinach quiche is an easy and healthy breakfast that you can customize or keep simple!
---
1 tablespoon

olive oil

1

small onion, chopped

1

to

2

cloves garlic, minced

1

(10-ounce) package frozen chopped spinach, thawed and drained

8

eggs, beaten

1 ½ cups

shredded cheese (I'd go for a nice sharp cheddar or a cheddar-parmesan mix)

½ cup milk

½ teaspoon salt

¼ teaspoon ground black pepper
---
Instructions
Preheat oven to 350 degrees F. Lightly grease a 9-inch pie pan.
Heat oil in a large skillet over medium-high heat. Add onions and garlic to cook, stirring occasionally, until onions are soft.
Stir in spinach, and continue cooking until excess moisture has evaporated.
In a large bowl, combine eggs, cheese, milk, salt, and pepper. Add spinach mixture, and stir to blend.
Dump into pie pan.
Bake in preheated oven, until eggs have set, about 30 minutes.
Let cool for 10 minutes before serving.
Notes
So many options for additions: sauteed bell pepper and mushroom are great in this (cook them with the onions!).
Use your favorite cheese or a mix of a few.
Serve with a side of biscuits and some fresh fruit for an easy meal.
Prep Time:

10 min

Cook Time:

30 min

Category:

breakfast

Method:

bake

Cuisine:

American
Keywords: quiche, spinach, eggs, egg bake, cheese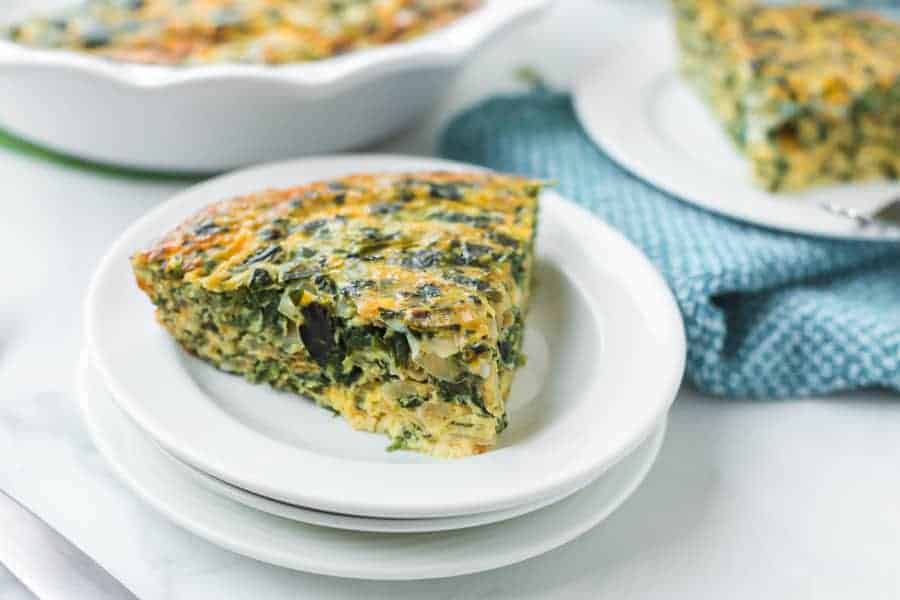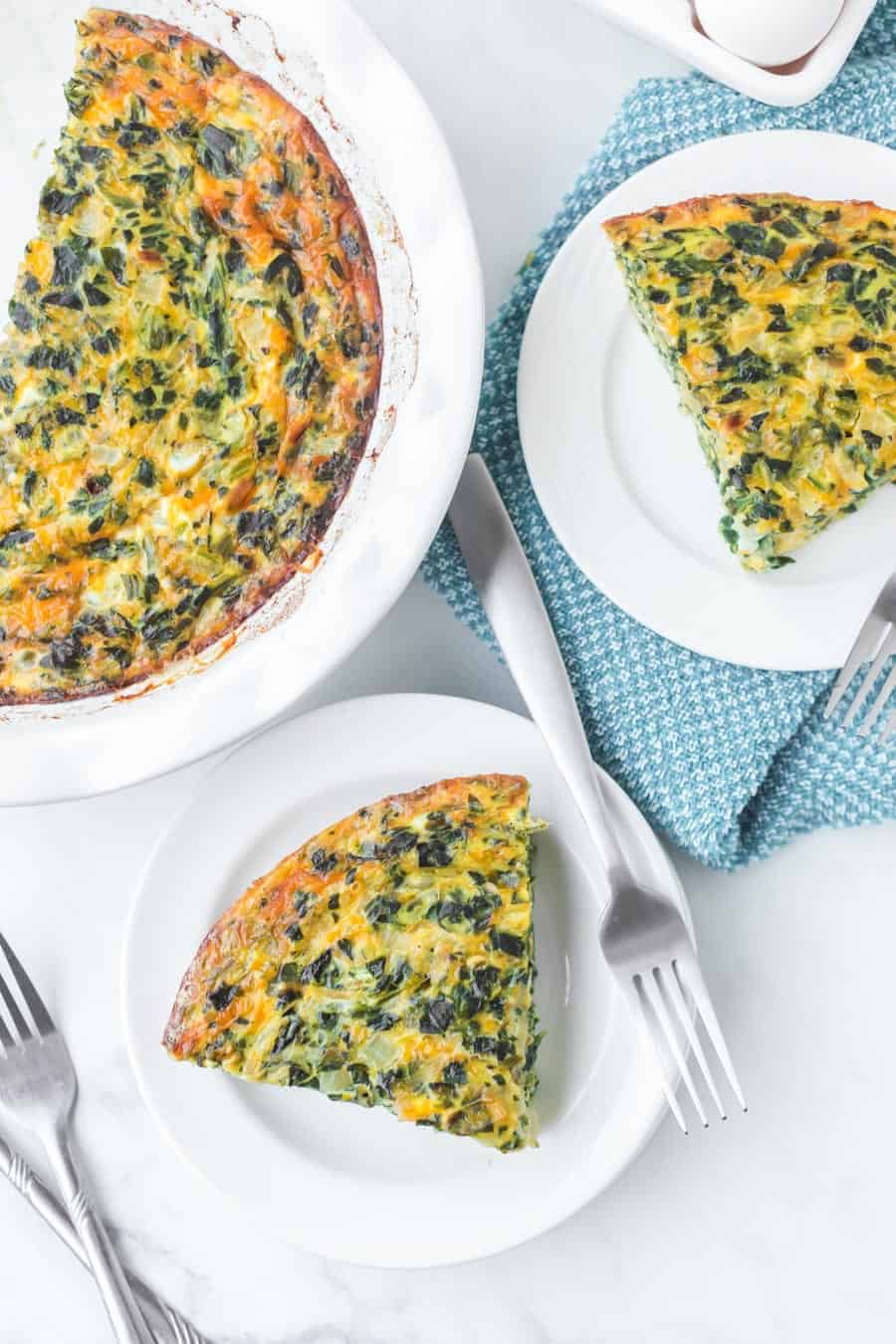 More Egg Recipes:
This post was originally published in 2011, and has been updated and rephotographed in August 2019.
Crustless spinach quiche is a healthy and fast breakfast that's packed with goodness: cheese, eggs, spinach, onion, and garlic... What more could you ask for?!