Quiche Lorraine, with its buttery crust, rich custard filling, and delectable combination of bacon and cheese, is a timeless recipe. This iconic French dish is the perfect choice for brunches, lunches, and even dinners.
Quiche Lorraine is named after the Lorraine region in northeastern France, which is where the dish originated. The word "quiche" itself comes from the German word "kuchen," meaning cake. The Lorraine region, historically influenced by both French and German cultures, is known for its rich culinary traditions.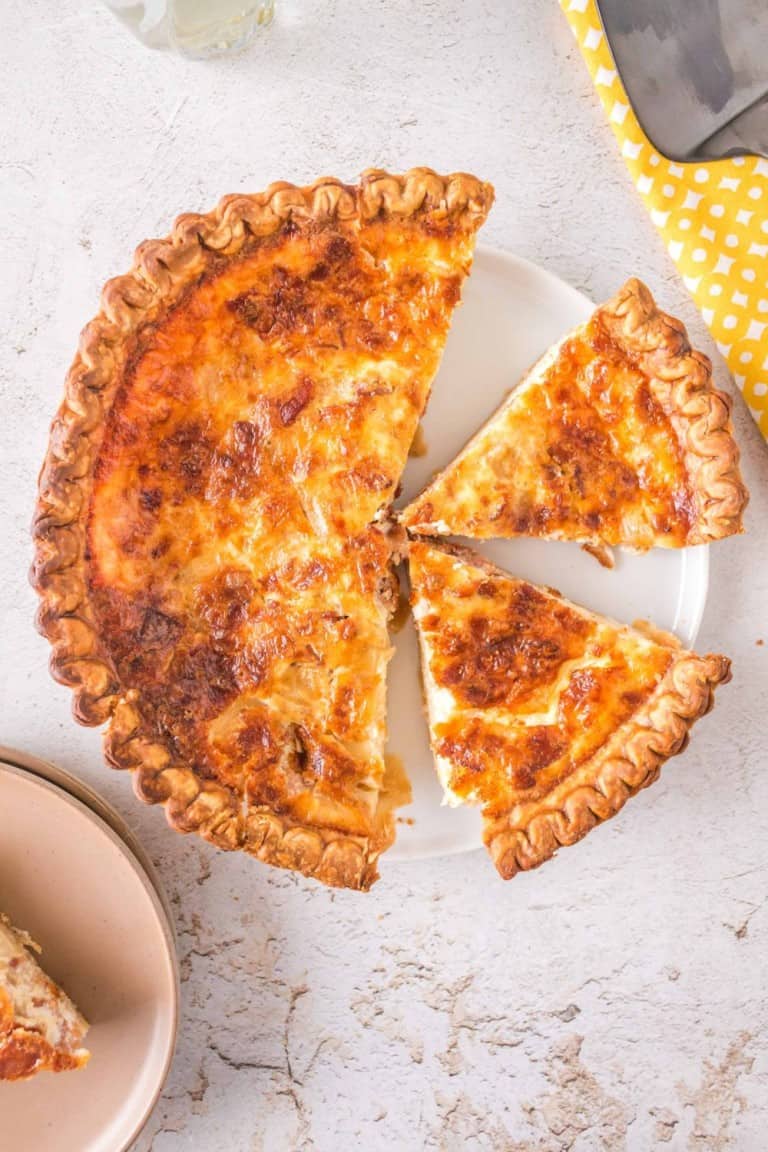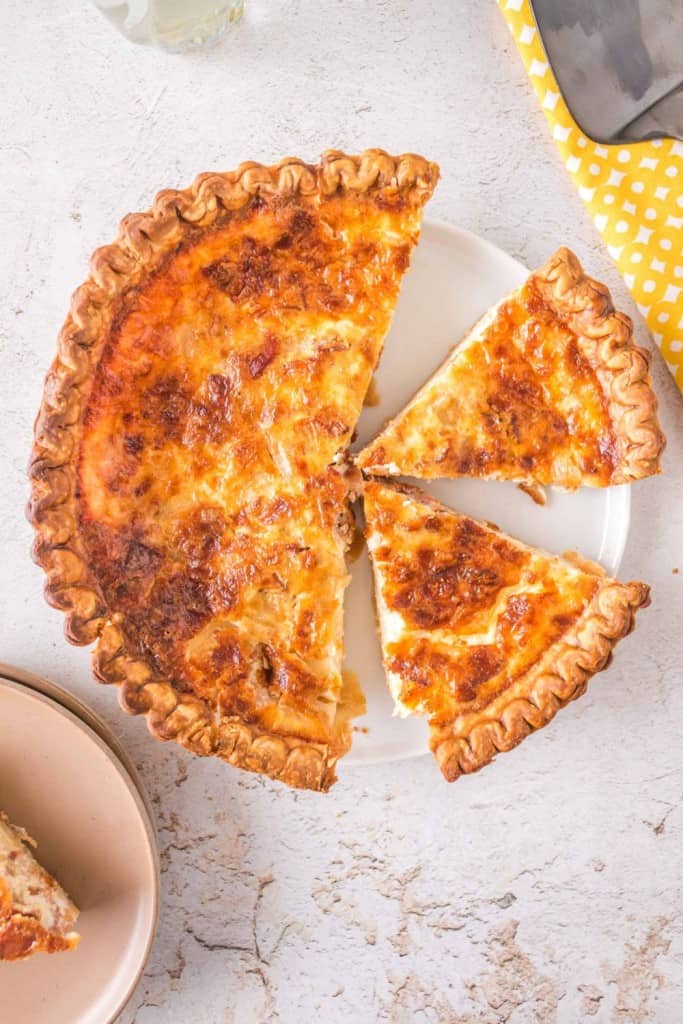 Quiche Lorraine
One of the reasons people adore quiche lorraine is its versatility. It can be enjoyed at any time of the day, whether as a satisfying breakfast option, a centerpiece for a leisurely brunch, or a delightful addition to a light lunch or dinner. Its ability to effortlessly transition from one meal to another makes it a popular choice for various occasions. The dish can be served hot or cold, making it convenient for picnics, potlucks, or even as a make-ahead option for busy days.
I have learned that you don't want to overfill the quiche. Be mindful not to overfill the crust with the custard filling. Leave a little space at the top to allow for expansion while baking. Too much filling can cause the custard to overflow and make the quiche less visually appealing.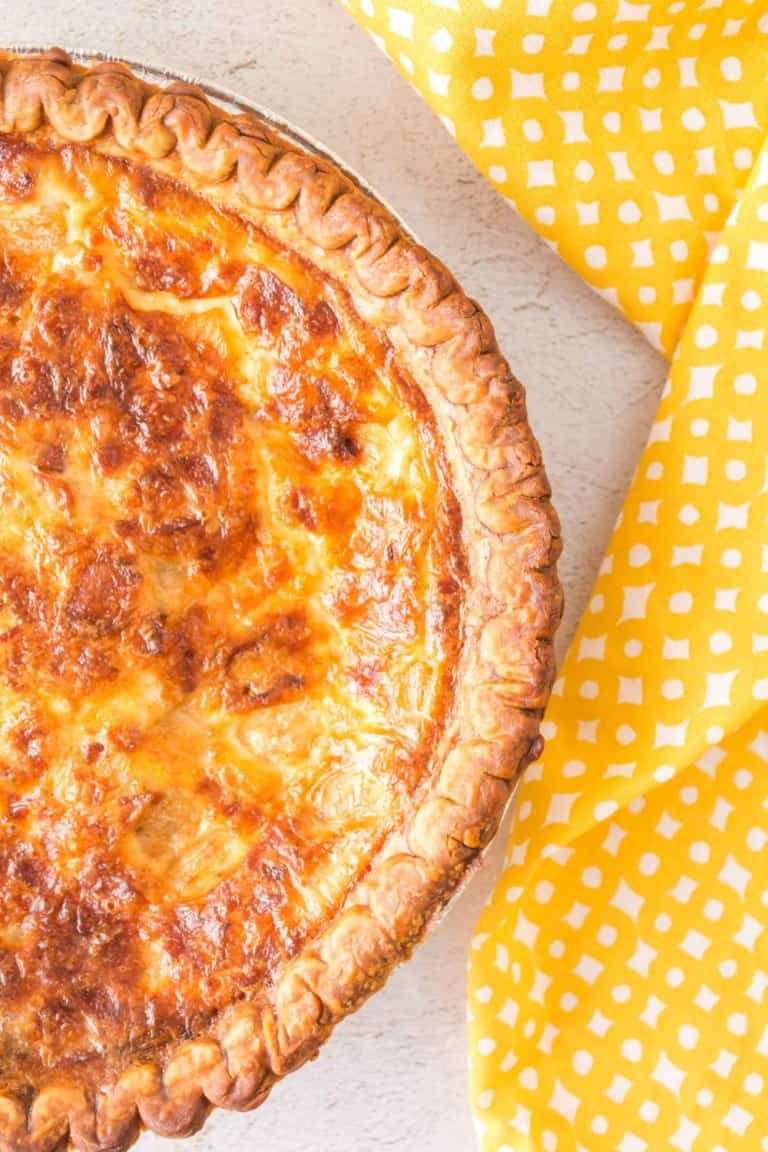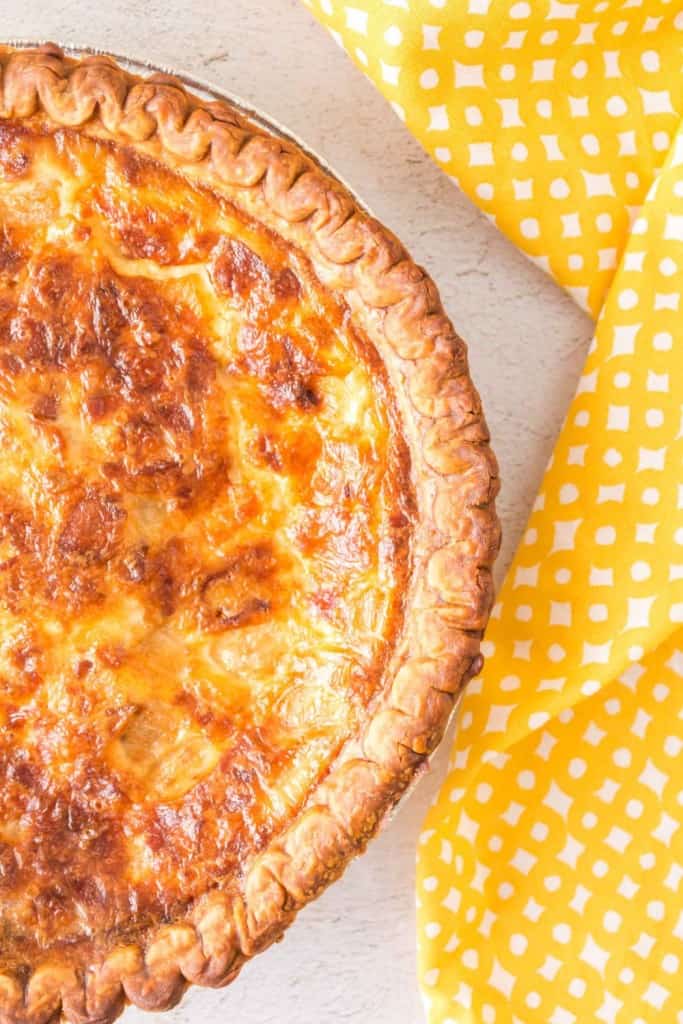 Ingredients
9-inch pie crust store-bought or homemade
Bacon
Onion
Eggs
Half-and-half
Milk
Swiss cheese
Keep scrolling to find a full, printable recipe with a detailed ingredient list.
Recipe Instructions
Pre-bake the crust: Preheat oven to 400°F. Thaw the pie crust until it's easily pricked with a fork. Prick it all over and bake on a baking sheet until golden (10-15 minutes). Reduce oven temperature to 325°F.
Cook the bacon: Slice the cold bacon into ½-inch pieces. Cook in a skillet until crispy (about 8 minutes). Remove the bacon from the pan.
Caramelize onions: Keep 2 tablespoons of bacon drippings in the pan. Cook onions over medium heat until caramelized (10-12 minutes).
Mix custard: In a bowl, whisk together eggs, half-and-half, milk, salt, and nutmeg. Stir in bacon and onions.
Assemble and bake: Place cheese in the pre-baked crust, then pour the custard mixture over it. Bake at 325°F for 45-55 minutes, until set.
Rest and garnish: Let the quiche stand for 10 minutes before serving. Garnish with chopped chives.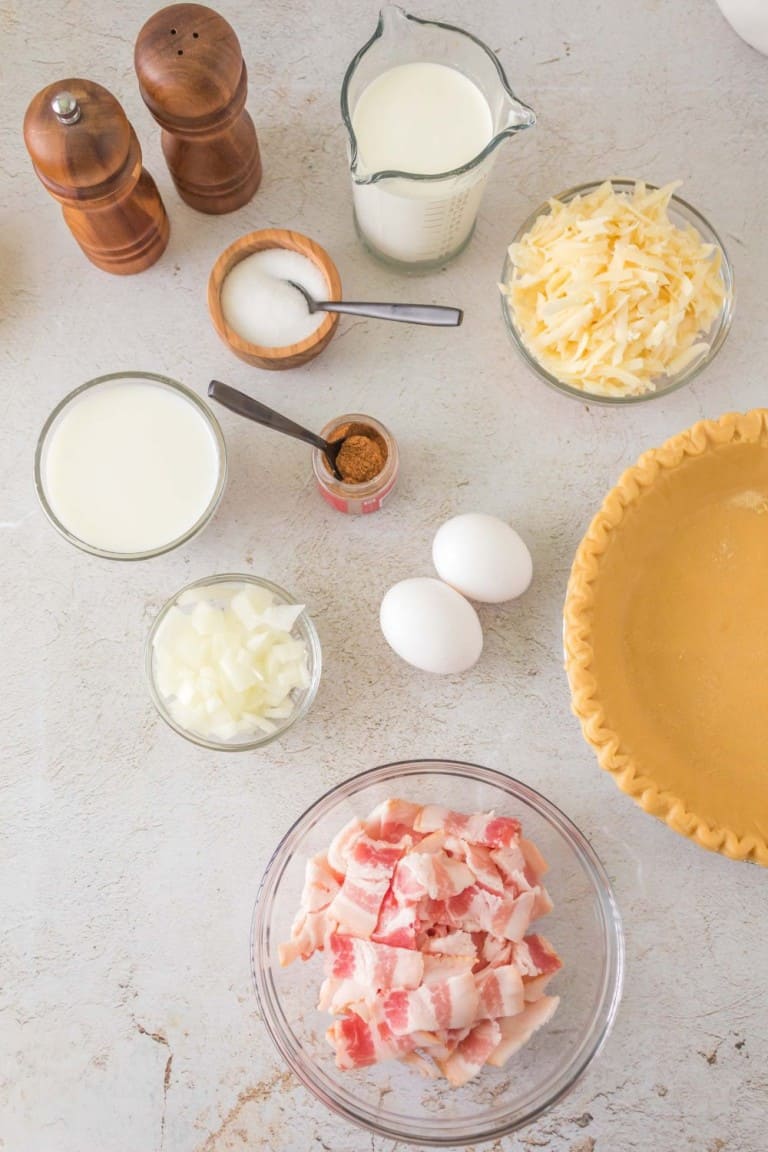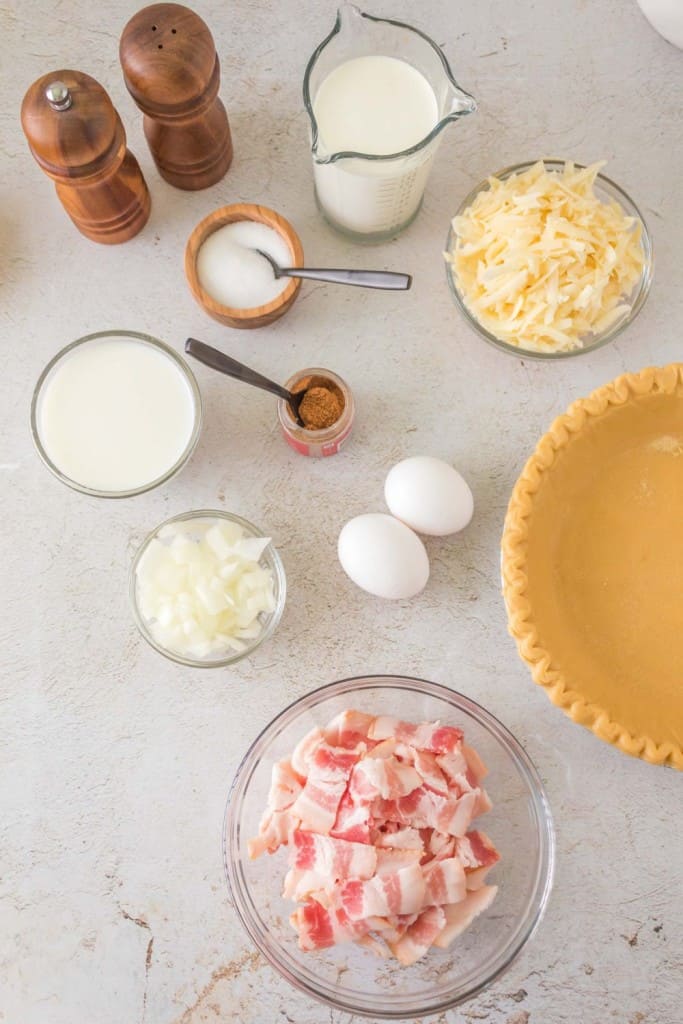 Frequently Asked Questions
Can I use a pre-made crust for Quiche Lorraine?
Yes, you can certainly use a pre-made crust if you're short on time or prefer the convenience. However, making your own crust from scratch can add an extra layer of deliciousness and personalization to the quiche.
What are some good side dishes to serve with Quiche Lorraine?
Quiche Lorraine pairs wonderfully with a variety of side dishes. A fresh green salad dressed with a light vinaigrette, roasted vegetables, or a cup of creamy tomato soup can all complement the quiche beautifully. Feel free to experiment and find your perfect combination.
Should I let the Quiche Lorraine cool?
Once the Quiche Lorraine is baked, resist the temptation to slice it immediately. Allow it to cool for about 10-15 minutes before cutting into it. This helps the custard set and makes it easier to slice without the filling spilling out.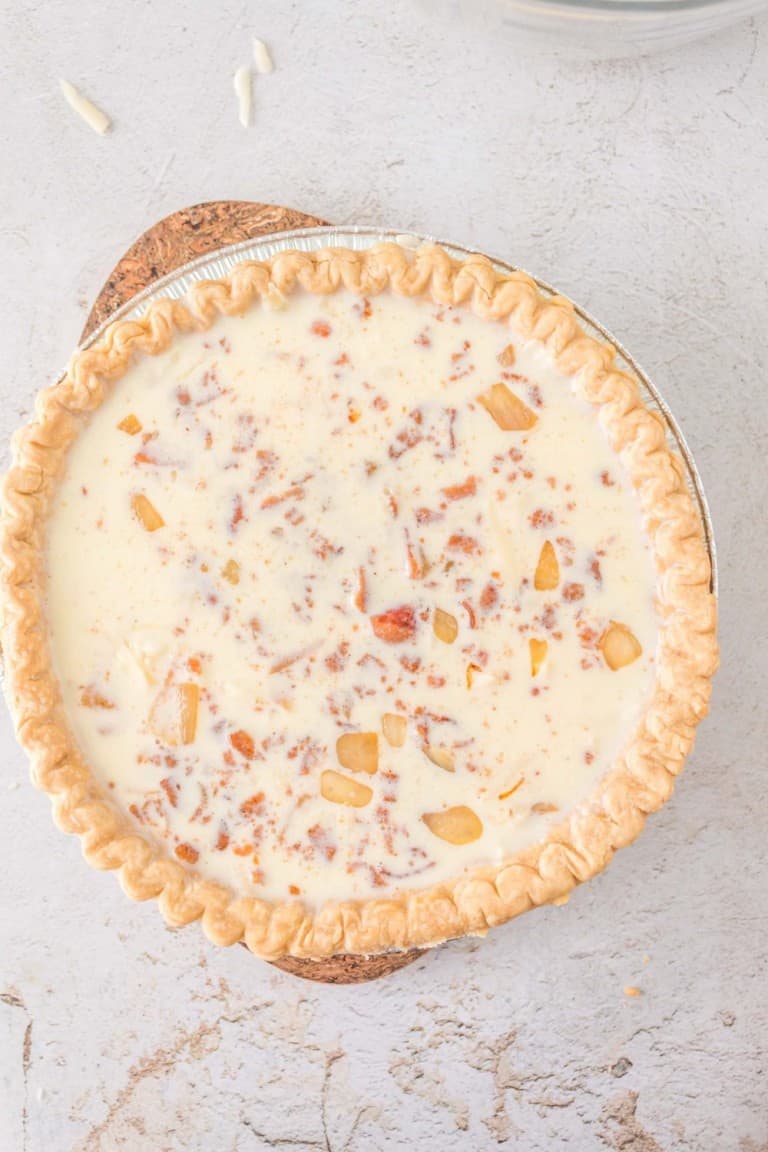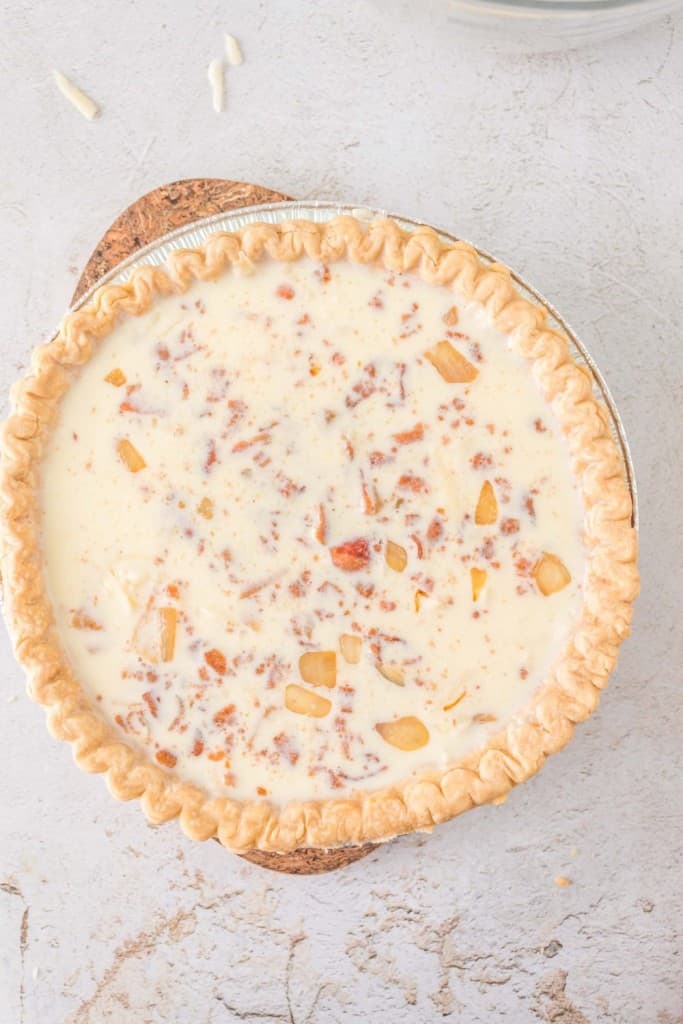 More Recipes
If you've tried this Quiche Lorraine recipe or any other recipe on Bless This Mess, then don't forget to rate the recipe and leave me a comment below! I would love to hear about your experience making it. And if you snapped some pictures of it, share it with me on Instagram so I can repost on my stories.
📖 Recipe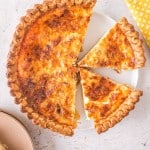 Print Recipe
Quiche Lorraine
The iconic Quiche Lorraine embodies the timeless appeal of French culinary traditions, captivating taste buds with its harmonious blend of smoky bacon, creamy custard, and flaky crust, making it a beloved and versatile dish enjoyed worldwide.
Ingredients
1

premade frozen deep-dish 9-inch pie crust

or homemade

½

pound

bacon

½

of a medium onion

finely chopped (about ½ cup)

4

large eggs

1

cup

half-and-half

¾

cup

milk

¼

teaspoon

salt

Dash ground nutmeg

1 ½

cups

shredded swiss cheese

A few chives for garnish
Instructions
To blind bake the pie crust, preheat the oven to 400°F and set a rack in the middle position. Remove the pie crust from freezer and thaw until just soft enough to easily prick with a fork, about 10 minutes. Use a fork to prick the bottom and sides of the crust all over with a fork. Place the crust on a baking sheet and place in the oven. Bake until lightly golden, 10 to 15 minutes. Keep an eye on it; if it puffs up while cooking, gently prick it with a fork so it will deflate. Once the crust is golden, remove from the oven and reduce the oven temperature to 325 degrees F.

While the crust is being prepared, use a sharp knife to cut the raw bacon into ½ inch thick little slices. This works best when the bacon is cold.

Add the chopped bacon to a large skillet, cook bacon until crisp, about 8 minutes, stirring often. Remove the bacon from the pan.

Remove all of the bacon drippings from the pan except for 2 tablespoons (enough to lightly coat the bottom of the pan). Place the pan with the reserved bacon drippings over medium heat and cook gently until the onions start to darken and caramelize, stirring often. This should take 10-12 minutes.

In a medium bowl whisk together eggs, half-and-half, milk, salt, and nutmeg. Stir in bacon and onion.

Place the cheese in the cooked pie crust and then pour the egg mixture gently over the cheese.

Bake for 45 to 55 minutes or until edges are puffed and the center is set. Let stand 10 minutes before serving. The center should not giggle when it is done.

Garnish with finely chopped chives and serve warm.
Notes
You can switch up the seasonings and cheese in this recipe with what you like or have on hand but this is the classic Quiche Lorraine recipe so maybe try it as is before you change it.
Nutrition
Calories:
382
kcal
|
Carbohydrates:
14
g
|
Protein:
15
g
|
Fat:
29
g
|
Saturated Fat:
12
g
|
Polyunsaturated Fat:
3
g
|
Monounsaturated Fat:
11
g
|
Trans Fat:
0.05
g
|
Cholesterol:
133
mg
|
Sodium:
443
mg
|
Potassium:
206
mg
|
Fiber:
1
g
|
Sugar:
3
g
|
Vitamin A:
442
IU
|
Vitamin C:
1
mg
|
Calcium:
260
mg
|
Iron:
1
mg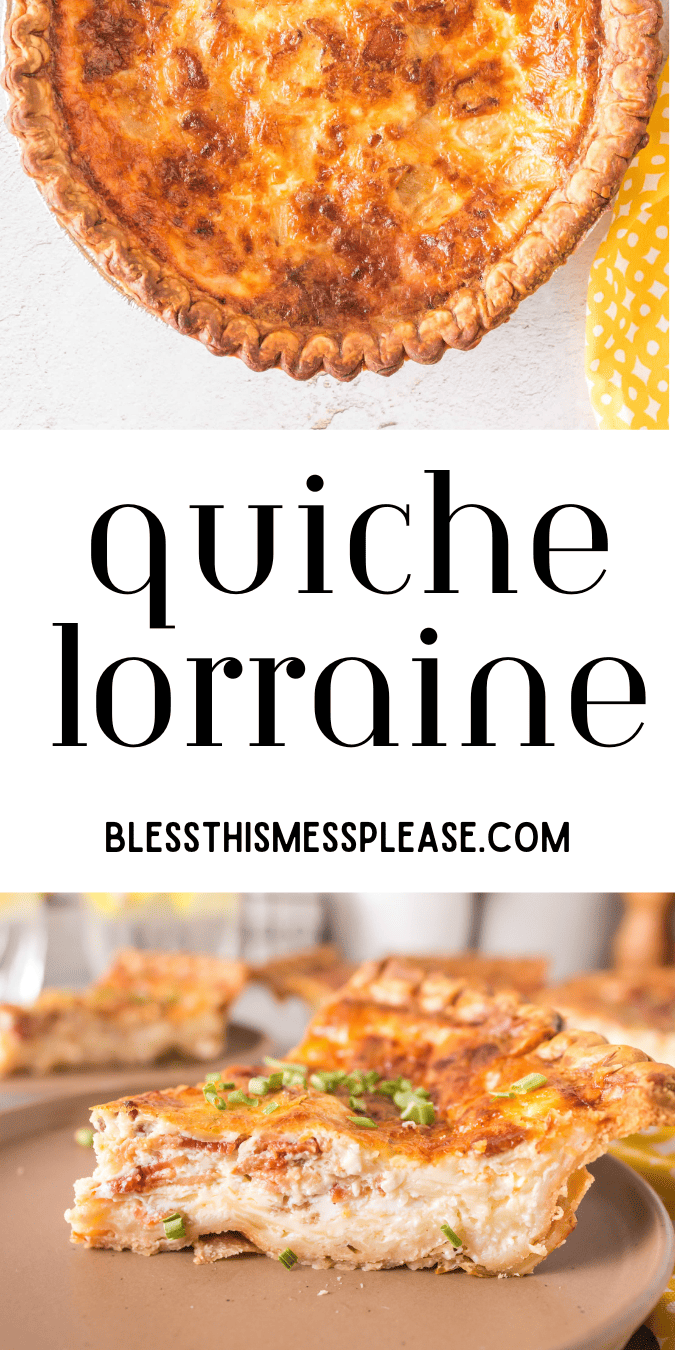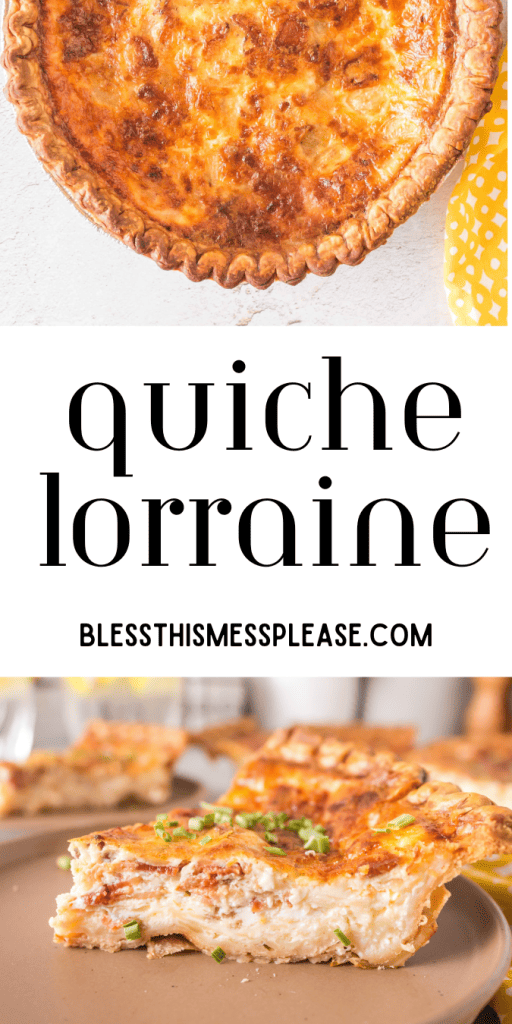 Quiche Lorraine embodies the timeless appeal of French culinary traditions, captivating taste buds with its blend of smoky bacon, creamy custard, and flaky crust, you are going to love it!