Cream of mushroom soup is a comforting and velvety concoction bursting with the earthy richness of mushrooms, making it a beloved classic in the world of soups.
There's something undeniably comforting about a steaming bowl of Cream of Mushroom Soup. Whether you savor it on a chilly winter evening or as a quick lunch fix, this classic soup has a way of warming both your body and your soul. But why do people love it so much, and what makes it not just delicious but also a surprisingly healthy choice?
First things first, why do people adore cream of mushroom soup? The answer is simple: it's all about the flavor. Mushrooms bring a rich, earthy taste to the soup that's impossible to resist. Their umami goodness, often referred to as the fifth taste sensation (alongside sweet, sour, bitter, and salty), adds depth and complexity to the dish.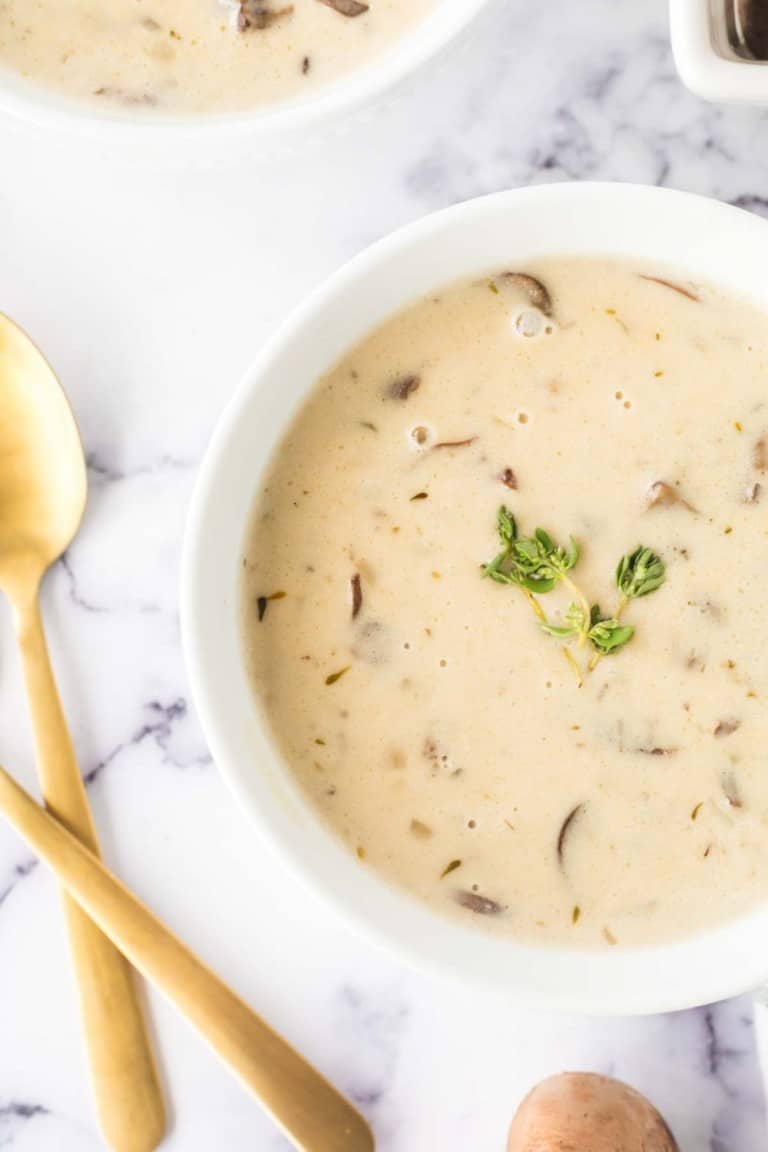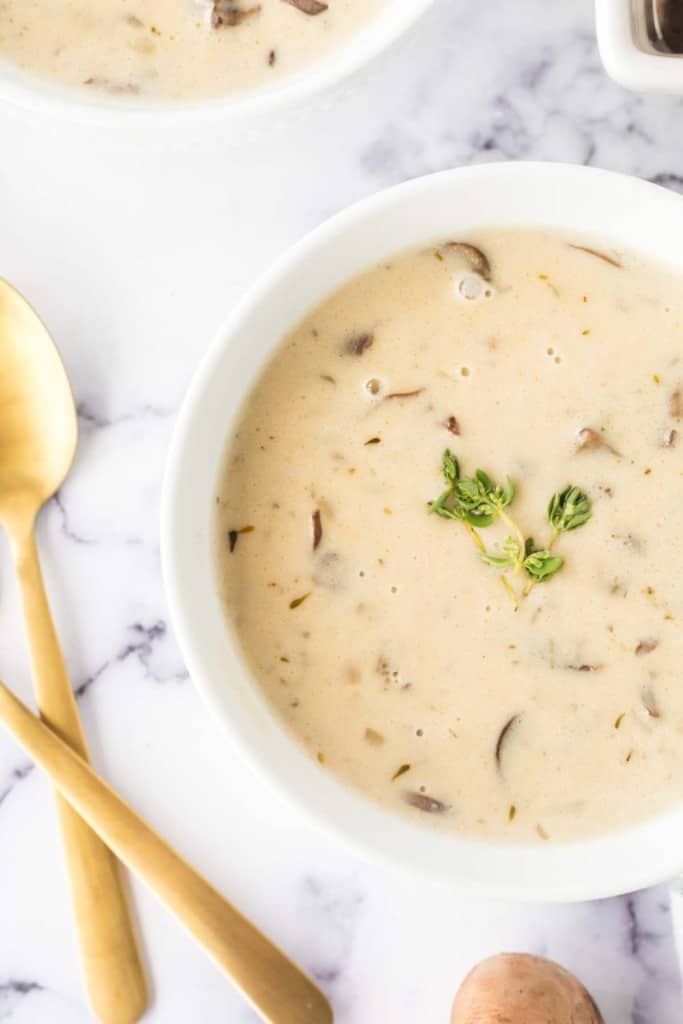 Cream of Mushroom Soup
Mushrooms come in a variety of types, each offering its unique flavor profile. From the mild and delicate button mushrooms to the robust and meaty shiitakes, there's a mushroom to suit every palate. When combined, these fungi create a symphony of flavors that dance on your taste buds.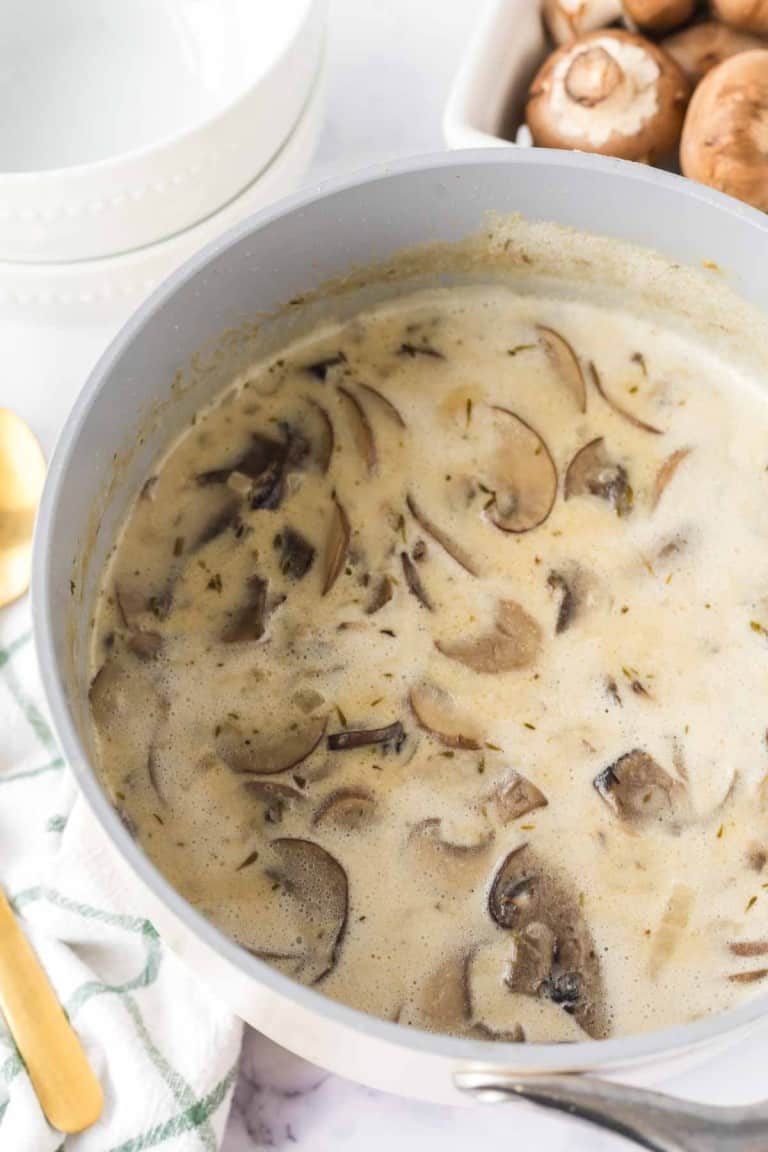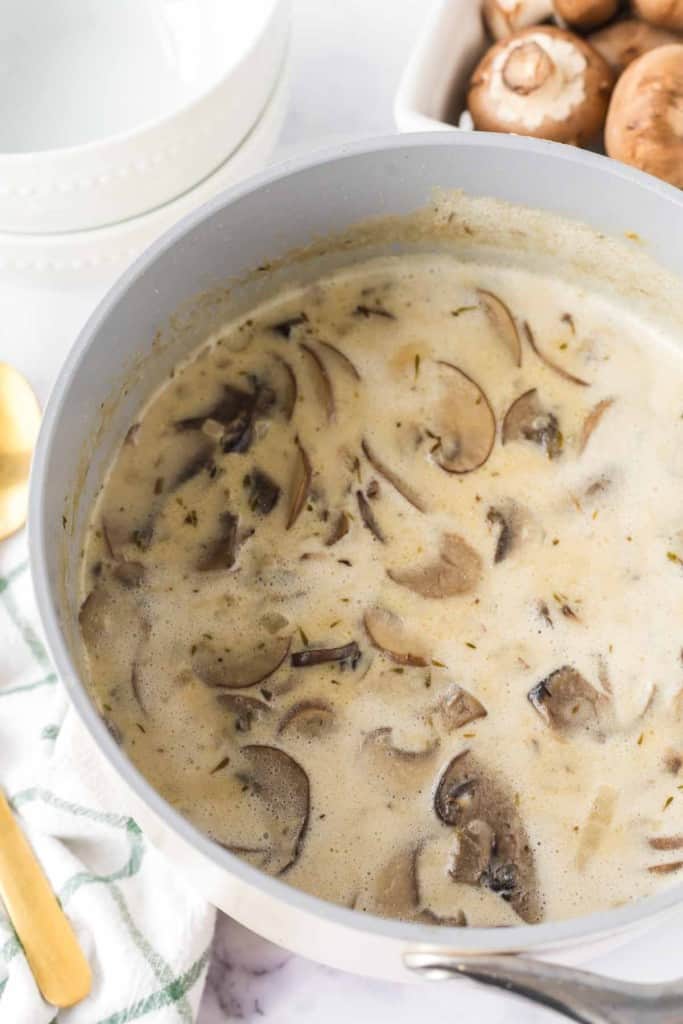 The Health Benefits of Mushrooms
Beyond their delicious taste, mushrooms are also packed with health benefits. They're a nutritional powerhouse that can contribute to your overall well-being. Here are a few reasons to celebrate the mushroom:
Rich in Nutrients: Mushrooms are a great source of essential vitamins and minerals, including vitamin D (when exposed to sunlight), selenium, potassium, and B-vitamins. These nutrients play crucial roles in maintaining your health.
Low in Calories: If you're watching your calorie intake, mushrooms are a fantastic choice. They're low in calories but high in flavor, making them an ideal addition to your diet.
Fiber and Antioxidants: Mushrooms are a good source of dietary fiber and antioxidants, which can support digestion and protect your cells from damage caused by free radicals.
Immune Boost: Some mushrooms, like shiitakes, contain compounds that may enhance the immune system, potentially helping your body fend off illnesses.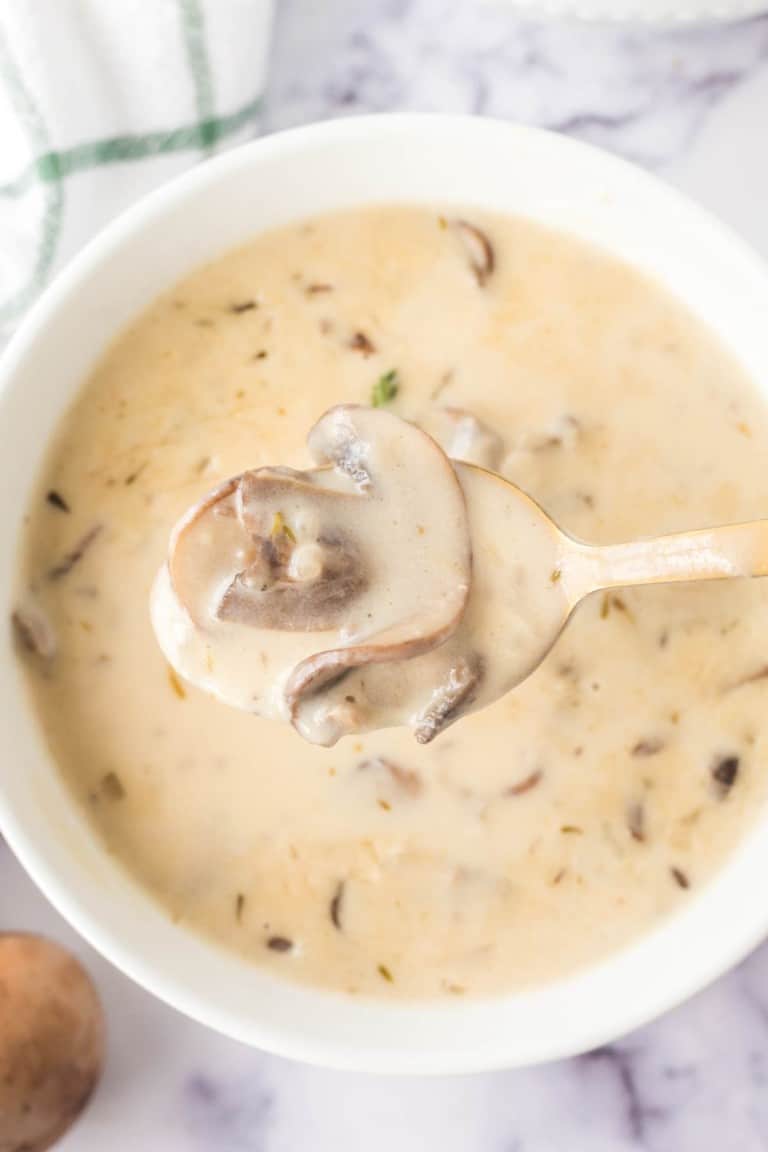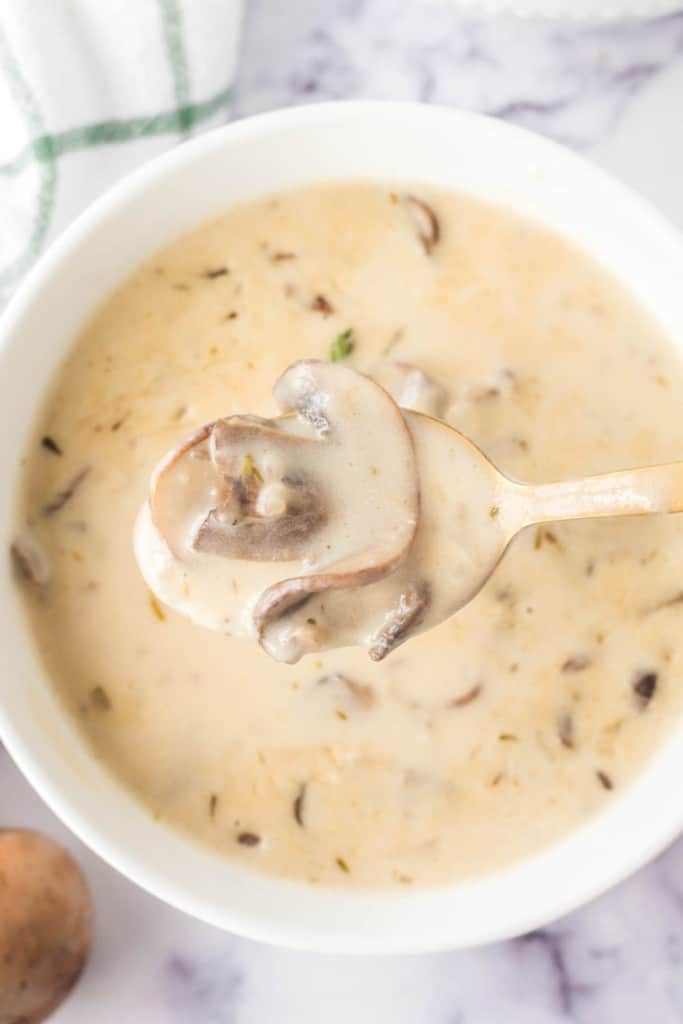 Ingredients
Butter
Onion
Mushrooms
Rosemary
Garlic powder
Flour
Chicken broth
Heavy cream
Keep scrolling to find a full, printable recipe with a detailed ingredient list.
Recipe Instructions
In a big pot, melt some butter on medium heat until it's all liquid.
Add the onions and cook them for 5-7 minutes until they're soft and a bit see-through.
Put in the mushrooms, dried rosemary, and garlic powder. Keep cooking for 5 more minutes to make the mushrooms soft.
Mix in the flour so that it covers everything in the pot. Slowly add the chicken broth while stirring now and then. Wait until it starts boiling.
Now, pour in the heavy cream and keep stirring until the soup gets thicker.
Serve it up and enjoy!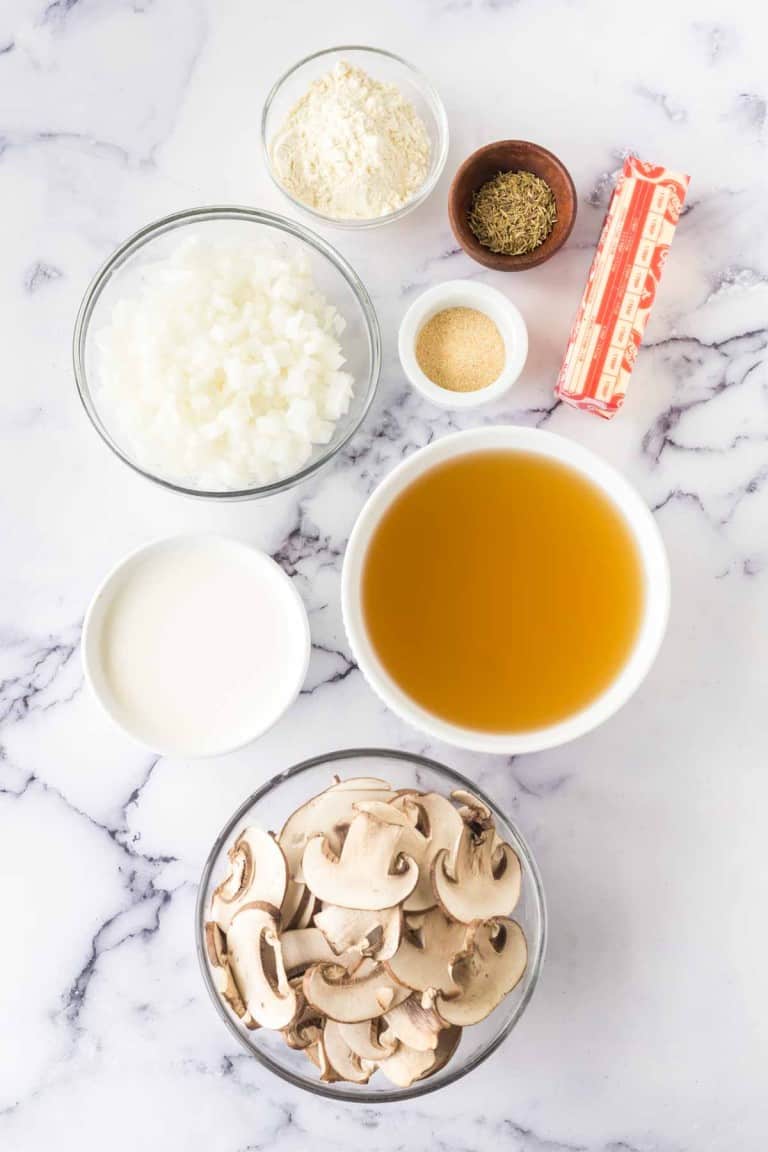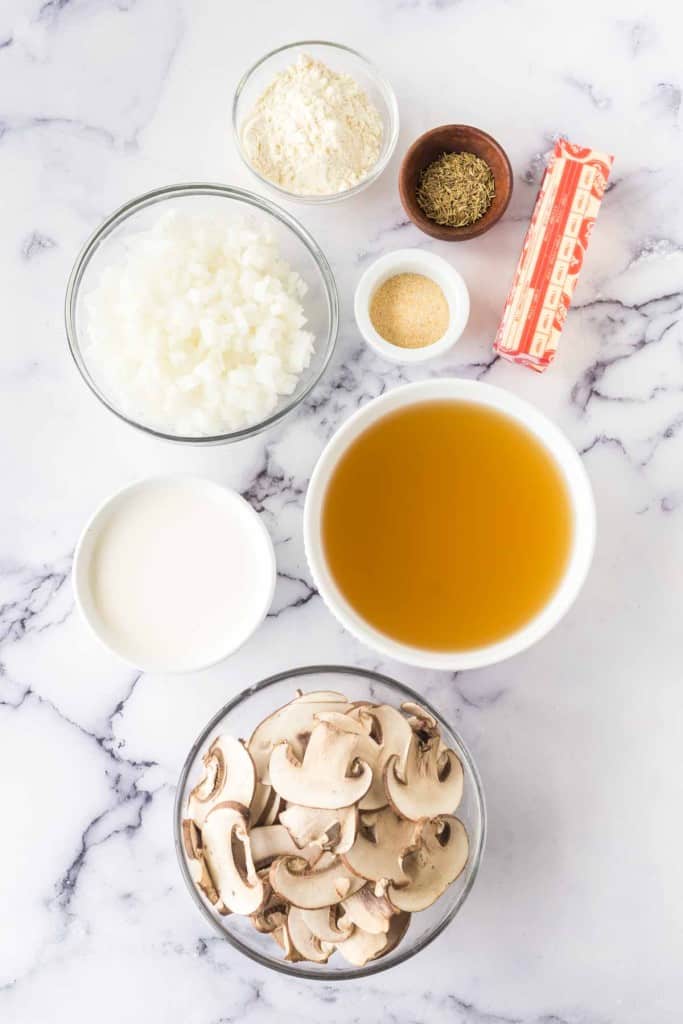 Frequently Asked Questions
What is cream of mushroom soup?
Cream of mushroom soup is a rich and creamy soup made primarily from mushrooms, often blended with cream or milk for a velvety texture.
Is cream of mushroom soup vegetarian or vegan?
Traditional cream of mushroom soup recipes typically contain dairy, making them vegetarian but not vegan. However, you can find vegan alternatives that use plant-based milk or cream.
Can I use different types of mushrooms in cream of mushroom soup?
Yes, you can experiment with various mushroom varieties, such as button mushrooms, cremini, shiitake, or wild mushrooms, to create unique flavor profiles in your soup.

What can I serve with cream of mushroom soup?
This soup pair well with a green salad, crusty bread, sandwhiches or a quiche.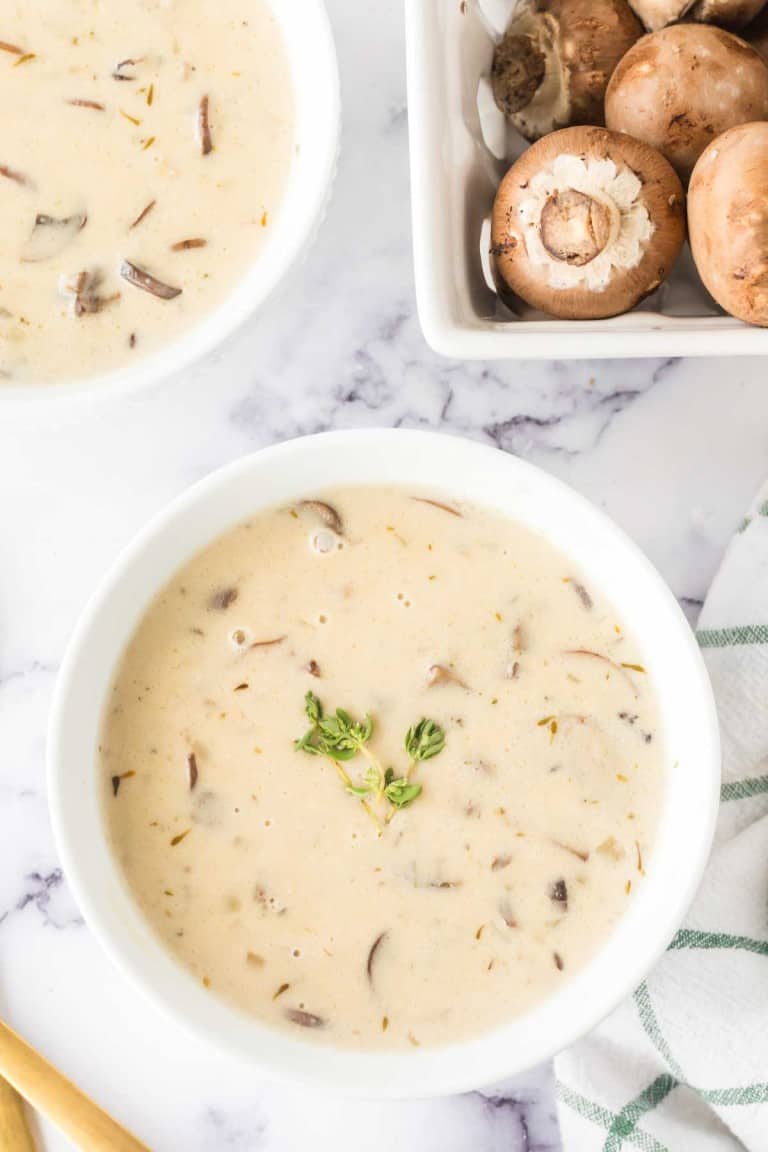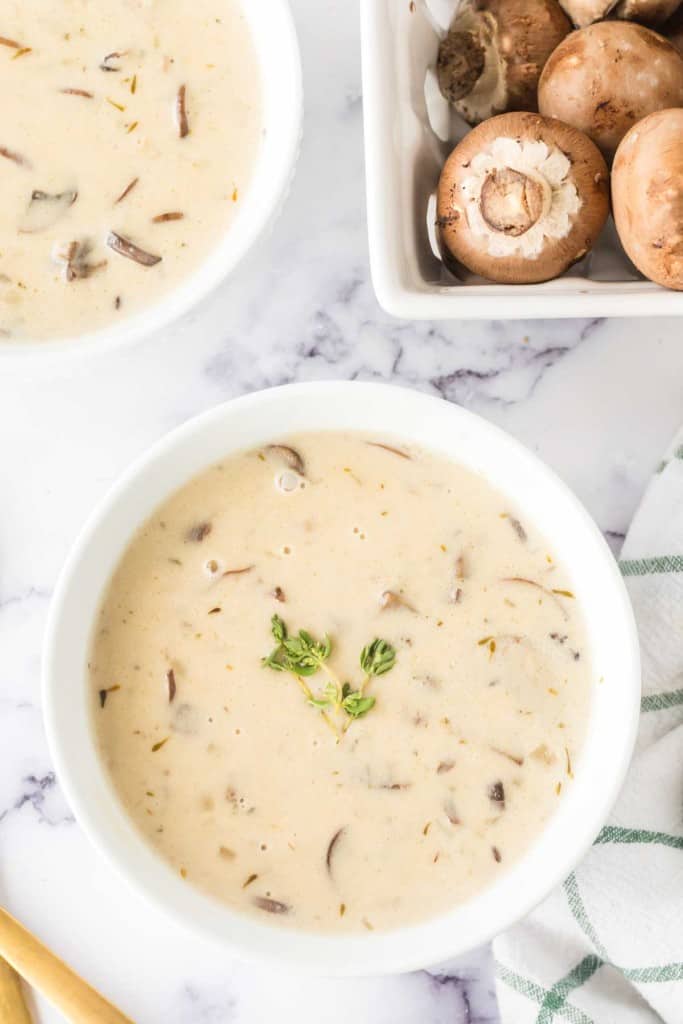 More Recipes
If you've tried this Cream of Mushroom Soup recipe or any other recipe on Bless This Mess, then don't forget to rate the recipe and leave me a comment below! I would love to hear about your experience making it. And if you snapped some pictures of it, share it with me on Instagram so I can repost on my stories.
📖 Recipe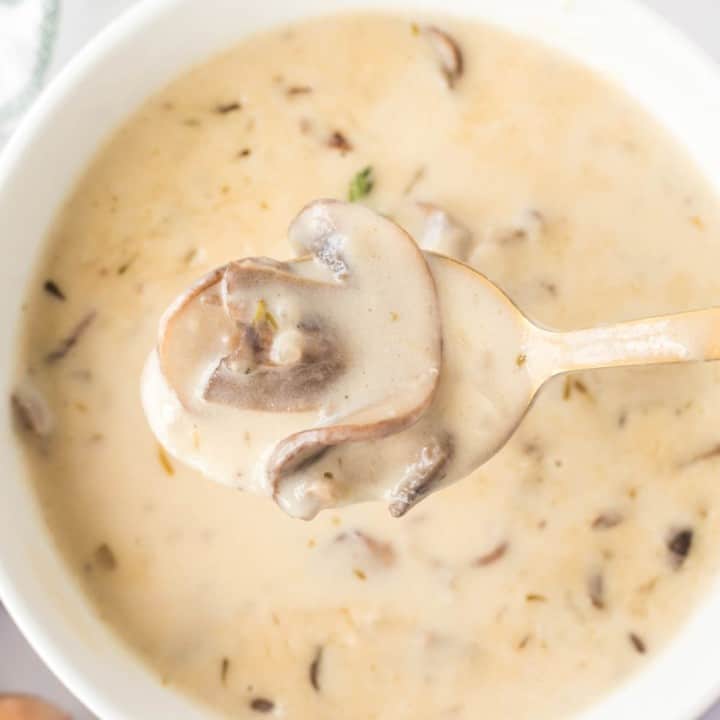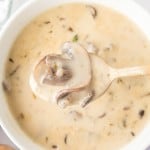 Print Recipe
Cream of Mushroom Soup
Cream of mushroom soup is a comforting and velvety concoction bursting with the earthy richness of mushrooms, making it a beloved classic in the world of soups.
Ingredients
½

cup

butter

salted

½

onion

white or yellow onion, diced

16

ounces

sliced mushrooms

white button mushrooms work great, can use a variety

1 ½

teaspoons

rosemary

dried

2

teaspoons

garlic powder

½

cup

all-purpose flour

4

cups

chicken broth

1

cup

heavy cream
Instructions
In a large pot, melt the butter over medium heat. Once the butter is fully melted, add the onion and cook for 5-7 minutes, or until the onions are soft and begin to turn translucent.

Add the mushrooms, dried rosemary, and garlic powder. Continue cooking over medium heat until for an additional five minutes, giving the mushrooms time to soften.

Stir in the flour until it evenly coats the mushroom mixture. Gently whisk in the chicken broth and bring the mixture to a boil, stirring occasionally.

Once the mixture reaches a boil, add the heavy cream and stir the soup continuously until it has thickened.

Serve and enjoy!
Notes
We like to top this soup with a sprig or two of fresh thyme for some extra flavor.
You can use white or brown mushrooms in this recipe as long as you have 16 ounces worth.
If you have fresh garlic, you can replace the powder with 3-4 cloves of freshly minced garlic. You will still add it to the pot with the mushrooms.
Store your leftover soup in the fridge for up to 5 days. When reheating your soup, transfer a serving to a microwave safe bowl, cover with a paper towel, and microwave on 30 second intervals, stirring after each interval, until the soup is warm all the way through.
You want to make sure that no clumps of dry flour remain in your pot before adding the chicken broth. This provides the base of your rue, which is the crucial step in making sure your soup thickens. If there are clumps of dry flour, your soup will not thicken properly.
I like having slices of mushrooms scattered throughout my soup, but if you want smaller pieces of mushroom you can dice them as small as you would like. You can also run an immersion blender through the soup if you want it very pureed and creamy.
Cooking the mushrooms for five minutes helps release their flavor, giving you that classic mushroom taste after your soup has thickened.
This soup is great served with a grilled cheese or other grilled sandwich, baked potato, roasted veggies, etc.
Nutrition
Calories:
487
kcal
|
Carbohydrates:
17
g
|
Protein:
5
g
|
Fat:
45
g
|
Saturated Fat:
28
g
|
Polyunsaturated Fat:
2
g
|
Monounsaturated Fat:
11
g
|
Trans Fat:
1
g
|
Cholesterol:
133
mg
|
Sodium:
1072
mg
|
Potassium:
161
mg
|
Fiber:
1
g
|
Sugar:
3
g
|
Vitamin A:
1590
IU
|
Vitamin C:
1
mg
|
Calcium:
63
mg
|
Iron:
1
mg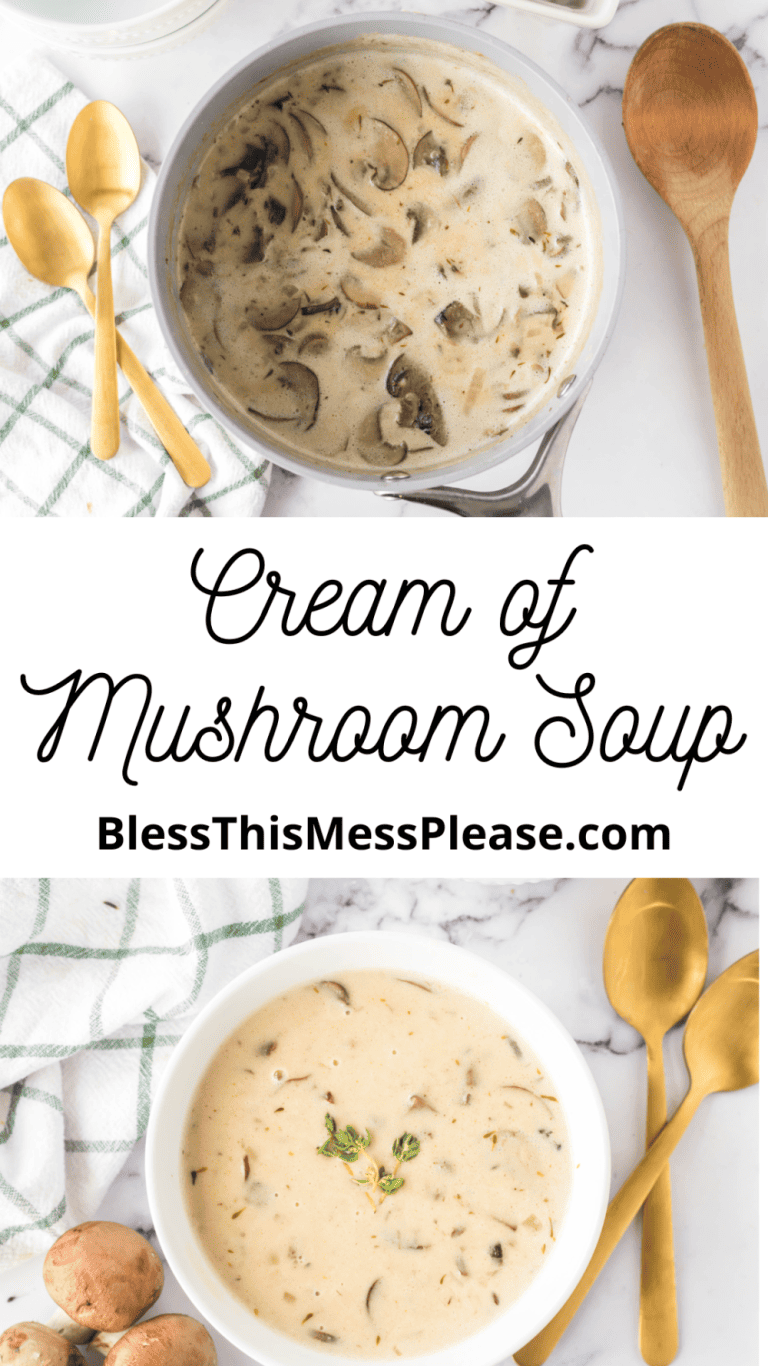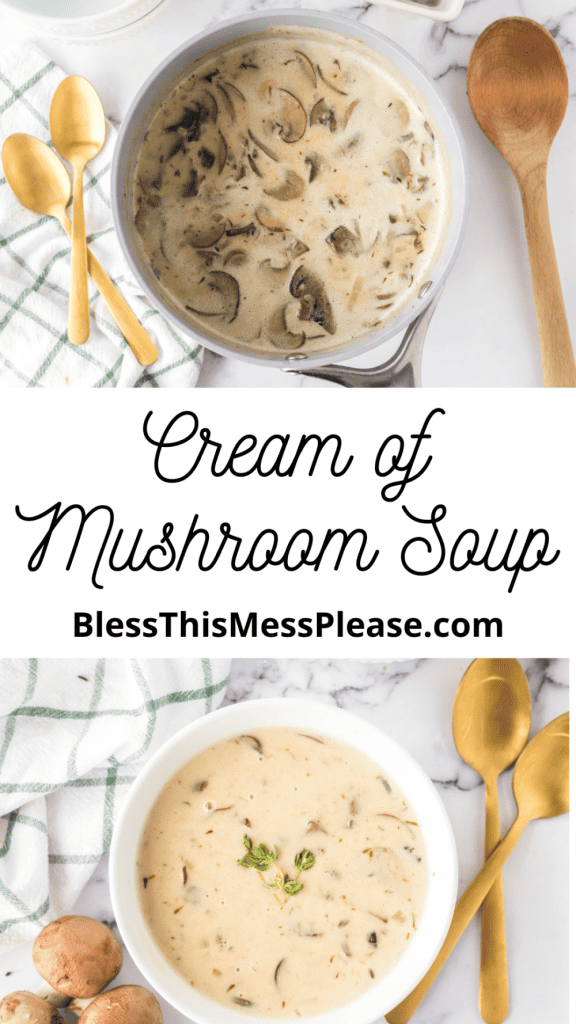 Cream of mushroom soup embodies the perfect blend of comforting warmth, rich flavors, and versatile appeal, making it a timeless favorite that continues to captivate taste buds and provide solace on countless occasions.