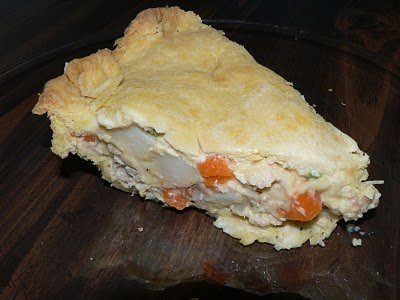 Thomas' favorite. Ever.
Chicken Pot Pie
The guts:
1 chicken breast boiled and shredded
1 cup potatos
1 cup carrots
1/2 cup frozen peas
1/2 cup frozen corn
1 can cream of chicken soup, undiluted
1/2 t. garlic salt
1/2 t. salt (or less…to taste really)
1/2 t. pepper
One double pie crust of your choosing
After you have boiled and shredded your chicken breast, throw the potatoes and carrots in the same water and boil until soft. Add peas and corn for a minute or two to thaw. Drain excess water. In a medium mixing bowl combine veggies, cooked chicken, soup, and seasonings. Divide pie crust into two, rolling both pieces into 9 inch circles. Place one in the bottom of 9 inch pie plate, add guts, wet the ridge of the pie crust with water, top with second pie crust, crimp edges with your fingers and cut off the extras. Cut holes in the top so steam can vent.  Bake for 45-60 minutes (until golden brown) in a 375 degree oven.