In the world of comfort food, few dishes can rival the heartwarming and soul-soothing qualities of Chicken Fricassee. This classic French dish combines tender chicken pieces with a rich, flavorful sauce and a medley of vegetables.
With its roots dating back centuries, chicken fricassee continues to be a beloved culinary treasure enjoyed by families around the world. Whether you're a seasoned home cook or an adventurous beginner, this delightful recipe is sure to bring joy to your table.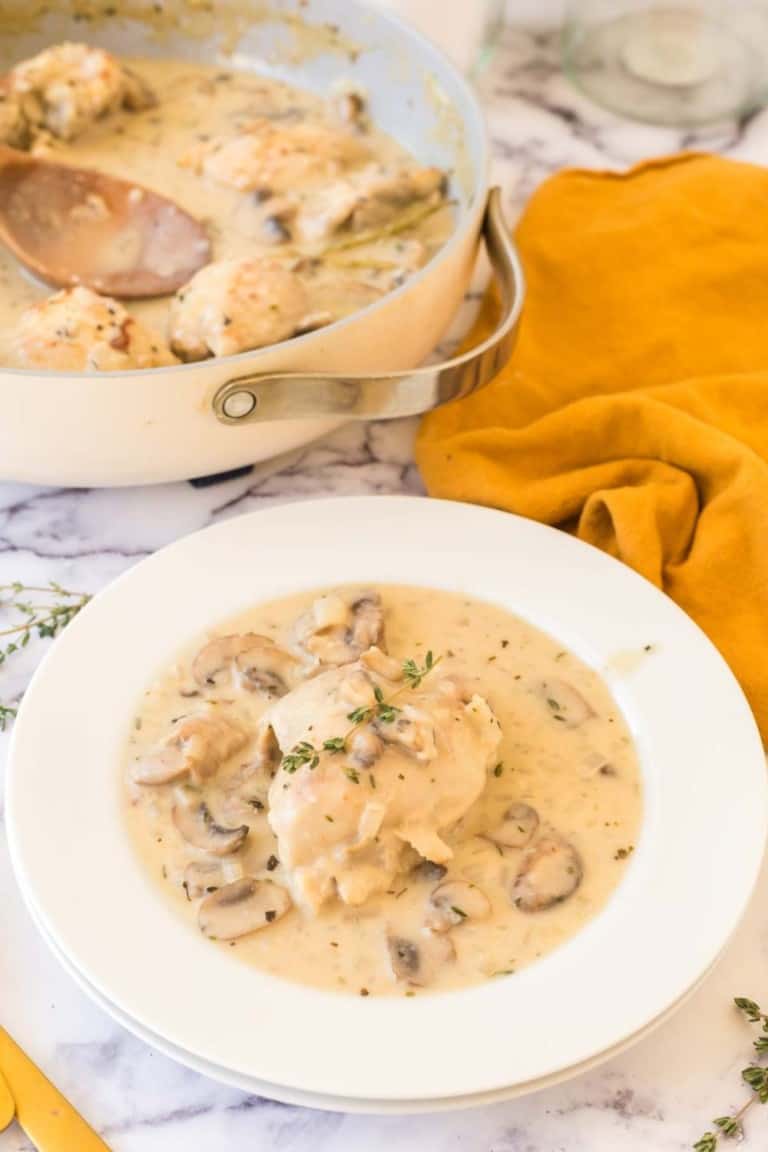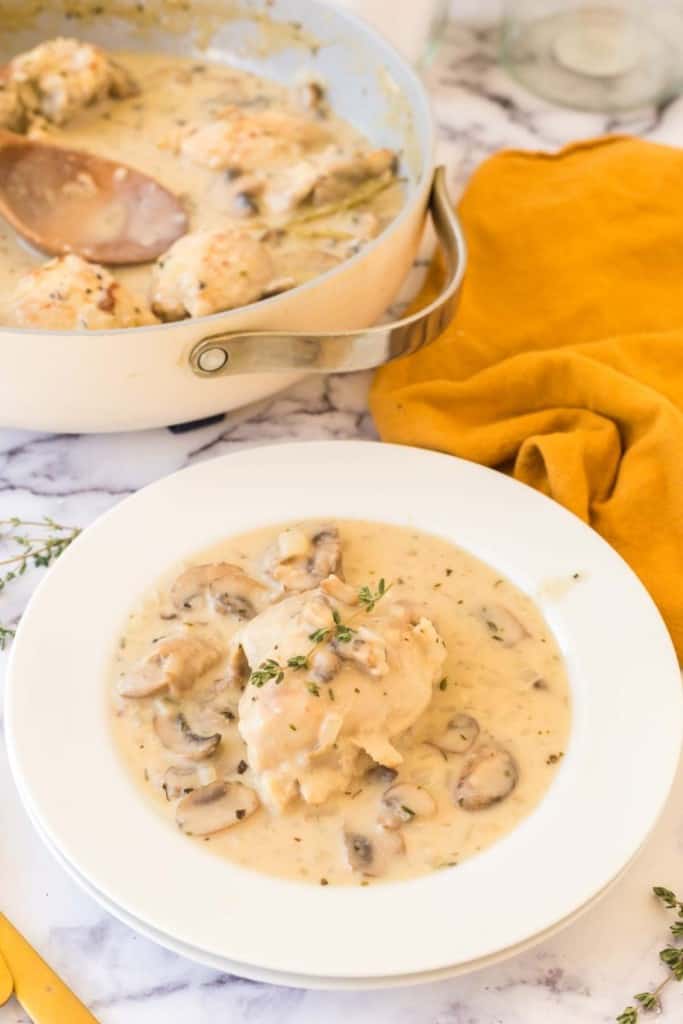 Chicken Fricassee
Chicken fricassee is a rustic dish that consists of chicken pieces, typically bone-in, cooked slowly in a creamy sauce until they become fork-tender. The dish's unique appeal lies in the harmonious combination of flavors, with the chicken absorbing the essence of the sauce while imparting its own deep flavor.
The sauce is traditionally made with a blend of aromatic vegetables, such as onions, carrots, and mushrooms, cooked in butter and flour to create a velvety texture. This dish is often served with rice, noodles, or crusty bread to soak up every bit of the luscious sauce.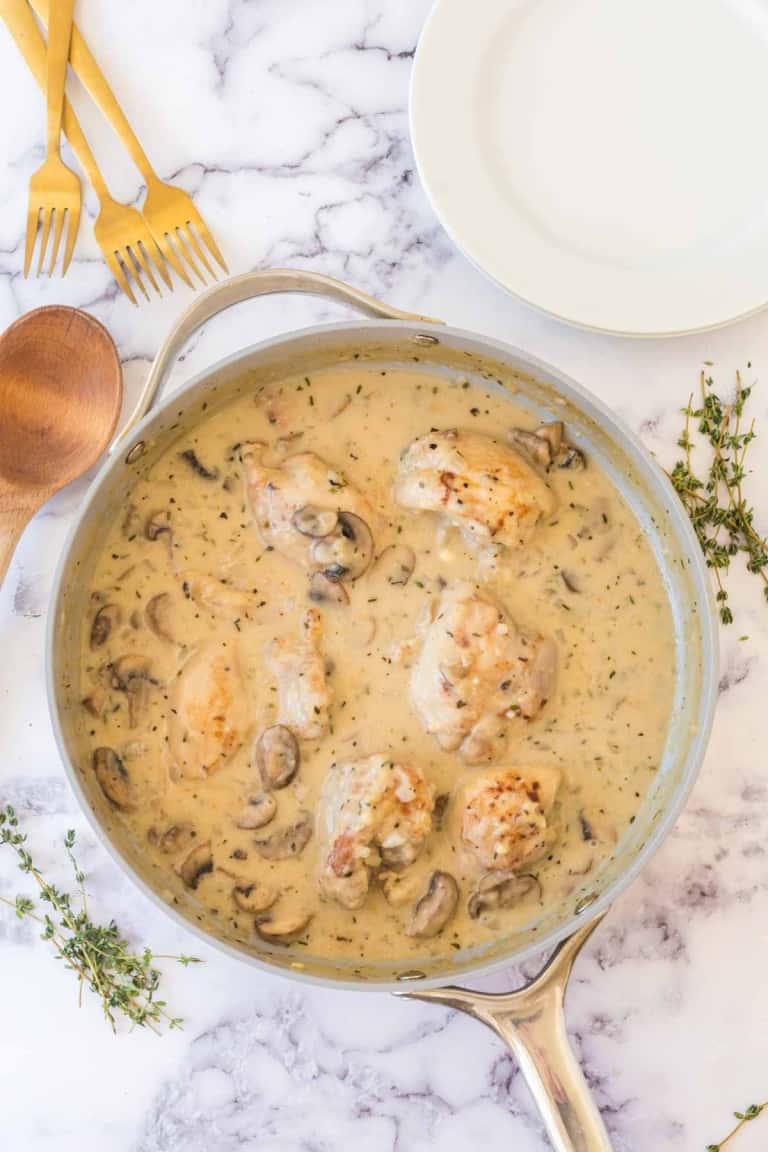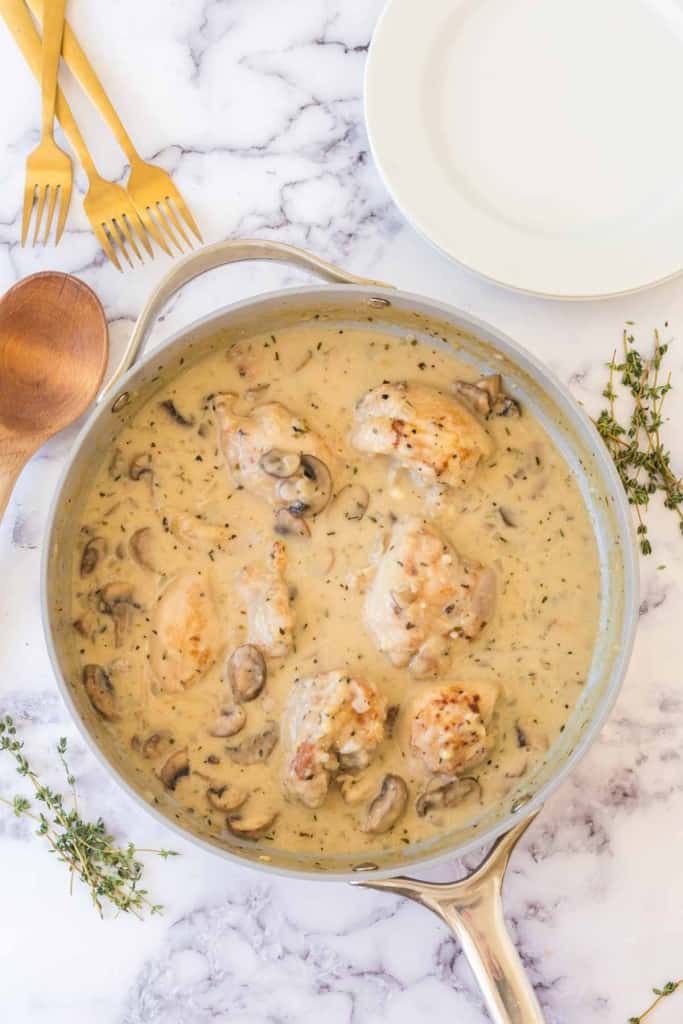 Ingredients
Butter
Chicken thighs
Basil
Oregano
Thyme
Onion
Mushrooms
Flour
Chicken broth
Heavy whipping cream
Keep scrolling to find a full, printable recipe with a detailed ingredient list.
Recipe Instructions
In a generously sized skillet or pan, melt the butter over medium-high heat until fully liquefied. Once the butter has melted completely, gently place the chicken thighs into the pan. Let them cook for approximately 4 minutes per side, or until they acquire a delightful golden brown hue.
Carefully remove the chicken from the pan and set it aside momentarily. Now, add the flour and spices to the pan, swiftly stirring to combine everything into a harmonious mixture.
Introduce the sliced mushrooms and diced onions to the pan, allowing them to cook for about 5 minutes until they soften and release their delightful flavors.
Next, pour the chicken broth and cream into the pan, using a whisk to thoroughly blend the ingredients. Make sure to whisk diligently to avoid any lumps in the mixture. Return the chicken to the pan, ensuring it is fully immersed in the sauce, and reduce the heat to a medium setting.
Allow the chicken to complete its cooking process as the sauce gradually thickens, which usually takes approximately 20-25 minutes. It's important to check that the internal temperature of the chicken reaches 165°F to ensure it is fully cooked.
Finally, it's time to serve and savor the fruits of your labor! Plate the chicken fricassee with a generous amount of the creamy sauce, and perhaps sprinkle some fresh herbs on top for an added touch of freshness. Sit back, relax, and indulge in the delicious flavors that await you.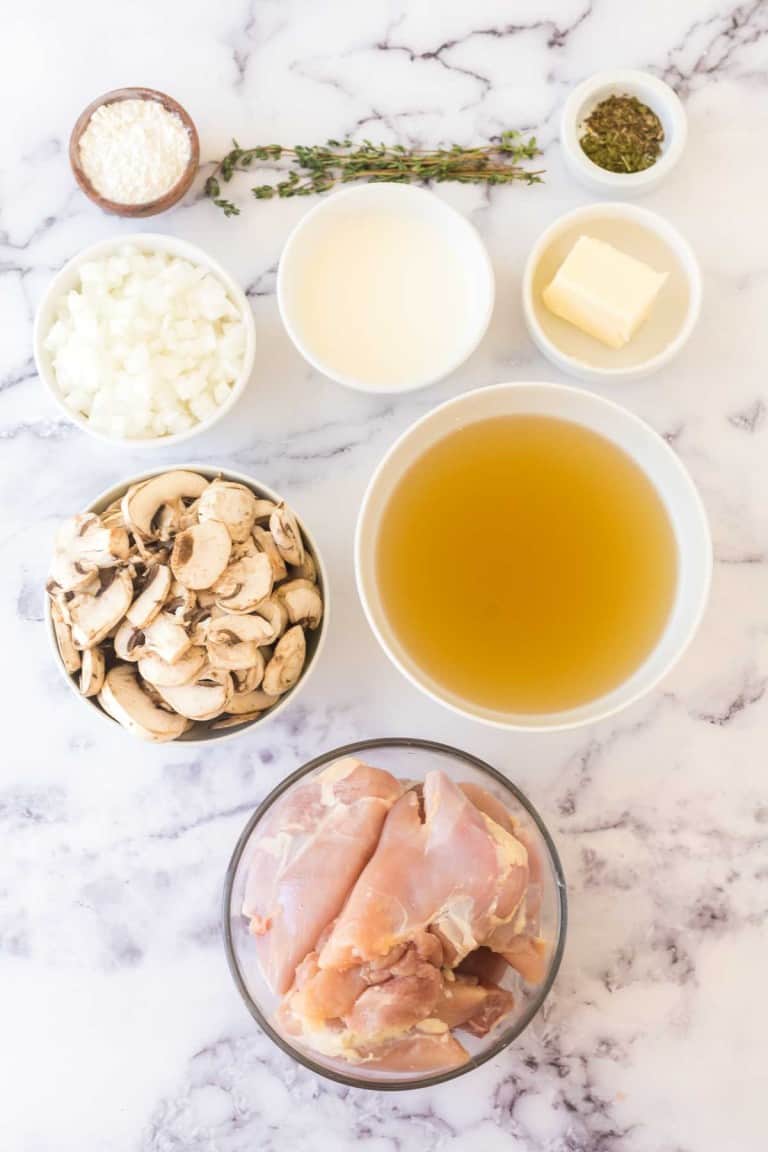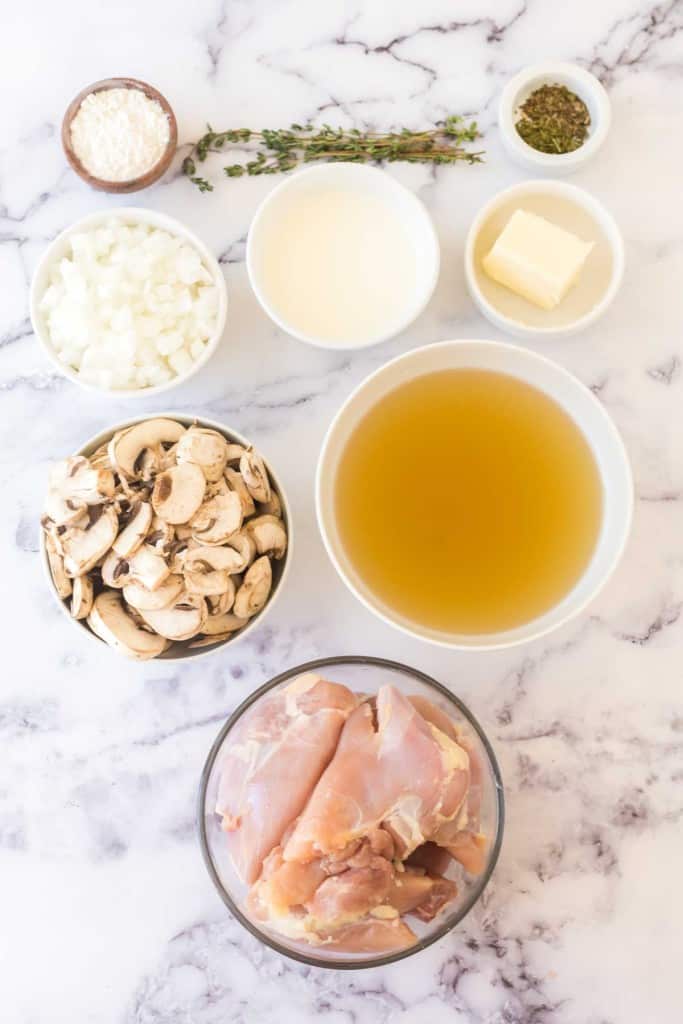 Frequently Asked Questions
Can I use chicken breasts instead of chicken thighs in chicken fricassee?
While chicken thighs are commonly used in traditional chicken fricassee for their tender and flavorful qualities, you can certainly use chicken breasts if you prefer. Keep in mind that chicken breasts tend to be leaner, so they may require slightly shorter cooking time to prevent them from drying out.
What can I serve with chicken fricassee?
Chicken fricassee pairs well with various side dishes. Traditional accompaniments include rice, mashed potatoes, or buttered noodles, which help to soak up the delicious sauce. You can also serve it with steamed vegetables or a fresh green salad for a lighter option.
Can I freeze chicken fricassee?
Yes, chicken fricassee can be frozen for future enjoyment. Once cooled, transfer the dish to a freezer-safe container or resealable bags. Make sure to remove as much air as possible before freezing. It can be stored in the freezer for up to 3 months. Thaw it overnight in the refrigerator before reheating.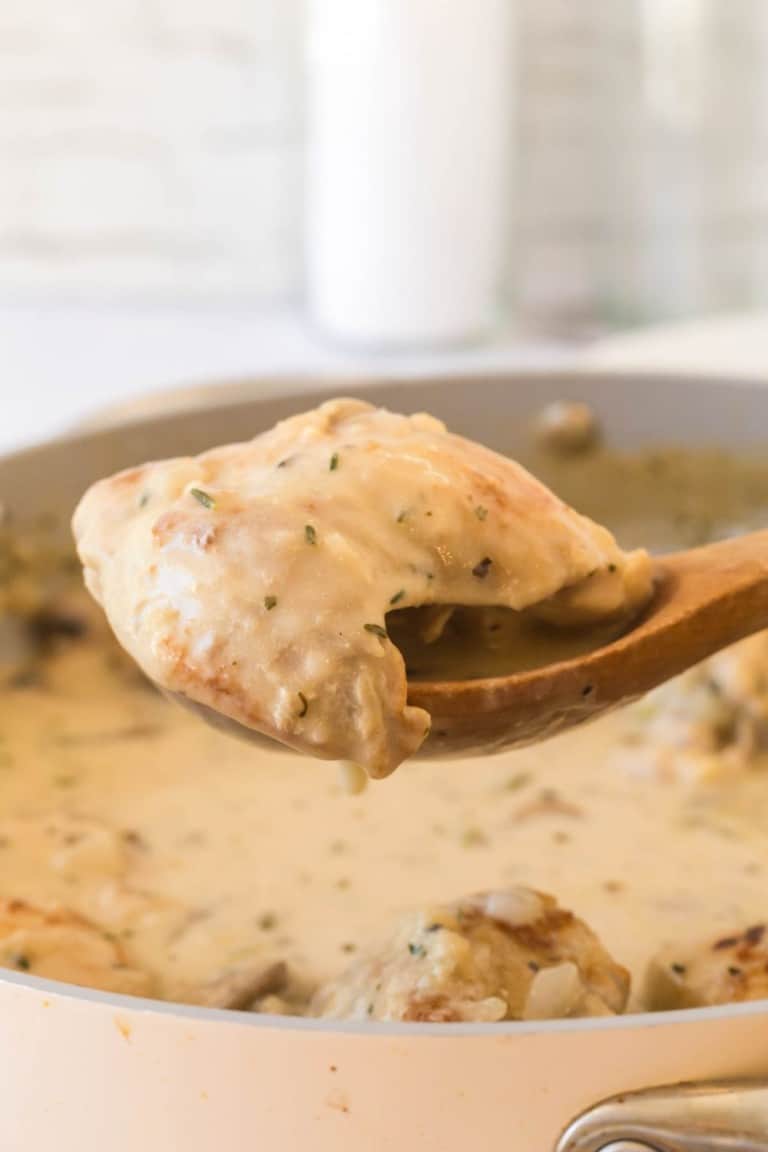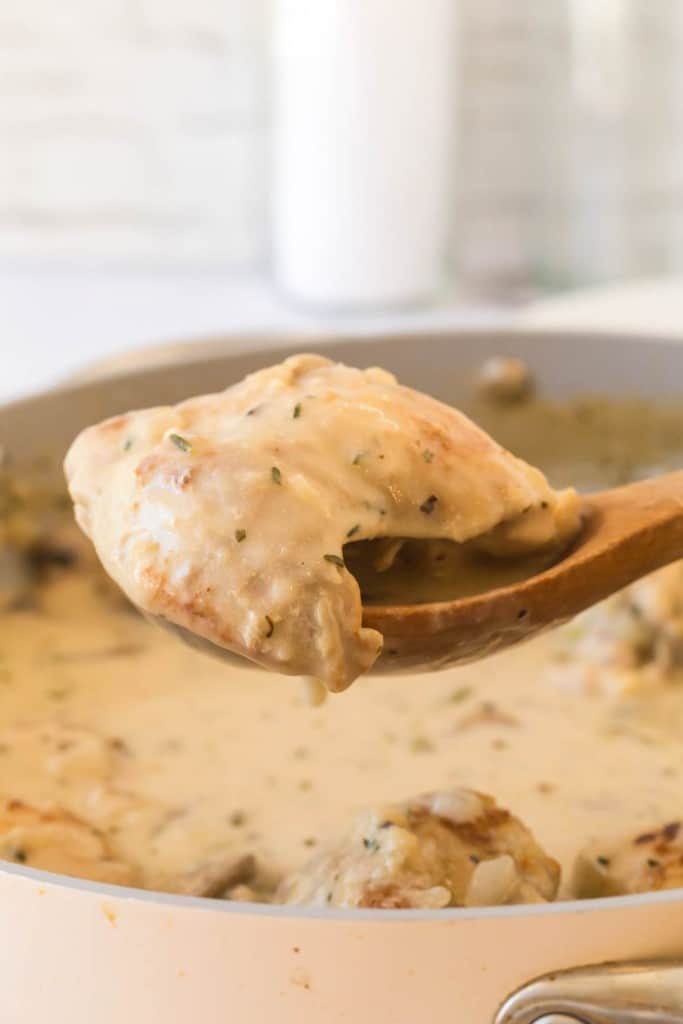 More recipes:
If you've tried this Chicken Fricassee recipe or any other recipe on Bless This Mess, then don't forget to rate the recipe and leave me a comment below! I would love to hear about your experience making it. And if you snapped some pictures of it, share it with me on Instagram so I can repost on my stories.
📖 Recipe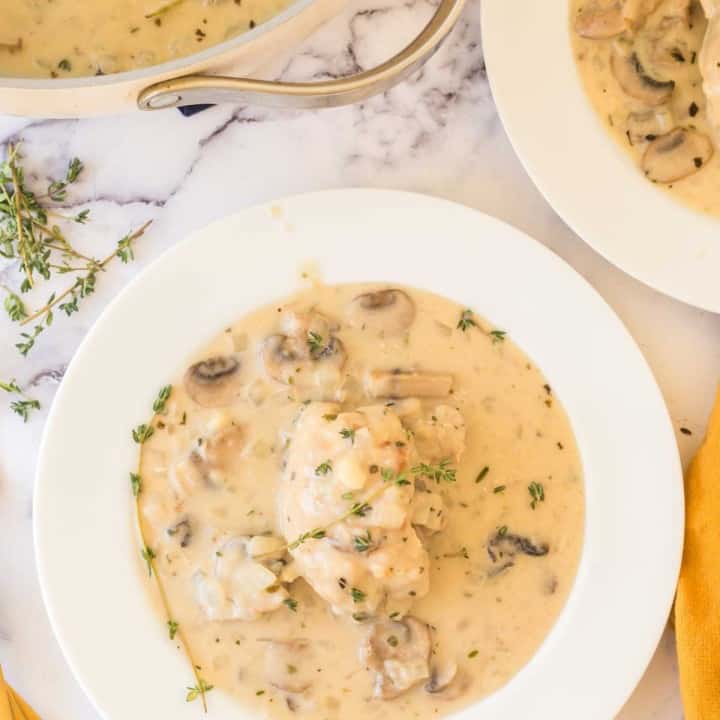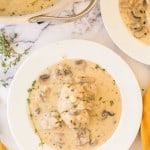 Print Recipe
Chicken Fricassee Recipe
Chicken Fricassee is classic French dish combines tender chicken pieces with a rich, flavorful sauce and a medley of vegetables.
Ingredients
4

tablespoons

salted butter

2

pounds

chicken thighs

1

teaspoon

dried basil

1

teaspoon

dried oregano

4-5

sprigs of fresh thyme

½

white onion

diced (about 1 cup)

8

ounces

sliced white mushrooms

3

tablespoons

all-purpose flour

2

cups

chicken broth

½

cup

heavy whipping cream
Instructions
In a large skillet or pan, melt the butter over medium-high heat. Once the butter has completely melted, add the chicken thighs. Cook the thighs for about 4 minutes per side, or until golden brown.

Remove the chicken from the pan. Add the flour and spices to the pan and stir quickly to combine.

Add the mushrooms and diced onion. Cook for about 5 minutes, or until the veggies are soft.

Pour the chicken broth and cream into the pan and whisk thoroughly, ensuring there are no lumps in the mixture. Place the chicken back into the pan and reduce the stove to a medium heat.

Allow the chicken to finish cooking as the sauce thickens (about 20-25 minutes). Ensure that the chicken reaches an internal temperature of 165°F.

Serve and enjoy!
Notes
I prefer using boneless, skinless chicken thighs, but you can use any cut of chicken in this recipe. The steps will be the same.
It is not necessary to cook the chicken fully in the first step. You just want to get a nice golden sear on the chicken before it finishes cooking in the sauce.
The sauce will appear very runny at first, but as the mixture simmers, it will continue to thicken. Make sure you let the sauce simmer without a lid so that some of the moisture can cook off efficiently.
This dish is also great with some diced celery or tomatoes cooked in it.
Traditionally this dish is made with white wine, but we don't keep any on hand. If you want to use white wine, simply reduce the chicken broth by ½ cup and replace that ½ cup with white wine.
Leftovers can be stored in the fridge for up to 4 days. Reheat them in the microwave.
You can serve this on its own, or over rice or noodles.
Nutrition
Calories:
595
kcal
|
Carbohydrates:
8
g
|
Protein:
33
g
|
Fat:
48
g
|
Saturated Fat:
19
g
|
Polyunsaturated Fat:
7
g
|
Monounsaturated Fat:
17
g
|
Trans Fat:
1
g
|
Cholesterol:
231
mg
|
Sodium:
570
mg
|
Potassium:
585
mg
|
Fiber:
1
g
|
Sugar:
2
g
|
Vitamin A:
775
IU
|
Vitamin C:
2
mg
|
Calcium:
46
mg
|
Iron:
2
mg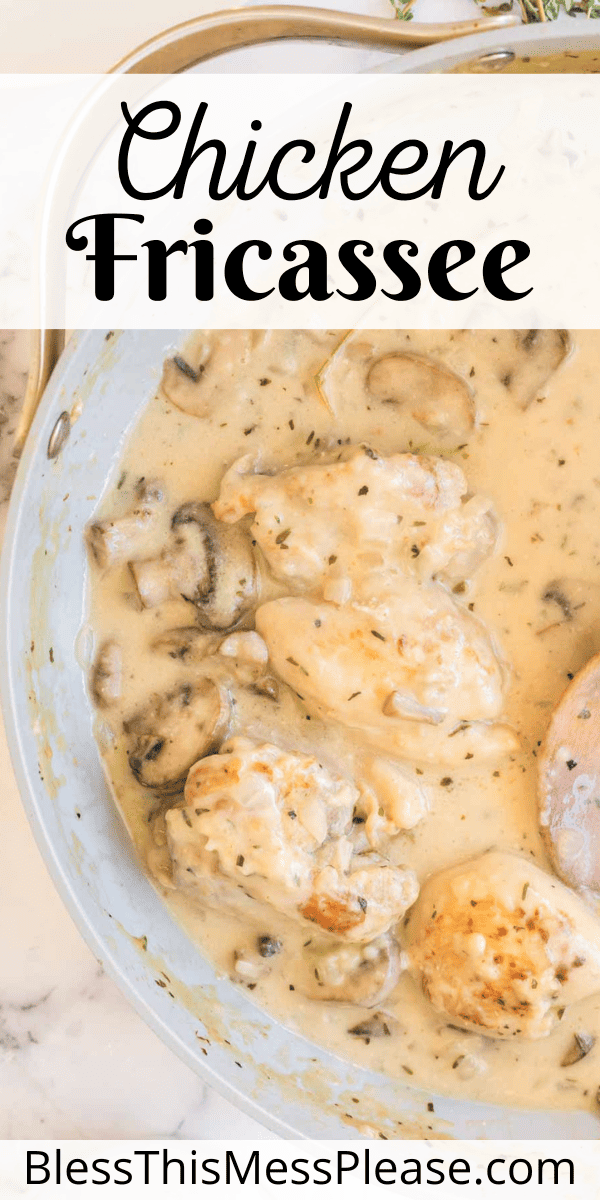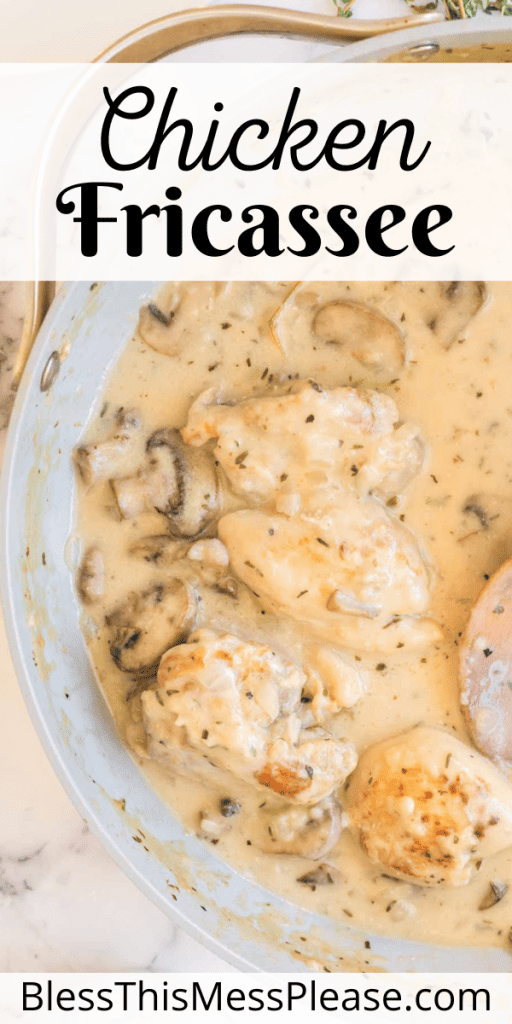 Chicken fricassee is a delightful and versatile dish that brings together tender chicken, a creamy sauce, and a medley of flavors. Whether enjoyed with rice, mashed potatoes, or a side salad, this classic dish is perfect for cozy family dinners or special occasions.