I'm so excited for today's post!
I was asked to be part of an online cookie exchange with a group of some of my favorite blogging ladies. And you know what that means for you?! You get a bunch of great cookie recipes all in one place… keep reading, your goodie plates will thank you.
Today Kristy from Sweet Treats and More is here sharing one of her favorite cookie recipes – candy cane meringue cookies. I had the honor of meeting Kristy last December at a real cookie exchange. She's very fun and kind in real life and her cookies are amazing! I know you'll like this recipe.
And I'm sharing an awesome Crispy Maple Sugar Cookie recipe over at  Mandy's Recipe Box today.
So grab a cup of cocoa and a note pad and pen, you are going to want to write down your favorites and start planning what you are going to give to friends and neighbors! Who am I kidding? Just hit that pinterest "pin it" button, that's much easier.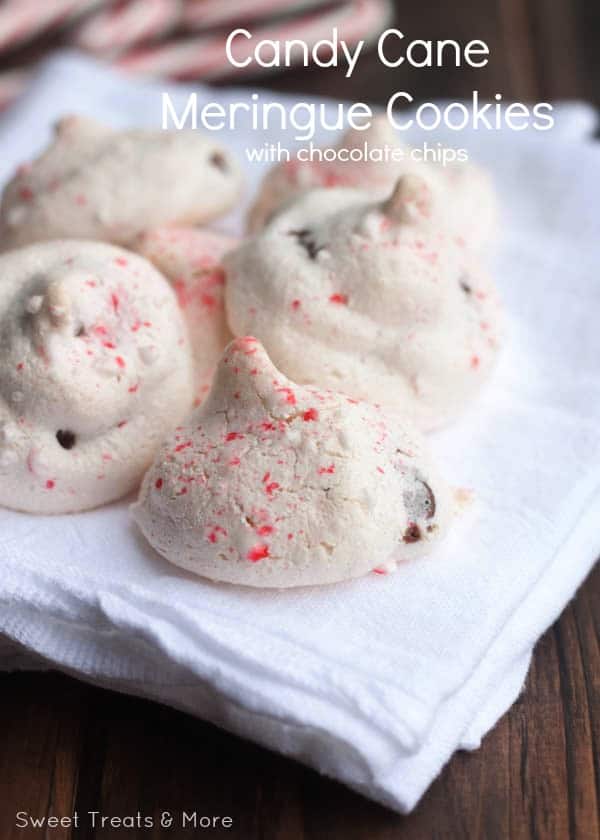 Hi Bless This Mess Readers!  I'm Kristy and I blog over at Sweet Treats & More where I do a lot of sweet indulging (I heart cookies!), with a side of healthy eating too.  In other words, you'll find a little bit of everything on my blog. I'm excited to be here and to share one of my favorite Christmas cookies with you!  Candy Cane Meringue Cookies! Tell me you love melt-in-your-mouth meringue cookies as much as I do?  It's like you can pop a dozen in your mouth and not even feel it….they're so light and airy.
My mom makes meringue cookies with chocolate chips every year around Christmas.  She calls them meringue surprise cookies because the chocolate chips are always a fun surprise.  To make them even more fun and festive for the holidays, I added some crushed candy cane.  Peppermint and chocolate in fluffy little clouds.
You will love them!
Don't be intimidated by meringues.  This was my first time making them and they're surprisingly easy.  They key is beating the egg white mixture enough to get stiff peaks without over-beating it.  Gently fold in the chocolate chips and candy cane, and again, don't over-mix.  Then you want to get these cookies in the oven right away, don't let the mix sit and soften up.  I put the meringue mix into a plastic bag and piped the cookies onto the baking sheets, but you can also just drop by spoonfuls.  You'll know you've gone wrong if your spoonfuls plop into a flat mess.  You want them to keep that stiff peak form.  I promise, they're pretty easy! And quick to whip up.
They are great for gifting to friends and families, taking to holiday parties, or just to have around the house for a fun holiday treat!
Enjoy! And Happy Holidays!
Print
Candy Cane Meringue Cookies
---
Scale
Ingredients
2

egg whites

1/8 tsp

salt

1/8 tsp

cream of tartar

1 tsp

vanilla

3/4 cup

sugar

3 tbsp

crushed peppermint candy cane (about

3

candy canes)

1/2 cup

chocolate chips
---
Instructions
Preheat oven to 350. Line baking sheets with parchment and set aside.
In the bowl of a stand mixer beat egg whites until foamy. Beat in salt, cream of tartar and vanilla until soft peaks. Beat in sugar 2 tablespoons at a time until sugar is completely dissolved and stiff peaks form (mixture should be shiny and thick).
Gently stir in 2 tablespoons of the crushed candy cane and 1/2 cup chocolate chips. Gently place mixture into a ziplock bag. Cut one of the corners off and pipe into small mounds on the parchment paper (shaping like kisses with a peak at top). Sprinkle additional crushed candy cane over the top of cookies. Bake for 20-25 minutes.
---
And now for all those other recipes I promised you.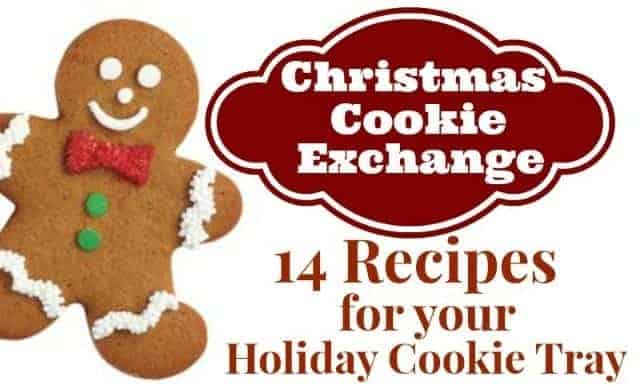 Here they are in all their cookie glory:
Candy Cane Meringue Cookies shared on Bless This Mess by Sweet Treats and More
Chocolate Filled Gingersnaps on Barbara Bakes by Taste and Tell
Chocolate Peppermint & Oreo Cookies shared on Let's Dish by Mandy's Recipe Box
Chocolate Strawberry Truffles shared on Sweet Sugarbelle by Hoosier Homemade
Crispy Maple Sugar Cookies shared on Mandy's Recipe Box by Bless This Mess
Gingerbread Drop Cookies shared on Kitchen Meets Girl by Munchkin Munchies
Iced Gingerbread Cookies shared on A Family Feast by Roxana's Home Baking
Italian Almond Cookies shared on Munchkin Munchies by Your Homebased Mom
Molasses Cookies shared on Crumbs and Chaos by Kitchen Meets Girl
Orange & Ginger Cookies with Chocolate Drizzle shared on Your Homebased Mom by A Family Feast
Orange Ginger Pecan Cookies shared on Sweet Treats and More by Let's Dish
Snowmen Cookie Pops shared on Roxana's Home Baking by Sweet Sugarbelle
Soft Chocolate Gingersnaps shared on Taste and Tell by Crumbs and Chaos
Soft Gingersnap Cookies shared on Hoosier Homemade by Barbara Bakes
Have fun browsing and be sure to stop back in tomorrow for a giveaway with these same ladies… and the prize. CASH! You don't want to miss that because I know I'm not the only one who could use a few extra dollars to spend this time of year.
Have a great day and thanks for reading.