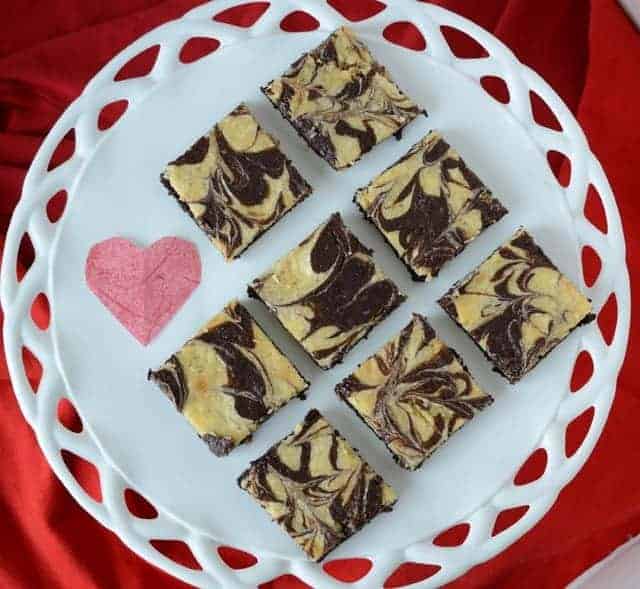 Remember those those red velvet cheesecake bars from heaven? Well I wanted to make them again but I was out of red dye. I think that is my beef with red velvet things; I'm not a fan of using so much dye just because. Any how, I got to thinking and decided that the recipe would be a great candidate for a bit of tweaking to make the red velvet layer a brownie layer and boy was I right. With a few changes Brownie Cheesecake Bars were born. I preferred these to the original because I love chocolate. If you are more of a red velvet lover then try the other recipe. Either way you can't go wrong.
I've gotten some great feedback on these bars, and I know you'll love them too. Let me know if you try them!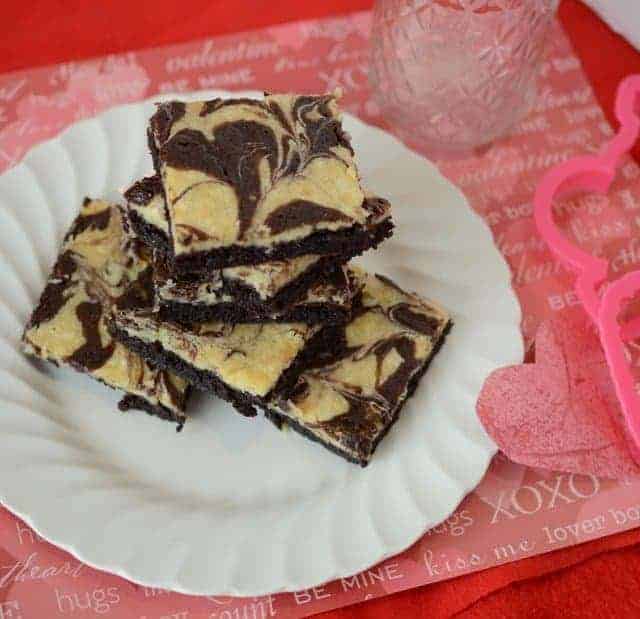 Brownie Cheese Cake Bars
Makes 24 bars
Brownie Layer:
3 1/4 cups flour
2 1/4 cups granulated sugar
1/2 cup dark cocoa powder
1 teaspoon salt
1/2 teaspoon baking powder
3 large eggs
1 cup vegetable oil
1/4 cup milk, plus 2 tablespoons (divided)
1 tablespoon vanilla extract
Cheesecake Layer:
2 8-ounce packages cream cheese, softened
3/4 cup granulated sugar
2 large eggs
2 teaspoons vanilla
Directions:
Preheat the oven to 350 degrees. Grease with butter or cooking spray a 13×18 jelly roll pan and set aside.
In a large bowl, or the bowl of your stand mixer, add the flour, sugar, cocoa powder, salt, and baking powder. Stir to combine. In a small bowl add the eggs, oil, 1/4 cup milk, and vanilla. Whisk the wet ingredient to combine. Make a well in the center of the dry ingredient and pour the wet ingredients into the center. Mix until well combine or with the cookie paddle attached, mix on medium-low speed until well combined. The batter will be very thick.
Remove about 3/4 of a cup of the batter and put it in a small bowl (or the bowl the wet ingredients just came out of) and set aside. Spread the rest of the batter in the bottom of the greased jelly roll pan.
To make the cheesecake layer combine the cream cheese and sugar in the bowl of your stand mixer and beat on medium speed until well combined and fluffy, about 3 minutes. Add the eggs and vanilla and beat another minute until well combined. Spread the cheesecake layer evenly on top of the red velvet layer in the pan.
Add the remaining 2 tablespoons of milk to the batter that you saved in the small bowl. Use a fork to whisk and combine it well. Drop the now thinned batter by small spoonfuls over the cheesecake layer and then use a toothpick to marble the cheesecake and thinned batter together. You just pull the toothpick across the top of the dessert with a bit of a swirling motion. Do this until it is marbled as much as you like.
Bake the bars for 28-30 minutes, rotating the pan half way through baking. Let the bars cool in the pan for 20 minutes before cutting. Store leftovers in an air-tight container in the fridge.
Notes: Dark cocoa powder, such as Hersey's Special Dark, is amazingly chocolaty without being bitter. It's a great thing to have on hand and I now use it in 90% of recipes that call for cocoa.
I threw some of these in the freezer with wax paper in between the layers and then pulled them out a week or so later. They were a bit stickier after they thawed but were still really good.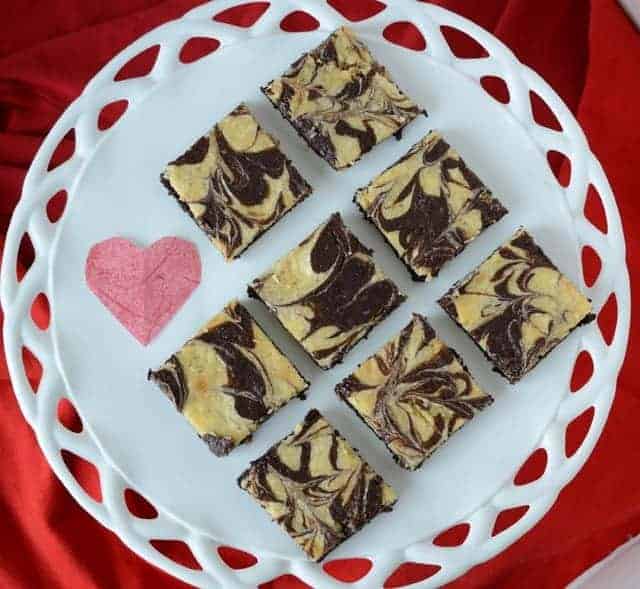 These bars are sturdy enough to be cut into shapes – perfect for spreading a little love.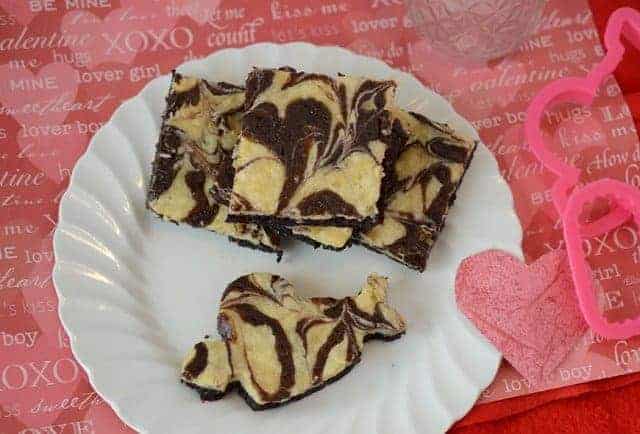 Keep Calm and Chocolate On. Always a good phrase for Monday morning…