When it comes to breakfast indulgence, few dishes can rival the comforting and scrumptious experience of biting into a warm, golden-brown slice of Brioche French Toast. This delightful creation, born from the marriage of delicate brioche bread and a classic French toast recipe, has won the hearts of breakfast enthusiasts and foodies alike.
Brioche bread is the unsung hero here. Its buttery, slightly sweet flavor, and tender texture make it the perfect canvas for absorbing the custard mixture that transforms it into French toast. Every bite is a symphony of taste and texture.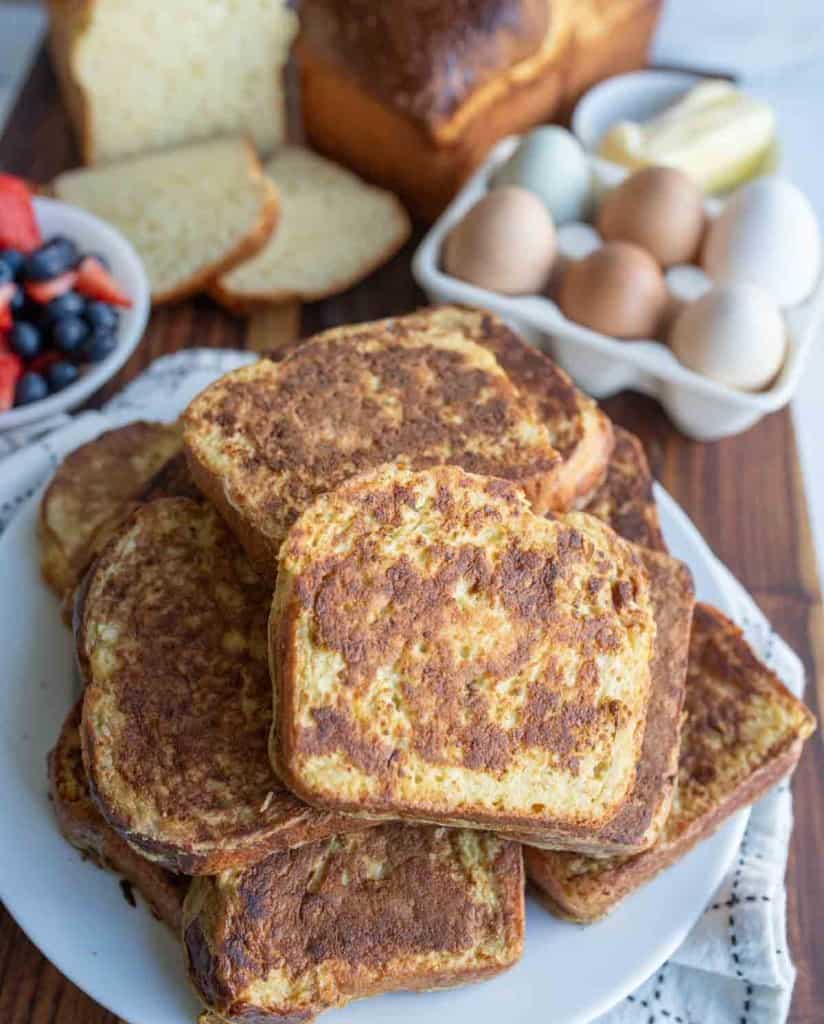 Brioche French Toast
Brioche French Toast isn't just reserved for special occasions or lazy weekend mornings; it's a versatile dish that can be enjoyed at any time. Here are a few occasions when whipping up a batch of this delectable treat is a brilliant idea:
Weekend Brunch: There's no denying the allure of a leisurely weekend brunch. Brioche French Toast serves as the star of the show, providing a satisfying and luxurious start to your day.
Holiday Breakfast: Elevate your holiday celebrations by serving Brioche French Toast as part of your breakfast spread. Its rich flavors and appealing aesthetics are sure to make any occasion feel extra special.
Impressive Entertaining: Hosting friends or family for breakfast or brunch? Brioche French Toast is an excellent choice. It's simple to make in large quantities, and its wow factor is guaranteed to impress your guests.
Treat Yourself: Sometimes, you don't need a reason to indulge. Treat yourself to Brioche French Toast on a weekday morning when you crave a little breakfast luxury.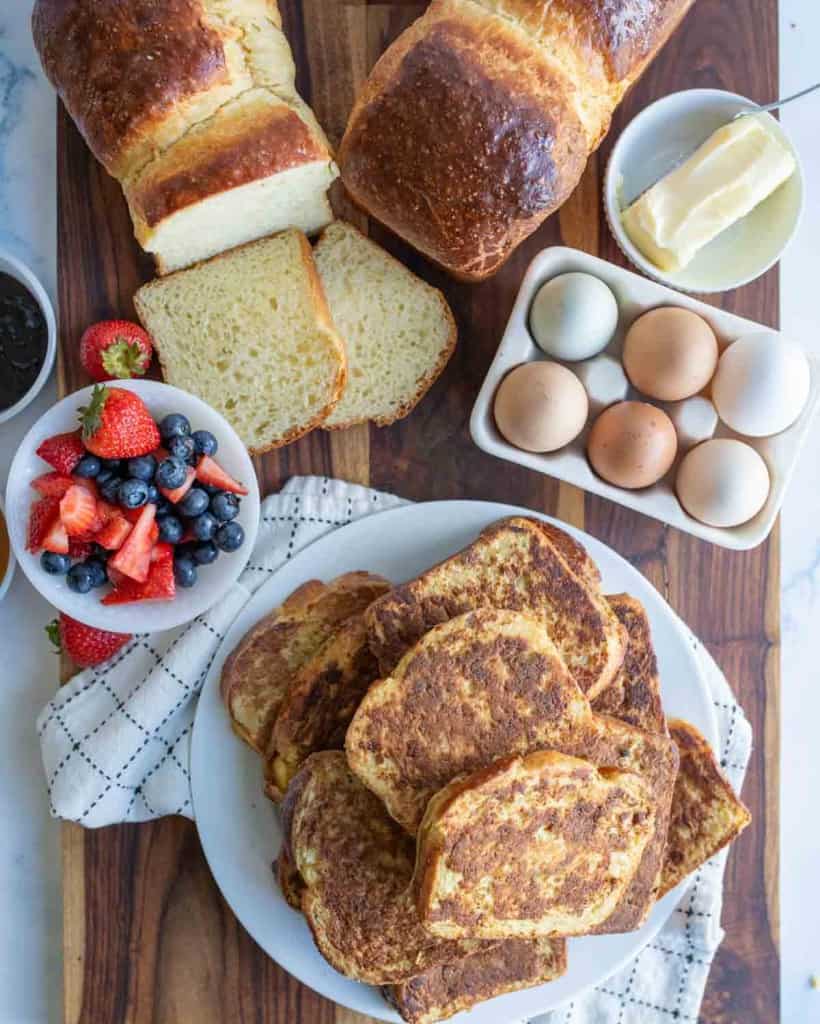 Ingredients
Eggs
Cinnamon
Vanilla extract
Whole milk
Keep scrolling to find a full, printable recipe with a detailed ingredient list.
Recipe Instructions
First, you are going to whisk eggs, cinnamon, vanilla, and milk.
Then, heat skillet, add butter if desired.
Now, Dip brioche in egg mix, coat both sides.
Cook 3-5 mins per side until golden.
Serve with favorite toppings.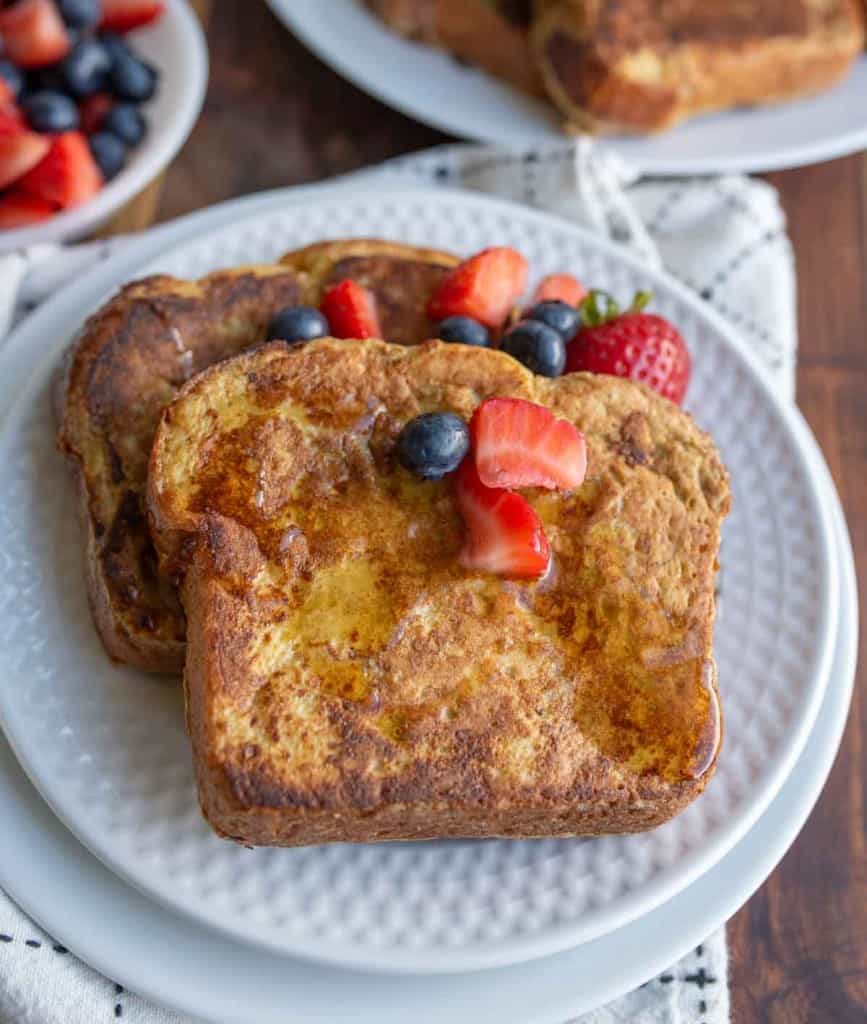 Frequently Asked Questions
What is brioche bread?
Brioche bread is a rich, slightly sweet, and buttery bread that's often used in pastries and desserts. Its tender texture makes it an excellent choice for French toast.
How do I know when the French toast is cooked?
Look for a golden-brown color on both sides. The exterior should be crispy, and the inside should be soft but not soggy. Use a fork to gently press the center; it should feel custard-like.
What are some creative toppings for French toast?
Get creative with toppings! Try fresh berries, sliced bananas, chopped nuts, chocolate chips, whipped cream, or a drizzle of honey or maple syrup.
Can I make a large batch for a crowd?
Definitely. Multiply the ingredients based on the number of servings needed. Keep cooked slices warm in a low oven until you're ready to serve.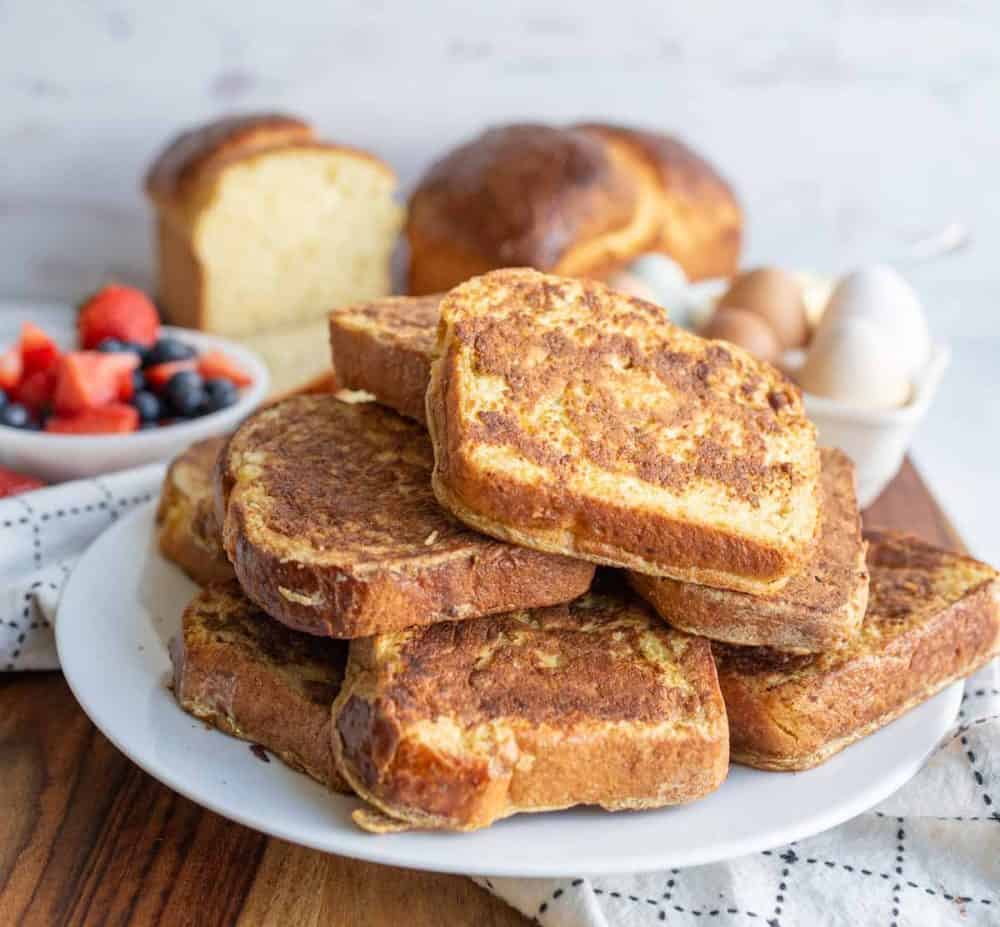 More Recipes
If you've tried this Brioche French Toast recipe or any other recipe on Bless This Mess, then don't forget to rate the recipe and leave me a comment below! I would love to hear about your experience making it. And if you snapped some pictures of it, share it with me on Instagram so I can repost on my stories.
📖 Recipe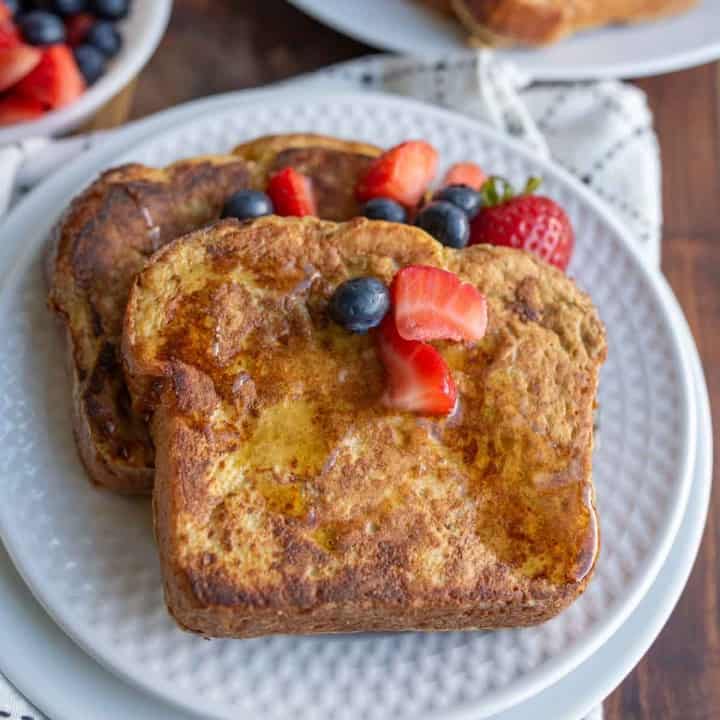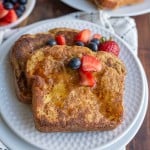 Print Recipe
Brioche French Toast
Brioche French toast is a decadent breakfast treat featuring buttery brioche bread soaked in a flavorful egg mixture, cooked to golden perfection, and enjoyed with a variety of delightful toppings.
Ingredients
12

large eggs

1

teaspoon

ground cinnamon

1

teaspoon

pure vanilla extract

½

cup

whole milk
Instructions
Begin by slicing the brioche bread into 1-inch thick slices. This should yield approximately 16 slices.

In a large mixing bowl, whisk together the eggs until they are well beaten. Add the ground cinnamon and vanilla extract to the eggs and continue whisking until the ingredients are fully incorporated. Slowly pour in the milk, continuing to whisk until the mixture is smooth and homogenous.

Place a non-stick skillet or frying pan over medium heat. Allow the pan to heat up for a couple of minutes. For an added touch of richness, you can melt a pat of butter in the pan just before frying the bread.

Take one slice of brioche and immerse it in the egg mixture, ensuring both sides are well coated. Allow any excess mixture to drip off, then place the slice on the heated pan. Repeat with the other slices as space in your pan allows.

Allow each slice to cook for 3-5 minutes on one side, or until it achieves a golden-brown color. Use a spatula to carefully flip each slice and cook the other side for another 3-5 minutes. The goal is to have a crispy exterior with a soft, custard-like center.

Remove the finished French toast from the pan and place on a serving platter. Serve immediately with your choice of toppings like fresh fruit, syrup, whipped cream, or powdered sugar.
Notes
Brioche bread is known for its rich, buttery flavor and tends to be more absorbent than regular bread. Because of this, it can soak up more of the egg mixture. Ensure your slices aren't overly saturated to avoid sogginess.
Cooking on a medium heat allows the French toast to cook thoroughly without burning. As the recipe suggests, going "low and slow" is essential to make sure the egg mixture cooks all the way through without leaving the center too soggy or the exterior too crisp.
For an even richer flavor, consider adding a pinch of nutmeg or substituting the milk with cream.
Nutrition
Calories:
106
kcal
|
Carbohydrates:
2
g
|
Protein:
9
g
|
Fat:
7
g
|
Saturated Fat:
2
g
|
Polyunsaturated Fat:
1
g
|
Monounsaturated Fat:
3
g
|
Trans Fat:
0.03
g
|
Cholesterol:
247
mg
|
Sodium:
101
mg
|
Potassium:
116
mg
|
Fiber:
0.1
g
|
Sugar:
1
g
|
Vitamin A:
382
IU
|
Vitamin C:
0.01
mg
|
Calcium:
59
mg
|
Iron:
1
mg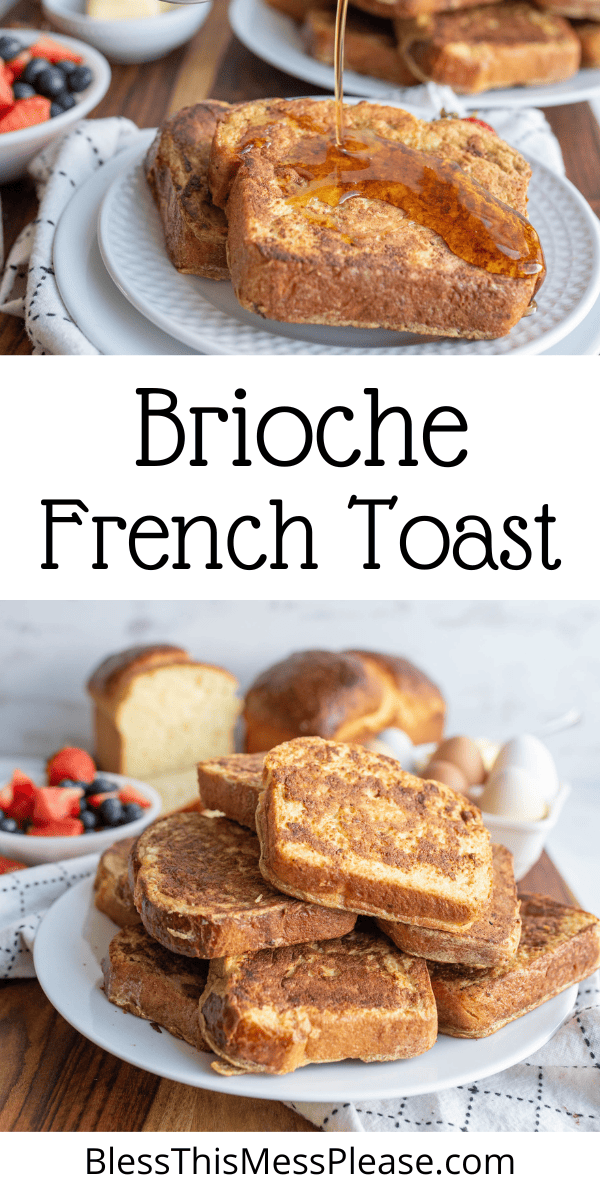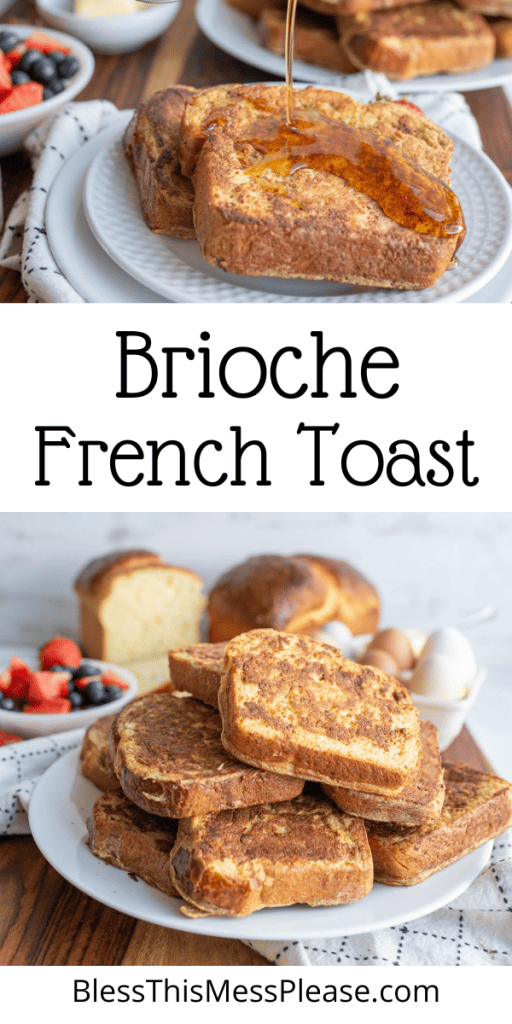 In the realm of breakfast delights, Brioche French Toast reigns supreme, with it's blend of luscious flavors, comforting textures, and endless possibilities for customization, making it a beloved and timeless morning treat.