This recipe for battered fried fish is quick, delicious and is the perfect fried fish when making fish and chips.
Fried fish is a crowd pleaser for any season. It is great for busy evenings or when you need something substantial but quick. You will love how simple it is to fry up some delicious fish.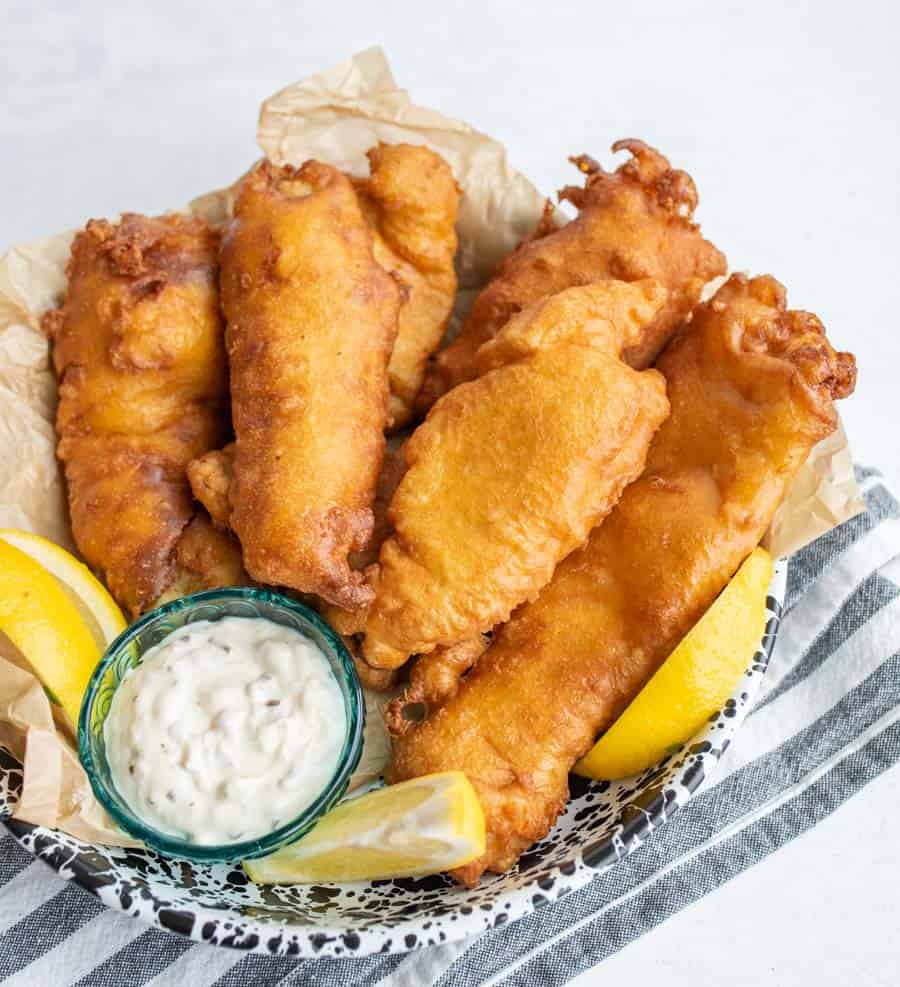 Fried Fish Recipe
The type of fish matters when you are making fried fish. I have had the best results when I use a firm white fish. Something like tilapia, cod, bass or haddock works the best.
This recipe for fried fish is made up of a batter consisting of flour, milk, eggs and spices. In order to help the batter stay on the fillet, make sure you lightly pat each fillet down with a paper towel to remove any excess moisture. This helps the batter to stick to the fish. When you do these few steps the fried fish turns out tender on the inside and perfectly crisp on the outside.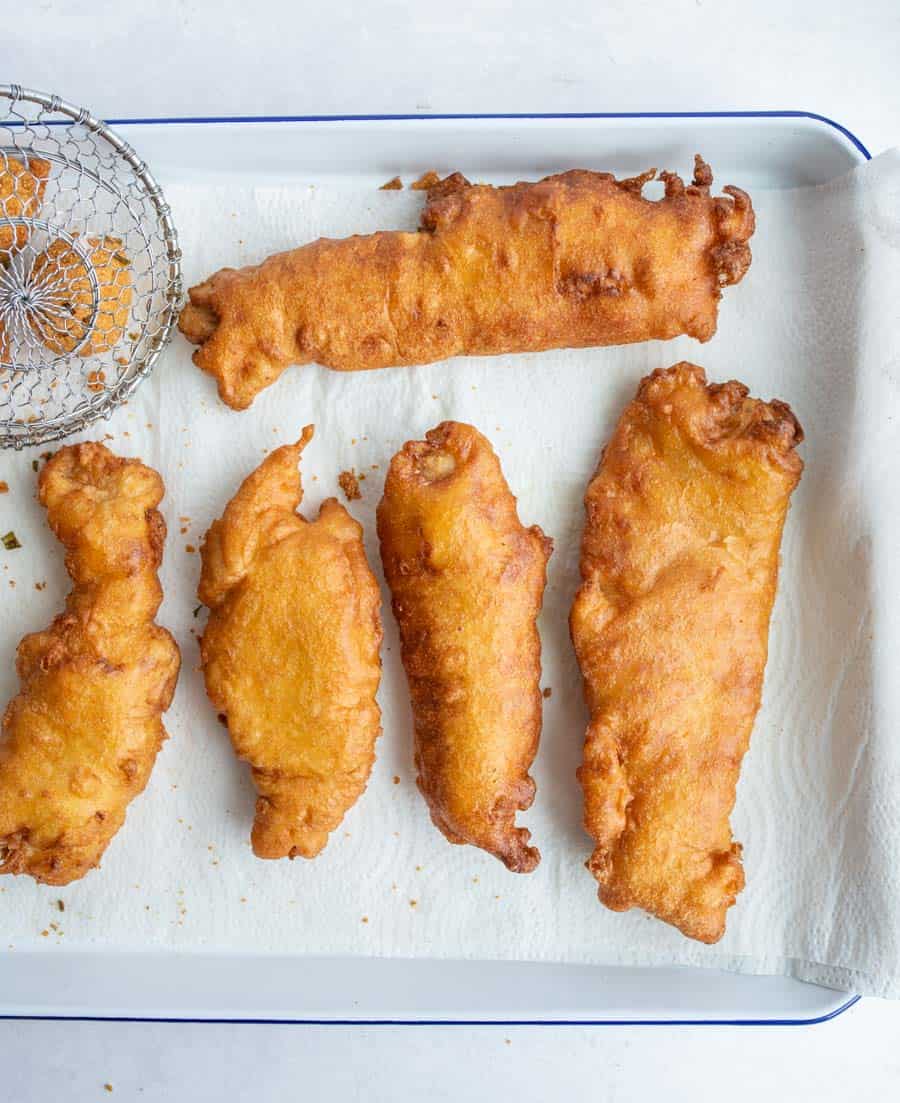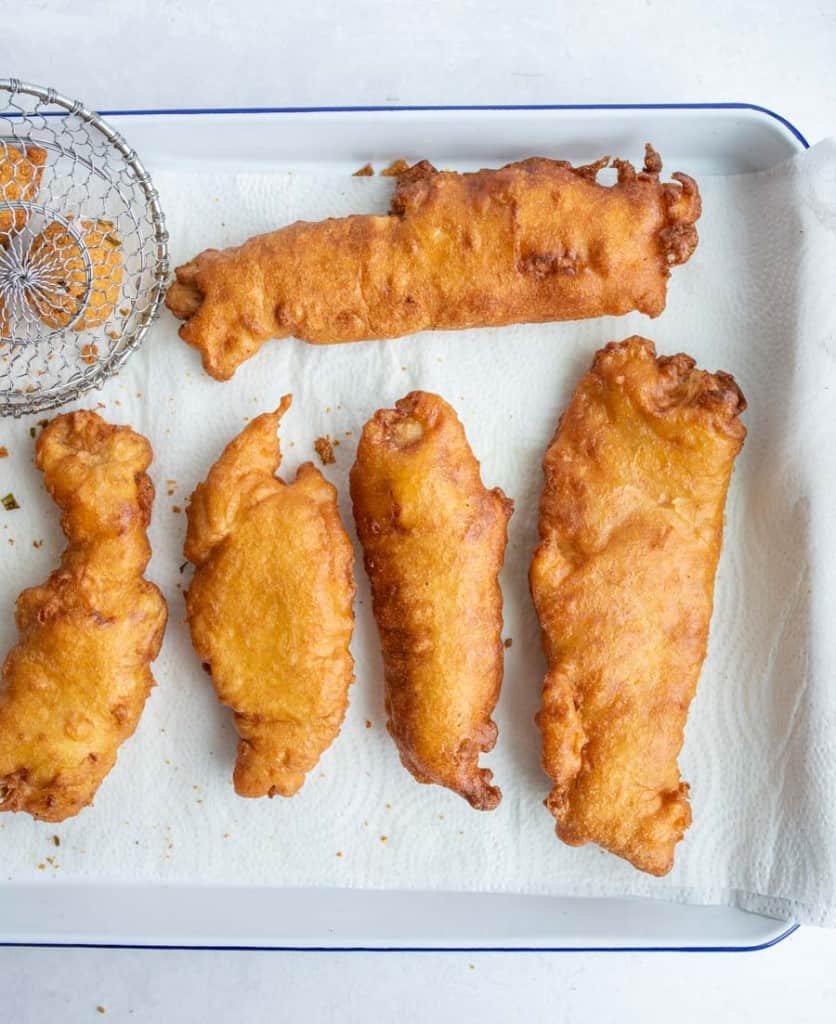 Ingredients in fried fish:
Firm white fish: pick your favorite, fresh or frozen (thaw fully), use what you have on hand!
Flour: This is the base of the batter.
Baking powder: This gives the batter just a little lift when frying and makes the texture great
Spices: smoked paprika, onion powder, garlic powder, salt are what we are using to season up the better
Eggs: these help the batter to come together and improve texture
Milk: this is the main liquid in the batter, you can sub it for beer if you'd like
Oil for frying: use a light oil like lard, vegetable, canola, peanut or other light oil
How to Make Fried Fish:
Get your fish ready: you just need to make sure it's fully thawed and pat it dry (helps the batter to stick)
Make your batter: it's a super simple flour, egg, milk, and spices batter that comes together quickly
Heat the oil: I like to fry in a Dutch oven, they hold the heat of the oil well
Dip the Fish: dip the dry fish into your batter
Fry: carefully add the prepared fish to the hot oil and let it cook until golden brown
Enjoy! Such a treat!.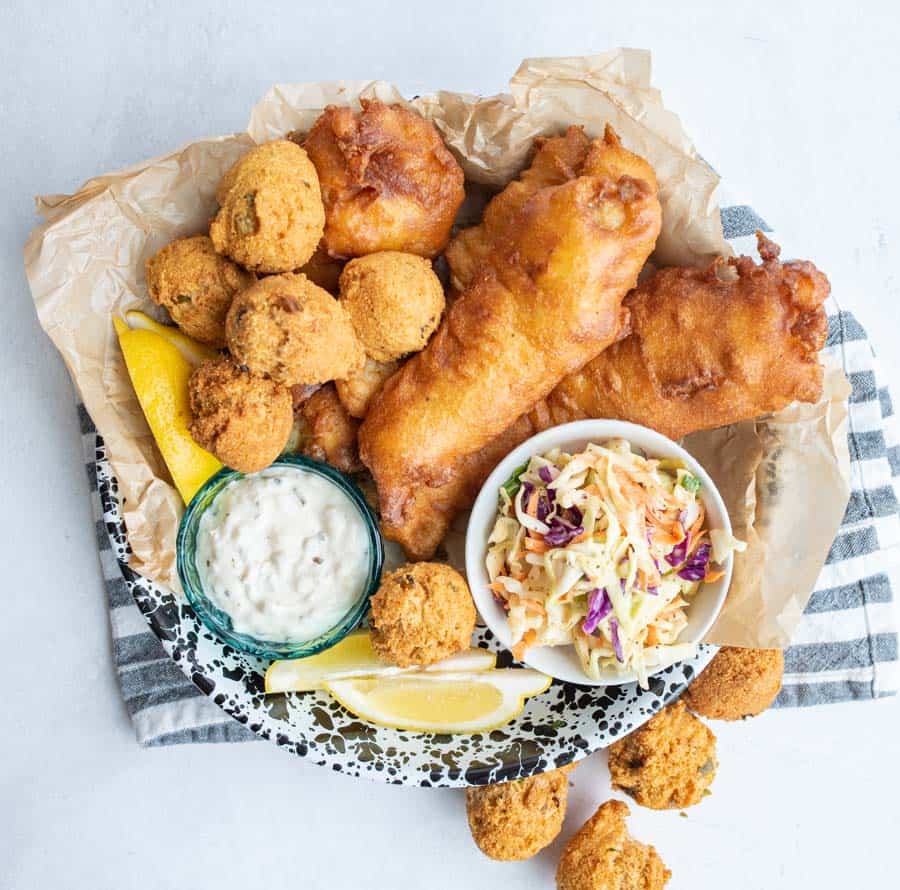 Frequently Asked Questions:
What fish is best fried?
You want to fry a fish that is firm and holds up well. I have found success when frying tilapia, cod, haddock or bass. I've also fried catfish with this recipe (though I normally like it better in a cornmeal batter.
What is the best oil to pan fry fish in?
Canola oil is a great oil to fry fish in because it has a very neutral flavor. Be sure you have an ample amount of oil in the pan that covers the bottom completely or you will risk the fish sticking to the pan. You can also use lard, shortening, vegetable oil, peanut oil, or corn oil for this recipe.
How long will fried fish last in the refrigerator?
Fried fish will last in the fridge for 3-4 days when properly stored in an airtight container.
How do you reheat fried fish?
If you have an air fryer I recommend reheating it in there for about 6 minutes on 375 degrees. You can also heat them in an oven of the same temperature for about 15 minutes.
How much fish fry do I need per person?
Of course, this all depends on if you are feeding adults or children and appetite sizes but generally plan on ½ pound to 1 pound of fish per person. If you are serving a lot of sides you can do less.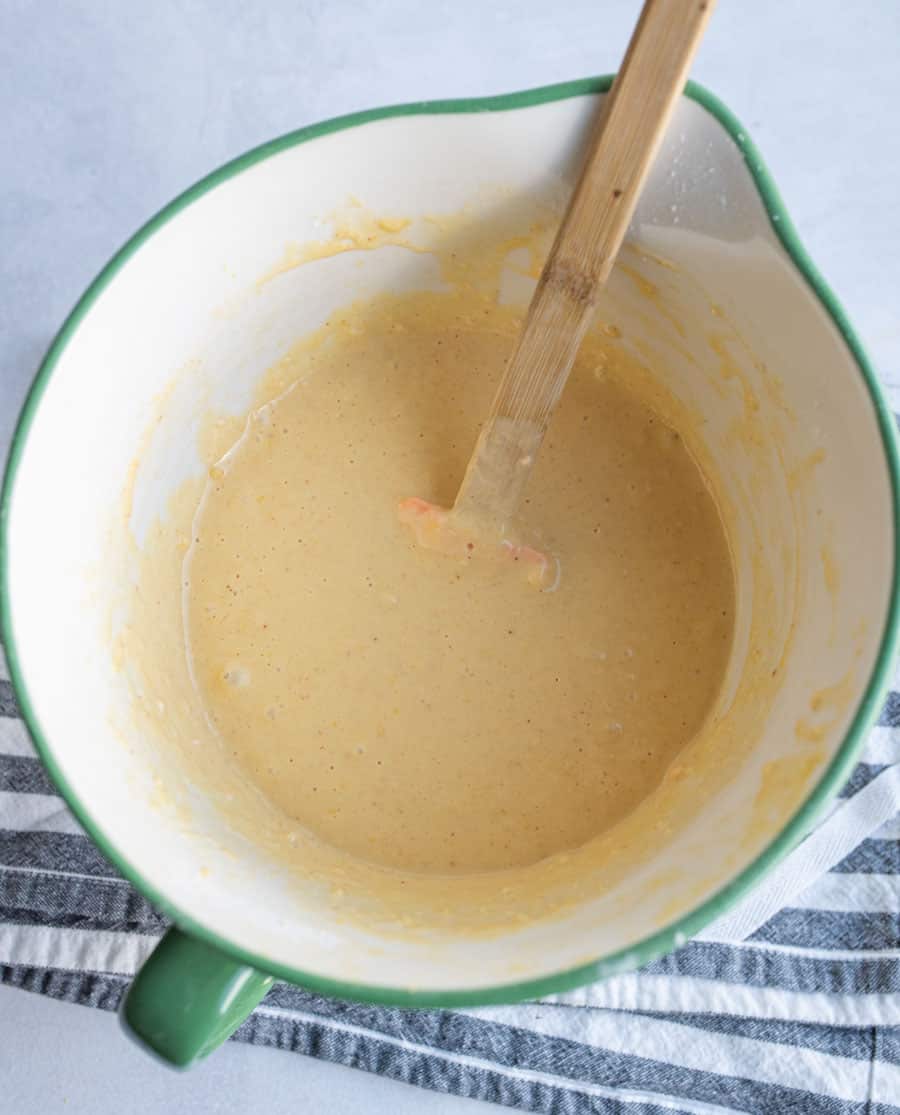 How to know when fried fish is done?
You will know when the fish is done because it will not be translucent anymore and will flake easily with a fork. If you have a meat thermometer, fish needs to be cooked to an internal temperature of 145 degrees to be fully cooked.
What should I serve with fried fish?
Print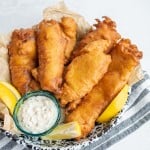 Battered Fried Fish
---
Author:

Total Time:

40 min

Yield:

Serves

8

+

1

x
Description
Battered fried fish made with a simple flour batter and deep fried to perfection is one of our favorite fish recipes and it's easy too!
---
3

-

4

pounds firm white fish

2 cups

all purpose flour

1 tablespoon

sugar

1 teaspoon

baking powder

½ teaspoon

smoked paprika

¼ teaspoon

onion powder

¼ teaspoon

garlic powder

2 teaspoons

salt

2

large eggs

2 cups

milk

2

-

3

quarts oil for frying (such as canola, vegetable, or peanut)
Lemon wedges and tartar sauce for serving, optional
---
Instructions
In a large Dutch oven, cast iron fryer, or heavy bottom pan add the oil and start preheating it over medium to medium high heat.
In a medium mixing bowl add the flour, sugar, baking powder, smoked paprika, onion powder, garlic powder, and salt.
Stir with a wooden spoon to combine.
Make a well in the center of the dry ingredients and add the eggs and milk.
Stir to combine and until no dry bits remain and a smooth batter forms.
Prepare the fish by patting it dry with paper towels or a clean dish towel.
When the oil reaches 375 degrees F. (I like to use a paddle thermometer to monitor my oil temperatures when frying) dip a piece of fish in the batter and place the battered fish in the hot oil. Repeat with a few more pieces, taking care to not crowd the pan.
Allow the fish to cook until deep golden brown, about 3-4 minutes before flipping and then allow to cook on that side for an additional 3-4 minutes.
Remove with a slotted spoon or a spider strainer and place the cooked battered fish on a plate or rimmed baking sheet lined with paper towels to absorb the extra grease.
Repeat until you've used all your fish
Serve right away and enjoy hot. Serve with fresh squeezed lemon on top and tartar sauce if you'd like. We love fried fish with hush puppies and coleslaw on the side.
Notes
You can keep your first batches of cooked fish warm in a 200 degree F oven while you are cooking the others.
I like to salt the fish right after it comes out of the hot oil, if you like salt, I'd consider doing that.
This recipe makes a pretty big batch of fried fish, feel free to cut the recipe in half if you need to. This if the recipe I make when my family gets home from a fishing trip and we want to cook up a lot. The leftovers reheat great in the air fryer. The fish in the photos are Stripers from Lake Powell.
Prep Time:

15 min

Cook Time:

10 min

Category:

main dish

Method:

fry

Cuisine:

American
Keywords: how to fry fish, fried fish, fried fish recipe, battered fish, battered fish recipe, battered fish without beer, easy fried fish recipe, crispy battered fish recipe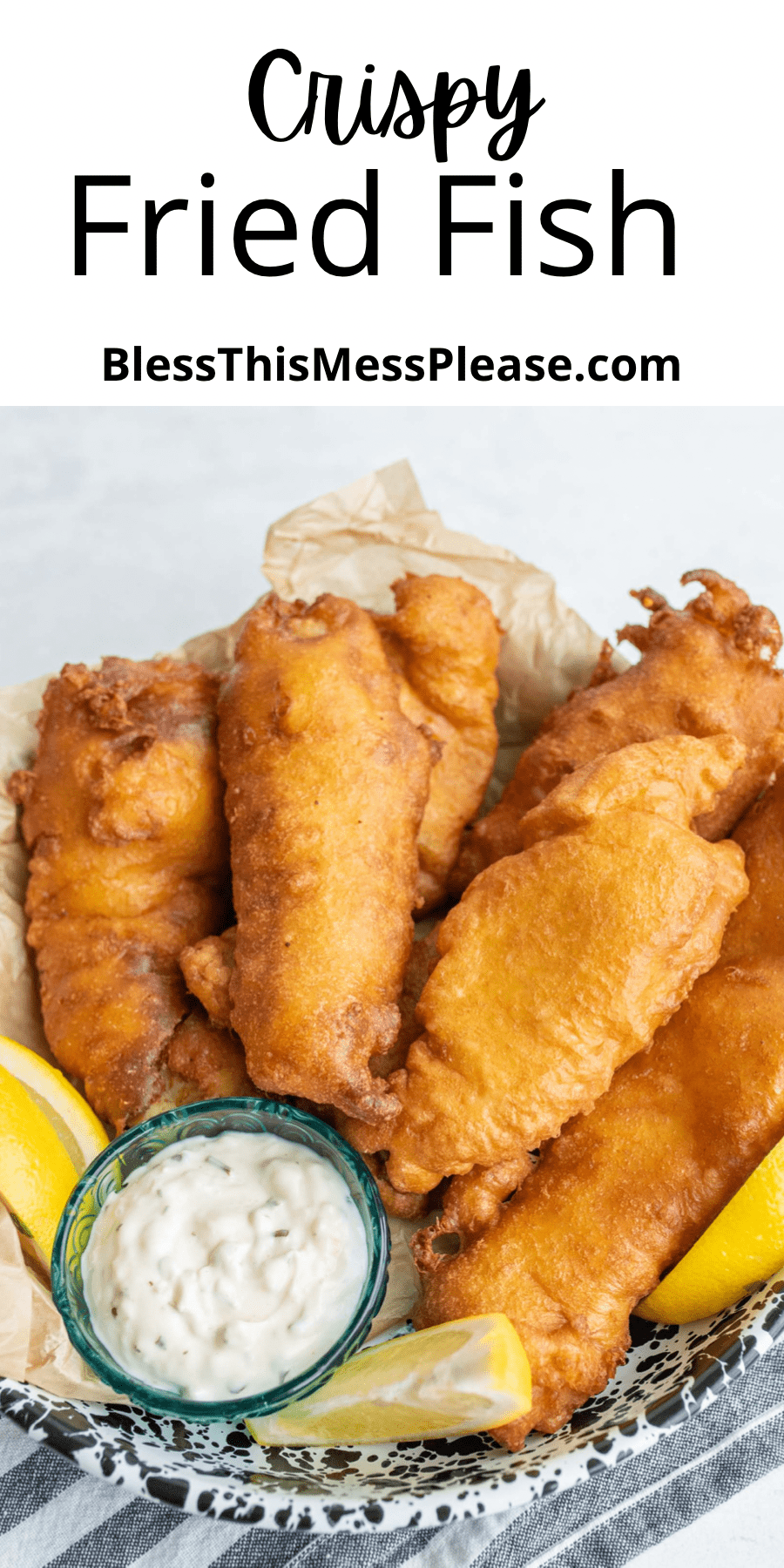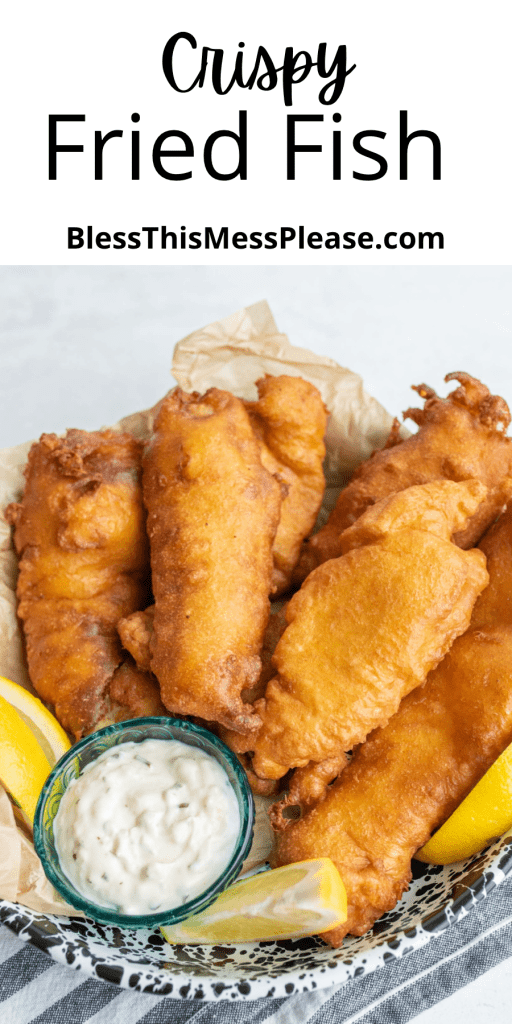 This is a great meal to make for families. Fish is full of protein, low in fat and a great source of vitamin B12 which aids in energy levels. This recipe for fried fish is 1 MILLION times better than any fish sticks you can buy at the grocery store. Just say no to those! Looking for something less fried? Try these delicious grilled fish.
Fried fish that is crisp and delicious needs to find it's way to your dinner table soon. It is so simple to make and it will having people raving.