It's been a while since I updated you on how the hens are doing.
I wasn't very prepared for winter. Their coop is fine, but it's not incredibly warm and is a bit drafty. I did some reading about the general needs of hens in the winter and most things suggested keeping a light or heat lamp inside the coop. Hens typically only lay eggs when there is 12 hours of sunlight in a day. Most of the time they will go into a natural rest period from egg production in the winter months. You can use a typical white light with a timer (start at 7am and shut off at 7pm) and the artificial light is enough to keep them laying. Most people also use a red heat lamp overnight for warmth. I would say this is what most people do with their hens in the winter.
I however, don't have electricity out to my coop, since it is portable, and I wasn't sure if I wanted to pay for the electricity since I only have three hens at the moment anyways. If getting the 6-8 eggs a day, that I did when I had nine hens, was an option I might have wanted the light more. I had a hard time justifying the expense for 2 or so eggs a day. (Here's the sad post on why I only have three hens if you are new.)
So I kept reading. The artificial white light I decided was pretty optional, they would just stop laying. I have no problem with letting nature takes its course on that and decided against the white light.
Do they need heat? Common sense tells me yes. It is SO cold in this part of Utah. It's been -7 a few days in the afternoon with the sun shining! It's gotten colder than the negative teens during the night. Saying it's cold just doesn't do it justice... it's knock the breath out of you cold. But, I still didn't have electricity out to the coop. I found one site that said hens didn't need heat, even in the coldest of winters. Again, I kept reading. It said that they produce about 10 watts of heat themselves and when they huddle together they can keep each other warm. It also pointed out that they are animals, and just because I would be completely miserable in the cold it wasn't quiet the same for them. It also said that as the days and nights get colder with the season change, they would get adjusted. You can't have a light on them and then just not turn it on one night because they won't be used to the cold. It also said that if it really is too cold they will get frostbite on their combs (the red on top of their head).
I did some asking around too. My egg lady/chicken mentor thought they would need heat. An older lady from church told me that she had chickens when she was a child and they never had heat or light because they didn't even have electricity then. I really thought about that last statement and she is right- chickens have been around, in the cold, a lot longer than heat lamps.
I took all that to heart in the fall and decided I would let them grow used to the cold but keep an eye on them. The first sigh of frostbite and I'd get them a light for the coldest nights. Here we are, the middle of January, and they seem absolutely fine. No frost bite, normally pleasant temperaments (chickens will let you know when they are stressed...), and here's the best part two of them are still laying eggs!!
You heard me right, I'm still getting one or two eggs a day. Everything said they would stop laying, and one did completely, but two still lay! One lays every day and the other lays when it's warmer than the teens during the day.
Things were comfy and cozy until Christmas day when Thomas got me all this treasure: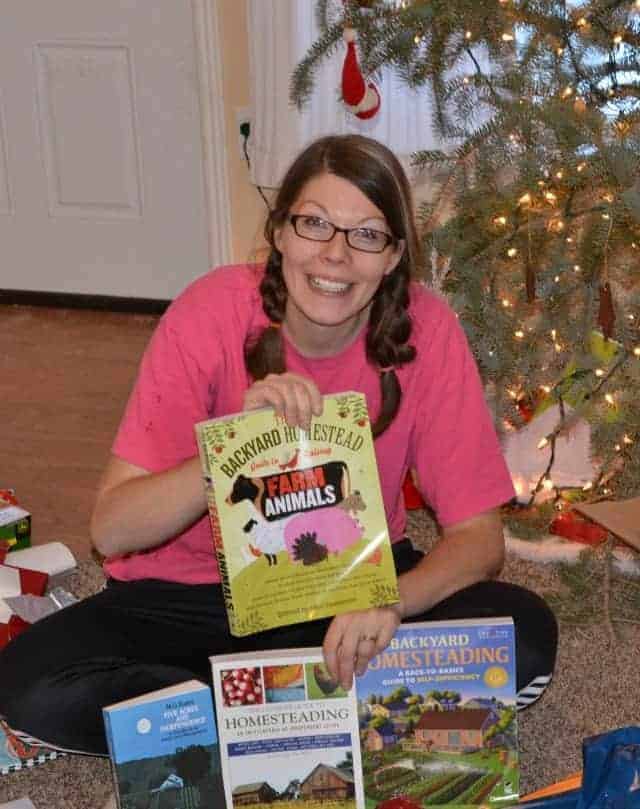 Can you tell what I'm pretty interested in? Anyhow, I spent my low-key Christmas morning scanning the books and reading the chicken sections. They made it pretty clear that hens need to stay clean and dry in the winter. They need to have fresh bedding and not step in their own poop or they can get sick for obvious reasons. This hadn't been an issue until the beginning of December when it snowed. The ladies were terrified of the snow. They wouldn't come out of the bottom of the coop at all. They stayed in there all of the time. Up until then there was no snow and they would still wander the yard eating as they went, even though lots of the plants were dead they still found plenty to peck at.
That snow really threw them for a loop. They were just so scared of it it was almost funny. A few days after the first snow I opened the top of the coop and they came up to see me. I picked them up and threw them out, making them go onto the snow (they had to get used to it!) and they flew and fluttered until they found something higher to perch on and just sat there. They wouldn't move until I got tired of waiting to see what they would do and carried them back to the coop. Nutty birds! So they spent their days in the straw covered bottom.
After my Christmas reading though I knew we needed a change. Their straw was yucky now and I can't clean it out very well (I normally move the coop and then clean up what's left), but moving it meant they'd move on top of snow which is too cold and wet for them, so I brain stormed with Thomas outside in the cold on Christmas Day. We decided that they needed access to places that didn't have snow so that they would come out of the coop. We looked around and a foot wide path across the edge of the barn was the only place clear of snow. I shoveled and cleared a new spot for the coop and then ended up using some old windows from the house to make places where the snow wouldn't go.
Here's what their set up looks like now: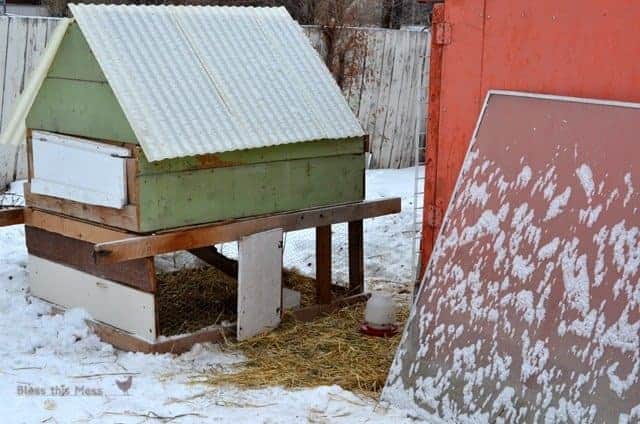 The big window it propped up again the barn and I put straw under it and to it. They love walking on the straw and not the snow. I also put a big widow against the back side of the coop in hopes it would cut down on wind and maybe warm it up a bit more in the day.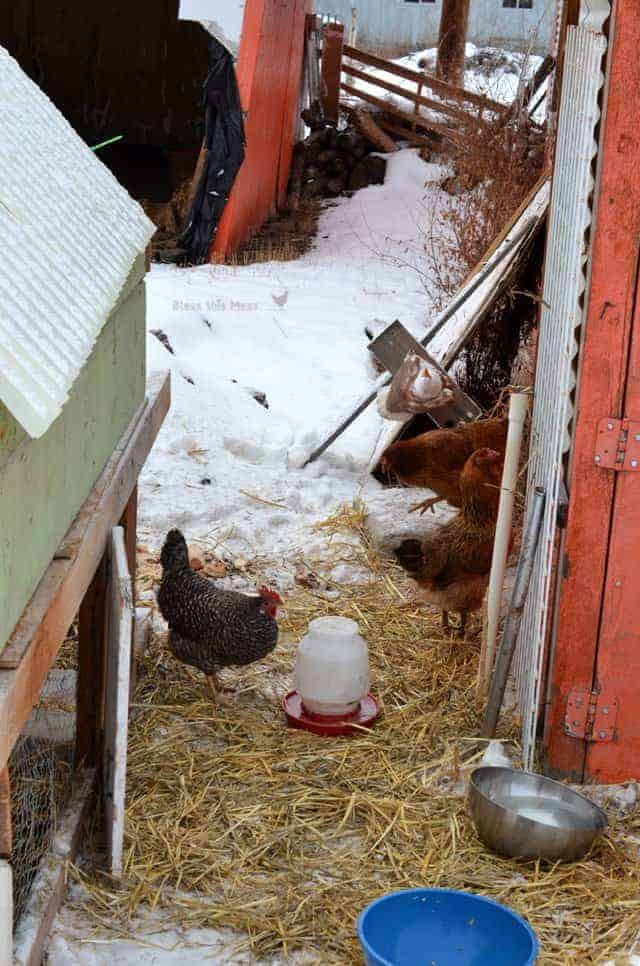 This is the edge of the barn that didn't have snow on it. They can scratch in the dirt here and hide behind the boards on this side of the barn with no snow in the way too. I also learned that if you can get them to eat more they will stay warmer, but they get bored eating their chicken food out of the bucket. So I bought chicken scratch which is mixed grains and it looks just like bird seed. They are birds after all. Now I sprinkle that here and there on top of the straw and they have something to scratch around in and find at the bottom. They really do like to eat all day long. In the summer they just roamed the yard, but now that it is winter I had to provide them with what they need.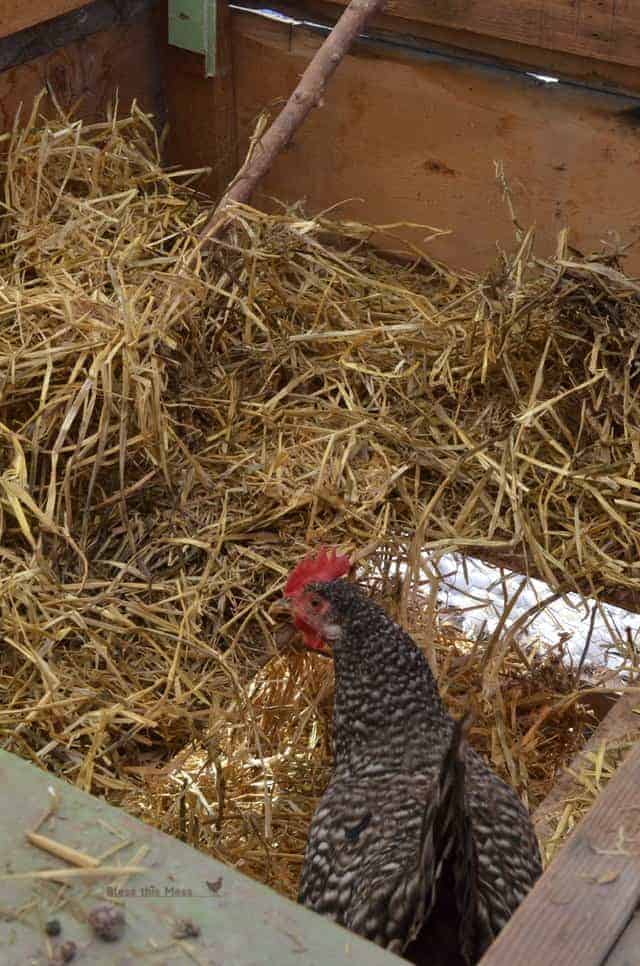 I also fill the top of the coop, where they sleep, with hay ever few days. They kick it all out to the bottom and then step on it, but it keeps the bottom cleaner. Can you see the broken perch? When I had all of the hens they would sleep there and I guess one night they were just too heavy for it. I bet that breaking scared them to death! That hen is a black sex link and she lays white eggs when the weather is not too cold.
So my backyard chickens are doing really well, love their new set up, and I'm getting at least eight eggs a week. I'm really looking forward to getting new chicks in the spring again too. We bought them in April last year and that honestly feels like it is right around the corner!
Thanks for letting me share this fun new hobby with you. Backyard chickens are the best!