Zucchini Noodles, or "zoodles" are on the rise for health conscious people everywhere. These vibrant, curly strands of zucchini have become a beloved alternative to traditional pasta, offering a lighter and more nutritious option that's as versatile as it is delicious.
Zucchini noodles are exactly what they sound like – noodles made from zucchinis! These delightful creations are formed by spiralizing or julienning fresh zucchinis into long, slender strands that mimic the appearance of traditional pasta. They're a fantastic way to cut down on carbohydrates while still enjoying a satisfying meal. Zucchinis, with their mild flavor and tender texture, are the perfect vegetable canvas to absorb the flavors of whatever dish you're preparing.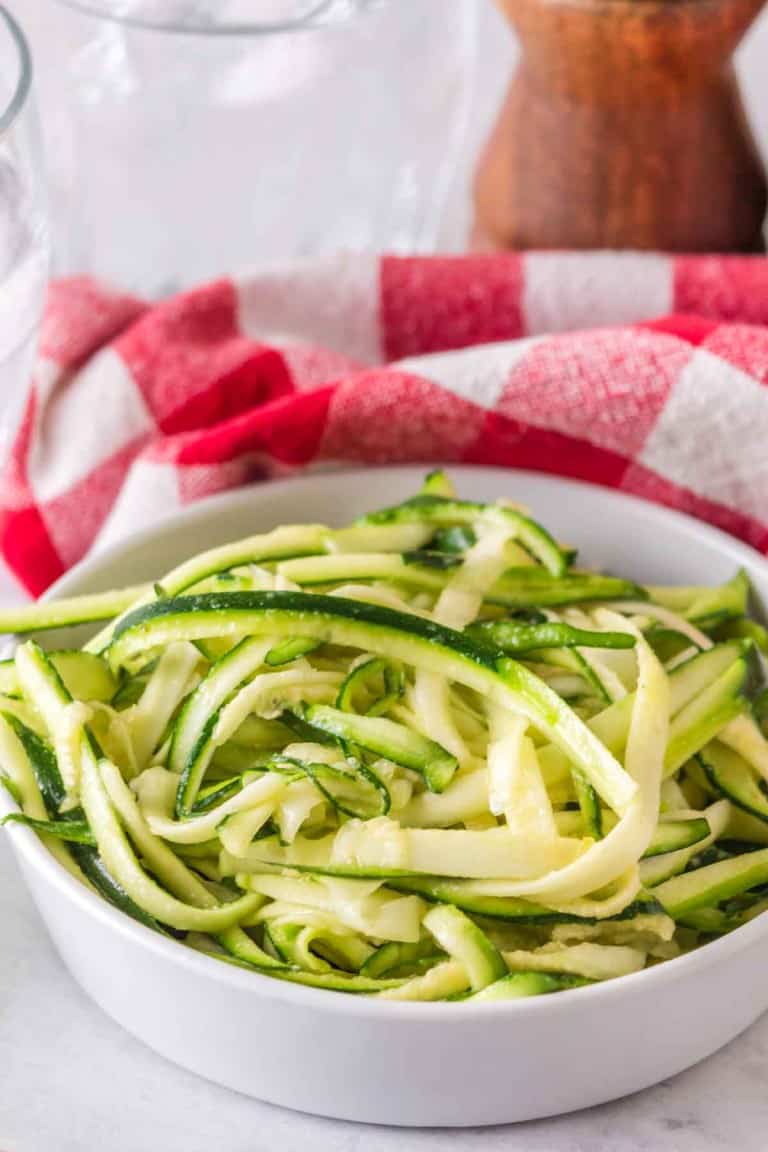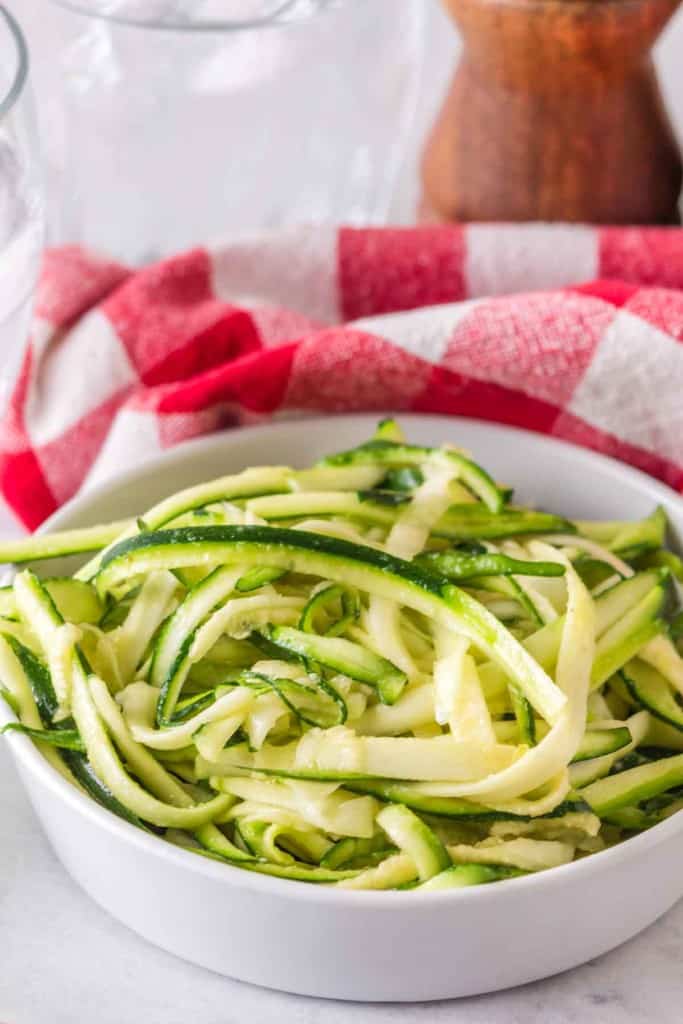 Zucchini Noodles
The allure of zucchini noodles lies in their numerous benefits. They're incredibly low in calories and carbohydrates, making them a favorite among those who are watching their weight or following low-carb diets.
Zoodles pack a healthy punch of essential nutrients, including vitamin C, potassium, and dietary fiber. These nutrients contribute to better digestion, a stronger immune system, and improved overall health.
But perhaps the most exciting aspect of zucchini noodles is their versatility. Just like regular pasta, zoodles can be paired with an array of sauces, proteins, and vegetables, making them the ultimate blank canvas for culinary creativity. Whether you're a vegetarian, a meat lover, or somewhere in between, zucchini noodles provide a platform to create dishes that cater to your dietary preferences and taste preferences.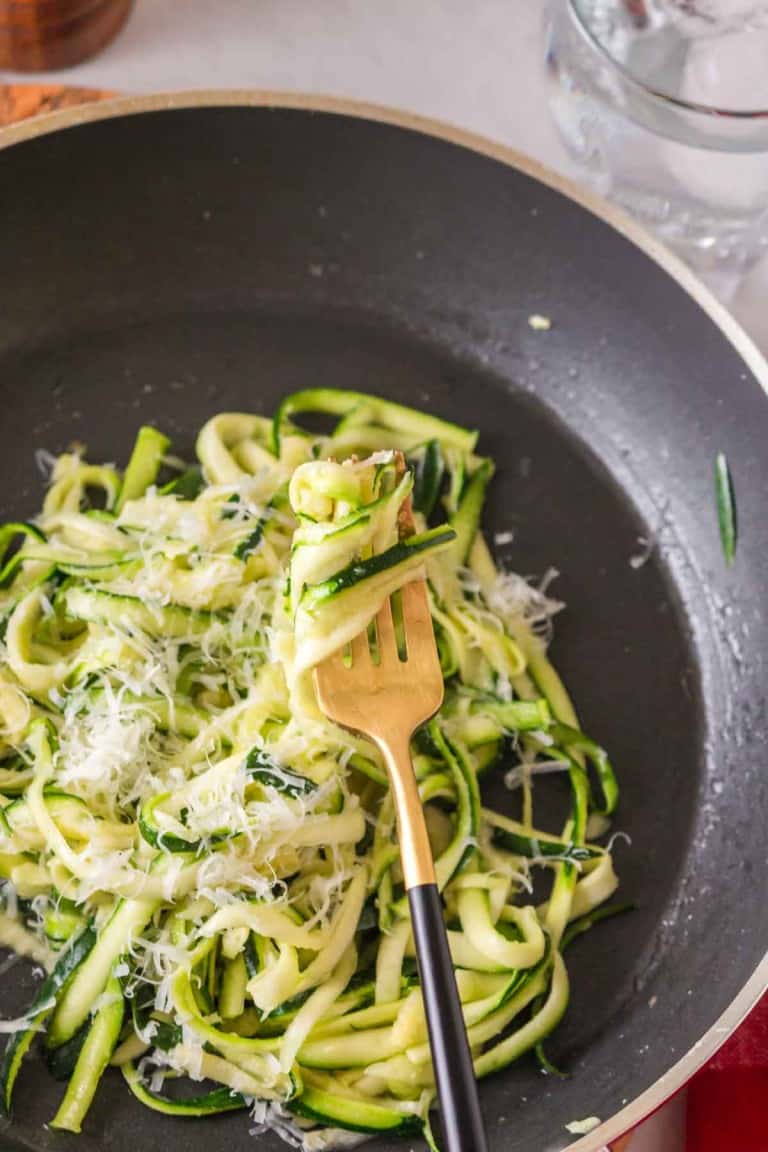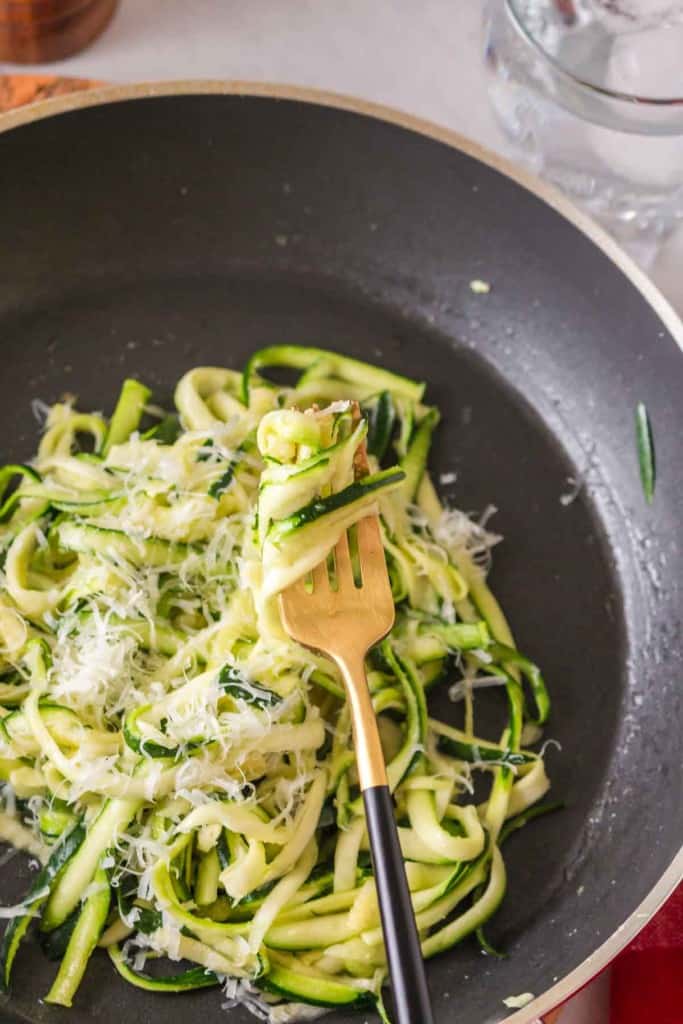 Ingredients
Zucchini
Olive oil
Garlic powder
Salt or more to taste
Pepper
Parmesan
Recipe Instructions
Clean and trim zucchini. Then prepare preferred noodle style.
Dry zucchini with paper towel.
Heat oil, add zucchini.
Season and toss.
Top with cheese.
Serve and enjoy!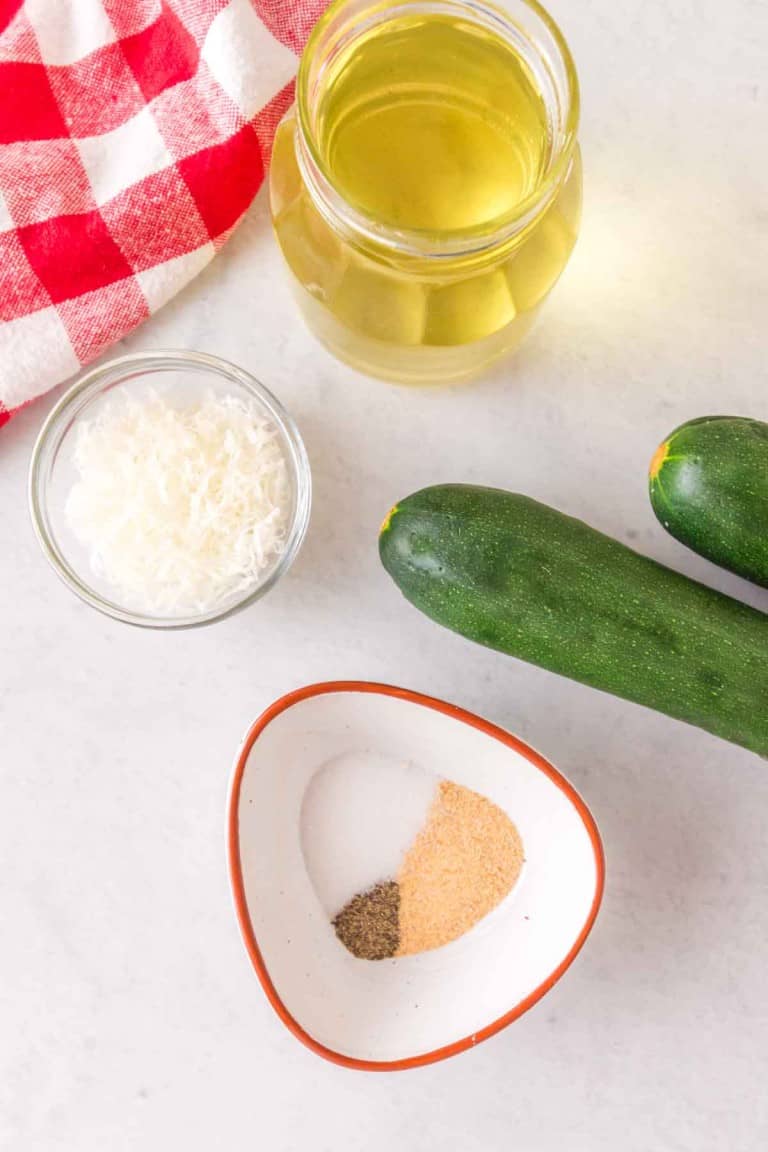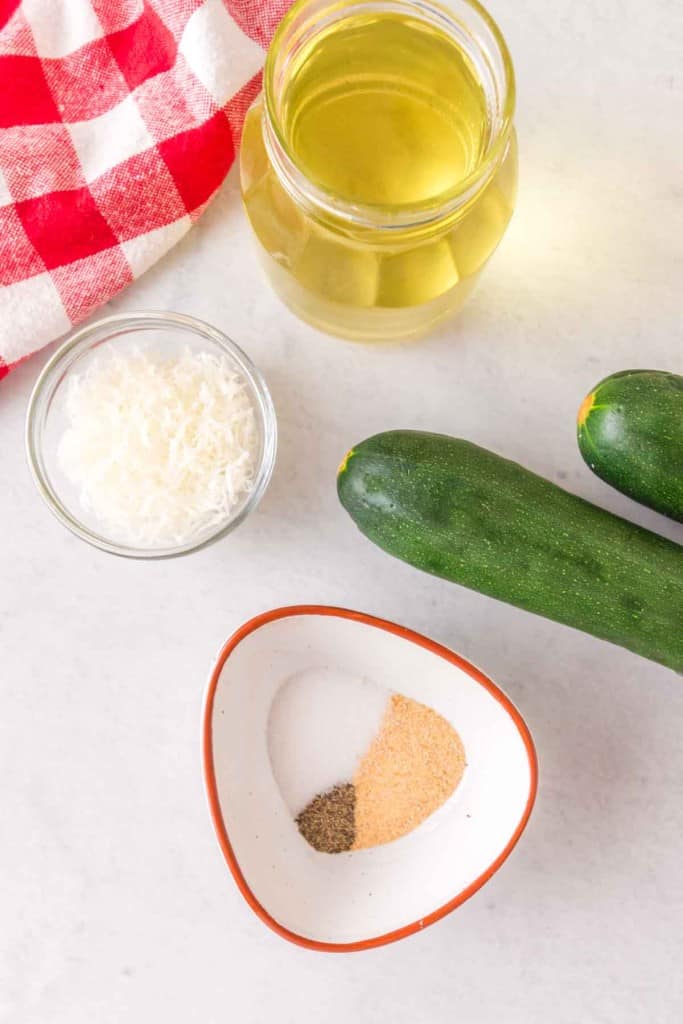 Frequently Asked Questions
What are zucchini noodles (zoodles)?
Zucchini noodles are thin strips of zucchini that are used as a low-carb and gluten-free alternative to traditional pasta. They are often used as a healthier substitute in various dishes.
How are zucchini noodles made?
Zucchini noodles are typically made using a spiralizer, which is a kitchen tool that turns zucchini into long, noodle-like strands. You can also make them using a vegetable peeler or a knife to create thin strips.
Are zucchini noodles healthy?
Yes, zucchini noodles are considered a healthy alternative to regular pasta as they are low in calories and carbohydrates, and they provide essential nutrients like vitamins, minerals, and fiber.
What dishes can I make with zucchini noodles?
Zucchini noodles can be used in a variety of dishes such as zucchini pasta (with various sauces), stir-fries, salads, soups, and casseroles. They're versatile and can be substituted for traditional pasta in many recipes.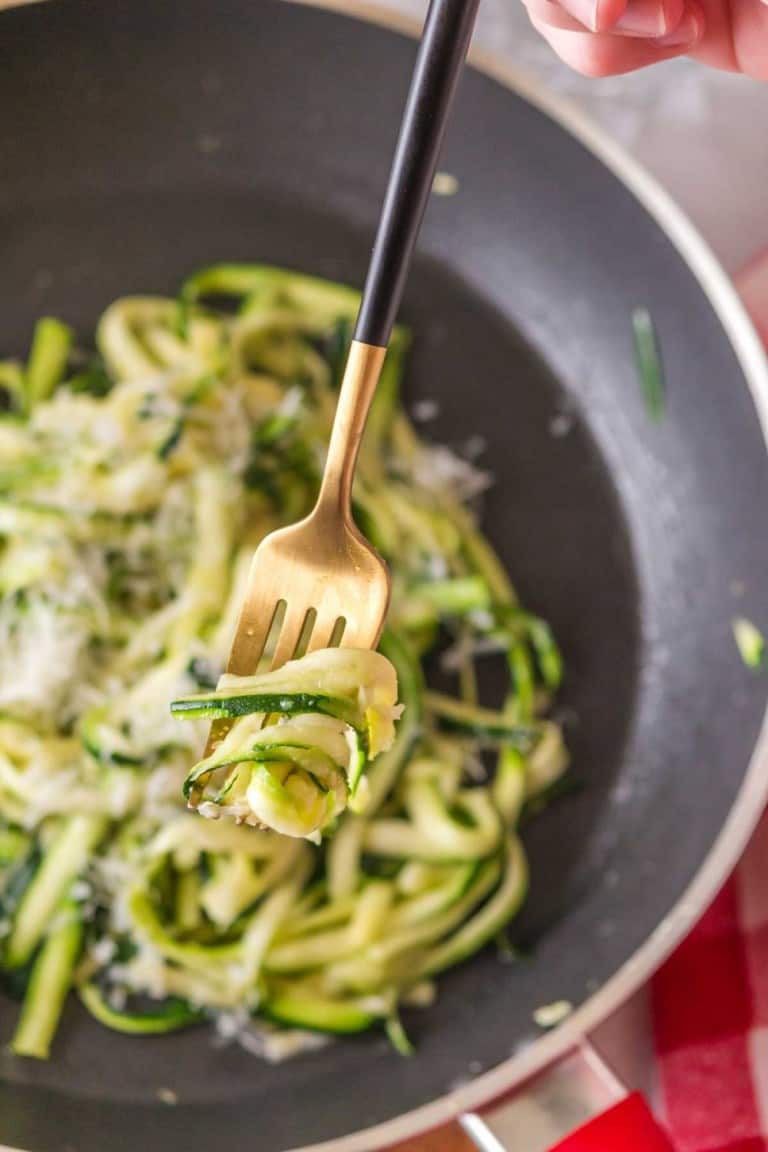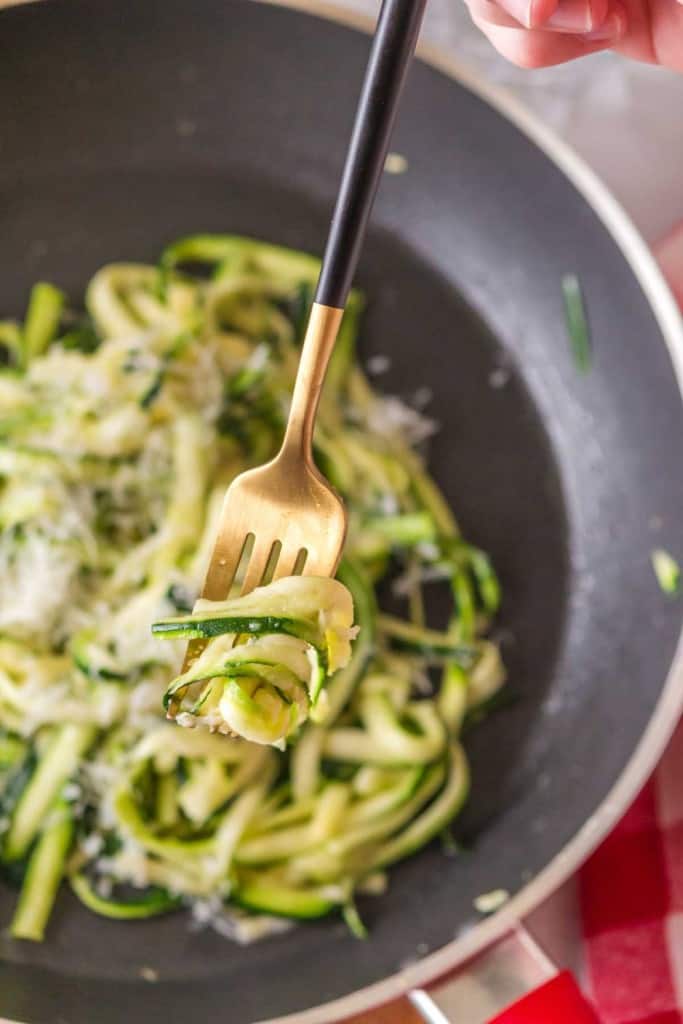 More Recipes
If you've tried this Zucchini Noodles recipe or any other recipe on Bless This Mess, then don't forget to rate the recipe and leave me a comment below! I would love to hear about your experience making it. And if you snapped some pictures of it, share it with me on Instagram so I can repost on my stories.
📖 Recipe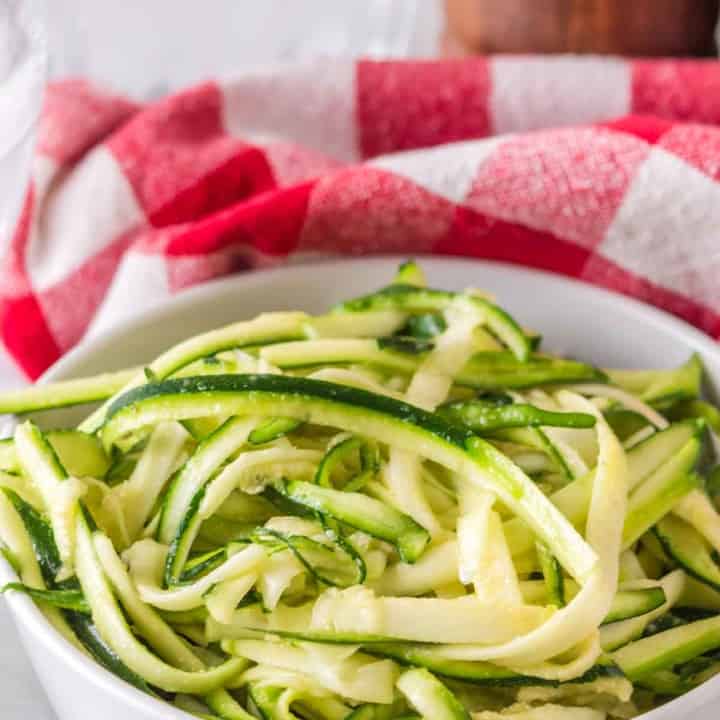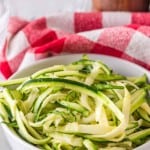 Print Recipe
Zucchini Noodles
Zucchini noodles are a nutritious and low-carb alternative to traditional pasta to create healthier versions of classic pasta dishes.
Ingredients
2

medium zucchini

1

tablespoon

olive oil

1

teaspoon

garlic powder

½

teaspoon

salt

or more to taste

¼

teaspoon

pepper

1

tablespoon

parmesan

for topping optional
Instructions
Clean the zucchini and cut the end pieces.

Prepare the zucchini for the type of noodles you prefer.

Use a ppiralizer for spaghetti-type noodles

Cut into small strips with a julienne peeler if you like ribbons.

Cut into thin slices and then into strips to make them look more like fettuccine.

Use a paper towel to absorb the excess water from the zucchini.

In a medium skillet, over medium heat, warm olive oil and add the zucchini.

Sprinkle the garlic powder, salt, and pepper. Toss so all the zucchini are seasoned.

Top with fresh grated Parmigiano cheese.

Serve and Enjoy!
Notes
Do not cook for more than 1 or 2 minutes. The more you cook, the more the water will come out and turn the zoodles into mush
You can serve these with about any sauce that you like or have on hand.
If you are working with a larger zucchini it's best to peel it and then remove the seeds before cutting it up for noodles.
Spiralizers are really fun and easy to find at thrift stores if you are wanting to try one!
Nutrition
Calories:
111
kcal
|
Carbohydrates:
7
g
|
Protein:
4
g
|
Fat:
8
g
|
Saturated Fat:
2
g
|
Polyunsaturated Fat:
1
g
|
Monounsaturated Fat:
5
g
|
Cholesterol:
2
mg
|
Sodium:
638
mg
|
Potassium:
535
mg
|
Fiber:
2
g
|
Sugar:
5
g
|
Vitamin A:
413
IU
|
Vitamin C:
35
mg
|
Calcium:
64
mg
|
Iron:
1
mg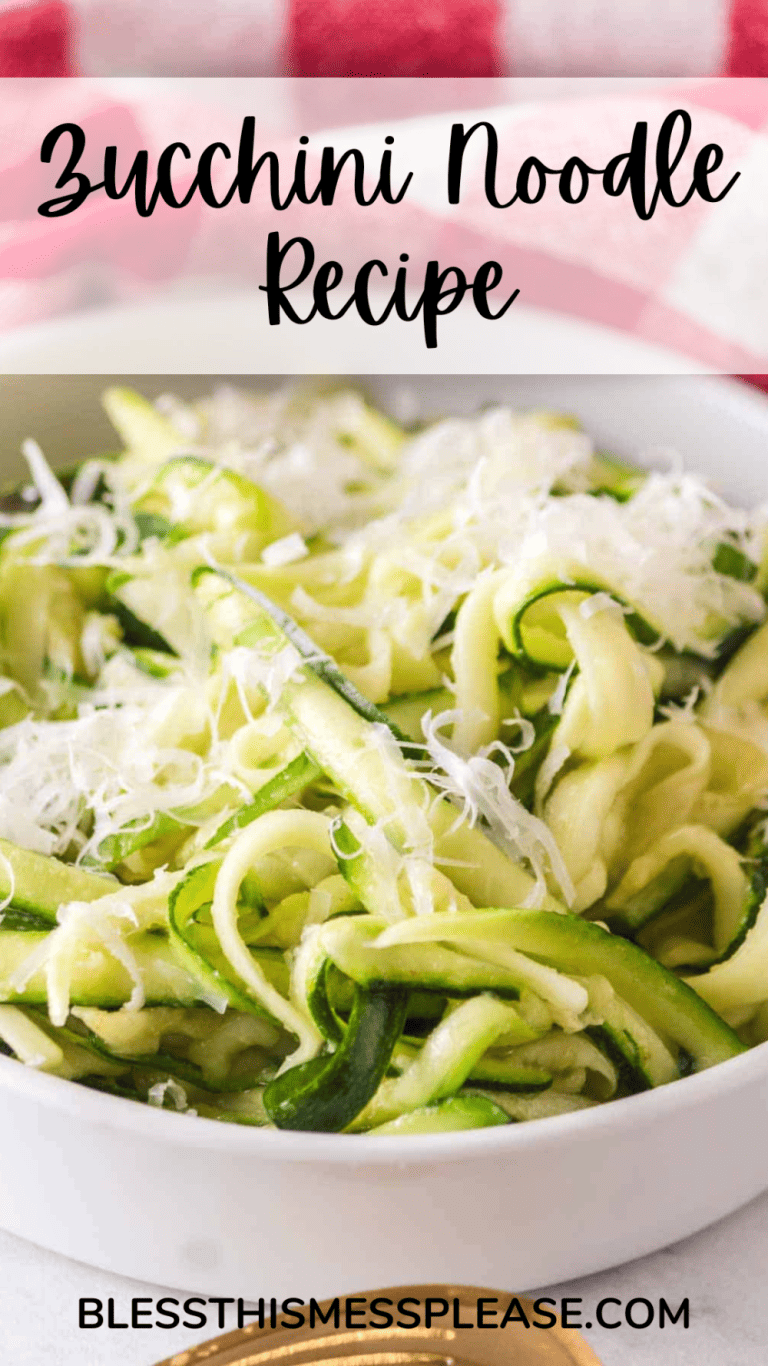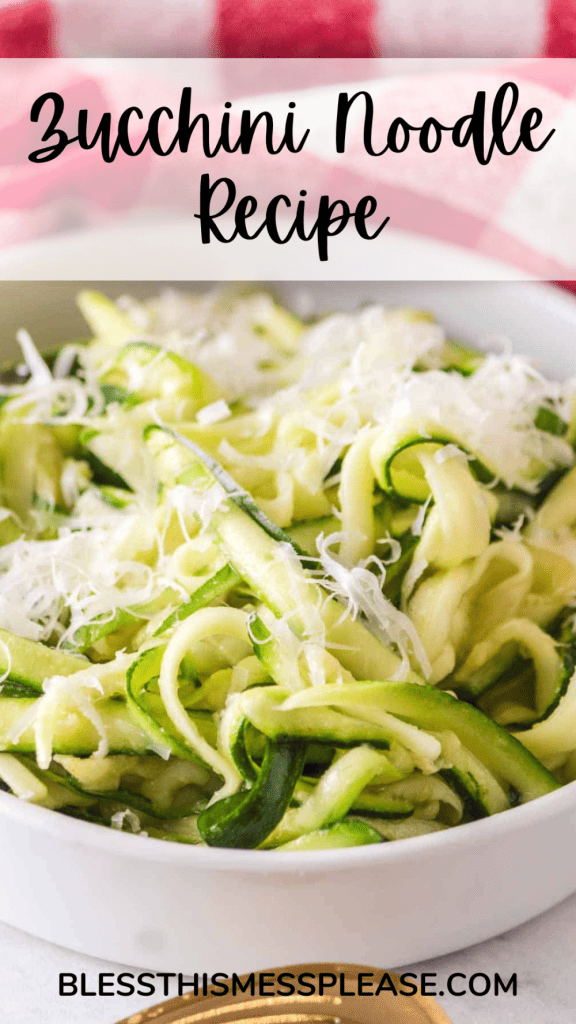 Zucchini noodles offer a versatile and health-conscious option for those seeking to enjoy pasta-like dishes while reducing their carbohydrate intake and increasing their vegetable consumption. I think you will love this healthy alternative.