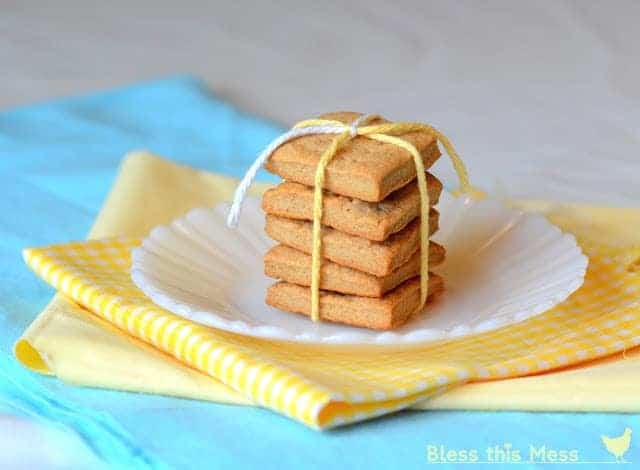 I have been making this recipe for homemade graham crackers for a few years now and love them. You and your kids will never know that they are good for you. Now, I bought graham flour to experiment with when I initially started perfecting my graham cracker recipe, and I'll be honest, I couldn't tell any difference in taste or texture.
Graham flour is whole wheat flour in which the individual parts of the wheat kernel are ground separately. The endosperm is ground very finely and the bran and the germ are ground coarsely. The separately ground parts are then recombined to make graham flour. The ratio of the parts of the kernel that are recombined are different from how they come in nature (more endosperm is added…). I'm sure there is more to the process, but I bet you just learned something, didn't you?
All that being said, the end product was not significantly different to justify the cost of graham flour in my life. There you have it. Not a true graham cracker, but delicious none the less.
Graham Crackers
Bless This Mess Original
Printable Recipe
2 1/4 cups whole wheat flour
1/3 cup sucanat (dehydrated cane juice) or brown sugar
1 t. baking powder
1/2 t. baking soda
1/2 t. salt
1/4 t. cinnamon
3 T. honey
1/4 c. water
1 t. vanilla
1/2 cup butter, melted
Place all your dry ingredients in the bowl of your mixer and combine. Add all of the wet ingredients and mix with the cookie paddle attachment until everything comes together. The dough isn't sticky and is moderately greasy.
Preheat oven to 350 degrees. Divide the dough in half and roll half out on a floured surface. Roll to about 1/4 inch thick. You can treat the dough like a sugar cookie dough and cut out shapes or you can use a pizza cutter and cut out squares. Place the cut out crackers on a parchment-paper-lined cookie sheet, prick them with a fork, and bake for 8-12 minutes until the edges just slightly darken. They will harden up more as they cool. Store in an air tight container.
Notes:
You will love these! Don't even think about using white flour here. There is no need, and it will cut out some of the much-needed taste. I grind hard white wheat berries at home and love the flavor and texture.
You can use coconut oil in place of all or part of the butter
The thickness of the dough and the baking time will change the texture of the cracker. Sometime I like them thicker and baked less which yields more of a cookie texture (which my baby eats better than the crunchy). Lots of times I will roll out half the dough for thin crackers and the other half for thicker cookies.
Linking this up at:
Tator Tots and Jello
I Heart Nap Time
It's Overflowing