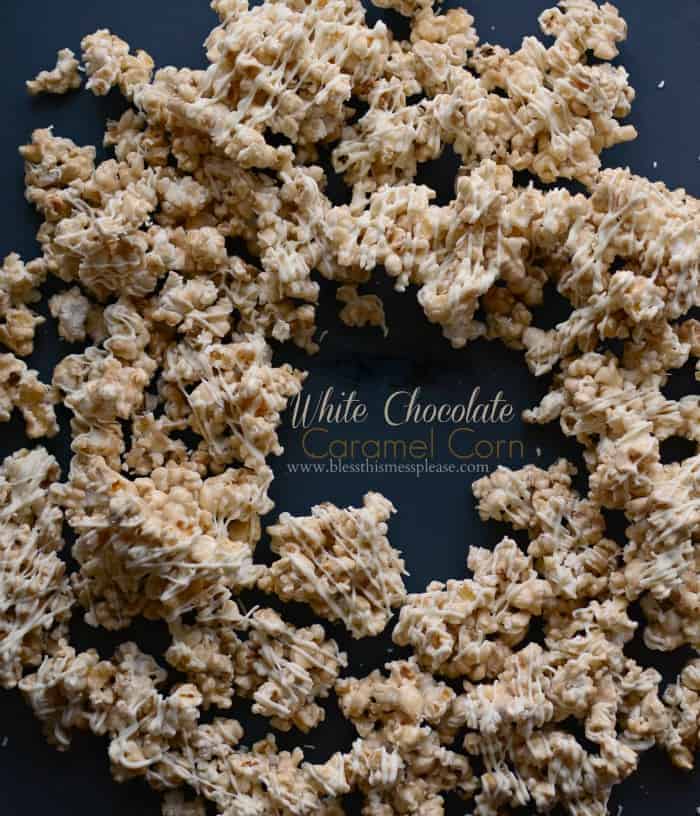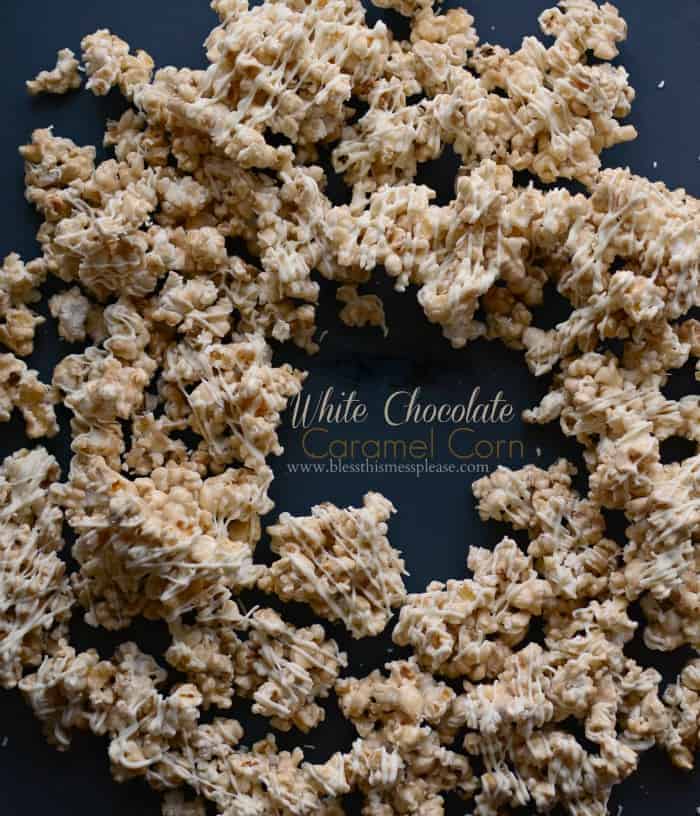 White Chocolate Caramel Corn is a must-make for the fall. I've been making similar versions of this popcorn for years, but today is extra special because I used two delicious bars of Lindt CLASSIC RECIPE white chocolate for melting over the caramel corn; it really put this version over the top. White chocolate caramel corn is one of my all time favorite treats. It's easy to make, it's perfect for parties and gatherings because it makes a nice big batch, it's pretty inexpensive, and it also makes a simple gift for giving.
This post is part of #Chocotoberfest! Did you see the Oatmeal Pumpkin Chocolate Chip Cookie recipe I posted yesterday? Not only is that recipe a keeper, but you can enter to win a chocolate prize pack worth over $350. I donated a gathering apron from my Etsy shop too, so pop on over to enter to win!
If you are in the mood for a little extra "Fall" in this white chocolate caramel corn, you can add a teaspoon of cinnamon or pumpkin pie spice to the caramel before you add it to the popcorn. It's excellent this way!
When it comes to melting the chocolate, I highly recommend going through the effort to melt it slowly using a double boiler. You can pop it in the microwave, but if you are like me, you may end up scorching the chocolate which makes it thick, grainy, and impossible to drizzle and use. There's no sense in taking such risks when you are using Lindt chocolate. Lindt sent me a few bars of white, milk, and dark chocolate and they have been SO fun to have in the house. I melted one of the dark bars into my triple chocolate brownies and it was perfection.
Lindt is also my chocolate of choice when I'm sending fun mail to girlfriends. I adore snail mail and try to make up "I'm thinking of you" packages once a month to pop in the mail. Lindt bars come in fun flavors and are always a welcome treat. I was pretty excited to get to work with Lindt today, and I hope to make this sweet collaboration a long term gig!

If you try this recipe, let me know what you think! Leave a comment, pin it, and don't forget to tag a picture #blessthismesseat on Instagram. I love to see your kitchen skills in action!
Print
White Chocolate Caramel Corn
---
Ingredients
1/2 cup butter
1/2 cup corn syrup
1 cup brown sugar, light or dark
1/4 teaspoon salt
1/2 teaspoon baking soda
1 teaspoon vanilla
2 (4.4 ounce) bars Lindt CLASSIC RECIPE White Chocolate Bars
Kosher salt for sprinkling (1/4 to 1/2 teaspoon)
12 cups popped popcorn (this was about 2/3 c unpopped kernels for me)
---
Instructions
In a medium saucepan combine butter, corn syrup, brown sugar, and salt. Cook over medium heat, stirring often until the sugar dissolves. Once the mixture comes together bring it to a boil, stirring occasionally. Remove from heat and add baking soda, and vanilla. Stir well to combine.
In a large bowl add the popped popcorn and drizzle with the caramel sauce; stir well to coat. Spread the popcorn onto a cookie sheet covered with parchment paper that has been also sprayed with cooking spray. Bake at 275 degrees for 8-10 minutes, stirring half-way through the cook time and again after you pull it out of the oven.
Allow popcorn to cool. Melt white chocolate, using a double boiler and drizzle over popcorn. Allow the chocolate to set and then break the caramel corn into pieces for serving.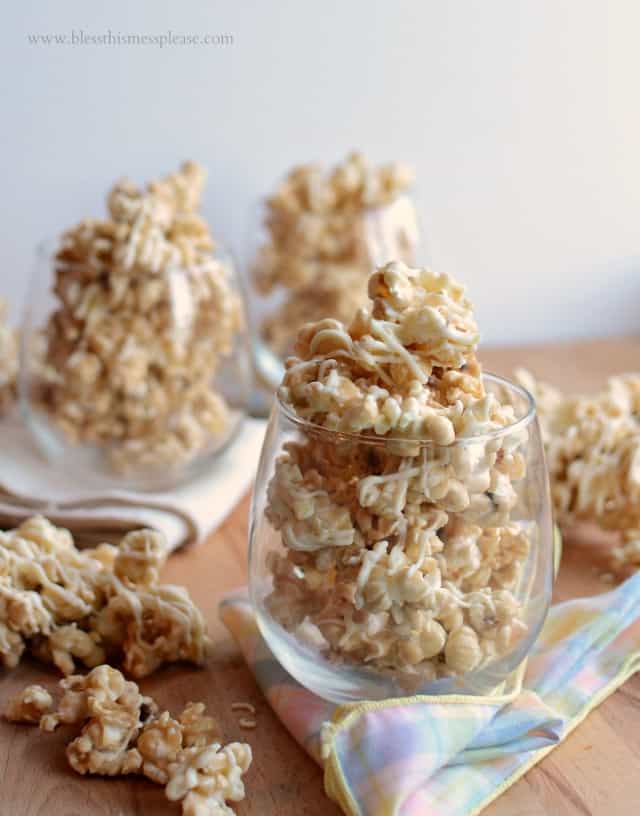 Doesn't that look fabulous! It's so very addicting. Consider yourself warned. If you lack self-control when it comes to caramel corn and good Lindt chocolate then I highly recommend you make this to take to a party. Otherwise you might end up eating 90% of the caramel corn yourself. Not that I know from experience.
Get to poppin', meltin', and snackin', and jump on over to yesterday's post to win some Lindt bars of your own!
Disclosure: I was sent product samples for participating, but I haven't been paid to develop recipes or for my time. I'm participating because it's fun for me and fun for you! Enjoy and have a great week friends.