These Pulled Pork Sandwiches are so delicious! Made with slow cooker cooked pork that's topped with an easy homemade barbecue sauce. These sandwiches are perfect for parties, potlucks and picnics.
There are few things more tasty than a perfect pulled pork sandwich. We make these all of the time because they are just so good. If you ask me, this is the ultimate party food because everyone loves it, you can make 90% of the elements for the sandwich ahead of time, and it's an easy dish to feed a crowd. I know that turkey and ham might be all the rage this time of year, but I'm on Team SIMPLE when it comes to party food. This would be awesome to serve to friends and family before a holiday party, after caroling, or in the middle of your Hallmark Movie Marathon. It's warm, comforting, and always a hit.
If you are having a party, you can plan on making these and then you can assign everyone else sides. With a little potato salad, some kind of sparkly drink, and some baked beans on the side, you are going to have a meal fit for a king (and a crowd!).
I'm a big fan of making the meat kind of plain (delicious, but plain) so that people can add the condiments that they like. I also love homemade refrigerator pickles on this sandwich; they just have a different taste then normal store-bought pickles. The acidic vinegar and a little bit of crunch goes perfectly with a sweet homemade barbecue sauce. You are going to love these sandwiches!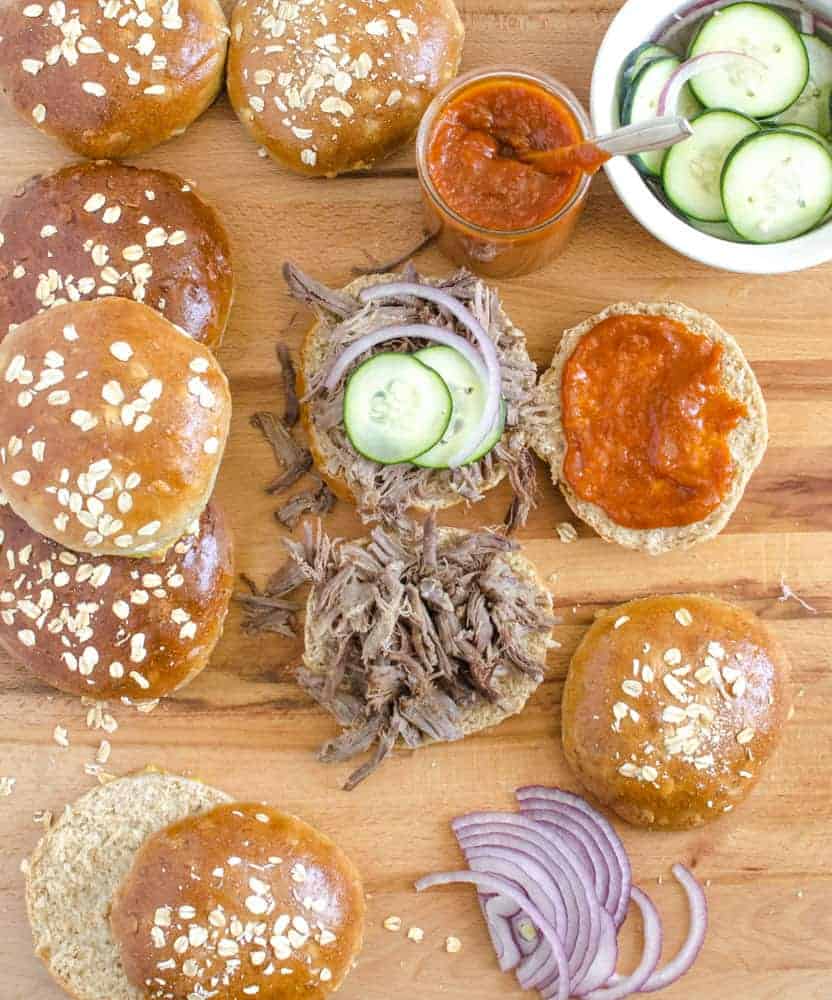 Print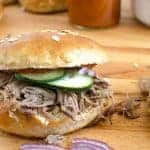 The Ultimate Pulled Pork Sandwich
---
Author:

Total Time:

9 hours

Yield:

1

2

1

x
Description
These Pulled Pork Sandwiches are so delicious! Made with slow cooker cooked pork that's topped with an easy homemade barbecue sauce. SO GOOD!
---
For the slow cooker pulled pork
4

-

5

pounds of bone-in meat (see post for more details on cuts) or 3-4 pounds boneless

1 tablespoon

kosher salt

1 teaspoon

garlic powder

1 teaspoon

freshly cracked black pepper

1 teaspoon

paprika
For the barbecue sauce
1 tablespoon

olive oil

½

of a small onion, finely chopped (about

⅓ cup

)

2

cloves garlic, minced

1 cup

ketchup

⅓ cup

brown sugar

⅓ cup

honey

4 tablespoons

white vinegar

1 tablespoon

Worcestershire sauce

1 teaspoon

spicy brown mustard

1 teaspoon

chili paste (optional if your BBQ sauce a little spicy)
One recipe refrigerator pickles
Whole wheat buns
Thinly sliced red onion
Pepperjack or Swiss cheese slices, optional
---
Instructions
For the Pulled Pork
In a small bowl, combine all of the spices. Rub the spices all over the meat. Add the meat to the slow cooker. Slow cook on LOW until the meat is very tender and falling apart, 8-12 hours.
Before you are ready to serve, remove the meat from the slow cooker and set it in a bowl or a rimmed baking sheet (it's juicy, so using just a plate sometimes makes a mess). Then pour the liquid from the slow cooker into a clear container (like a big mason jar or a large glass measuring cup).
Shred the meat using two forks. Remove anything you don't want to eat (bones, fat, gristle), and return the shredded meat to the slow cooker.
Use a spoon to remove most of the fat from the liquid you have in the glass container (the fat will be floating on the top by the time you have shredded the meat). Add enough liquid back to the slow cooker so that the meat looks moist and there's a little on the bottom of the slow cooker (this might be all of the liquid and it might just be part - you aren't going to ruin it, just play it by ear). Taste the meat and add enough salt so that it tastes a little salty. You don't want it to be too salty, but you want to taste the salt, if that makes sense. Salt is going to heighten the flavor in the meat that already exists, so don't under salt. Stir well and add a little more liquid if needed. Serve hot.
I like to keep the reserved liquid if I have any left to use when reheating the meat later.
Extra meat can be used in all kinds of recipe or stored in the freezer for later use.
For the Barbecue Sauce
In a medium saucepan over medium-low heat, cook the onion and garlic in the olive oil until the onion softens, about 5 minutes. Take care not to burn the onions and garlic and stir often. Add the rest of the ingredients and stir to combine. Simmer over low heat for 20 minutes.
The onion and garlic will still be about the size you cut them into. If you don't mind a chunky BBQ sauce, then you are ready to use your homemade sauce. If you like it smoother (which I prefer), let the BBQ sauce cool for 10-15 minutes, carefully place it in a blender jar and process until smooth.
The barbecue sauce can be used right away or refrigerated until you need it. This will last about 2 weeks in the fridge.
To make the Sandwiches
Toast or grill your buns if you like. Add barbecue sauce to the inside of both buns. Add warm pulled pork and top with sliced red onion, optional cheese, and pickles. Serve right away.
Notes
You can make all of this ahead of time! Just prepare and shred the meat and store in the fridge for up to 3 days. When you are ready to serve, just heat in on the stove or in your slow cooker until it is heated through.
Prep Time:

1 hour

Cook Time:

8 hours

Category:

Lunch, Dinner

Method:

Slow Cooker

Cuisine:

American
Keywords: pulled pork sandwiches, pulled pork sandwich recipe, slow cooker pulled pork, pulled pork sandwiches slow cooker, how to make pulled pork sandwiches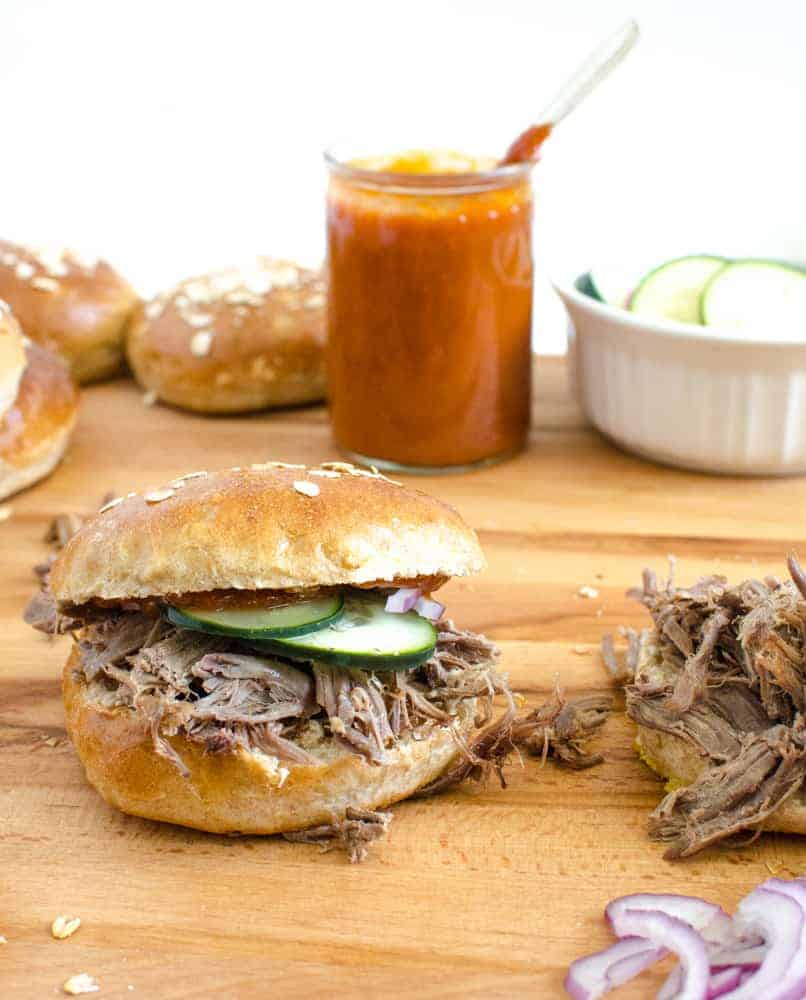 Long live make ahead party food! If I'm heading to or hosting a party this time of year, I also make a lot of soups, chicken legs, meatballs, and cheeseballs. All are great additions to any party!