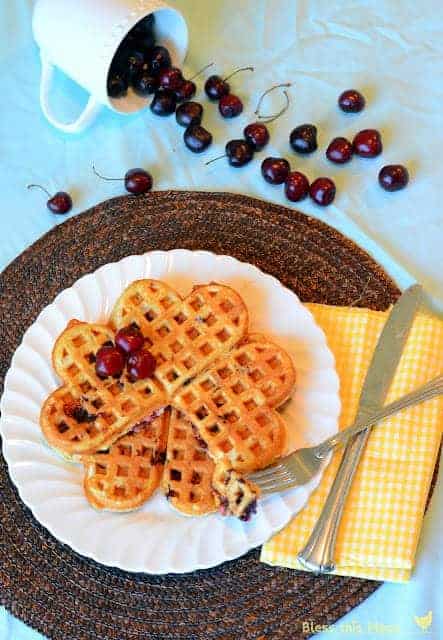 Now on to the food!
Sweet Cherry Waffles
Makes 4-6 waffles
1 3/4 cups flour
1 T baking powder
1/4 tsp salt
3 T sugar
2 eggs, slightly beaten
1/4 cup melted butter
1/4 cup applesauce
1 3/4 cup milk
1 cup pitted chopped sweet cherries
In a medium bowl combine all of the dry ingredients. Use a whisk to combine the dry ingredients and then make a large well in the center. Add the eggs, melted butter, apple sauce, and milk to the well and then start whisking the two together. Whisk from the middle of the bowl out, slowly making your way out to the dry ingredients. (You are slowly incorporating the dry so that they don't get clumpy). When everything has come together into a smooth batter fold in the chopped cherries. Cook according to your waffle iron directions. Serve with fresh cherry syrup, powdered sugar, or maple syrup. Freeze the extras for a quick breakfast and reheat in the toaster.
Notes:
The cherries sink to the bottom of the batter, so give the batter a stir each time you scoop some out to put in your waffle iron to make sure some cherries make it into each waffle.