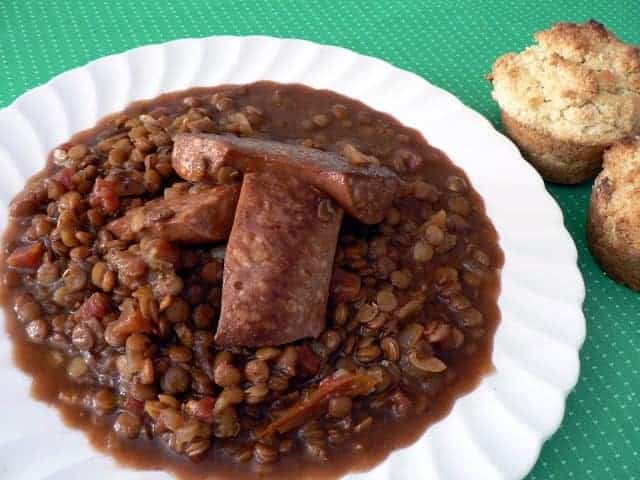 Lentils. What does that word bring to mind? Your grandma? Strange mushy soup? Food storage? I'm not sure either. I don't know tons about lentils, but I want to know them and love them. I have prepared them a handful of times and always liked the results. This recipe really won me over though.  Lentils will become a staple.
Lentils are part of the legume family. They are third in the family when it comes to the amount of protein they have (falling behind soybeans and hemp, but who eats hemp?) and they have lots of dietary fiber. Another nice thing about lentils is they are shelf stable. You can buy a bag to try the recipe and then put it in the cupboard until you want to make it again. They don't need to be soaked like dried beans and they have a pretty short cooking time. They are also cheap. Are you convinced to go get a bag yet?
Look for a bag labeled "lentils" in the grocery store. They should be brownish to dark green. There are lots of types of lentils and you want brown or dark green ones. Lentils that are red or yellow cook to mush and are used in things like curry and other sauces. We don't want mush here, so don't get red or yellow lentils.
One last thought. The heat in this recipe comes from diced tomatoes with green chilies in them. The can indicated that the chilies were "medium" in heat. When mixed with everything it came out with a nice little punch but nothing too hot. My kids did complain, however, that they were spicy, but they ate what they were given. So if you don't want the heat, just use normal diced tomatoes. If you would like it hotter than "a little punch" then look for diced tomatoes with chilies that indicate "hot" on the can!
Ok, just one more thought. Really. The sausage here is important. You are going to brown the sausage in the pan, use the drippings to cook the onion, and then you cook everything else in that same pan. When the sausage and then the onion are cooking, the bottom of the pan will start to get all brown and crusty with meaty and oniony treasure. When you add the liquid, all that brown stuff on the bottom of the pan comes up and into the rest of your dish. This is what "deglazing" is, if you've heard that on a cooking show. That caramelized layer on the bottom of the pan makes the end result amazing. You can't skip the sausage. Don't even try.
Spicy Lentils with Sausage
Adapted from America's Test Kitchen
Printable Recipe
1 T. olive oil
1 pound kielbasa sausage, cut into 8 equal pieces and split down the middle
1 onion, minced
2 garlic cloves, minced
1 tsp. chili powder
1/2 tsp. thyme
1/2 tsp. paprika
1/2 tsp. salt
1 can diced tomatoes with green chilies, medium heat
3 cups water
2 tsp Better Than Bullion Organic Soup Base (or bullion of your choice, or use broth for half the water)
1 cup lentils, rinsed
salt and pepper to taste
Heat the oil in a large skillet on medium-high heat until shimmering. Carefully add the sausage, cut side down, and cook until browned. This should take 2 to 5 minutes. Transfer the sausage to a plate and leave the fat in the pan. Over medium-high heat, cook the onion in the fat until soft, about 5 minutes. Add the garlic, chili powder, thyme, and paprika and cook until fragrant, about 15 seconds. Stir in the tomatoes, scraping up any browned bits from the bottom of the pan. Add the water, bouillon, and lentils. Bring the mixture to a boil. Cover and reduce the heat to low and cook until the lentils are tender but have a little crunch to them, around 35 minutes.
Nestle the kielbasa into the lentils and continue to cook, covered, over low heat until the lentils are completely tender, about 10 minutes.  Season with salt and pepper to taste.
Serve with corn bread or muffins.