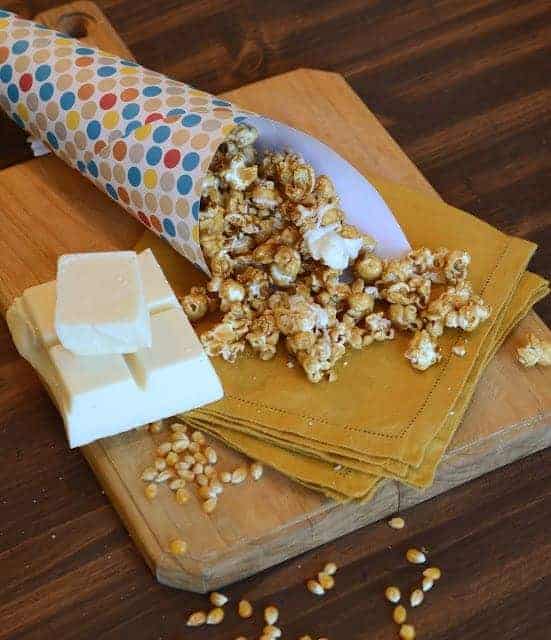 Caramel! Oh how I love the stuff. Here's another super recipe with, you guessed it, caramel. I adore caramel corn because of two things: caramel and popcorn (obviously…).
Popcorn is one of my favorite foods and I eat it multiple times a week. Both of my parents hail from the Hoosier State and I spent 19 of my 27 years there, so I think the corn/popcorn love is just part of my genetic make-up. Indiana grows some intense corn (picture proof at the end of the post).
This caramel corn is a non-sticky but not super crunchy caramel coated popcorn drizzled with white chocolate and then sprinkled with kosher salt. It's sweet and salty snacking perfection in my world and I know you'll like it too. Salted caramel corn is the perfect merriment of sweet and salt. Can't beat that combo.
Salted Caramel Corn with White Chocolate
Printable Recipe
Makes 12 cups (about 6 servings)
1/2 cup butter
1/2 cup corn syrup
1 cup brown sugar, light or dark
1/4 tsp salt
1/2 tsp baking soda
1 tsp vanilla
1 cup white chocolate chips or 3 squares of almond bark
Kosher salt for sprinkling (1/4 to 1/2 t.)
12 cups popped popcorn (this was about 2/3 c unpopped kernels for me)
In a medium saucepan, combine butter, corn syrup, brown sugar, and salt. Cook over medium heat to allow sugar to dissolve completely and then bring to a boil. Remove from heat and add baking soda, and vanilla. Stir well to combine.
In a large bowl add the popped popcorn and drizzle with the caramel sauce; stir well to coat. Spread the popcorn onto a cookie sheet covered with parchment and sprayed with cooking spray. Bake at 275 degrees for 8-10 minutes, stirring half-way through the cook time and again after you pull it out of the oven.
Allow popcorn to cool. Melt white chocolate in a double boiler or in the microwave and drizzle over popcorn. Sprinkle with Kosher salt while the popcorn is still melty. Allow the chocolate to set and then break the caramel corn into pieces for serving.
Notes:
Let's just rename this "Crack Popcorn". Consider yourself warned.
I normally make this for a treat to be given away or to take to a party, so I'm not really sure how well it stores.
And just because, proof of Indiana's mad corn growing skills. I'm 6 feet tall and that corn is almost double my size. Amazing really.
2006/Indiana
Any fellow caramel and/or popcorn lovers out there?