If you're a fan of warm, gooey, and utterly irresistible desserts, then you're in for a treat. Let me introduce you to the phenomenon known as the Pizookie. Imagine a heavenly combination of a warm, freshly baked cookie and a scoop of luscious ice cream all in one mouthwatering dessert. Sounds incredible, right? Well, hold onto your taste buds because we're about to dive into the world of Pizookies.
Pizookie is like a pizza-sized cookie that's typically served straight from the oven, with a generous scoop of vanilla ice cream melting on top. The contrasting temperatures, textures, and flavors create an unforgettable experience for your palate.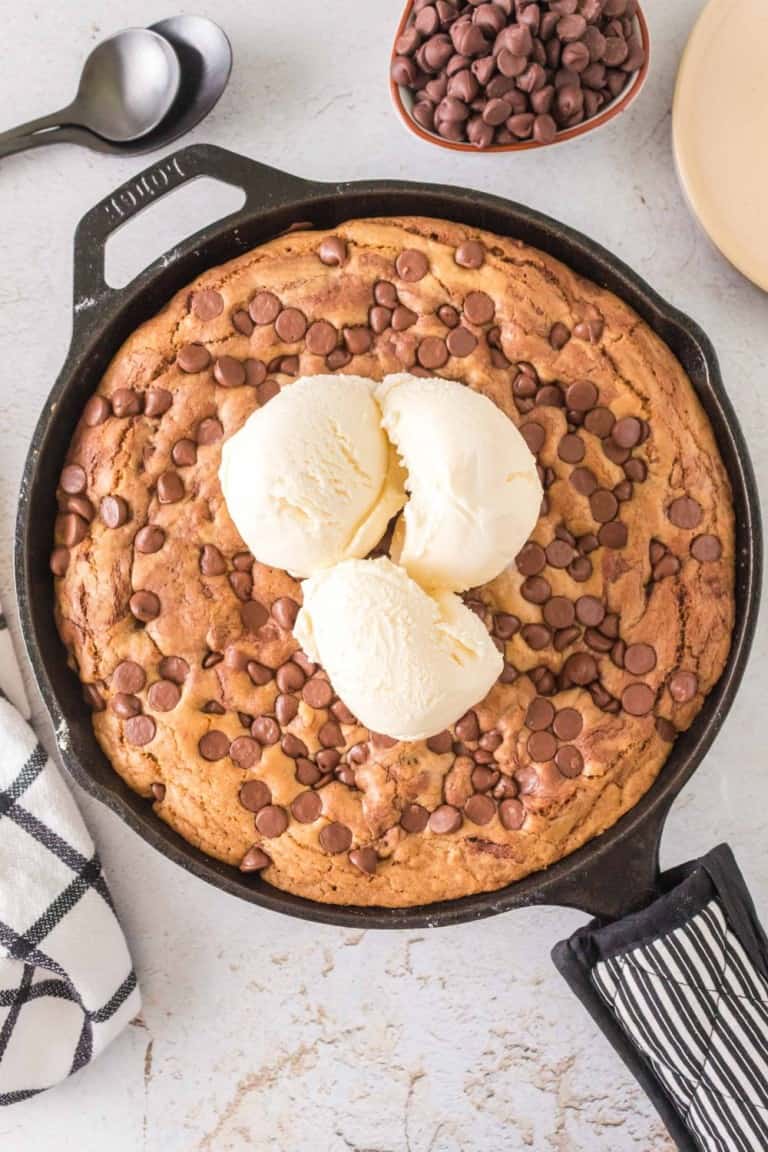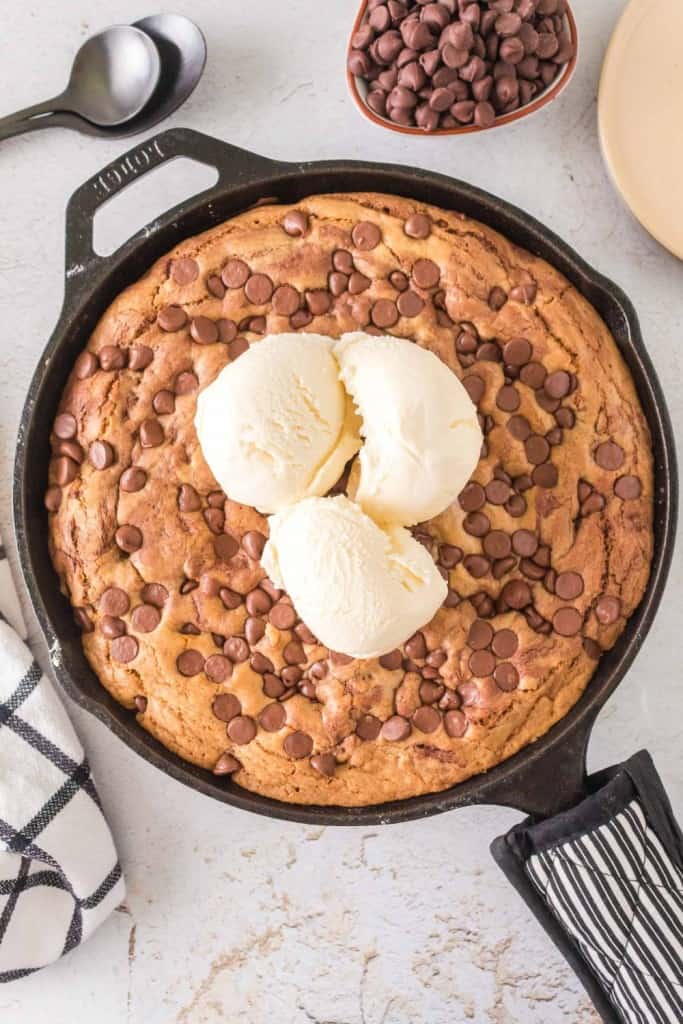 Table Of Contents
The beauty of the Pizookie is that you can change it up however you like! While the classic version features chocolate chips, you can let your imagination run wild and experiment with different add-ins. Whether it's chunks of caramel, nuts, or even a sprinkle of sea salt on top, you can customize your Pizookie to suit your taste preferences.
Pizookie is best served with loved ones around, grab some spoons, and dig in. Each mouthful will transport you to dessert paradise, where the warmth of the cookie and the coolness of the ice cream dance together in perfect harmony. The rich, melty chocolate chips will satisfy your cravings, leaving you longing for just one more bite.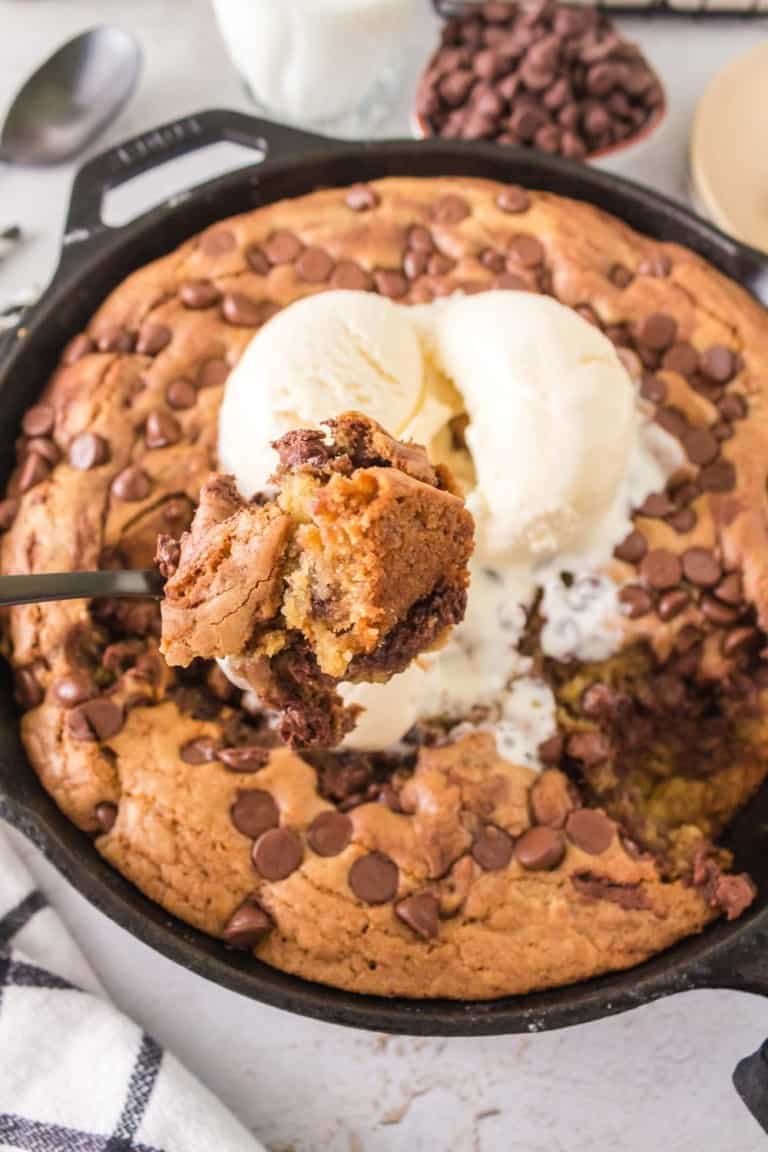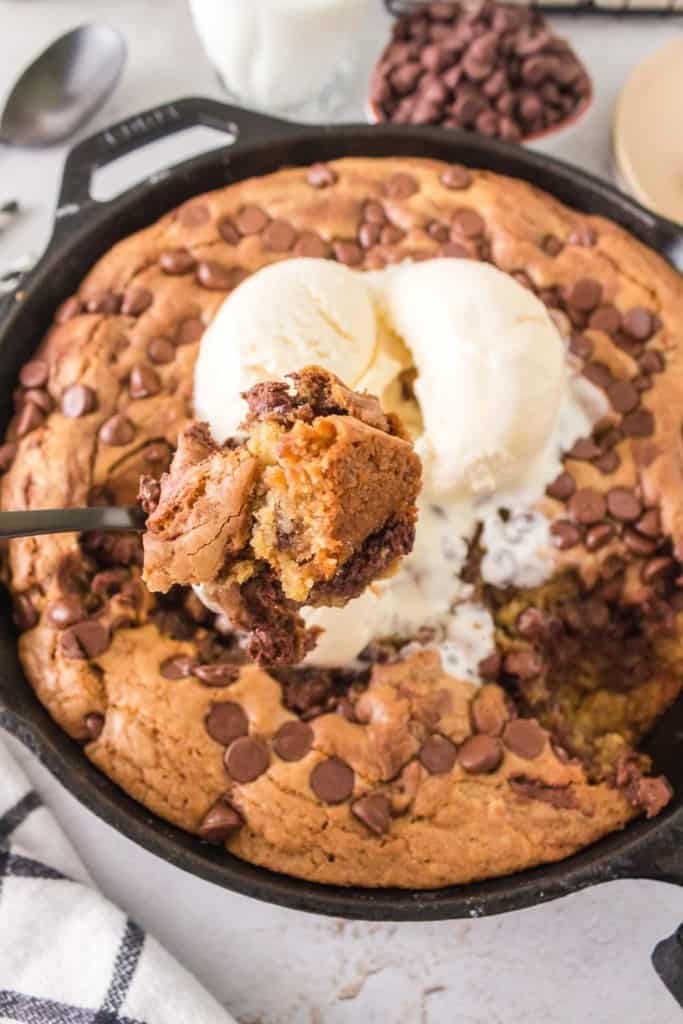 Ingredients
Butter
Brown sugar
Sugar
Eggs
Vanilla
Flour
Chocolate chips semi-sweet or milk chocolate
Vanilla ice cream optional for serving
Keep scrolling to find a full, printable recipe with a detailed ingredient list.
Recipe Instructions
In a large mixing bowl, cream together the butter, brown sugar, and granulated sugar until light and fluffy. This will create the perfect base for your Pizookie. Next, add the eggs one at a time, mixing well after each addition. Stir in the vanilla extract and combine thoroughly.
In a separate bowl, whisk together the all-purpose flour, baking soda, and salt. Gradually add the dry ingredients to the butter-sugar mixture, stirring until a soft and smooth cookie dough forms. Now comes the best part – fold in the chocolate chips, ensuring they're evenly distributed throughout the dough.
Next, transfer the cookie dough to a pizza pan or a large oven-safe skillet, spreading it out evenly. Pop it into the preheated oven and let the magic happen. Bake for approximately 25-35 minutes or until the edges turn golden brown, while the center remains slightly gooey.
Once your Pizookie is out of the oven, allow it to cool for a few minutes. Then, if you so desire, crown this dessert masterpiece with a generous scoop (or two) of creamy vanilla ice cream.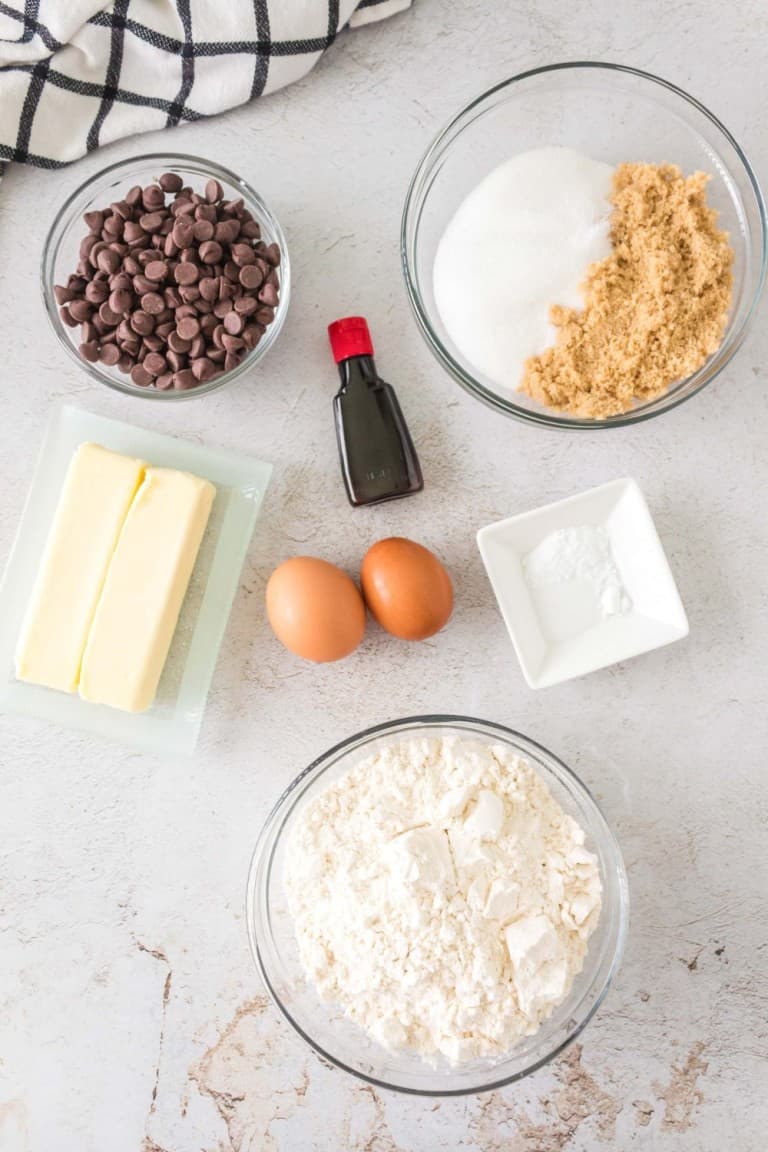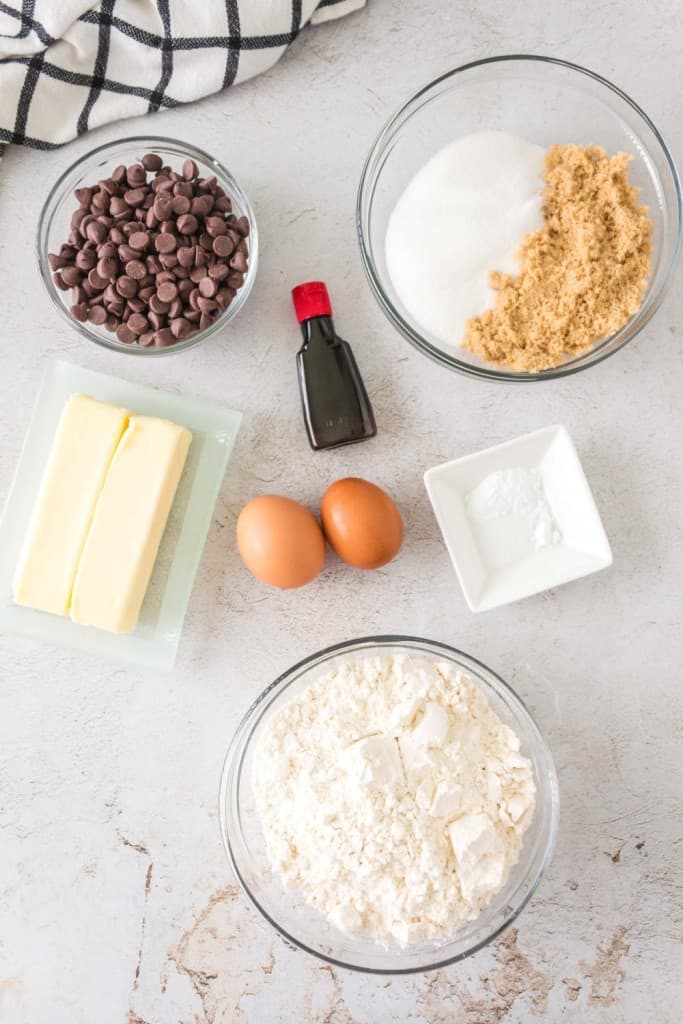 Frequently Asked Questions
What is a Pizookie?
A Pizookie is a dessert that combines the elements of a warm, freshly baked cookie and a scoop of ice cream. It's essentially a large cookie baked in skillet and served with ice cream on top.
Can I use different flavors of cookies for a Pizookie?
Absolutely! While the classic Pizookie recipe calls for chocolate chip cookies, you can experiment with various cookie flavors. Try using peanut butter, oatmeal raisin, or even sugar cookies as a base for your Pizookie.
Can I make individual-sized Pizookies?
Yes, you can! Instead of baking a large Pizookie, you can portion the cookie dough into individual ramekins or small oven-safe dishes. Adjust the baking time accordingly, as smaller portions may require less time in the oven.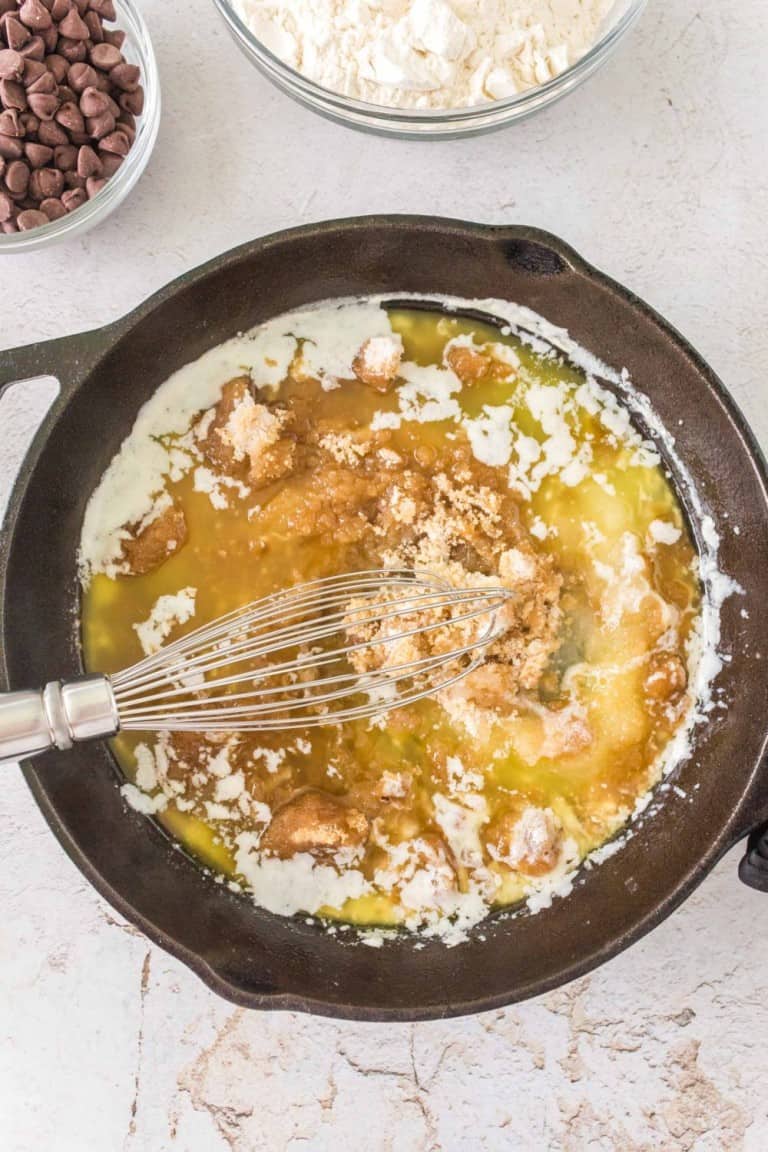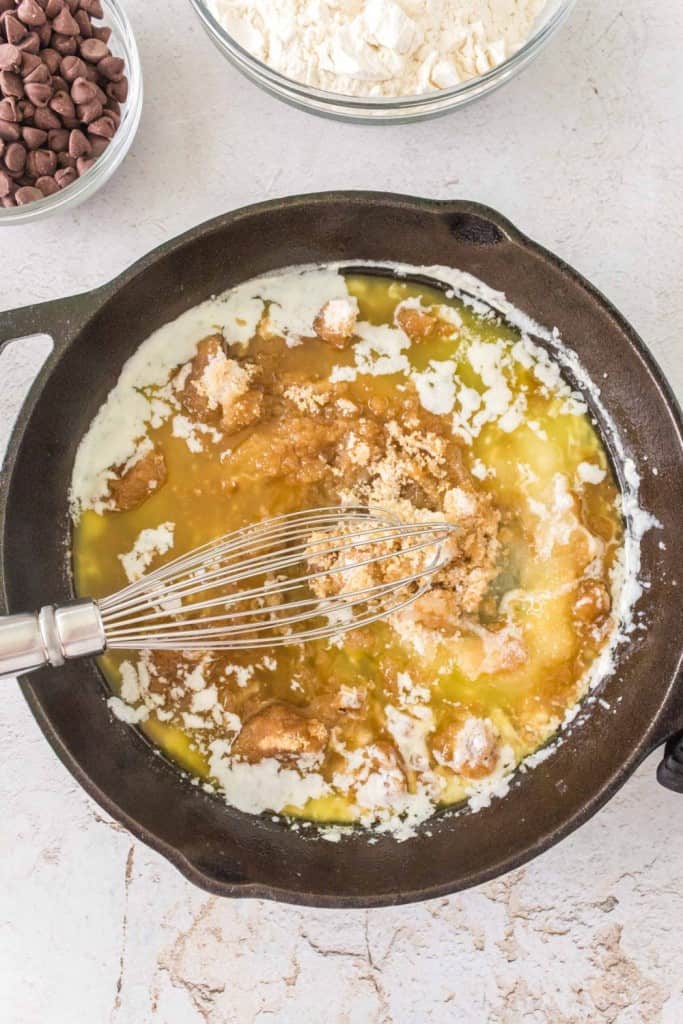 More Recipes
Did you try this recipe? Leave a ⭐️ rating below and share it on Instagram, Facebook, and Pinterest!
📖 Recipe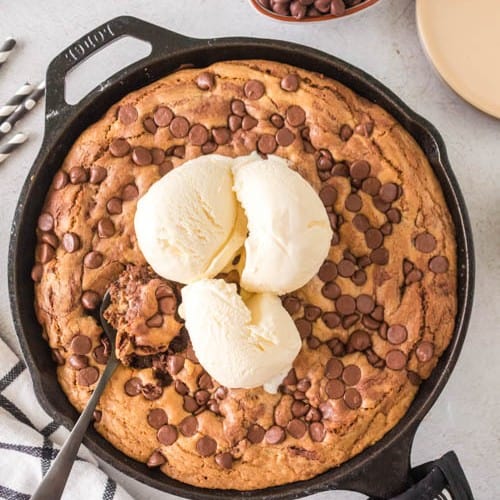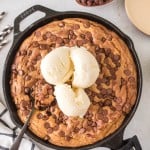 Print Recipe
Chocolate Chip Pizookie Recipe
Ingredients
1

cup

butter

1

cup

brown sugar

½

cup

granulated sugar

2

large eggs

1

teaspoon

vanilla

2

cups

+ 2 tablespoons all purpose flour

1

teaspoon

baking soda

½

teaspoon

salt

1 ½

cups

chocolate chips

semi-sweet or milk chocolate

2

cups

vanilla ice cream

optional for serving
Instructions
Preheat oven to 325 degrees F.

In a 10 or 12 inch cast iron skillet, melt butter over medium heat stirring often, until it starts to bubble and is completely melted. Turn heat to low and add sugar and brown sugar, stirring well, until the mixture is well combined.

Remove from the heat and let the mixture cool for 10 minutes.

Stir in the eggs and vanilla.

Stir in flour, baking soda, and salt.

Add 1 cup of the chocolate chips and stir to combine. Smooth the top of the cookie in the pan. Sprinkle the rest of the chocolate chips on top of the cookie so that they just rest on the top and look pretty.

Bake at 325 degrees F. for 25 to 35 minutes or until the edges are golden brown. The center of the skillet cookie will have a crust but will still be gooey underneath; the edges will be crisp. The smaller pan will cook for more time and a larger skillet will cook for less time.

Top with vanilla ice cream and eat while still warm.
Notes
You can use milk chocolate or semi-sweet chocolate chips for this recipe or even peanut butter chips, white chocolate chips, or M&M candies or you can use a combination of any of these kinds of things. They are all delicious and it's fun to stir in your own combinations. You have a lot of flexibility when it comes to what you are adding in to your skillet cookie.
You can bake the pizookie an additional 5-10 minutes if you like the center less gooey. No issues there. The edge will be a little crustier but while it's still warm the edge will still be soft.
Nutrition
Calories:
724
kcal
|
Carbohydrates:
93
g
|
Protein:
6
g
|
Fat:
38
g
|
Saturated Fat:
23
g
|
Polyunsaturated Fat:
1
g
|
Monounsaturated Fat:
7
g
|
Trans Fat:
1
g
|
Cholesterol:
116
mg
|
Sodium:
515
mg
|
Potassium:
255
mg
|
Fiber:
1
g
|
Sugar:
66
g
|
Vitamin A:
907
IU
|
Vitamin C:
0.2
mg
|
Calcium:
107
mg
|
Iron:
2
mg