Today, I've got a delicious and super easy recipe to share with you: Pineapple Chicken. With just a little bit of time, you can create a mouthwatering dish that's bursting with sweet and savory flavors.
The combination of sweet pineapple and savory chicken creates such a great contrast of flavors. The natural sweetness of the pineapple adds a refreshing and tropical twist to the dish, while the savory chicken provides a satisfying and hearty element. The balance between the two is what makes pineapple chicken so appealing to many people.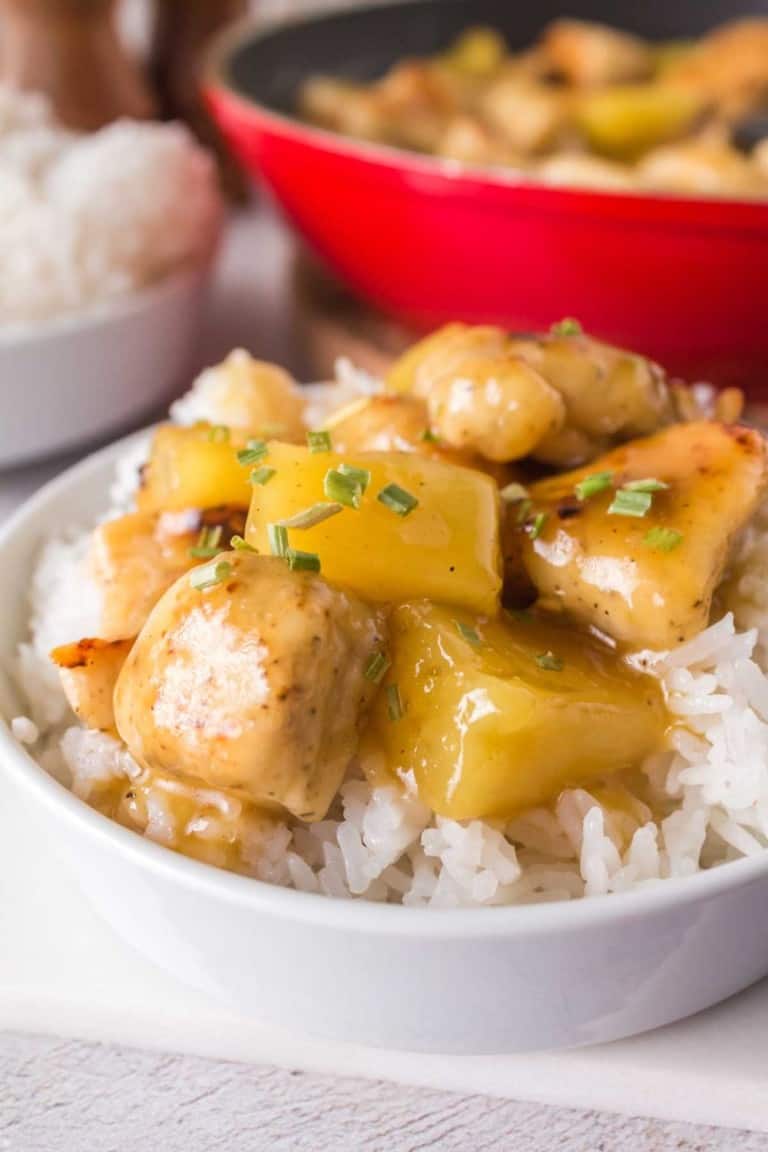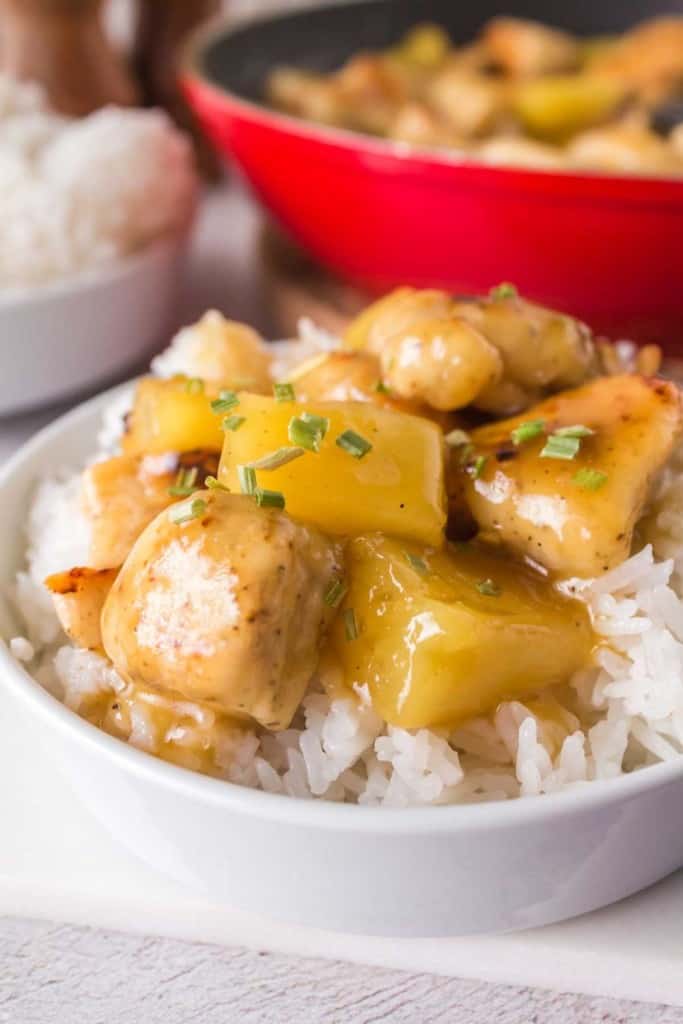 Pineapple Chicken
Pineapple chicken is delicious but you might be wondering what you should serve with it. There are a variety of options of what serve pineapple chicken over.
Steamed Rice: Pineapple chicken pairs exceptionally well with steamed rice. The fluffy rice acts as a neutral base that absorbs the delicious sauce and complements the flavors of the dish. You can use jasmine rice, basmati rice, or even brown rice for a healthier option.
Noodles: If you prefer something other than rice, serving pineapple chicken with noodles is a fantastic choice. Egg noodles, rice noodles, or even soba noodles would work well. Toss the noodles with a bit of sesame oil and soy sauce for added flavor.
Stir-Fried Vegetables: To incorporate more vegetables into your meal, consider serving stir-fried veggies alongside the pineapple chicken. You can use a medley of colorful bell peppers, broccoli, carrots, snap peas, or any other veggies you enjoy. Stir-frying them quickly in a hot pan with some garlic and soy sauce will retain their crunch and add a fresh element to the dish.
Salad: If you prefer a lighter option, a fresh salad can be a great accompaniment to pineapple chicken. A simple green salad with a tangy vinaigrette or a tropical fruit salad with mangoes and avocados would complement the flavors nicely.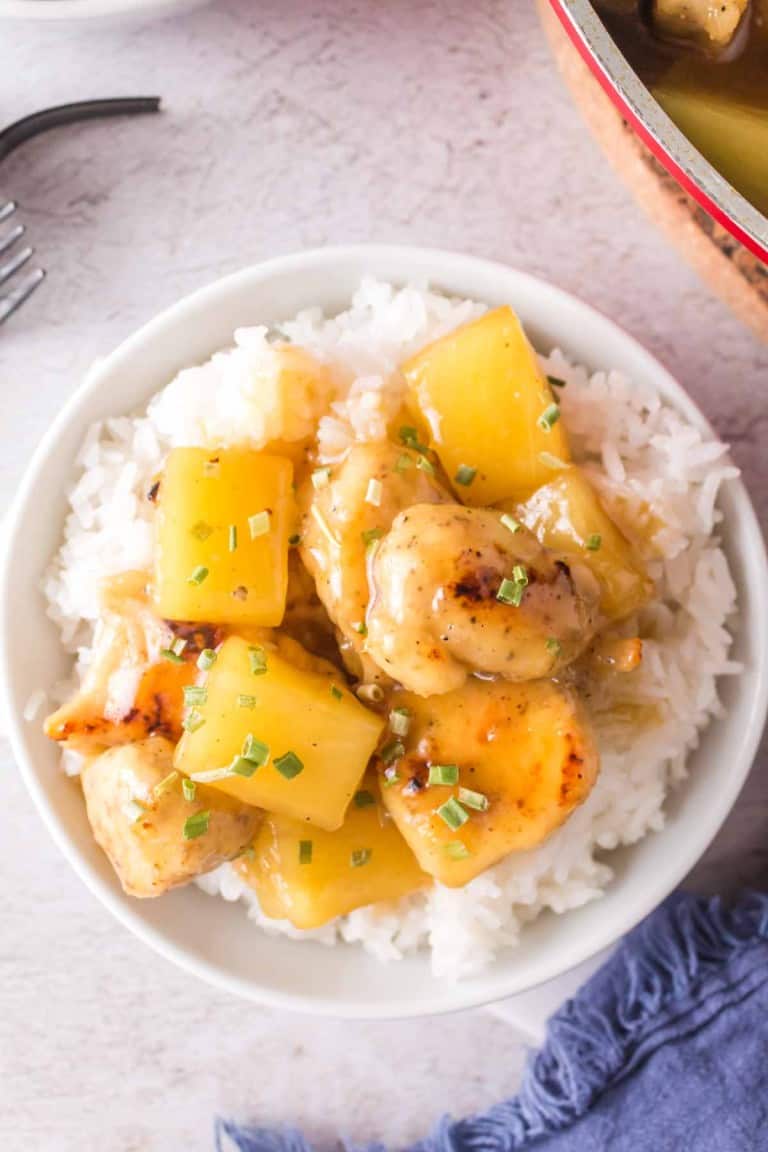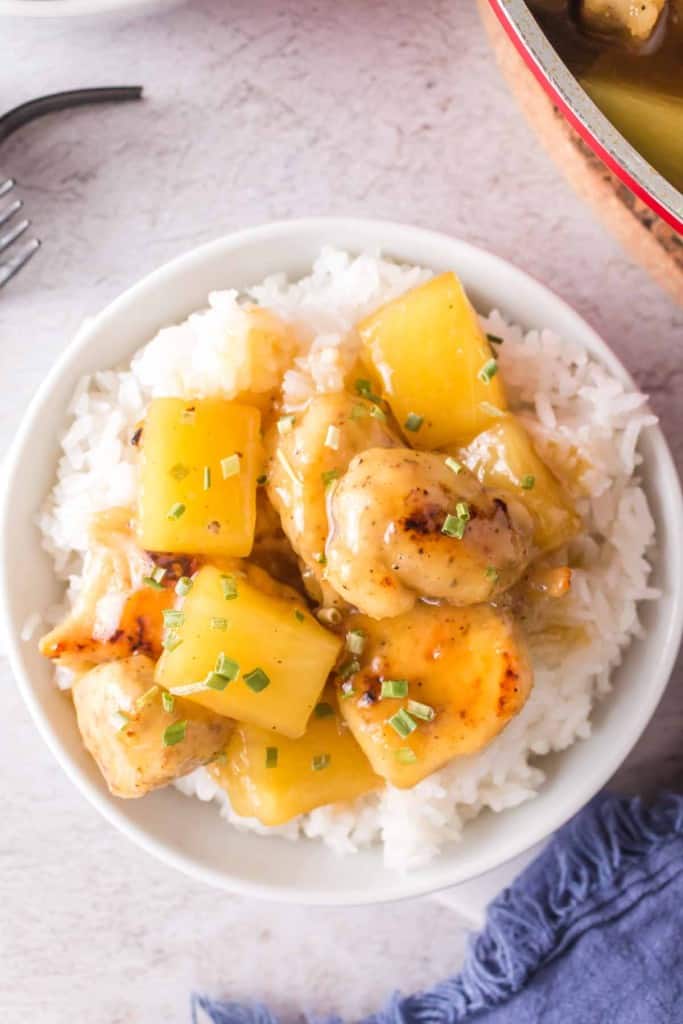 Ingredients
Chicken breasts
Garlic powder
Cornstarch
Olive oil
Brown sugar
Pineapples chunks
Fish sauce or substitute with soy sauce
Apple cider vinegar
Keep scrolling to find a full, printable recipe with a detailed ingredient list.
Recipe Instructions
Season and cook the chicken:

Cut chicken breasts into 1-inch pieces then season with salt, garlic powder, and black pepper.

Coat chicken in cornstarch.
Cook in a skillet with olive oil until crispy and golden brown. Set aside.

Make the pineapple sauce:

In the same skillet, combine brown sugar, undrained pineapple chunks, fish sauce (or soy sauce), and apple cider vinegar. Simmer for a few minutes.

Thicken the sauce:

Dissolve cornstarch in hot water. Then add the cornstarch mixture to the skillet. Cook until the sauce thickens.

Combine chicken and sauce:

Add the cooked chicken back to the skillet. Toss to coat the chicken in the sauce.

Serve and Enjoy: That's it! Now it's time to dig in.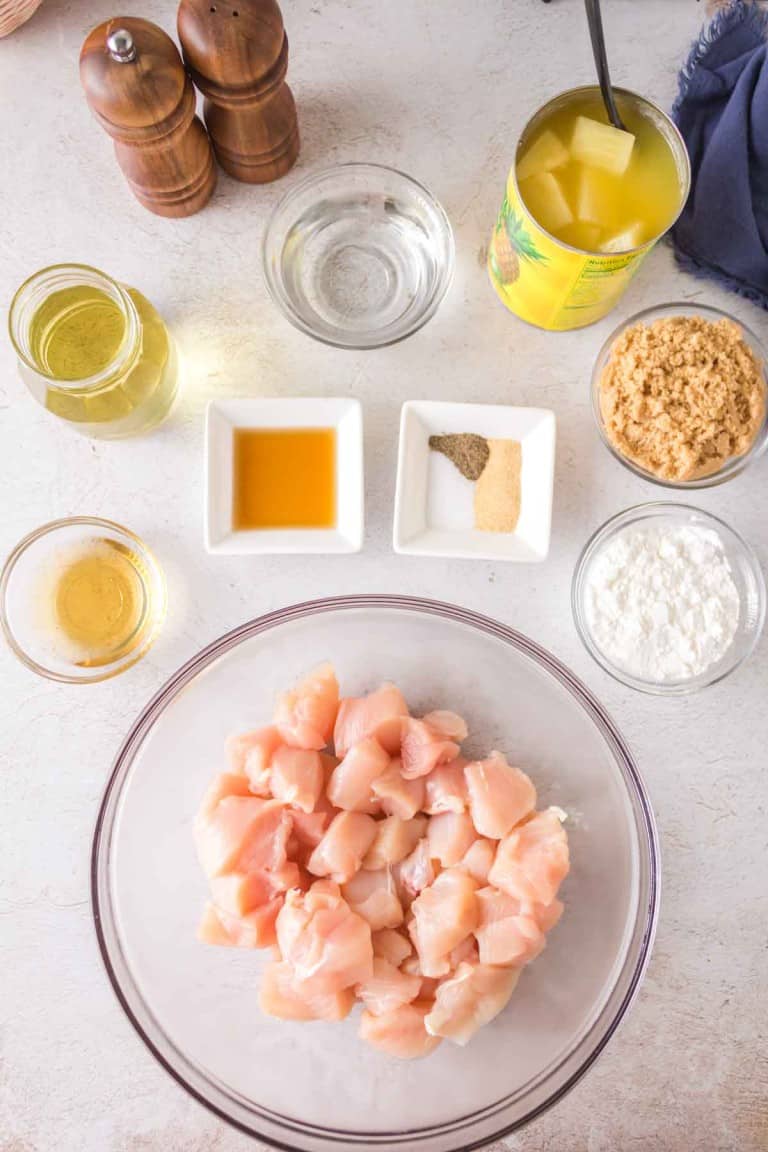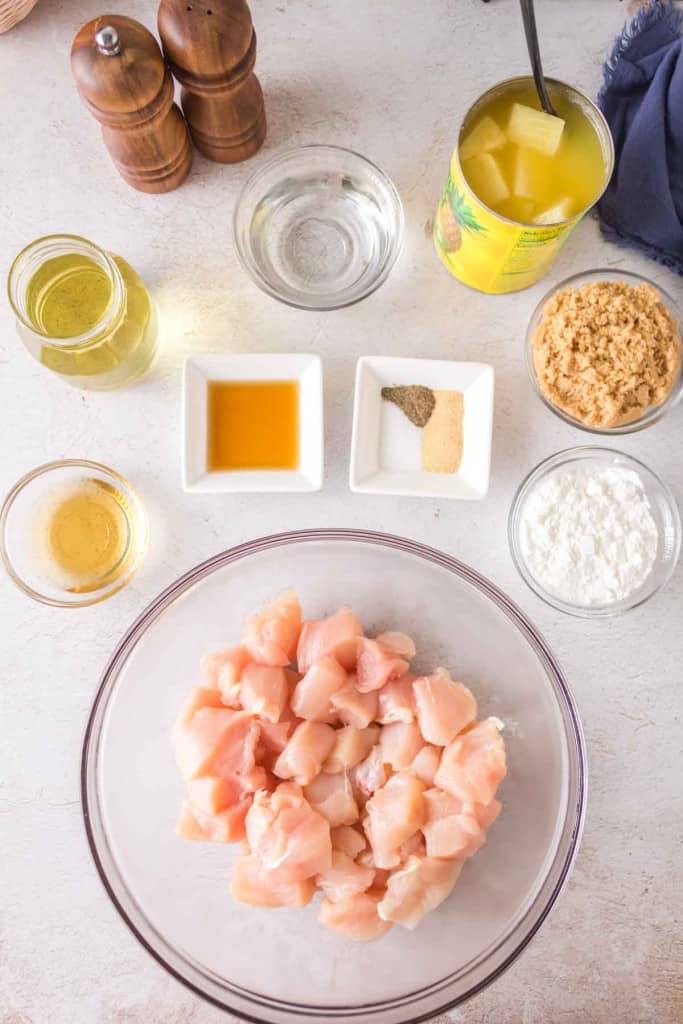 Frequently Asked Questions
Can I use chicken thighs instead of chicken breasts?
Absolutely! Chicken thighs can be used as a substitute for chicken breasts in this recipe. Keep in mind that cooking times may vary slightly, so ensure that the chicken thighs are cooked through and no longer pink in the center.
Can I use fresh pineapple instead of canned pineapple chunks?
Yes, you can use fresh pineapple if you prefer. Cut the fresh pineapple into chunks and use it in place of the canned pineapple. However, keep in mind that the canned pineapple chunks in juice add a sweet and tangy flavor to the dish, so you may need to adjust the sweetness if using fresh pineapple.
Can I freeze leftover pineapple chicken?
Yes, you can freeze leftover pineapple chicken. Allow it to cool completely before transferring it to airtight containers or freezer bags. It can be stored in the freezer for up to 3 months. Thaw in the refrigerator overnight before reheating on the stovetop or in the microwave.
Can I adjust the spiciness of the dish?
Yes, you can adjust the spiciness according to your preference. If you prefer a spicier pineapple chicken, you can add red pepper flakes, sliced chili peppers, or a dash of hot sauce to the sauce mixture. Start with a small amount and adjust to your desired level of spiciness.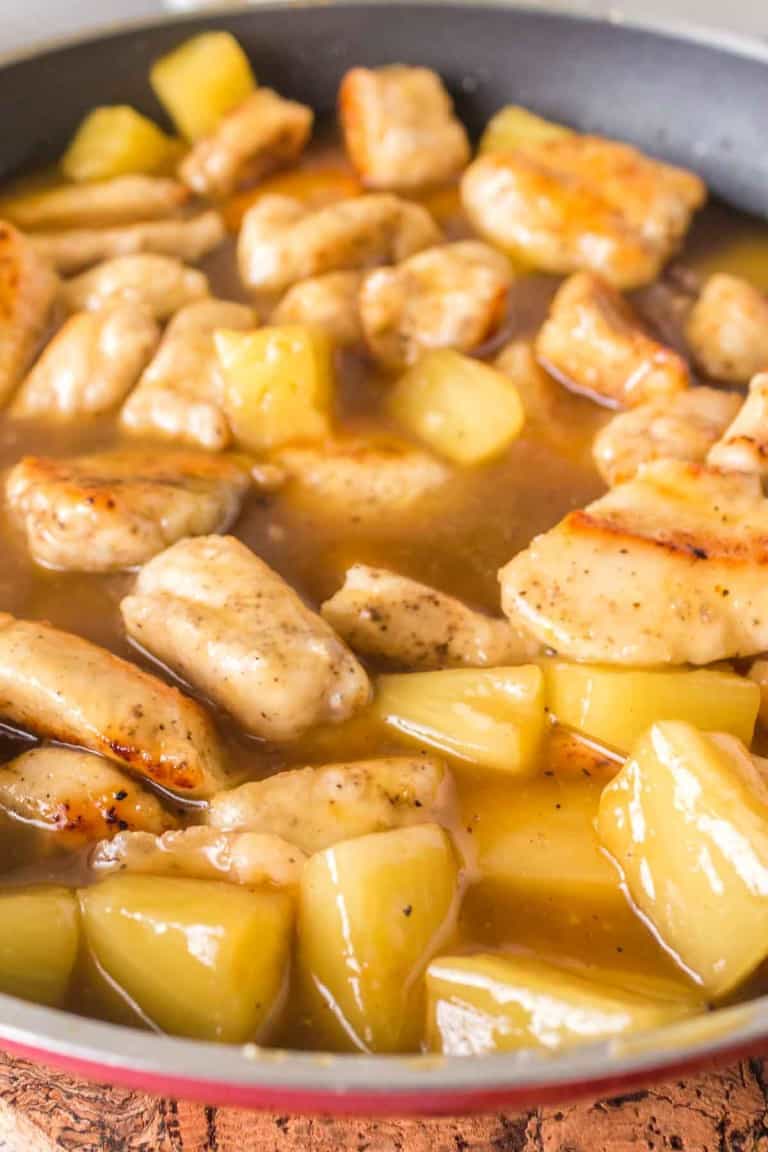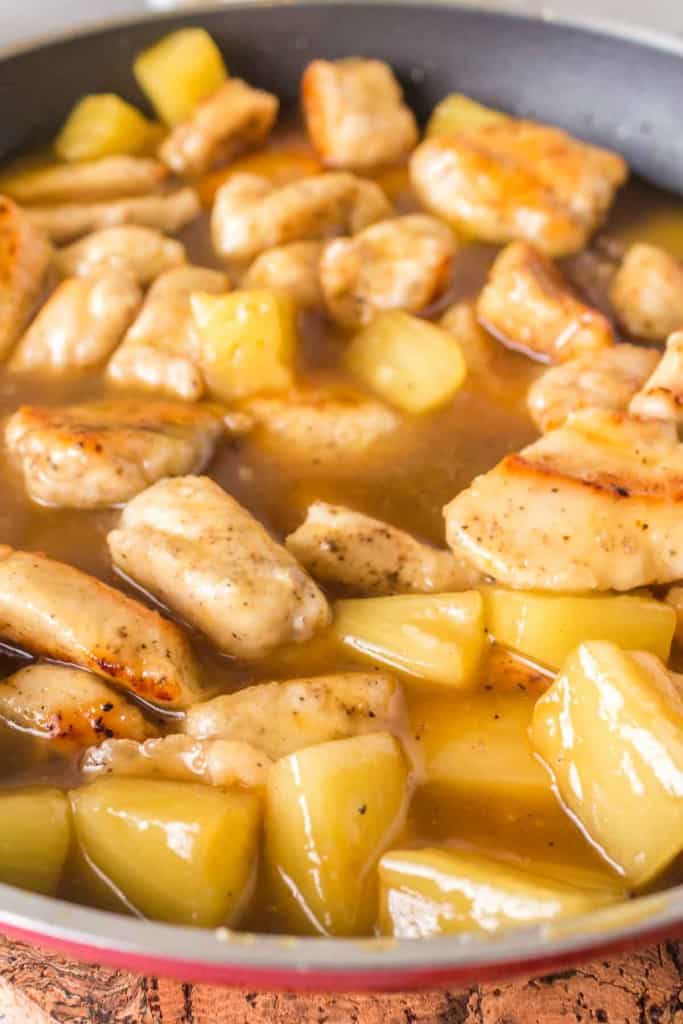 More Recipes
If you've tried this Pineapple Chicken recipe or any other recipe on Bless This Mess, then don't forget to rate the recipe and leave me a comment below! I would love to hear about your experience making it. And if you snapped some pictures of it, share it with me on Instagram so I can repost on my stories.
📖 Recipe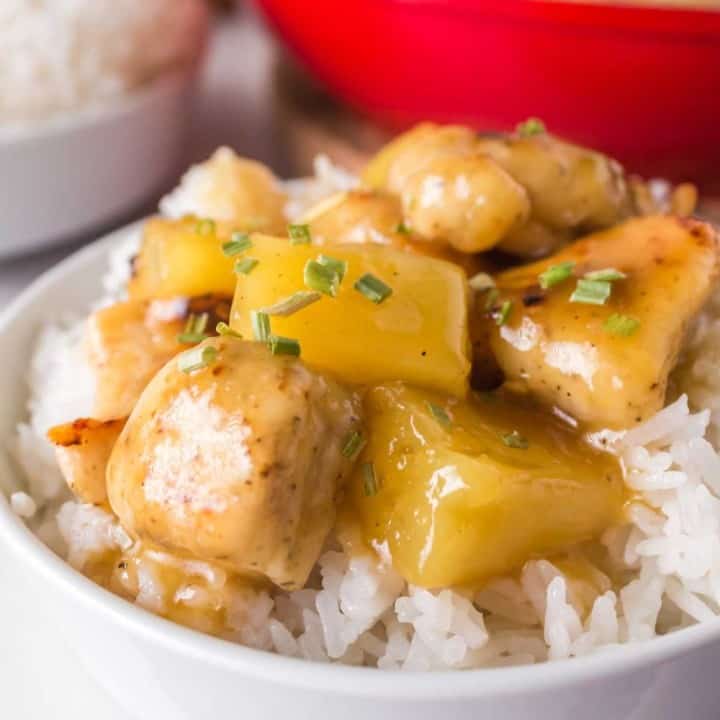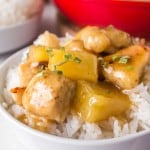 Print Recipe
Pineapple Chicken
Pineapple chicken is a sweet and savory dish made with tender chicken, juicy pineapple chunks, and a flavorful sauce.
Ingredients
2

pounds

chicken breasts

skinless and boneless cut into 1-inch bite size

1

teaspoon

salt

1

teaspoon

garlic powder

you can use onion powder

½

teaspoon

ground black pepper

½

cup

cornstarch

2

tablespoons

olive oil

¾

cup

packed brown sugar

1

can

20 oz. pineapples chunks in 100% real juice, NOT DRAINED

1

tablespoon

fish sauce

substitute with soy sauce

3

tablespoons

apple cider vinegar

2

tablespoons

cornstarch

2

tablespoons

hot water

to dilute in cornstarch
Instructions
Place the chicken pieces in a large mixing bowl.

Sprinkle the salt, garlic powder, ground black pepper, and cornstarch. Mix to coat every piece of chicken.

In a large skillet, warm olive oil. Brown the chicken for 2 minutes on each side. Set the chicken aside in a bowl.

Over medium heat, add the brown sugar, pineapple chunks with juice, fish sauce, and apple cider vinegar. Using a heat-proof spoon, mix and loosen up the bottom of the pan.

Stir and bring to a boil.

In a small bowl, mix the cornstarch and hot water.

Once the pineapple mixture is boiling, add the cornstarch while stirring.

Mix until the sauce thickens up.

Add the chicken and mix to coat with the pineapple sauce.

Serve and Enjoy!
Notes
Side dish: Excellent to serve over rice. Served with steamed vegetables, macaroni salad, rolls
Storage: Store in the fridge for up to 3 days.
Re-warm: In the microwave for 2 to 3 minutes
Have fun with the recipe, spice it up a bit, and add some red pepper flakes.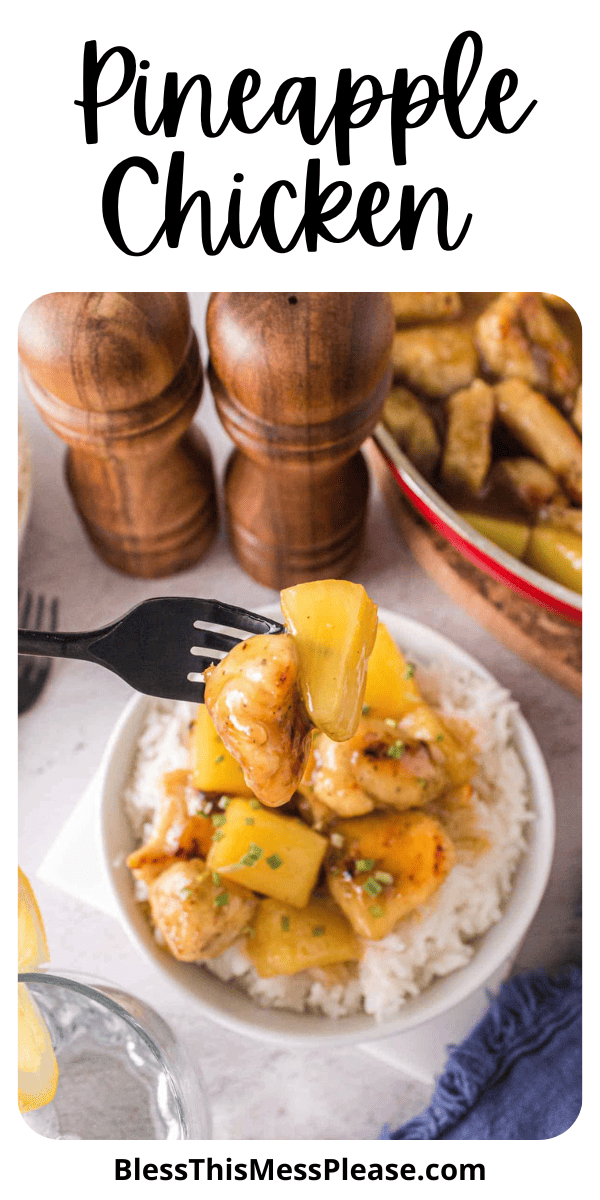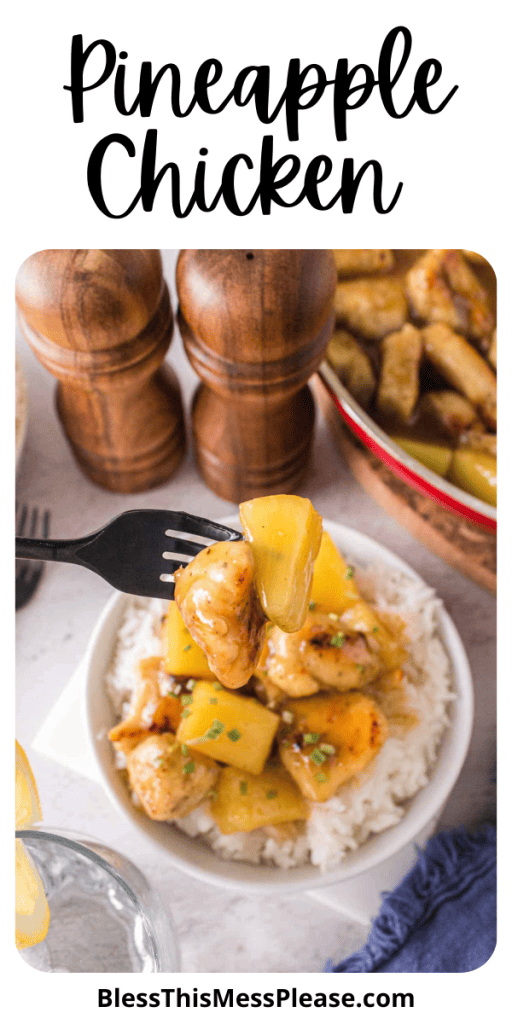 Pineapple chicken is a delightful and easy-to-make dish that combines the sweetness of pineapple with savory chicken, creating a flavor explosion that is sure to impress. Whether enjoyed with rice, noodles, or stir-fried vegetables, this crowd-pleasing recipe is perfect for any occasion.