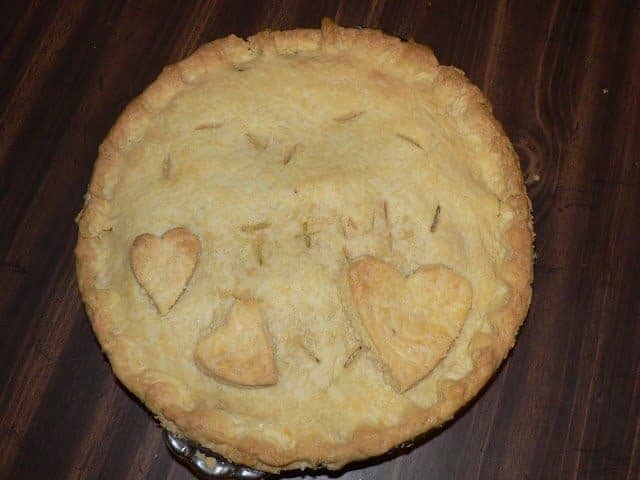 One of Thomas' very favorite foods is chicken pot pie. It's pretty guaranteed that he'll be eating it sometime around all major "I love you" holidays…you know, anniversaries and Valentine's day. The perfect pie needs the perfect crust. Our friend David Hunt is an amazing chef and gave me this recipe. Beware though- it's not for the calorie counter!
Now it uses shortening. Not my favorite ingredient. I am still on the hunt for perfect pie crust with butter! Any help?
Perfect Pie Crust
2 cups flour
1 cup shortening
2 T. vinegar + enough milk to make 1/2 cup
In a medium bowl cut shortening into flour until it resembles fine crumbles with pieces no bigger than a pea. Make a well in the center and add milk/vinegar mixture. Stir just until the dough forms a ball. Use for your favorite pie.
Makes 1 very thick pie crust for top and bottom of a 9 inch pie.
The vinegar is the secret here. Instead of helping the shortening stick to the flour it almost repels the two, making a flaky, flaky crust.