I'm not sure if there is anything better than a nice, warm, fresh out of the oven sourdough muffin on a cold morning. Overnight sourdough muffins are perfect to whip up the night before and finish in the morning for a breakfast of champions.
Using this basic overnight sourdough muffin recipe you can mix in fruit, nuts or chocolate chips- whatever you are in the mood for!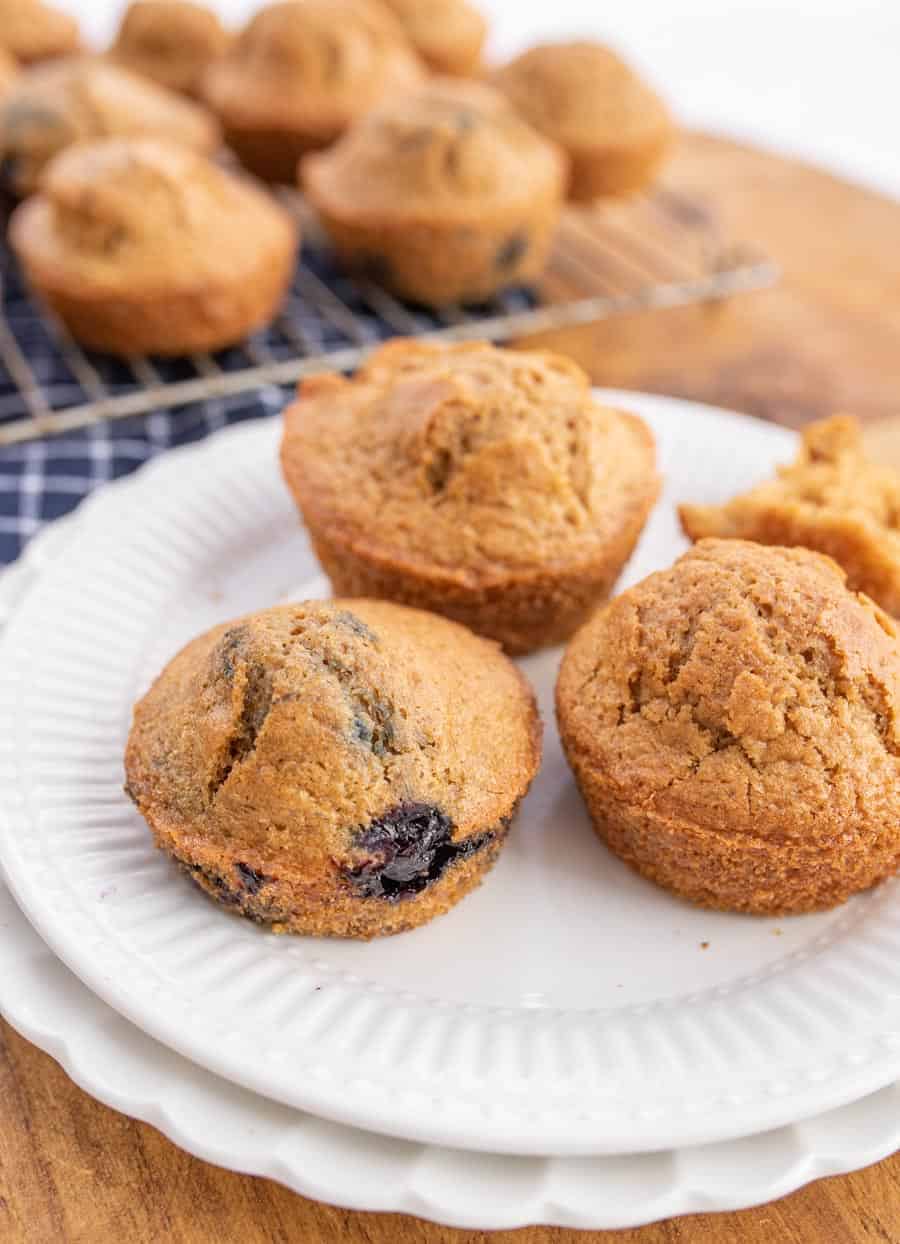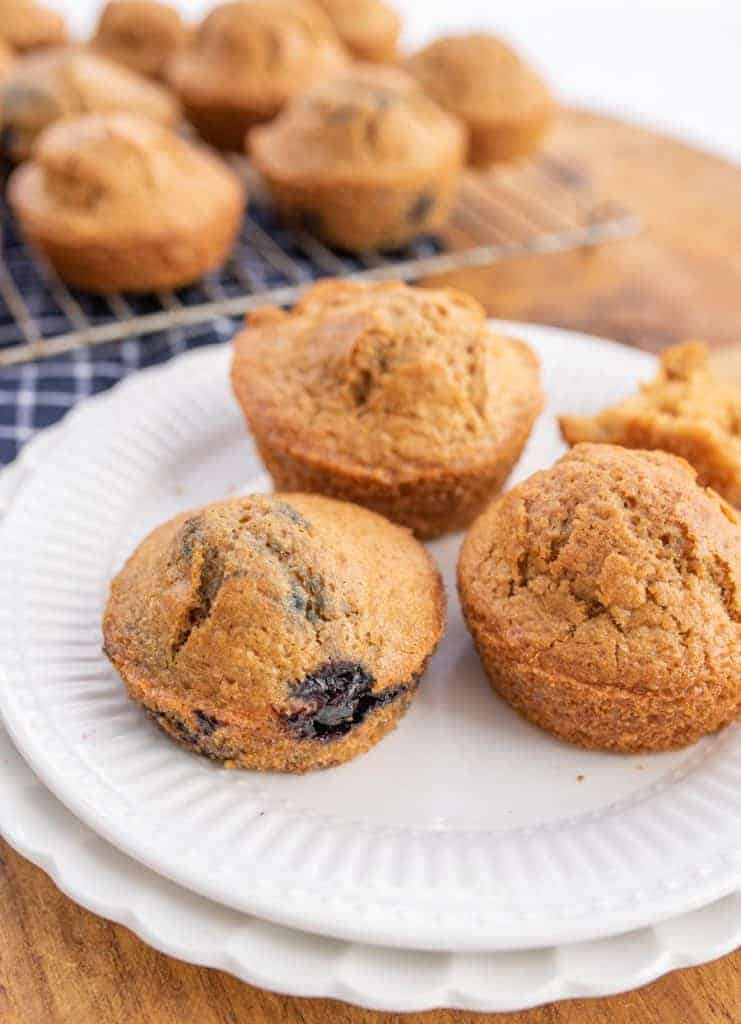 Overnight Sourdough Muffins
It seems like sourdough has become a new hobby for many during these crazy quarantine times we are living in. I've seen people make their own sourdough starters and then share with friends. I love seeing people learn something new and create things in their kitchen. Being able to make your own food and bread is a true passion of mine and I love teaching and sharing it with you.
It is a common misconception that sourdough is just a bread with a hard crust. You can use sourdough for any type of bread, waffles, crackers, muffins or even pizza crust. The sky is the limit once you have your own starter.
Baking with sourdough is getting back to basics with food. It is how people used to make bread before active yeast was widely available in every grocery store.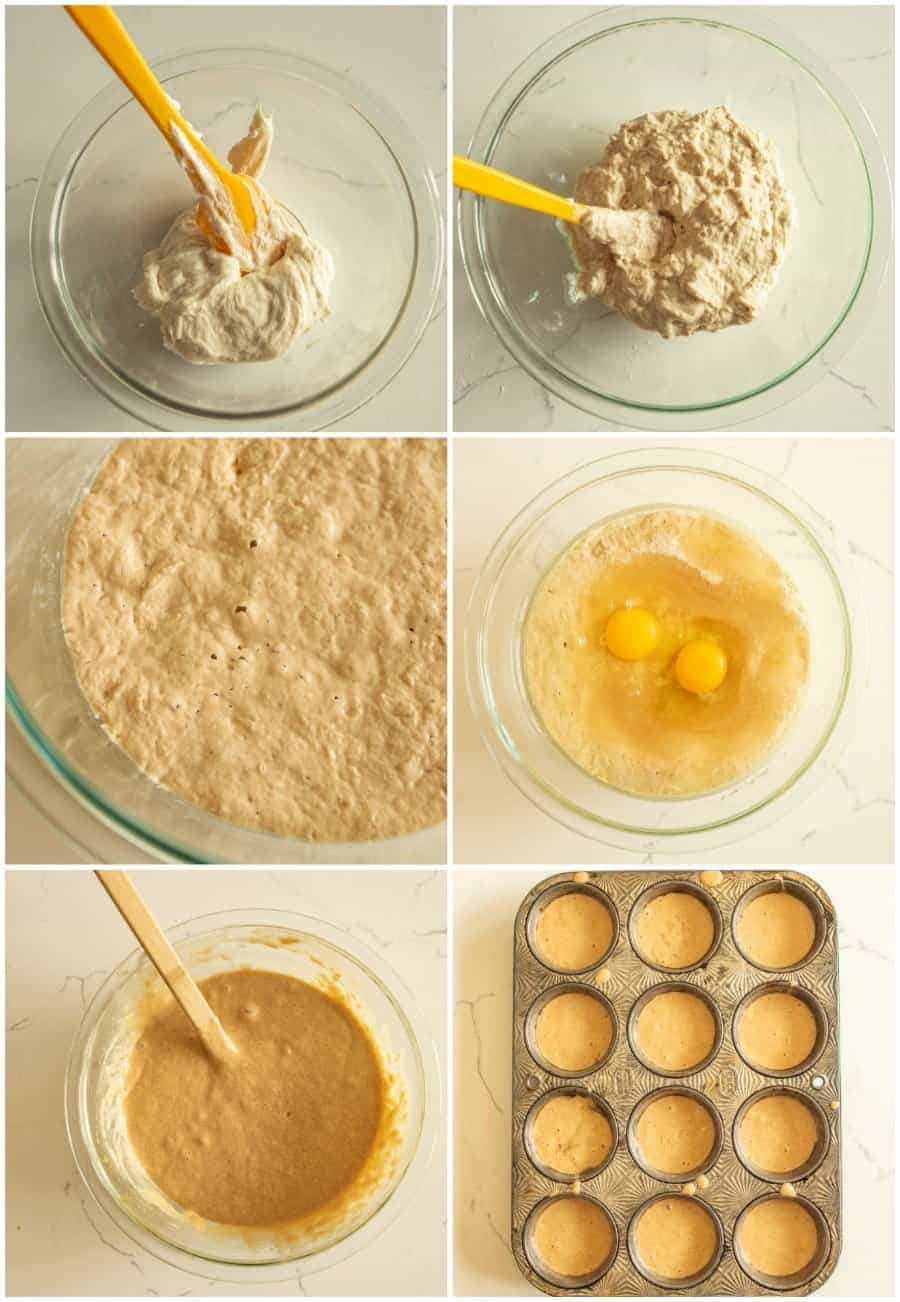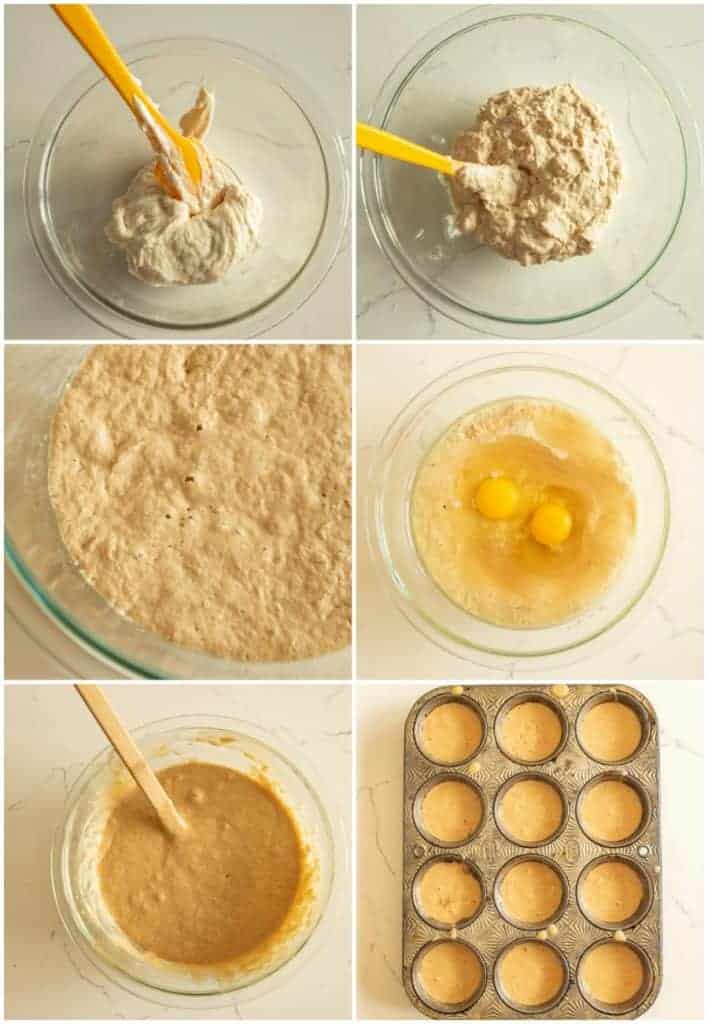 How to make overnight sourdough muffins:
It's super easy! Just mix together your starter, flour, and water until you can combine it well.
Cover the mixture and let it rest 8-12 hours (generally overnight).
Add the additional ingredients needed in the morning, stir it on up, and bake!
You'll be ready to eat warm sourdough muffins in about 30 minutes.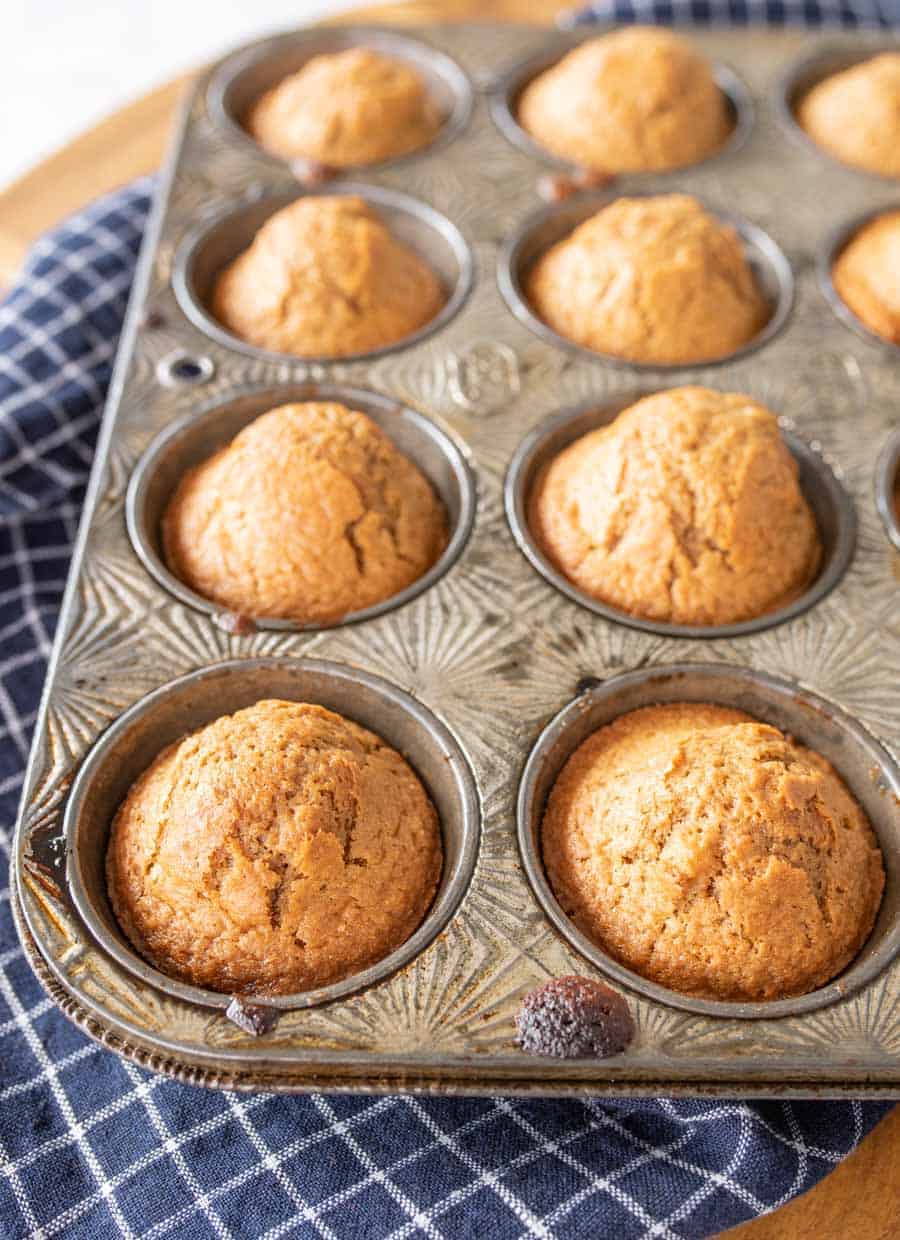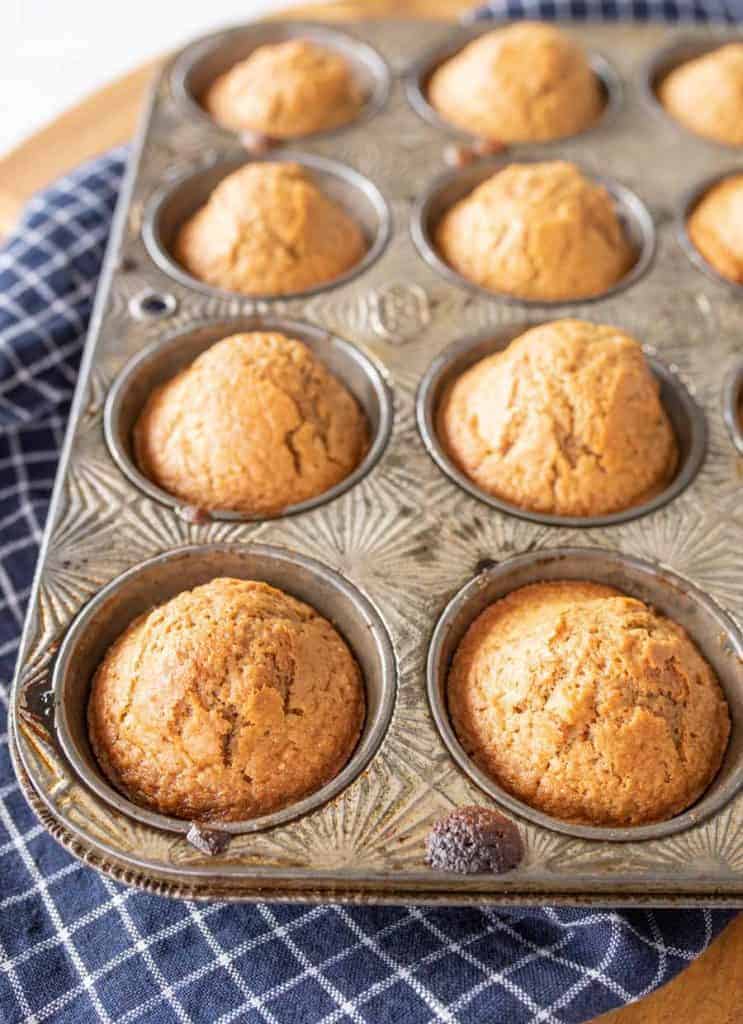 More Sourdough Recipes:
Print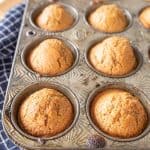 Overnight Sourdough Muffins
---
Author:

Total Time:

8+ hours

Yield:

18

muffins

1

x
Description
A basic overnight sourdough muffin recipe that uses whole wheat flour and sourdough starter as a base that you can customize as you like!
---
½ cup

bubbly and active sourdough starter

1 ½ cups

whole wheat or all-purpose flour

6

-

10

tablespoons of water, as needed

½ cup

light oil or melted butter

½ cup

sugar

2

large eggs

1 teaspoon

baking soda

1 teaspoon

salt

1 teaspoon

cinnamon, optional

½ cup

fresh or dried fruit and/or chopped nuts, optional
---
Instructions
The night before you plan to make the muffins mix together sourdough starter, flour, water together in a medium mixing bowl.
The mixture should be a shaggy slightly wet dough, not thick but not soupy either. The amount of water you need will depend a lot on the type of flour that you use; you'll need more water when using whole wheat flour. Adjust the water by adding 1 tablespoon at a time until the dough is just wet enough to mix.
Cover the bowl with a damp clean kitchen towel and let the dough rest for 8-12 hours.
In the morning, after the resting time, preheat the oven to 375 degrees F.
Add the oil, sugar, eggs, baking soda, and salt to the bowl with the fermented flour mixture and stir just until the mixture comes together.
Next decide if you are going to add anything else. If you aren't going to add fruit or nuts, I'd at least add 1 teaspoon cinnamon, it makes the muffins have a little more depth too them.
You can also add roughly ½ cup total of fresh fruit, dried chopped fruit, or chopped nuts or seeds if you'd like. Please see notes. Stir in any additions.
Grease 18 muffin cups well and then pour the batter evenly into the muffin cups, the cups will be about half full.
Bake for 25 minutes or until the muffins spring back when lightly touched.
Remove from the oven and let cool for 5 minutes before removing the muffins from the tin. Enjoy warm or at room temperature.
Notes
You can add all kinds of things to this muffin recipe! We like to add frozen blueberries, small chopped apples and pecans, dried cranberries and 1 tablespoon of orange zest. There's lots of options! I typically will toss any fresh fruit or frozen fruit with a little flour before adding it to encourage it to not sink to the bottom while baking.
You can make different sized muffins depending on how full you fill the tins; these are pretty small muffins and perfect for kids. Adjust the cooking time accordingly if you are filling the tins up more or less.
Prep Time:

20 min

Cook Time:

25 min

Category:

breakfast

Method:

bake

Cuisine:

American
Keywords: sourdough muffins, sourdough muffin recipe, overnight sourdough muffins, long fermented muffin recipe, long fermentation sourdough muffins
Health benefits of letting the muffins ferment overnight:
Sourdough not only tastes delicious but it boasts plenty of health benefits when you let the flour and sourdough sit overnight. Let's dive in for a little science lesson.
Even though sourdough is made up of the same basic ingredients as conventional bread, the fermentation process changes the game a bit making it more nutritious.
Sourdough bacteria are able to breakdown phytic acid found in whole grains. Phytic acid are commonly referred to as phytates. Phytates bind to minerals making it difficult for your body to absorb. This process creates a bread that has a much lower phytate content than other types of bread.
By doing this, our bodies can absorb more minerals such as iron, potassium, magnesium, and zinc. It is remarkable to witness something as simple as water, flour and air transform into delicious muffins, breads, pizza or waffles.
Studies have shown that sourdough bread doesn't raise your blood sugar as much as other types of breads. Sourdough is a healthier option and easier to digest. Score! I have found this true in my own life. Long fermented sourdough baked goods don't cause stomach trouble for me.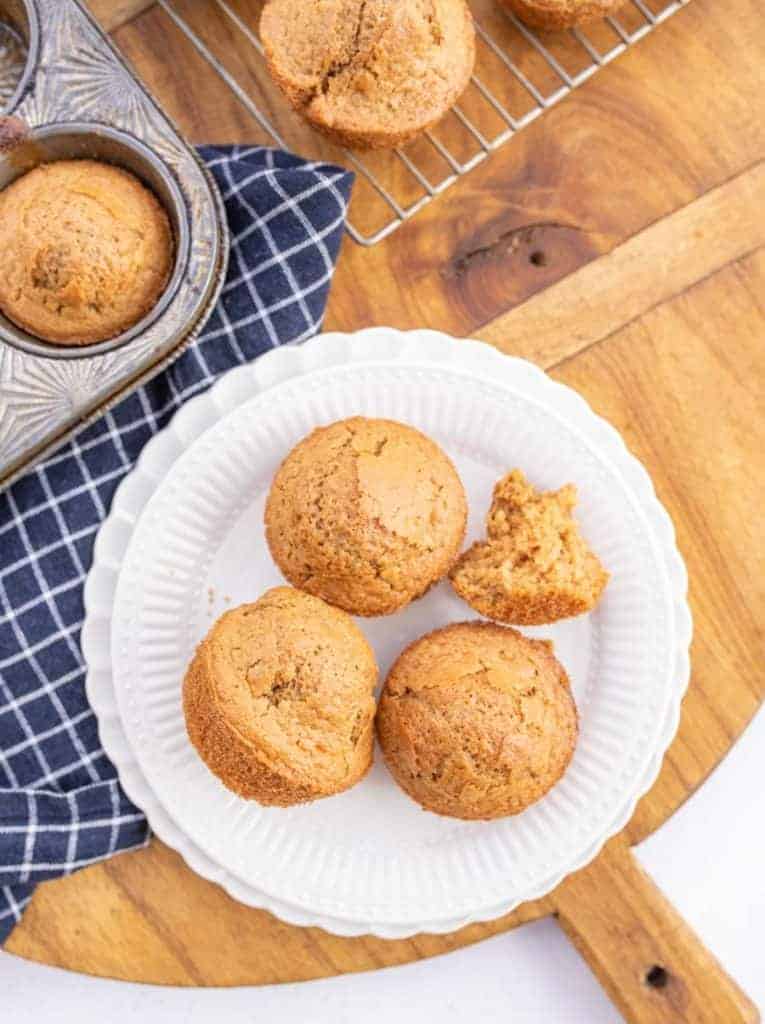 What is different about sourdough bread?
Regular bread uses store bought yeast while sourdough bread is made from a starter. You can either make your own, buy a starter, or get some from a friend.
How long does it take to make a sourdough starter?
It takes about 5 days to make a sourdough starter. It's simple but takes a bit of patience. Each day you add flour and water to feed the starter.
How long can sourdough starter stay fresh in the fridge?
Sourdough starter will last up until 2 months in the fridge without any attention. However, if you continue to feed it, it can last years! Mine is 25 years old.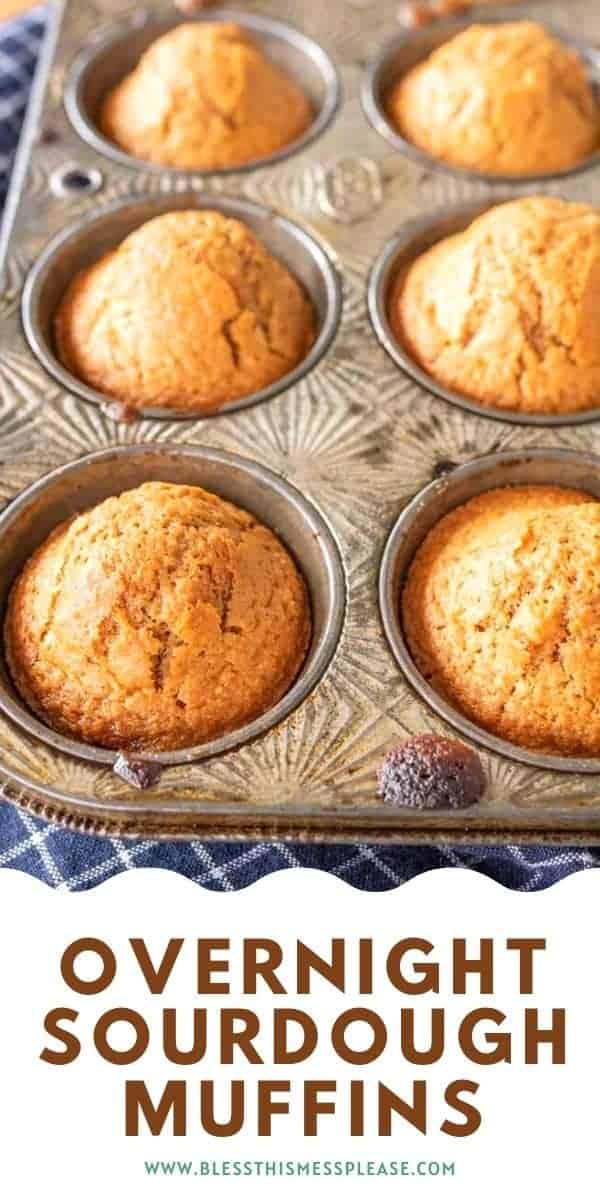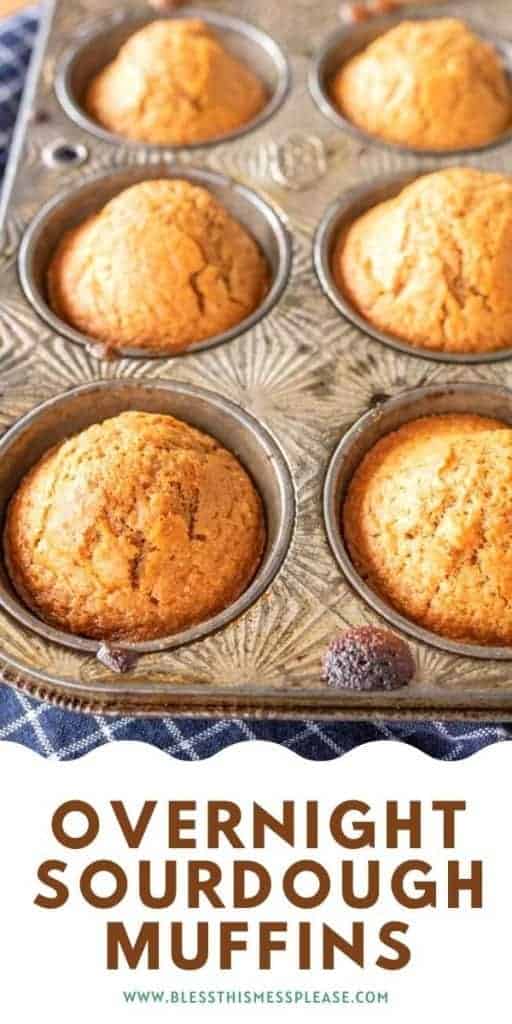 I hope you give overnight sourdough muffins a try. They are incredibly tasty and healthy too.